Self-Taught Hairdresser Turns Braids Into Works Of Art
By Abigail T August 5, 2021
---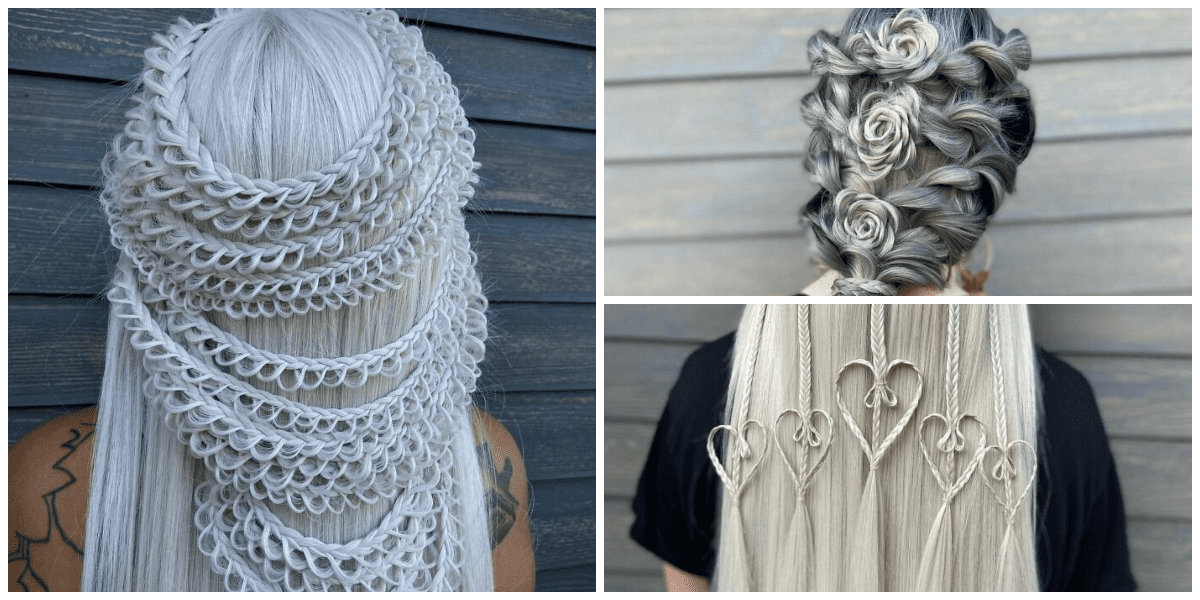 The way you do your hair has the ability to make or break your whole look. Rather, it has the ability to transform it completely. No one knows that better than braiding guru extraordinaire Alejandro Lopez. Despite being self-taught, Lopez's braids are on the same level as world-class hairstylists. He quickly rose to fame on Instagram and TikTok for his dreamy braids and hair coloring. The magic he works on his clients' hair, from using fluorescent colors to intricately braiding their hair, makes them look like something out of a fairytale.
It's not just the standard fishtail braid, either. If you take a look at Alejandro's Instagram, you wouldn't believe that such gorgeous results were produced by a 21-year-old who has been in the industry for just two years. Without further ado, here are just some of Alejandro's most amazing works as seen on TikTok and Instagram.
Roses
At some point in their lives, every girl romanticizes having flowers in their hair. Alejandro Lopez takes that fantasy one step further and actually fashions roses out of their hair. Take a look at this stunning grey ponytail adorned with roses.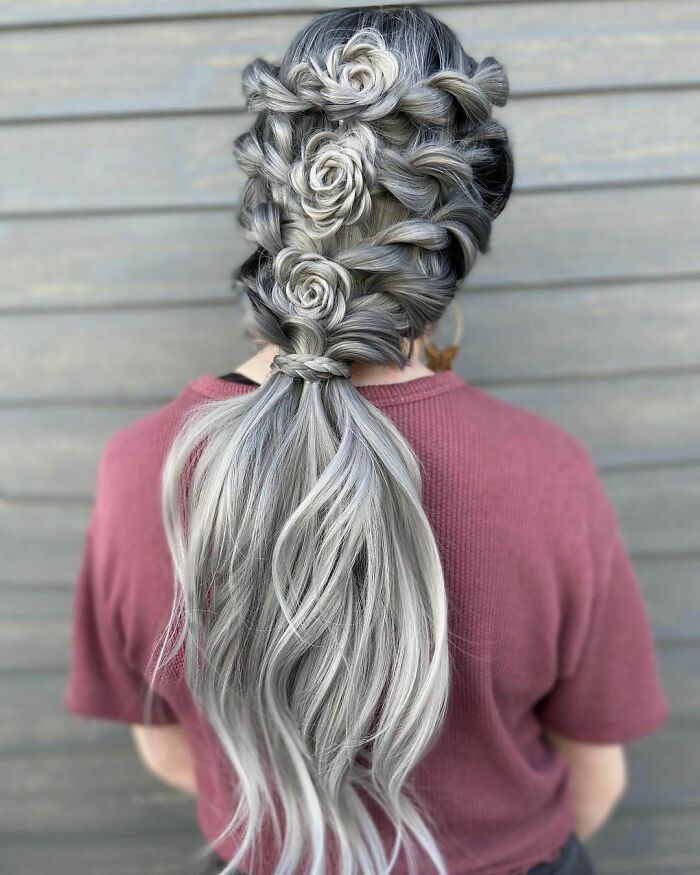 For this look, Alejandro created twist braids which were then fluffed out and transformed into roses as the braid reached the back of the head. The low ponytail gives off such princess vibes. This hair belongs in a movie scene where the main character rides elegantly on a horse through the forest.
Aquamarine dream
The braids on this next hairstyle may look simple, but we actually think that the hair coloring really elevates everything. The wig used here is a dark blue at the top, running down into turquoise, aquamarine, and deep green at the ends.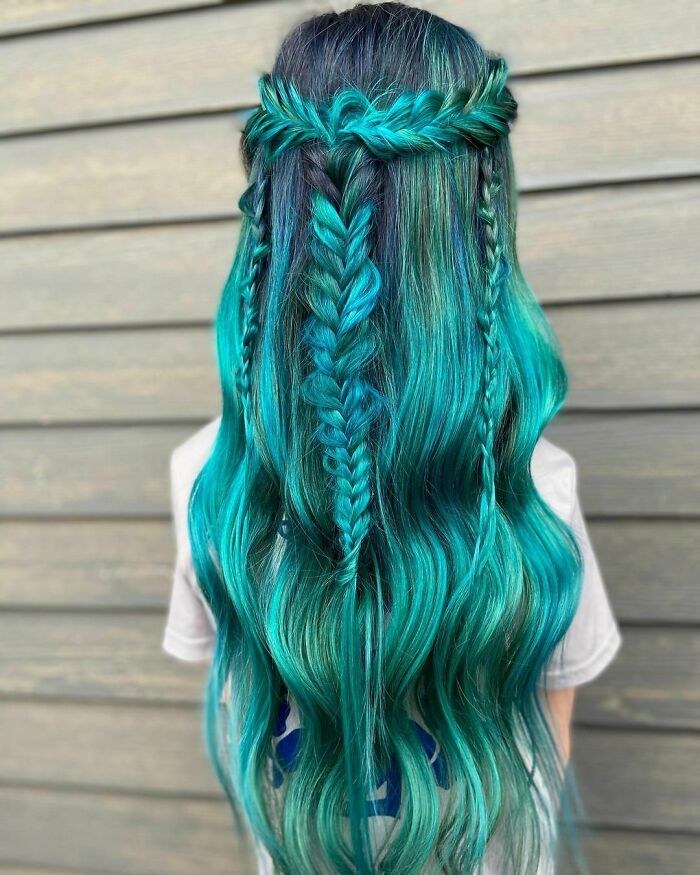 If The Little Mermaid were remade in 2021 with someone like Baz Luhrmann directing, Ariel, or at least one of her sisters, would probably have this hairstyle. It is so gloriously reminiscent of the sea, with the fishtail braids crowning the head and falling in waves.
Frosty winter
This next look is serving us ice queen realness. If directors ever create a live-action Frozen, we wouldn't want Elsa's hair to look any other way. The frosty periwinkle color with silvery undertones really brings out the icy vibes.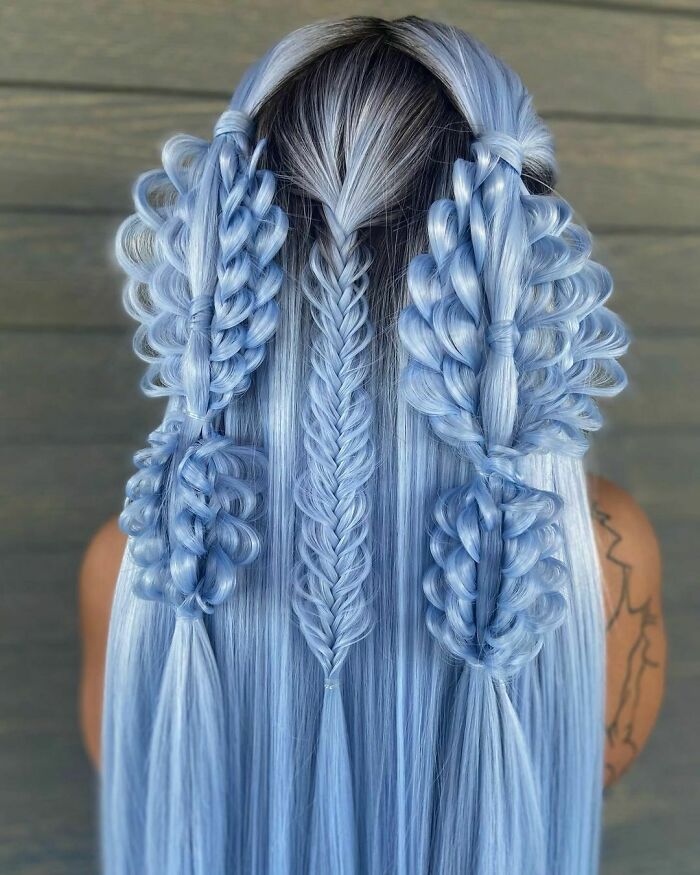 Alejandro shares some of his processes on Instagram and TikTok. On this particular hairstyle, he used tactile spray to help the little florets stay in place. We wonder how long this took to create. It must have been hours, but the results are so worth it.
Festive hair
Sometimes, you want to dress for the occasion from head to toe. What better time to do that than the holidays? Christmas is synonymous with reds, greens, and whites. This is Alejandro's take on a Christmas garland on hair.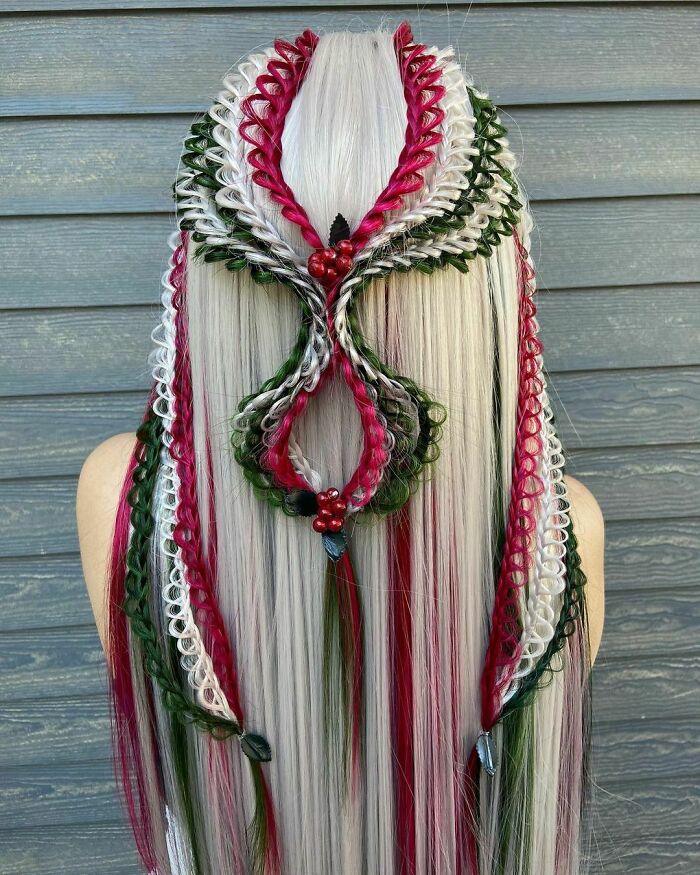 This style looks so simple yet so complicated. Maybe it's because he kept the hair running smoothly down her back. But, we're sure those little arc braids were far from simple to execute. We also appreciate that it looks as if there's a wreath crown on her head.
Garden fairy
Alejandro doesn't only braid hair using multiple colors. He would also attach other components to the hair to complete the look. Here, he used butterfly attachments near the flowers on the hair. This makes it look like the hair is a garden where butterflies perch.
The green and pink that he used may look somewhat neon on their own, but they actually complement each other perfectly when coupled together against the white color of the wig. Clearly, Alejandro knows what he's doing, and he executed this look perfectly.
Medieval warrior princess
Who says braids are feminine? With this next hairstyle, Alejandro proves that braids can be badass, too. The sliver is reminiscent of the armor a medieval knight would wear, and the way everything is crisscrossed over each other gives a certain strength to the look.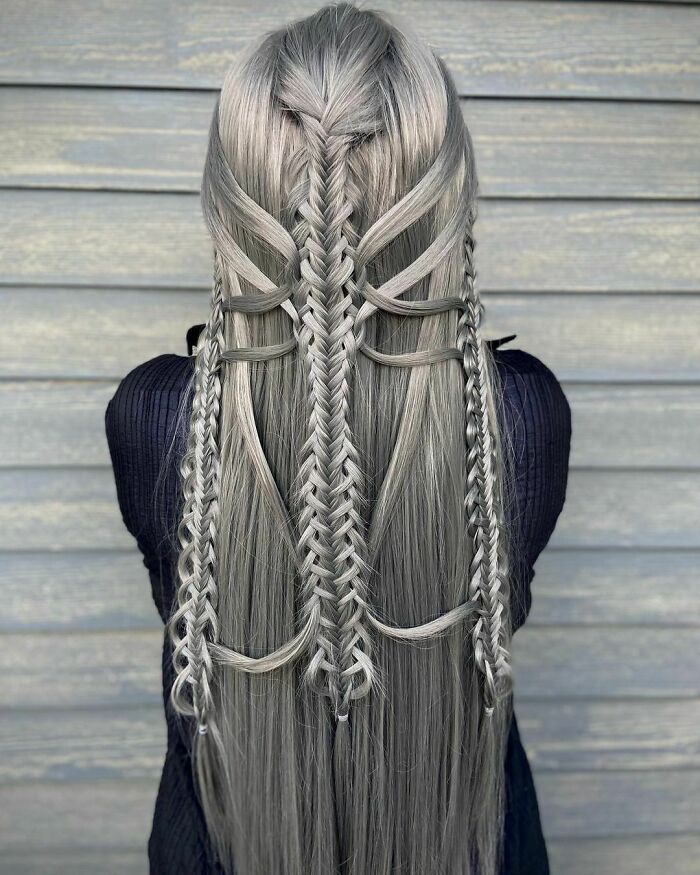 This looks like something that could be in one of the Lord of the Rings movies, putting the half-up half-down hairstyle on Legolas to shame. Or, it could also be sported by Daenerys Targaryen on an episode of Game of Thrones.
Black sheep
For this next look, Alejandro worked on none other than his mom. She is the one who got him a wig for his 19th birthday, which is how he started seriously practicing different braids. It only fits that he did braids on his mom someday.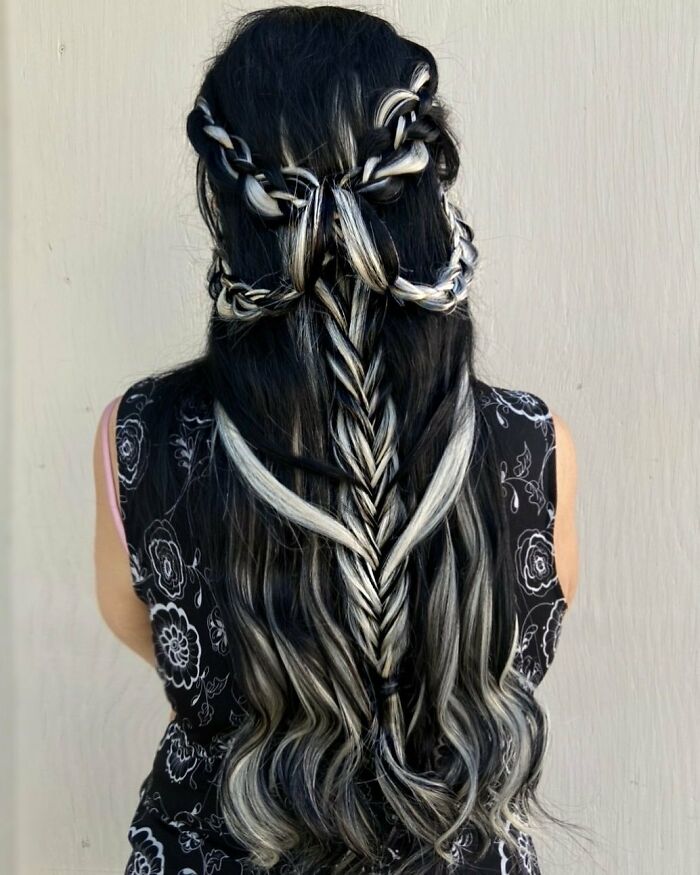 Alejandro captioned this look "the black sheep of the family." The long and luscious locks are actually his mom's real hair, intertwined with white hair. The contrast works very well together. It reminds us of Narcissa Malfoy from Harry Potter!
Looking rad for grad
The long dark hair against the black robe makes us associate this look with a wealthy person's funeral service rather than a regular ol' graduation. Nevertheless, this hair-do is actually for this girl's graduation day. She is going to stand out, that's for sure.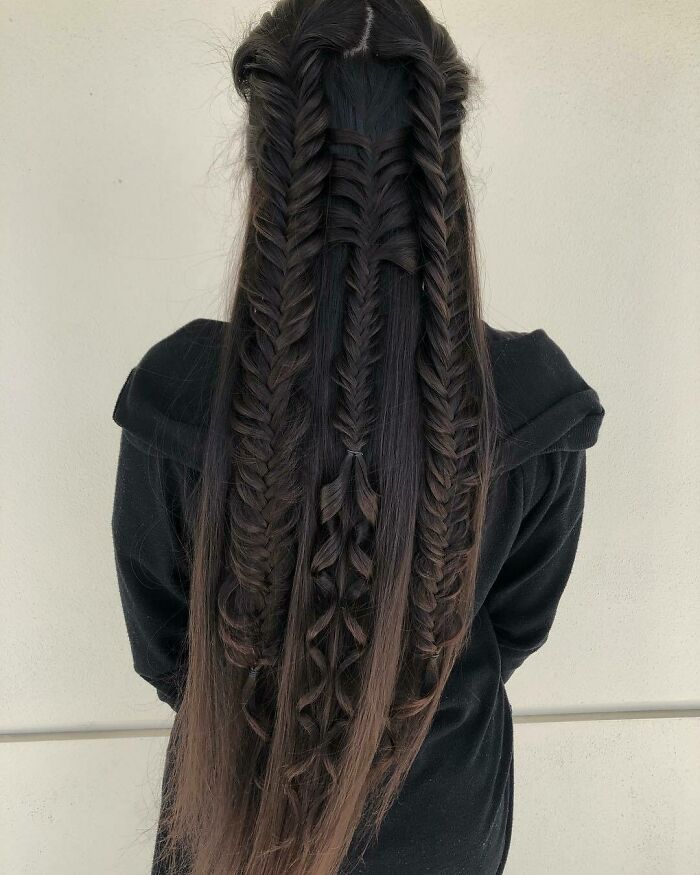 The intricacy of these braids is impressive. They look incredibly neat, all the way down to the curls, which mirror each other at the ends. We're convinced this hairstyle was made possible because this girl has so much hair!
Sunflower
If you thought the roses were impressive, you should see Alejandro's sunflower. It almost looks exactly to scale with a baby sunflower, complete with the stalk and leaves, too. And to top it all off, Alejandro placed little pearls in the braids for a beautiful touch.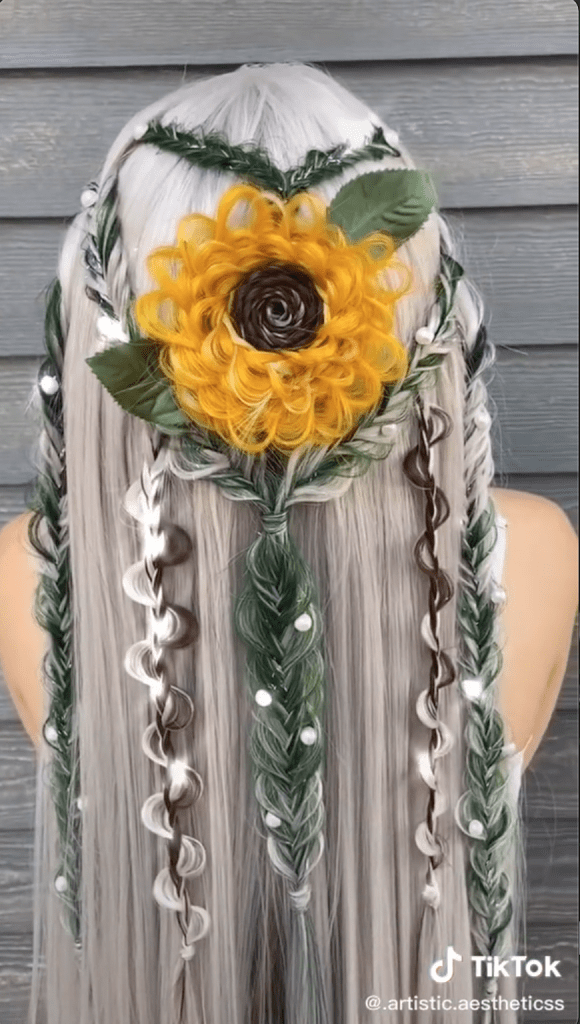 The pearls look like morning dewdrops, and they really finish off the entire look. As you can see in the video, Alejandro very meticulously braids every strand of hair. It's no wonder the results come out perfect every time. He really puts all his effort into every strand of hair.
Love is in the hair
Everyone wants to dress to impress on Valentine's Day, but few remember that the hair is the crucial part of the look. With this braided-heart look from Alejandro Lopez, you're sure to get a few heart-eyes from everyone you walk past.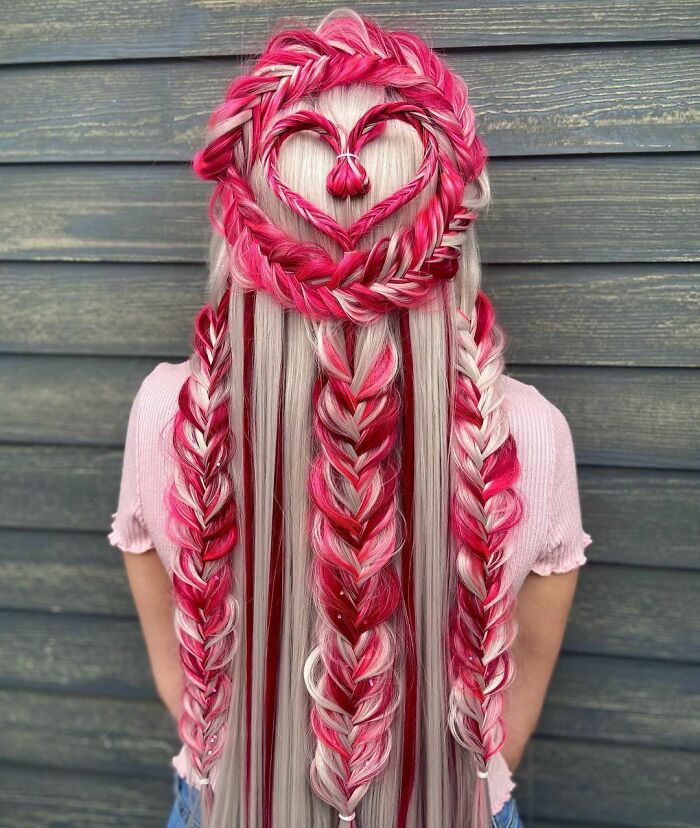 If our limited braid knowledge serves us right, these are just fishtail braids loosened up to look like hearts going down the hair. The incorporation of the pink and red extensions actually works very well together. It's awe-inspiring!
Lace veil
If wearing a wedding veil is a little too traditional for you, then maybe you should consider wearing one that is incorporated into your hair! That's right, Alejandro once managed to make hair look like actual lace, and it's stunning.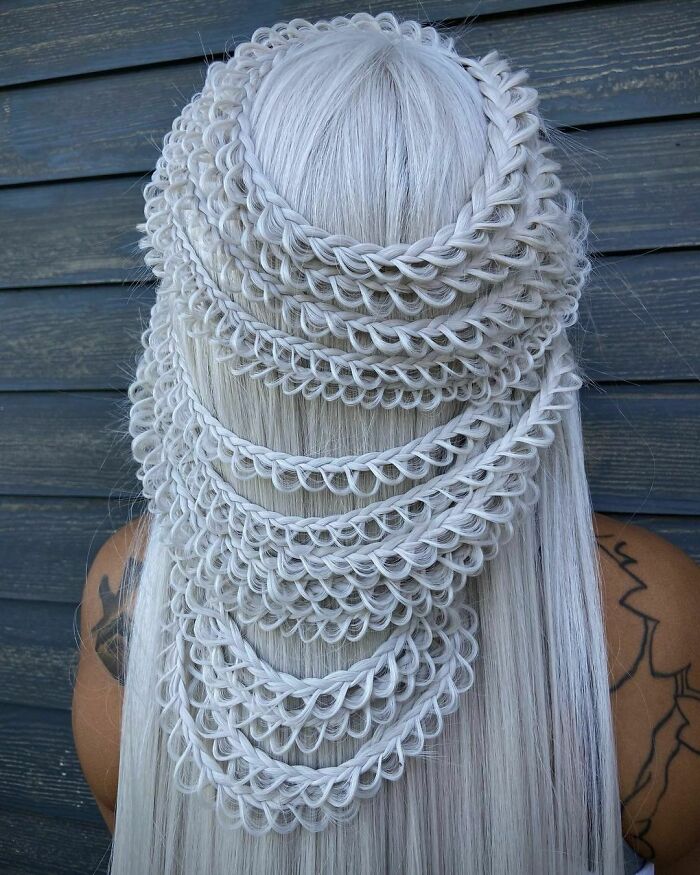 We don't know how he did it, but these braids look like they drape down from the top of the hair. It actually looks like it has movement, like the material of lace itself. We need a petition for veils to be canceled and for braid veils to be a thing from now on.
Dreamy
We are totally entranced by this next hairdo. Everything works, from the color of the wig to the ribbons in the braids, down to the little pearls trailing down. It's dreamy, it's girly, and we are here for it. Alejandro Lopez does not play around!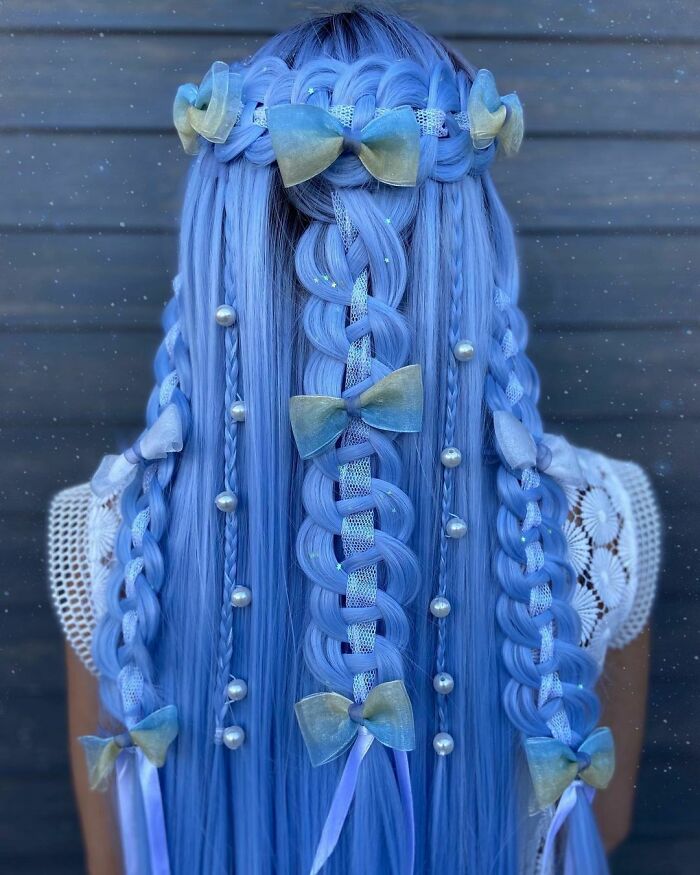 On the Instagram caption for this one, Alejandro explained that these were actually just four-strand braids. But instead of hair, he replaced one of the strands with mesh. We love that the mesh is slightly lighter than the blue tones in the hair, allowing it to pop right in the middle of the braids.
Golden tresses
Many novels have described a woman's blonde hair as her "golden tresses." Alejandro Lopez took that metaphor a step further by incorporating actual gold cords into this braid. The result is a truly enchanting layer of braids starting at the top and the sides of the head.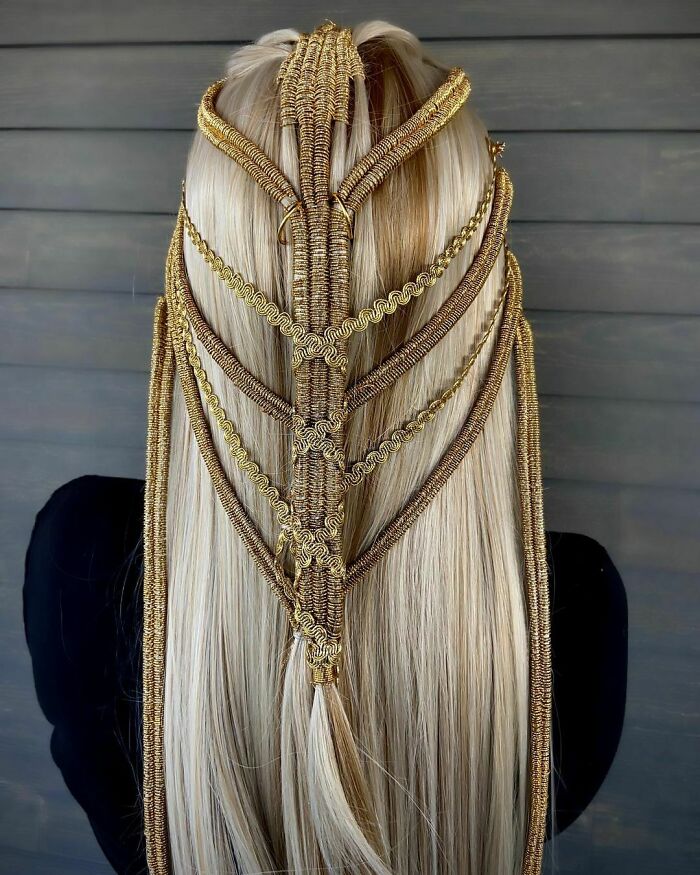 Because of the material of the cords, they tend to slide down the hair. To fix this, Alejandro used tactile dry texture spray so that the cords would be able to grip onto the hair a bit more. Safe to say, you're not moving your head around when you're wearing this wig!
6-hour job
Remember how we were wondering how long Alejandro's braid creations usually took to make? Well, the answer is in the caption for this TikTok—six hours! At least, it was six hours on this particular hairstyle anyway. It's almost an entire workday.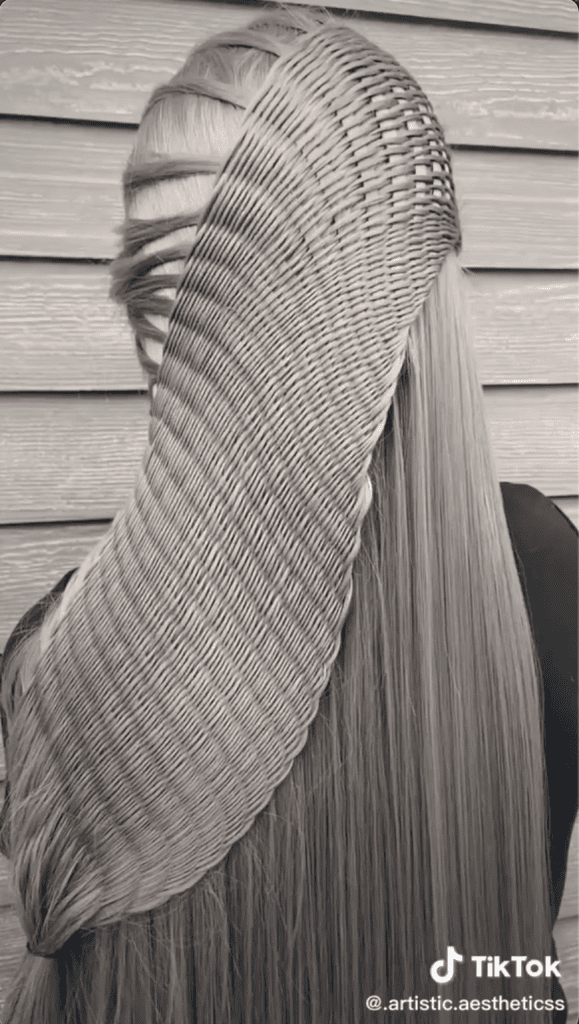 The result of this six-hour job resembles something between a DNA strand and a thick winter scarf that wraps around the head. It's incredibly remarkable, and it's almost like you don't need to accessorize anymore with hair like this.
A bouquet on your head
As if making roses and sunflowers out of hair wasn't enough, Alejandro Lopez takes it a step further by creating an entire bouquet of flowers. Best of all, he made the creative choice of using just one color, with black ties as the flower buds.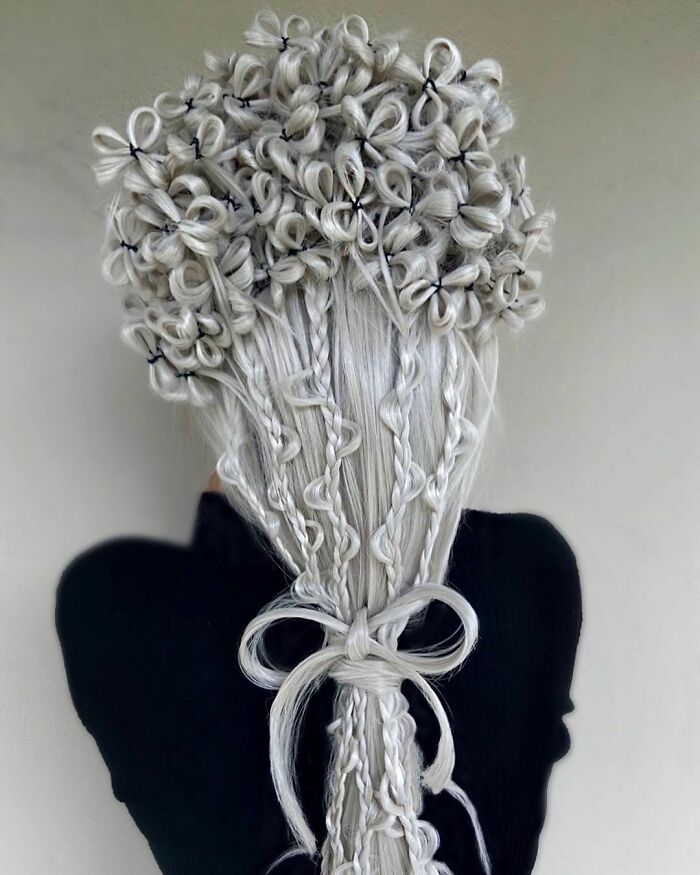 This entire hairdo is literally a bouquet. The low pony, tapered at the end and tied together with a bow really makes it look like what a bouquet would look like when you gather all the stems together. Alejandro just impresses us with every post!
Fiery glow
The color of this wig is to die for. It's the perfect shade of reddish-orange, reminding us of fire ablaze. For this look, Alejandro chose to do straight-up braids without any embellishments. We have to say, we're glad he did.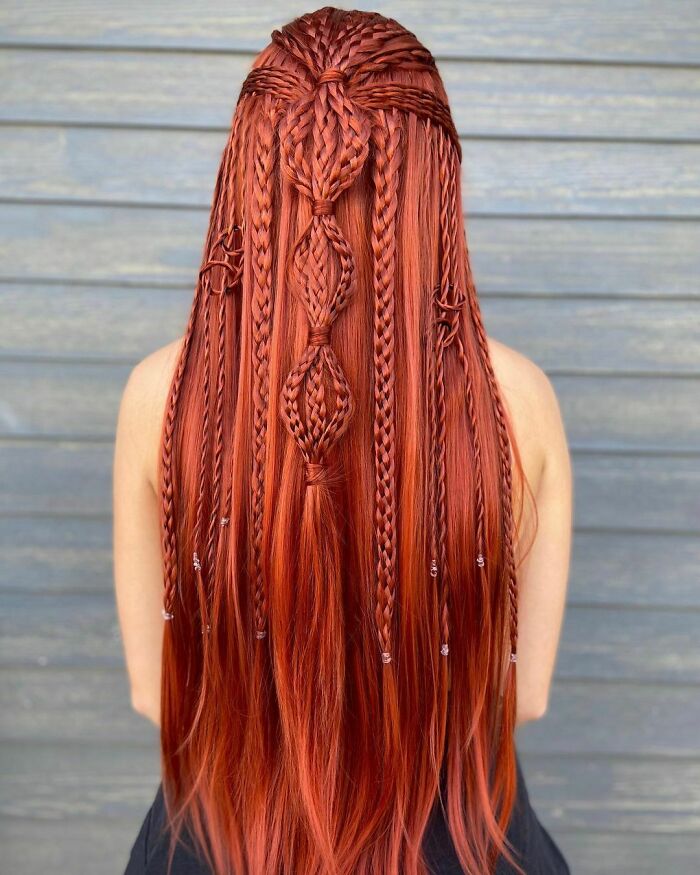 Perhaps the most impressive of all is the ovals that run down the center of the hair. They look almost three-dimensional, and it's very innovative. It must have taken a whole lot of hairspray and time to complete this look.
Perfect match
These two colors together create a gorgeous combination. We're wishing that Alejandro had used this light icy blue with the muted mauve together instead of on separate wigs! Imagine how dreamy that would look. But of course, these monochrome choices are perfect, too.
Interestingly, Alejandro chose blue, a stereotypically masculine color, to create a more feminine braid with flowers and curls. Meanwhile, he used pink, a more feminine color, to produce bolder and more masculine-looking braids. We love the contrast.
Dragon tail
Alejandro was a participant at the One-Shot Hair Awards in 2020. This dragon tail look was just one of his many fabulous entries. Without reading his Instagram caption, we wouldn't have noticed the pattern. But now, it makes complete sense.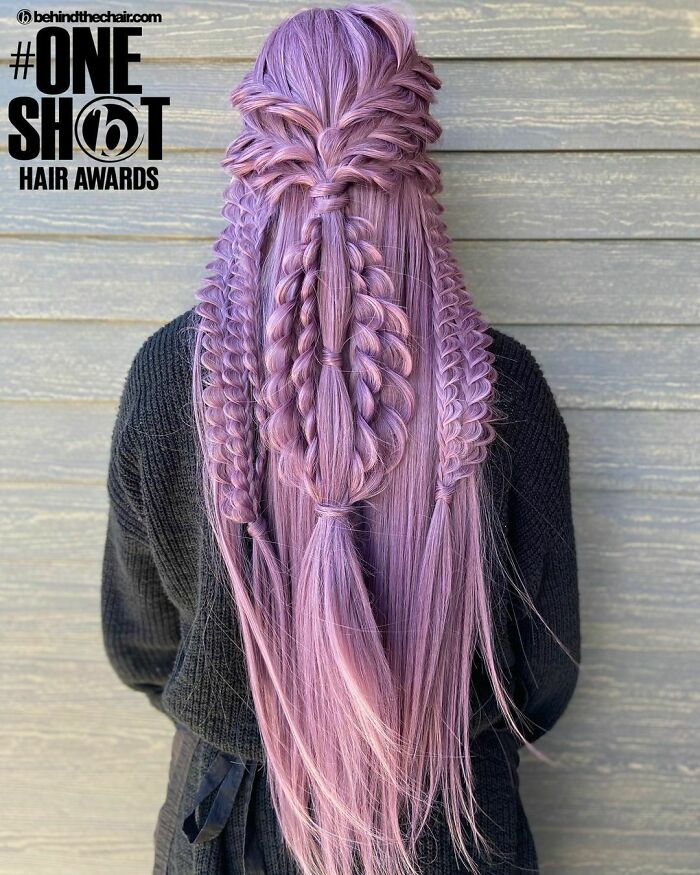 The braids on the sides and down the back mirror the scales of a dragon! How cool is that? Even the center braids come together to create the illusion of a dragon's dorsal scales. This is a stunning masterpiece, a deserves to win!
Princess Leia vibes
Princess Leia's hair in buns is probably the most talked-about film hairstyle. While they may look a little awkward at first glance, it's actually iconic when put into the context of space. This next hair art by Alejandro takes those buns to the next level.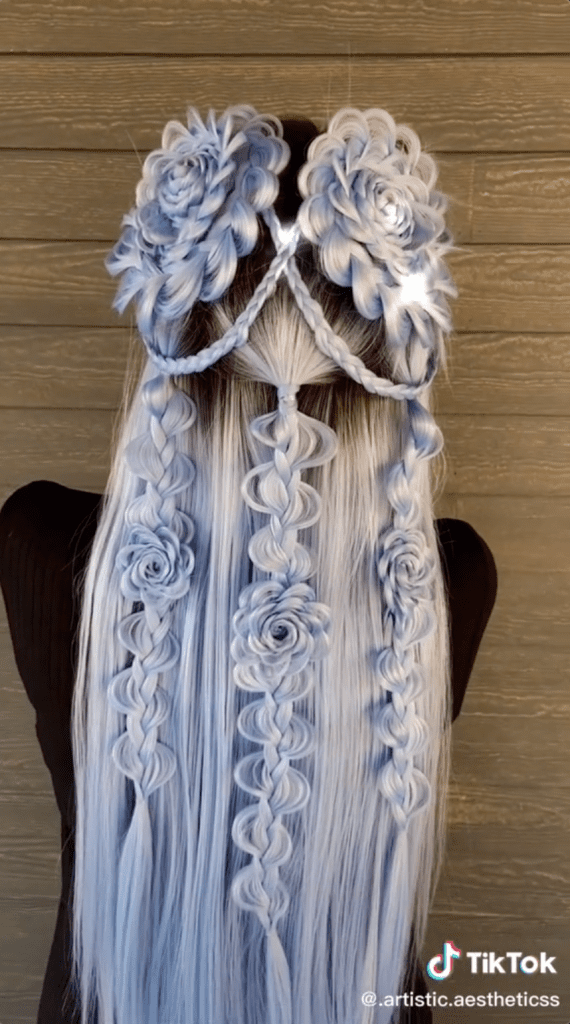 While Princess Leia's hair is twisted into two basic buns pressed flat against the sides of her face, the buns on this wig are flower-shaped. And that's not where it stops. Flowers are cascading down the wig too. It's ethereal in a completely different way than Leia's.
An elegant Christmas
Wow. We know Alejandro has done Christmas looks before this one, but this next one just takes the cake. The last one we showed you only incorporated green and red extensions with the white wig. But this one has touches of gold in it.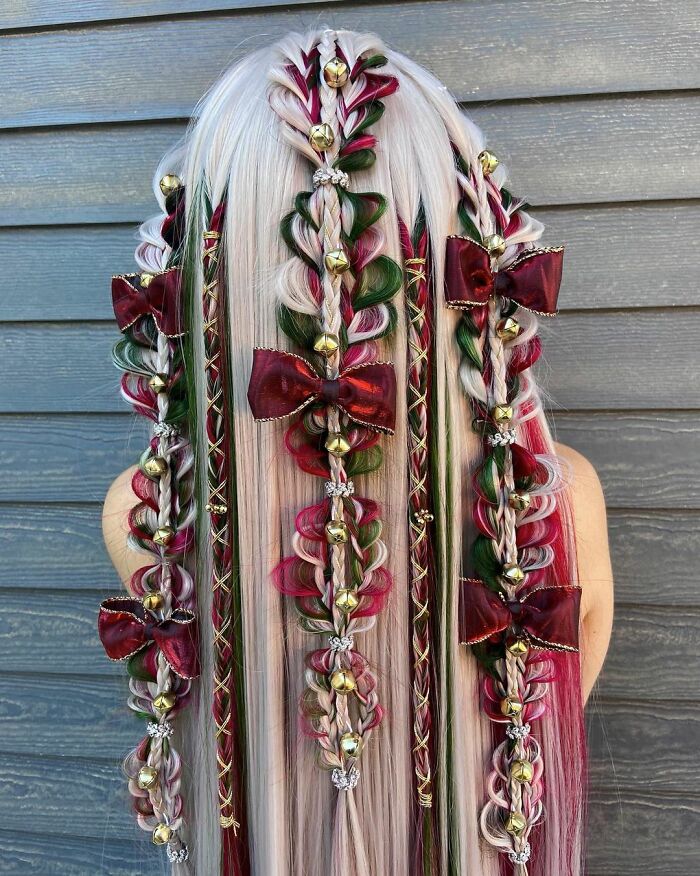 From the little gold bells to the red bows with the gold accent, it can be concluded that gold is the color that ties the look together. This is such a festive Christmas holiday hairdo that is bound to turn heads at the Christmas party.
Baby doll
For this next hair art, Alejandro did a spin on the classic Lolita dress. These styles of dresses have a lot of lace in them, so that's exactly what he used in the hair. Going with a dark slate blue wig, he hand sewed the lace into the hair!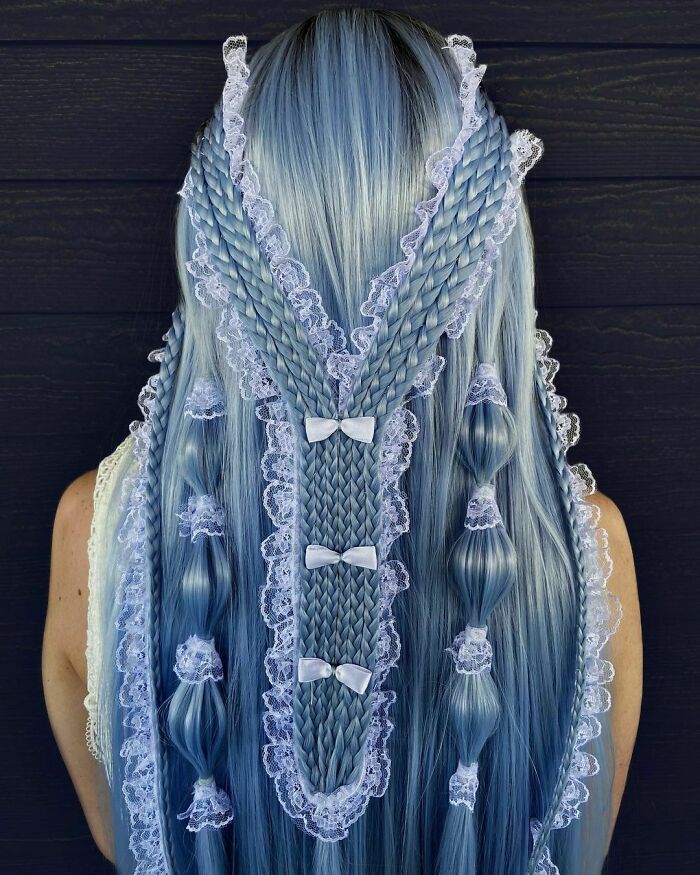 The result is a beautiful work of hair art. It almost looks like it's its own main character that belongs in a period piece. The details are impeccable, down to the three little bows, which were handmade out of leftover ribbons.
Reign of purple
If there are two colors that signify royalty, it's purple and gold. Combine these two shades in a wig, and you get the most majestic hair art you've ever seen. Alejandro Lopez did it again with this look. This is something we would see in our most wonderful dreams!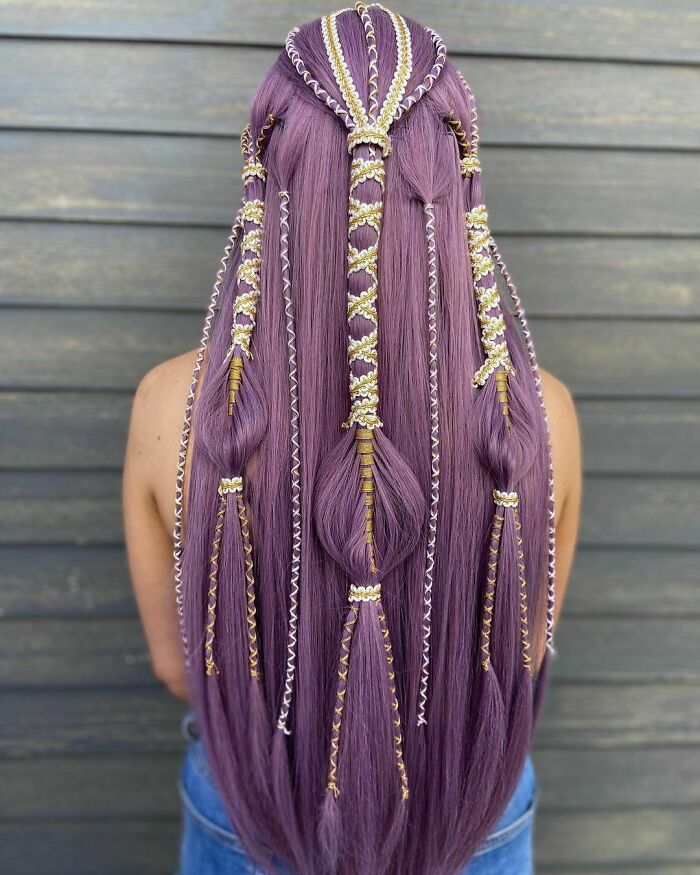 On his Instagram, Alejandro shared that he found the gold material he used in the hair while he was thrifting. He then got inspired to create this look. In addition to gold, he even wrapped some of the hair in silver too.
Concert do
There's always a reason to do your hair all cute. A concert or a festival is a perfect reason to do so. And while other people might opt just to curl their hair and put on a bit of makeup, this client of Alejandro's chose to go all out.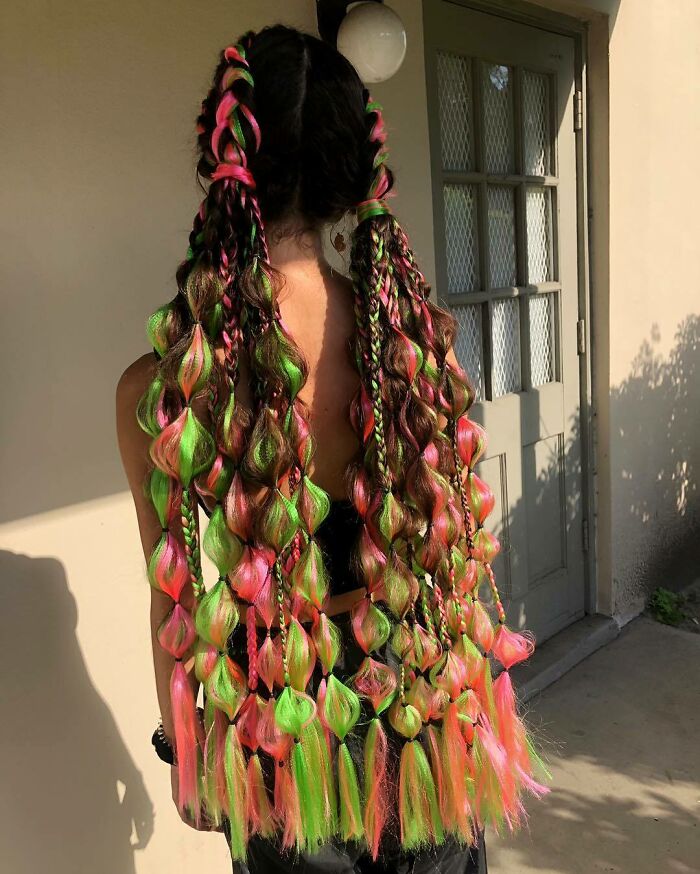 We're obsessed with the pigtails concept. We are living for the sheer length of the hair, thanks to the pink and green hairpieces. And these little bubbles? Divine! This girl is bound to turn all the heads in the crowd.
Phantom detailing
This next hair art is Alejandro's final entry for the 2020 One Shot Hair Awards. To close out his array of looks, he went back to the initial wig that started it all – the one his mom got him for his 19th birthday.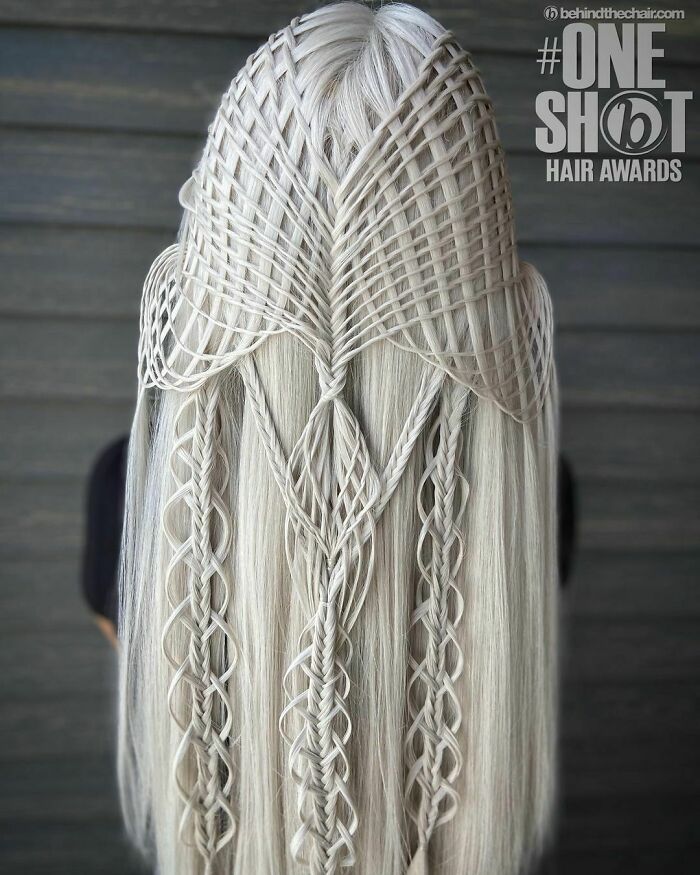 The details in this look give off a ghostly aura. It's almost like every separate braid part is levitating around the head instead of actually being made of hair. There is a spookiness to it we can't quite place.
Monochrome flower
Depending on your preference, you may think that Alejandro's best braids are the ones that utilize multiple colors, materials, and textures. But the art that he does on single-colored hair is also pretty dang impressive. He creates a unique style every time!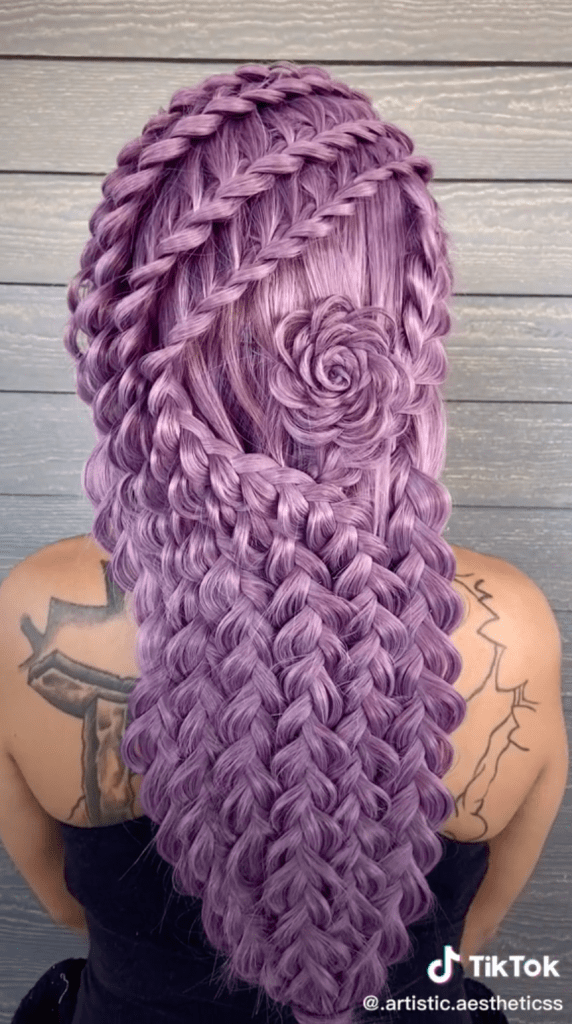 Check out this monochrome flower work that he did, as shown on his TikTok. The large braids cascading down the back look like a waterfall. The single flower on the hair is like a single stem of a flower peeking behind a waterfall.
Ribcage
Here's another fun concept that Alejandro came up with and executed on just one hair color, and again, it's more than impressive. While he didn't start out with the intention of creating a ribcage-like design, that's exactly what it turned out to be.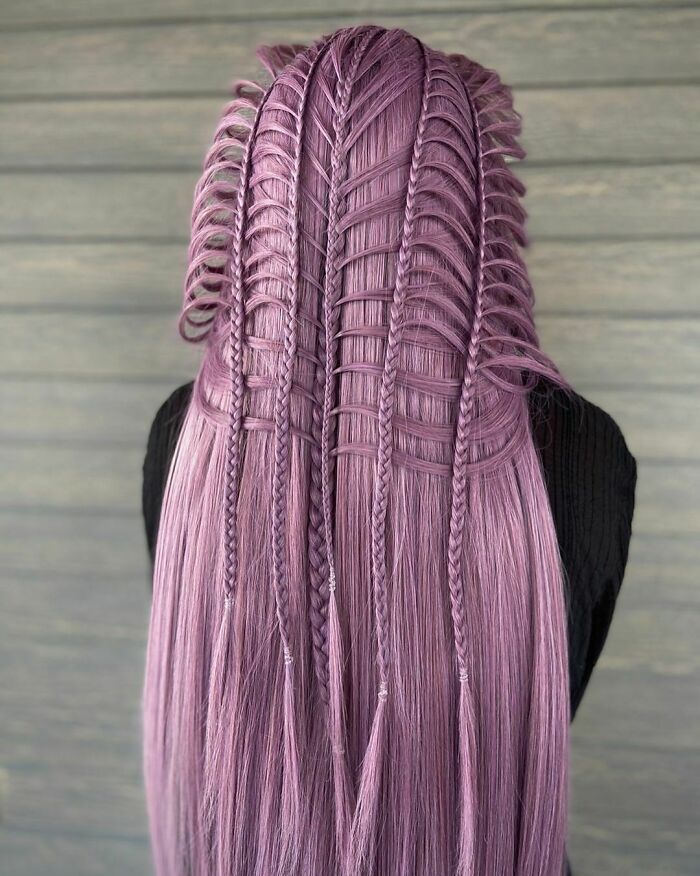 The design showcases two sets of ribcages on the left and right sides of the wig. It may not be anatomically accurate, but it's entrancing nonetheless. It almost has a skeletal feel to it, the way the ribcages are hair sprayed to look properly structured.
In bloom
These Dutch pigtails are so gorgeous for the fall. The red and purple really match the autumnal colors of the outdoors, but they are not the typical browns and greens that you usually expect. The bows and the flowers made out of strands of hair also punctuate the fall feel. We're obsessed!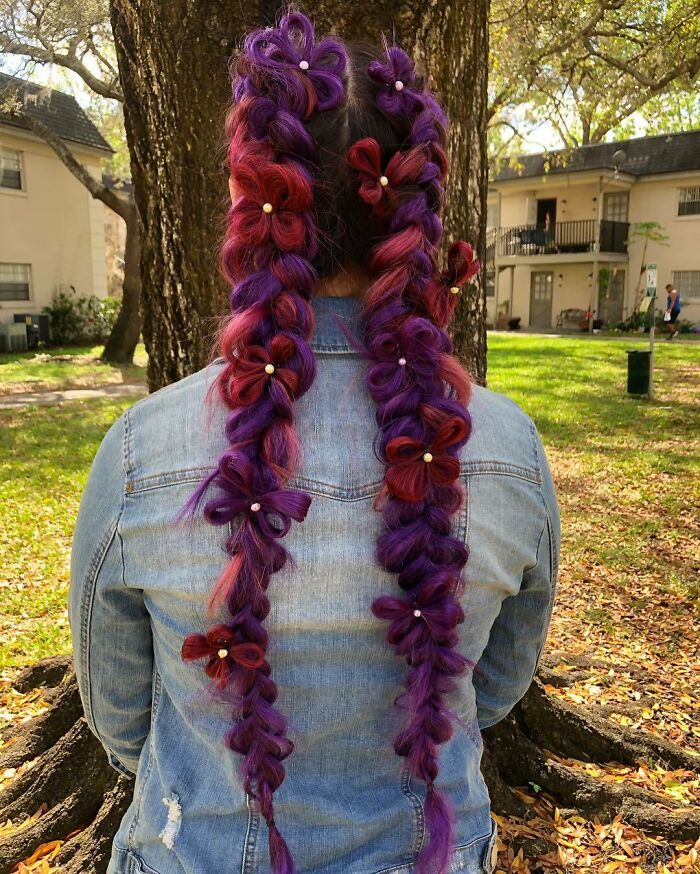 You can do a lot to a hair look just by fluffing out your braids. Even though it may look a bit messy, it's part of the aesthetic. It adds a bit of movement and dimension to the entire look, as seen on this lovely lady here.
Simple sunflower
Did you notice the intricate sunflower with the yellow and green extensions earlier? Now, feast your eyes on something simpler but no less enthralling. If the sunflower before was made out of wigs, this one is 100% real hair.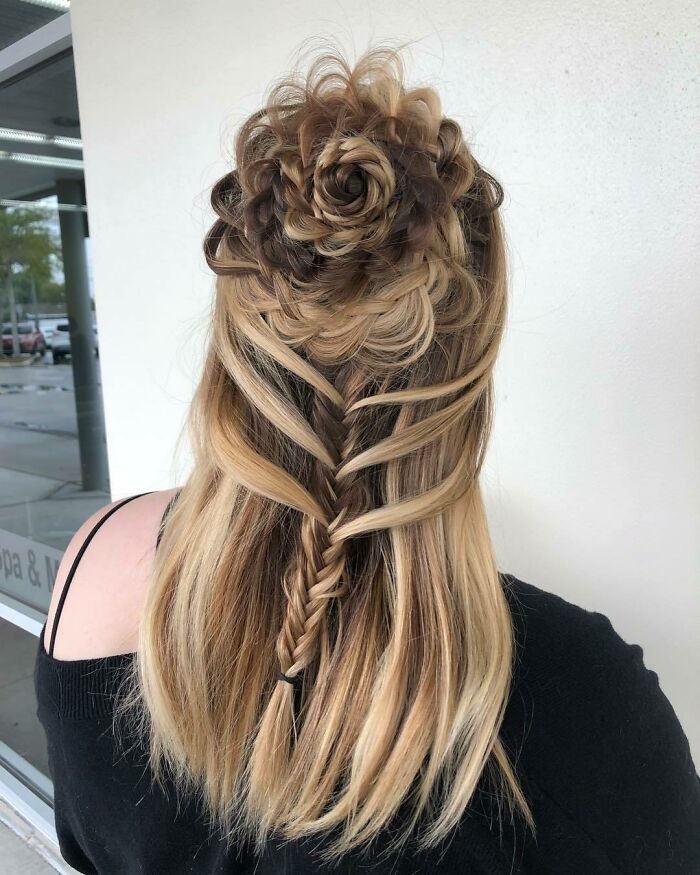 What a brilliant way to utilize the highlights of the hair to actually highlight the design of the sunflower itself. You can tell that Alejandro is a natural talent because he's able to pull this off without the aid of extensions or embellishments.
Stairway to love
Here is another one of Alejandro's Valentine's Day looks. He used multiple extensions for this particular hair art, which he colored with multiple shades of pink and red before braiding them together with the wig. Pearl beads and felt hearts are a nice finishing touch.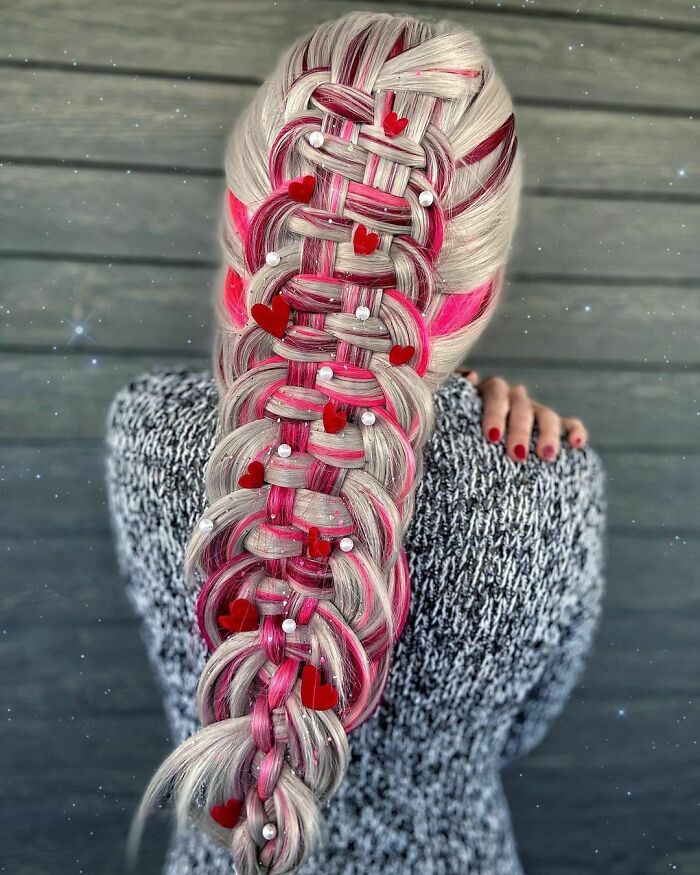 With hair like this flowing down our backs, we'd be too busy checking ourselves out in the mirror. The more you look at it, the more you realize how complicated this must have been to pull off. The hair is woven to perfection!
Hourglass
What do you see when you look at this look? For us, we see the intricate centerpiece of the hair, and we also see an hourglass. Everything about this piece of hair art is so clean and delicate that it gives us chills.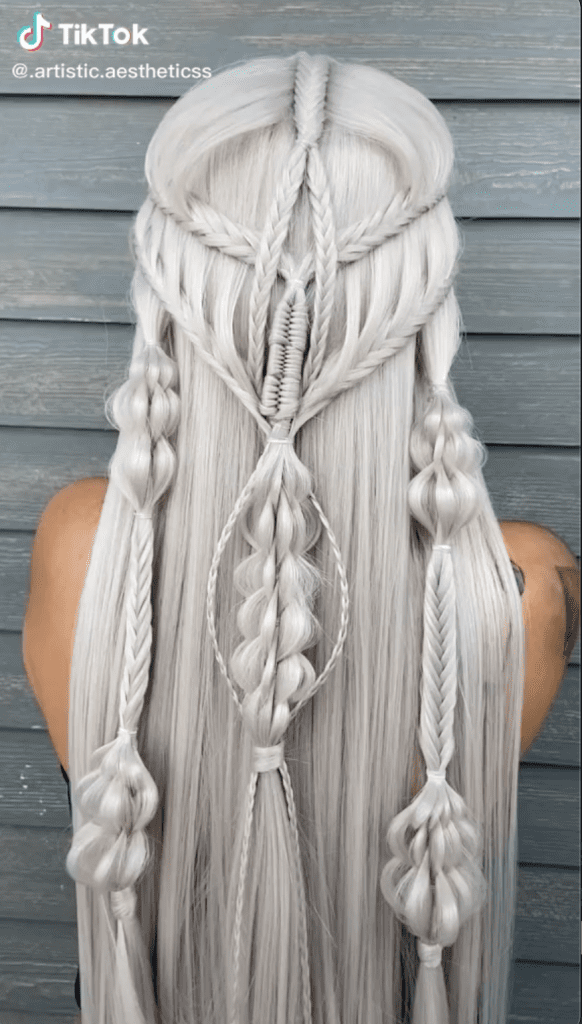 There are multiple kinds of braids going on here, those we don't even know the names for. This whole look is something that we can see being sported by Daenerys from Game of Thrones. It seems a lot of Alejandro's aesthetics veers towards that fantasy world.
A fire collab
The greatest artists don't work alone. They have a line of collaborators that help them achieve great art. Alejandro collaborated with fellow hairstylist Neal Malek to create a "flamethrower" braid for this next look, and the result is fire.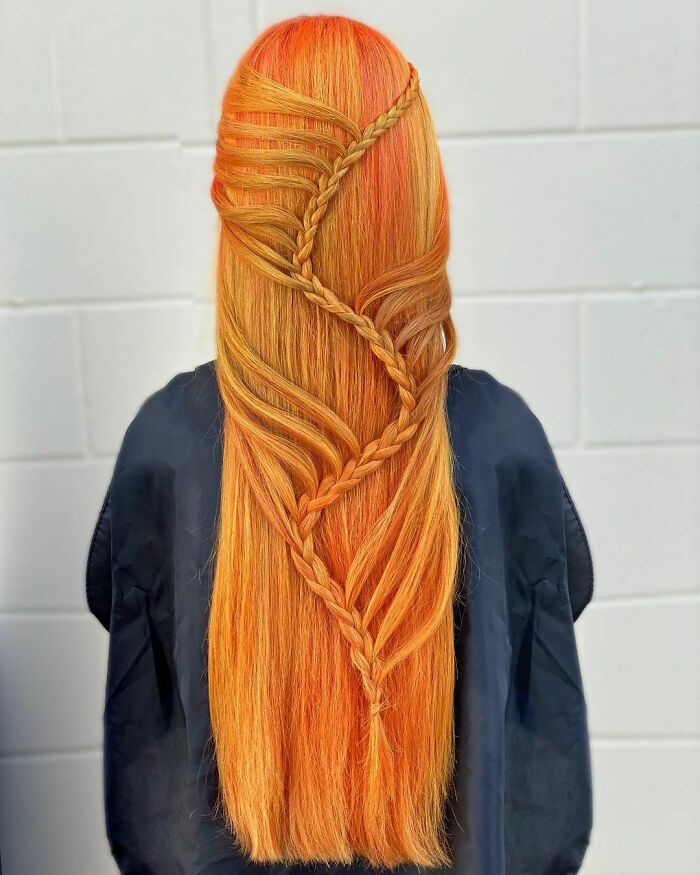 While the braid itself is pretty straightforward, it's the color of the wig that really brings everything together. The dark orange with the yellowish highlights, styled in the loose S-shapes of the braid, really creates the illusion of flames.
Christmas crown
This may just be our favorite piece out of all of Alejandro's Christmas looks. Although he used the same color of wigs and extensions for all three hairdos, he still managed to make each style completely different from the other.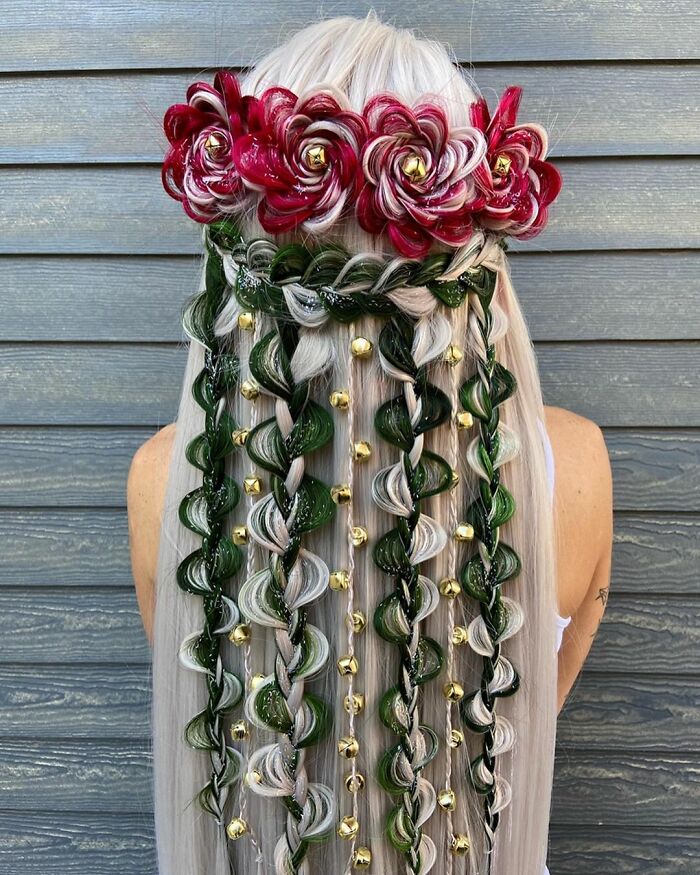 Our favorite part about this hairstyle is the way the white and green braids serve as glittery flower stems. Four stems for the four flowers at the top of the head. The bells in the center of the flowers are also a nice touch.
Channeling dark
Alejandro experiments with different kinds of looks, as you can probably tell. Even though this shade of purple isn't exactly dark, the way Alejandro worked the black bows and silver materials into the hair really elevates the dark feel that he was going for.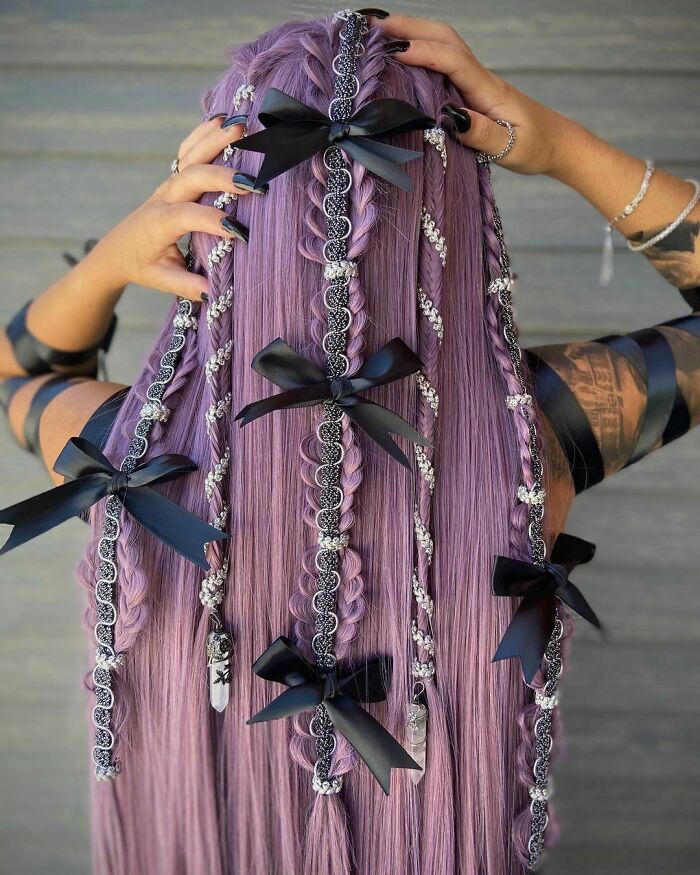 It's interesting that despite using dominantly light colors, artistic darkness can still be achieved through the details. The silver cords really heighten the look. And can we all appreciate the little crystals fastened at the end of those braids? Iconic.
Channeling dark, part 2
Now, this look truly channels the dark side. The combination of pitch black and ruby red colors work well together to create a villainy vibe. Not to mention, the pattern of the braids creates a dragon scale effect. We assume this guy is a fan of dragons.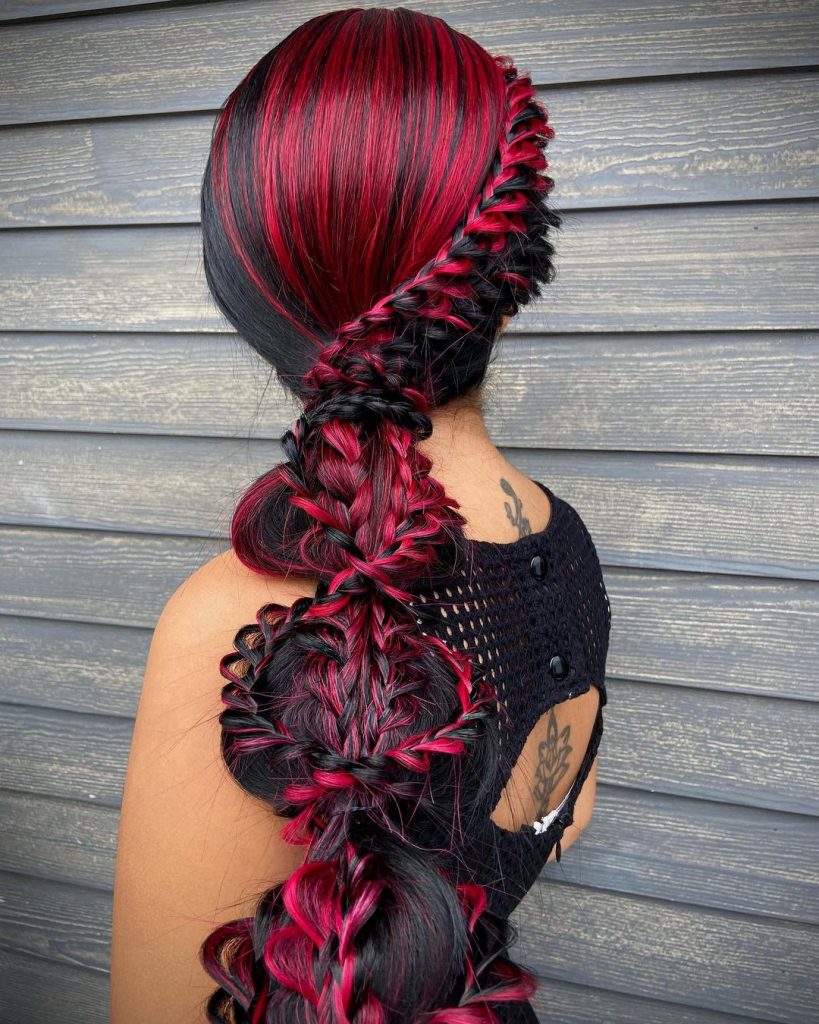 Nothing says dark like black, red, and dragon scales. This is Alejandro's entry for the Pulp Riot hair competition last month. He dyed some of this wig in the color Pyro – a beautiful color which is aptly named.
Leave this heart hanging
This one is another one of Alejandro's entries for the One Shot Hair Awards. Using a single platinum blonde color, Alejandro created five hearts dangling from an elaborate braid crown at the top of the head. It's dreamy and romantic in a muted way.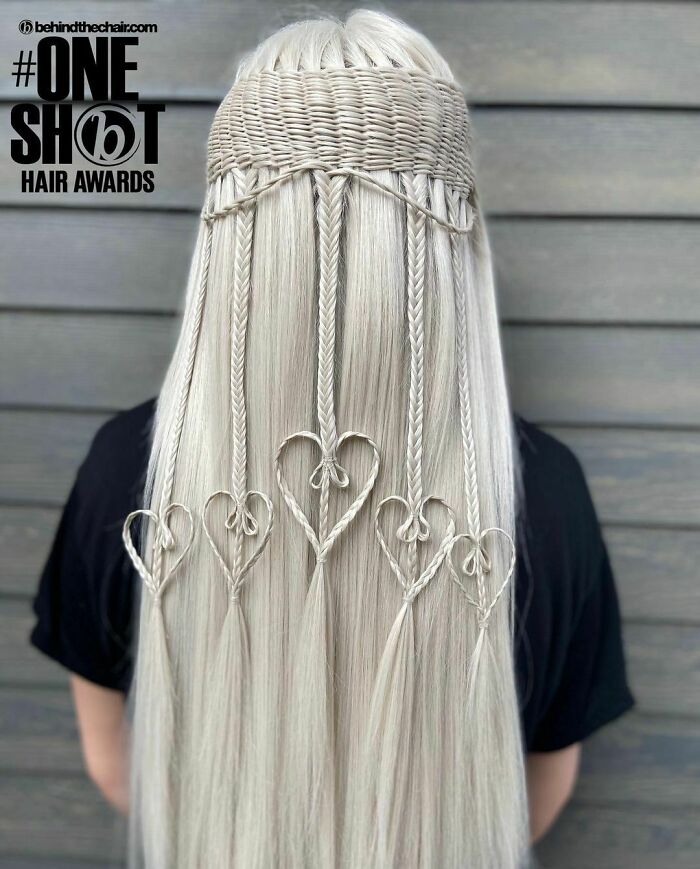 On Instagram, Alejandro noted that the dangling hearts were his favorite part of the entire look. Honestly, it's our favorite part too! It's so dainty and delicate yet looks so complicated. And, the little curled-in details in the middle of the hearts are a nice finishing touch.
Bed of roses
Alejandro opted to use a really bright reddish-pink color for this next spin on the roses theme that we've seen before. Instead of a normal crown of roses, he actually created a heart out of multiple hair roses. How sweet is that?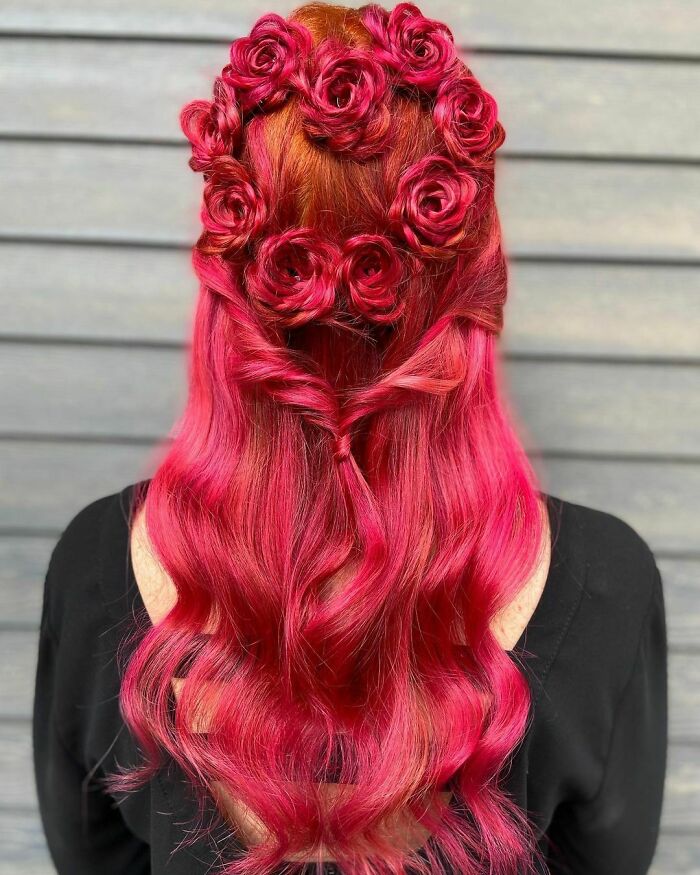 He could have stopped there, but he went the extra mile. Taking hair from each side of the face and twisting it backward, tying them together and creating a half up half down look. It makes the entire piece look elegant.
Ghibli inspired
Alejandro draws lots of inspiration from film and TV for his looks. This dreamy mint green piece was inspired by the Studio Ghibli classic Spirited Away. The color scheme was chosen to match the dragon in the film called Haku.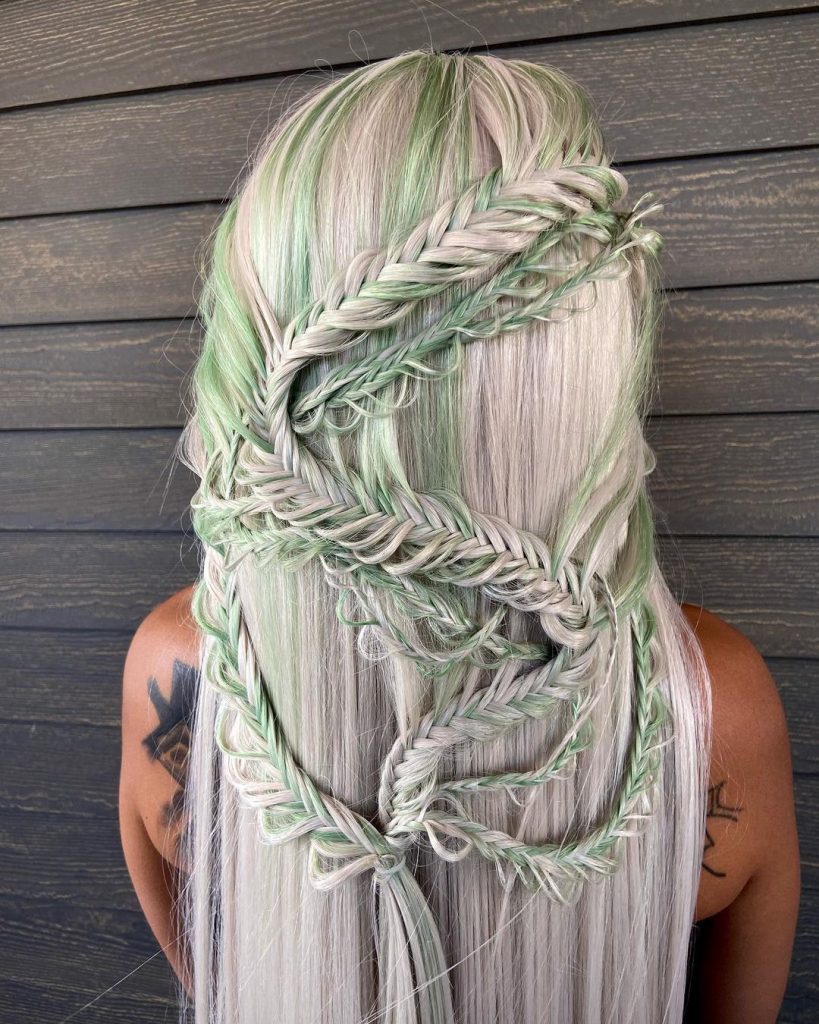 For Alejandro, this kind of braiding is probably light work compared to some of his other creations. But it's the way he utilizes the subtle green strands of hair within the braids that makes this piece look so extraordinary.
Dreamcatcher
As if his work wasn't dreamy enough, Alejandro Lopez created this gorgeous dreamcatcher look. He created this piece using the only wig he owned at the time. Look how far he's come since then, collaborating with wig brands to create more complex braids!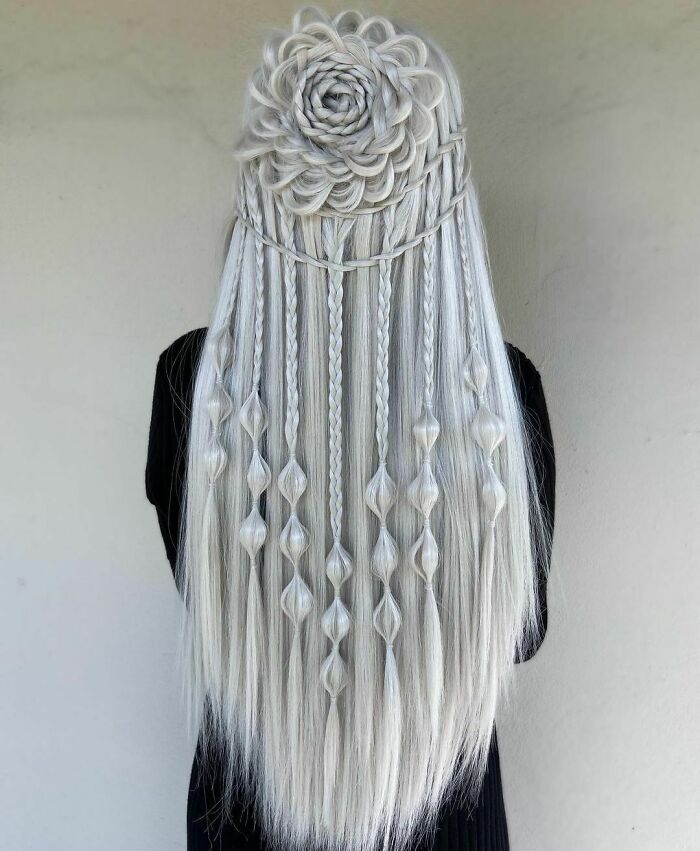 The dreamcatcher starts off with a flower with so many petals, followed by three-strand braids that flow down into entrancing oval orbs. This was one of Alejandro's first hair art designs that blew up online, so he shared it again to reminisce.
Vincas in the spring
Wow. This look makes us wish that we had as much hair as this wig to play around with. How gorgeous are these purple-mauve petals? Alejandro shared on his Instagram that the flowers are reminiscent of delicate vinca flowers.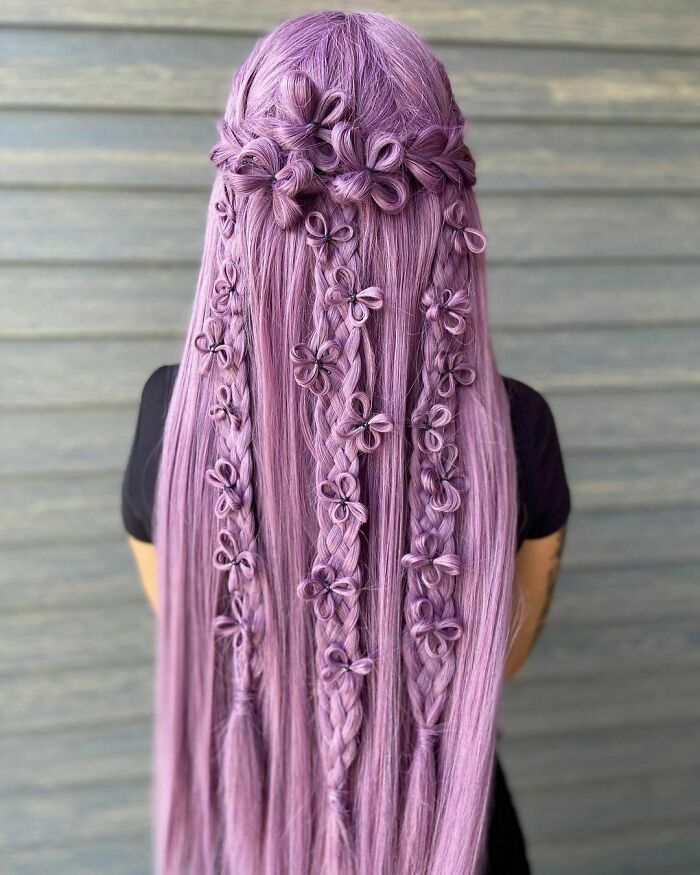 He ended up submitting this to the One Shot Hair Awards. This one definitely deserves a prize. It's elegant, and it's intricate, but not too flashy, and it's just drop-dead gorgeous. The products he used to achieve this look include stronghold hairspray and hair oil.
Neon rainbow
If you thought all of Alejandro's work you've seen so far were colorful, then get ready for this next one. This explosion of borderline holographic colors was done by Alejandro's collaborator, Gerilyn from Pulp Riot Hair. This is a truly insane piece of work.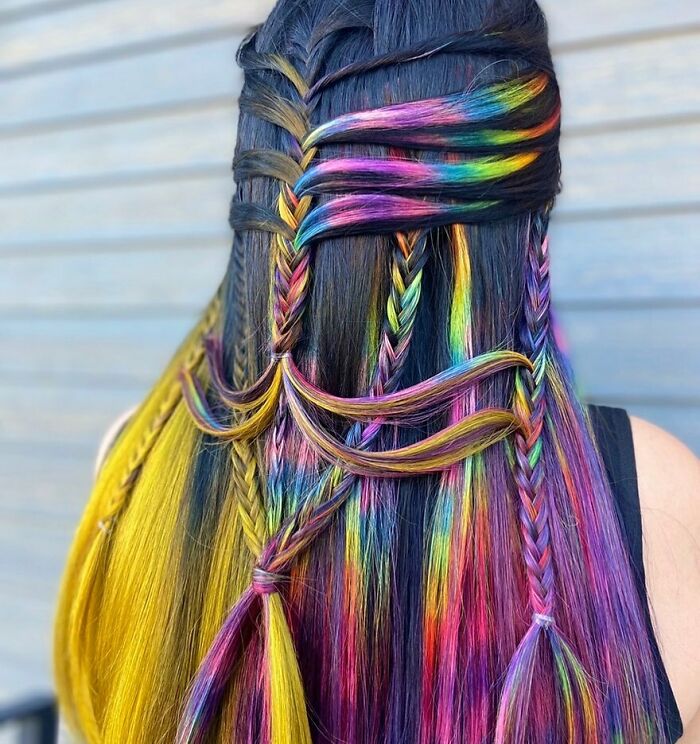 Both colors and braids are so fun and bold. It's loud but not too "in your face." Despite only braiding little fishtails together, the coloring of the hair really brings out the whole look. It's a fun style to rock at a themed party or a rave.
Winter wonderland
This hair transformation is truly transfixing. Alejandro's client had about five inches of regrowth and a frizzy head of hair. But he toned her hair and added a little bit of blue. Then he styled it into this wonderful winter wonderland.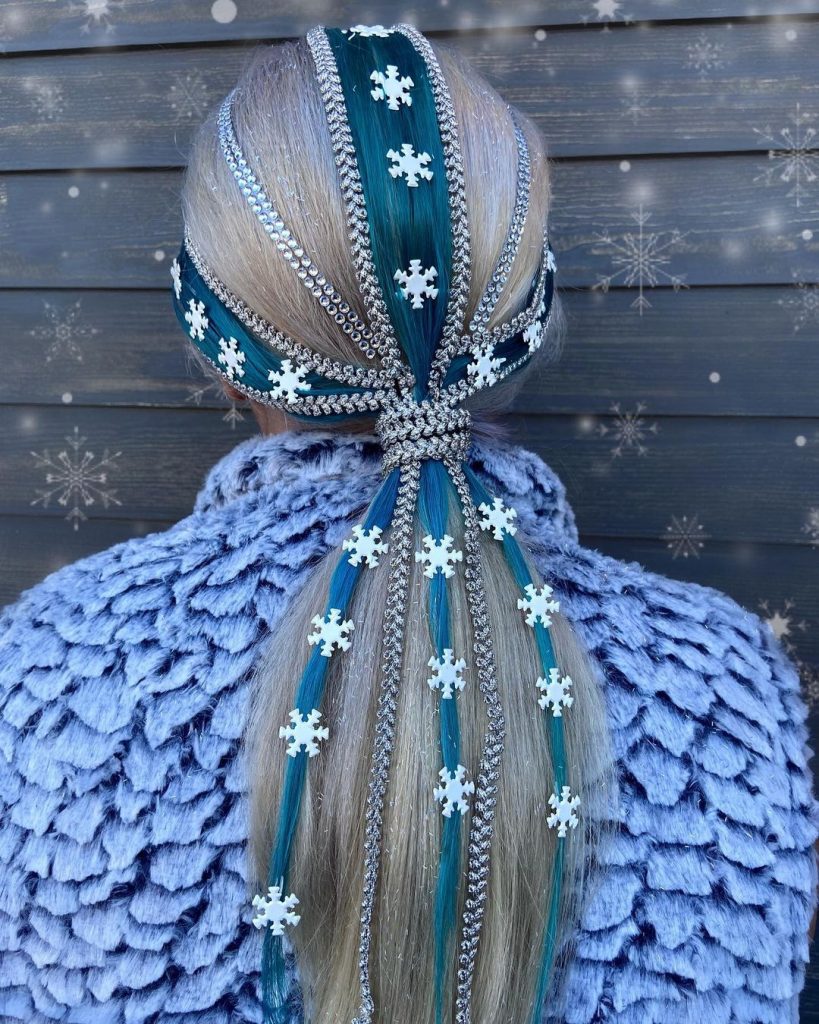 What a gorgeous way to remind everyone that winter is coming. The tones on this look are just right. The blue is dark but still frosty. The blonde of the hair is really almost silver and symbolic of winter. Those cords really highlight each section of hair, and the snowflakes add a nice wintry touch.
Woodland fairy
WOW. This is hands down our favorite look out of all the other ones we've seen. It's giving off a woodland fairy, Mother Christmas, midnight magic vibes, and we're so here for it! Everything from the color of the hair to all the embellishments really works.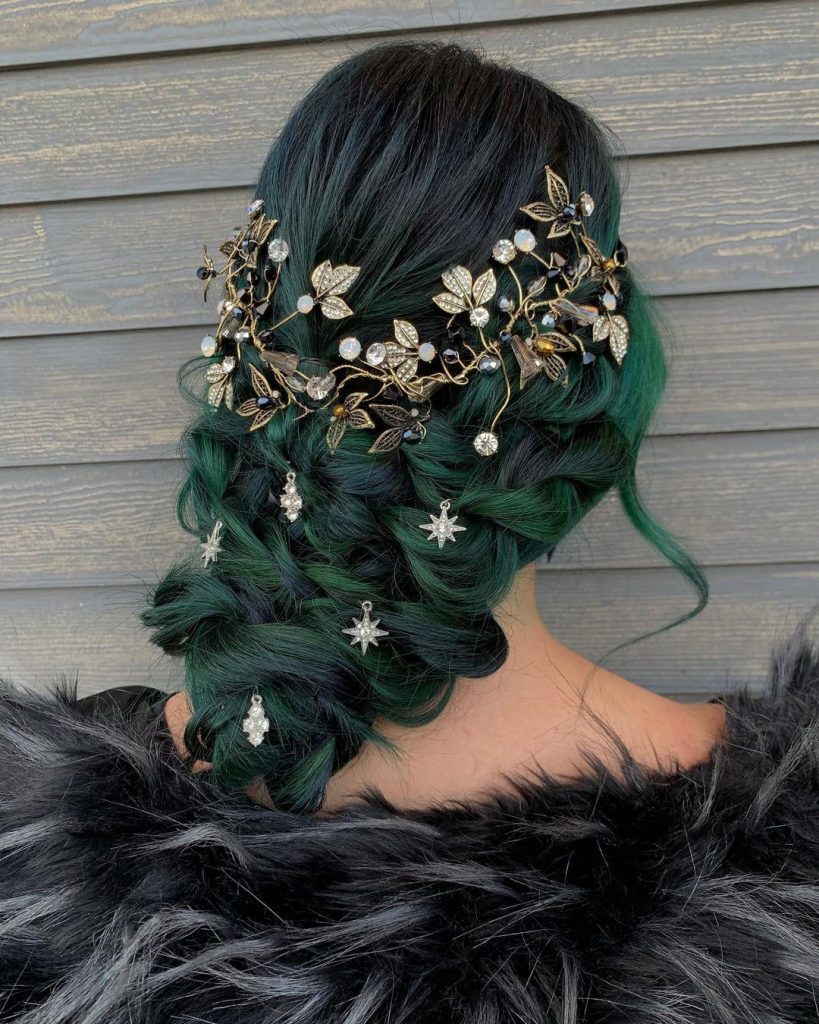 This is another one of Alejandro's collaborations with Gerilyn from Pulp Riot Hair. They entered this in the One Shot Hair Competition in 2020. All we want to know is, where can we get that remarkable gold leaf headpiece?
4th of July
Here's a very patriotic hairstyle to try out. This fourth of July hair incorporates blue and red extensions and stars to signify the American flag. It's actually pretty simple and looks easy enough to attempt at home. But of course, it won't turn out as perfect as this.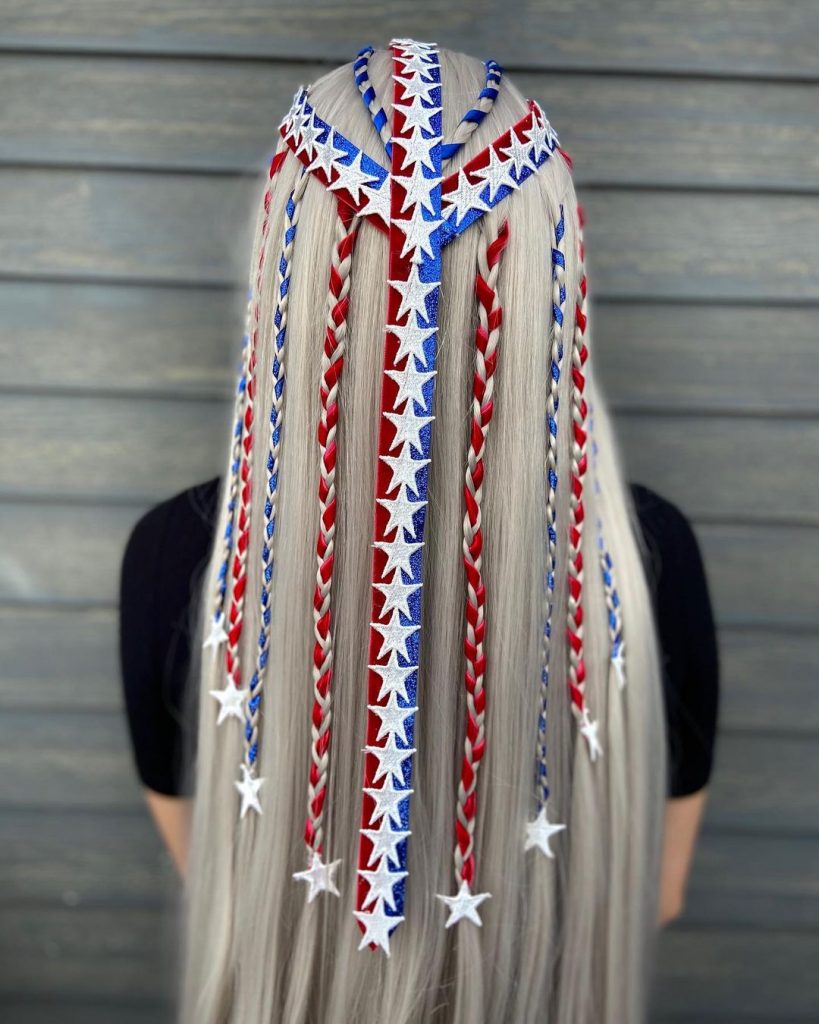 From the looks of it, it's just three-strand braids using the blue and red extensions and the ribbons down the middle of the hair. Pretty doable, right? Maybe you can attempt this hairdo for the next 4th of July, or something similar.
Queen of the goddesses
This hairdo made our jaws drop. What a beautiful way of braiding the hair to make her look like the queen of all the goddesses. It gives off such rebel queen vibes. We don't know who she is, but we're already on her side.
Part of what makes the look work so well is the length. As with most of the hair Alejandro works with, it flows well past the elbows, giving this an ethereal feel. The color of the hair also sets the mood very well.
Peace and love
We're closing out this list with the most trippy look of them all. The colorful braids aren't actually made with hair. Alejandro substituted the hair with yarn, which is how he wove in all those colors. He braided the yarn into infinity braids down the back.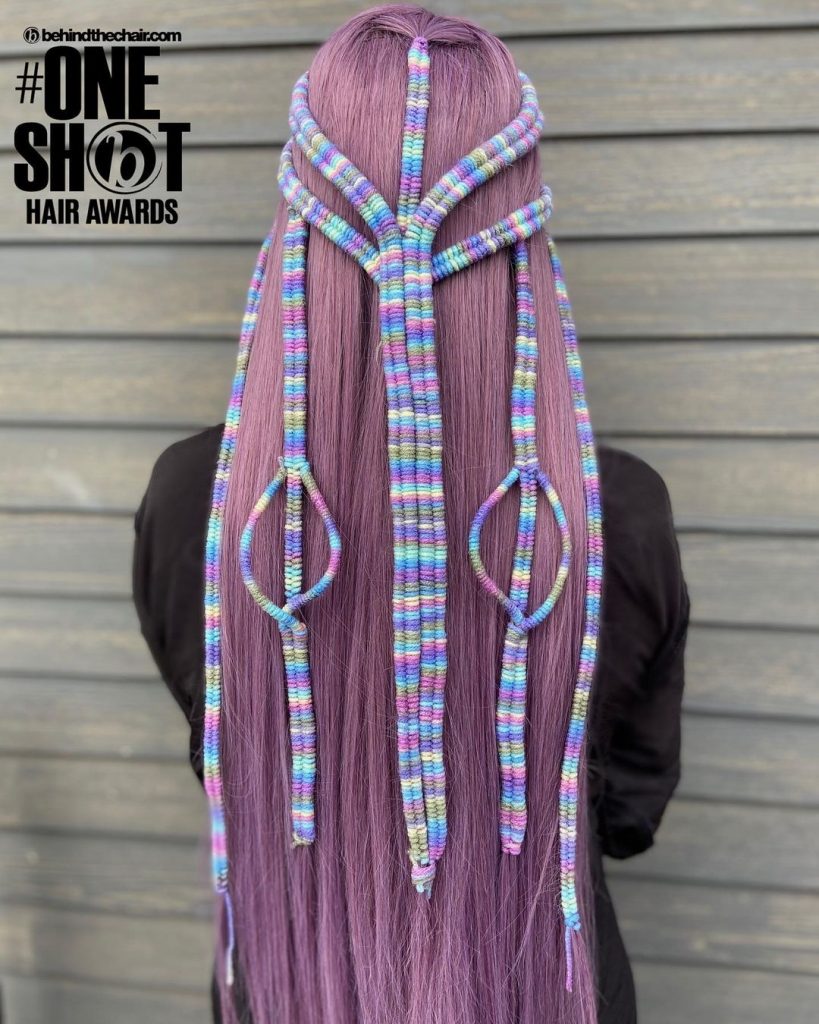 This look seems both easy and difficult at the same time. Despite the simplicity of it, something tells us it must have taken him hours, or maybe even days, to finish. Either way, it showcases his brilliant hair art skills, just like every photo we've seen on this list.