Diamonds Are A Girl's Best Friend: 45 Celeb Engagement Rings That Prove This True
By Jana I February 7, 2022
---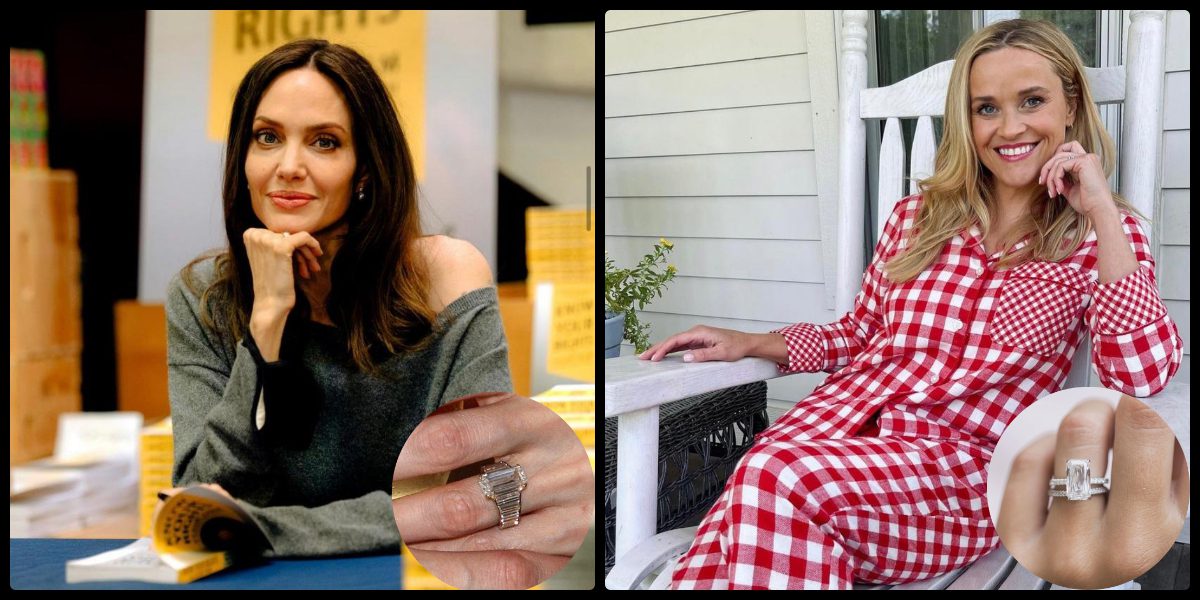 We all do it; women scroll through social media and admire the engagement rings various celebrities have been gifted by their loves, all the while daydreaming about the proposal they will, one day, experience. Then, we make Pinterest boards! When looking for wedding inspiration, women look for it in celebrity wedding dresses and excessively pretty stones with nice settings. In this article, we've compiled 45 celebrity engagement rings that span from the most expensive to the most beautiful and everything in between. You'll see some of your favorite celebrities, like Ciara, Angelina Jolie, Kim Kardashian, Blake Lively, and Queen Bey herself! If you got Valentine's Day feels and you wish to indulge in those wedding plans in your head, keep scrolling!
Gwen Stefani's Engagement Ring
Gwen Stefani, the leading lady of No Doubt, is a music icon. The one in charge of proposing to her had to choose very carefully. Gavin Rossdale proposed to her in 2002 with a thick band with diamonds in the middle.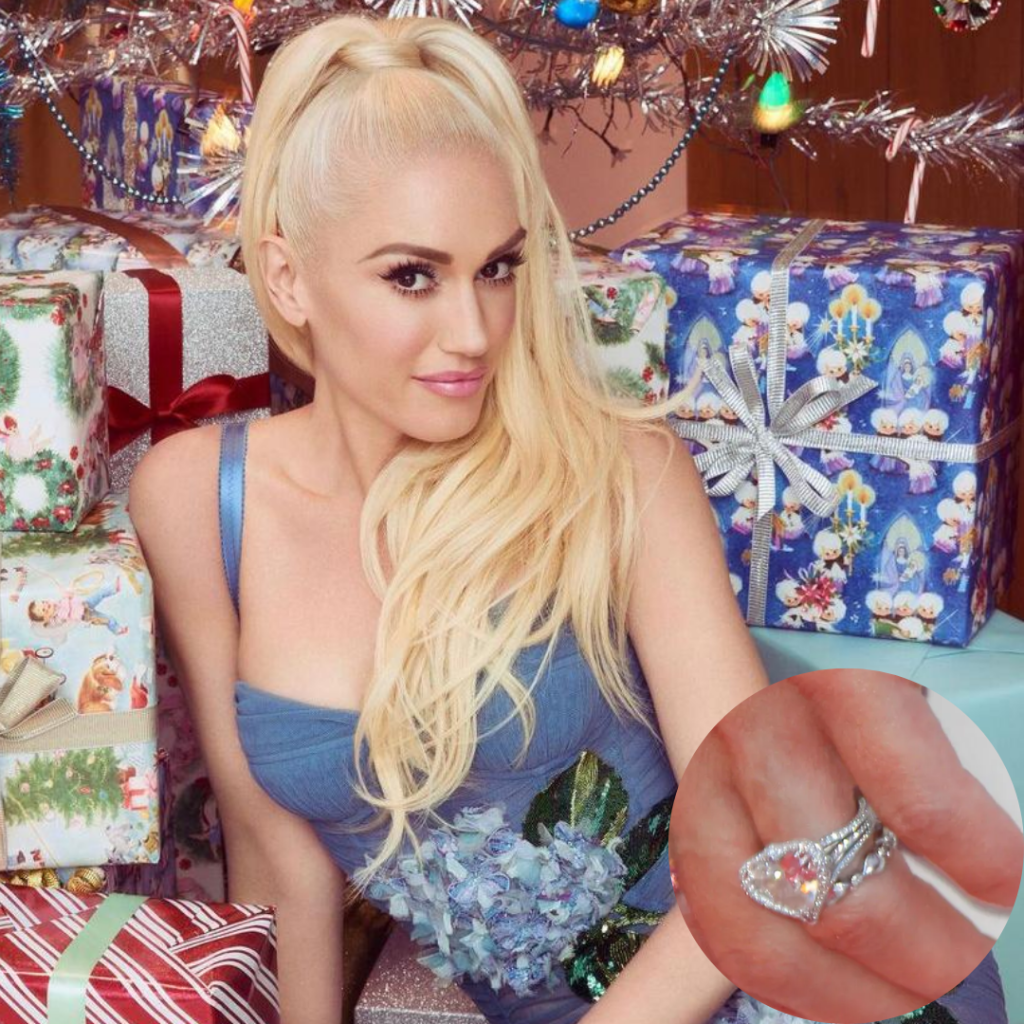 After their wedding, later that year, Stefani started wearing another ring, the one you can see in the picture. This ring is platinum, with a big rock in the middle shaped like a heart, to symbolize love and unity. The halo around the diamond is also heart-shaped.
Kyle Richards' Engagement Ring
Real Housewives of Beverly Hills is a great show to binge! One of our ladies today is none other than Kyle Richards and her mesmerizing engagement ring from Mauricio Umansky. It's a cushion-cut diamond in a split-shank, pavé-encrusted halo setting.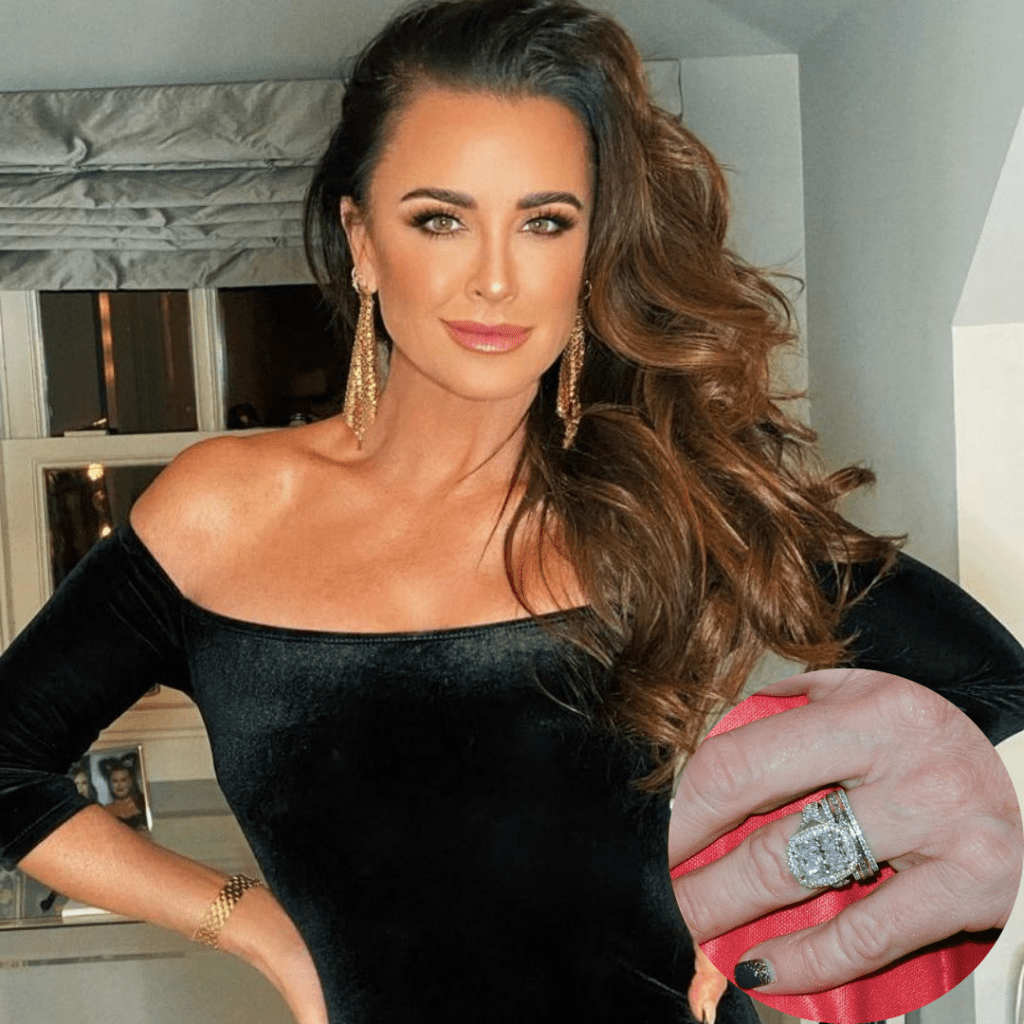 Richards has added three extra bands to her wedding set, and she wears all of them together, as shown in the picture above! Wow, what a lucky girl. Take notes, y'all. 26 years of marriage later, and they are still rocking it. (Get it?)
Miley Cyrus' Engagement Ring
Miley Cyrus and her ex-husband Liam Hemsworth had been on and off for years. Some say their zodiacs clash. However, we think their personalities are just too different, and it could have worked well (like, opposites attract and such), but it sadly didn't last.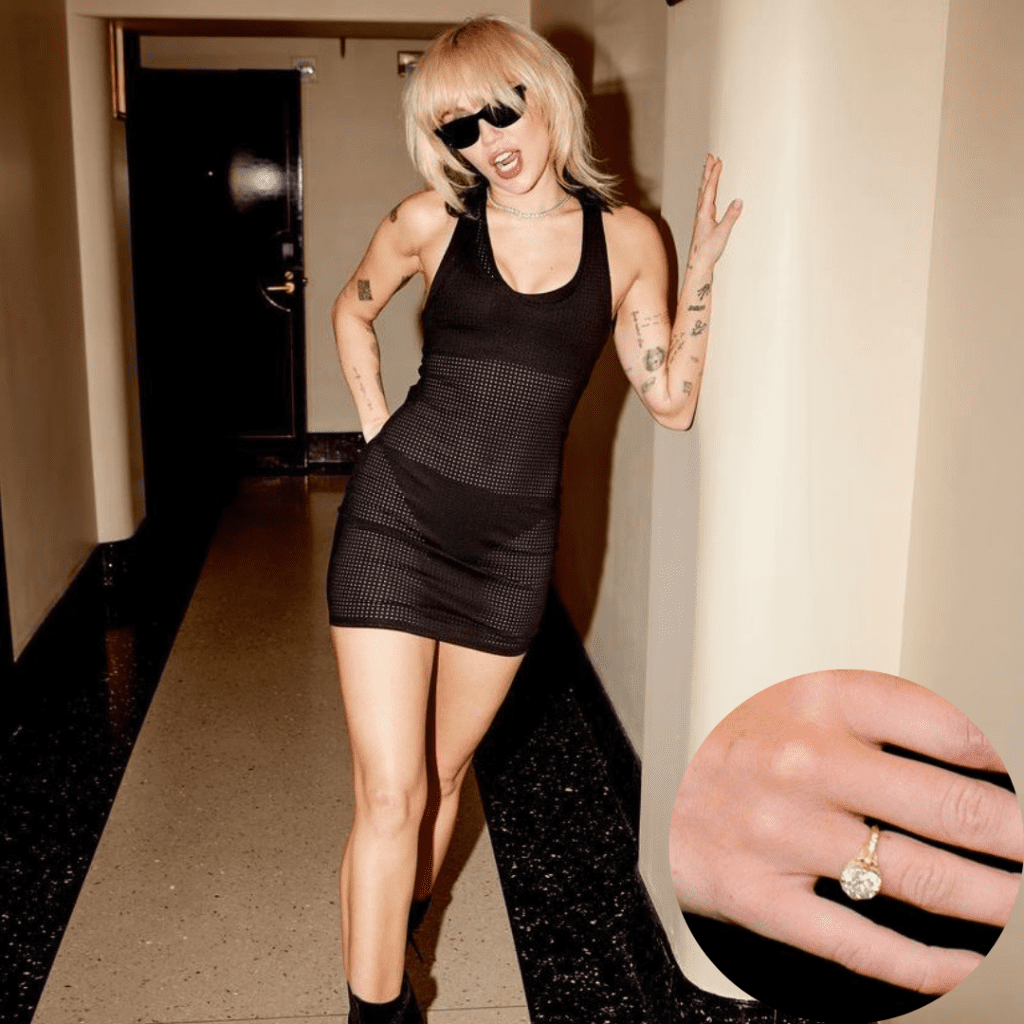 Liam proposed to Miley with a flowery 3.5-carat, cushion-cut diamond ring, set in an 18-karat gold setting. Even though the ring is not necessarily her style, Miley stated that she still loved it. Although, she often replaced it with other, unconventional rings that suited her personality better.
Teyana Taylor's Engagement Ring
The next one is one of our favorites. Teyana Taylor and her lover Iman Shumpert tied the knot in 2016. A year prior, he proposed an amazing ring: it had a big uncut ruby, surrounded by a yellow-gold band encrusted with diamonds. It's mesmerizing!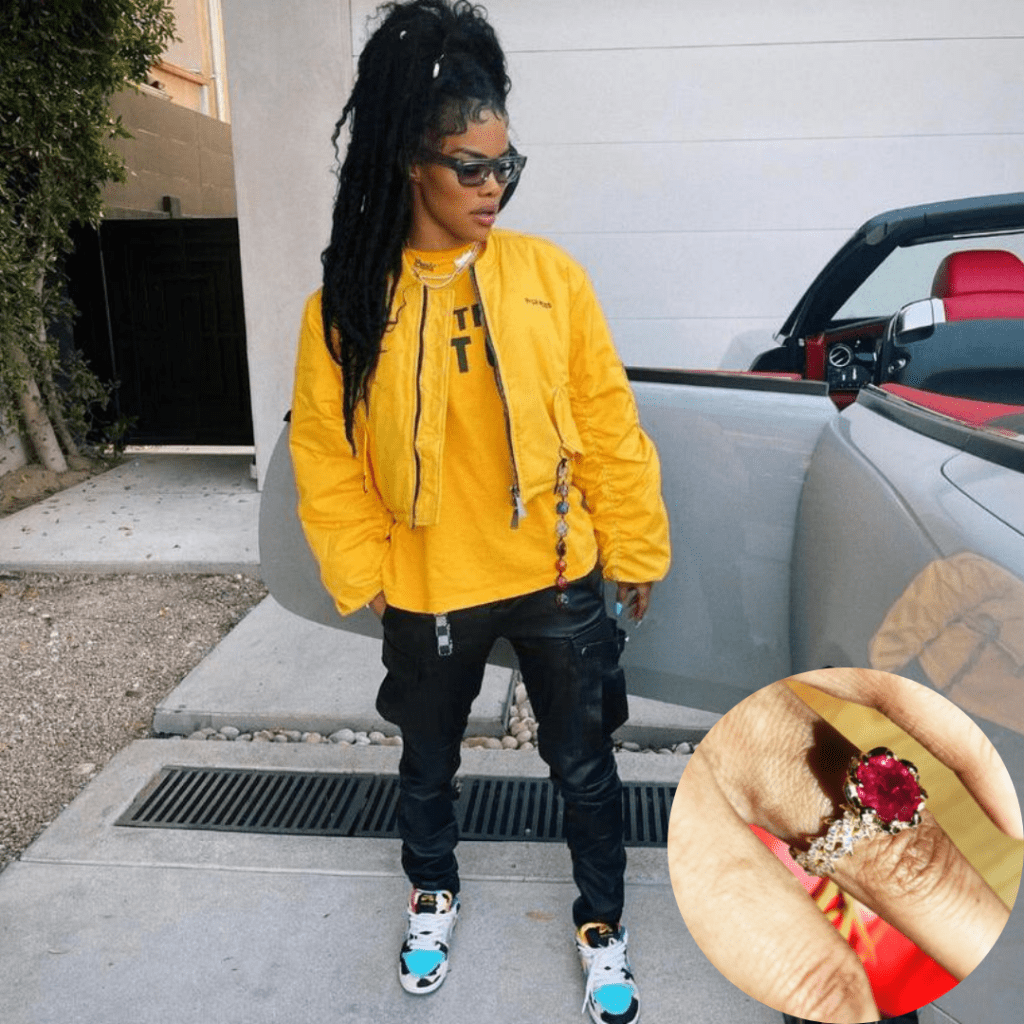 Take a look at that beauty! Although they had a private and quiet wedding, there is nothing subtle or sly about the ring. What we love most about this relationship is Teyana's post on Instagram of a ring picture and wrote: "I am his Ruby Woo." So romantic.
Jessie James Decker's Engagement Ring
A country singer Jessie James got engaged in Las Vegas to well-known NFL player Eric Decker back in 2012. He proposed to her with a lovely diamond ring (round-cut) with a sparkling setting. They officially got married the next summer.
What better way to profess your love if not with an amazing piece of jewelry like the one in the picture? She must have been over the moon. Although the ring is a beaut, their marriage is forever crowned with two children, Eric and Vivianne.
Kim Kardashian's Engagement Ring
Although they've announced their divorce, Kim and Kanye will forever stay in our minds and hearts as an iconic couple that shaped the couple scene in the last decade. In 2013 Kanye West proposed to Kim with a 16-carat Lorraine Schwartz ring.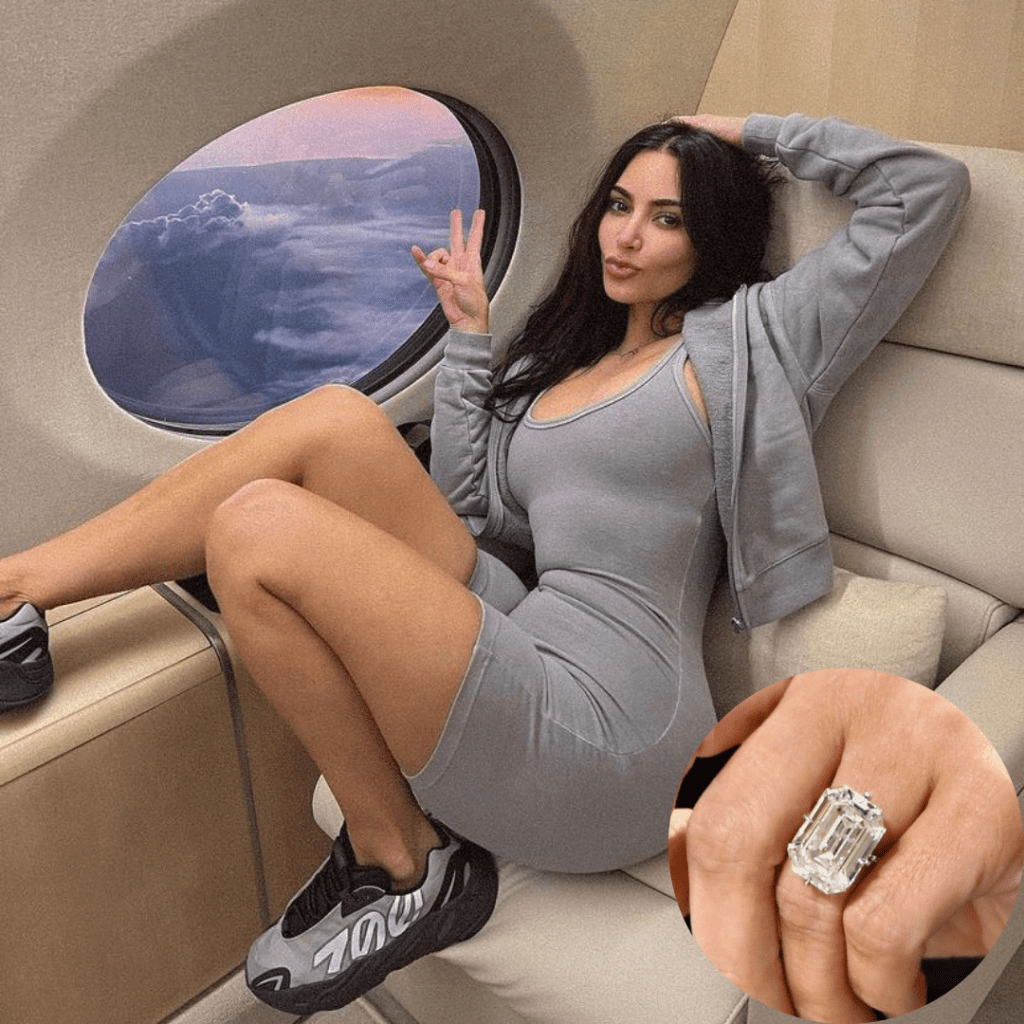 We all know Kanye West is an over-the-top kind of character, and therefore the ring and the way he proposed (in a stadium in front of Kim's whole clan) perfectly match his way of living. Now that Kim is dating Pete Davidson, maybe we'll see a more iconic proposal soon? Only time will tell.
Reese Witherspoon's Engagement Ring
In December 2010, Jim Toth proposed to Reese Witherspoon. Her ring has a platinum, pavé-studded band and, oh yeah, a four-carat, Ashoka-cut diamond. Although she has had one failed marriage before (with Ryan Phillippe), she tied the knot once more, three months after the engagement.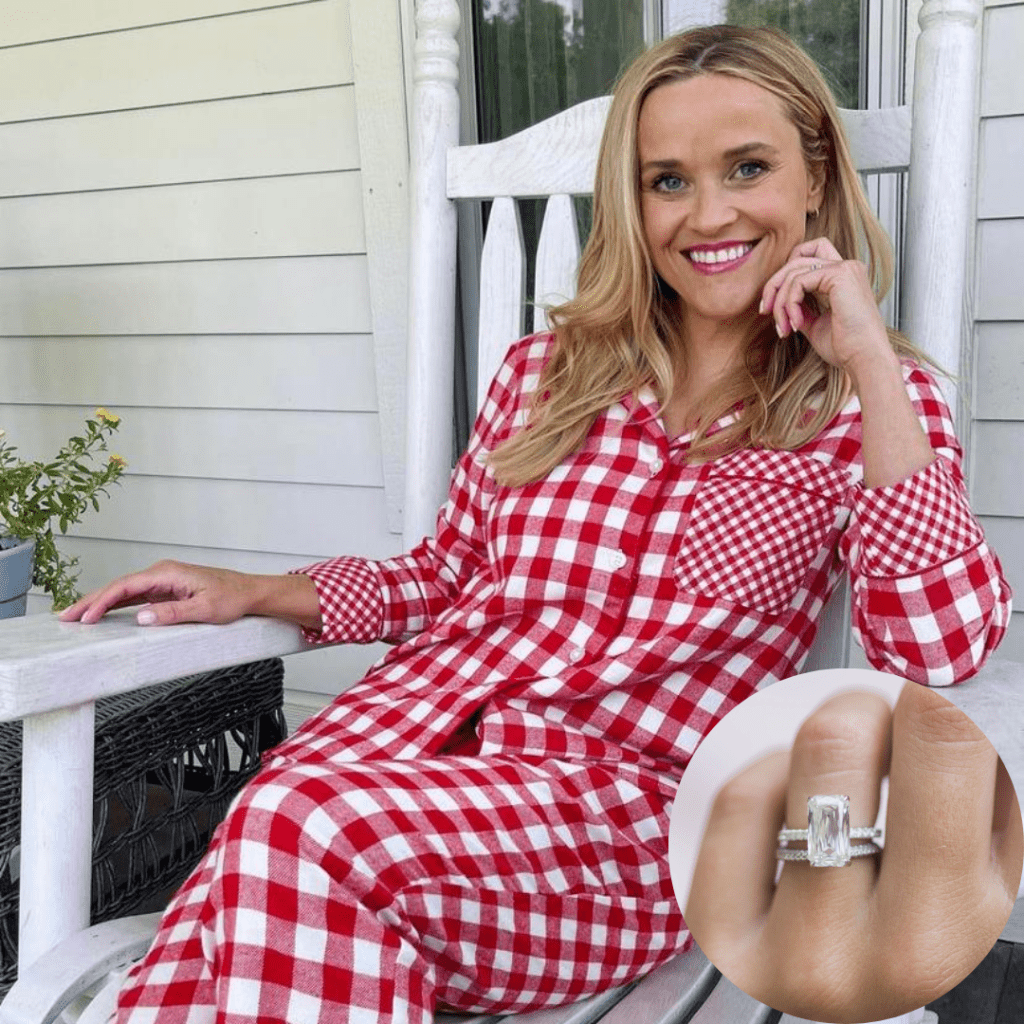 The ring wasn't the only thing shining on their wedding day. Reese was wearing a blush-hued dress by Monique Lhuillier, cinched with a rose-colored ribbon around her waist. Simple, yet classic. Reese looked amazing, her hair down and with a touch of natural makeup – Chef's kiss!
Lady Gaga's Engagement Ring
Lady Gaga herself is an eccentric, over-the-top, strong woman and artist, so it may come as a surprise when you see her engagement ring. Taylor Kinney proposed to the singer on in 2015, on – wait fo rit – Valentine's Day. The shape of the diamond was adorable.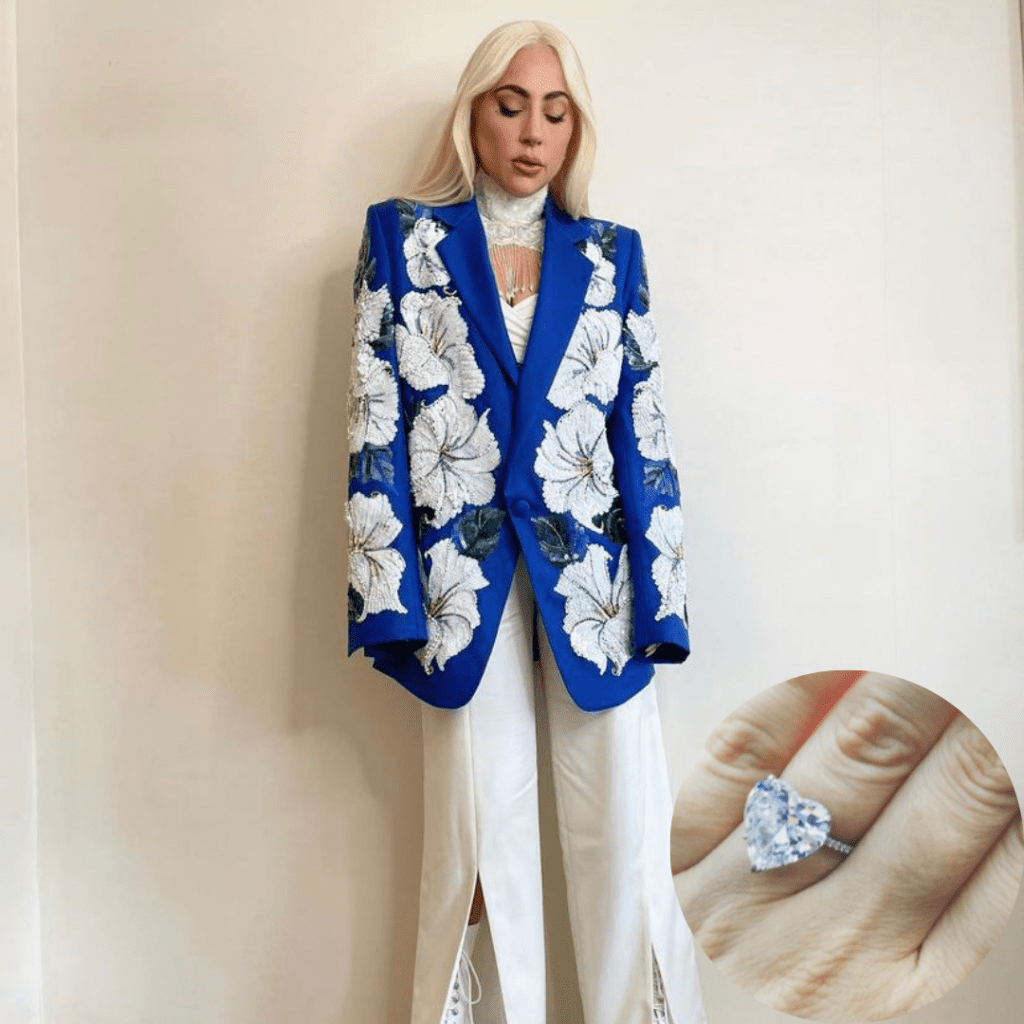 The diamond is 6 carats, set into a platinum band. The band's base bears the inscription "T<3S," which is extremely sweet and romantic (Lady Gaga's real name is Stefani Germanotta). Sadly, the couple split, upon which Gaga returned the ring.
Kat Von D's Engagement Ring
When we say Kat Von D, we think of tattoos, gothic, dark aesthetic, glamor, and red lipstick. Deadmau5 and Kat Von D were engaged at one point. Deadmau5 proposed a lovely, dark engagement ring that sticks out from the crowd with its black diamond at the center.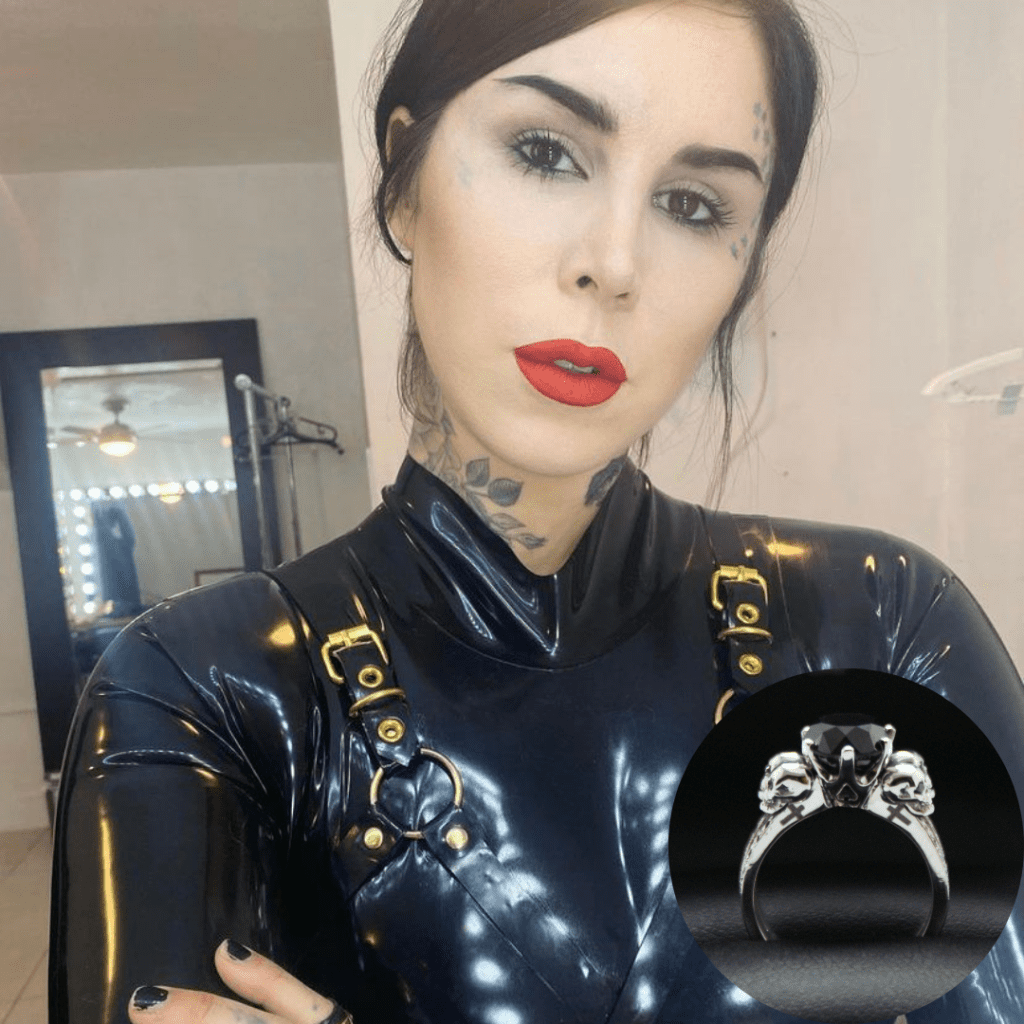 Besides the eye-catching black diamond, four skulls surround the rock and give it the Kat Von D vibe we all know and love. There are also small black diamonds on the ring's split-shank band. Unfortunately, the couple went their separate ways before they got to tie the knot.
Nicole Kidman's Engagement Ring
Nicole Kidman is one of those celebrities we can't help but love. Some remember her from her movies, whereas others remember her happiness when she broke her marriage with Tom Cruise. Luckily, Nicole has found her soulmate since, and here we will talk about that ring.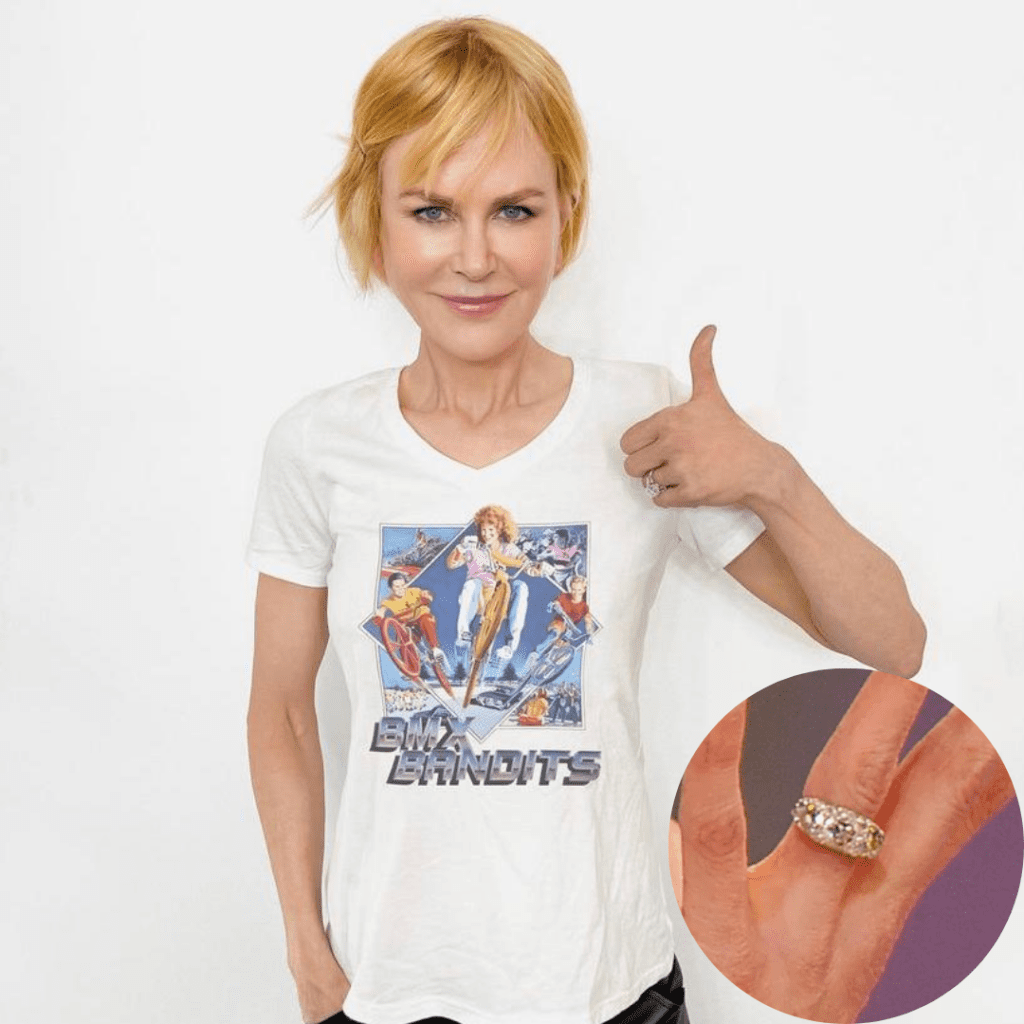 Keith Urban proposed with a Cartier ring. It had a large stone in the center with three bigger stones surrounded by numerous smaller ones. You'd agree that her ring is somewhat unconventionally too conventional if you know what we mean. It's subdued and elegant. It suits her so well!
Ashley Tisdale's Engagement Ring
High School Musical and Suite Life of Zack and Cody star Ashley Tisdale was a part of our Disney-laden childhood. Her partner Christofer French proposed to her in August 2013 with a traditional but not unnoticeable ring that suits her so well.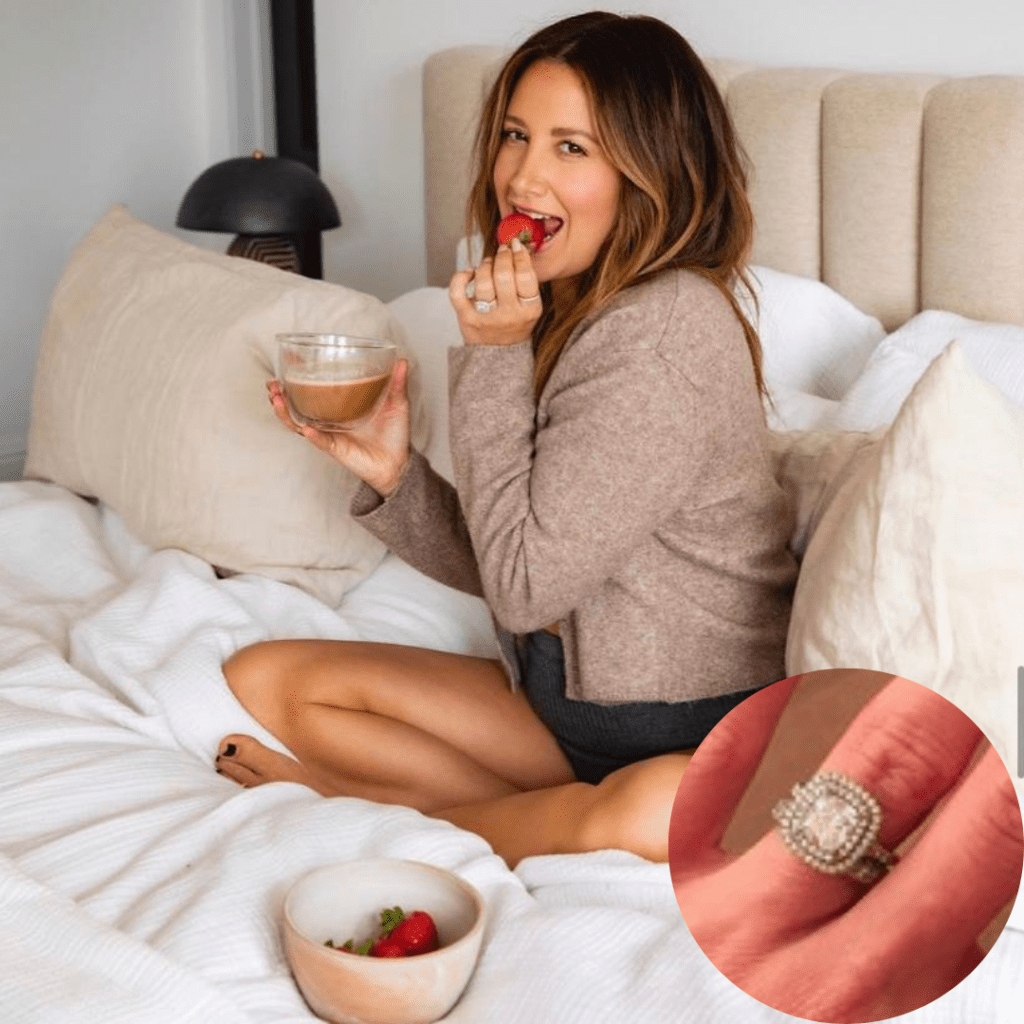 When the pair married in September 2014, Ashley added an equally diamond-studded band with rows of small diamond stones. It makes her cushion-cut stone and halo setting even more stunning. Of course, they would each look fabulous on their own.
Miranda Kerr's Engagement Ring
Victoria's Secret model Miranda Kerr made it onto our list of the most exceptional and captivating engagement rings in the past couple of decades. Snapchat founder Evan Spiegel popped the question with a 2.5-carat ring with a round center stone.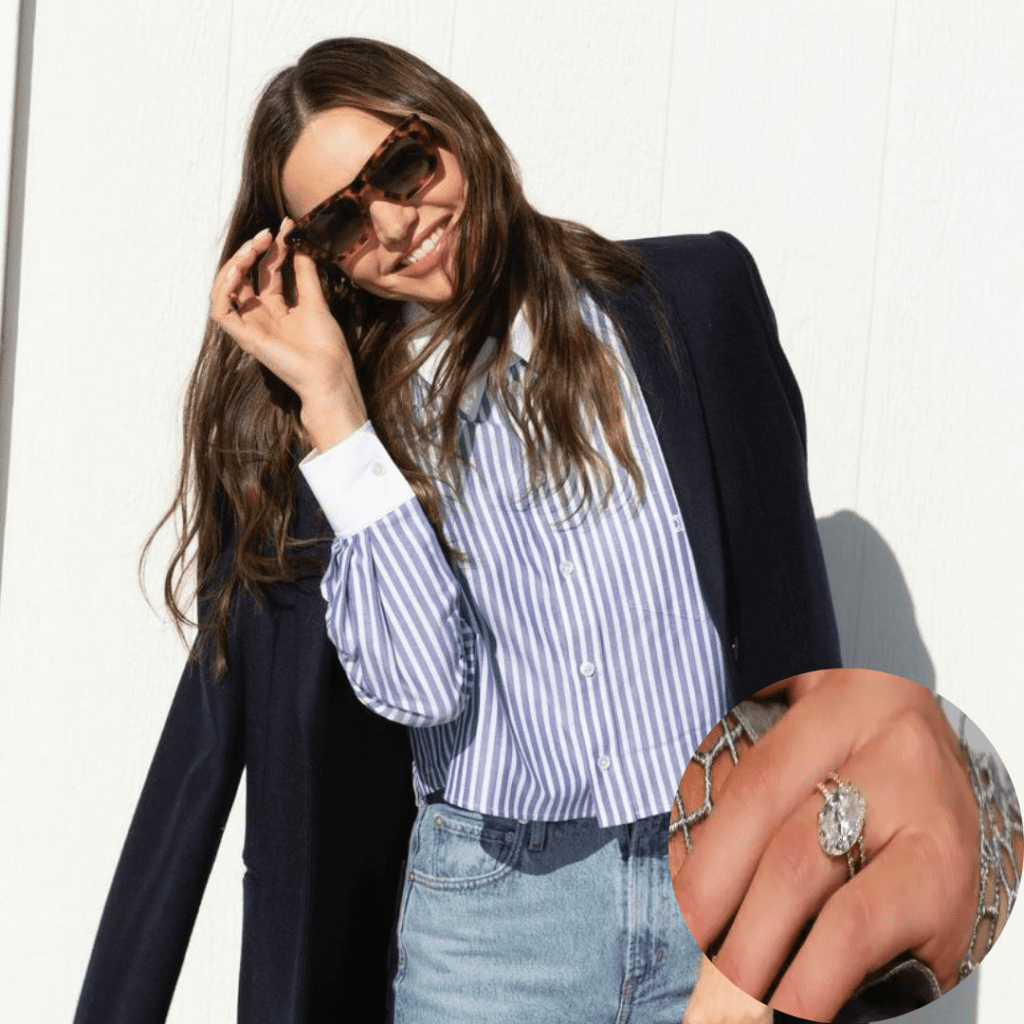 She announced her engagement on social media with a black and white picture that only accentuated the elegance. There was a Bitmoji of Evan Spiegel proposing to her alongside the ring. They got married in May of 2017 and are going strong.
Hilary Duff's Engagement Ring
We will always remember and know Hilary Duff as Lizzy McGuire, an iconic teenager overcoming middle school drama and facing the next phase in life (high school). This iconic blonde actor and singer got engaged to Mike Comrie in February 2010. Her ring is showstopping.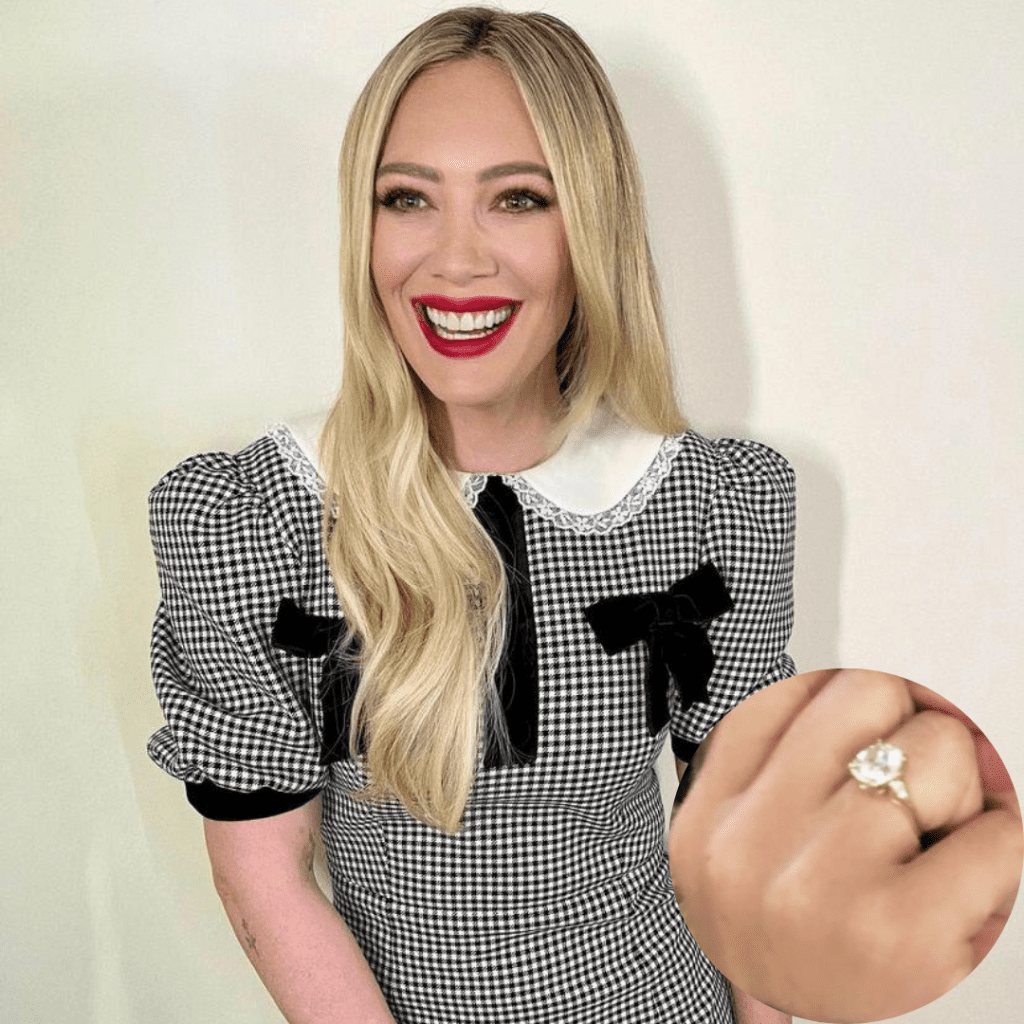 They wed at in Montecito, California at the San Ysidro Ranch. Hilary Duff wore a wonderful Vera Wang mermaid wedding gown in true Disney princess fashion. She chose to put her hair in an elegant yet luscious bun. The look was simple, but also beautiful.
Mariah Carey's Engagement Ring
Mariah Carey is, if nothing, a staple in every Christmas season with her hit single, "All I Want for Christmas is You." Let's be honest, everyone and their mother could recognize Mariah's vocals if they heard them in a cafe one day.
James Packer, an Australian businessman, proposed to Carey in March 2016 with a 35-carat ring. It has two tapered baguettes that hug an emerald-cut center stone. The setting was, of course, platinum. Wilfredo Rosado, Mariah's jeweler and good friend, designed the ring for her.
Allison Williams' Engagement Ring
The actress from Girls, Allison Williams, got engaged to Ricky Van Veen in February 2014. He popped the question with a stunning, everlasting ring. Diamond-shaped baguettes line each side of the 3-carat center stone. Take a look at the picture.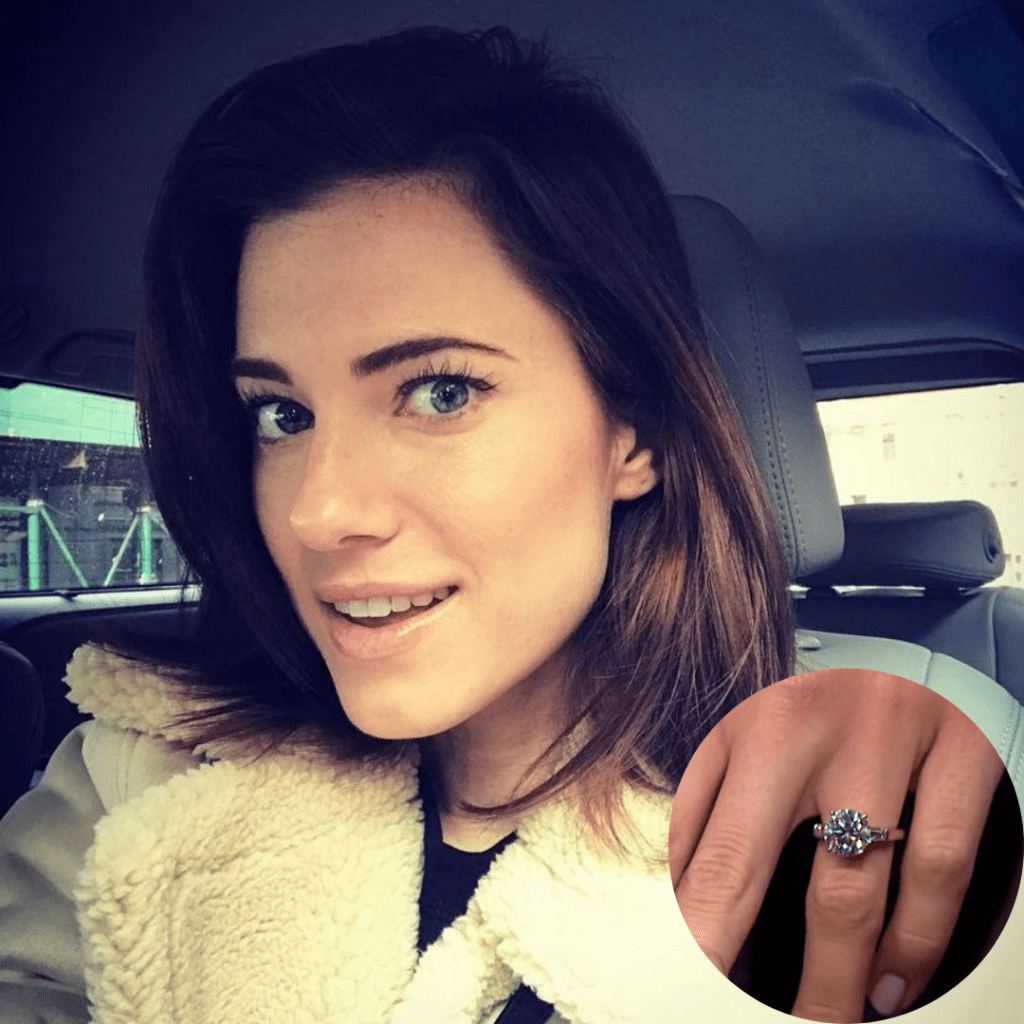 The couple got married in September 2015 in Wyoming. Besides the ring, what caught our attention was a lace Oscar de la Renta dress, with long, laced sleeves and an open back. She looked stunning! We do love to see what celebs choose for their special day.
Blake Lively's Engagement Ring
The attractive Gossip Girl actress Blake Lively and her spouse Ryan Renolds are the "it" couple right now. They are widely accepted among the popular opinion due to their loving yet silly marriage that involves lovingly roasting each other on social media.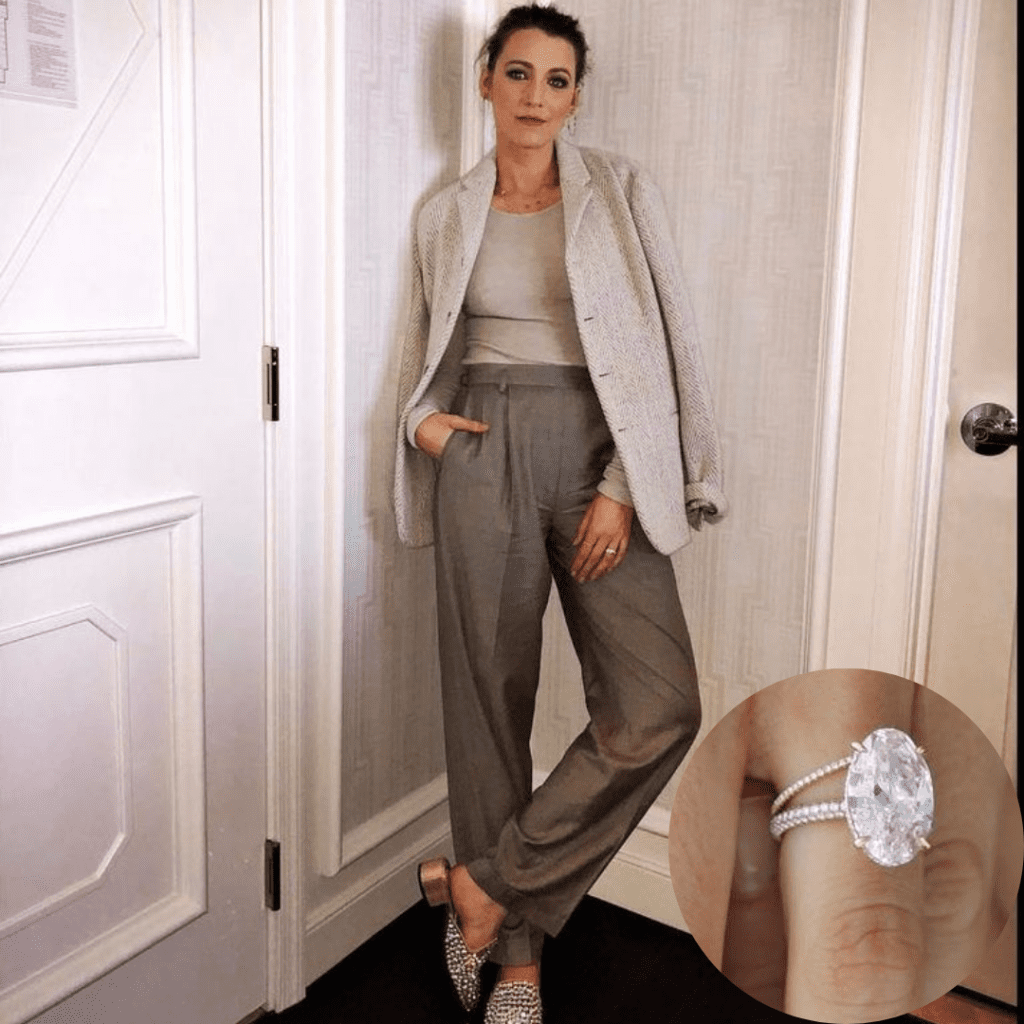 Ryan proposed with a Lorraine Schwartz-designed stunner with a pink center stone, which makes it special and unique. The ring saw the light of day after the couple officially said "I do" in September 2012. Although the ring is truly impeccable, the true crown of their marriage is their two beautiful daughters.
Kaley Cuoco's Engagement Ring
Kaley Cuoco is most famous for her role of Penny in the sitcom The Big Bang Theory. Ryan Sweeting proposed to her in September 2013 with an engagement ring: a 2.5-carat square-shaped diamond. It was, of course, surrounded in halo fashion by pavé stones.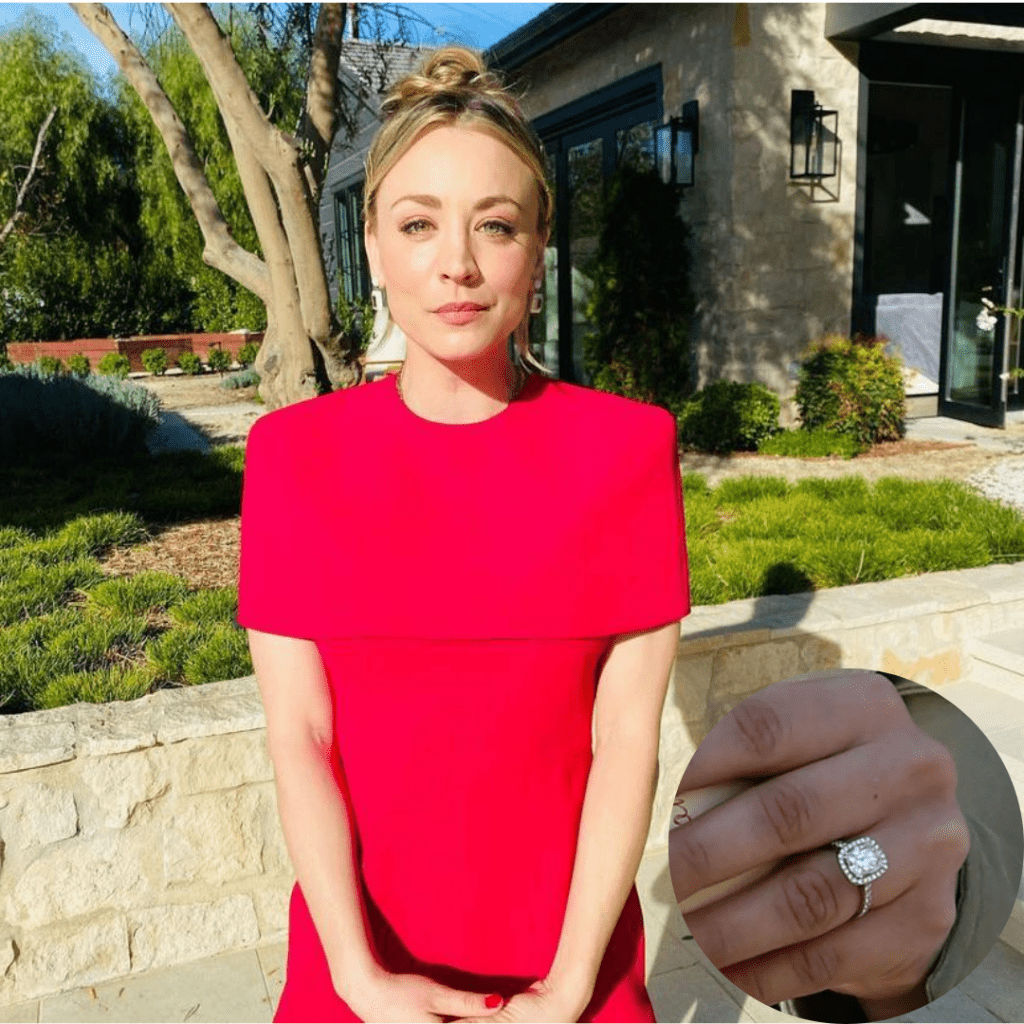 Although the price, around $65k, is not the highest we've heard of, the ring is something to remember. The pair unfortunately split after a couple of years of marriage. However, we will all forever remember Cuoco's bubblegum pink wedding dress.
Jessica Biel's Engagement Ring
The power couple Jessica Biel and Justin Timberlake got engaged in January 2012. He popped the question with the help of a six-carat, vintage, square-cut engagement ring with blackened platinum elements – believe it or not, without even asking for her approval!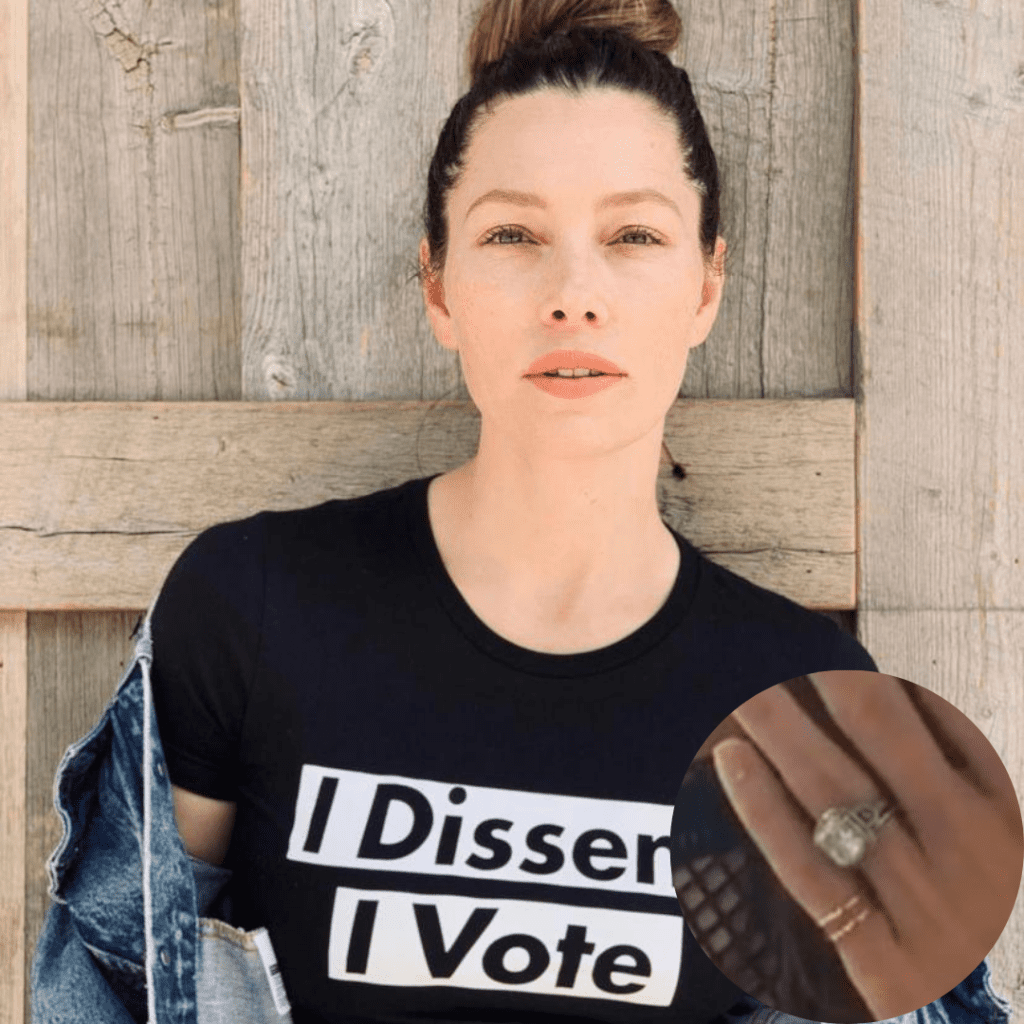 As he stated for InStyle, she didn't have a say in choosing or even considering her engagement ring. She felt like Justine had more taste and a sharper eye for design than she did, so she left it to him to decide. He made a good choice, we must say.
Jessica Simpson's Engagement Ring
Jessica Simpson herself is a music and fashion icon, and her engagement ring is top tier as well! Eric Johnson picked a unique proposal ring for his partner. The ring has a round center ruby stone and two equally large diamonds.
She matched the ring with a band by Neil Lane: a yellow and rose gold band with five carats worth of diamonds. The color combination went perfectly with the champagne-hued wedding dress she wore on their wedding day in July 2014.
Kris Jenner's Engagement Ring
Our favorite momager, Kris Jenner, is known for many things, especially her reality show Keeping Up With the Kardashians. Kris is, love her or not, a great businesswoman. Today, we'll present the engagement ring Bruce Jenner had given her long ago.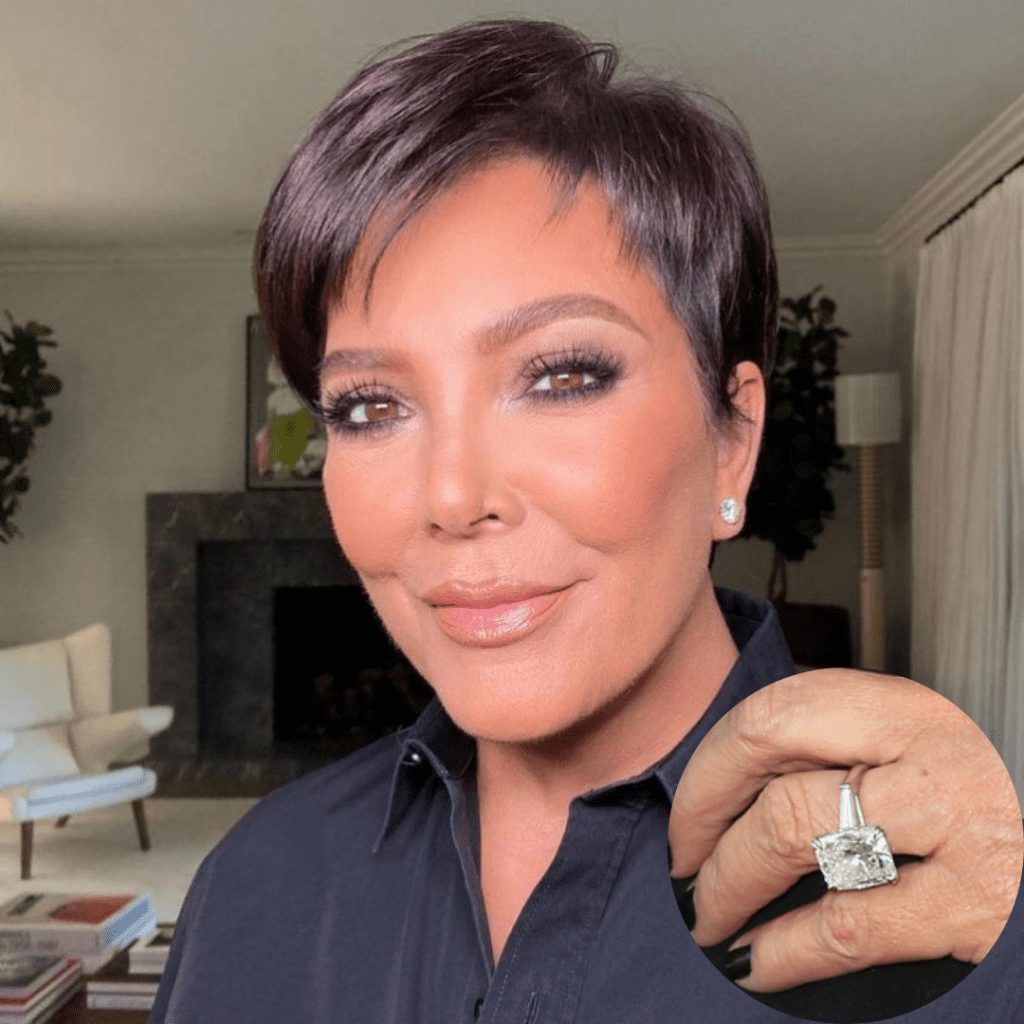 Although Kris and Bruce (now Caitlyn) split in 2014, the ring remains iconic. For their 20th marriage anniversary they celebrated in Bora Bora, she received a second (20.5-carat) engagement ring, designed by her friend Lorraine Schwartz. Peep the ring in the picture. What a stunner!
Cameron Diaz's Engagement Ring
Another celebrity engagement ring we love is Cameron Diaz's golden band. After Benji Madden proposed in December 2014, this stunning American actress started wearing it, and by the looks of it, it suits her so well. Take a look for yourself!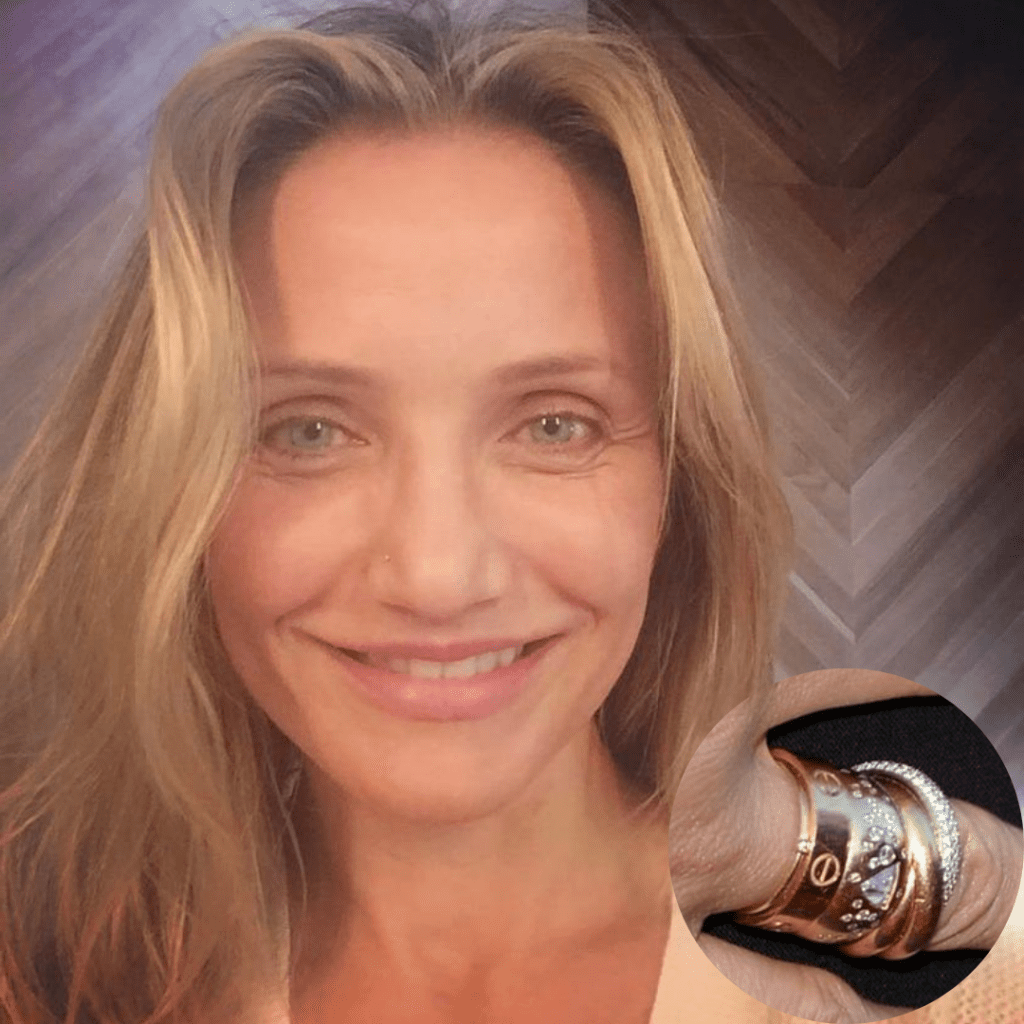 A month after the proposal, they tied the knot. Around the same time next year, with the first anniversary approaching, Cameron added another traditional band to her ring finger. If love were a metal, we bet theirs would be made of gold!
Carrie Underwood's Engagement Ring
American Idol winner and star Carrie Underwood is the next celebrity whose ring we want to show you. It suits her personality to a tee. Carrie has signature blonde hair, and the yellow diamond on her engagement ring encapsulates her energy.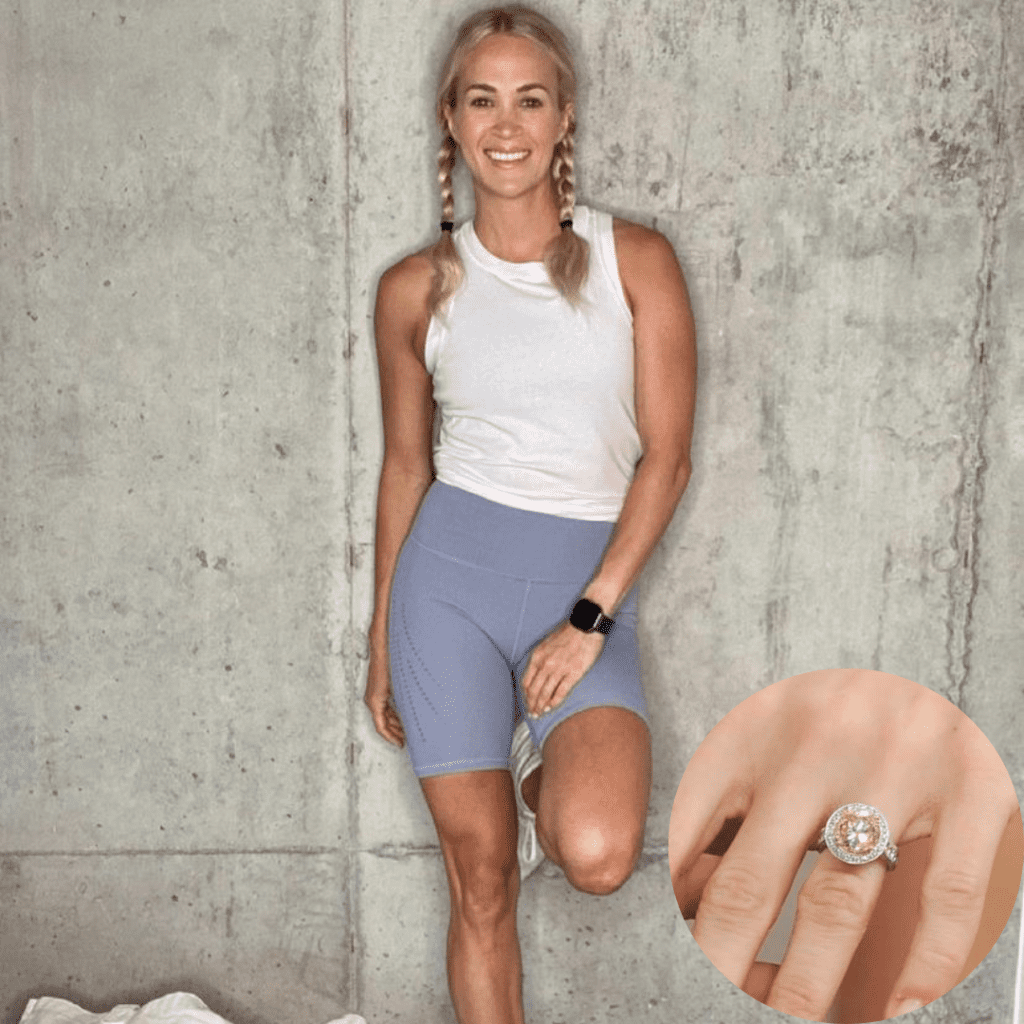 Mike Fisher, Underwood's current husband, went out of his way to choose a perfect ring for her. He chose one of her favorite jewelers, Johnathon Arndt, and co-created the ideal engagement ring for Carrie. The result couldn't be better! Don't you agree?
Jamie Chung's Engagement Ring
You might know her from Once Upon a Time or The Hangover. Jamie Chung has made it to our list of eye-catching engagement rings that must be shared with the world. In 2014, Chung came back from a trip with a ring, given to her by Bryan Greenberg.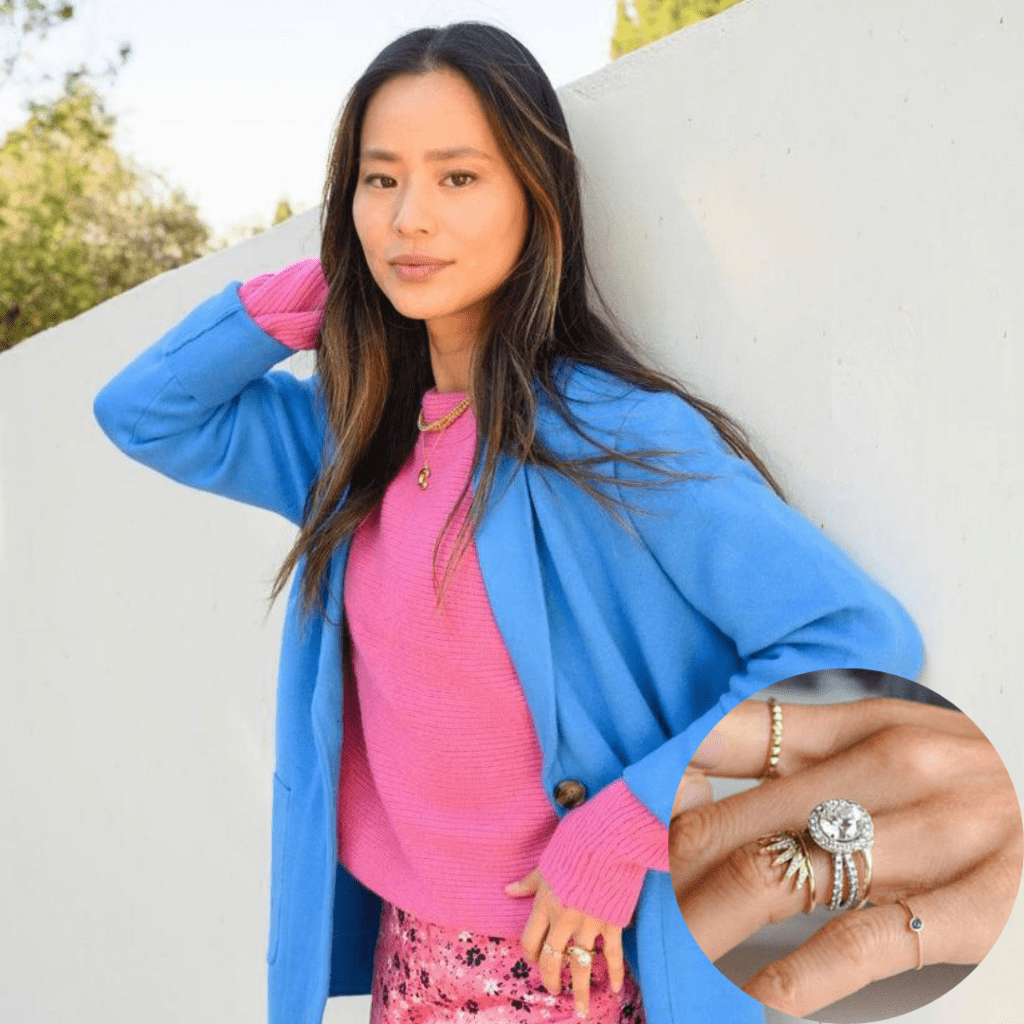 Greenberg proposed to Chung with a five-carat ring, bedazzled with a round diamond set in a jewel-studded halo setting. After they said their vows, Jamie added a scalloped diamond Tacori band with rounded diamonds. This one is totally timeless.
Ciara's Engagement Ring
After eleven months of dating, music star Ciara and the Seattle Seahawks quarterback Russell Wilson got engaged while on their vacation in Seychelles in March 2016. Russell Wilson made an excellent choice regarding the jewel; take a look for yourself.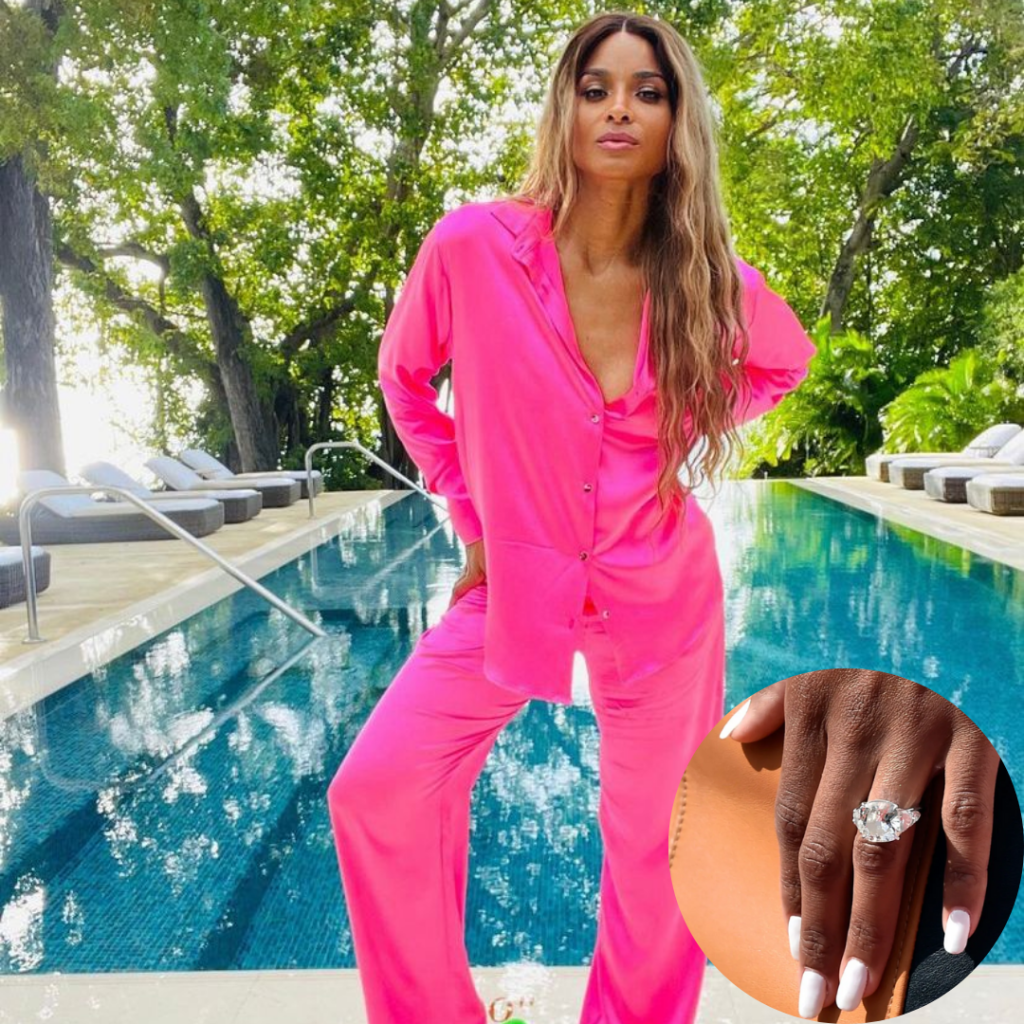 Ciara's engagement ring has a brilliant-cut, 16-carat center stone-lined by four smaller stones. A few months after the proposal, the couple tied the knot in a romantic wedding ceremony inside an English castle. It was like a fairy tale every girl dreams of!
Blac Chyna's Engagement Ring
We talked about Kim and Kris. Now it's Rob's turn to shine! They say Rob Kardashian doesn't get much credit and isn't treated as a part of the Kardashian immediate clan – and we want to change that. Rob proposed to Blac Chyna with a ring similar to the one Kim has.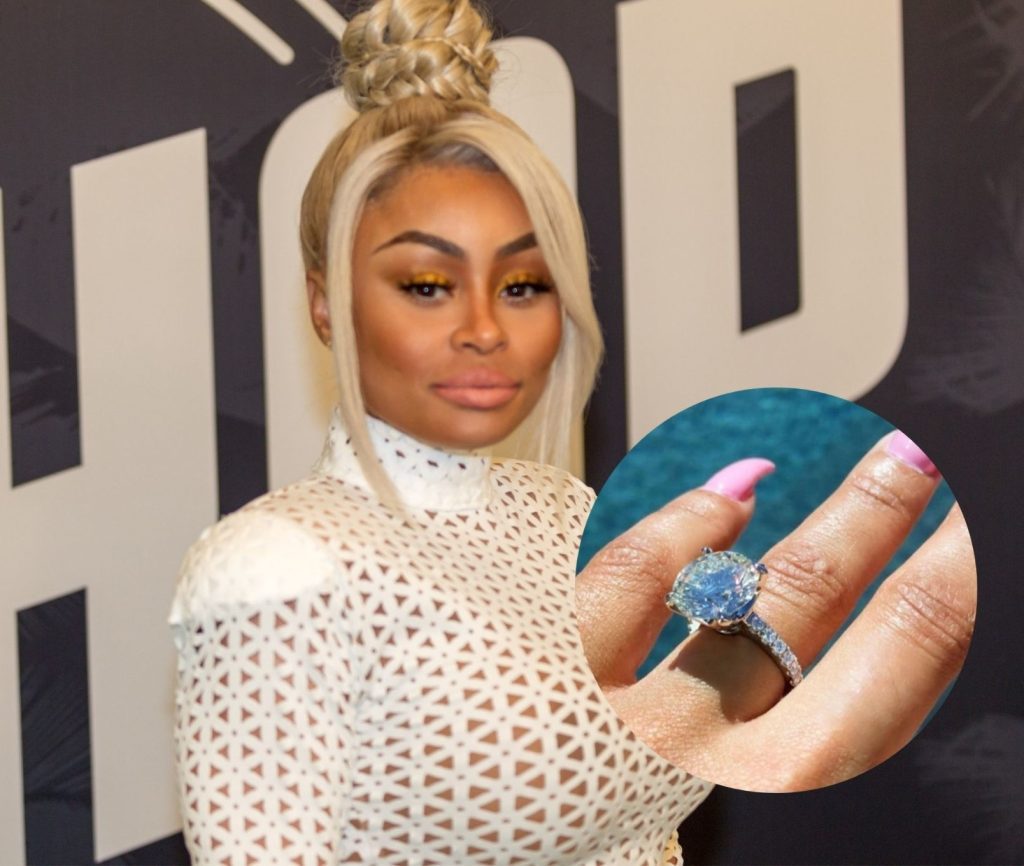 Chyna's engagement ring was designed by Ben Baller. It had a thin band studded with pavé diamonds. The 7-carat rock was huge, and the band was dainty and delicate, making it more interesting. Sadly, the couple split up in 2017.
Lauren Conrad's Engagement Ring
Lauren Conrad, an American television personality, fashion designer, and author, got engaged to her longtime lover William Tell in October 2013. The couple disclosed the news on social media with a ring selfie. The ring itself matches Lauren's aesthetic and complexion perfectly.
The ring is subtle and subdued. The only thing that catches the eye is a big diamond solitaire. The couple got married the following year, and during the wedding ceremony, they've exchanged matching bands; Conrad's was beaded with small diamonds.
Eva Longoria's Engagement Ring
We love engagement rings that show a bit more pizzazz, character, or color. It's exciting, isn't it? That's why we chose Eva Longoria's engagement ring to show you next. José "Pepe" Bastén proposed to Longoria while on vacation in Dubai in December 2015.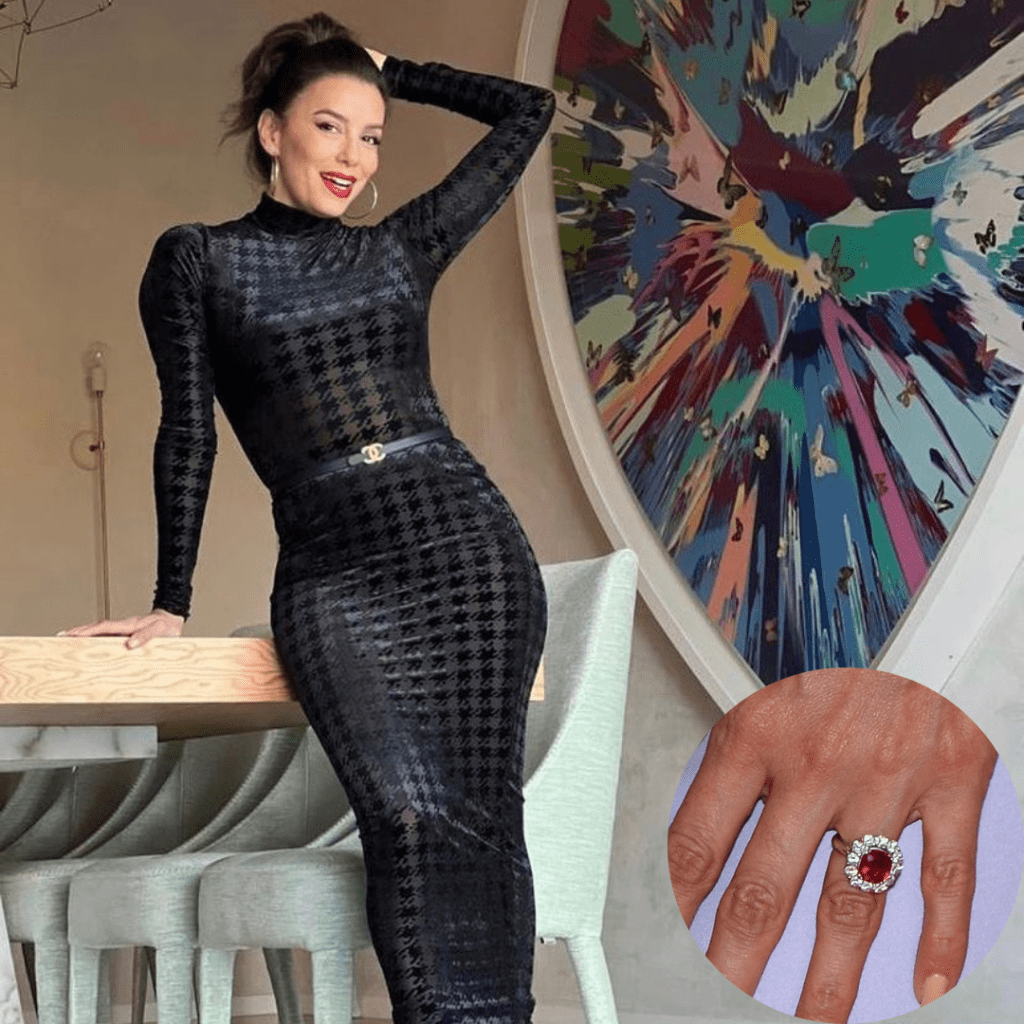 Desperate Housewife Eva is a lucky girl! Her engagement ring has a beautiful ruby at the center and is surrounded by smaller diamonds around the edges of the rock, like a halo. They got married in Mexico the following summer, and during the ceremony, Eva wore a dress her good friend Victoria Beckham designed.
Nicky Hilton's Engagement Ring
Nicky Hilton, a model and a fashion designer icon, and her partner James Rothschild, the British banking heir, got engaged in 2014. Rothschild proposed to the Hilton heiress with an Asscher-cut engagement ring with a center stone. How gorgeous!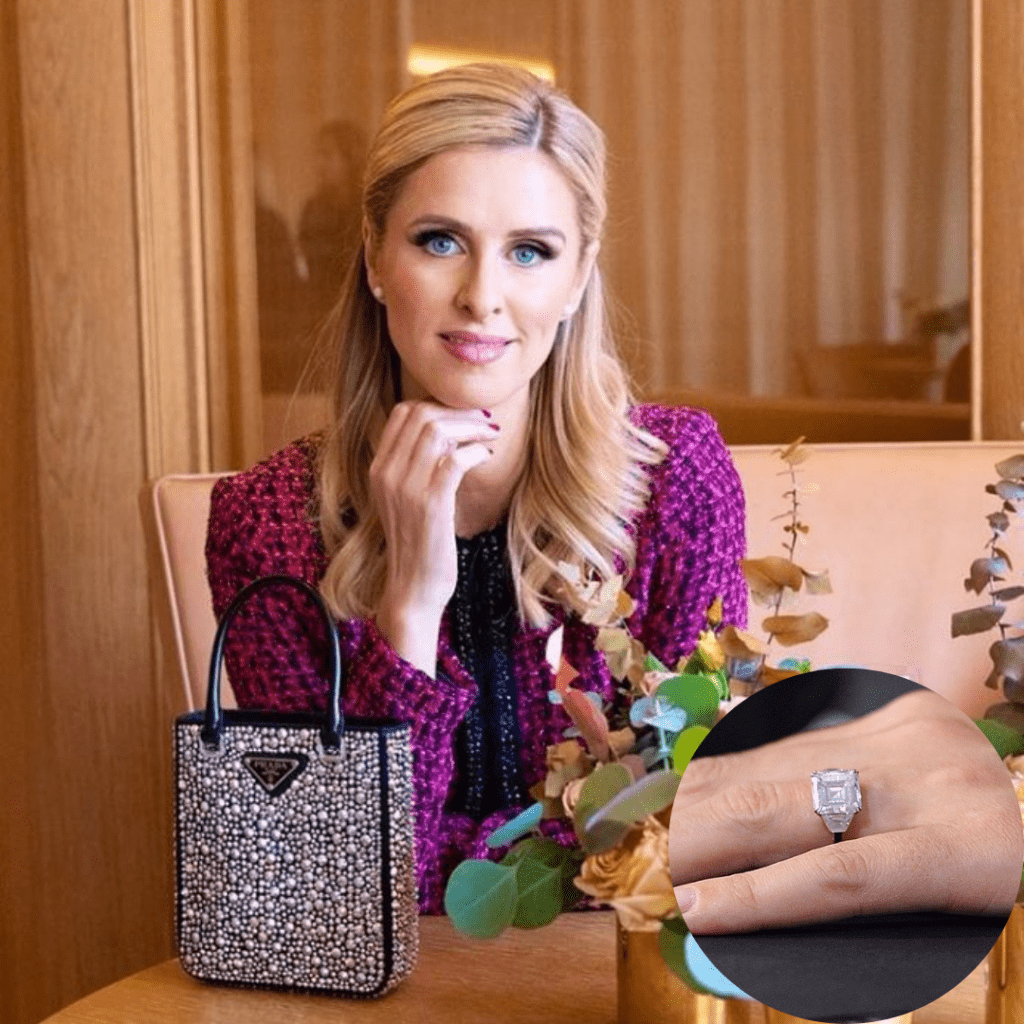 The following year, in July 2015, the couple got married at a venue that is a perfect fit for a prince and princess, aka the Kensington Palace. That is the home of the Duke and Duchess of Cambridge. Talking about a princess wedding!
Dianna Agron's Engagement Ring
Glee actress Diana Agron's engagement ring is stunning, we tell you! Mumford & Sons' Winston Marshall proposed to Dianna in December 2015. It is simple but gorgeous and chosen with expensive taste. Take a look at the picture and decide what you think.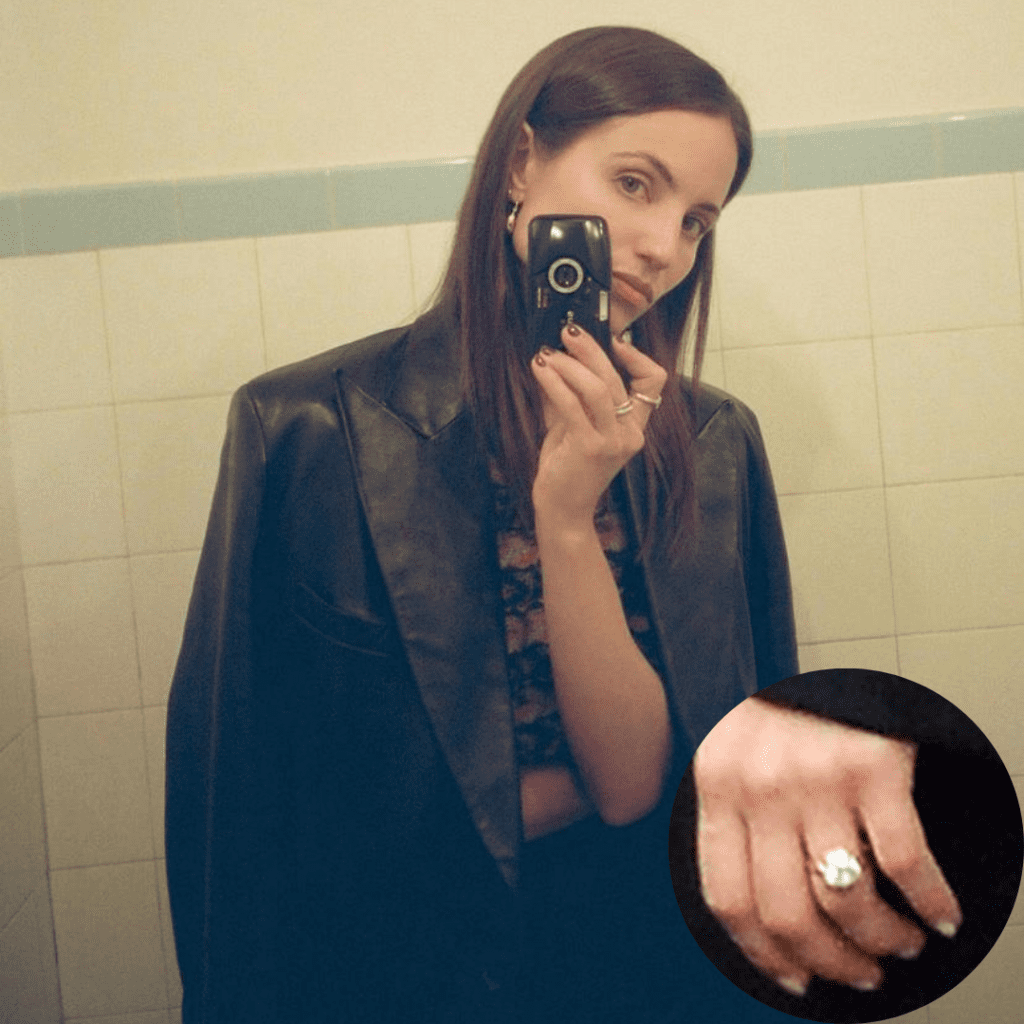 She displayed her happiness and engagement ring at Paris Fashion Week in February 2016. It's a four to six-carat diamond ring placed in a fabulous yellow-gold band. Eight months after the engagement, they got married at the Beldi Country Club in Morocco.
Beyoncé's Engagement Ring
Now, it's time for Queen Bey herself! Beyonce is everything we love about pop culture. She is fearless; she is strong, beautiful, and talented. Her music makes us go crazy in the clubs, and that's all that matters. Although the whole engagement and wedding were kept a secret, today we know exactly what the ring looks like!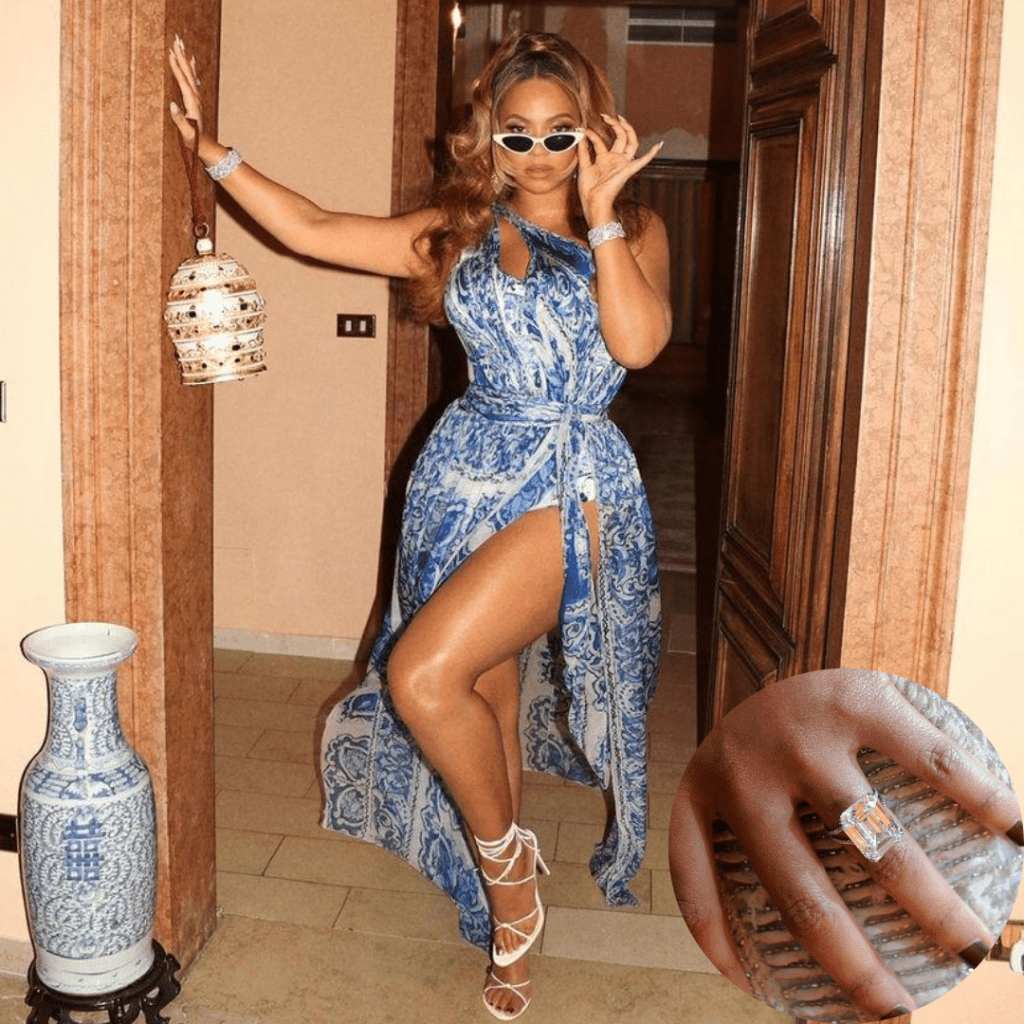 Lorraine Schwartz is one of the jewel creators widely loved and popular amongst celebrity couples, and Beyonce and Jay Z were no exception. Schwartz created a $5 million ring with an 18-carat center stone in an emerald cut, held in a split-shank setting. Talk about being crazy in love!
Nikki Reed's Engagement Ring
Actress and screenwriter Nikki Reed and Ian Somerhalder decided to get engaged after a half-a-year romantic relationship in January 2015. Although a spur of a life moment, the couple is still thriving! The engagement ring is heavily inspired by 1920s Hollywood.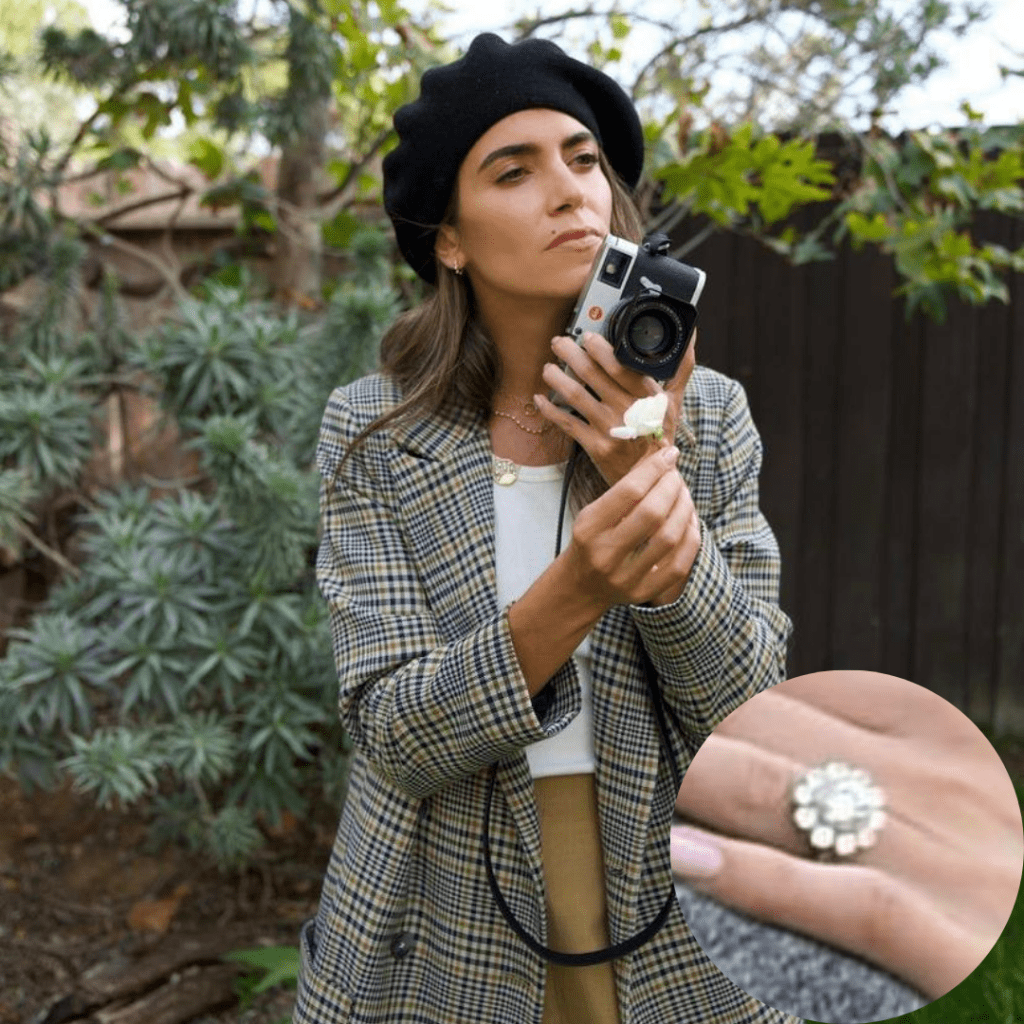 If you couldn't tell by the picture, it's a floral-shaped stunner. It's one big diamond, approximately 4-carat, in the middle, with ten smaller ones surrounding it, resembling dainty petals and giving the impression of a flower. All in all, a wonderful and romantic gesture.
Maria Menounos' Engagement Ring
Maria Menounos, a television personality, was finally proposed to by her longtime beau Keven Undergaro on March 9th, 2016, during The Howard Stern Show. He proposed right then and there because that show meant a lot to them. It was a gesture of love and pure bond.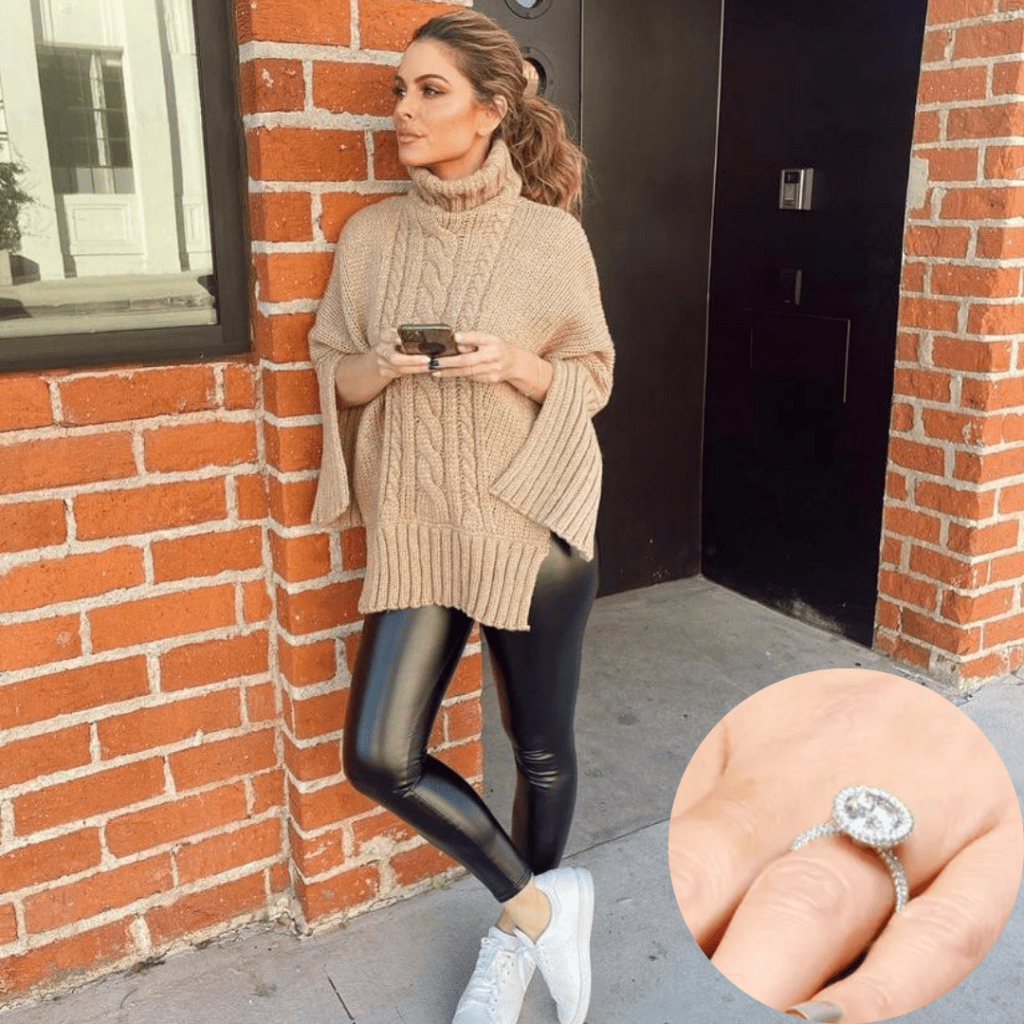 Undergaro got on one knee and pulled out a Jean Dousset halo engagement ring. It is a round-cut center stone with a whopping 220 accent diamonds! Sometimes, ladies, simple-looking things are the most valuable ones, and we are certain this was expensive.
Sofia Vergara's Engagement Ring
This phenomenal, charismatic, and intelligent woman is all over social media! She is eye-catching, just like her engagement ring. You'll notice Sofia Vergara simply by her smile and her charming accent. Joe Manganiello, Vergara's husband, asked her to marry him in Hawaii.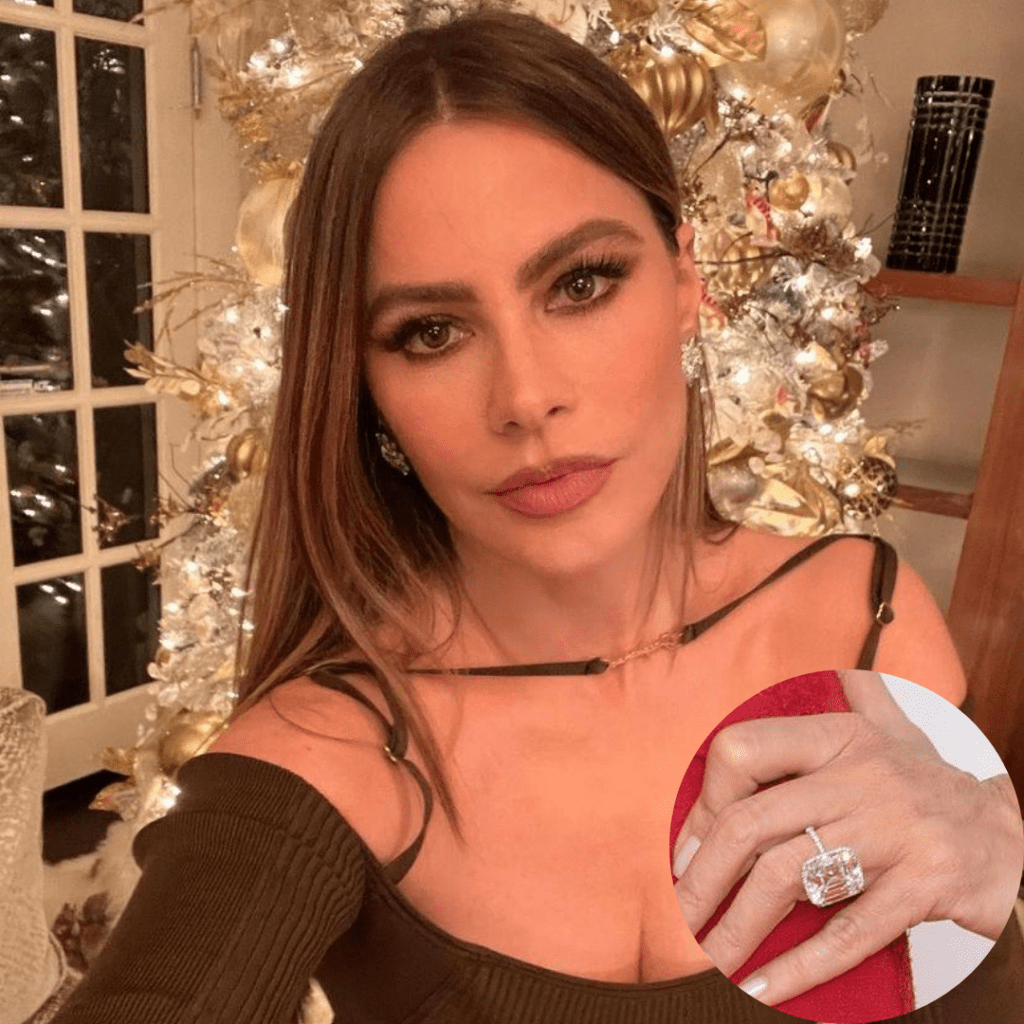 With Sofia, it's all about the bling-bling, and her engagement ring gets that point across very well. It's a seven-carat beauty circled by a micro-pavé halo. They tied the knot the following year, surrounded by family and closest celeb friends in Palm Beach, Florida.
Melissa Benoist's Engagement Ring
Melissa Benoist, Supergirl and Glee star, married her costar Blake Jenner in a small and secret affair in early 2015. Benoist's engagement ring often goes unnoticed since it's so simple, but it's absolutely gorgeous. The ring had a round center stone in a shimmering band.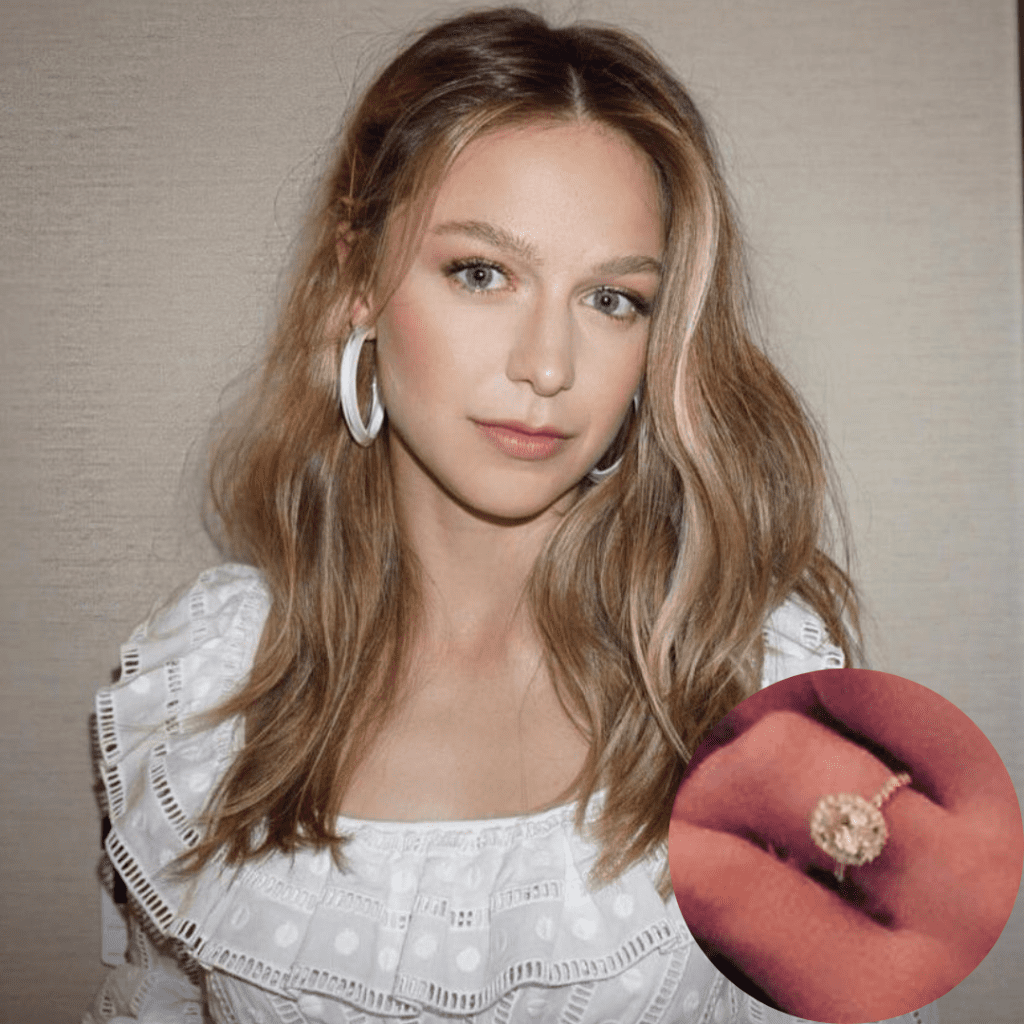 After the wedding, Melissa paired it with a platinum wedding band. Sometimes subtle is the most effective, ladies. Listen up! Although the couple split the following year, 2016, they've still stayed in our hearts as an iconic couple we rooted for.
Angelina Jolie's Engagement Ring
Brangelina will forever stay in our minds, hearts, and souls as one of the most powerful couples there ever was or will be. They are both conventionally attractive, successful, and compatible. It baffled the world when they officially divorced in 2016.
The ring was co-designed by Brad Pitt and jeweler Robert Procop; they created this $250,000 beauty with emerald-cut diamonds in different sizes. However, as is the case with Blake Lively and Ryan Renolds, the true jewel of their relationship and marriage is their children.
Kelly Clarkson's Engagement Ring
"Because of you" – of who? Brandon Blackstock, of course! Phenomenal and talented Kelly Clarkson and Blackstock, her former manager and now ex-husband, got engaged in December 2012. The ring had a yellow center diamond in the middle, surrounded by smaller diamonds in a halo-like manner.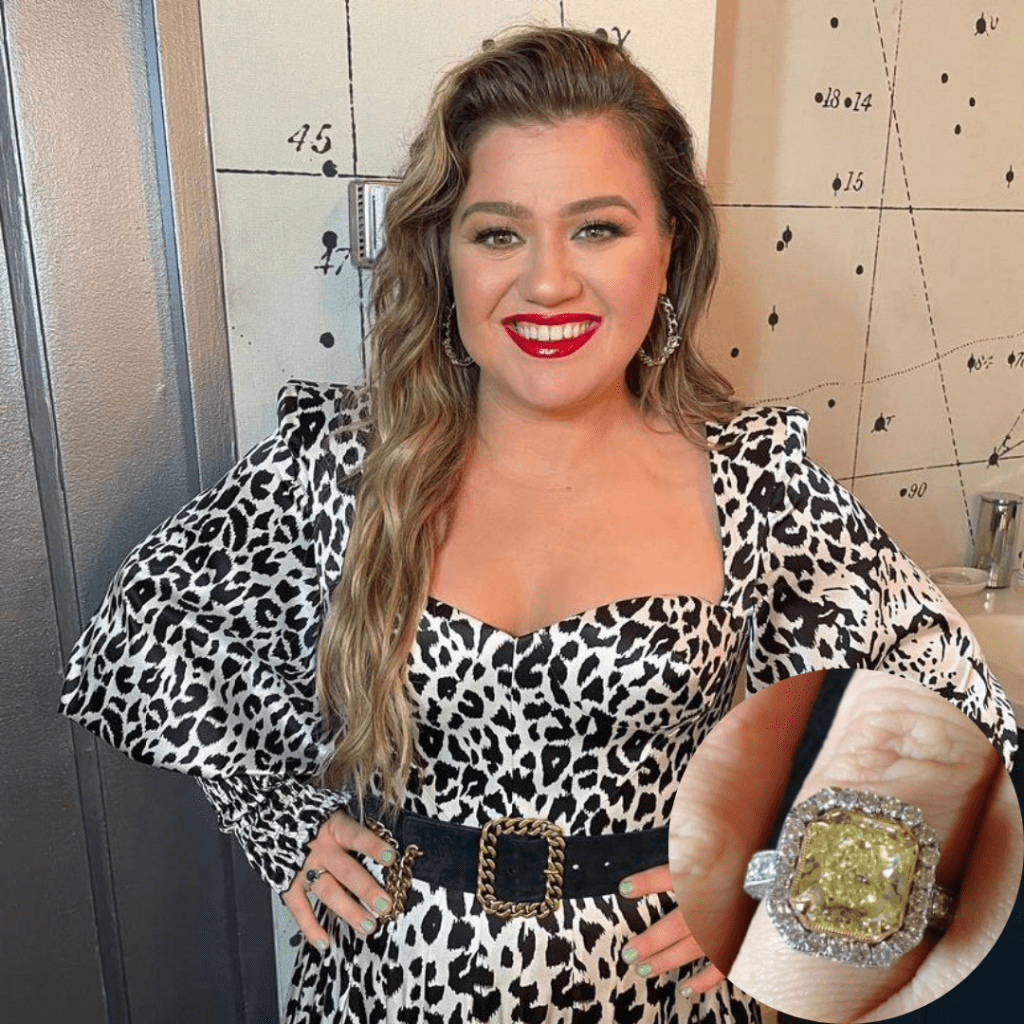 The ring was co-designed by Blackstock and Johnathon Arndt, who is the beloved and appreciated jeweler heaps of celebrities flock to in case of engagements. They tied the knot at Blackberry Farm in Tennessee the following year. Kelly matched her engagement ring with a diamond wedding band.
Emma Roberts' Engagement Ring
Scream Queens star Emma Roberts and her colleague and costar from American Horror Story Evan Peters finally decided to marry in 2013. Peters got to one knee and presented her with a wonderful diamond halo ring. However, they called off the engagement a couple of years later.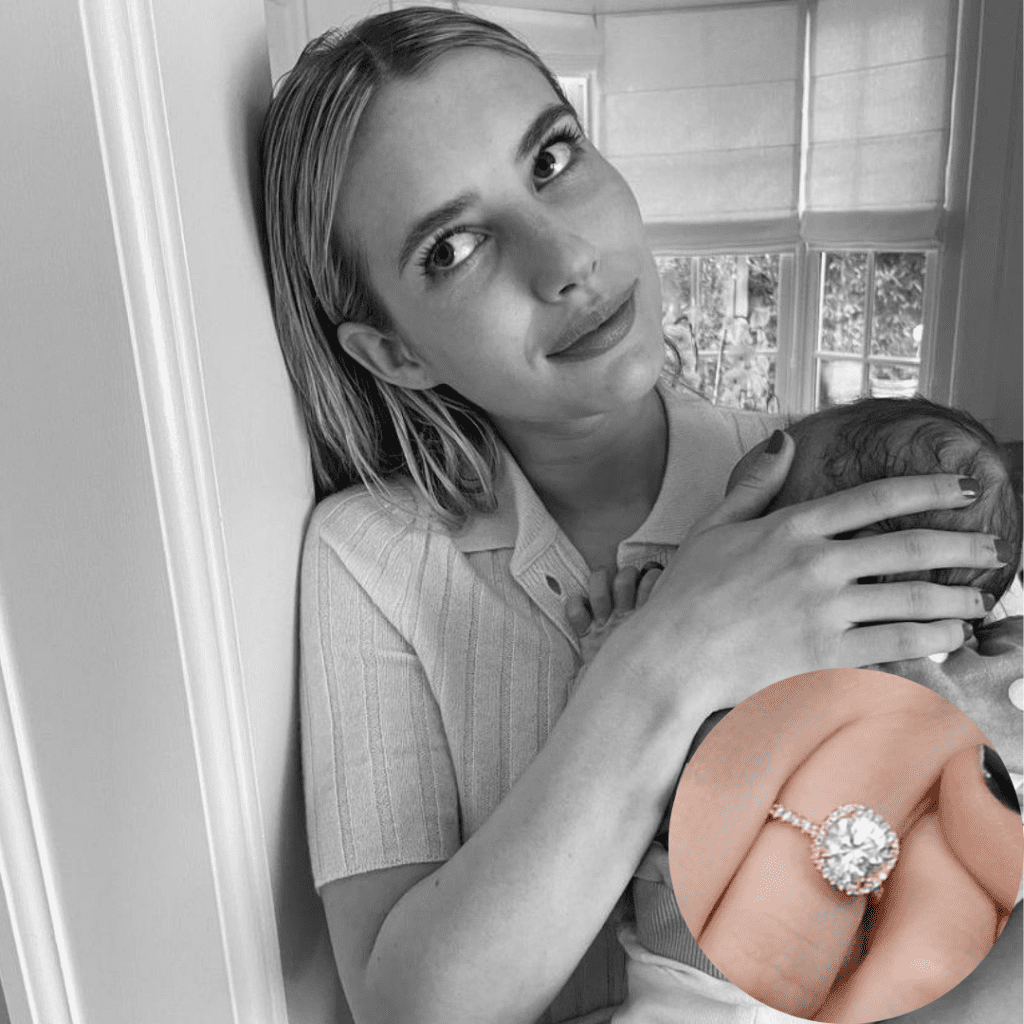 In 2017, Emma Roberts added a second engagement ring to her growing collection. This fiery pair seems not to care about traditional norms and is going with the flow of life, but their relationship was not to last. The couple split for good in 2019.
Khloe Kardashian's Engagement Ring
How can we possibly omit Khloe Kardashian from this carefully crafted list? We can't, of course! Khloe and Lamar Odom may have dated around two weeks before he popped the question, but it took them two more weeks to get to the alter. These celebrities and their spur-of-the-moment decisions!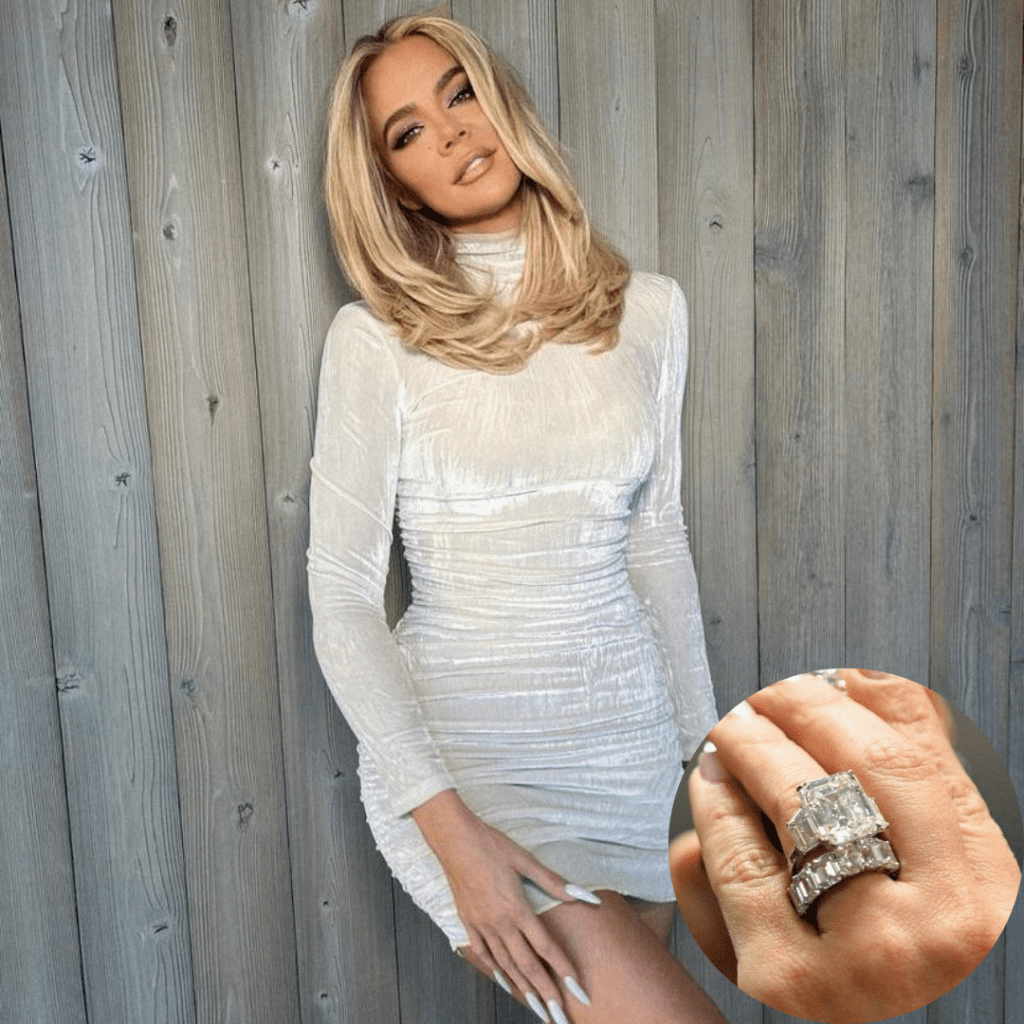 Although the marriage did not last past December 2013, the ring was still a head-turner. Lamar proposed with a 12.5-carat, radiant-cut engagement ring designed by Vartan's Fine Jewelry. It was supposedly worth around $850,000. Our girl Khloe has expensive taste, but oh, so good!
Ashlee Simpson's Engagement Ring
We talked about Jessica and her lovely engagement, so we shouldn't leave Ashlee out of the list. Therefore, let's focus on her and her amazing ring for a bit. If we look back at Jessica's, we will notice that love for rubies, or red, must run in the family!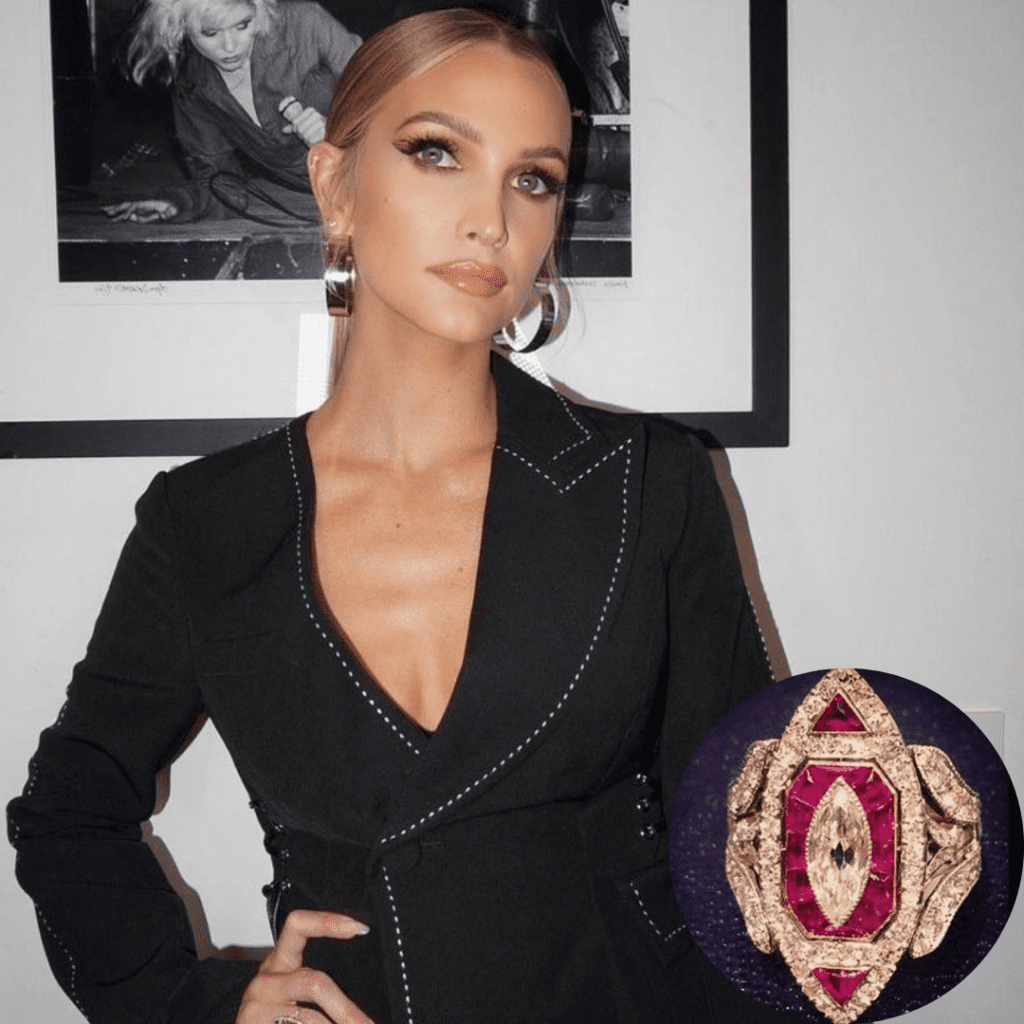 This might be one of the most special rings out there: a Neil Lane piece, with a large marquis diamond in the middle surrounded by rubies and 140 tinier white diamonds. Evan Ross and Ashlee married at Ross' mother Diana's estate in Greenwich, Connecticut.
Amy Adams' Engagement Ring
Amy Adams has followed us throughout our lives: firstly, we saw and loved her in Enchanted, then in Charmed, The Office, and the phenomenal movie, Arrival. She is everywhere, and for a good reason: her talent. Darren LeGallo, Adams' longtime partner, proposed to her with a mesmerizing sparkler.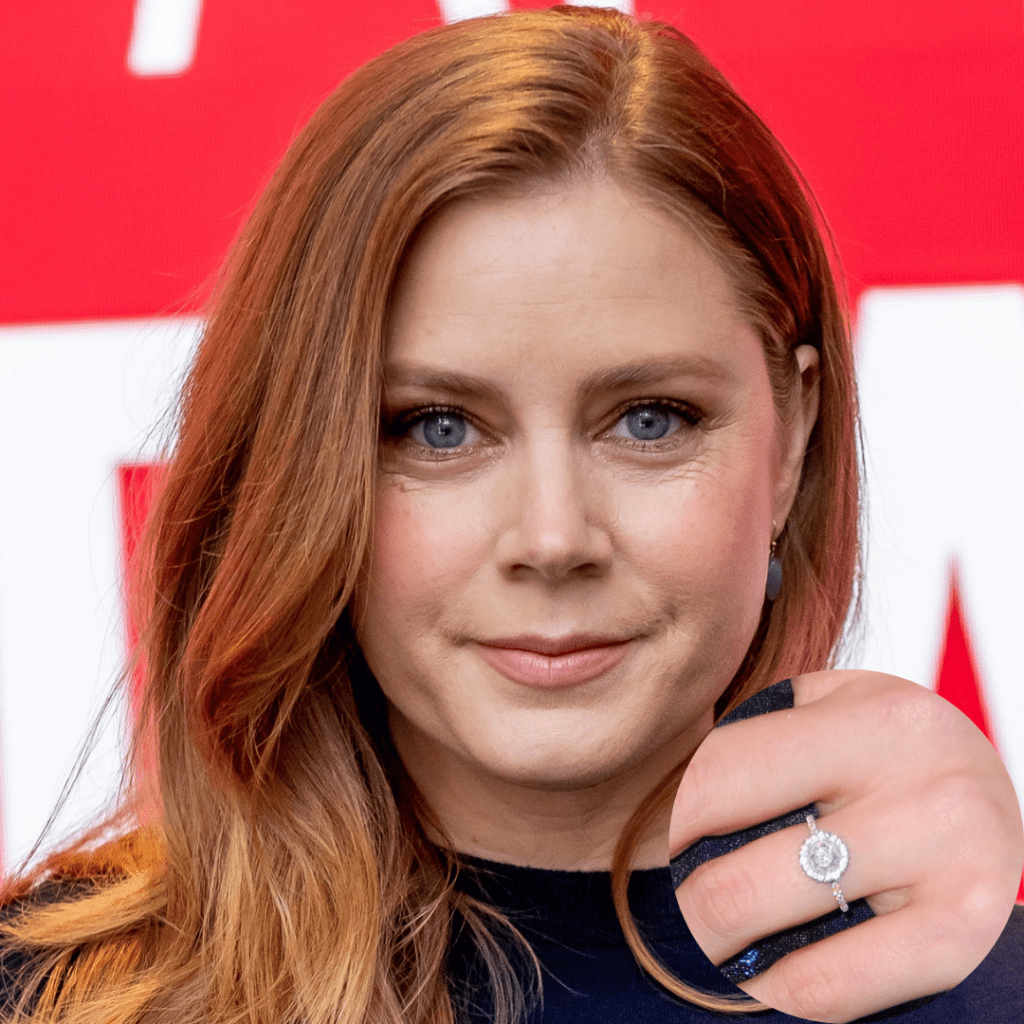 The ring was one of the first ones Jean Dousset, designer and jeweler, ever made. After being engaged for seven years, they finally tied the knot in 2015 in a secret affair in California. In their marriage, Amy has embellished her engagement ring with more of Dousset's wedding bands in all three shades of gold.
Catherine Lowe's Engagement Ring
The Bachelor is one of those guilty pleasure TV shows that you binge with your roommate or partner on Thursday nights when you don't feel like going out or being productive. Catherine Lowe (formerly Giudici) has met her soulmate in the 17th season of the show.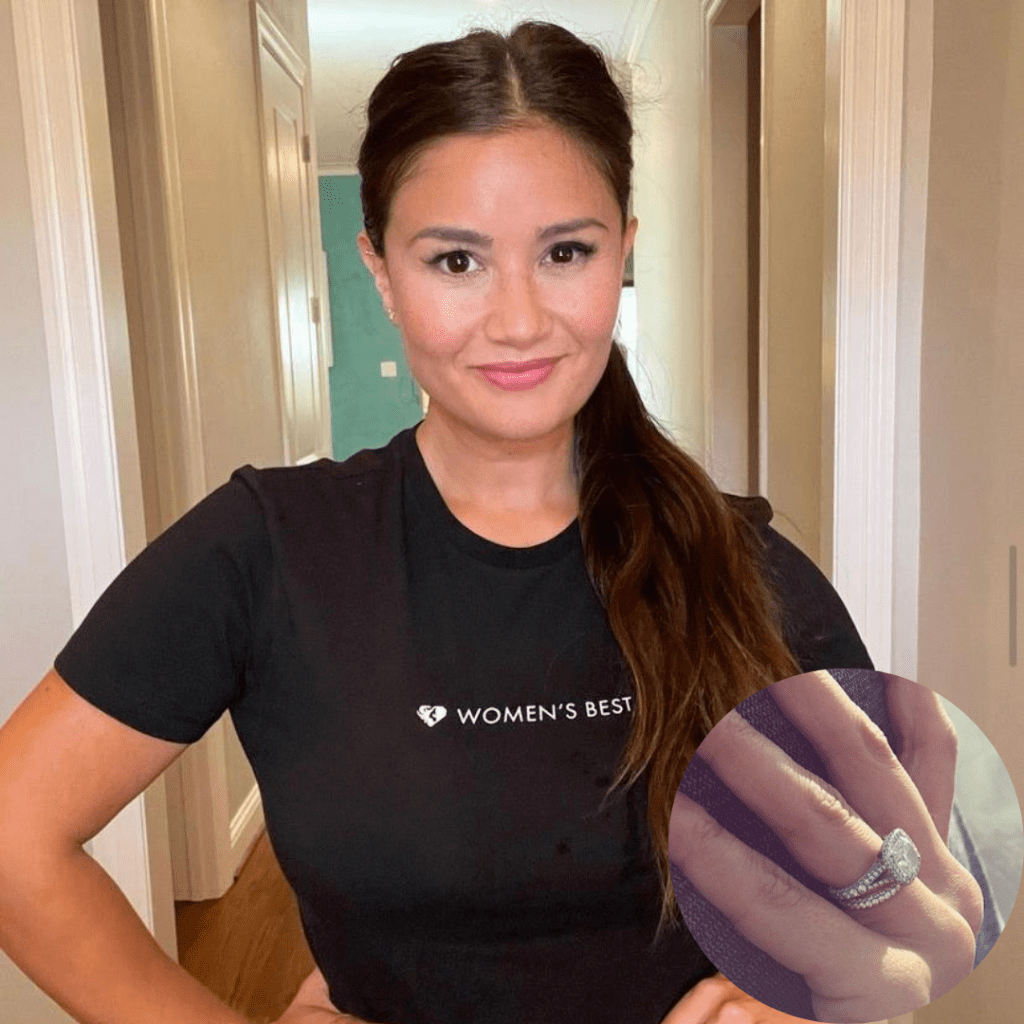 Sean Lowe proposed to Catherine with a 3.15-carat engagement ring, with a diamond halo and diamond-embellished split-shank band, which cost him around $65,000. Now that is a price tag and a half! They had a public wedding aired on ABC in January 2014 at The Biltmore in Santa Barbara, California.
Evelyn Lozada's Engagement Ring
Evelyn Lozada is a model and spokesperson that fell in love with L.A. Dodgers outfielder Carl Crawford. Crawford proposed to Evelyn on Christmas Day in 2013. What a day to celebrate! Perfect opportunity, when the whole family gathers, has fun, and feels cheerful.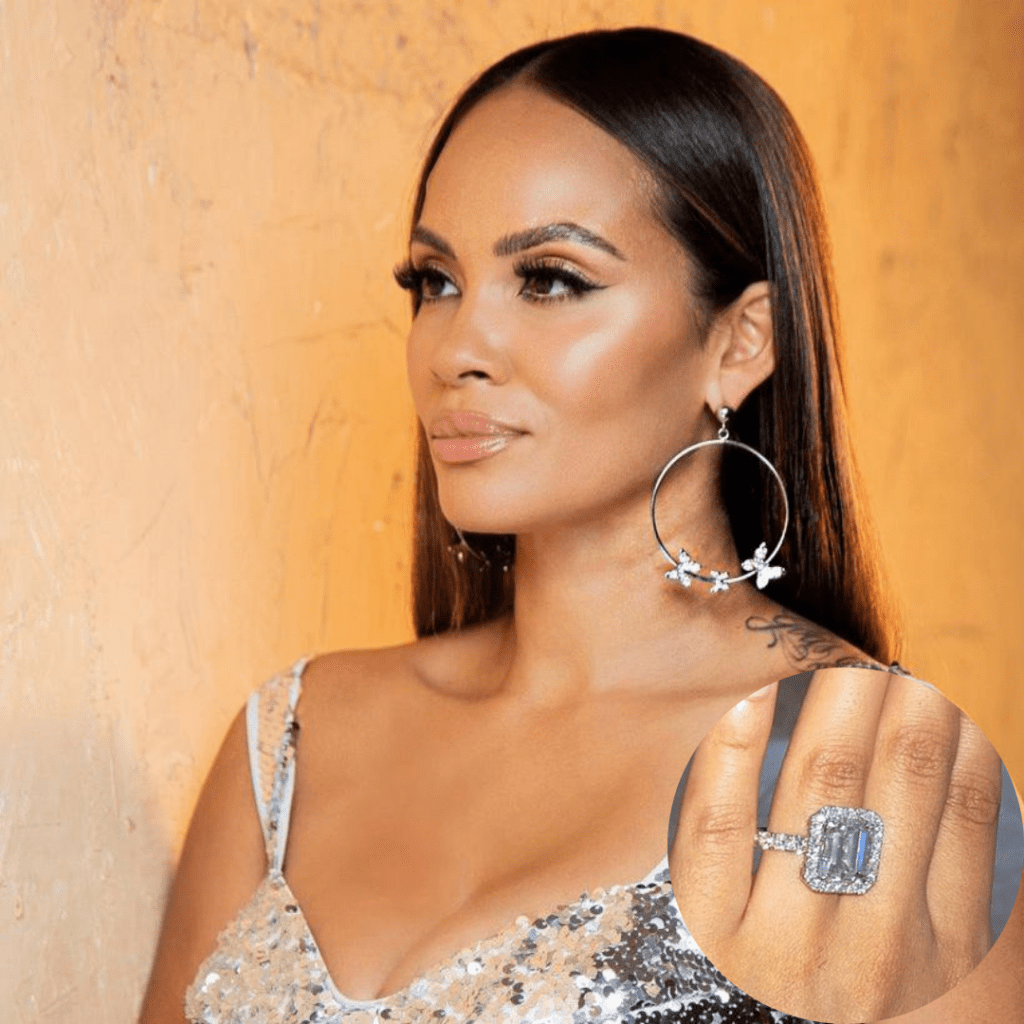 Although it might be difficult to focus on the ring from the beauty this woman holds, we must for a second; it's worth it! Jason of Beverly Hills design is a 14.5-carat diamond ring. The emerald-cut center stone was 10 carats. Unfortunately, after four years of engagement, they called it off in 2017.
Perrie Edwards' Engagement Ring
Little Mix singer Perrie Edwards and One Direction singer Zayn Malik were a thing! Not just any item, they were engaged and dating for a couple of years. Zayn proposed to Perrie in 2013. However, upon his departure from One Direction, the couple also split.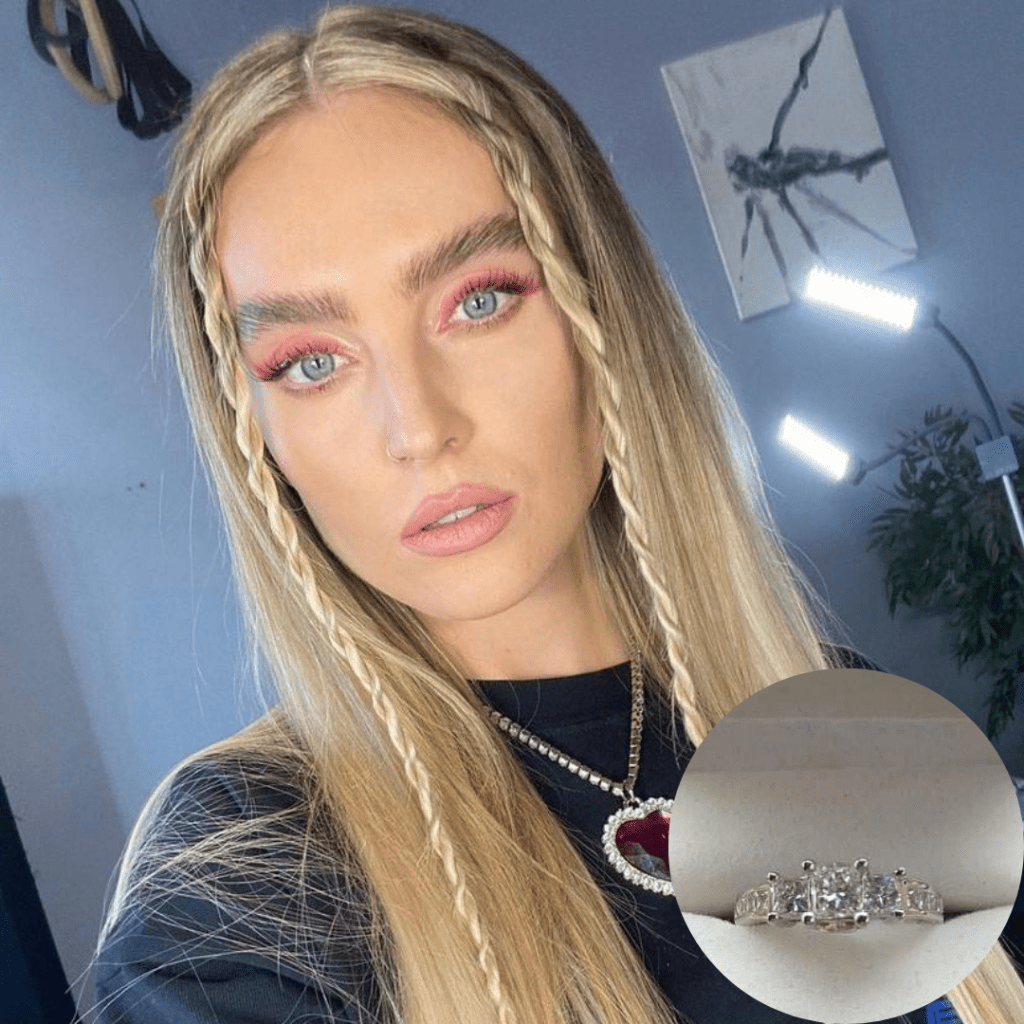 Although the engagement and the relationship were unsuccessful, the ring was not! It was a three-stone piece. Sweet, simple, dainty, yet extremely luxurious by the looks of it – it's a head-turner. Too bad they went their separate ways in the end.
Whitney Port's Engagement Ring
Author, fashion designer, and television personality Whitney Port more than derserves to be on this list. It was a doozy. But it's not over yet; this one will make your heart flutter. Tim Rosenman popped the question while the couple was vacationing in Australia in 2013.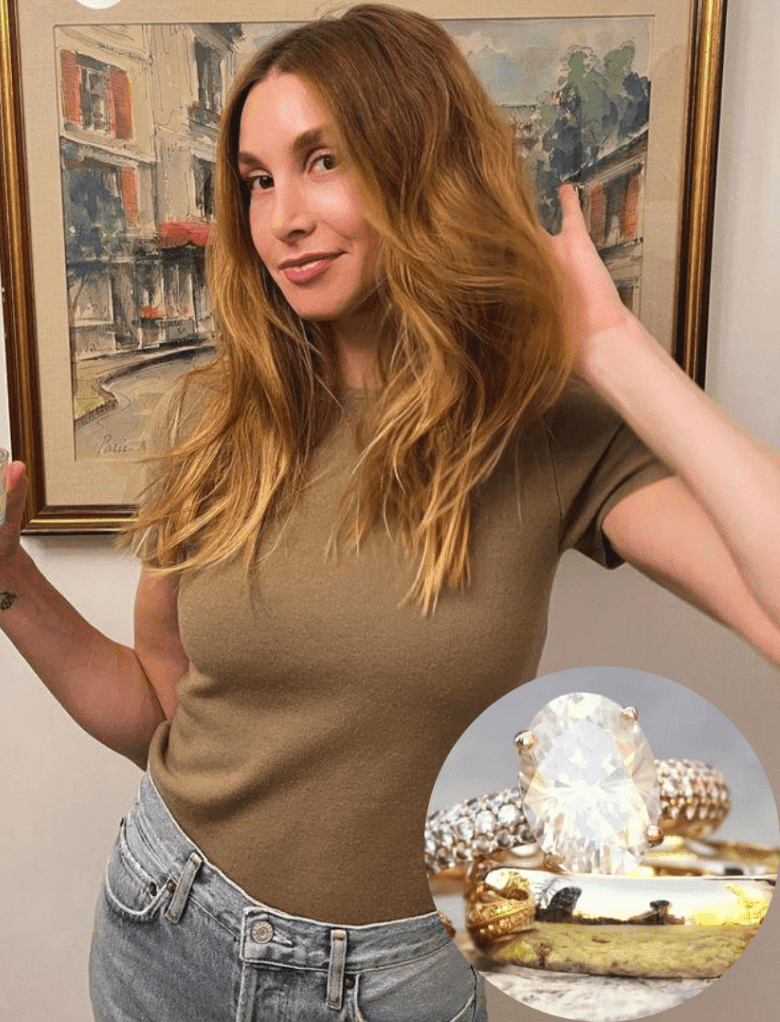 We feel like the ring was everything Rosenman liked and everything that suits Whitney in the best way possible. Her pinkish complexion paired marvelously with an oval-cut center stone with a rose-gold setting. After the lovebirds wed, she added three more wedding bands, two of them rose gold and one platinum.
Jennifer Lopez's Engagement Ring
Have you heard that Bennifer is, once again, alive and kicking? Oh yes, you've heard us correctly! Ben Affleck and Jennifer Lopez are a couple again, and we couldn't be more elated. That's why, today, we are presenting a ring that was once given to Jenny from the block by her former and current lover Affleck.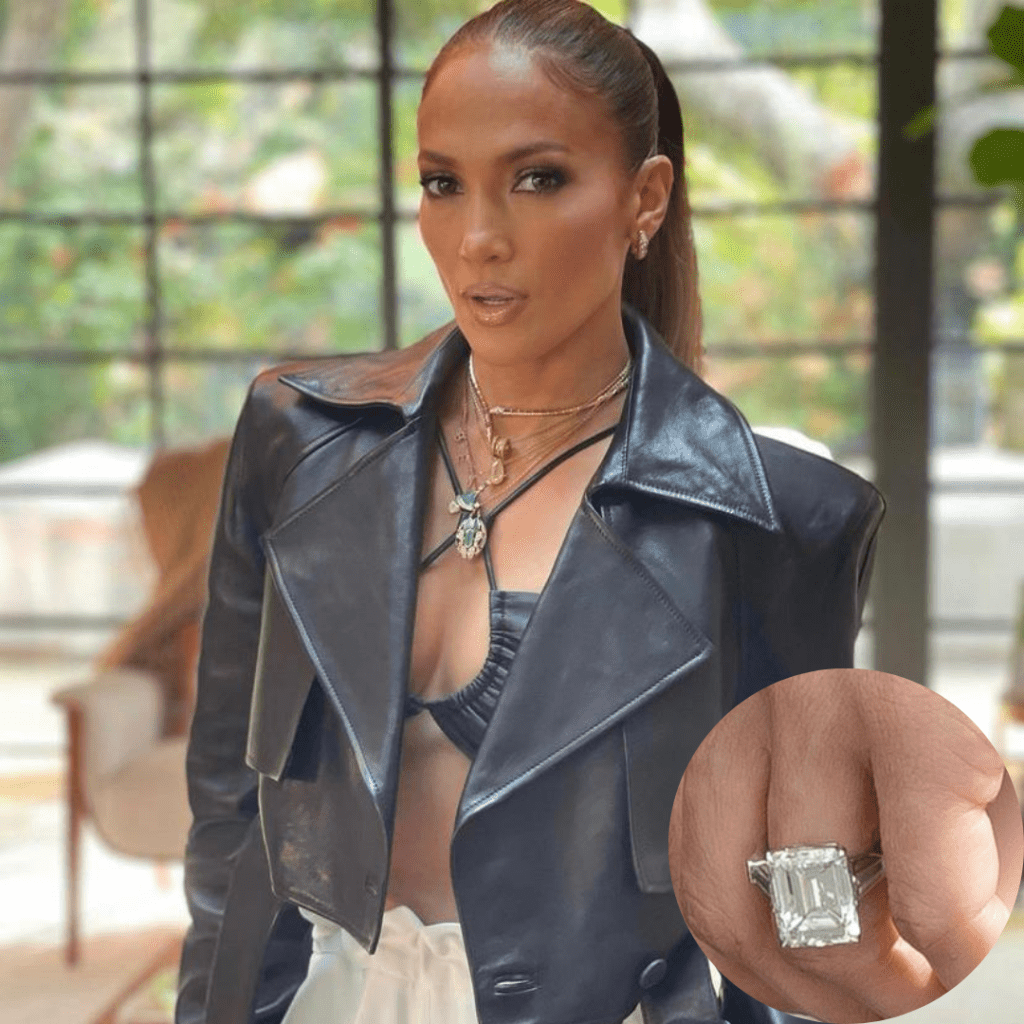 When Ben popped a question, he pulled out a pink-hued diamond ring, a 6.1-carat Harry Winston design that allegedly cost him $2.5 million. Phew, a bit pricey, isn't it? When they split, Jennifer, unfortunately, returned the ring, and we've never seen it since. What a waste. Hopefully, we'll be witnessing a better and improved one soon.