Millennials In The Area: Artists Reimagine Disney Characters Living In A Modern World
By Farah J November 6, 2022
---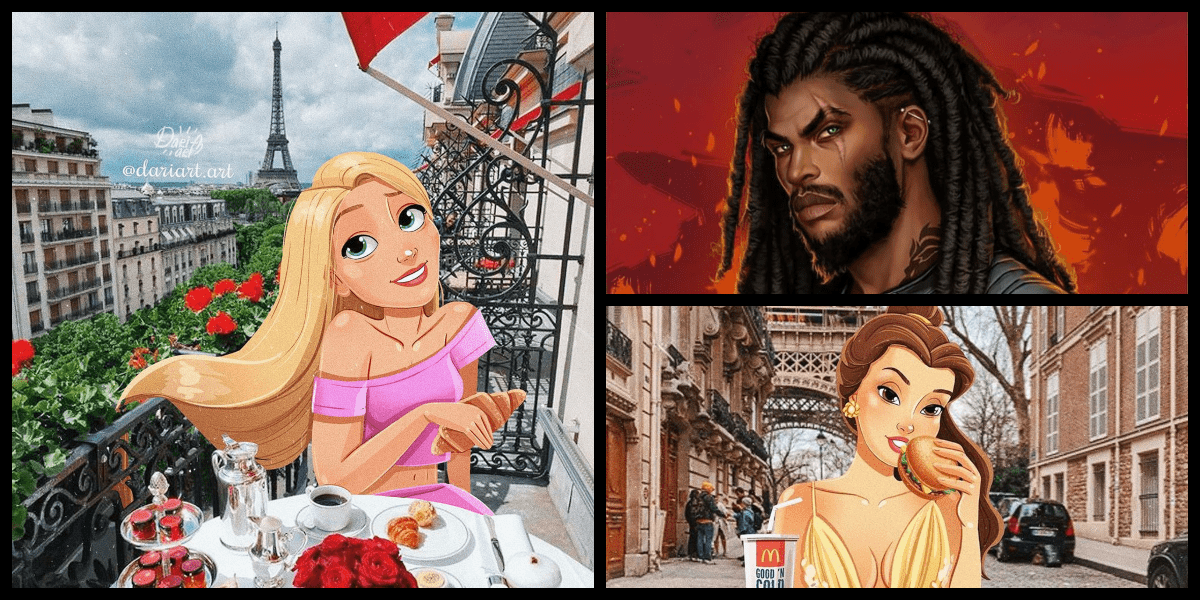 Disney has been our favorite throughout our childhoods, teenage years, and adulthood. Who else feels the same? Sure, some people find it weird that we, as adults, are still as engrossed in animated fairy tales as children are, but if they think that we are going to "grow up," they are wrong. 
Disney movies have these particular magical vibes that glue us to our seats. We wish our favorite characters were real – princes and princesses, and villains, everyone! We can imagine what they would be like in this world of ours.
In case you have never thought about Disney characters coming to life on this planet as millennials, give this article a little scroll, and you will know! Let's take a spiral down this rabbit hole and see if we still root for our favorite Disney couples or hate the same villains!
A survivalist
So, we all know the famous tale of Snow White and the Seven Dwarves. We are talking about everything, from her beauty to her ending up in the dwarves' lives and getting saved by true love's kiss from the prince after her stepmother, the queen, poisons her.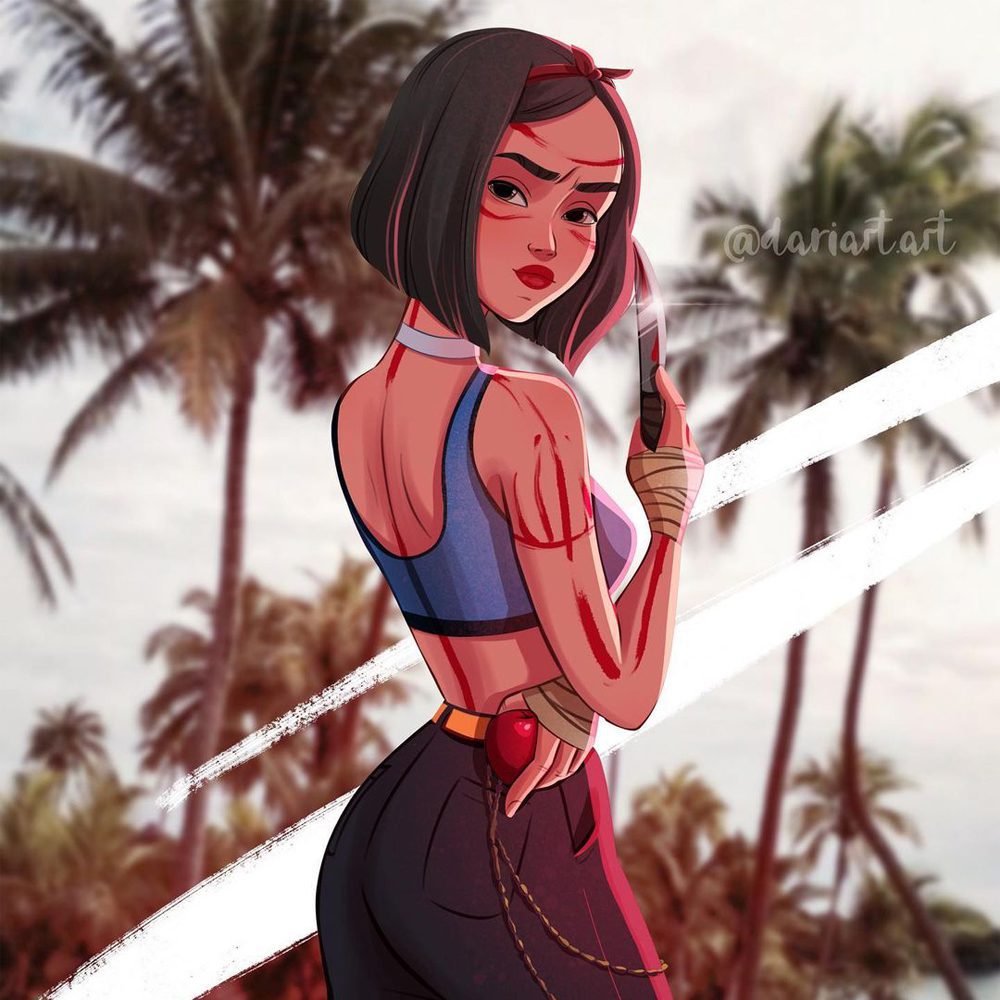 In the fairytale, Snow White is a dependent, helpless, innocent girl who trusts people very easily. But that's not the case with her in this world: here, she is fearless and independent and knows how to defend herself from evil people! She's a millennial survivalist, and we love her hardcore vibes.
Alice, with a third eye
Alice in Wonderland is the epic tale of adventures Alice experiences in the maddeningly striking world of Wonderland, where animals talk. If that wasn't enough, there's also a caterpillar that smokes cigars. There are white roses painted red, dragons, and mysterious cats. You name it; they have it.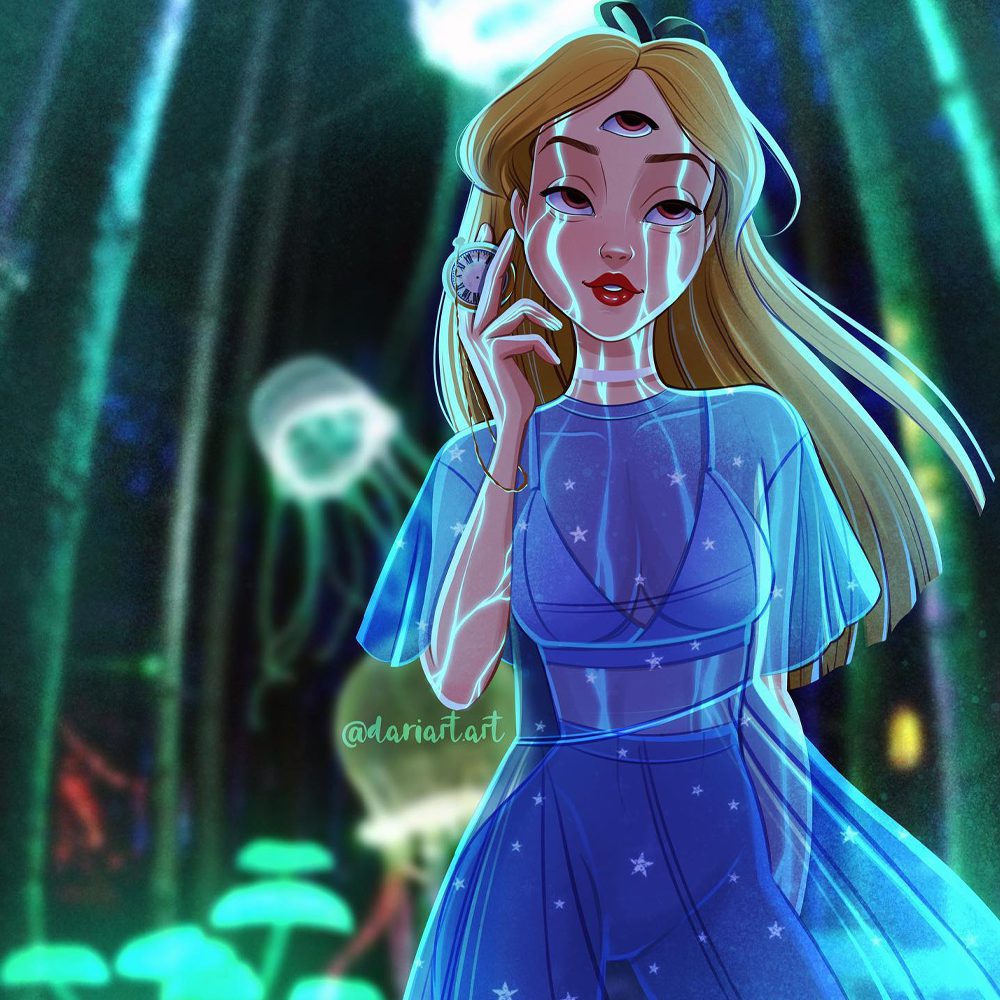 It's almost like Alice had a third eye (a tattoo) for imagining a world of impossibles! Her millennial look is not very far off, either. This futuristic, starry look is perfect. A shimmery outfit replaces her blue frock. Yet, she still has the ticking clock with her – a gift from the White Rabbit!
Jane and Tarzan: back on adventures
Disney gave Jane and Tarzan a wonderful life in the woods, swinging from tree to tree, lovingly in each others' arms. Honestly, we still ship them here in this world as millennials. Australia's beaches and the woods would be a perfect place for them!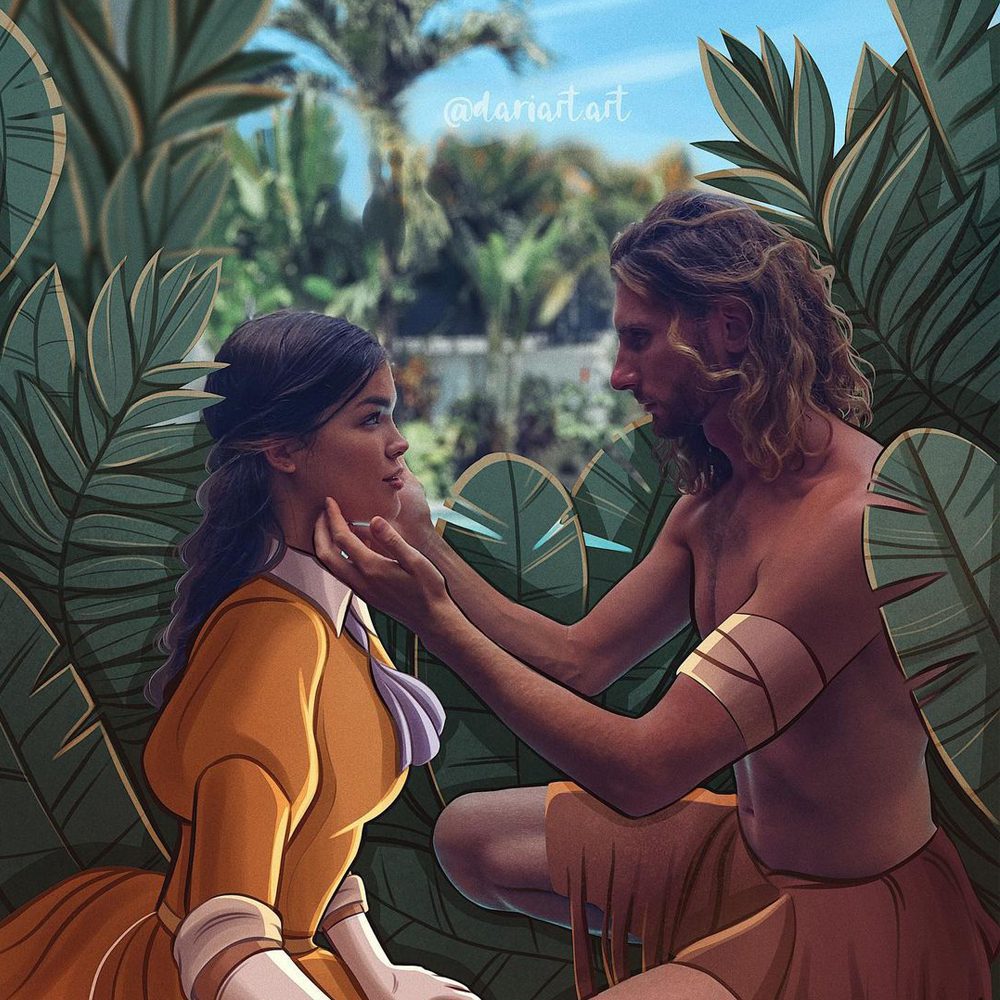 So, if we see here, Tarzan and Jane are truly meant to be; finding each other in some harbor in Australia in a beach bar cannot be a coincidence. We believe Tarzan was showing off his athletics while surfing when Jane saw him from the shore and instantly fell for him, despite the differences.
Princess Kida saves the day
They call Atlantis a lost city, but what if it was never lost? What if the city was turned into a guru home base or for combat practices for the "Undersea" princess and her tribe? You know who we are talking about: Princess Kida, the most fearless warrior and an inspiration!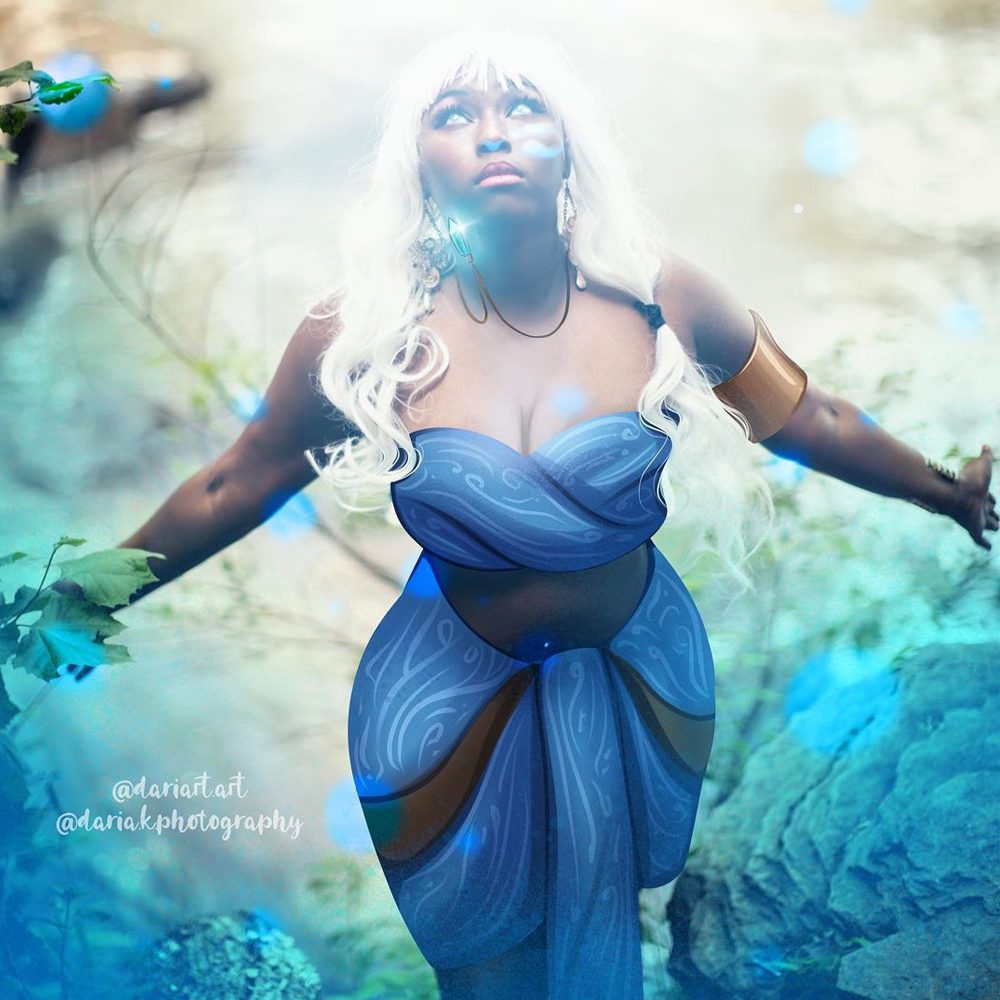 We bet the warrior princess wouldn't be a disappointment as a millennial in our world. You can see for yourself: her raving and stylish persona, her killer, hardcore but magical vibes. She is the moment, and she knows it! The warrior princess, as a millennial, is who we aspire to be.
Aurora's glow-up
Aurora's beauty was unmatched, and we all know it. All princesses are heart-wrenchingly beautiful, but Aurora has this magical charm in her looks that can melt anyone who makes eye contact with her. And the millennial Aurora just proved that – see for yourself.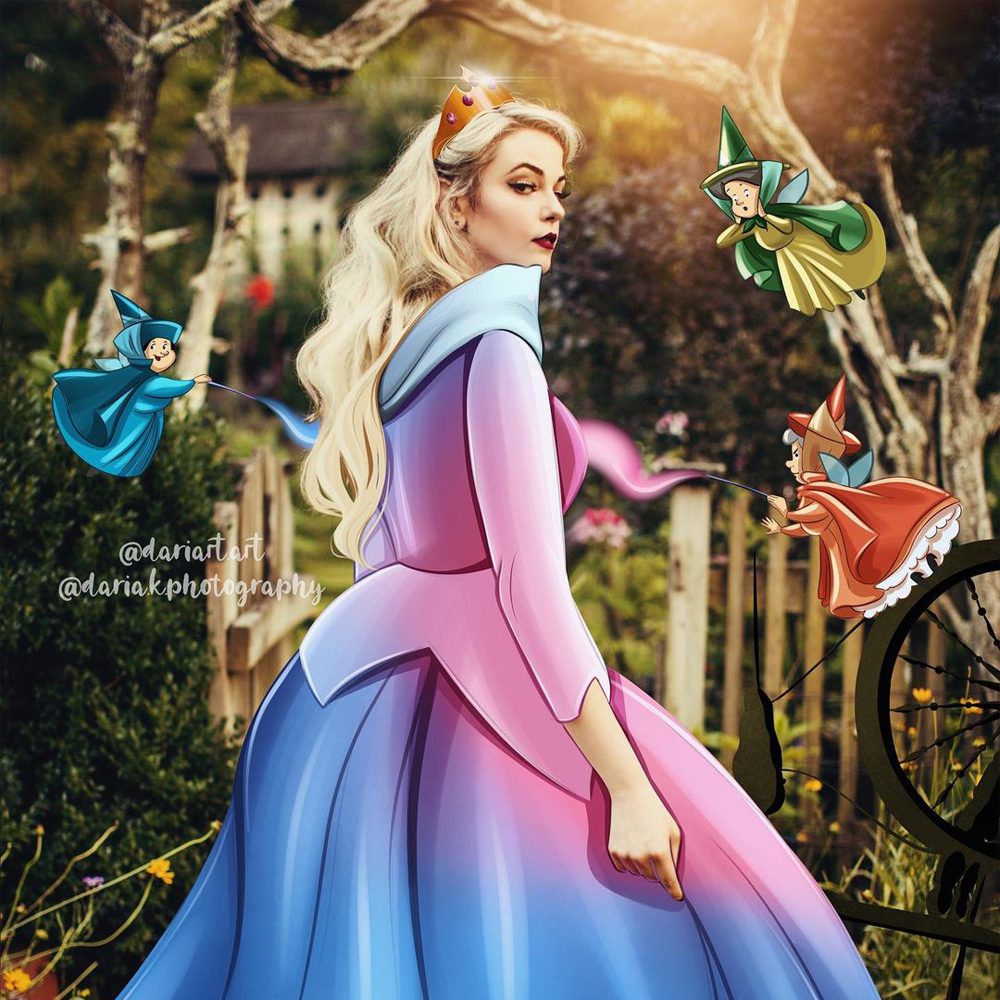 Fairy godmothers were in doubt about which color suited her more – pink or blue – so they gave her a tie-n-dye of both. Thank God the green one didn't interfere! Still, Aurora pulled off the glamorous look and is ready to break hearts here and there. Her maroon lips are not helping, either.
Pocahontas in Chanel
We love how Disney princesses never forget their true identities. Their native tribes and traditions are a part of them, and they do not feel ashamed to embrace them as their own. Pocahontas is the representation of the fierce tribal princesses that we all needed!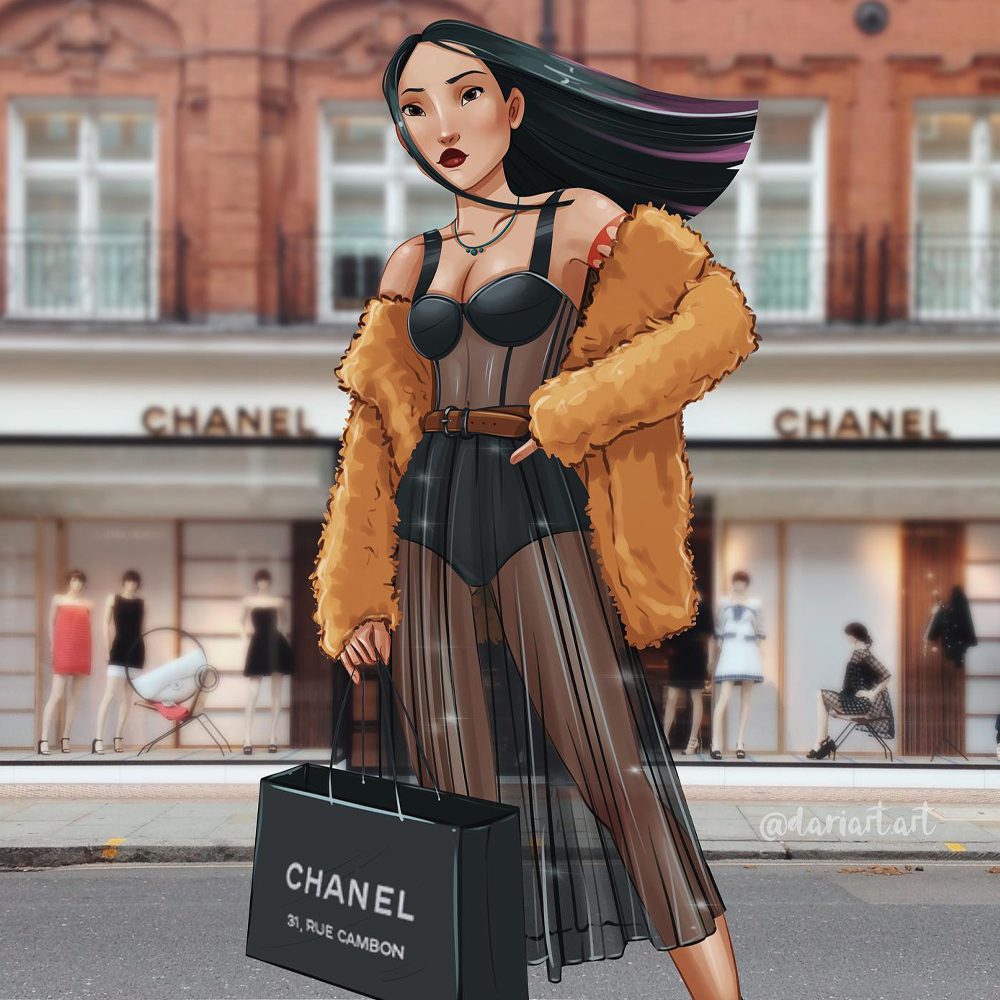 This is why we believe that Pocahontas, as a millennial, would be the queen – she would be a major serve, and we all are here for it! The millennial princess wearing an enriching black and earthy beige Chanel outfit and purple highlights in her hair is nothing less than what we expected.
Crazy Rich Asian: Mulan
Mulan is known as the most selfless princess of them all. She's always putting her family and her people before herself, serving them as a queen in any way she can. Her warrior skills, her intelligence, and also her exceptional style are nothing less than phenomenal.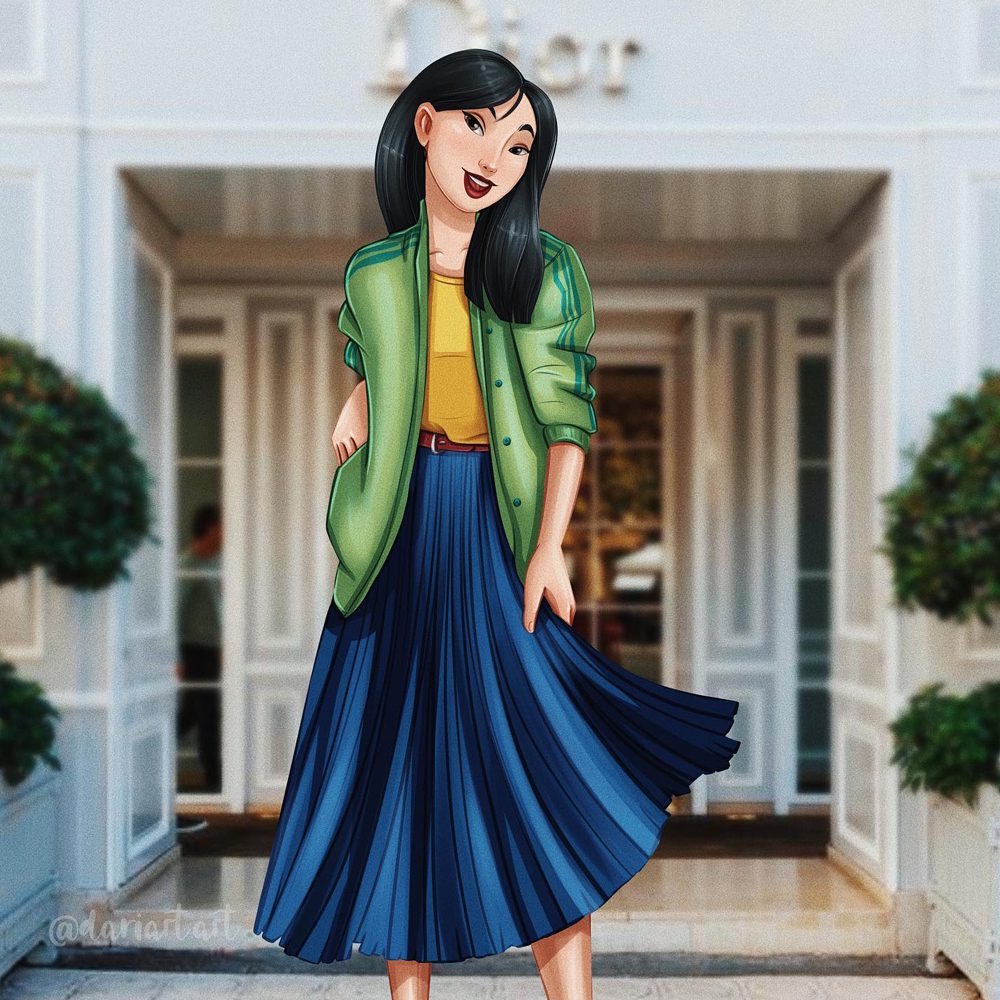 All hail the first true feminist queen! Her millennial self, as it looks like, finally found a way to take out some time for herself. Her "crazy rich Asian" vibes are going strong; we can imagine Mulan strolling down the streets of different countries, traveling all over the world.
Tatiana, a minimalist millennial
Tatiana had our hearts the moment she appeared on the screens in the form of a Disney princess. Representation matters, truly. Even the millennial Tatiana managed to become the queen of our hearts with those minimalist-modern, sparkly vibes like a real-life princess!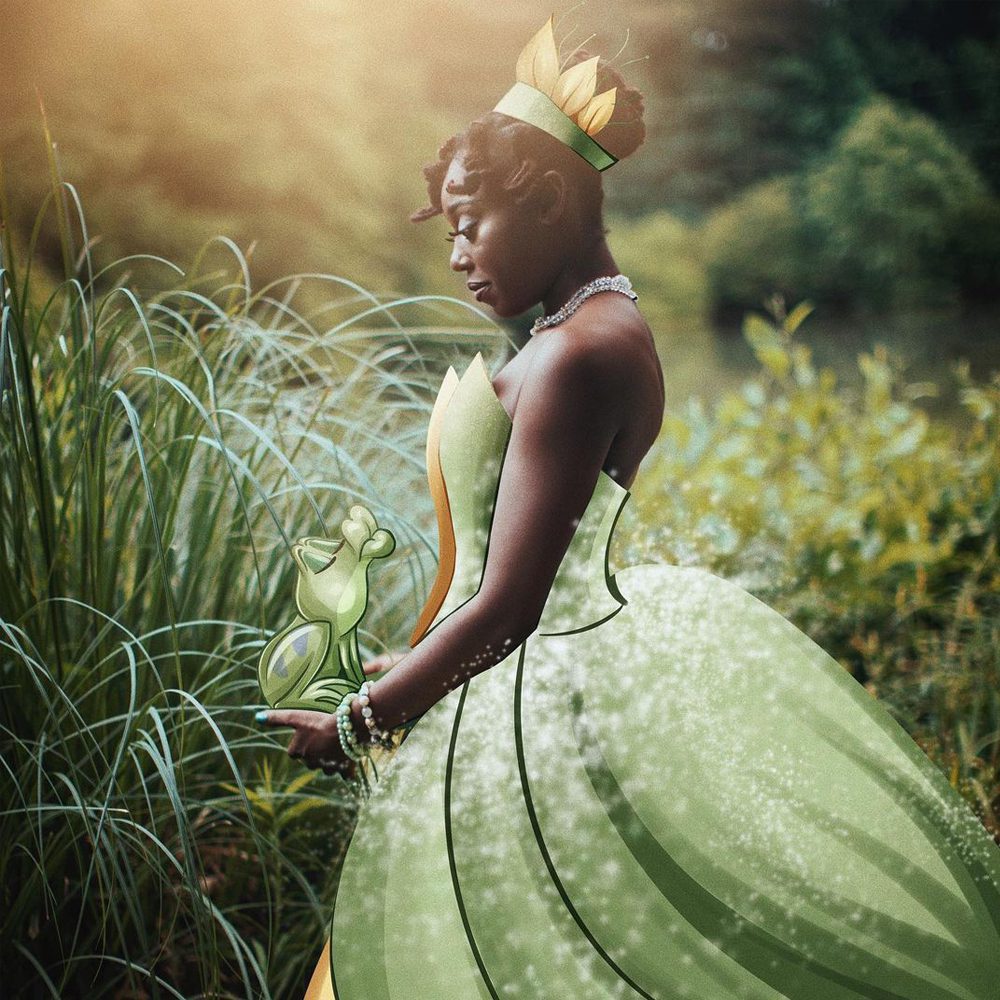 Tatiana is known for her hospitality and rich taste in the world. So, naturally, when she arrives in this world, she is going to raise standards everywhere – of beauty, styling simple gowns with minimalist diamonds and pearls and a tiara. Millennial Tatiana would be a blessing!
Anastasia is ready for you!
Such an underrated film, but she's such a gorgeous character we would give everything to see in real life as a millennial. Anastasia is a Disney character with an incredible sense of fashion and taste. Now imagine her level of fashion standards if she popped up on this planet.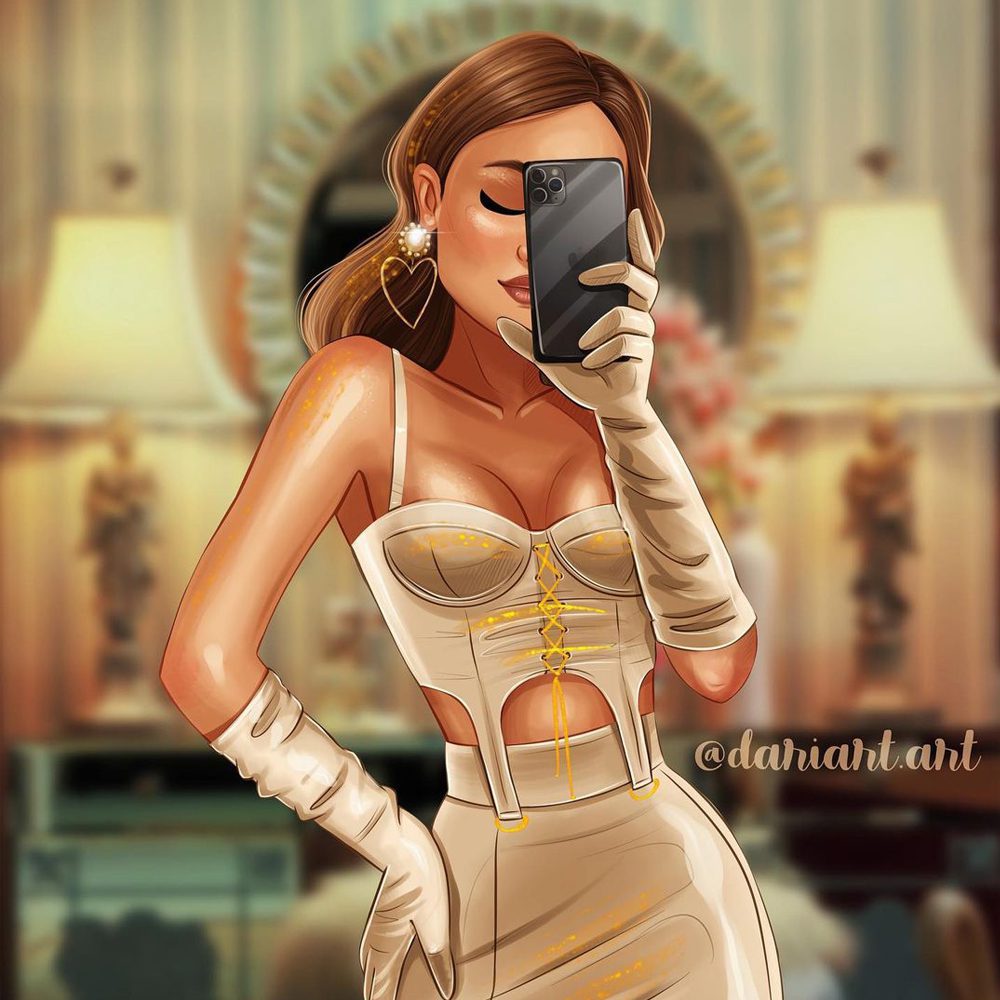 The millennial Anastasia would outdo everyone, and we know it. Her Instagram profile would be a divine scroll – with that front tie, seductive corset and tight skirt, and full-length silk gloves, we crave more! The flawless makeup and heart-shaped earrings are just the cherries on top!
Pocahontas and John's cozy life
Pocahontas and John Smith, as a millennial couple in this world, is the type of celebrity gossip that we would not mind listening to or reading about in magazines. The warrior herself is an inspiration to young girls all over the world, and her love life is nothing less than what she deserves.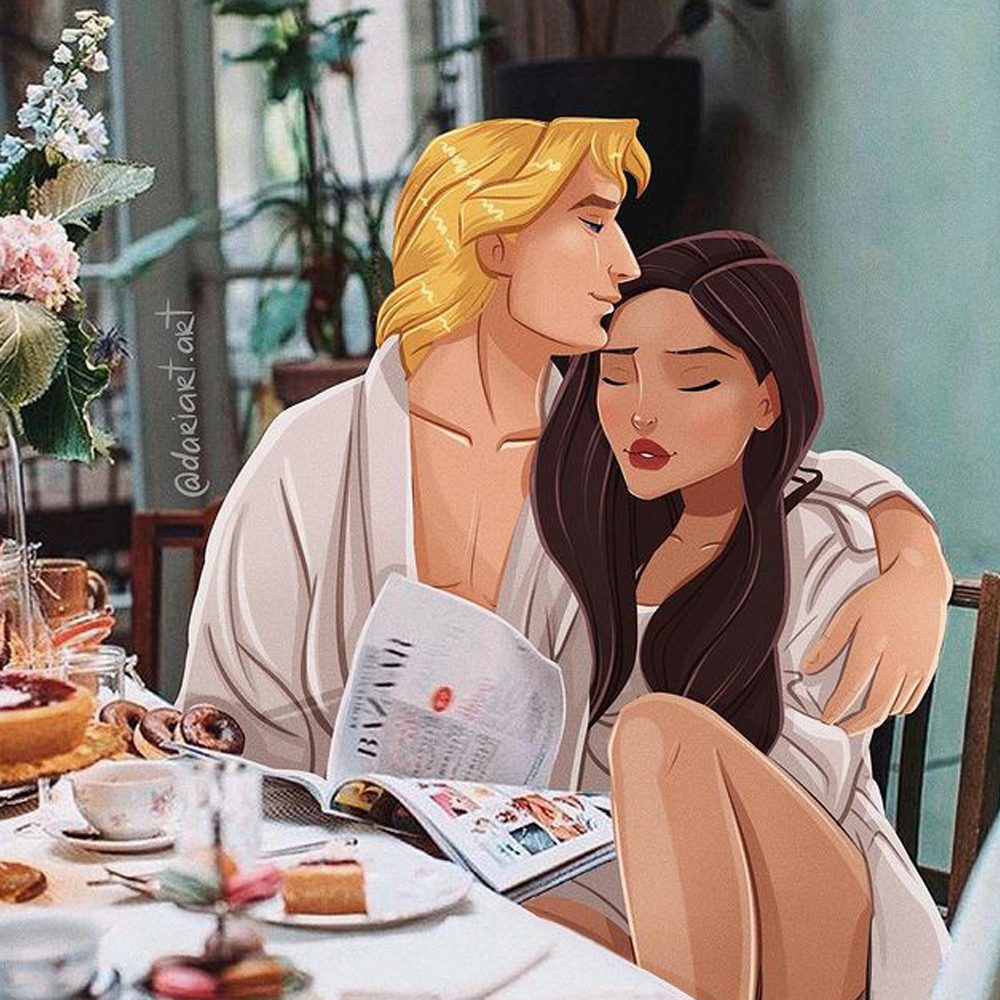 John and Pocahontas being casually intimate and romantic over breakfast make us a little green with envy (of course, who wouldn't be?) but incredibly happy for them. The millennial couple in nightgowns, reading Harper's Bazaar over a luxurious breakfast, is the kind of life we wish for!
Aladdin and Jasmine get handsy
A conman and a princess falling in love is not a very simple thing to handle. Palace life can be as exhausting as the life of a thief. So, we guess the millennial Aladdin and Jasmine would like a break and explore a whole new world and get a fantastic point of view (get it?)!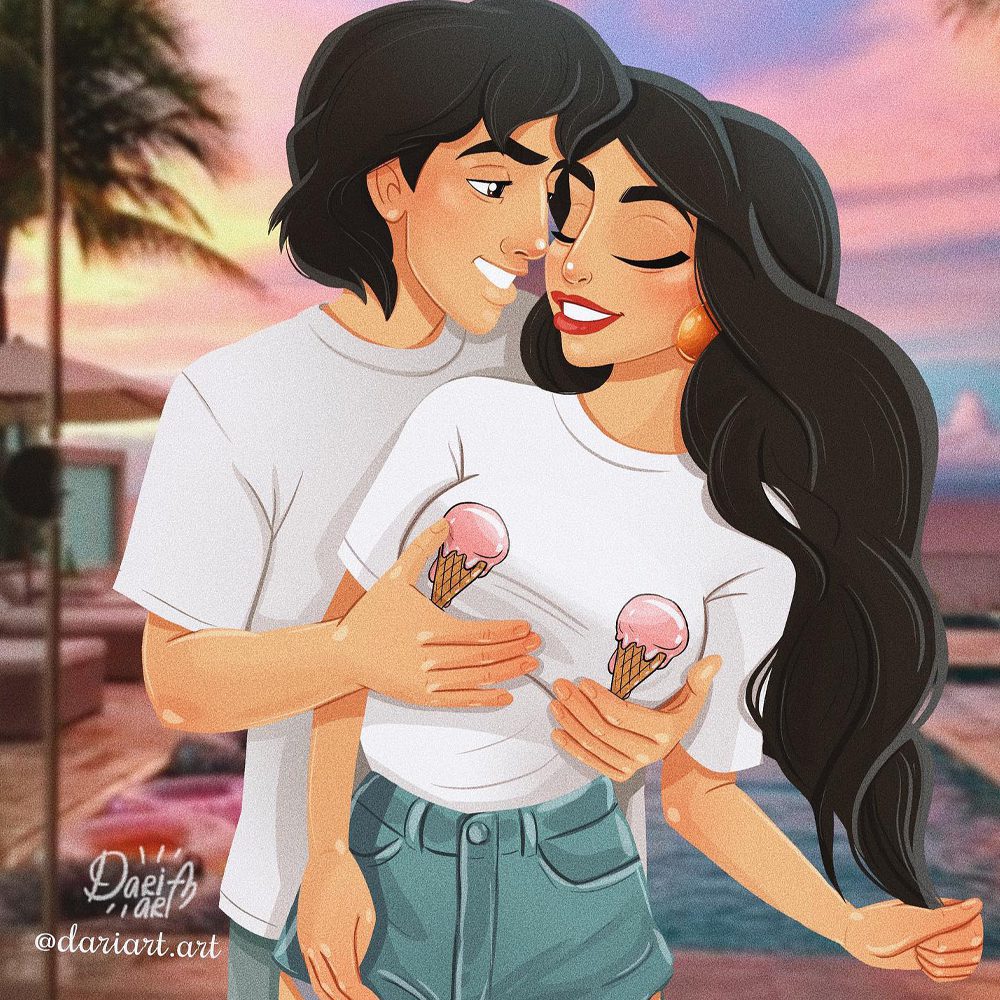 So, upon reaching this world, the loving couple gets into a casual outfit first thing and walks down some tropical island with ice cream cones in their hands. Except, it looks like Aladdin wants to flaunt his precious partner, and he's doing so by getting a little too handsy in public!
Aurora, but punk
Most Disney princesses from the previous era were shown as delicate and beautiful, like a flower, helpless, and always searching for a knight (prince) in shining armor to save them. So, it is pretty hard for us to imagine the punk version of Aurora in the modern world.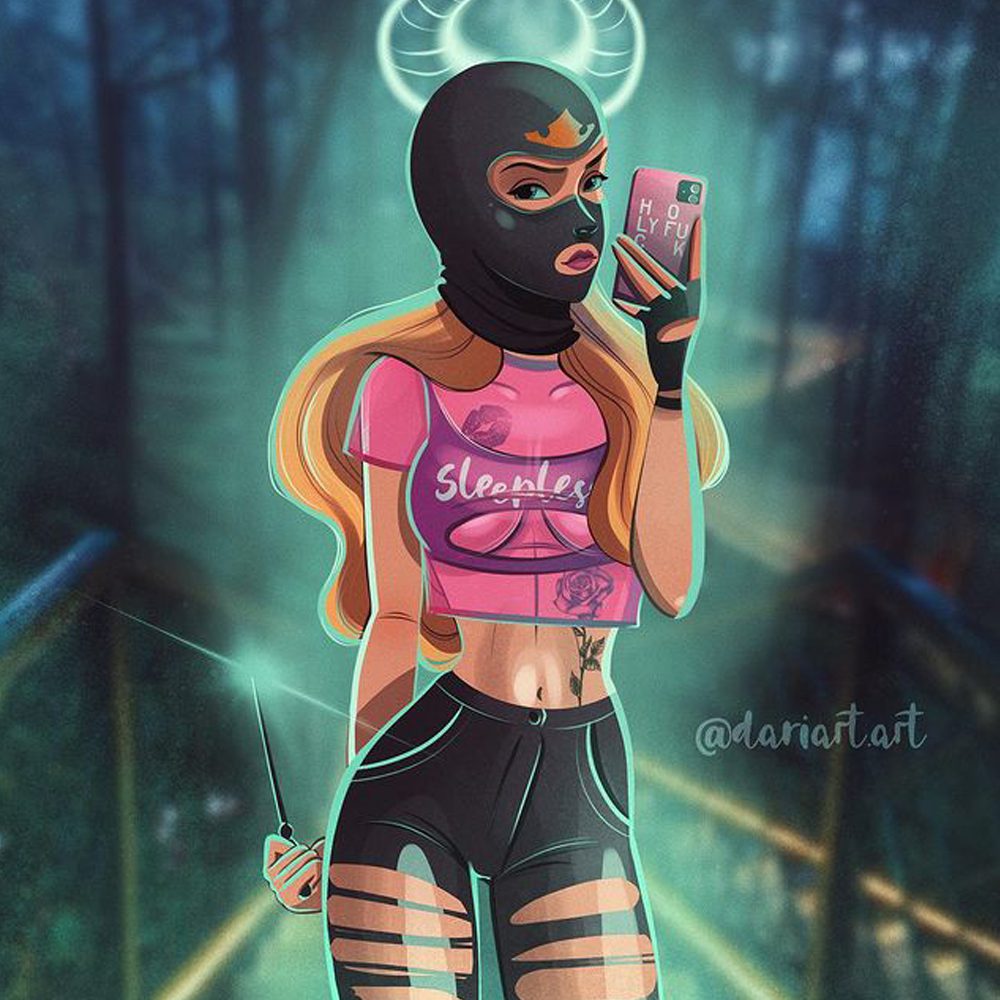 That is until we saw this picture of her standing in a cropped top and ripped jeans with a spindle needle in her hand, wearing a black face mask and leather gloves! We love how her infamous gold tiara is still a part of her.
Tiana and Naveen during skincare
Nowadays, skincare has become a couple's thing – a form of intimately and emotionally connecting with your partner. Who doesn't love having a cozy day with their partner enjoying self-care and love? Well, news flash: Disney millennial couples enjoy these things as much as you do!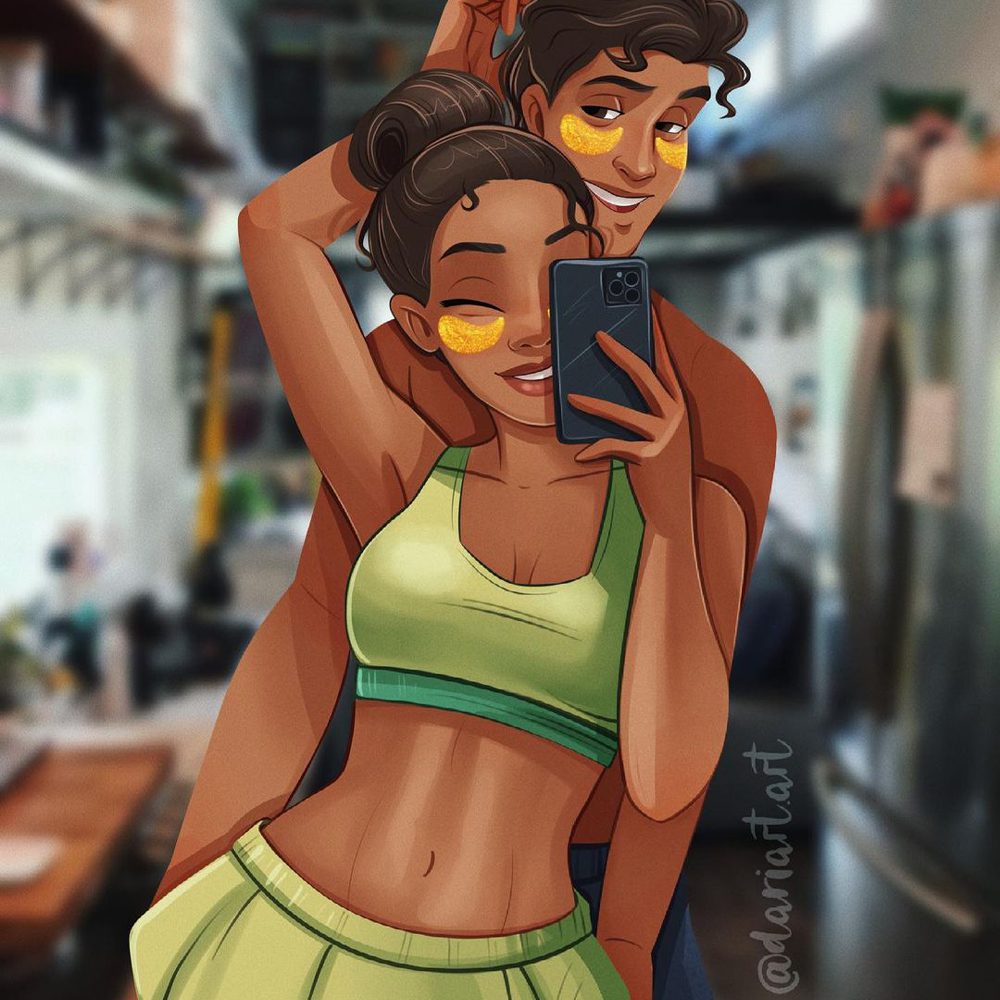 Just look at them: ever so in love and romantic, getting cozy and intimate with each other during a day at home. They both seem to be living the best lives they could've imagined. We adore this perfect couple, and their existence as a millennial couple in this world is simply a wish come true. 
Ariel's onshore picnic
Ariel not trading her beautiful mermaid tail for legs in the millennial world is everything that we ever wanted. Sadly, mermaids are fantasy creatures, but a millennial Ariel is always welcome. Oh! How we wish to see a mermaid pop out of the sea!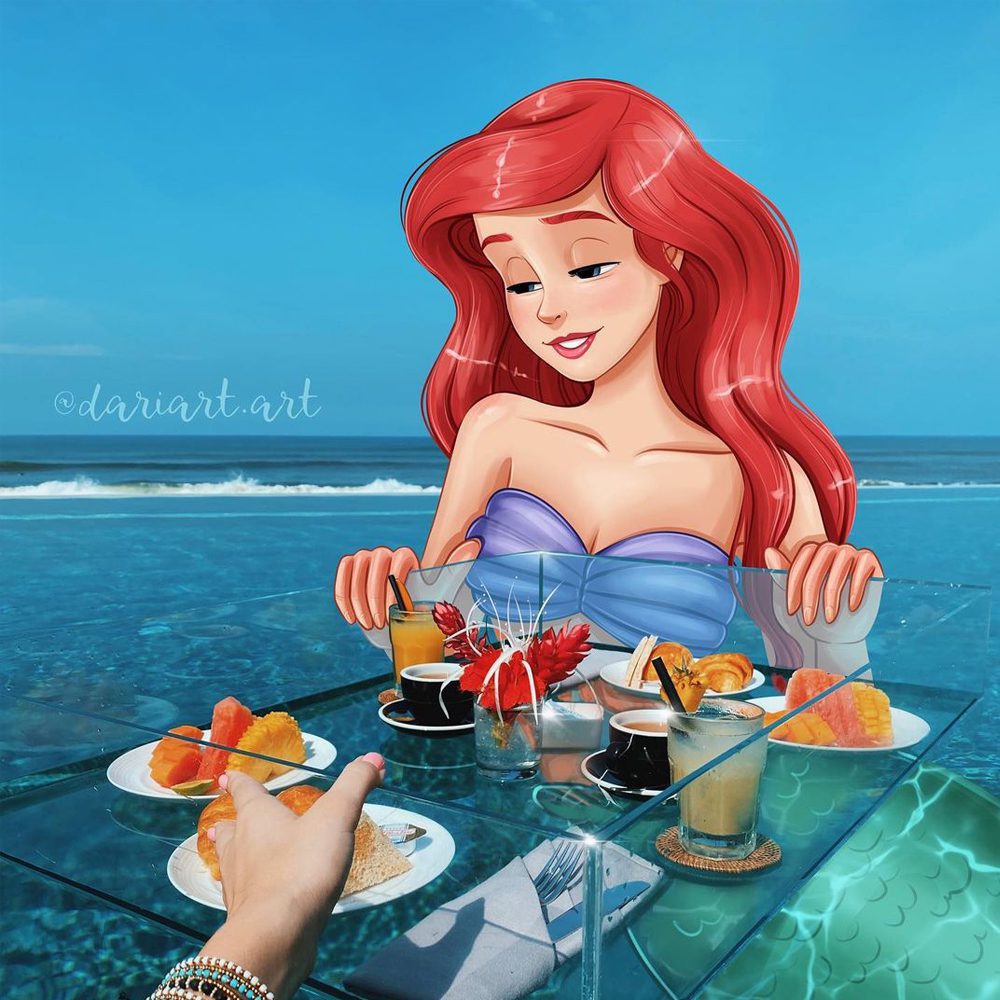 A millennial with legs or not, it looks like Ariel is having a great time onshore with a floating tray and all kinds of tropical fruit and fruit juices in it. With her tail keeping her afloat, she is having her sweet time on this dreamy vacation. We hope she still has her voice, though!
Our favorite cowgirl
If every princess in a gown with a prince is coming back to life, now is the perfect time for our favorite cowgirl to yee-haw her way out of the toy box and out of Andy's room as the millennial cowgirl she was always meant to be. Overjoyed seems like a small word right now!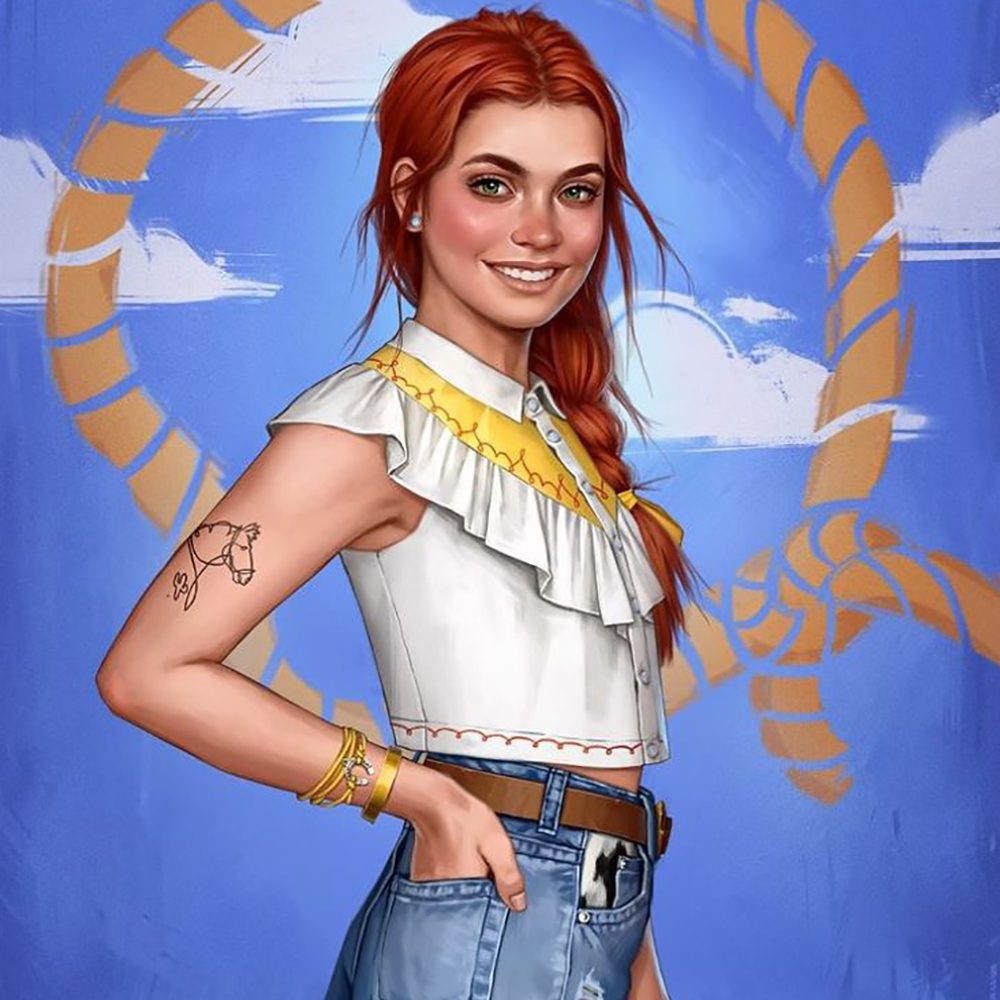 The cowgirl who everyone has been waiting for is here with the same swag she has in the Toy Story movie series. Her horse tattoo and the horseshoe bracelet are giving all the Texas hardcore vibes that we needed so badly. We hope her besties, Woody and Buzz, join her in her adventures too!
The charming conman Aladdin
We would be lying if we said that Aladdin has no charm or handsomeness to him and that thievery and conmanship are all there is to his identity. In the movies, Aladdin surely is seen as funny, sweet, nice, and smart from his point of view.
But what would he be like if he were to enter this world as a millennial? Well, the answer is right here: he is more than just a conman. He has a playboy charm that can attract anyone to turn his way. With his unbuttoned shirt and sloppy pants, people would treat him for free.
Anastasia's makeover
We have seen Anatasia's adventures in this world already. Now is the time to take a second look at her makeover as a millennial on this planet. We all knew she had an impeccable sense of fashion and style, but little did we expect to have our mouths hanging over this makeover!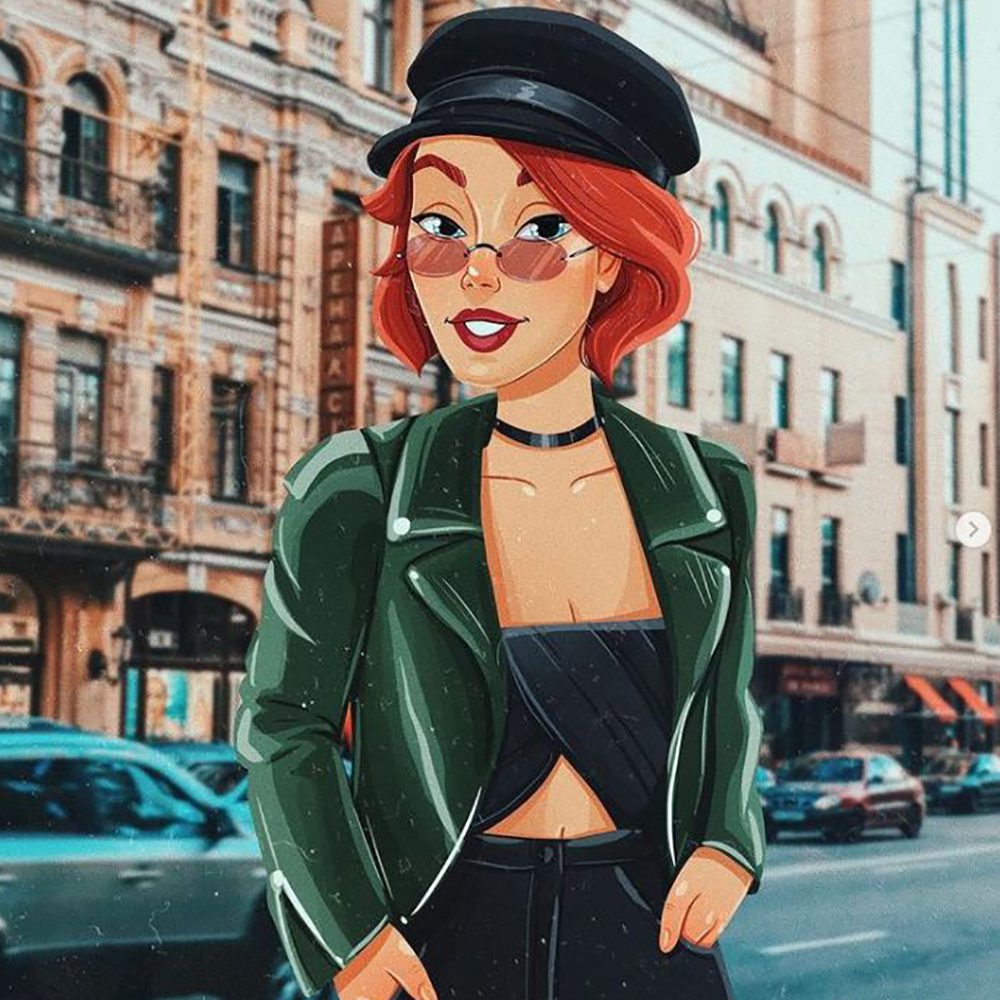 Wearing a short shoulderless top styled with a green leather jacket, a hat, and a black choker, with jeans underneath, she is a sight for sore eyes. Her short red hair and fancy spectacles make her look like a natural model strolling down the streets of Paris!
Evil Queen is the fairest of them all
We have all hated the Evil Queen since the very first time we heard the story of Snow White and the Seven Dwarves. Ever since she poisoned our favorite princess, we have held a grudge against her and never let her be the fairest of them all – she isn't!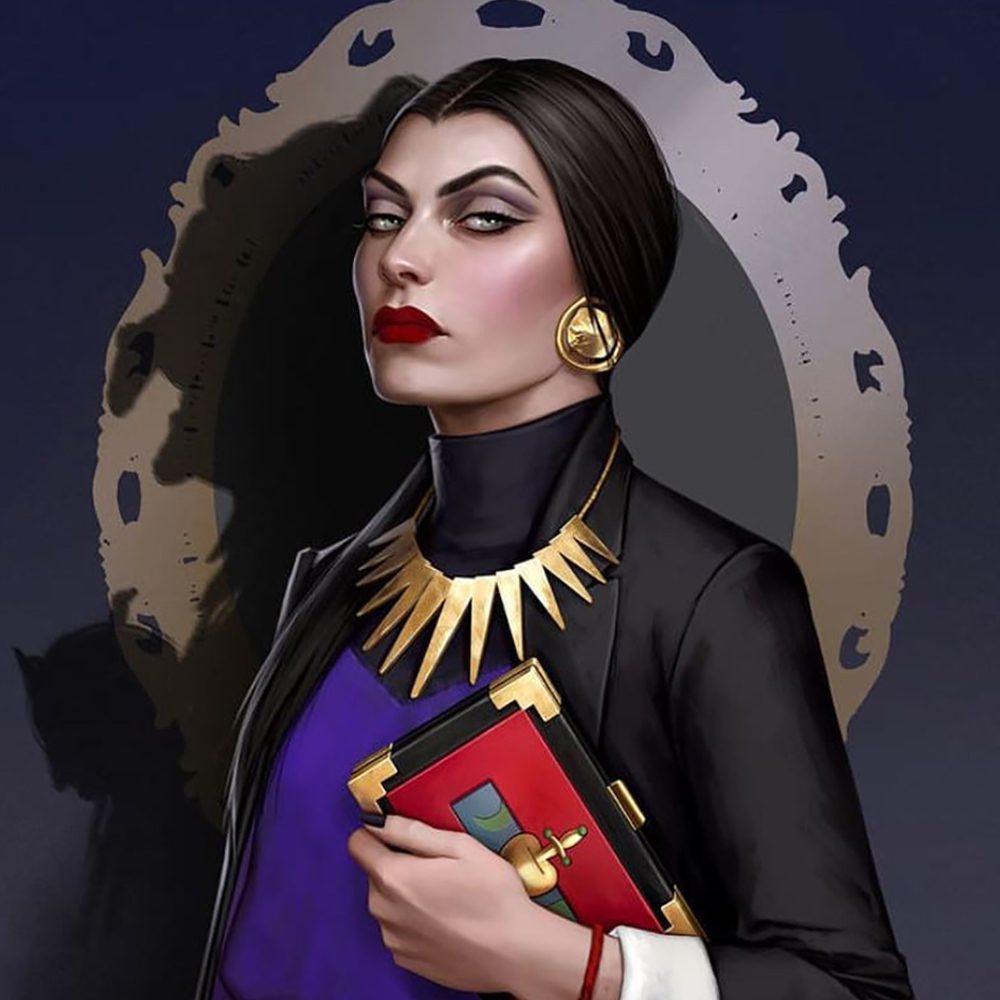 However, after popping up as a millennial in this world, we are having second thoughts about her. She may not be the fairest of them all, but she doesn't look hateful. She looks more like a scary teacher who takes apples from students who bring one for lunch! Well, she is inherently evil, after all.
Prince Eric, is that you?
Prince Eric may have been the prince of everyone's dreams in the Disney world, but it looks like our world is not serving him well enough. He does not even look like Prince Eric anymore. It was probably the fancy prince outfits and jewels – or the title – that made people fawn over him.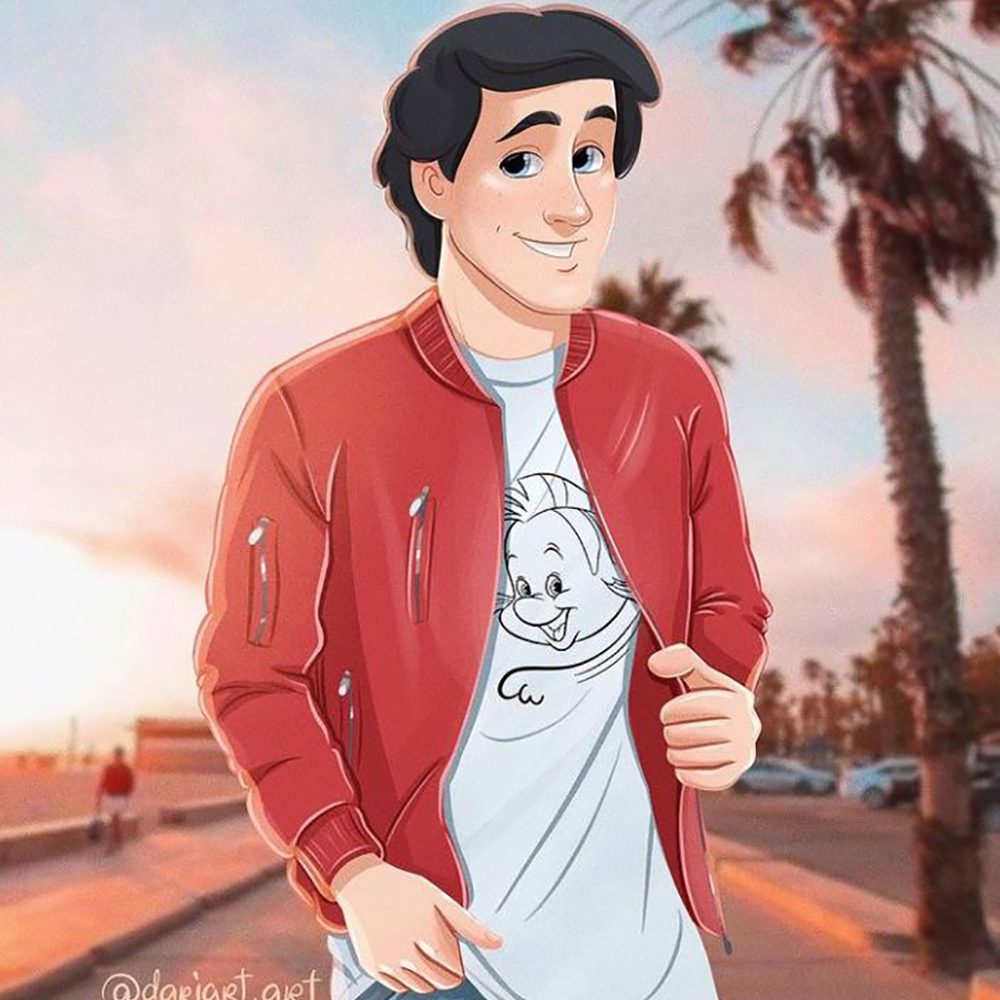 His best days are over, and we are quite sad for him. Well, he still lives near the beach and wears a Flounder shirt, which is pretty cute, in our opinion. But we are sorry to admit that he is not a heartbreaker anymore and not the person to trade a mermaid tail for!
She's a lady!
She's a… she's a lady! Not a tramp anymore, but a gorgeous lady! Her dog days are over; our world did quite a number on her…in a good way. Not that we did not love her dog version – she was a beloved dog, and we would have made her a family pet if we could.
However, her millennial lady version has us on our knees already! She must be a spaghetti lover, which explains her top. Also, her hair looks exactly like the ears when she was a dog in Disney world. Her fur coat, the dog tag, and choker as a necklace…we are here for it all!
Rapunzel let her hair down
When we think of Rapunzel, we think of a princess with super long golden hair who is locked in a tower, and the witch uses her hair as a rope to come all the way up the tower, right? Well, as a millennial in our world, the story gets quite different – less scary and more adventurous!
This time, sure, Rapunzel has let her hair down, but not from a sky-high tower in nowhere. She's enjoying croissants sitting on a balcony of a lush hotel room somewhere in France, where she is free to dream of anything she wants! We are glad her golden locks are back.
Megara is no longer in the underworld
Meg has been through Hell and back; we all know it. At least the modern world is treating her way better than the Underworld did. Her fierce, wild, dominant yet charming personality is bound to fit right in this world of ours – she is going to have heads bowing to her.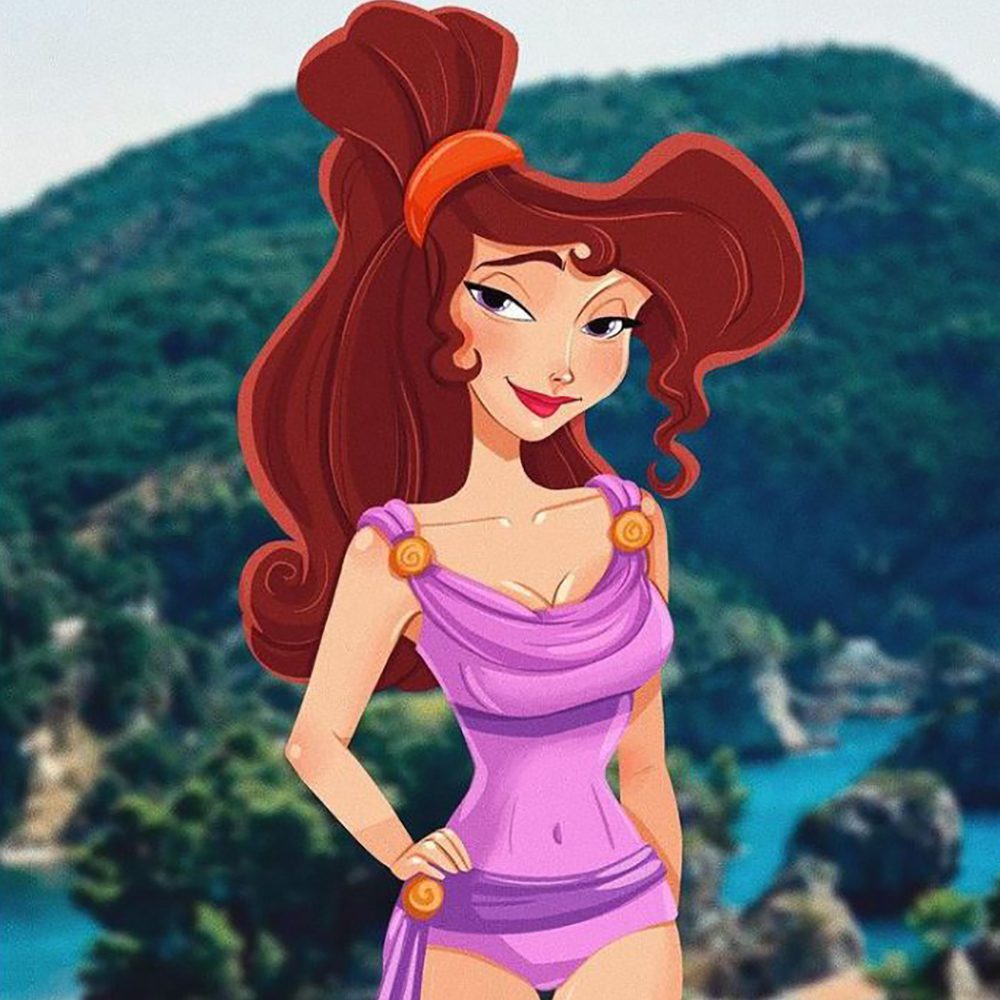 We can imagine the millennial Meg running a business at the beach. She is the type of person who would not bend to wrongdoings and has a thing against rudeness, so don't even think of messing with Meg. She had the Underworld in her palms; what are you against her?
Moana as a surf instructor
Moana's dreams would all come true if she were to appear in our modern earthy world. Disney had her stuck in a small village in Hawaii. Here, she is going places because that's the kind of person Moana is! Her dreams and ambitions have no boundaries. Let's see how far she'll go!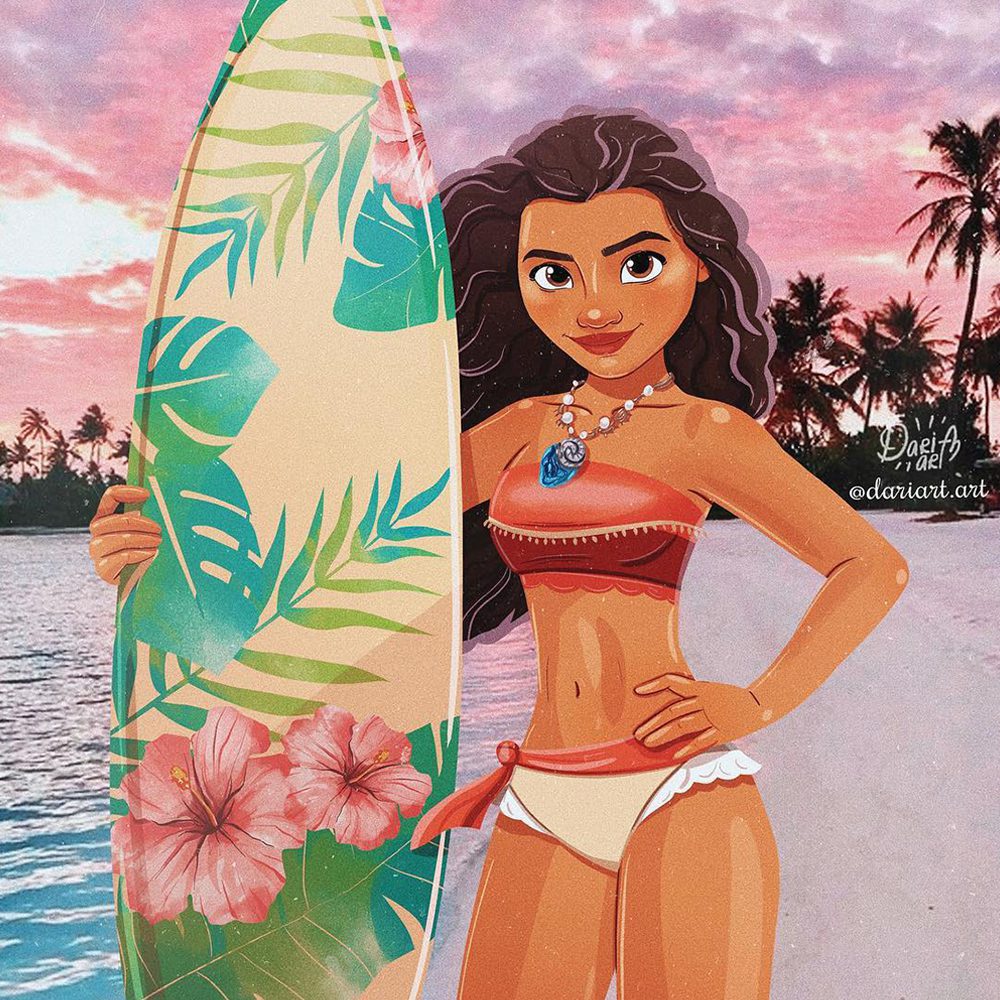 When we imagine Moana, the first thing that comes to our minds is surfing. She goes from place to place, fulfilling her passion for surfing. She must be a surf instructor and an incredible one at that! We will definitely sign up for surf classes with her.
Tinkerbell is flying solo
Peter Pan never grew up, but look, someone else from his party did! Little Tinkerbell is not little anymore, and she definitely doesn't need Pan to accompany her or take care of her. She is her own queen, and she owns it! She deserved so much more than Pan offered her anyway.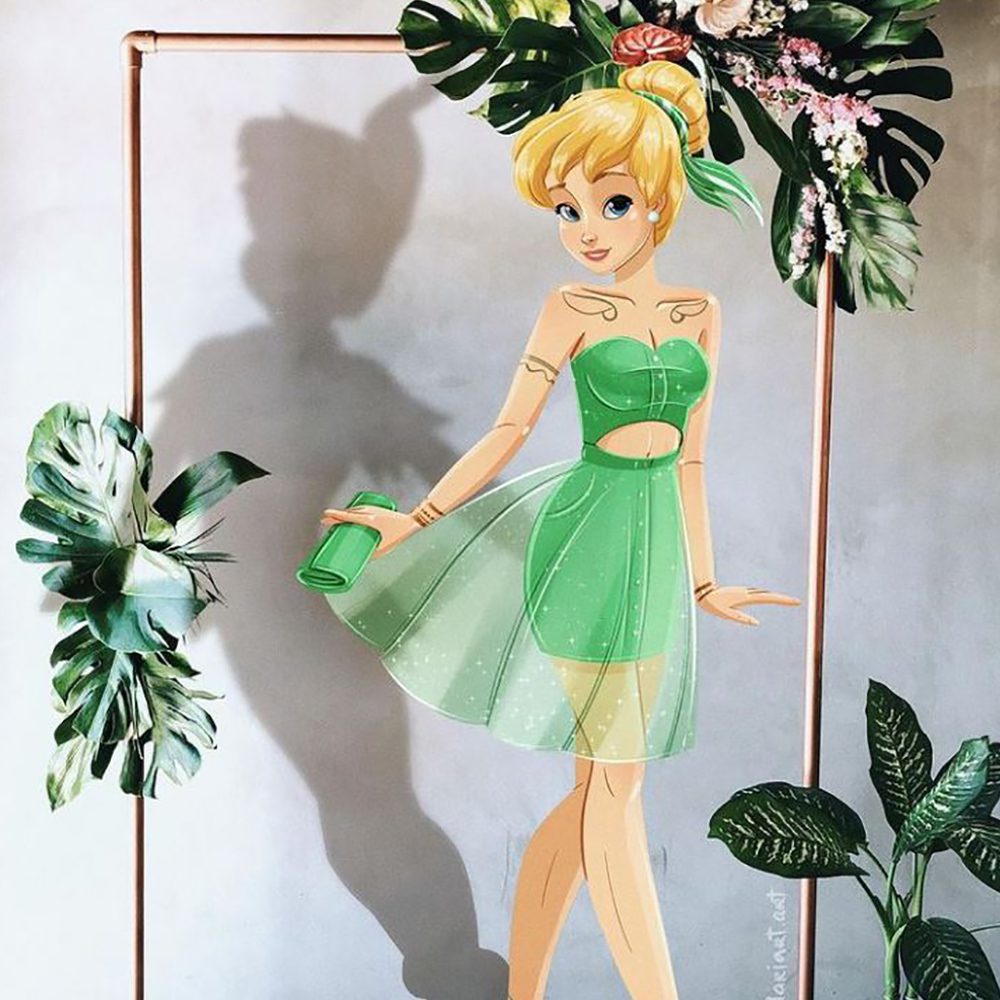 The tattoos of her wings on her shoulders are the first thing we notice, and we can't help but smile. It is the most adorable thing that she doesn't forget who she is. Her outfit is magical, too. We bet Pan would like to take her back if he sees her as a millennial!
Ursula is a scary boss
To be honest, if Ursula was to arrive in our world, she would not be welcomed very heartily. Even though she's a great villain, her "villain-ness" won't be appreciated here, seeing that she silences young women who speak up for themselves. She would be a Karen with a scary look.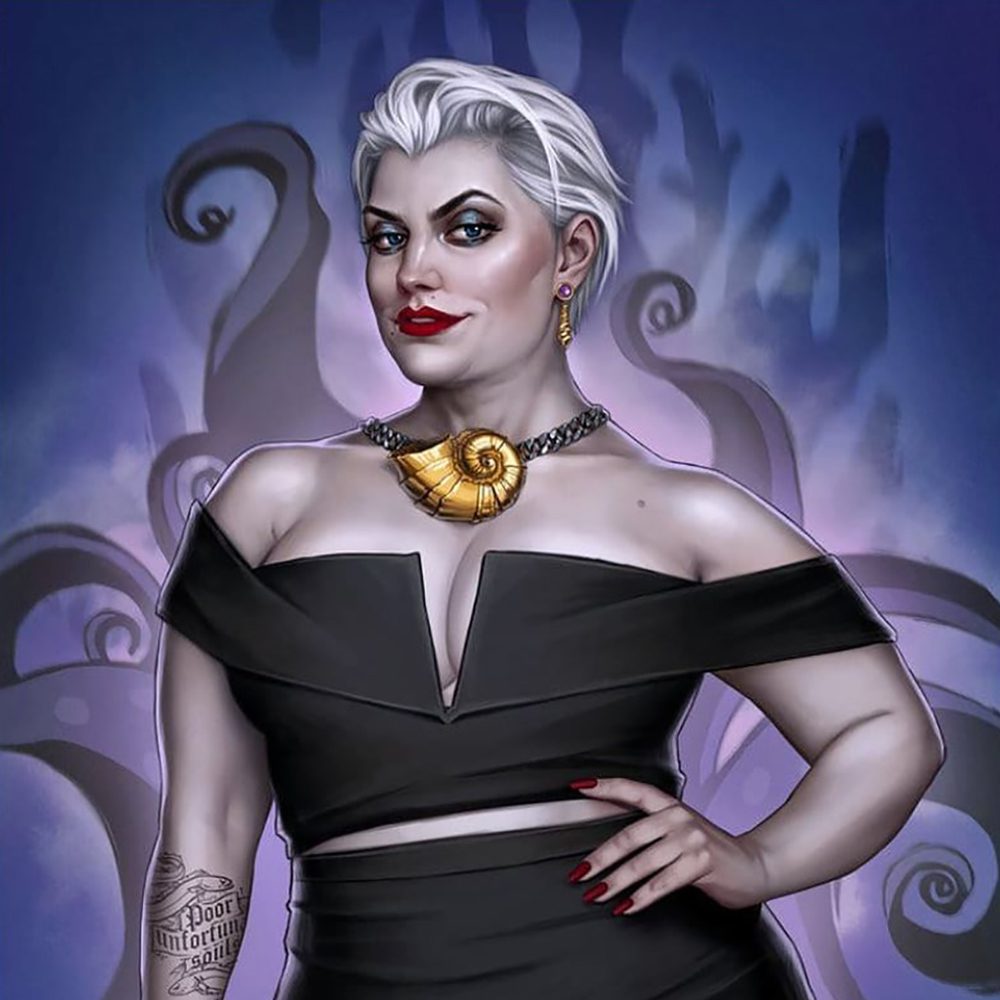 There is this certain powerful vibe to her that makes people shut up on their own. Like a scary, intimidating boss who every employee is scared of. As far as we know, no one sane would dare work with her willingly. Plus, her "poor unfortunate souls" tattoo is not making things any easier.
Brave and beautiful
Who else believed that this world would be a perfect place for Merida as soon as the movie Brave hit the cinemas? We all did. We do not deny that she was not a good warrior or archer – she was the best of the best, but royalty and marriage are not her thing.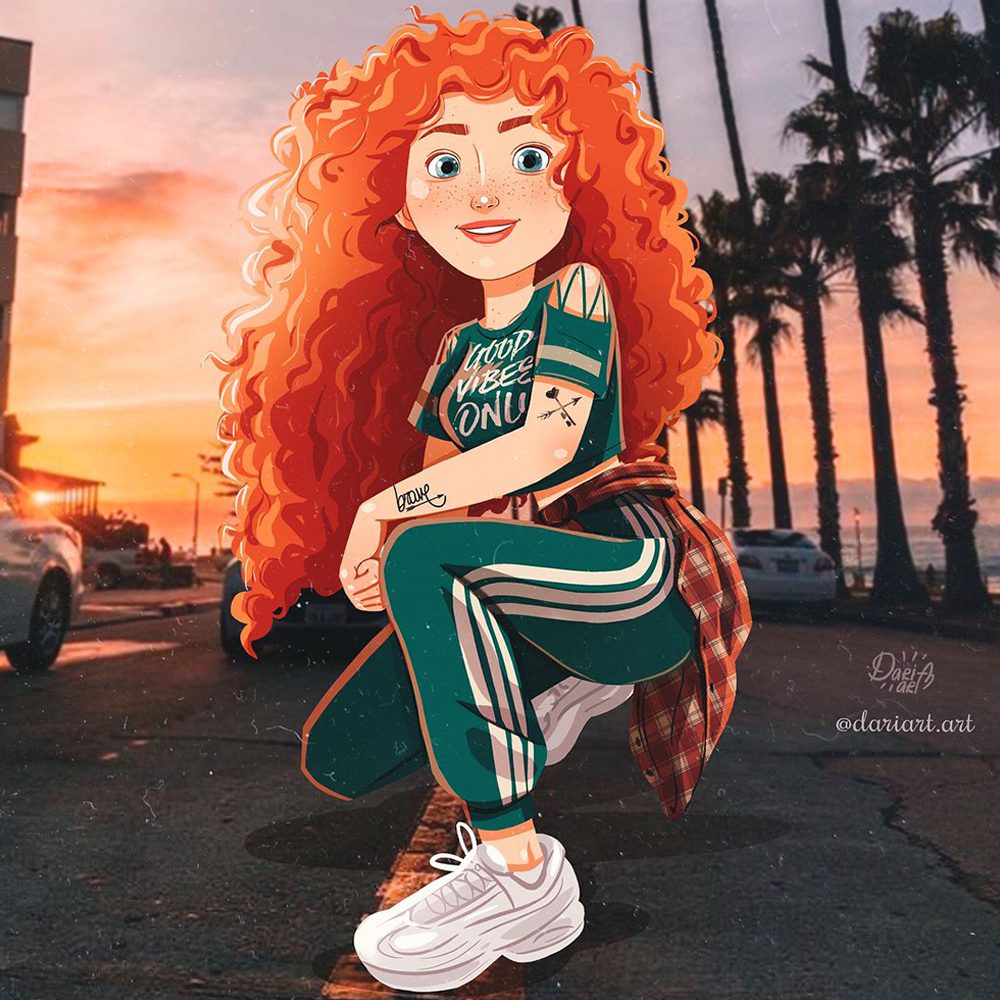 To be honest, it's not like Disney succeeded in match-making for Merida or keeping her away from "un-ladylike" things. But we love to see Merida thriving in our world as a millennial with "Brave" and a bow and an arrow as tattoos and no fitted corsets!
Jasmine as a yoga instructor
Jasmine's secret to fitness has always been a mystery to us. Well, until now: yoga classes! No wonder she is the sexiest of them all. She keeps her health and fitness in check. It's not a want but a need: a millennial Jasmine as a yoga instructor in our modern world.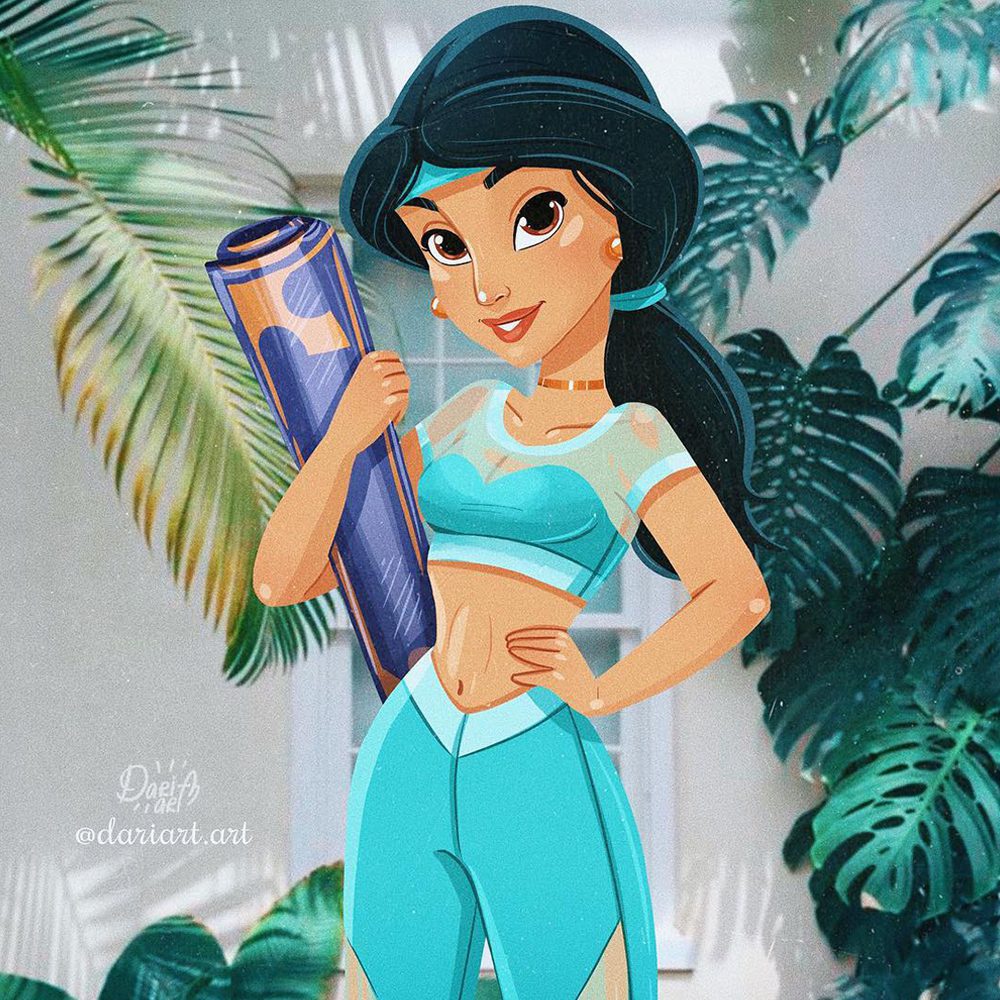 This is the exact image we think of when we imagine our dearest princess existing in our world. If you look closely, her yoga mat looks quite like the magic carpet in Disney's Aladdin. Also, her gym headband replaced her jeweled tiara. Even her clothes are almost the same!
Tangled up in vines…Sorry, lights
We know we made a tangled reference for Tarzan and Jane, but who cares? They're both Disney, and we adore them equally. We can't be happier for our beloved Tarzan and Jane millennial versions, who are thriving in this world and living their best lives in each others' arms.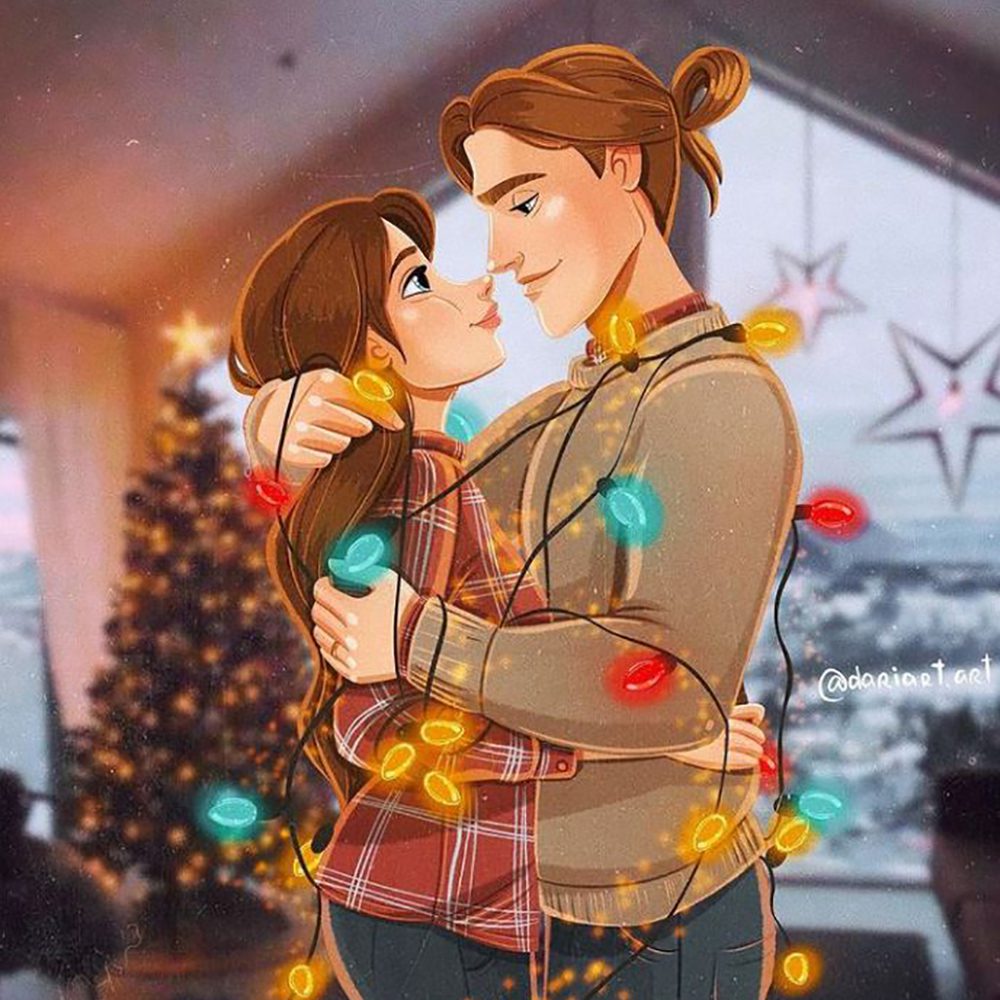 What's meant to be will be. Tarzan and Jane were meant to be together. So, even in this world, they are still head over heels for each other. Instead of vines, they are entangled in Christmas lights while decorating the tree. How adorable is that? Our standards for love are way too high right now.
All hail Queen Nala
Ready to take the throne from the evil, cruel and undeserving, the millennial Queen Nala is here in human form to save her people. We stand for strong female leads in Disney, and so we stand for courageous and fearless women in real life too. Women are better kings than kings anyway.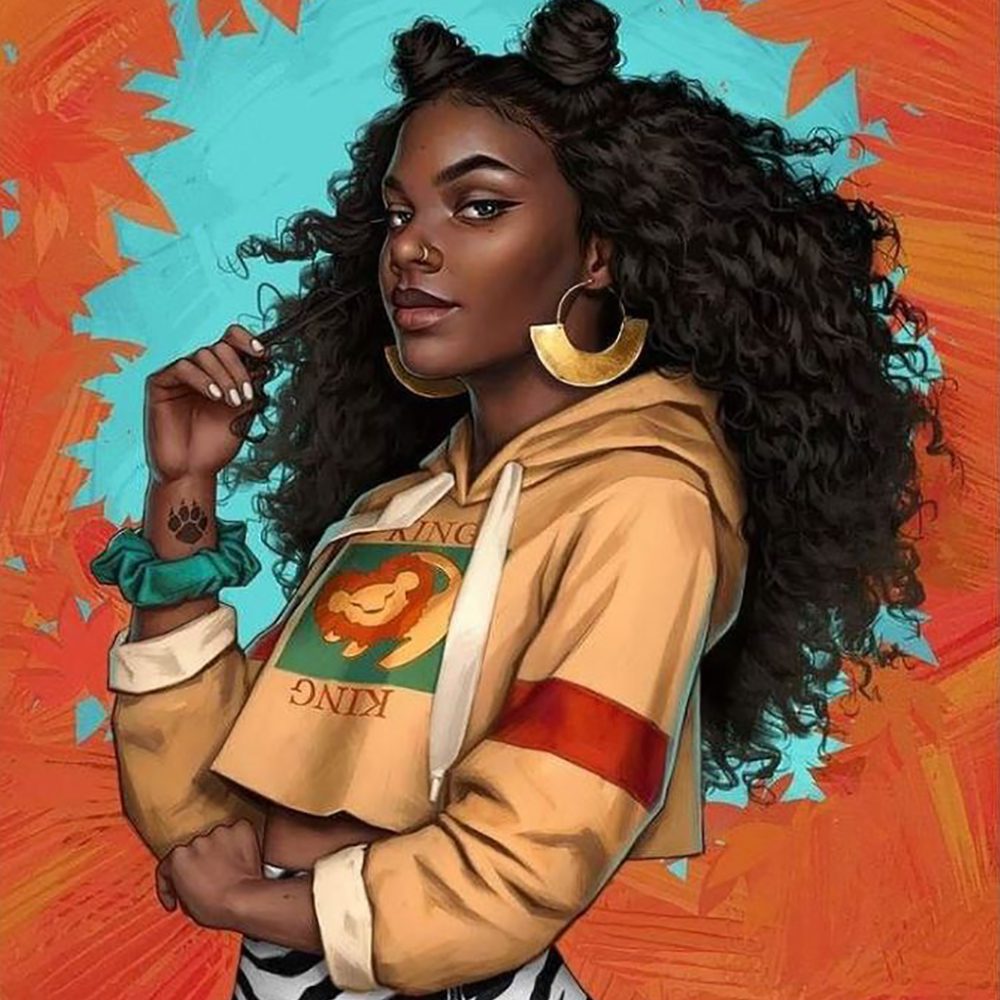 We are ready to bet a million dollars that Nala will hold the throne and restore peace amongst the human race successfully. The millennial Queen Nala has this fierce and dominant vibe to her that can make everyone bow down to her. Her shirt and tattoo say it all.
Scar is scary
Scar was scary as a lion and is still scary in his human millennial form. His scary level didn't decrease (it increased, really). He is the villain in the movie Lion King and wants to claim the rightful throne and will destroy anyone who blocks his path.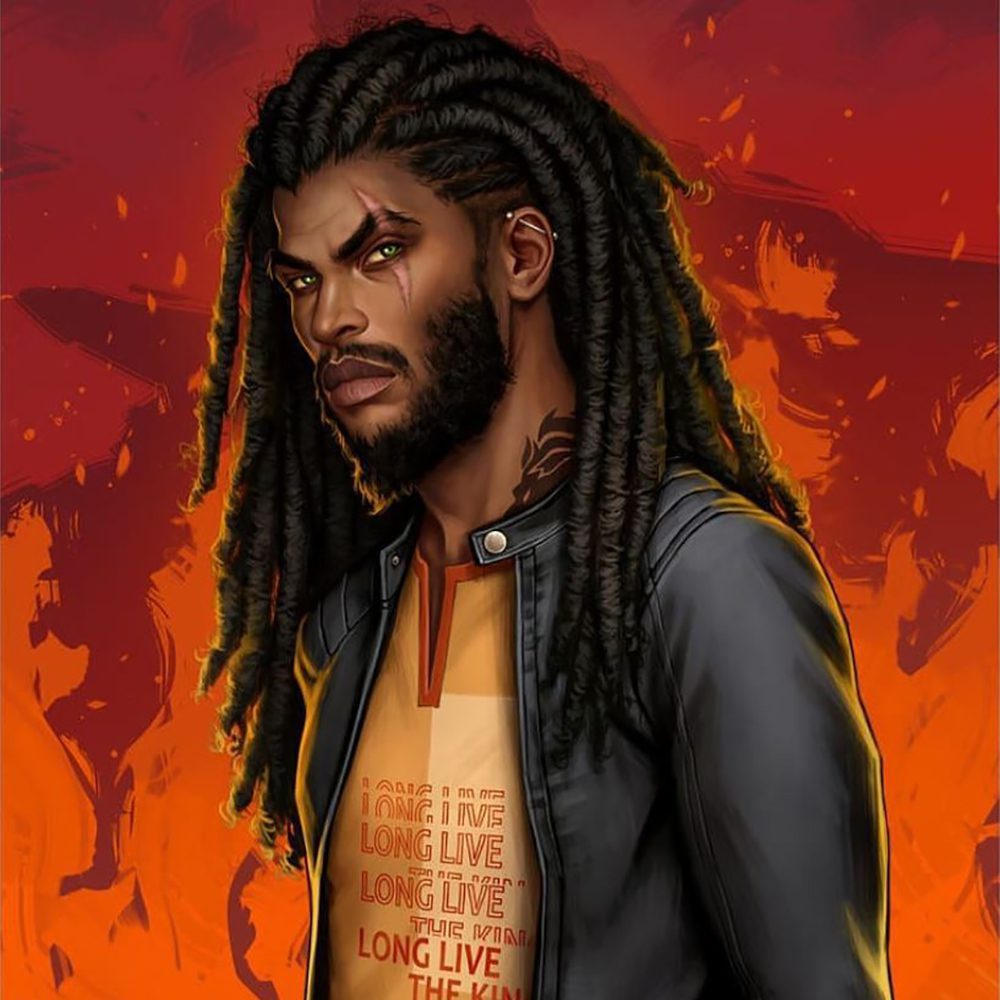 So, naturally, we don't expect him to function as a peaceful, endearing, friendly person in the human world either. His shirt may say, "long live the king," but we suppose he is not referring to the true leader and rightful owner of the throne. Well, Queen Nala will hold him down.
Cruella is a fashionista
One thing we have concluded after seeing all those Disney movies: villains have the best fashion sense! Sure, princesses are all glammed up in their pretty corsets and gowns, rocks and jewels, but villains have a taste. We know you know what we mean!
Cruella, specifically, is known for her fabulous taste in fashion; she knows how to put together an outfit with overflowing furry coats, purses, shoes, and not to mention jewels. You can see the millennial Cruella would be an impeccable serve! We hope she is not an animal abuser in this world.
Alice is out of the rabbit hole
The millennial version of Alice looks like she has seen some things that she cannot share with the rest of the world. The maddening things have gone to her head and stole her innocence from right under her nose. The Wonderland in this world probably turned out to be a haunted house, no less.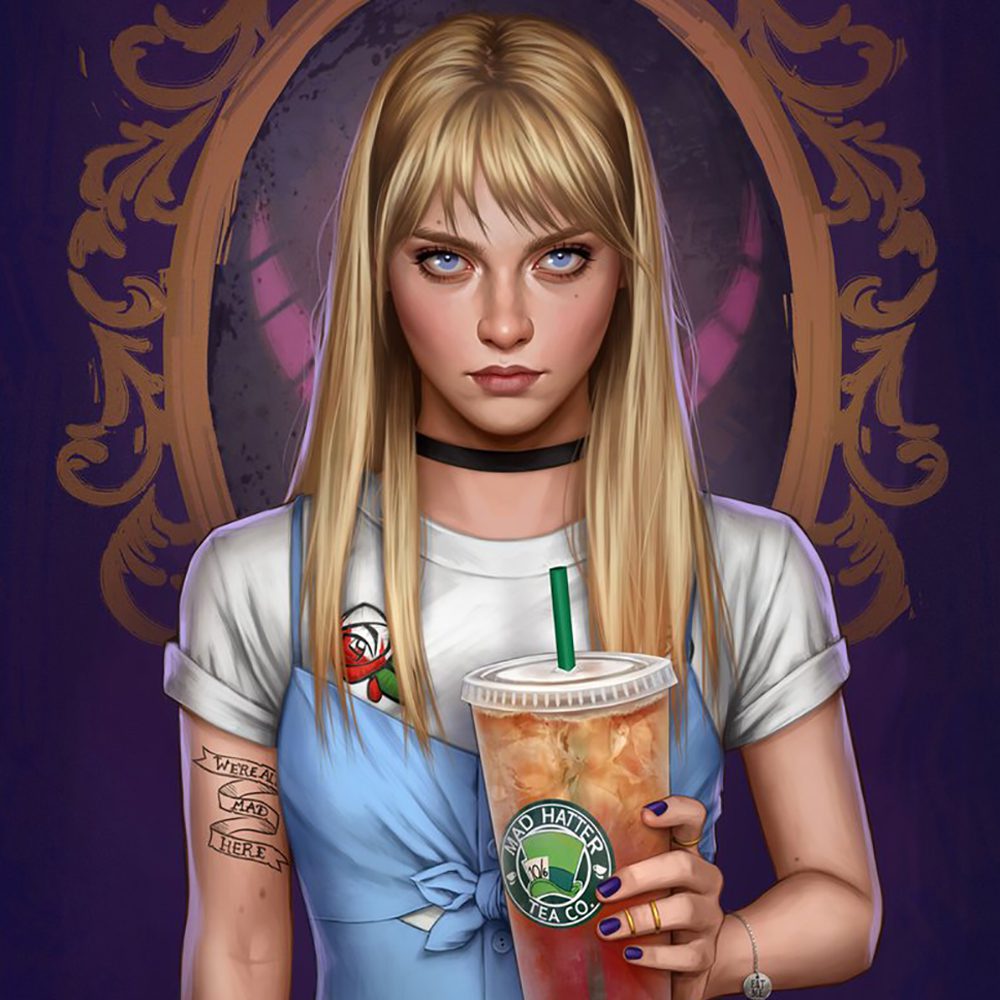 Her millennial look is intimidating. She has a gothic touch to her vibe here: a dark choker, a dress that no longer shows innocence, a white rose painted red (looks like it is dipped in blood), and a tattoo saying, "we are all mad here." What happened down that rabbit hole?
Tiana has a thing for frogs
Tiana was forced to kiss an ugly, slimy frog in the Disney world, but it looks like she still has not gotten over them, given that she is still wearing a green outfit with a frog print on it. Well, at least the millennial Tiana seems happy that she doesn't have to kiss frogs anymore.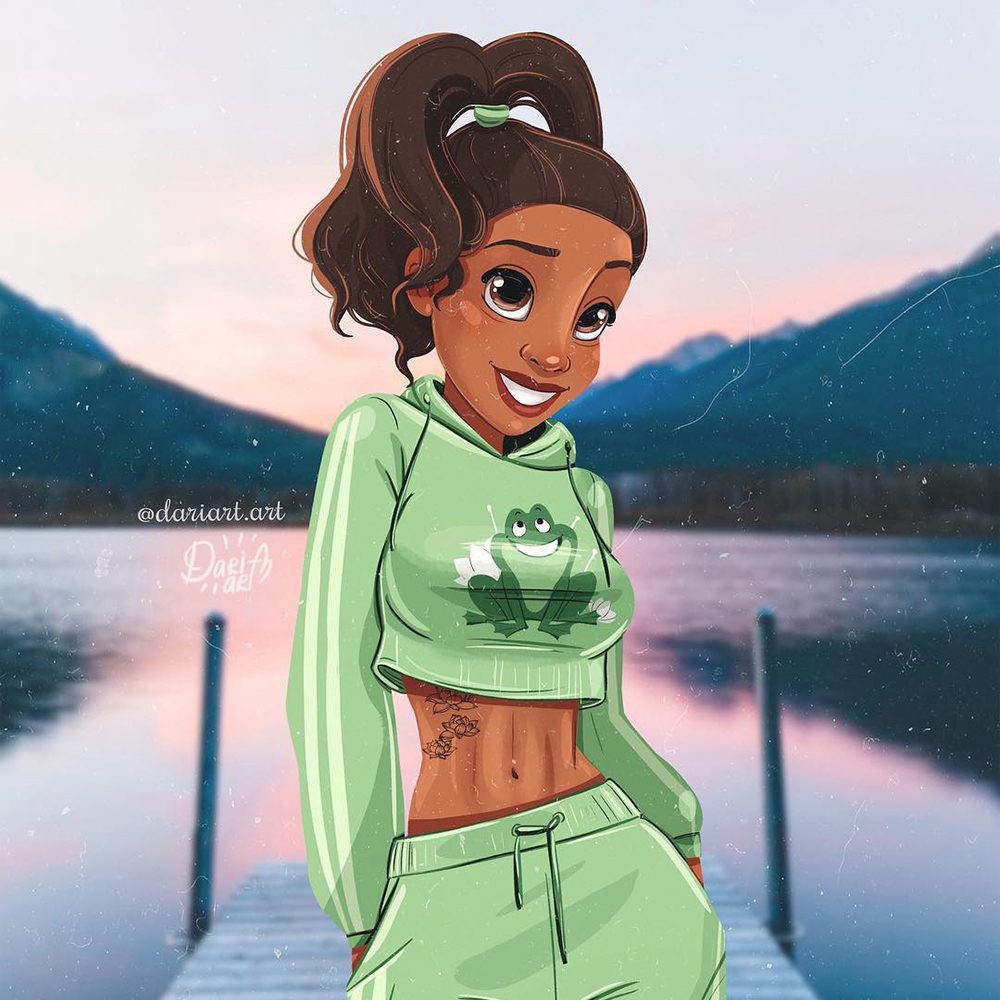 We all can slightly relate to Tiana – just like her, we have kissed some frog-looking people too. They didn't have a glow-up, and we didn't end up with them (thankfully), but we are doing okay, like Tiana. Being the hard worker and friendly person she is, the millennial Tiana is an inspiration!
The cold never bothered them anyway
Who else wants to build a snowman with the everloving snow sisters, Princess Elsa and Princess Anna? Their millennial versions in our world are not very different from the Disney world. Elsa may not have ice powers here, but she looks ready to have a snowball fight.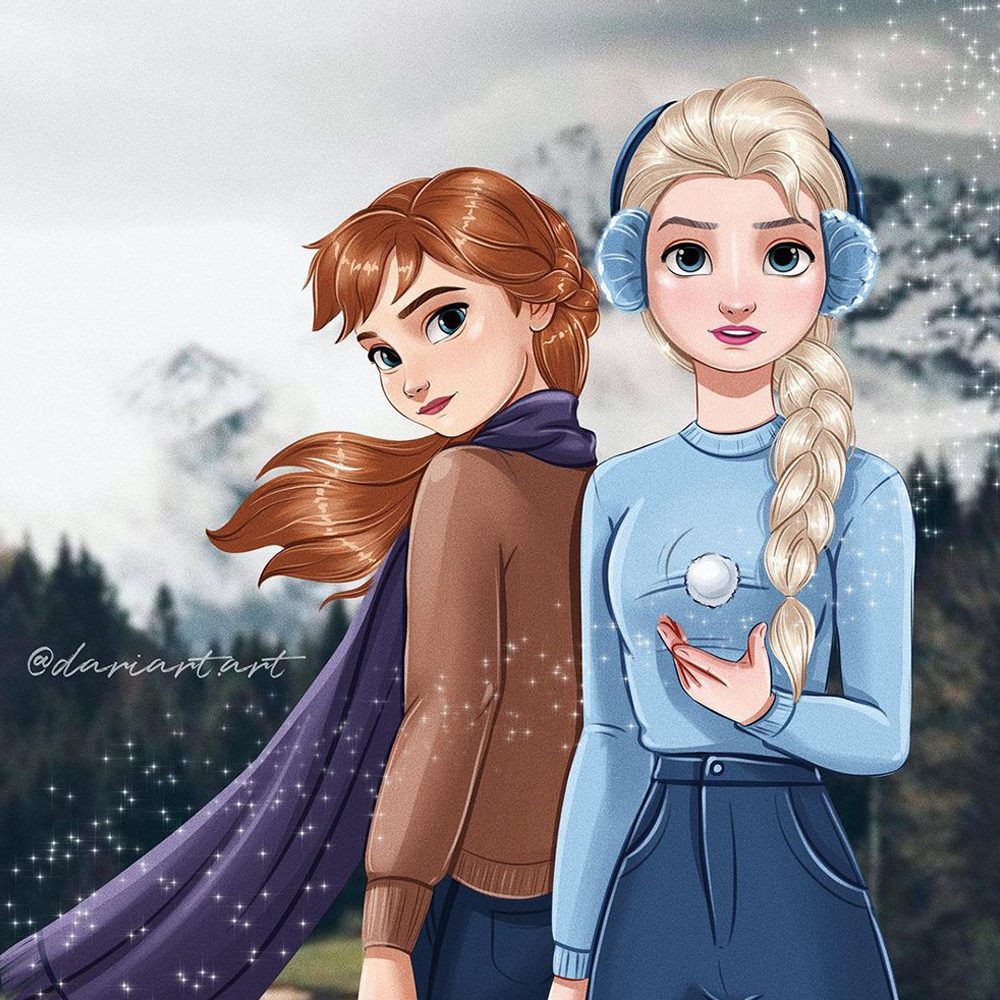 We love how, in the Disney world, Elsa wore a simple blue gown, singing about being unbothered by the cold, and here, she is not too layered either – a single sweater will do! Anna, on the other hand, wears a scarf around her neck in this cold, snowy weather.
Pocahontas at Coachella
Another one for the amazing Pocahontas. We all know her fondness for colors, music, and freedom. The spiritual Pocahontas is going to be jeweled in our world with festivals and concerts, and outings every single day. So, we can tell the millennial Pocahontas is thriving in our world.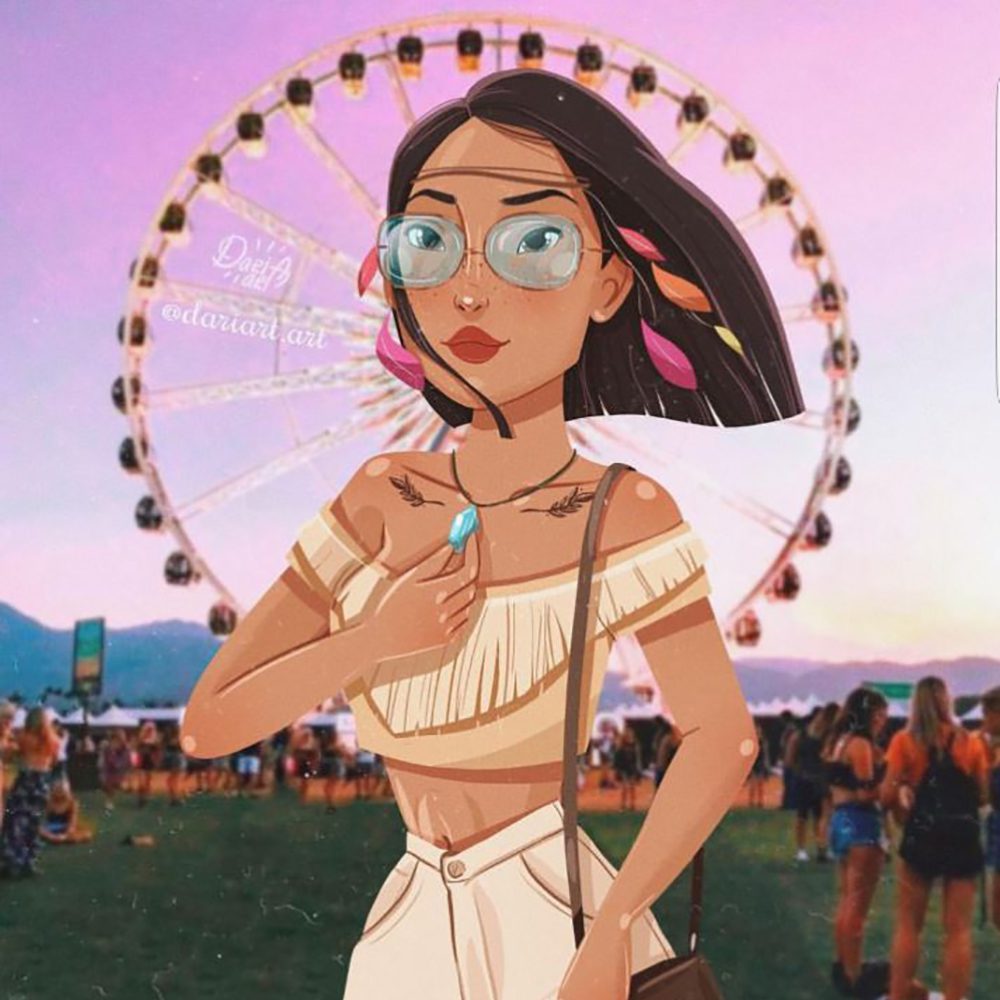 Pocahontas at a festival would be an eye-capturing view. Her outfit is both tribal and modern and a perfect fit for festivals. She has cut her hair short and put colorful feathers in it as a fashion statement. Plus, her heritage necklace and outfit show her identity and pride.
Hades is melting hearts
As we said before, villains are another level of handsome. We understand that they are evil and cunning and would run us over without an ounce of regret or guilt, but we are not talking about their personality and moral codes. Look at the millennial human Hades, and we'll talk.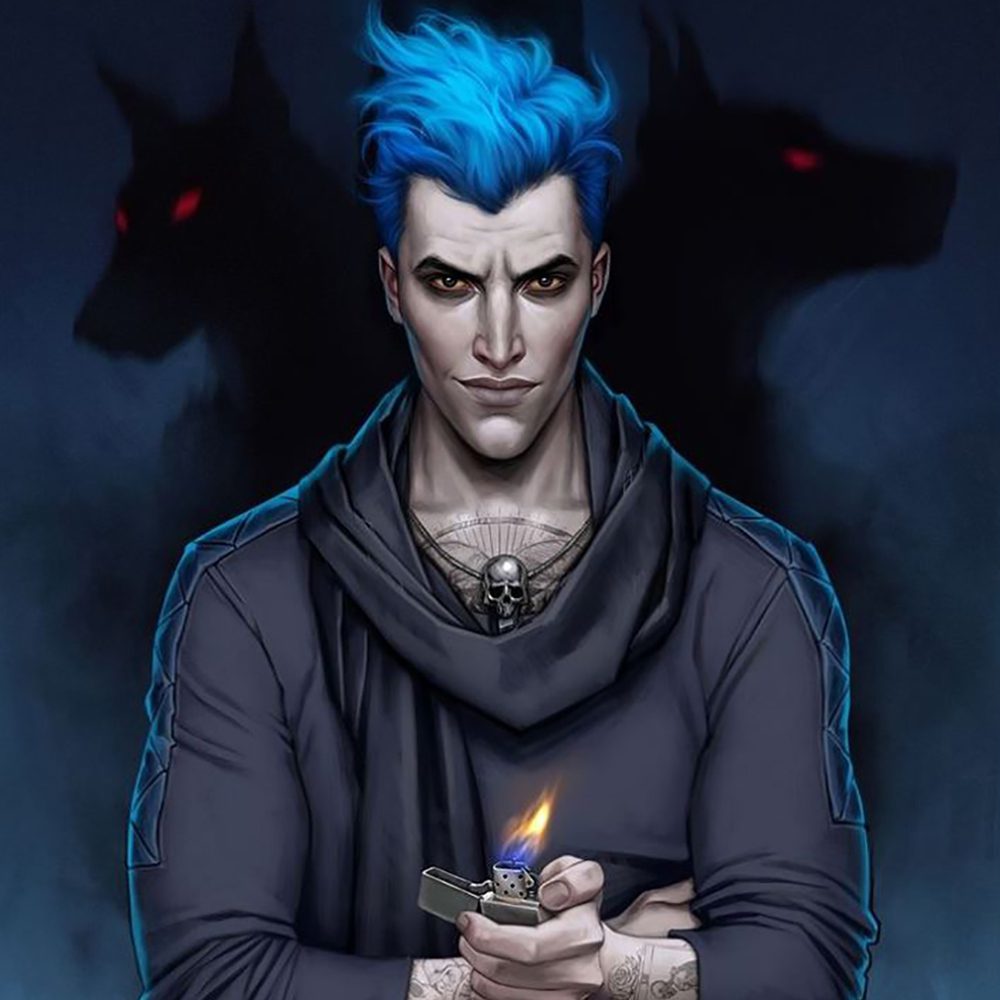 Him casually playing with a lighter, tattoos on his body, a skull necklace around his neck, and not to mention the striking blue hair – guys and gals are going to line up just to see him, that's all we know. He is from Hell, and he is melting hearts all over!
Belle got her freedom
We all can agree that Belle, the beautiful, smart, nerdy little princess deserves way more than a manipulative, cold beast who doesn't feel any guilt for kidnapping her and locking her up in a castle. We know that she had access to the library, but what about her friends and family?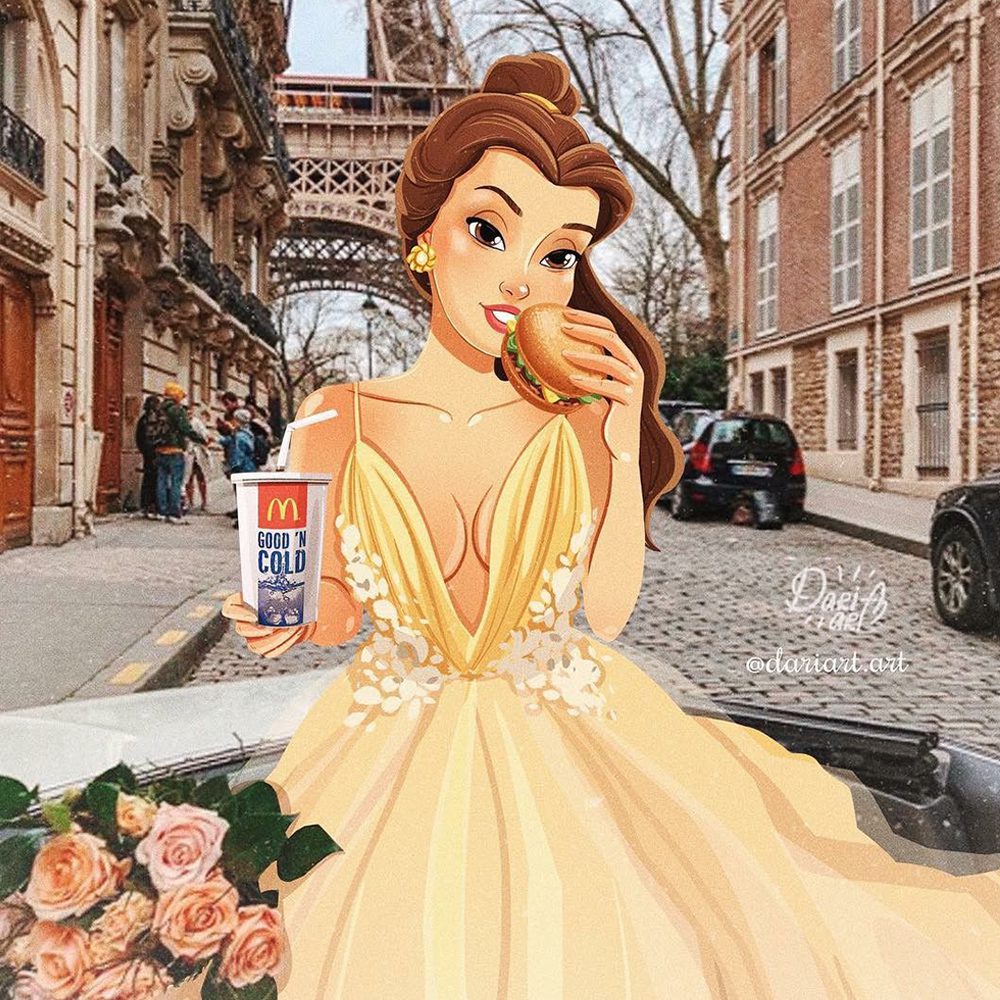 So, finally, when Belle got her freedom from the beast and arrived in this world, the first thing she did was…buy McDonald's! Well, of course, she missed junk food; who wouldn't miss a Big Mac and a McFlurry? It was not very surprising that she came here before exploring her town.
Ariel…on the other side of the shore
If you were to guess where millennial Ariel would go when she appeared in our modern-day world, what would your answer be? The beach, that's right! Of course, she bought a cozy apartment near the beach, and she's always slurping on Starbucks slushies.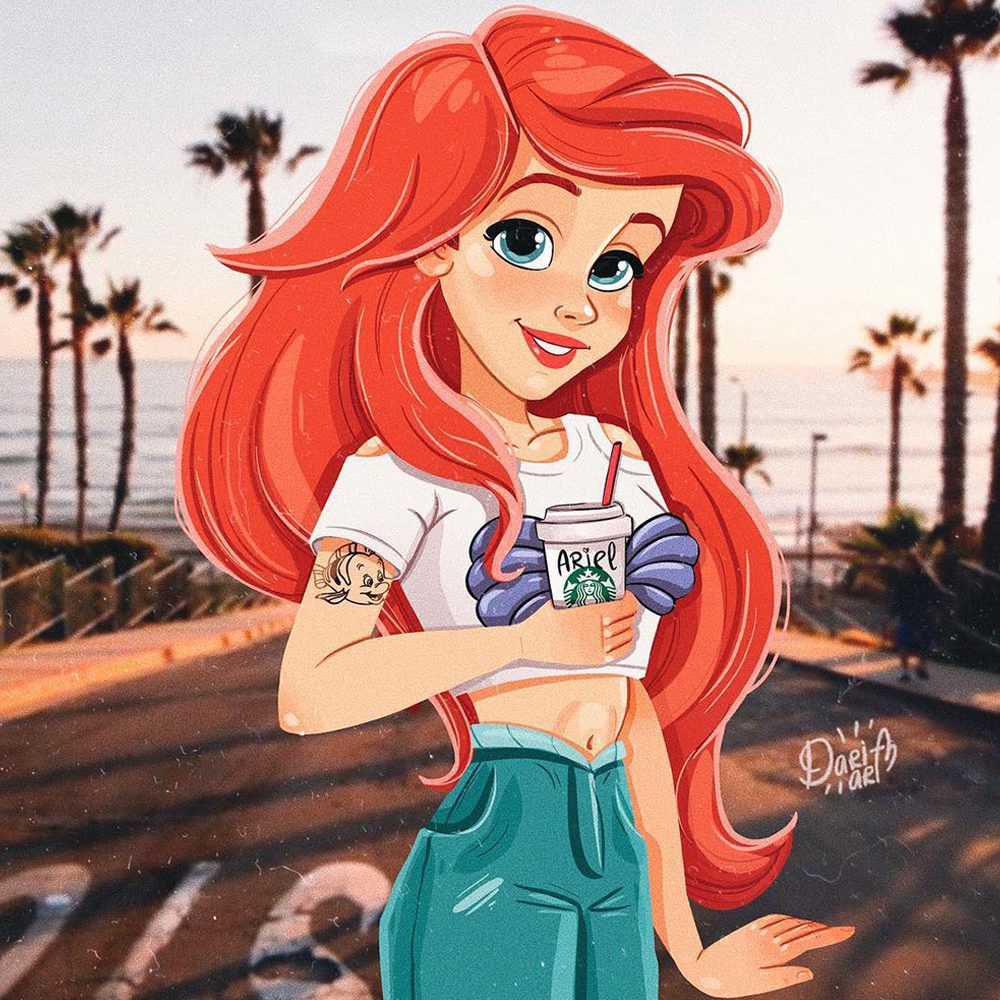 We hope she didn't trade her voice for her legs before entering this world because that would be a bummer, to say the least. Also, her getting a Flounder tattoo on her arm is the best thing she could've done. The shell print on her shirt is one of her signature marks as well.
An independent Cinderella
There are several things we are extremely happy to see here: Cinderella embracing the modern millennial world as her own, getting comfortable (wearing sneakers instead of glass slippers which were incredibly dangerous and uncomfortable), and moving out to live at her own place!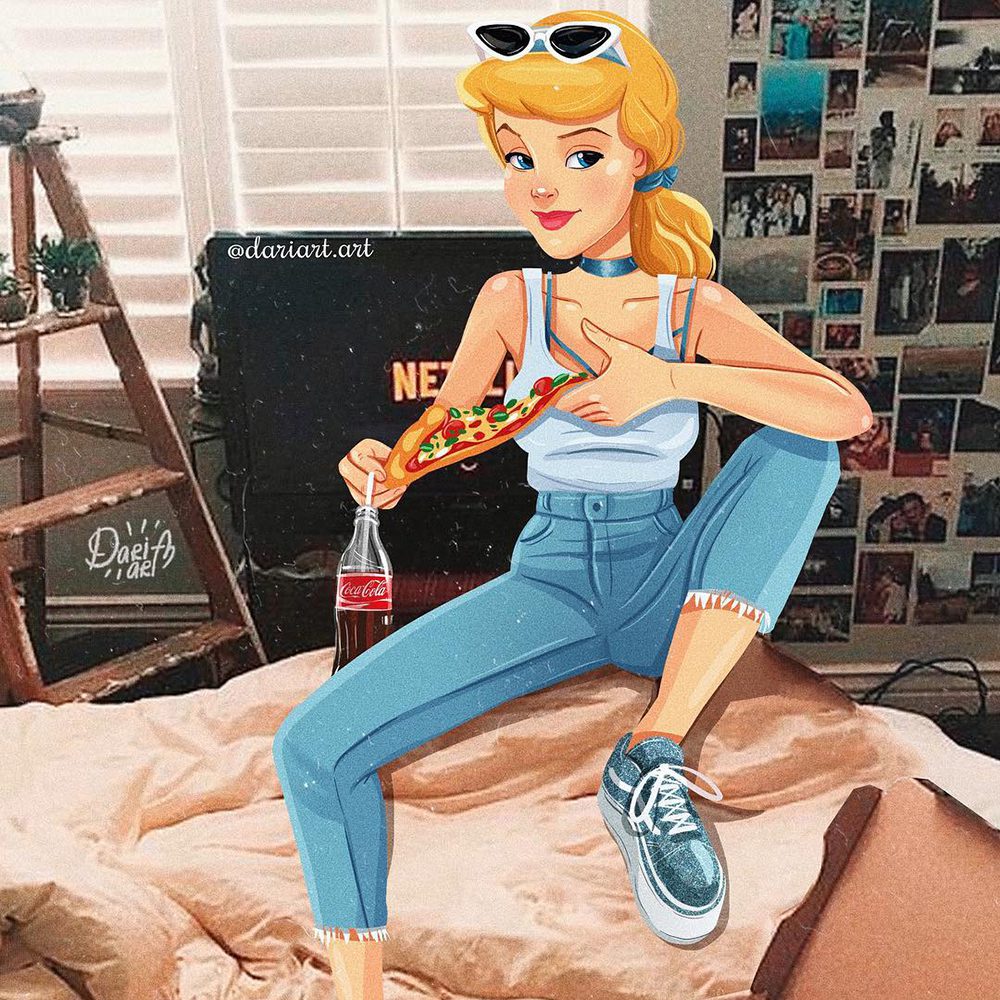 Getting independence from her wicked stepmother and stepsisters was the one thing she should've done a long time ago. Well, better late than never. Now, at least, she is happy watching Netflix while eating pizza and drinking coke. What a life!
Snow White, a beauty
Snow White was a beauty in the Disney world, and well, entering this world didn't smudge her striking beauty whatsoever. Mirror selfies are a must – if not for everyone, for Snow White! Because who else is going to tell her that she is the fairest of them all?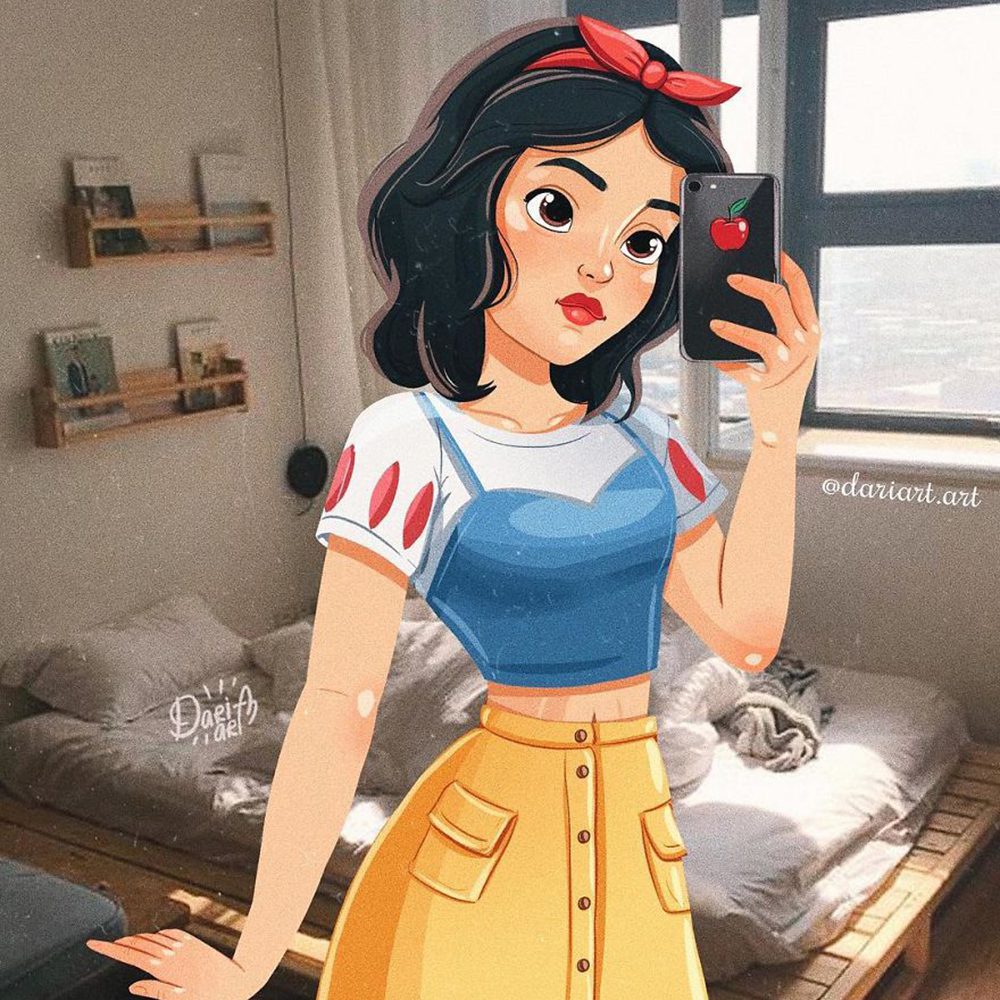 Also, notice her phone brand: Apple. And not the regular iPhone, but the red apple that poisoned her. If this isn't the level of pettiness we wish to have, we don't know what we want. Notice how she is posing in a similar outfit as her gown but more comfy and casual? She still looks beautiful.