Show The Love With Quick And Easy Dollar Store Valentine's Day Hacks
By Harpreet K January 30, 2022
---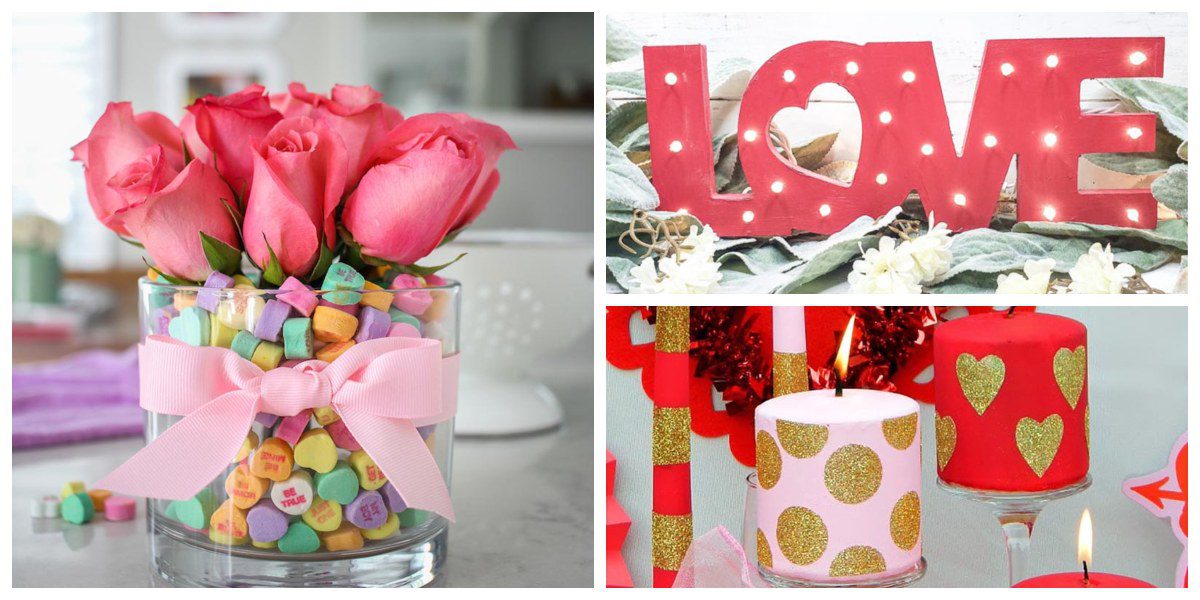 While you are out buying heart-shaped candies and love letters for this Valentine's Day, stop by your local dollar store for some inspiration. It will surprise you what potential DIY gifts you might find while looking around for something else entirely. You'll find everything from wreaths to retro farmhouse signs in the little projects section – all designed so that any creative mind can easily pull them together! These DIY project ideas and hacks will keep your mind going all day long, no matter what you initially had in mind. Make Valentine's Day more fun by crafting a creative present for your loved one. These projects are quick, easy, and budget-friendly, so you can surprise your special someone with the perfect gift this year! We hope you have fun creating lovey-dovey gifts and decoration items with the following Valentine's Day hacks.
Heart-shaped wreaths
When you put a little creativity behind your favorite decorations, they can really turn into something special. And if it's done with dollar store items like these soft foam roses and heart wreath from the craft section at discount stores? Even better!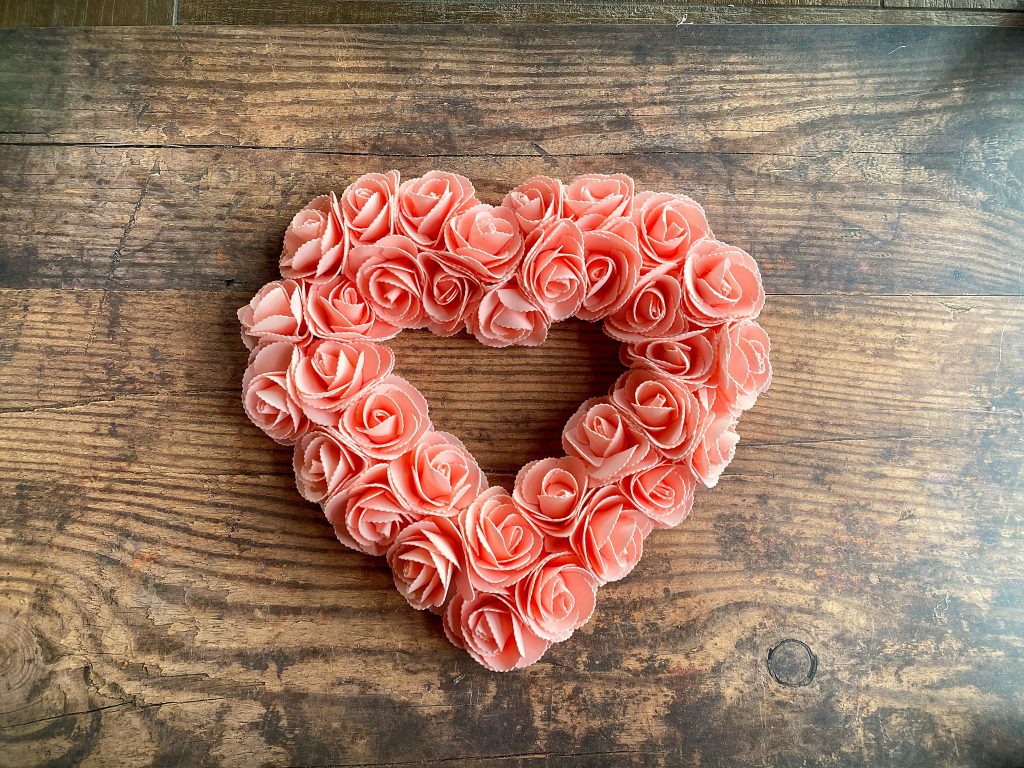 All you need are foam roses from the dollar store in the color(s) of your choice, a hot glue gun, a ribbon to hang the wreath, and felt. You use various materials to keep the shape, but we recommend a heart-shaped wire as your base.
Adorable photo backdrop
There's no better place to capture Valentine's Day pictures than the dollar store heart backdrop. Imagine this hanging on a wall, just waiting for you in the corner of your home, just waiting to be the background of your new favorite batch of photos.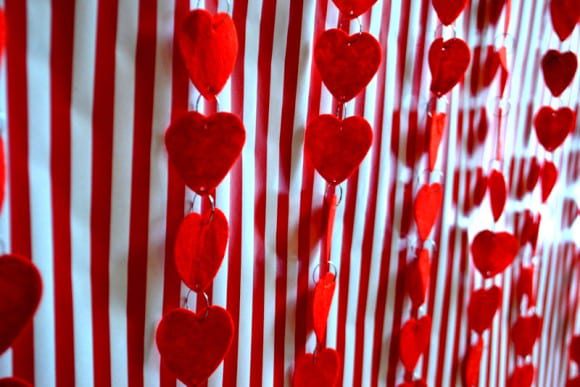 You can find anything at this store – from felt or confetti hearts to ribbons and twine. Besides, you can use any type of decorations for this DIY. Attach them to various lengths of yarn and display them. You can certainly mix more than one style, like X's and O's, lipstick kisses, and hearts.
Tree shelf sitter
You'll never have to worry about your shelf looking like it needs an upgrade again! With this simple dollar store wooden heart decoration, you can create a beautiful piece of art that will look great in any room. All materials are affordable, and it's easy to make.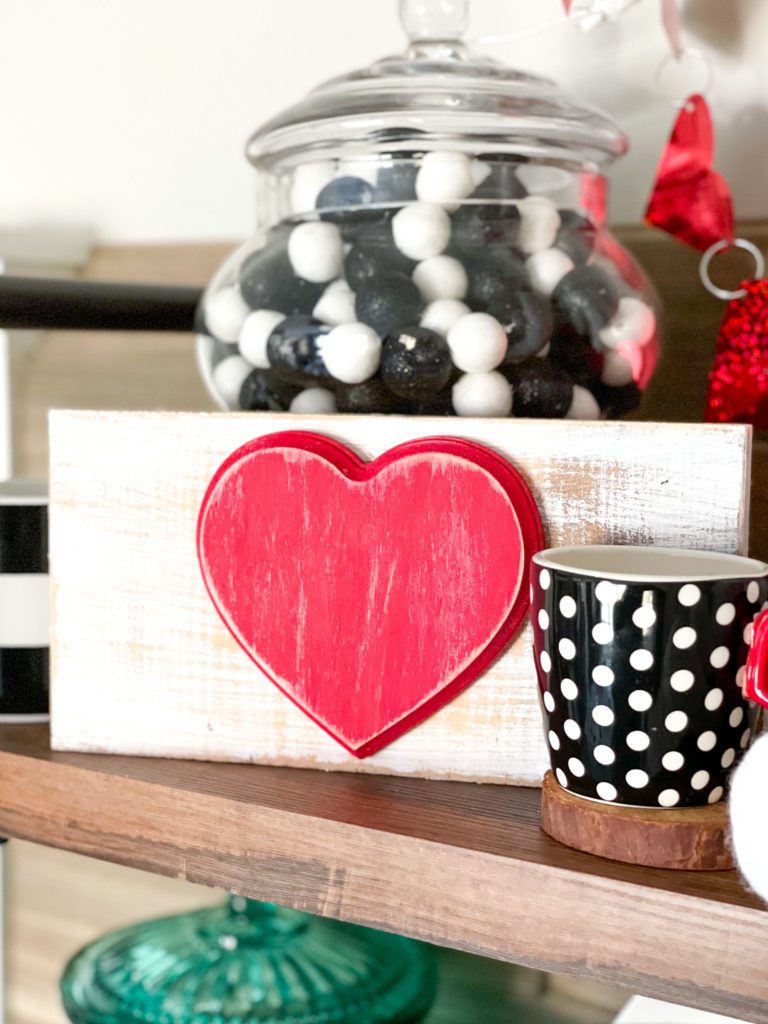 Glue two wood pieces together – one heart-shaped, one rectangular. You can paint them for added flair (if you're feeling extra creative, try out different colors), then give them both loving treatment by adding a protective layer of lacquer over it all. For the big day, this can be the centerpiece of your display.
Gold heart dish
Well, your love's, daughter's, or best friend's nightstand is about to get a whole lot more glamorous. We found this heart-shaped dish at the dollar store and came up with an amazing way of jazzing it up and giving it that high-end look.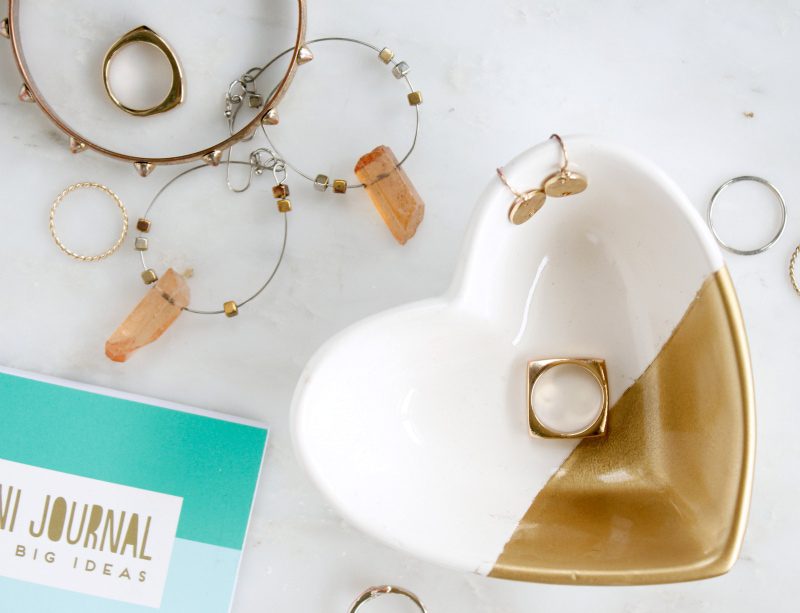 How? By dipping halfway in gold paint, of course! It really makes those golden pieces pop out like never before. You may cover one-half of the tray with masking tape for an even paint job. Do not forget to seal it once it's dry.
Fun Valentine's banner
This tiny banner is precious! You can create this cutie with construction paper (or pre-made hearts) and little burlap sacks from the dollar store. It would also be fun to fill up those bags with yummy candy or gifts for loved ones on this special day.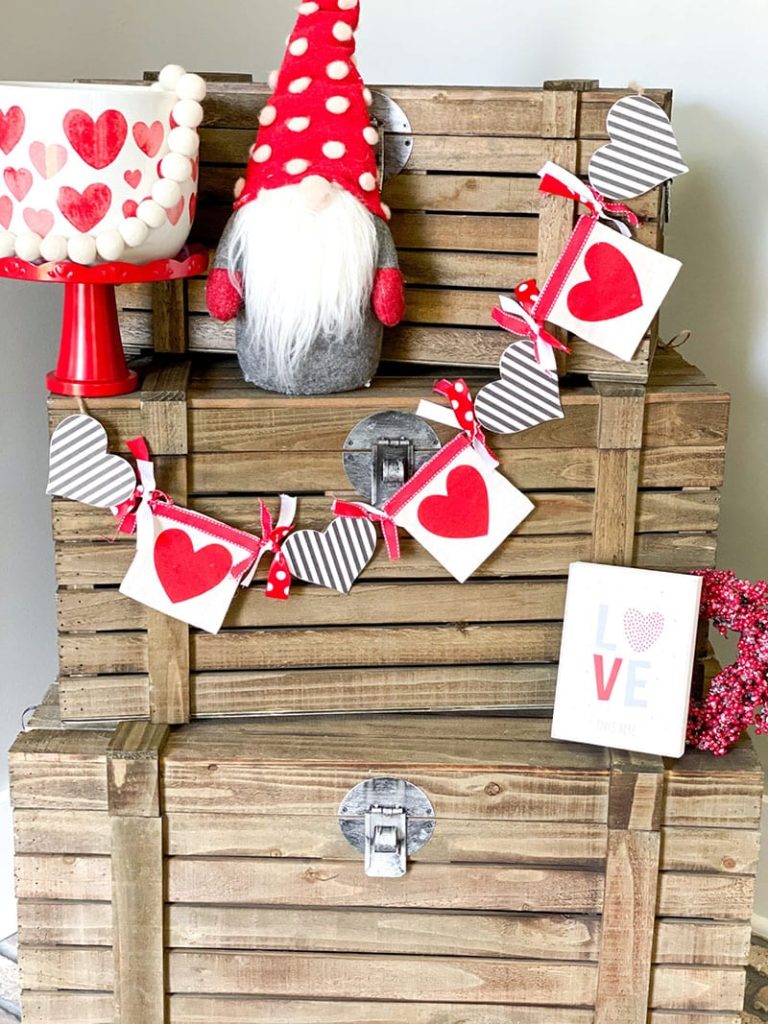 The best thing is that you can then use them again next year when you celebrate something else entirely- like an anniversary, perhaps. You will need twine, treat bags, ribbon, a hot glue gun, and Mod Podge to assemble this banner.
Garland for your dresser
This beautiful garland is so simple and budget-friendly; what more could you want in a craft? If you give this as a gift, the recipient will feel close to your heart. You may grab a pack for about $1, and the string is equally cheap!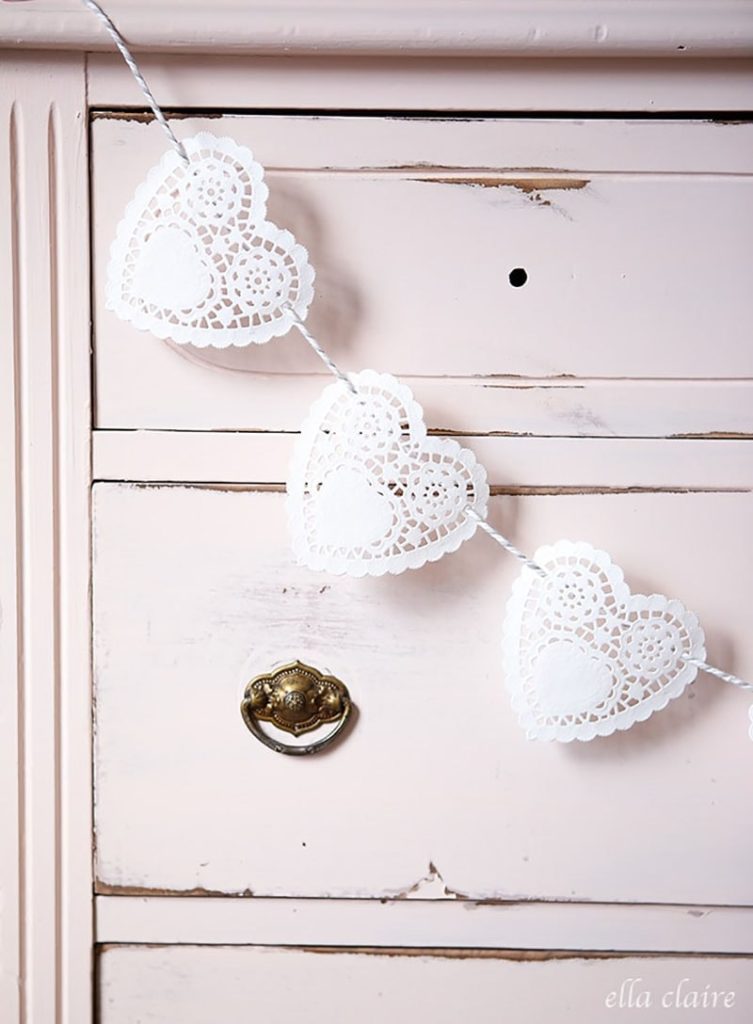 The possibilities are endless with this garland! You can personalize it by adding gold foil or red hearts. Find what works best for you and make yourself something truly memorable. You can use these every year to liven up your home.
Sign for love
This year, instead of buying Valentine's Day presents for your significant other or friends, why not make them something more personal? You can easily transform almost any dollar store picture frame into a lovely gift that will have a sweeter touch than a Hallmark card.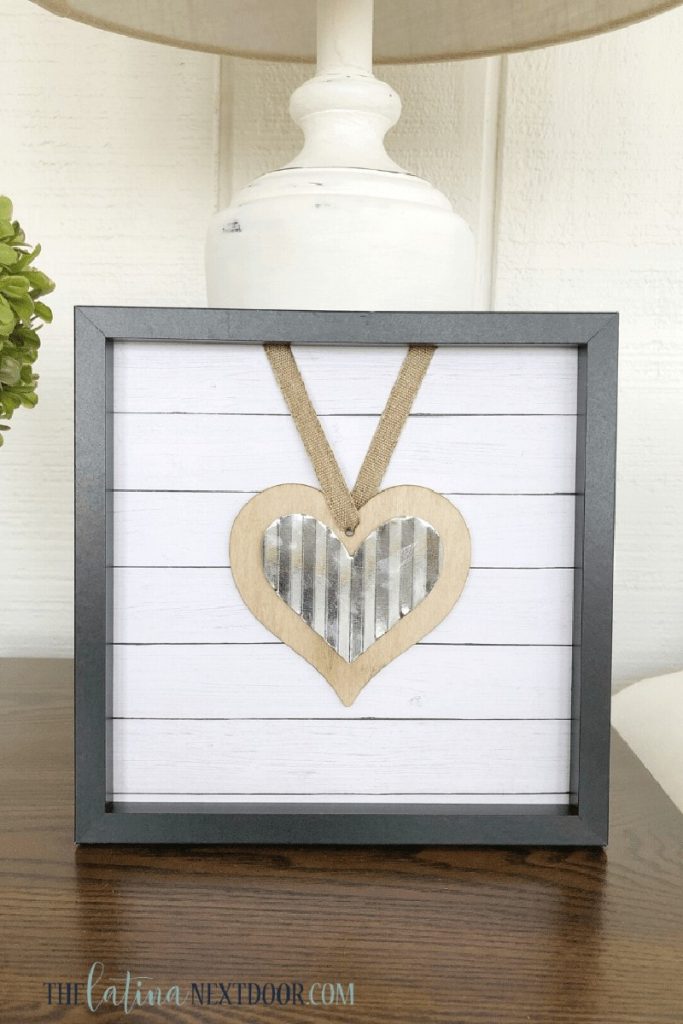 With this easy project, all it takes is a photo frame, scrapbook paper, and glue. Cut out a heart shape and paste the paper of your choice to it. Add a ribbon and hang the heart inside the frame using the ribbon. You can customize the colors and patterns for each person. You can also scrap the heart idea and use a different shape!
Yarn hearts for yearning hearts
Who doesn't love a good DIY project? Here's one that you can do in minutes. Give your favorite person something fabulous with these beautiful hearts! All it takes is some styrofoam and yarn. You can also grab a vase, gold paint, and puffballs if you want.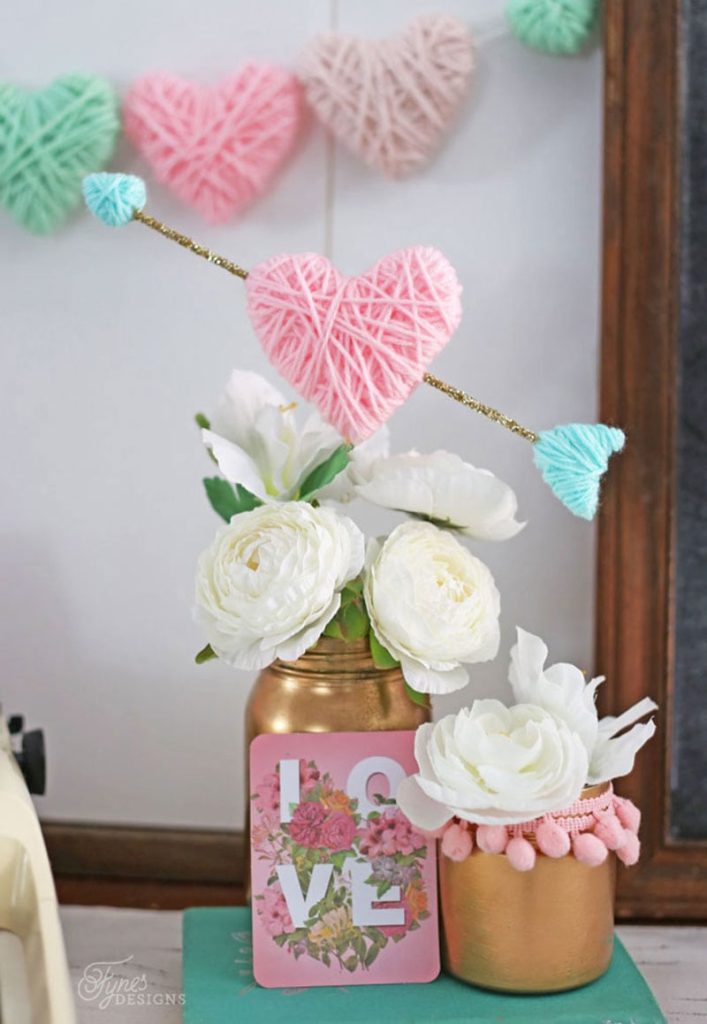 Head over to the dollar store for all your supplies. You'll want yarn in different colors to cover the foam hearts. You can hang them wherever you want! You can also get creative and make this Cupid-inspired centerpiece with your gold-painted vase.
Candy trees for love
This little candy tree will take your Valentine's Day from cute to fabulous. It's quick – it only takes about 10 minutes to make! Plus, you can use whatever candy or decoration strikes your fancy — from candy hearts to chocolate.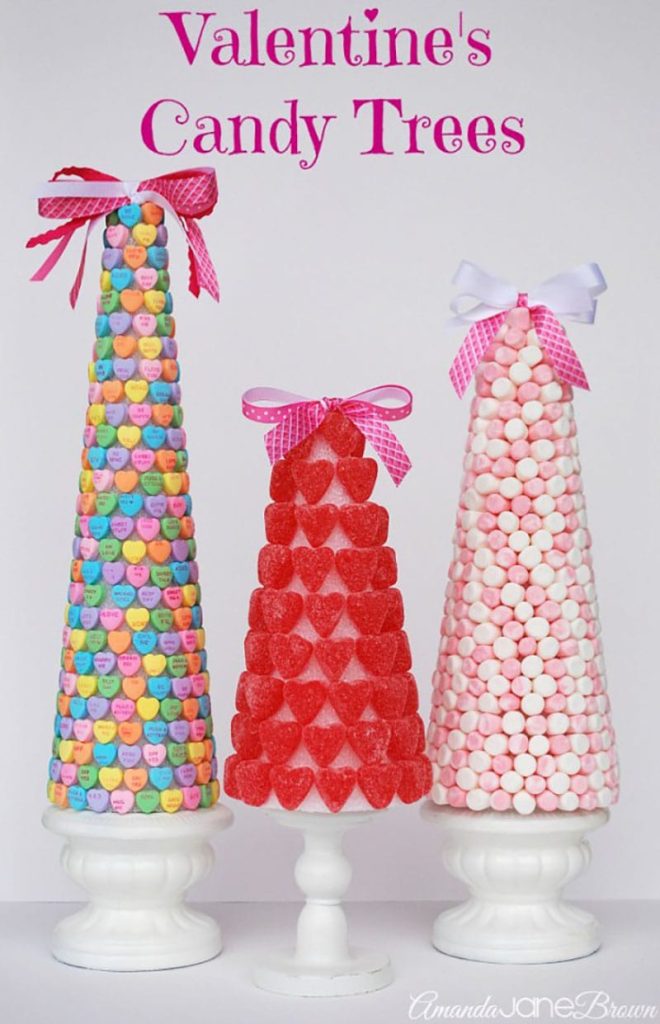 All you need are styrofoam craft cones, candy, and a hot glue gun (the number of cones depends on how many trees you want). Carefully glue the candies in a pattern over the styrofoam trees and let them dry. If you want them to remain edible, use exclusively gummy candy and attach them with toothpicks.
Ombre door wreath
From wire hearts to ombre wreaths, this heart-shaped frame is a breeze to use. You'll need paint for the exterior borders and burlap ribbon from the dollar store. Paint the wired heart using two to three coats of spray paint.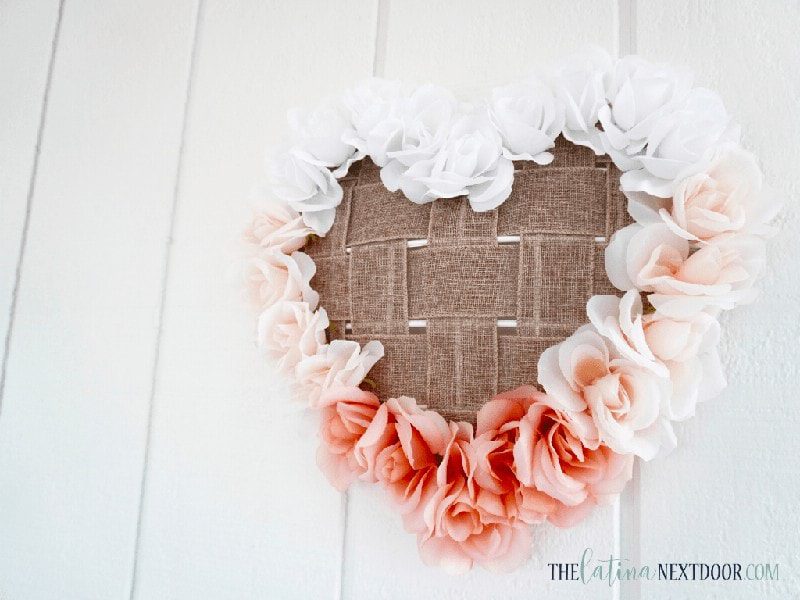 Once that's done, glue down the burlap with hot glue so they stay in place. Use different color roses to create an ombre effect. The roses will stay in place with the help of glue. You can, of course, choose any shade of rose that suits your fancy.
Love candles
You can turn your candles into custom valentines by adding stickers, or painting sweet messages in a careful script (you can use stencils). If you don't have any supplies lying around, just visit any dollar store and you will find it all.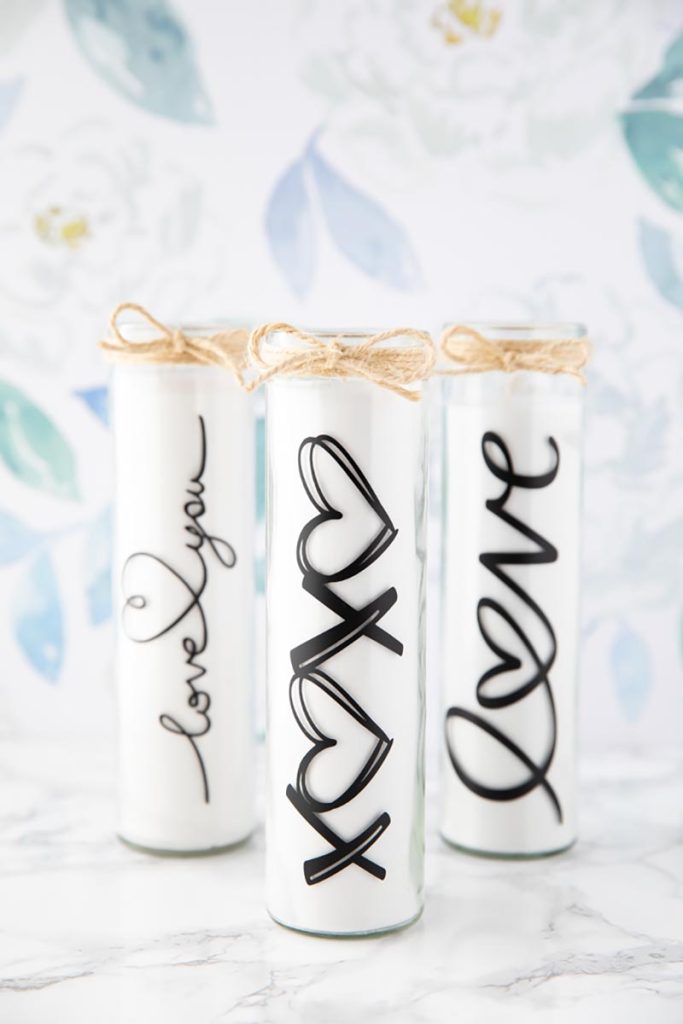 When designing your candle jars, be sure to remove any labels from them. You can then add your ribbon or twine around the tops if you wish. Next, all you have to do is slap on your stickers (or paint) and seal them!
Dark heart dish
Harness the power of a simple heart dish to make an amazing beauty! The first DIY is this super easy yet posh little gilded bowl. Use spray paint in textured finishes for best results and cover your creation with gold leaves.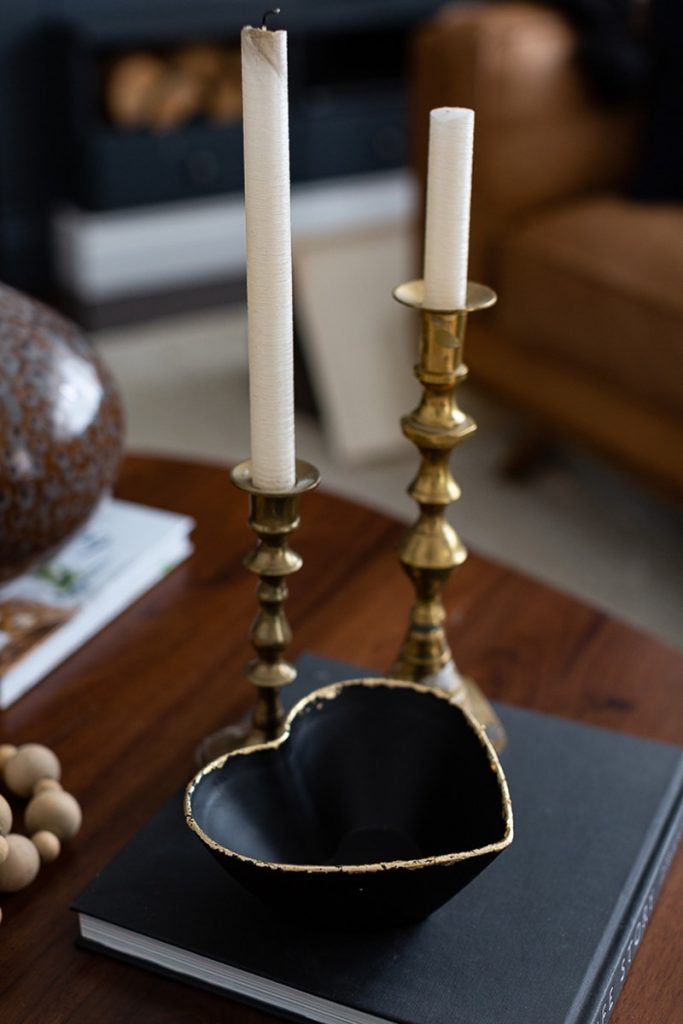 You may use a "vintage" color if you want it more formal or go all out by painting over most surfaces black by spraying on plenty of thin layers until they are covered entirely. Give your beloved a set of matching candlesticks as well!
Loveseat cushions
Did you know how easy it is to revamp your old cushions for your chairs or sofa on your patio? These are easy to make and are low maintenance. You can, of course, use them for more than just one occasion.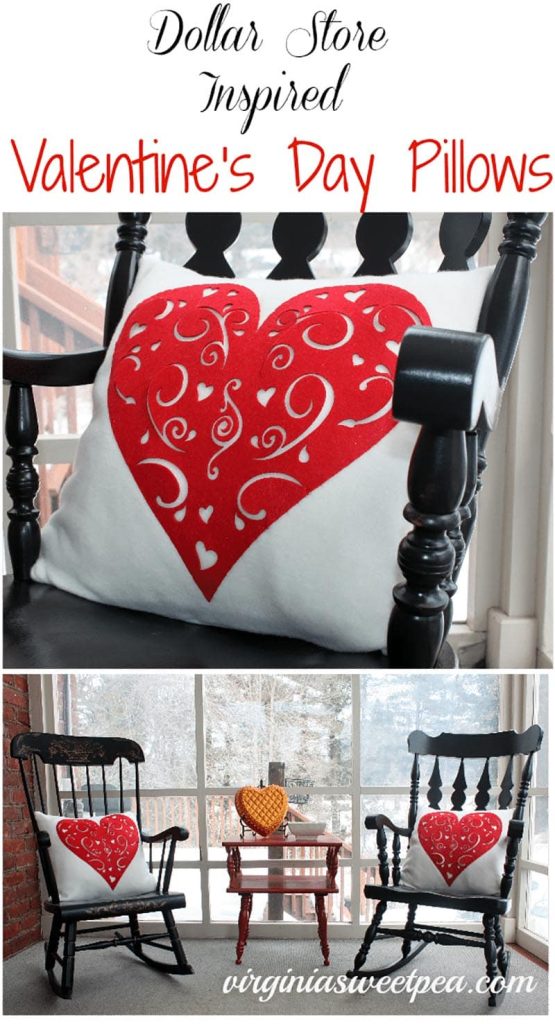 Just get plain cushion covers in the color of your choice. Now get a felt sticker in your preferred shape (hearts, lipstick kisses, etc.). Ensure they are secure by using hot glue or some other adhesive. There you have your custom loveseat cushions.
Display your love
When you find something at the dollar store that looks like it was made for your home but costs more than just its value in coins, look no further. For this hack, we have an updated version of one of the most popular signs.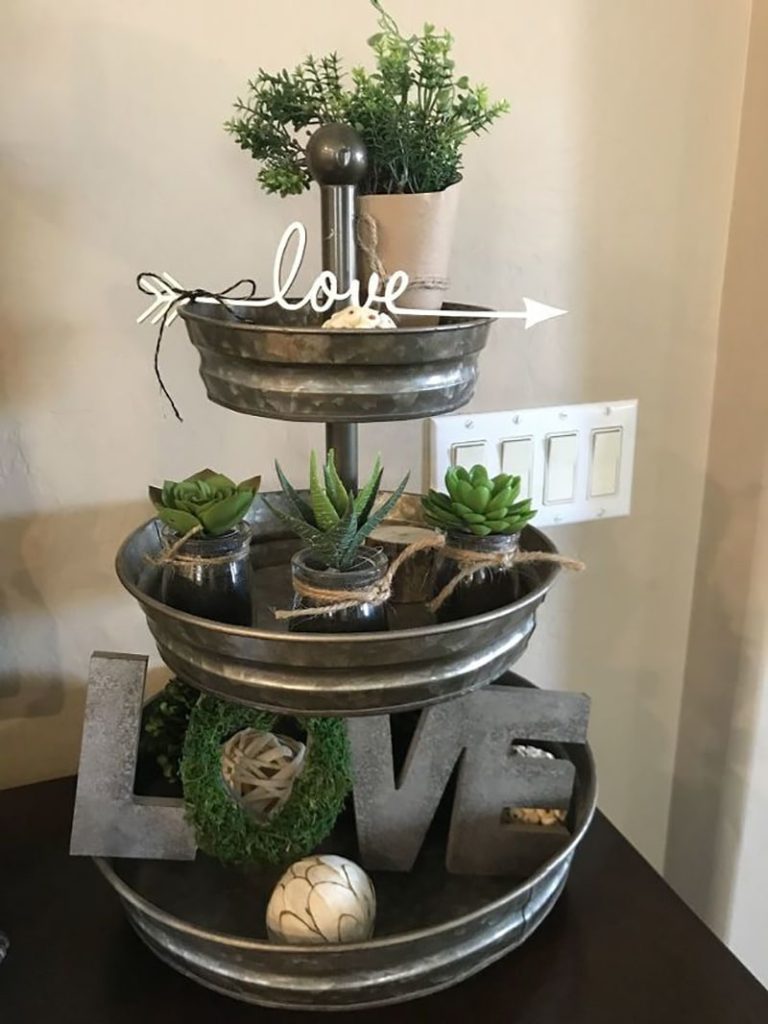 This love sign has a rustic galvanized look. Just spray the decorative pieces you found with Rustoleum Gray Hammered spray paint and let them dry. Dab each of them (or just one as seen above) with brown paint to create the vintage look.
Wooden hearts
This DIY wooden wreath is the perfect way to show your love for Valentine's Day this year. All you need are some supplies from our favorite budget-friendly stores: Dollar Tree and Home Depot! You will need a red burlap ribbon roll for this.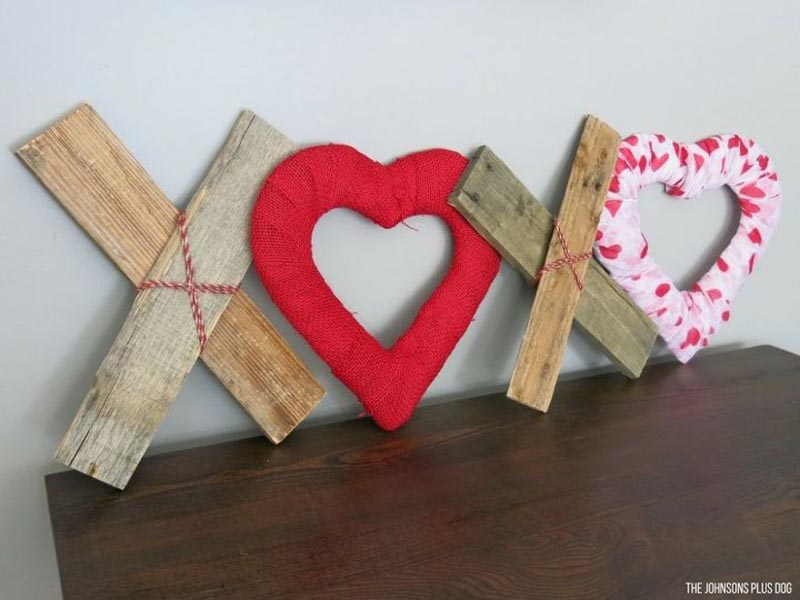 Apart from this, get old pieces of wood, some wire hangers (or anything sturdy), baker's twine, ribbon, and printed scarves in various sizes – it doesn't take much creativity or skill when all these components can be found at any craft store near you.
Earthy embellished wreath
This is a quick and easy wreath with just a few things from the Dollar Store as subtle embellishments. Moreover, This is such a simple and inexpensive craft that you can make for your loved ones on Valentine's Day, you'll want to make one for every holiday!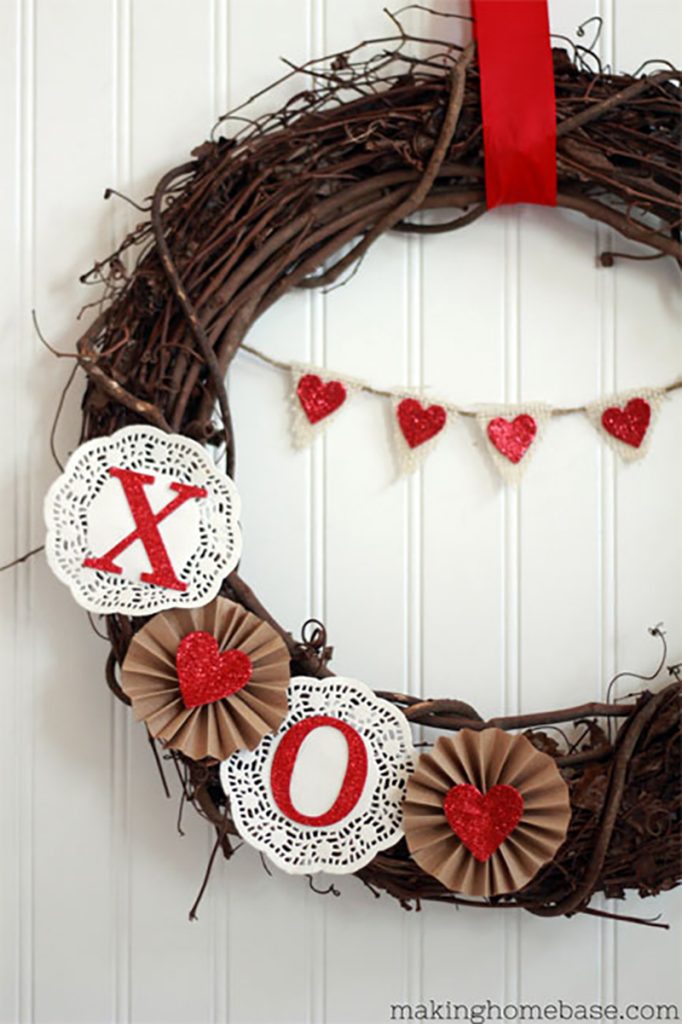 If you use red and white, they will pop more in a basic background. Make paper medallions using the leftover paper bag and use washi tape to create bunting. Glue the glitter hearts and red XO signs to the center of the wreath. Add a ribbon for hanging.
Gift bag banner
Who said you can't make your own gifts? Here's an idea for all those creative souls out there who have been looking to put their time and energy into something customized for their loved one! Why not make one of these cool Valentine's banners?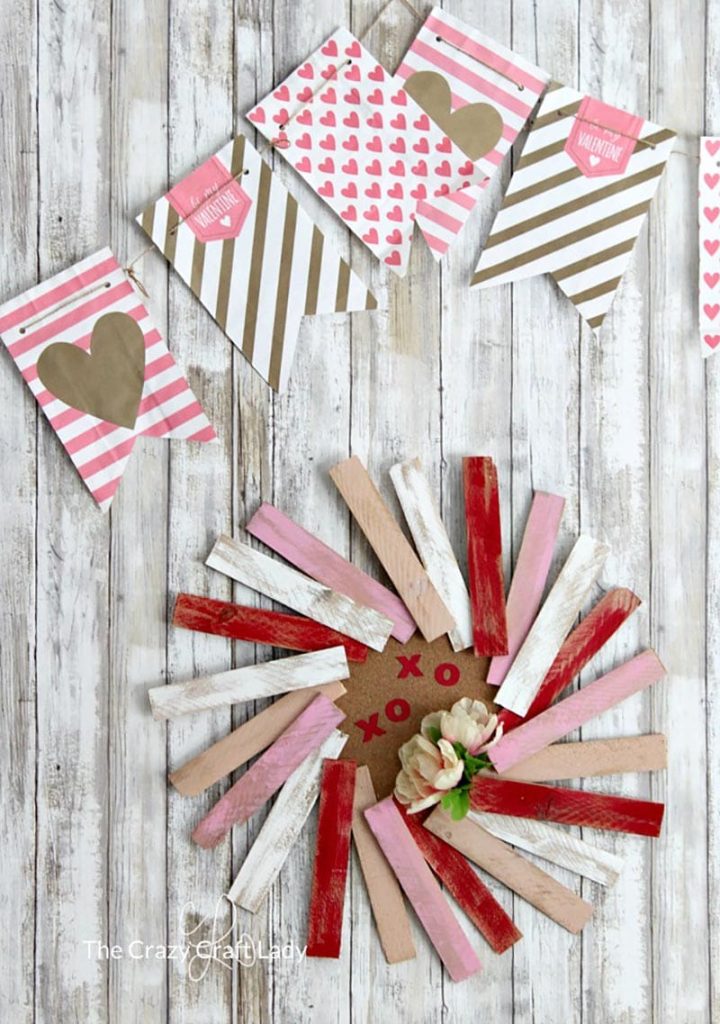 Once you have cut up the bags along their fold lines, make sure not to rip or bend any of them in the process. Next, punch two small holes at either top corner. Then tie an overhand knot between each segment before tying another simple knot just beneath the ends.
Valentine candy bouquet
We hope you have a great Valentine's Day! Everyone knows what it's like to be in love with all things sweet, so today, we're sharing our newest DIY project: an arrangement of candy hearts and flowers made specially for those who love celebrating this special day.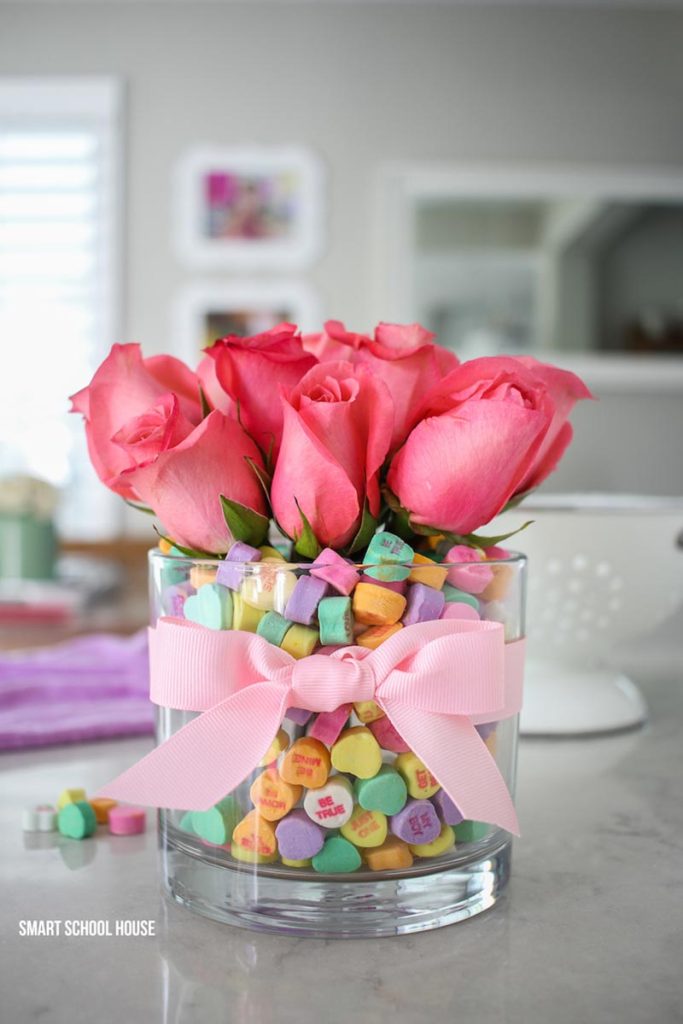 Get two glass jars of different sizes, fill one with water and add flowers to it. Fill the bigger one with candy covering the second jar. This will give a perfect illusion that you have a bunch of flowers floating among the candy magically.
Valentines tumble game
You'll be the hit of your next party when you bring this Customized V-Day Jenga Game. All it takes is some imagination and creativity, which we know you have in abundance! You can call this a Valentine's tumble game to play with your partner or buddies.
Get a Jenga game from the dollar store and add fun heart details with red and pink markers. Write tasks or love notes on the inside of blocks. Your partner or friends will have to follow the clues to play the game.
Special V-day candles
This year, make your Valentine's Day dinner a little more special by adding some glitter and pink! For your dinner table, try serving up these beautiful red candles alongside delicious chocolates. A table full of this much love will show how much you care about each other.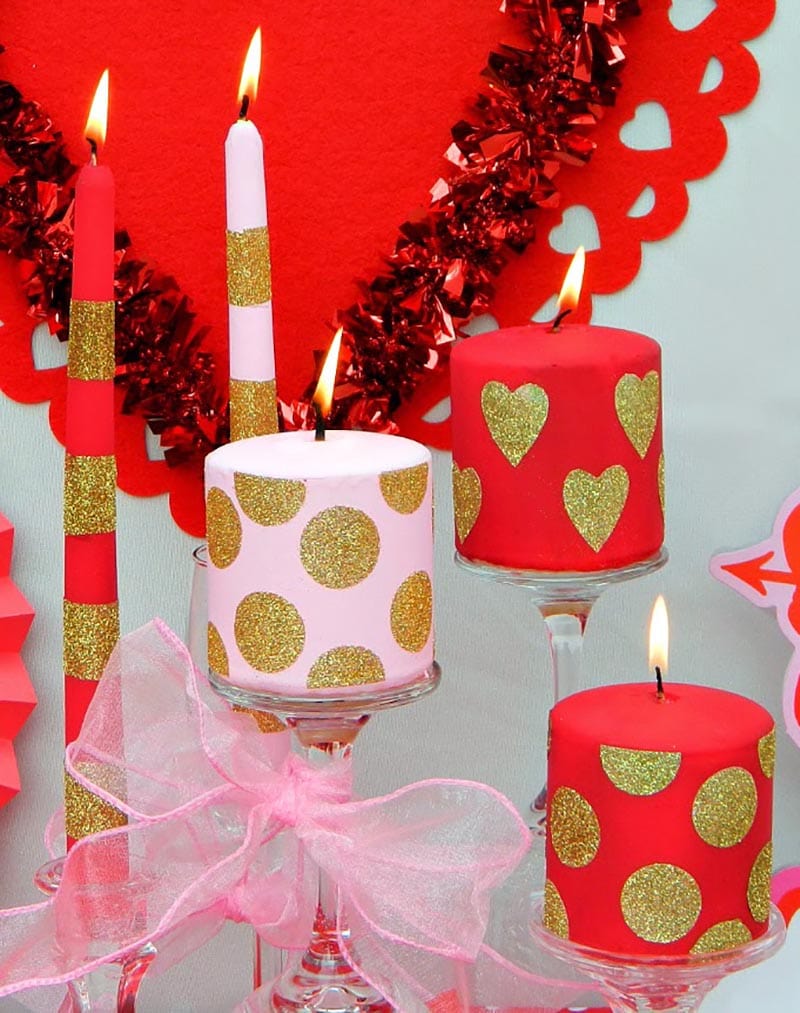 You may mix all different sizes and patterns. Use tapered or regular candles to decorate with fine gold and red glitter that you can stick to the candles using white glue. You may also roll them in paint and glitter.
DIY paper flower wreath
How about making your own DIY wreath out of flowers? It is so easy and creative! Just need some red, pink, and white tissue paper from the dollar store. Read below for step-by-step instructions on how to create beautiful designs in just minutes without any crafting skills required.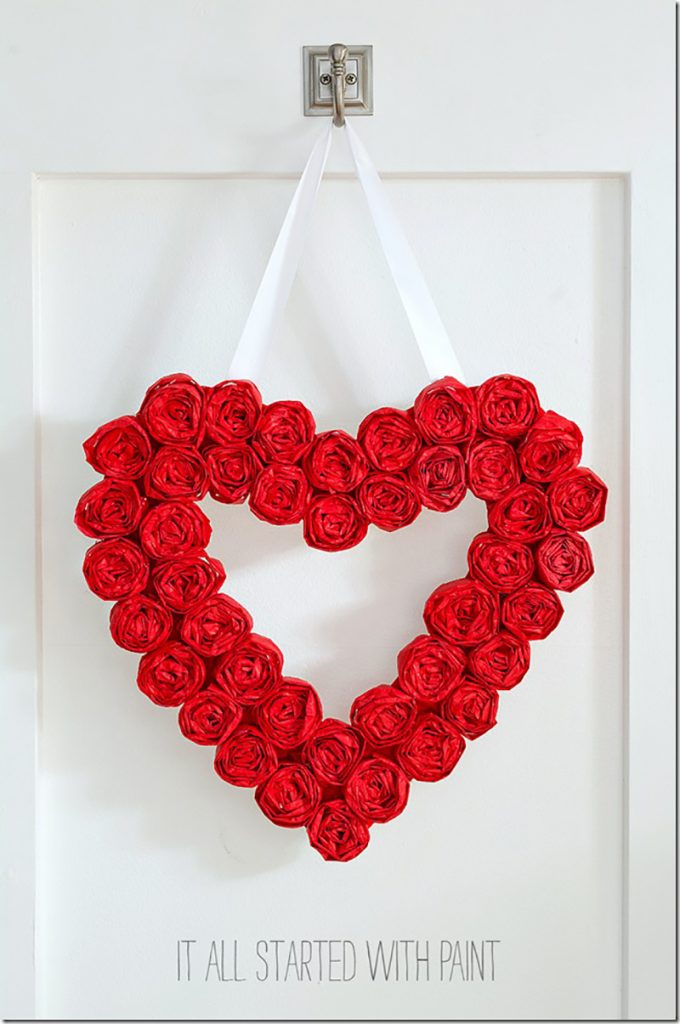 Just cut up to 1-inch strips of paper and roll them. Add hot glue to stick the rolled-up crinkled paper. Roll each piece until it creates a rose. Now, use these to paste on the wreath base and cover the whole area. Add ribbon for hanging.
Holly love decor
No, holly is not just for your mistletoe at Christmastime! With the help of some simple materials, you can make your own DIY holly wreath at home. All it takes are wood frames and berry bushes from the dollar store! You'll also need a red chalk paint tube with a brush.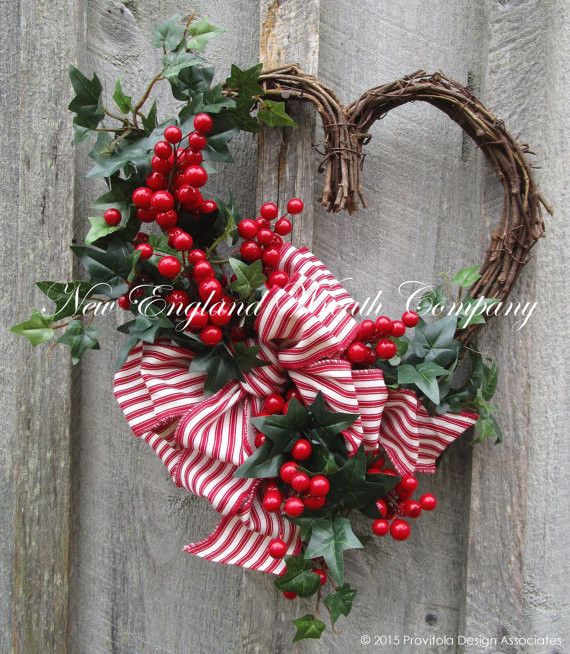 The first thing is to cut a heart shape out of foam board. After this, mark an inner heart and cut out. Now, glue on the fruit embellishments to cover the whole heart. Use the ribbon to create an elaborate bow.
Cute towels
With just a few embellishments, this little towel became an instant Valentine beauty. You can see how easy it is to make your own. All you need are some ruffled jersey knit fabric and the hearts – all of which you can get from the dollar store.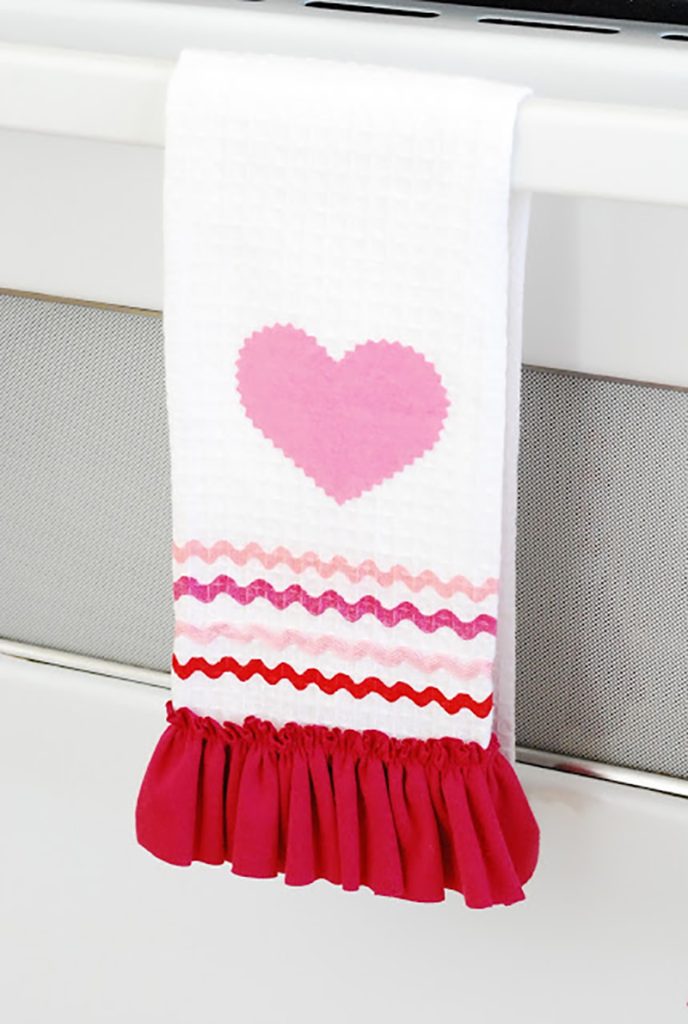 You can use any fabric that matches your style or mood. You may use a no-sew bond to watch the ruffled material to the bottom, as well as the hearts and other details, if you do not want to stitch.
Sweetheart mobile
Create your own Valentine's Day decoration by making this cute and easy DIY! Use some red glitter hearts strung on a fishing line to create the arrow that is suspended from one of the tree branches from your garden. This might be the easiest yet!
The heart wall hanging will be perfect for any room in your home or office, so grab a few friends together with you as we go about decorating your space into something special. You can also do this for Valentine's parties or a romantic dinner with your partner.
Message in a frame
This is a DIY project that can be made with dollar store clothespin photo frames. These are unique and look beautiful as they are. But there is a way to make them more on point for the season of love.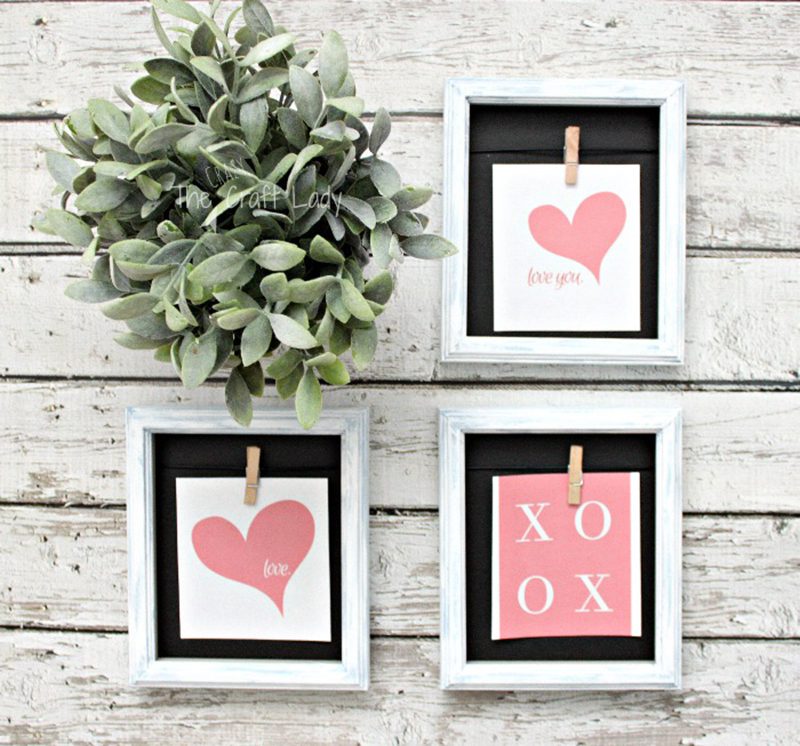 You will need light blue and white chalk paint, and these cheap picture frames that come with clothespins. Paint the frames and print such cute messages to pin to the frames and put them on display. You can create a similar collage and add photos of you with your love!
Burlap ribbon wall wreath
We have given you a couple of wreath options,m but why not give you another? This is great because it can be done easily and cheaply with supplies from any dollar store. This DIY is a must for anyone who loves to personalize their home with unique crafts.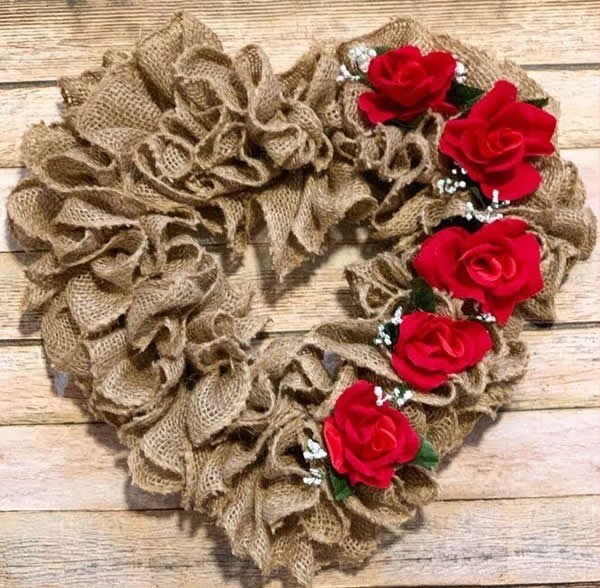 All you need are some basic crafting skills, and a trip to the dollar store! Grab some different colored ribbons, a hot glue gun, plus an empty heart frame! Cover the heart frame with burlap. Make sure it is secure on the frame using hot glue.
DIY Marquee Light
The dollar store love sign is a simple and timeless piece that can be quickly transformed into an amazing sparkly creation! We have all seen this cute sign, but how many of us have thought of ways to customize it?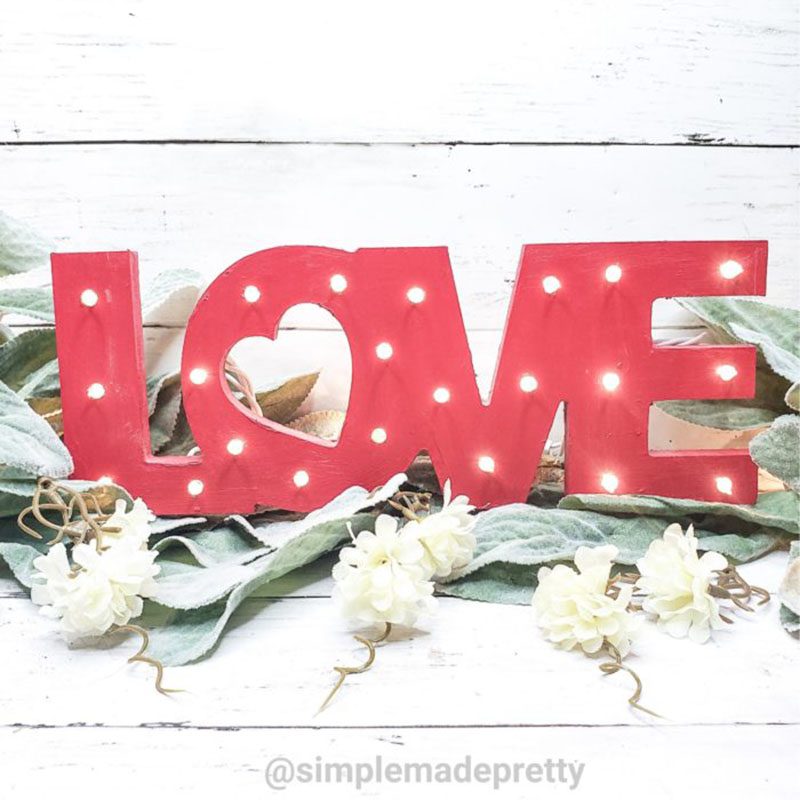 A dollar tree sign awaits transformation using a small drill, Christmas lights, and all-purpose paint. You will also need a staple gun. Simply drill holes into it and then insert lights into them (make sure to stay safe!). Add pretty embellishments to make this an unforgettable display.
Pink Roses wreath
Who does not love the charm of pink color around Valentine's time? You can create a beautiful wreath of roses with some artificial pink roses (in various shades) and a wreath base from the dollar store. This DIY will not break the bank and add a sparkle to your home.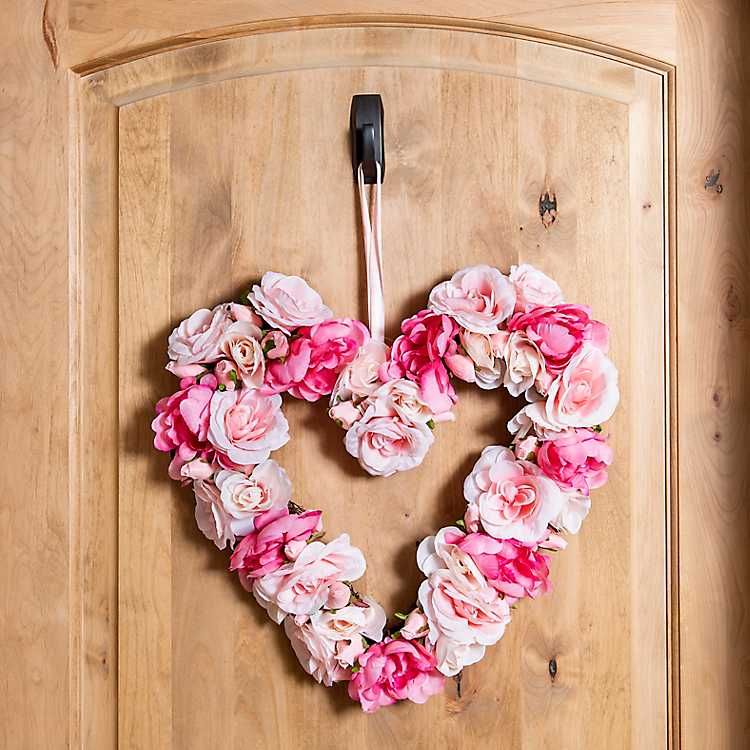 Cut the long stems of the roses before sticking them to the wreath frame. If you have an already decorated wreath, you may have to take it apart first. Use a small stick to manage the hot glue from the gun while sticking the roses.
Ruffled plate for the wall
With just a few items from Dollar Tree, we can still have some cute Valentine's Day decorations for our homes. All you need is some scrabblers and paint! Using this short list of supplies, you can create an easy-to-hang plate on your wall.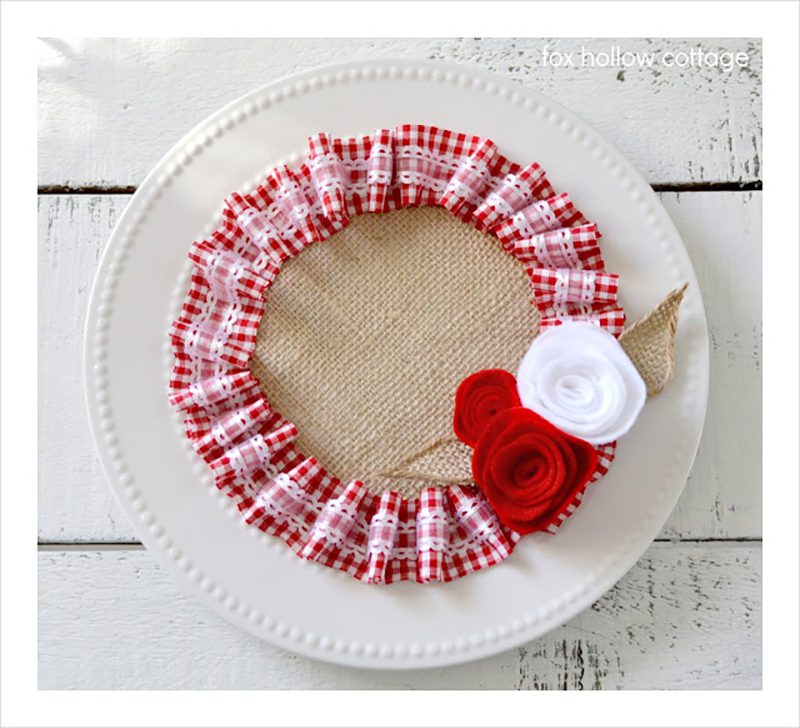 It will make the room feel like it's decorated in celebration – even if it doesn't come with any expensive gifts this year. You just need to stick burlap to the flipped plate and decorate it with ribbon and hearts for extra cuteness.
Heart valentines trees
Use your creativity and find a way to make this project even more adorable! Your imagination is the only limit with these DIY instructions. The creator originally planned on using curtain rod finials but realized they would have been too expensive.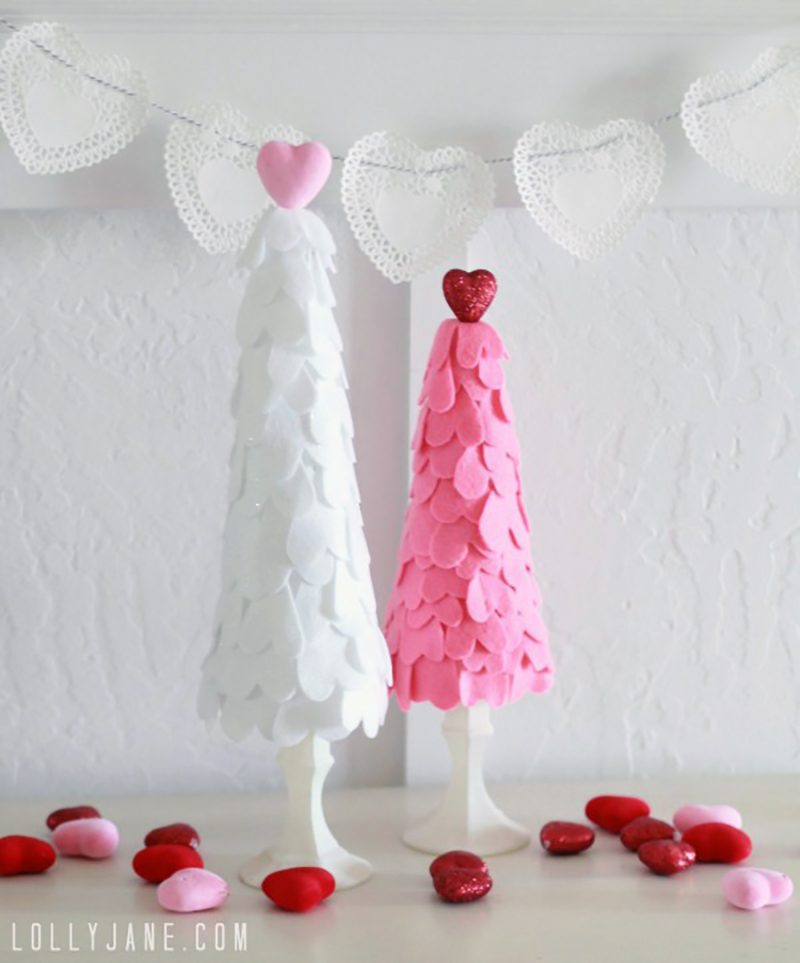 So instead, you can use $1 pre-cut paper hearts strung on string as the new inspiration. You just need to cut the felt hearts and pin them to the styrofoam cone with pins. Make sure you cover the whole cone to give it a festive effect. Attach the cones to candlesticks for a classier look.
Personalized puzzle
DIY lovers will be elated to know that there is a way for them to make something extra personal. All it takes are some simple materials and time. Make sure you have the right tools before getting started because this project isn't as easy as some of the others.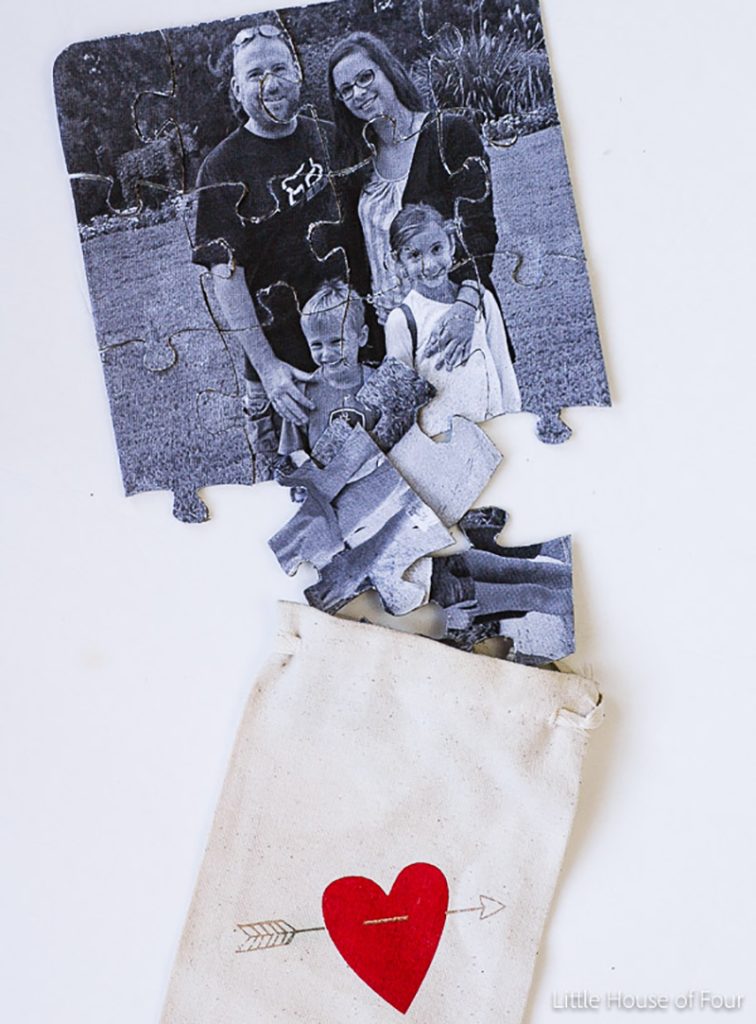 Make a personalized puzzle with a photo of you together, and you'll show them how much you really care. Get a small puzzle from the dollar store and print a photo in the same size to stick on it. You can also make your own puzzle pieces with cardstock, but it's a bit trickier to make.
Vases for valentine's roses
The glass vases you find at the dollar store are a versatile and affordable way to create your own pink Valentine Display. Instead of buying overpriced versions, just buy simple glass vases and paint them using silicone paint and stick in some flowers in shades of pink.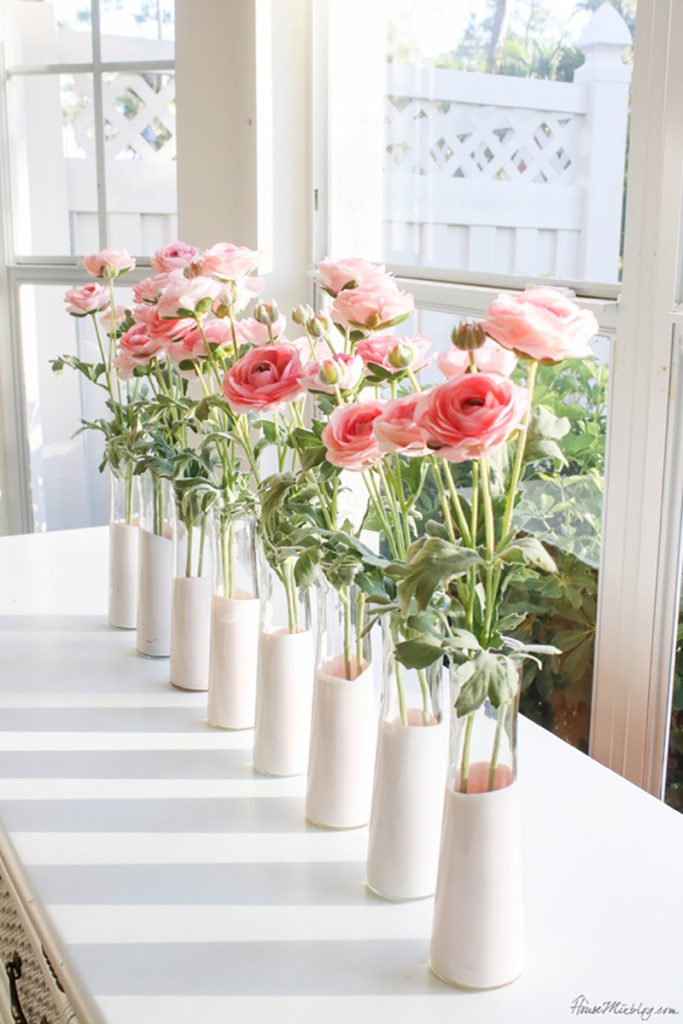 Fill in the vases with paint and swirl it around to create a dipped dyes effect. Let it dry. Make sure you do not touch the edges of the vase with the paint. Once the paint is dry, place the flowers.
Love bubble tube
These adorable Valentine card ideas are perfect for handing out to your little ones. We love dollar store craft supplies, and these fun printable bubbles can be used in so many ways! You can easily create these bubble cards at home.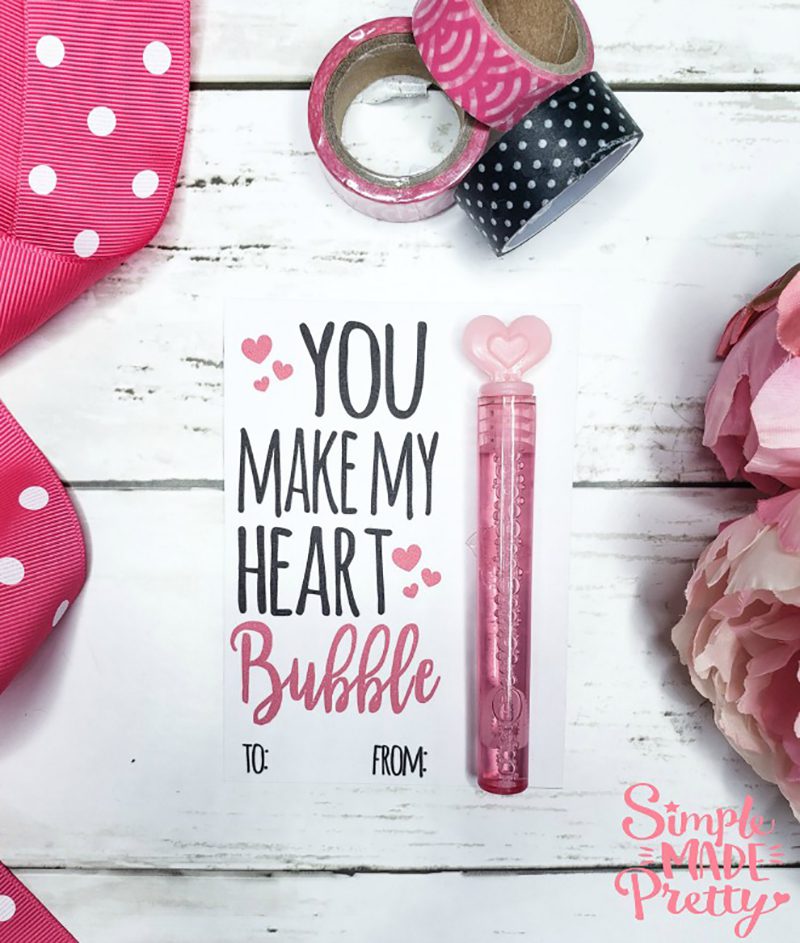 For example, they would make an awesome gift tag or sticker on any present you might give them this year. All you need is a mini bubble wand, cardstock to print the design, scissors, glue, and a color printer to assemble this card.
Flower ball
What's more romantic than a beautiful bouquet of flowers? This DIY project will turn your dollar store blossoms into something exquisite. Watch as you transform that styrofoam ball into an elegant flower ball in just a few minutes flat!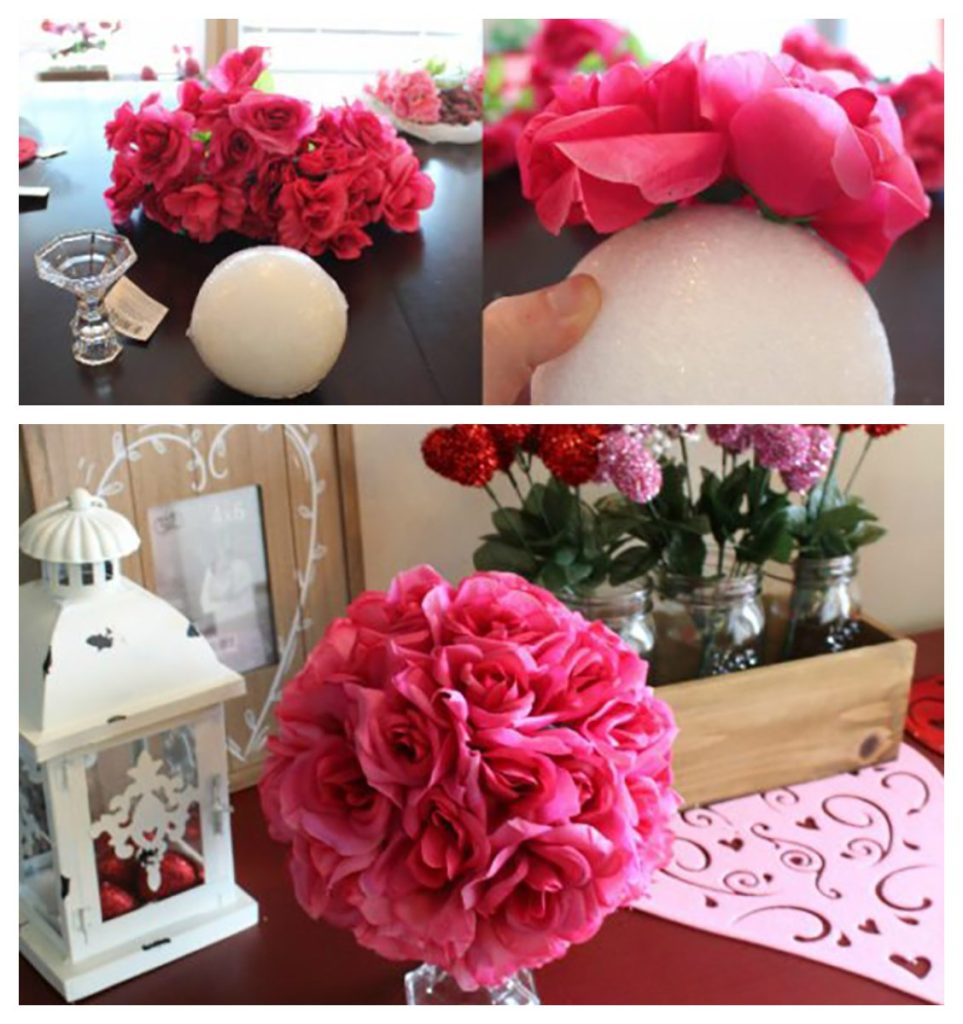 You can use any type or color flower you like, so get ready to create this amazing craft at home today. Stick the flowers on the styrofoam ball using their stems and also add a layer of glue to secure them. That's it!
Heart-shaped moss wreath
Go green on Valentine's Day by ditching the red and pink paper decorations. Make this heart-shaped moss green wreath instead. Use a heart-shaped base, moss, ribbon, and a glue gun to assemble them. Add some ribbon so you can display them.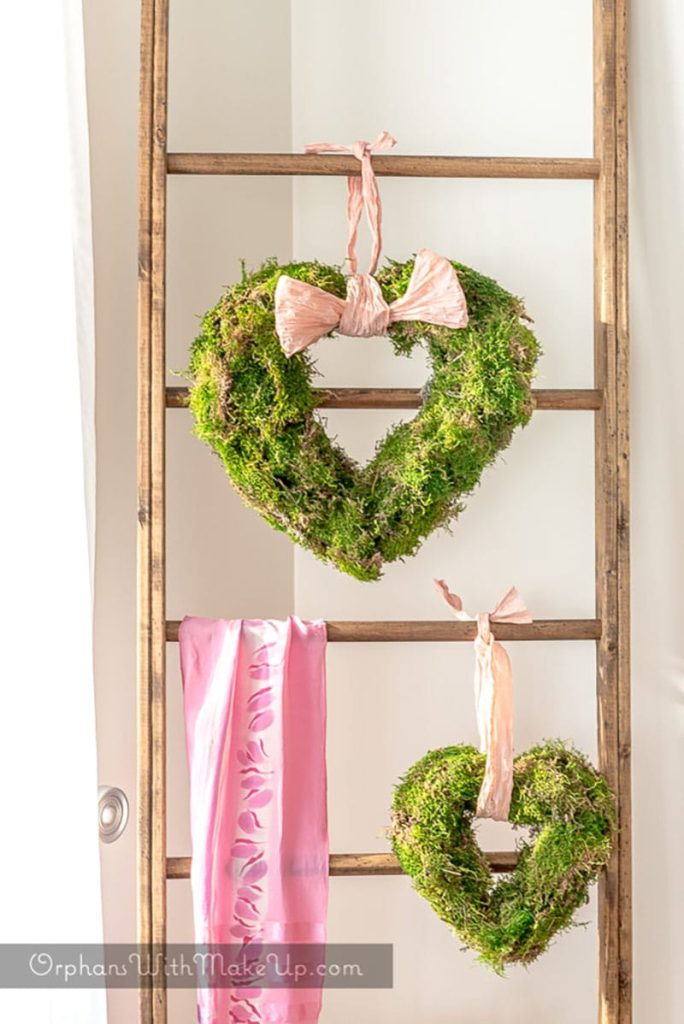 Remove any additional decorations from the wreath and empty the frame. Use the dry moss to create a base and add green moss over the top. This will make the wreath look fresh. Remember you can choose any color ribbon you want, but pink will make it clear that it's Valentine's Day, whereas redd might look too Christmasy.
Rosey love sign
There cannot be enough love signs around the house to declare you're in love and it's Valentine's day. Create this fun red love sign using the dollar store confetti and a simple sign that does not cost more than a dollar each.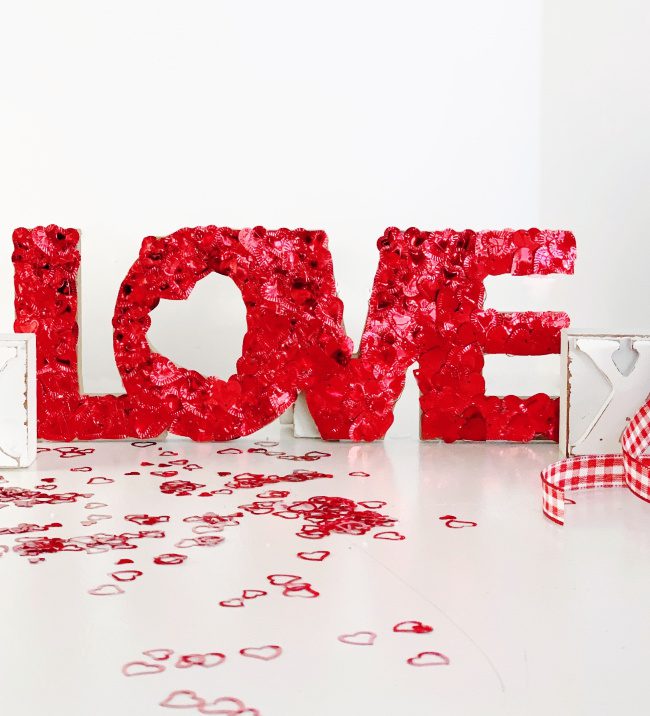 Separate the heart confetti and stick it to the love sign to cover the whole area. Do not leave any empty spaces. There you have your amplified sign that you can place anywhere in your home. Toss some extra confetti around to make the display more festive.
Paris glam decor
There is something unique about artsy glam that is not too flashy but looks pleasing to the eye. First, you need to get plantar, paints in black and white, pillar candle, heart cut out, and ribbon to create these DIYs.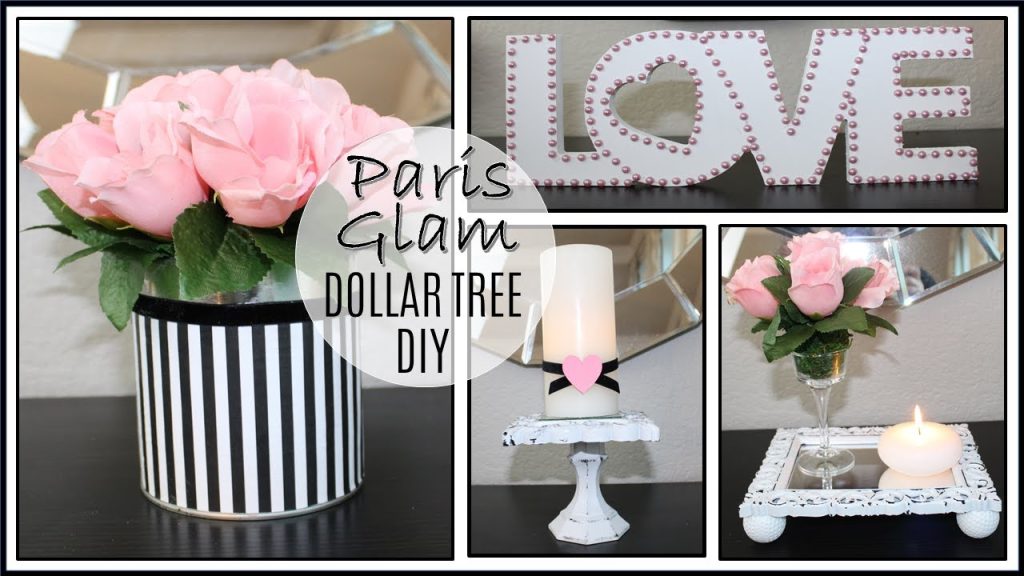 Paint the planter with vertical lines in black and white and let it dry. Now, take your pillar candle and tie a piece of ribbon around it. Glue a heart in the middle and let them dry. Arrange these to display on your table or shelf.
DIY topiary
Here is a way to make the best of both worlds happen with this dreamy topiary. This will be a perfect add-on to your wreath, and you can use these same colors for roses if that sounds like something up your alley.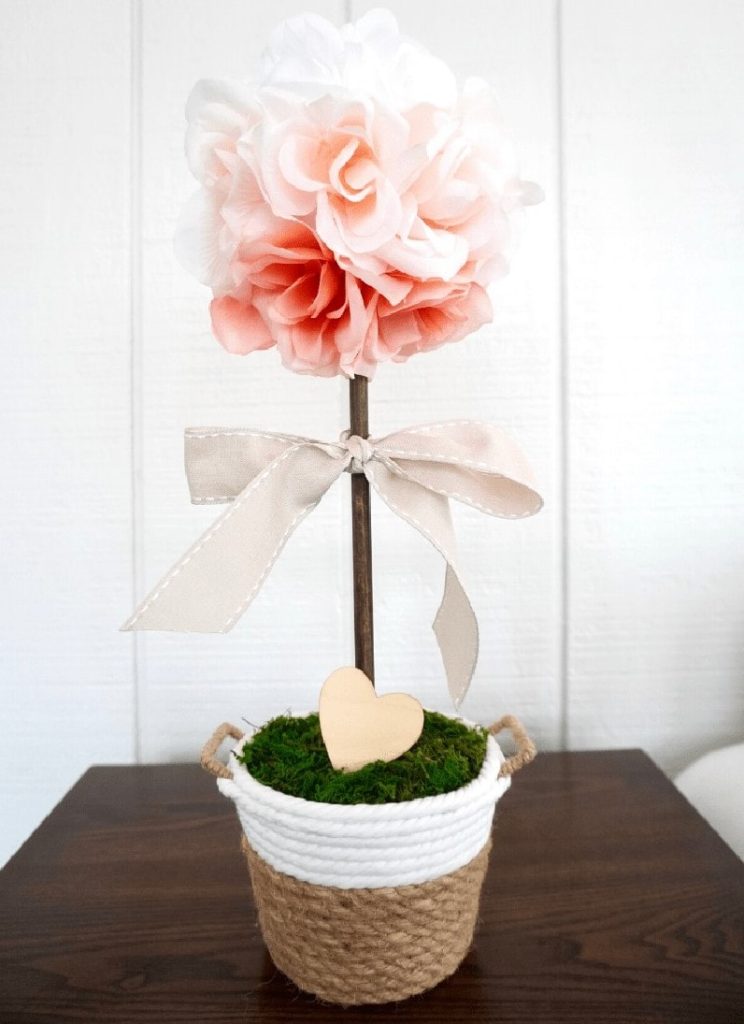 Get a metal basket and cover it with rope using hot glue. Seal the end of the rope and use wood tint to let it dry. Now, add roses to the foam ball and stick it inside the bucket using floral foam. Cover the foam with floral moss.
Hand Stitched notebook for love notes
Buy a notebook with a paper cover from the dollar store. Now, lightly sketch when you wish to add to the cover. Take a thread in the color of your choice and use chain stitch or simple stitch to cover the design. Tie a knot to close the thread.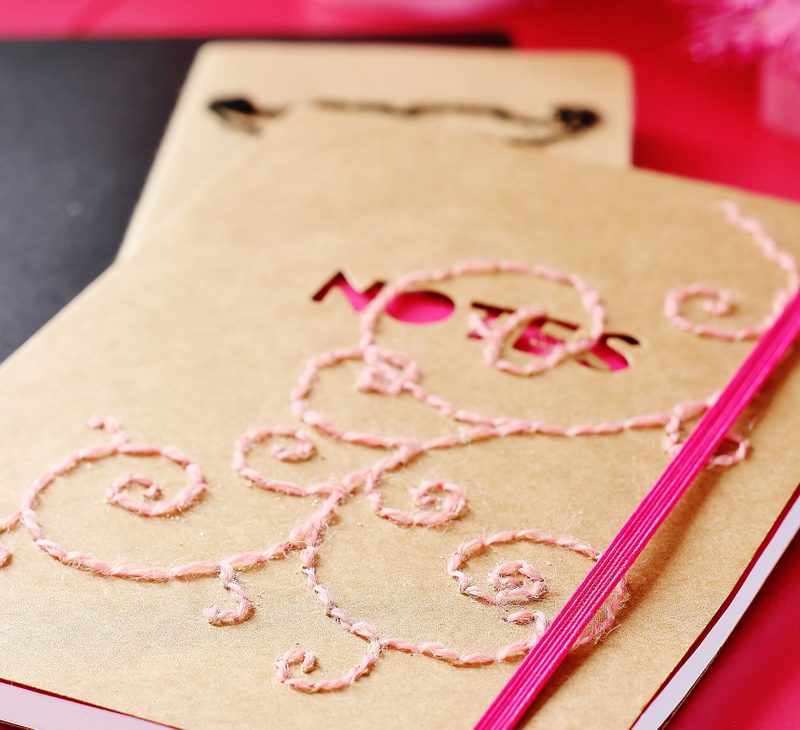 Add a custom message to the diary. This gift is something simple and straight from the heart. It will let your special person know how much you care about them and show them the time and effort you put into their gifts.
Fancy red wreath
You can do wonders for your decor during the festive time without burning a hole in your purse. Just get a wreath frame and some pink and red ribbons. You may grab an old wreath and take it apart too.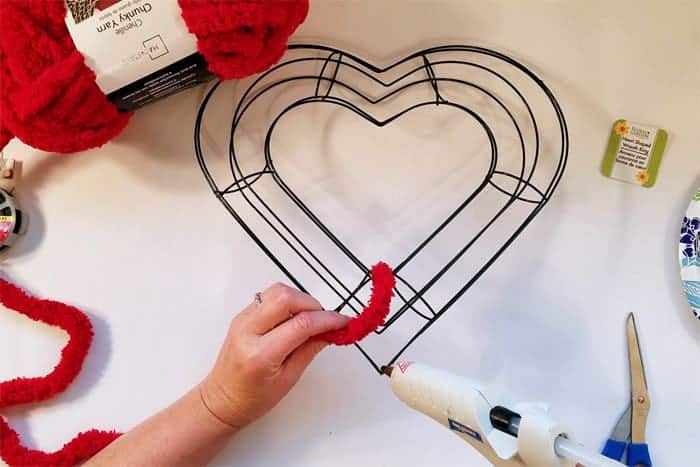 Also, get hot glue to stick the ribbon to the wreath frame. You may use a twisting motion to create a pattern with the ribbons. Add hearts and other charms to the wreath as per your creative ideas. The sky is the limit!