Say Cheese!: How To Pose Like An Influencer
By Larissa C May 10, 2022
---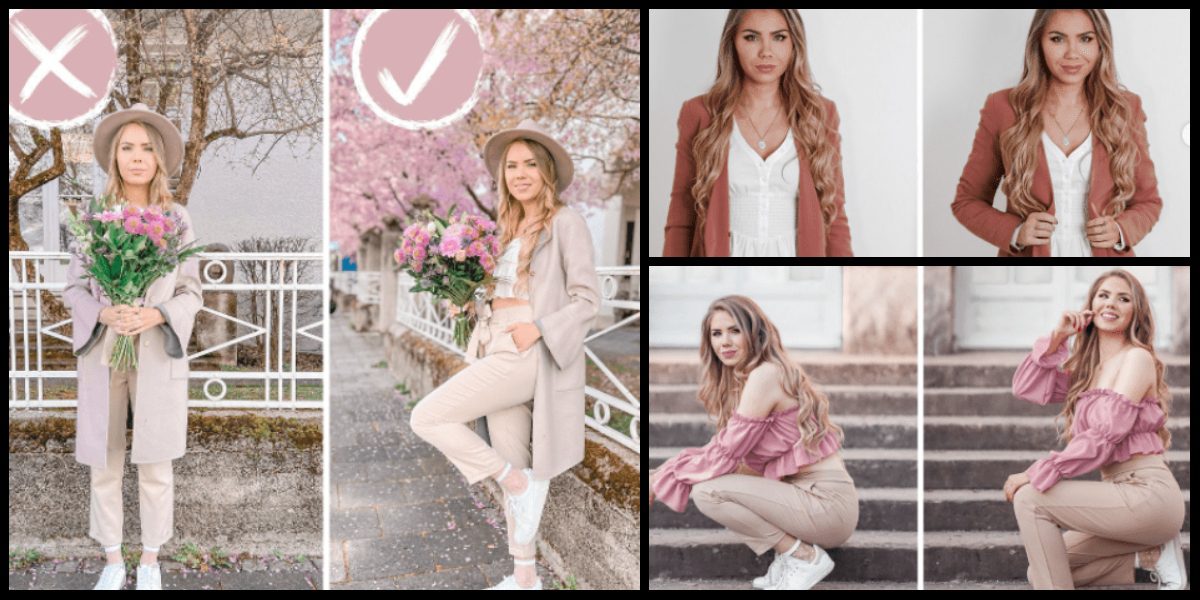 Keeping our Instagram feed updated is a challenge for every modern woman. Simply posting a new picture every once in a while won't cut it — we have to stand out among the millions of social media platform users. And how can we do that? We don't have to have thousands of followers to post nice pictures. Even if just our family and friends follow us, we probably want to impress them anyway. The easiest way to do that is by posing for photos in a way that compliments our figures. If you don't know how to pose and feel like maybe it's too tricky to pose like a model, this article will change your mind. Vivian, better known as The Rubin Rose, dedicates her account to helping women learn how to take better photos. We've compiled some of her best tips — and we hope it helps. Here are 30+ photography tips that'll make you feel like an Instagram model.
#01: Taking candid photos.
Candid pics are trendy these days, but the truth is that they're not candid at all. Don't feel bad if you can't seem to take beautiful impromptu pictures like the ones you see on the internet. Most people plan their photos, and there's nothing spontaneous about them.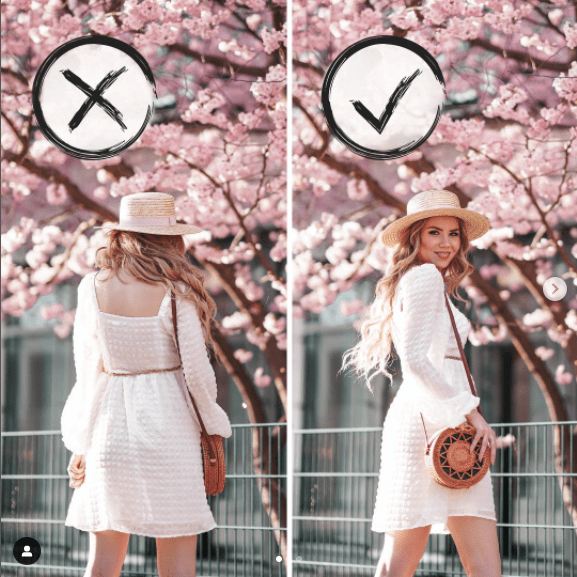 The picture on the left is actually candid. But it doesn't look that good, does it? If you want to take a "spontaneous" photo, try to copy the second pose. All you have to do is smile and ask someone to capture an image right when you turn to face the camera.
#02: Posing with your boyfriend.
When we are in love with someone, we just want to share our happiness with the world. While shouting from a rooftop is one way to profess your love, posting pictures with your bae is another way of doing that.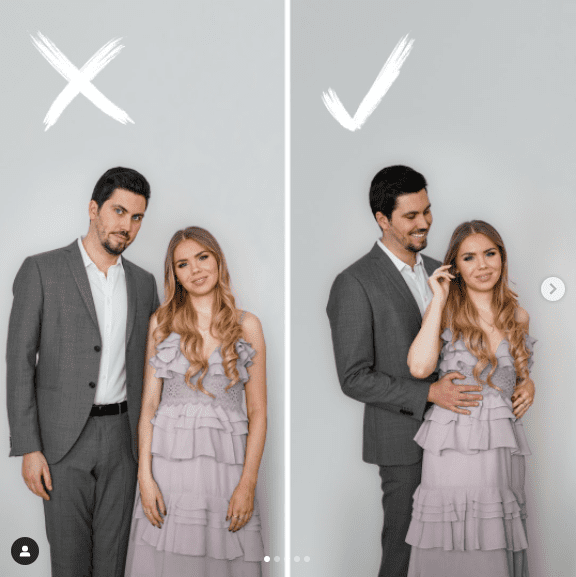 Instead of settling for a basic pose like the one on the left, try to make things more fun by adding movement and happiness to the photo. You can totally see how the energy shifts when Vivian and her boyfriend put a little more effort into their pose.
#03: This is not a mugshot.
Nowadays, having a nice background in your photos is essential. Your followers won't just look at your face, pose, and outfit. They'll also look at the other details in your image. That's why many people like posing in front of a blank wall.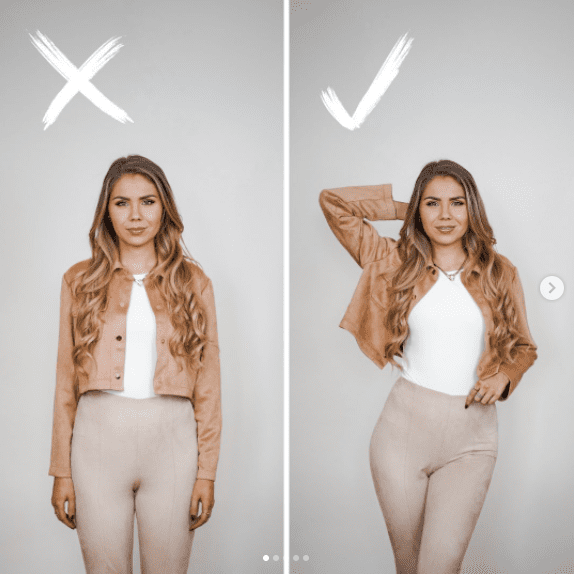 This way, you can protect your privacy, especially if you don't want to show your house on the internet. But posing in front of a blank wall doesn't mean that you should pose like someone taking a mugshot. Put a hand behind your head, cross your legs, and add motion to the picture.
#04: A hand to the chin.
There are so many ways to pose for pictures that you may not know what to do. While we are confident that you will look amazing with any pose you choose to recreate, The Rubin Rose has a tip for women unsure what to do.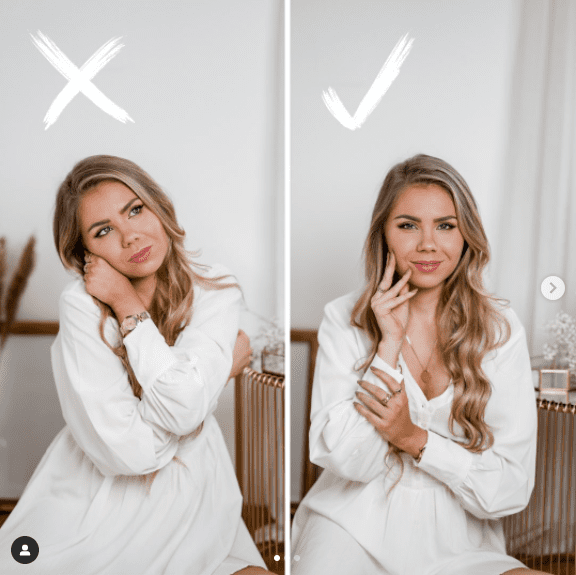 According to Vivian, most women will go for a pose like the one on the left — and she doesn't want you to pose just like everyone else. Models and influencers are likely to copy the pose on the right, and that's the one you should go for. A hand to the chin and a small smile, and you're ready.
#05: Posing for the holidays.
Who doesn't like sharing their pictures during the holidays? This is the perfect time to show off the beautiful decorations in our home and the outfit, hair, and makeup that we put so much effort into preparing. Say Rudolph on three…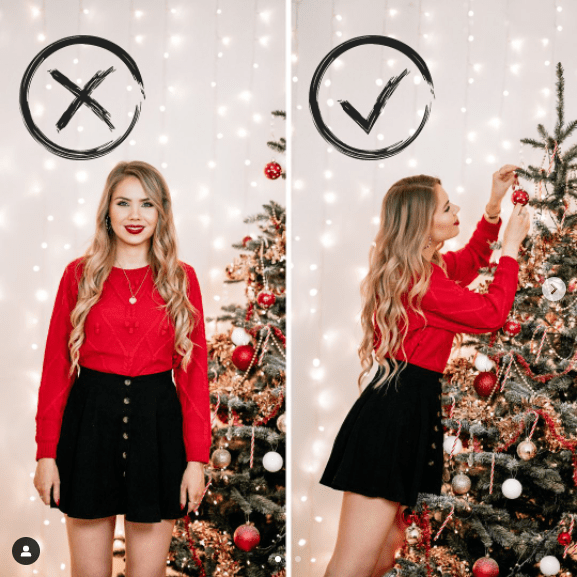 Instead of standing completely still to pose for your picture, you should try to add some activity to it. Play with the decoration and ask your photographer to capture that moment. See how it doesn't take a lot to make your photos more dynamic?
#06: A tip for posing with no accessories.
Posing alone for pictures can be challenging. Many people don't know what to do with their hands, especially when they have nothing to hold in their hands. In this case, The Rubin Rose suggests that you use your outfit as an accessory.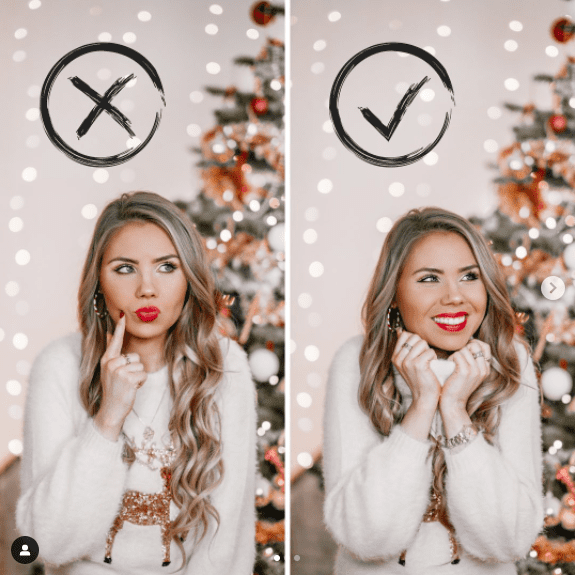 Instead of making gestures with your hands, you can hold onto the collar of your sweater. You'll have to wear a comfy and fluffy sweater, but you probably have one of those at home. See how cute Vivian looks in this photo? You're next!
#07: Don't bend your legs.
Springtime reminds us of pumpkin spice lattes and beautiful autumn colors. This time of the year is perfect for taking pictures and posting them on Instagram — but we don't always know how to get the ideal photo for our feeds.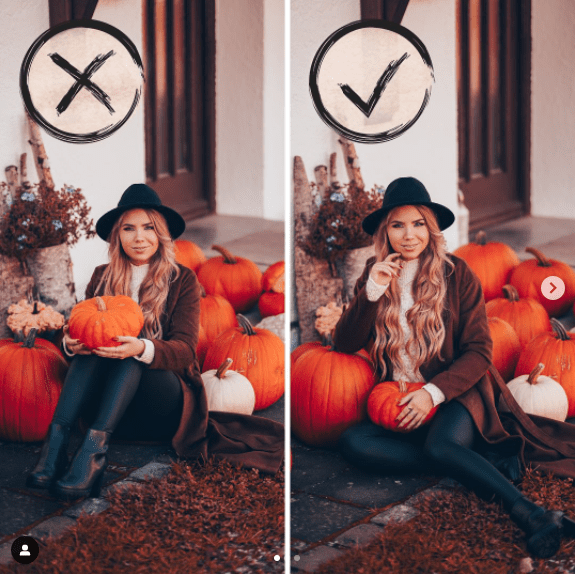 According to Vivian, you don't have to go too far to take the perfect spring picture. Wear a season-appropriate outfit, grab one of those decorative pumpkins you bought and pose the day away. Don't forget that bending your knees for photos doesn't compliment your figure. Try to copy Vivian's pose in the second picture.
#08: Posing outdoors.
While there is nothing wrong with posing indoors, taking photos outside the house is always refreshing. Whether you're walking down the street or at the park, you will always find an excellent place to take pictures when you go out.
If you find yourself at the nearest park and you're wearing a cute outfit, you should undoubtedly share this moment with the world. Sitting next to a tree and stretching your legs might just be the perfect pose. It doesn't take a lot of effort to copy this pose, and you're going to love the results!
#09: Changing the angle.
Depending on the angle you take a picture from, the result may be flattering or the complete opposite. Sometimes, if you want to change how you look in a photograph, you just have to turn away from the camera slightly.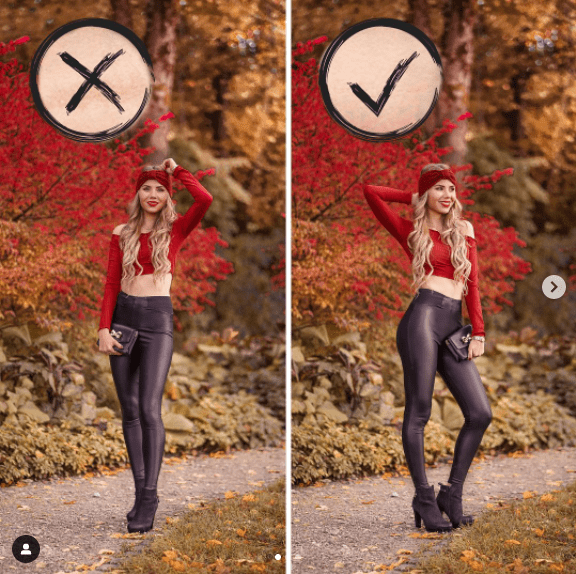 See how The Rubin Rose does it? She is doing the same pose in both pictures, but she changed the angle of her body. This way, it's better for her audience to see her curvy figure rather than posing turned towards the camera.
#10: Here's how you can look taller in pics.
According to this Instagram queen, there are different ways that short women can appear taller in their pictures. In this next picture, you'll see how different she looks on the left and right sides. In the second photo, she is holding herself proudly and looks more confident.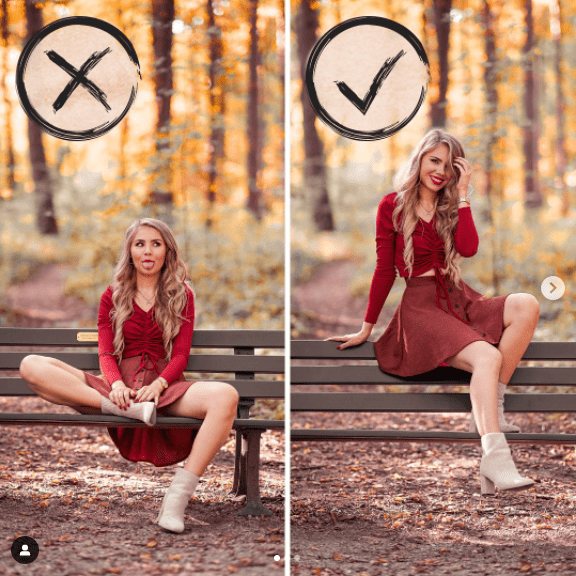 Full-body pictures can be quite unflattering for shorter women, but here's how you can pull it off. Sit on the backrest of a bench and stretch one of your legs while the other stays on the bench. It's not too complicated, and it will make you look "longer."
#11: Add angles to your photo.
When taking pictures, the last thing you want is to look flat or bland. Depending on how you pose for the photo, it might come out looking lifeless, but it is effortless to fix that in just a few steps.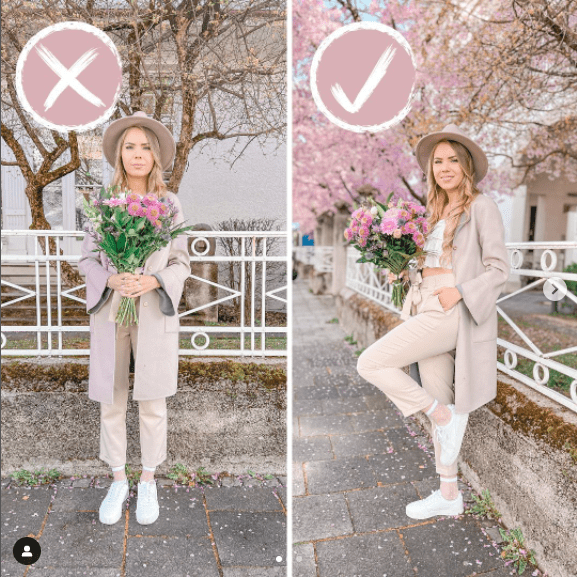 According to The Rubin Rose, you don't want to be standing so straight in your pictures. If you simply lean against a nearby rail and bend your leg, you'll be adding angles to your photo and making it look livelier.
#12: How to pose on the bed.
Lately, it is not unusual to come across Instagram models posting pictures on their beds. We have no idea why, but the bed is a perfect place to post cute and natural photos. And you certainly want your pictures to look like that, right?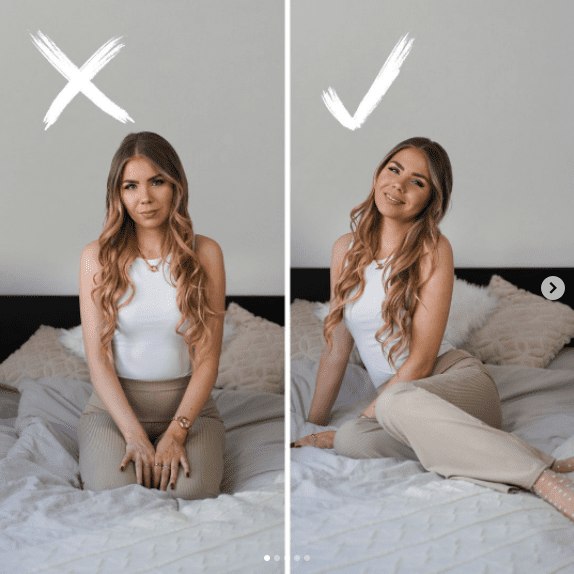 In this case, you don't have to do a lot. Just don't copy the first pose. Vivian says that this pose is cliché, and you can come up with different ways to take pictures on your bed. Maybe cross your legs and turn to the side slightly, which'll make a big difference.
#13: How to pose with a blazer.
For many women, taking photos while wearing a jacket (or a coat or blazer, for that matter) can be pretty challenging. These pieces of clothing can be really unflattering and hide our curves. But there's a way to pose while wearing a jacket.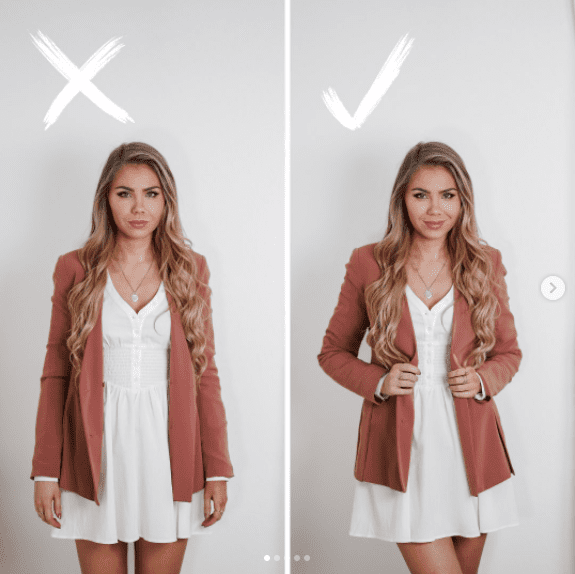 Vivian's tip for you is that you place one leg in front of the other and hold onto the jacket. This way, you'll bring the piece of clothing closer to your body, thus keeping it from hiding the curve of your waist.
#14: There are no bad pictures.
While Vivian shows you the "right" way to pose for pictures, she is not, by any means, trying to tell you that there are bad photos. It's just that some tricks can help you improve the final result of your pictures.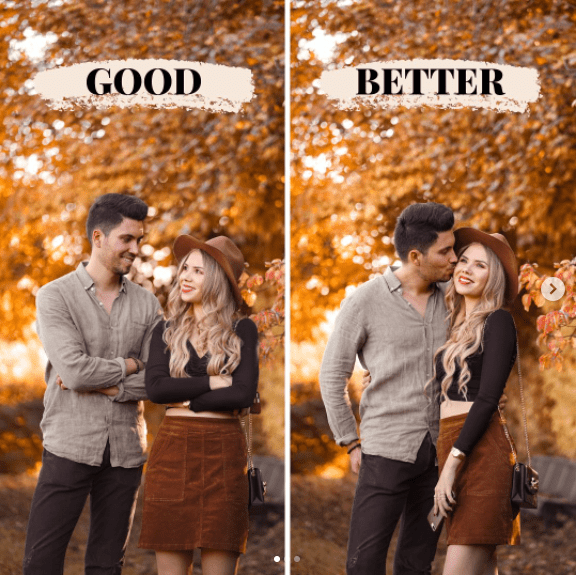 For instance, there is nothing wrong with the picture on the left. That's an excellent way to pose with your significant other. But if you want to make your picture even better, try the second pose. Showing affection always looks good in photos.
#15: Don't look like a stick.
Remember how we said that you should try to keep your arms away from your body when taking pictures? When you pose like that, it makes you look like a stick figure. See how Vivian looks in the first picture?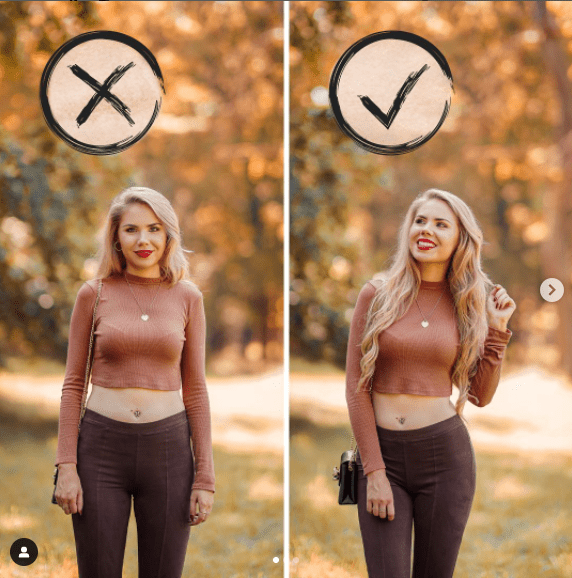 According to this Instagram model, the best way to avoid looking like a stick figure is to add movement to your photo. Take a step forward, play with your hair, and look away from the camera. If you follow these steps, your next picture will look amazing.
#16: Posing with flowers.
If you want to post season-appropriate photos, here is a valuable tip for your next photo shoot. Posing with flowers is certainly a must during that time of the year, but some people don't know how they can rock a pose with flowers.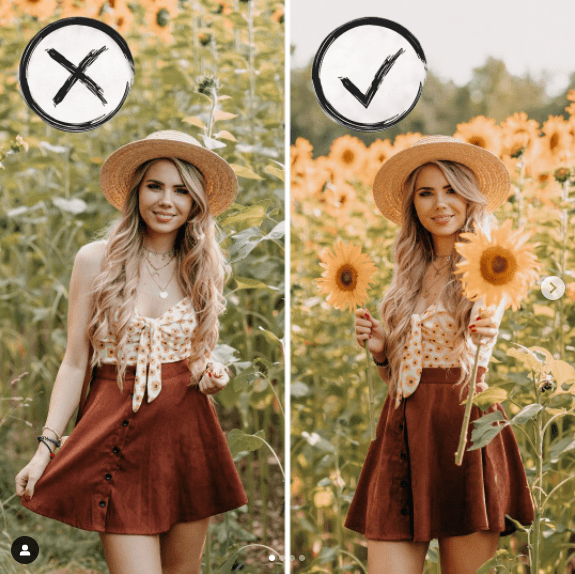 If you're around sunflowers (or any other flowers, really), here's how you can post pictures with them. Don't just use the field of flowers as a background for your photographs. If you see any flowers lying about, hold them in your hands and smile at the camera. Just don't rip the flowers from the ground, okay?
#17: Be playful.
For Vivian, the biggest mistake that people make when taking pictures is that they forget to be playful. Taking photos while looking sexy and confident is okay, but adding some playfulness to your photographs is also a charming touch to show your personality more.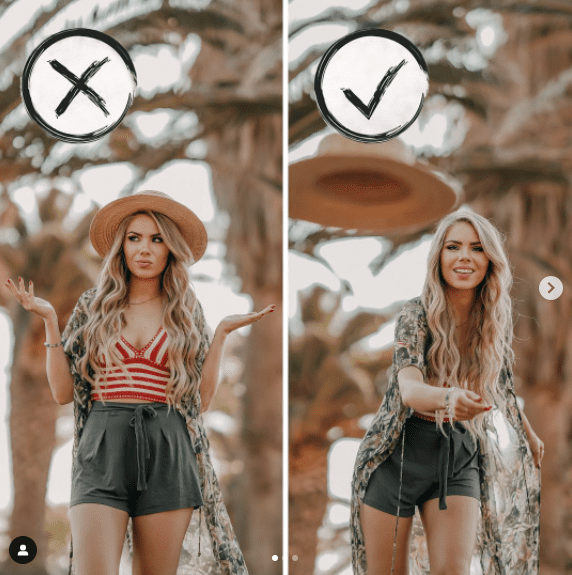 If you want to give your followers a breath of fresh air, look playful in your upcoming picture. Vivian is doing it by throwing her hat at the camera and smiling, but there are lots of ways to have fun. Sometimes, just showing off your pearly whites is enough!
#18: Don't forget the posture.
Finding the right angle and the ideal lighting are two things that are going to change your photos entirely. However, they are not the only things that are going to alter the way you look in your new and improved Instagram pictures.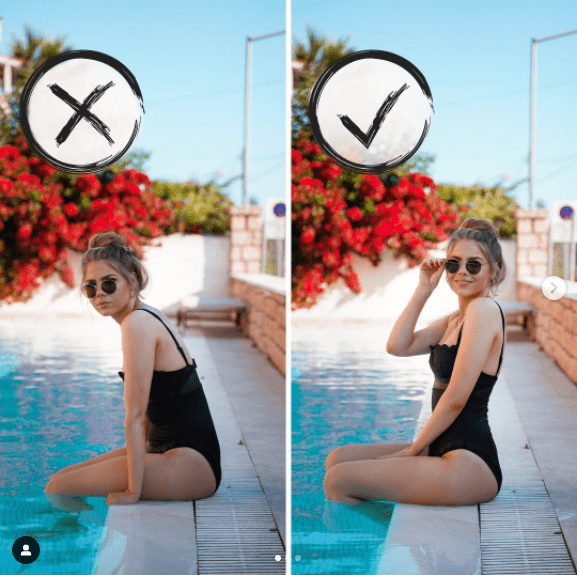 If you don't watch your posture, you probably won't enjoy the final results of your pictures. And let's be honest: no one wants to appear hunching their shoulders in their summer pictures. Remember to keep your back straight — your physical health will also appreciate that!
#19: Here's a cute pose for the beach.
While we are still on the topic of summer pictures, The Rubin Rose wants you to be proud of the photos you take while you're traveling. Instead of going for the cliché, she wants you to look fabulous while still being creative.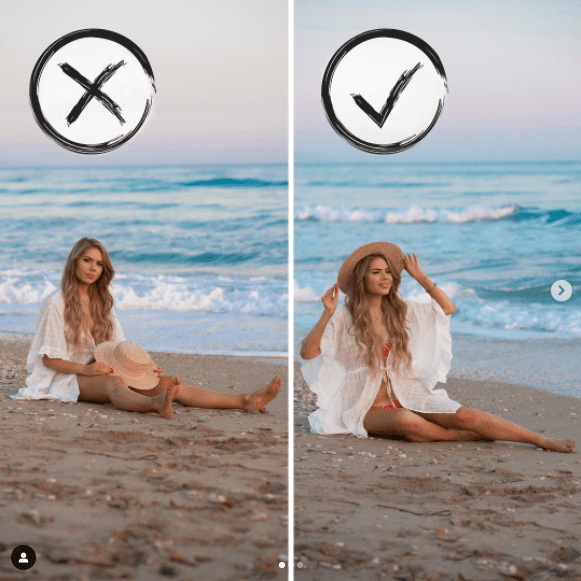 It's not easy to come up with creative ways to pose for pictures, but sometimes minor details will make the most significant difference. Putting on a hat and playing with it, for instance, can help the final results of your pictures!
#20: Don't fight the sun.
If you travel to the beach, you will find that taking pictures while out in the sun is not necessarily an easy task. While you can always put on a pair of sunglasses to protect your eyes from the light, Vivian has a different idea: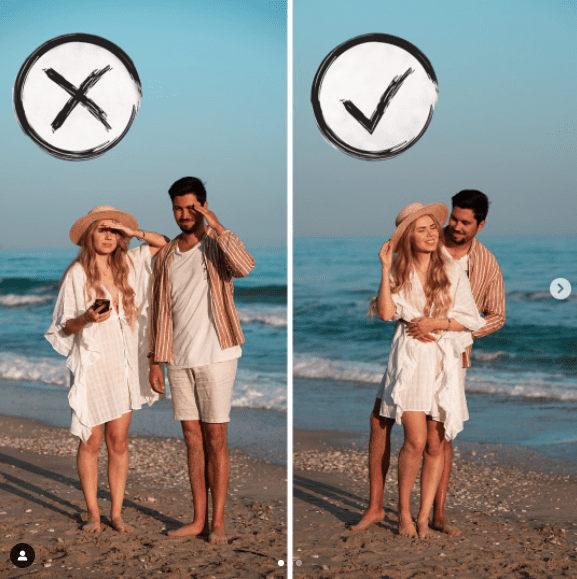 Instead of fighting the sun or squinting your eyes, don't be scared to close your eyes and bask in the sunlight. If you close your eyes during the picture, it will look adorable — especially if you're with your significant other.
#21: It's okay to smile.
If you follow many people on Instagram, you must have noticed how they tend to take pictures while looking serious. Showing off your confident and sexy side is the newest trend for images, but that doesn't mean you have to follow it.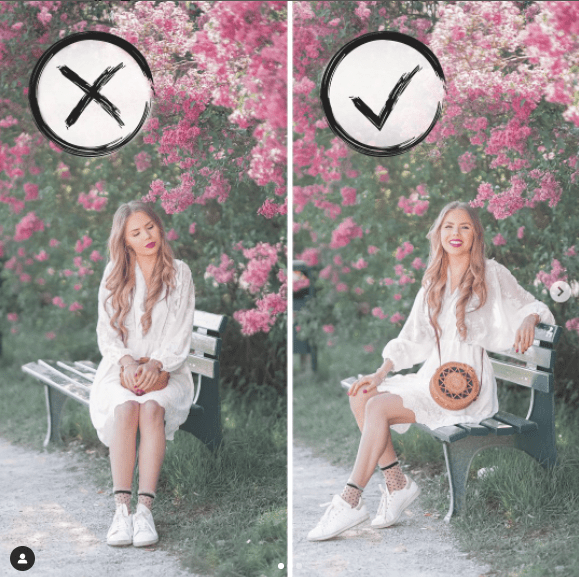 Unless you want to, of course, but Vivian says that it's completely okay if you're more interested in taking playful and cute photos. You don't have to be so solemn all the time — you can show your beautiful smile too!
#22: This is how you should take pictures of your side profile.
For many people, taking pictures of their side profile is a challenge. In addition to not feeling confident about how you look from this angle, you may not know how to pose either. You have to keep in mind that you're beautiful from all sides and angles.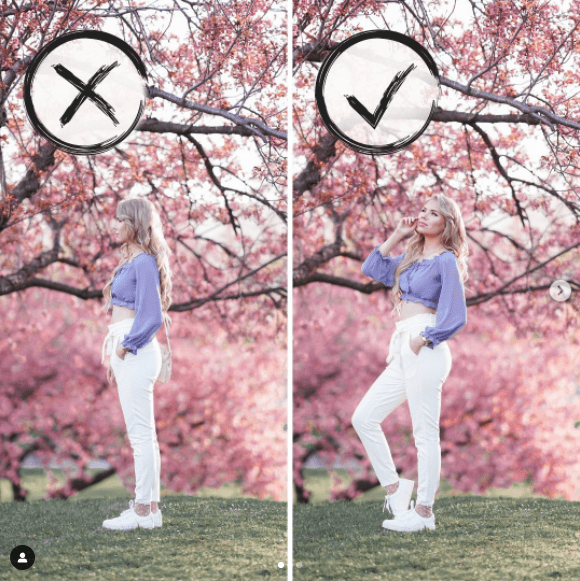 And if you don't know what to do with your hands when taking pictures like these, Vivian has a few different ideas. You can try putting a hand in your pocket and touching your hair or face with the other. Just don't forget to add movement to the photo by bending your leg.
#23: If you're going to do a squat, here's how you should do it.
If you've seen one of your favorite influencers taking a picture while doing a squat, you're probably thinking of copying her pose. Lots of women are taking photos like the one we're going to show, but the results aren't always pleasing.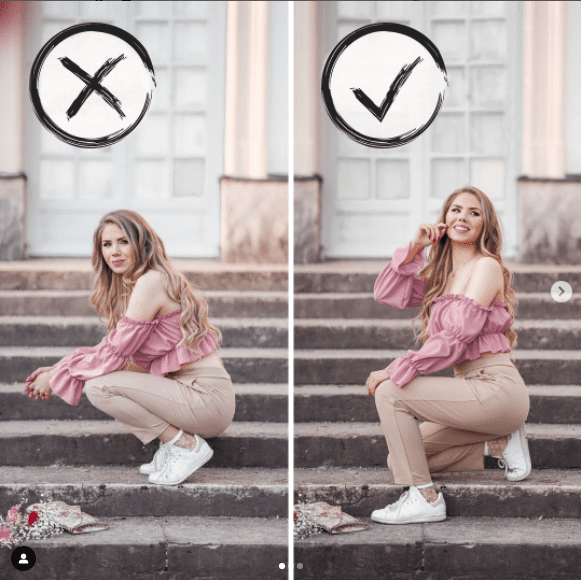 We can barely see Vivian's body or outfit in the first picture. That's because she's doing a squat that doesn't favor her figure. If you bend your leg and use the other for support, you will change the entire photo and look much prettier.
#24: Don't slouch!
If you want to take beautiful pictures to post on your Instagram, there is a rule that you must follow at all times. Don't be lazy — that's the main rule. If you're lazy to take pictures, you won't get to see the fantastic results.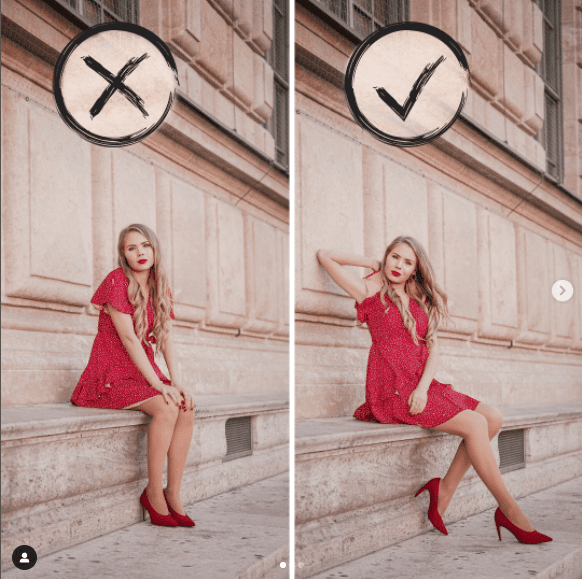 When we say that you can't be slothful, we mean that you have to put some effort into your outfit, makeup, and hair — but you also have to put effort into posing for the pictures. Don't slouch, and try not to feel shy in front of the camera!
#25: Matching the colors.
As we just mentioned in the previous tip, you shouldn't be lazy when choosing your outfit. There is no point in taking pictures if you're not going to put on your best clothes or at least change out of your sweatshirt.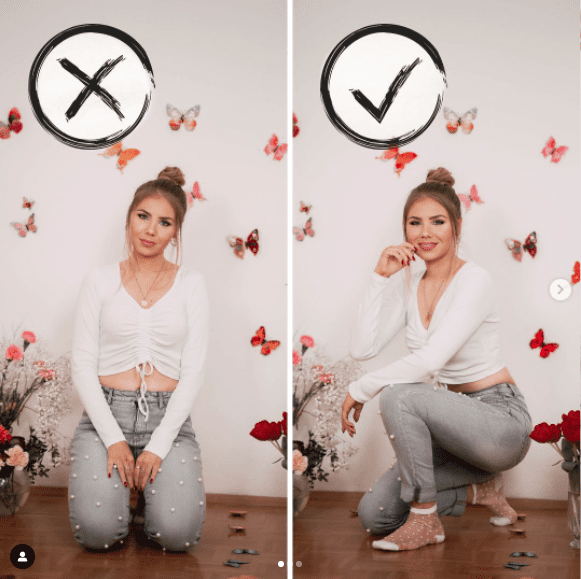 While picking a pretty outfit is important, it's also interesting to try and match the color of your clothes to the color of the background. As you can see in the picture, Vivian chose a pretty shirt whose color fits that of the wall in the back.
#26: How to rock winter clothes.
We can't go outside without putting on at least a couple of layers above our skin during the winter. And it's kind of hard to imagine how we can look good enough to take pictures when we're wearing a heavy coat that hides our entire outfit.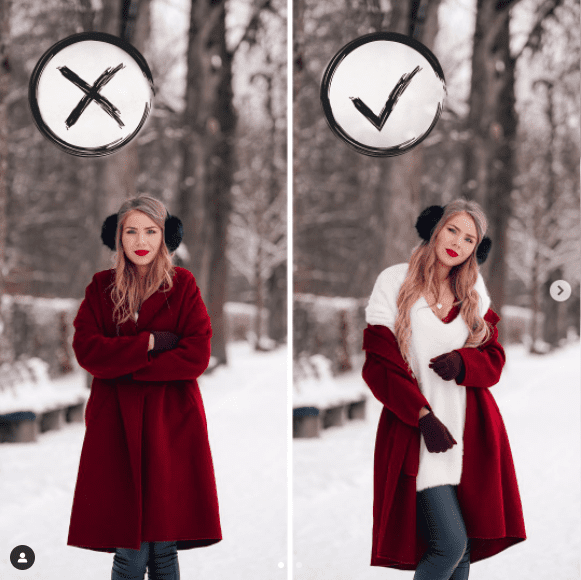 Luckily, The Rubin Rose has tips for summer pictures and winter pictures. If you feel cute despite the oversized coat you have on, this is how you can pose for a picture. It won't hurt to take off your coat for a couple of minutes to take a photo, right?
#27: Movement and playfulness.
Vivian shares many tips with her followers on how to take the best photos for Instagram. However, she noticed that several people kept making the same mistakes. To get her followers to learn how to pose, she usually posts different pictures showing them how to do that.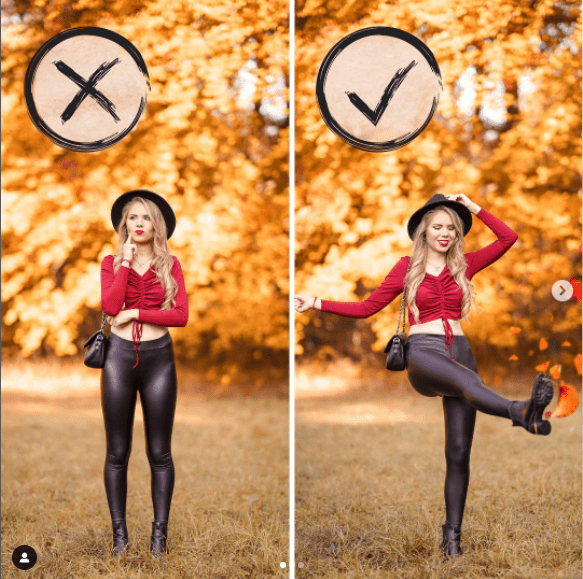 For instance, we've already shown you pictures where she told her followers not to look like stick figures. And this is another one. If you have a cute outfit on and you're in a beautiful place to take pictures, add motion and mischievousness to your photos!
#28: This is how you pose with an umbrella.
When we see that it's raining outside, we may feel like taking a picture of the rain itself — but we don't think of taking a photo of ourselves in the rain, right? If you feel like that would make for an interesting image, here's a tip on posing.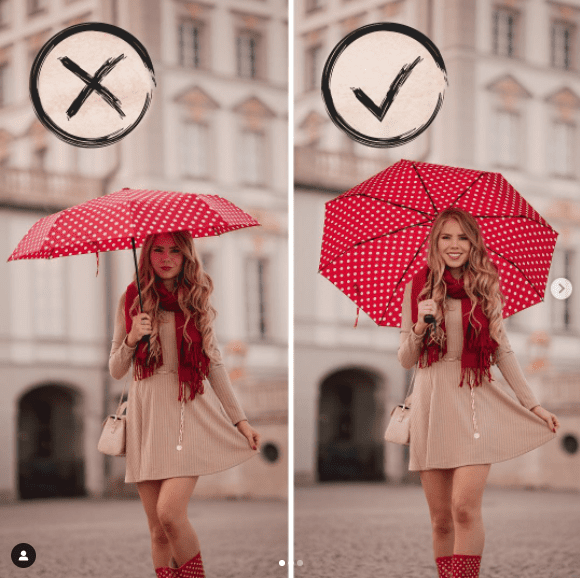 First of all, try to wear anything that matches the color of the umbrella, even if it's just a scarf or a pair of gloves. Also, make sure to move the umbrella out of the way so that it doesn't cover your face.
#29: Different poses to try at home.
If you are not busy and you feel like taking some pictures for your Instagram feed, Vivian has some tips. Put on that cute outfit you haven't had a chance to wear yet, and get ready to slay the day away!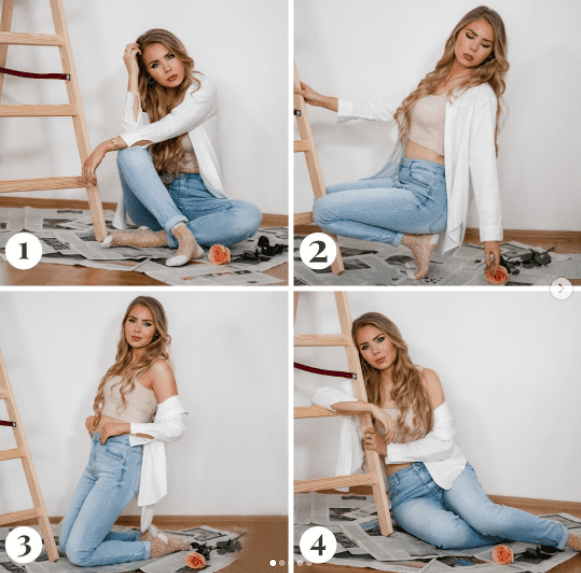 If you have a canvas or wooden stairs in your house, use them as a prop for your homemade photoshoot. Sit next to it and try some of these poses that Vivian suggested. There's a pose for every type of energy you want to exhale, so this is worth trying.
#30: Take things to the next level.
If you're planning on traveling with bae during the summer, you certainly must be excited to take lots of beautiful pictures with him or her. With that in mind, Vivian gave her followers this unique and fantastic idea for a photograph: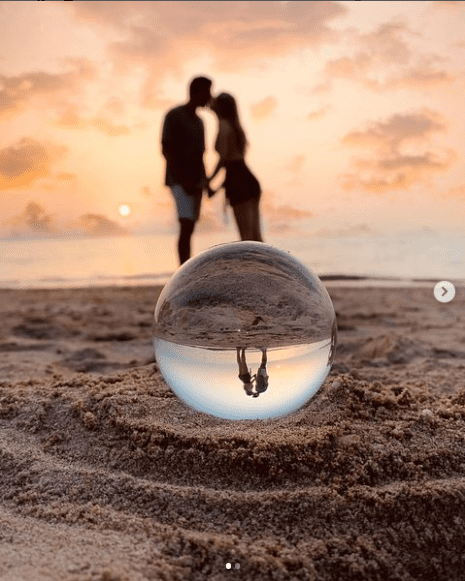 If you can get your hands on a glass globe, you can try to take a photo like this one with your significant other. All you have to do is dig a small hole in the sand to put the tripod that's going to support your phone close to the ground. Then, place the globe directly in front of the camera and adjust the angle. The following steps are setting up a timer on your camera and then posing for the picture!
#31: Another way to add movement to your pictures.
Since the beginning of this article, we have been talking about the concept of adding action to your photos. Even if photographs don't move, your followers and everyone else can distinguish between a photo with movement and one that is stagnant.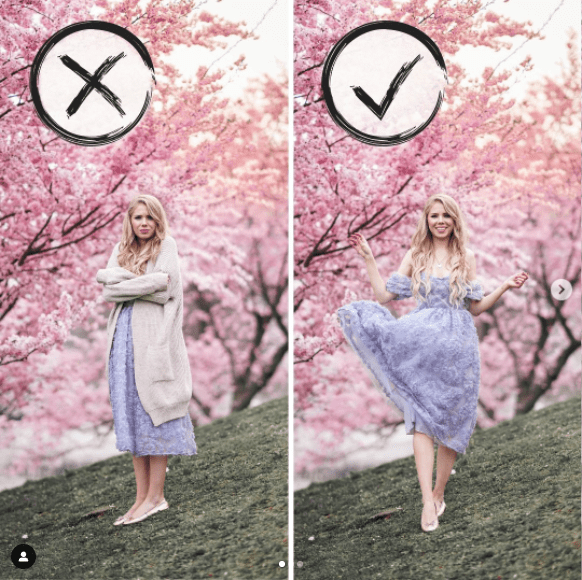 Take a look at Vivian's stance in the first picture. There is absolutely no movement in that picture — and the lack of energy is not a nice look at all. In the second picture, however, she adds movement in different ways. Look at her legs and arms. Also, note how she flipped her dress and asked the photographer to capture the exact moment it was up in the air.
#32: Smile and pose like a princess!
Remember how we said that you shouldn't slouch in your pictures? Maintaining a good posture for photographs is not just about aesthetics — it really does change the whole energy of your photos. See the difference in the pictures below: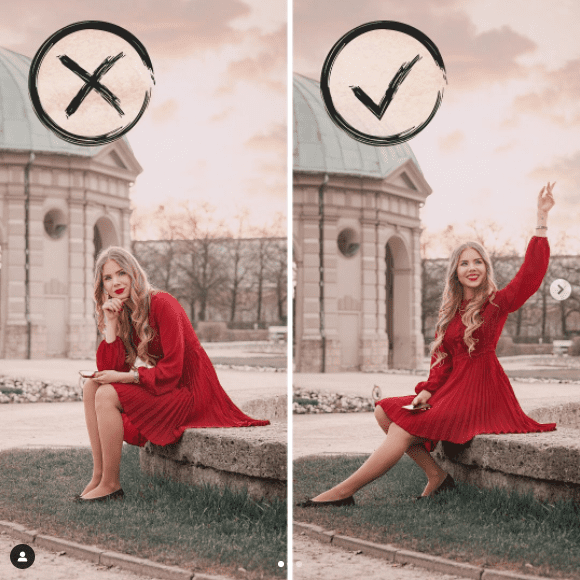 The first picture doesn't look like The Rubin Rose is happy about taking pictures. In the second photo, however, she straightened her back and the whole vibe of her photoshoot changed for the better. Oh, and forget to show your beautiful smile to the camera!
#33: Show your body!
Remember the stick figure pose? You certainly don't want to reproduce that pose during your summer vacation. This is the perfect time to show off that body you've been working on! If you got a cute bikini cover-up, you could wear it in your pictures.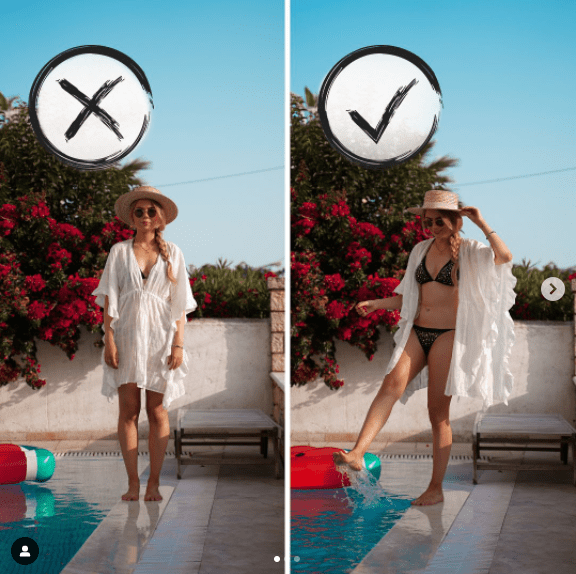 Just don't hide your body with the cover-up. Unbutton it and add motion to your photo. It's really not that hard, and the results will be excellent. Maybe play with the water and ask the photographer to capture that moment.