Amusing Memes To Whet Our Appetites For The Return Of The Fine Folk Of Bridgerton
By Louise P January 13, 2022
---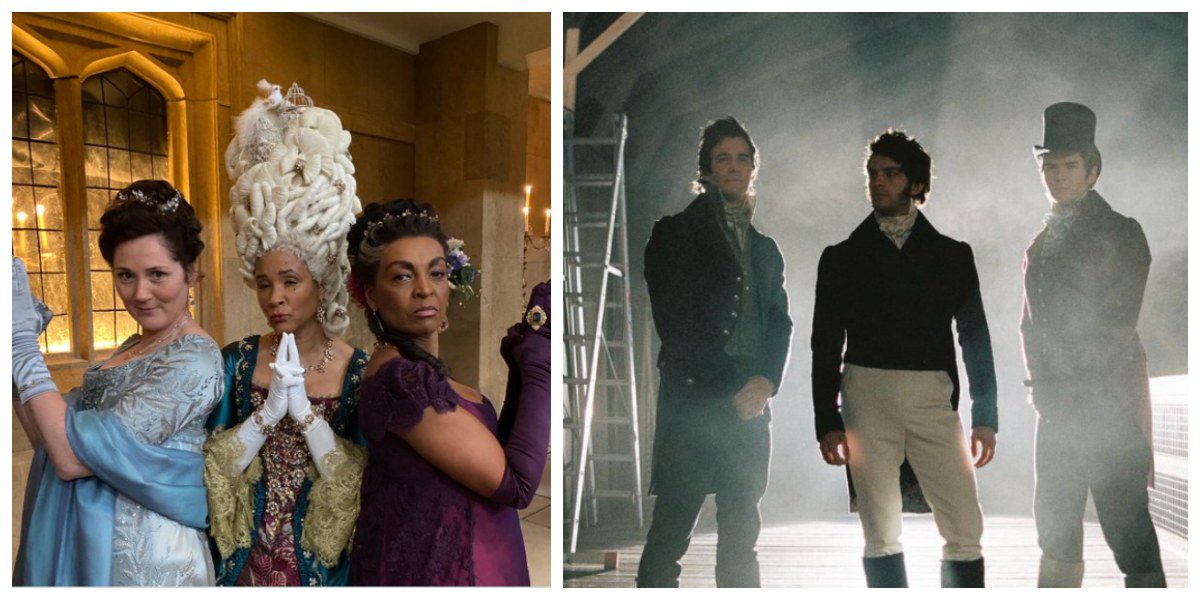 After the trash-fire of a year that was 2020, Netflix blessed the world with the most generous Christmas gift we could ask for. On the 25th of December, they gave us a series that truly deserves the title of "binge-worthiest of all time." Hours of steamy scenes, riveting drama, fantastic costumes, and over-the-top sets – what's not to love? Bridgerton was the gift that kept on giving. We could forget about everything going on around us and be whisked away to the good old days. The 1800s that is. A time when only one thing mattered: producing an heir. They have made us wait for more than a year, but season 2 has been set to release on March 25th. It will probably go down in history as the day the earth became whole again. For a few brief hours, everything will be good. But until then, here are 45 tweets that will get you excited while you wait!
The "Plot"
Admit; you all told this lie when Bridgerton first hit the scene. How is it that we are old enough to live on our own, but we are not mature enough to admit why we really watch this show?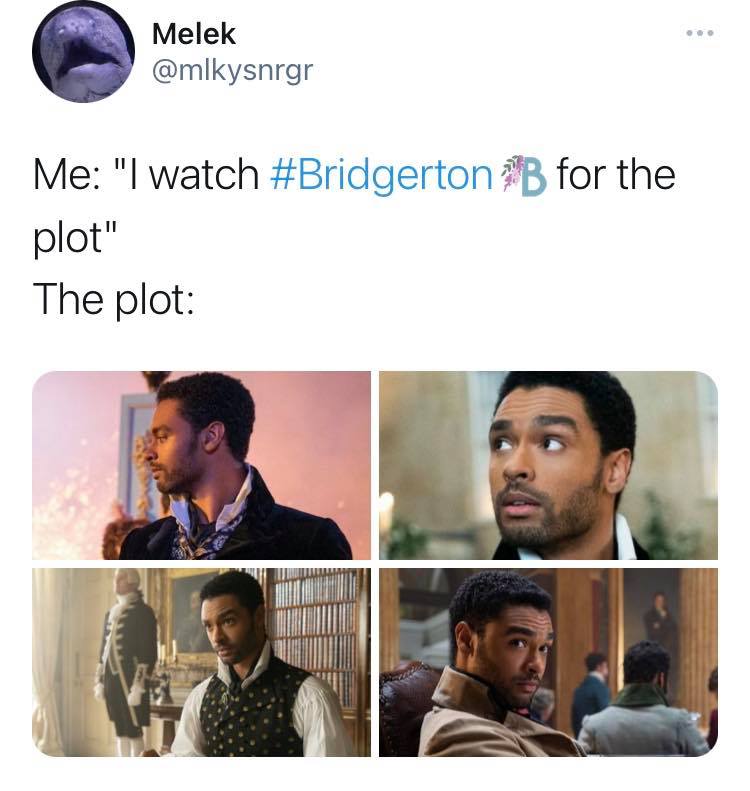 Yes, there is some intrigue. Yes, there is some drama, a few giggles, and great costumes. But this is totally secondary to the absolute god that is The Duke. Was that a collective swoon we heard? Good, so we are all in agreement.
#obsessed
From the streets of Troubles-era Derry to the equally dangerous ballrooms of Regency period England, Nicola Coughlan is our latest Irish obsession. Her double identity as seemingly innocent Penelope Featherington and Lady Whistledown made for a shocking end-of-season reveal!
How the show will continue to keep viewers interested afterward remains to be seen. Luckily our cast of characters remains unaware of the sly gossip columnist's true identity. All we know is, we are ready for her to spill the tea on everybody again next season!
Ask Siri
Big spoon or little spoon? We are ready to be both, depending on what the Duke needs. As a famous man once said, "Ask not what your Duchy can do for you." Now that you mention it, we wouldn't mind being the yogurt either!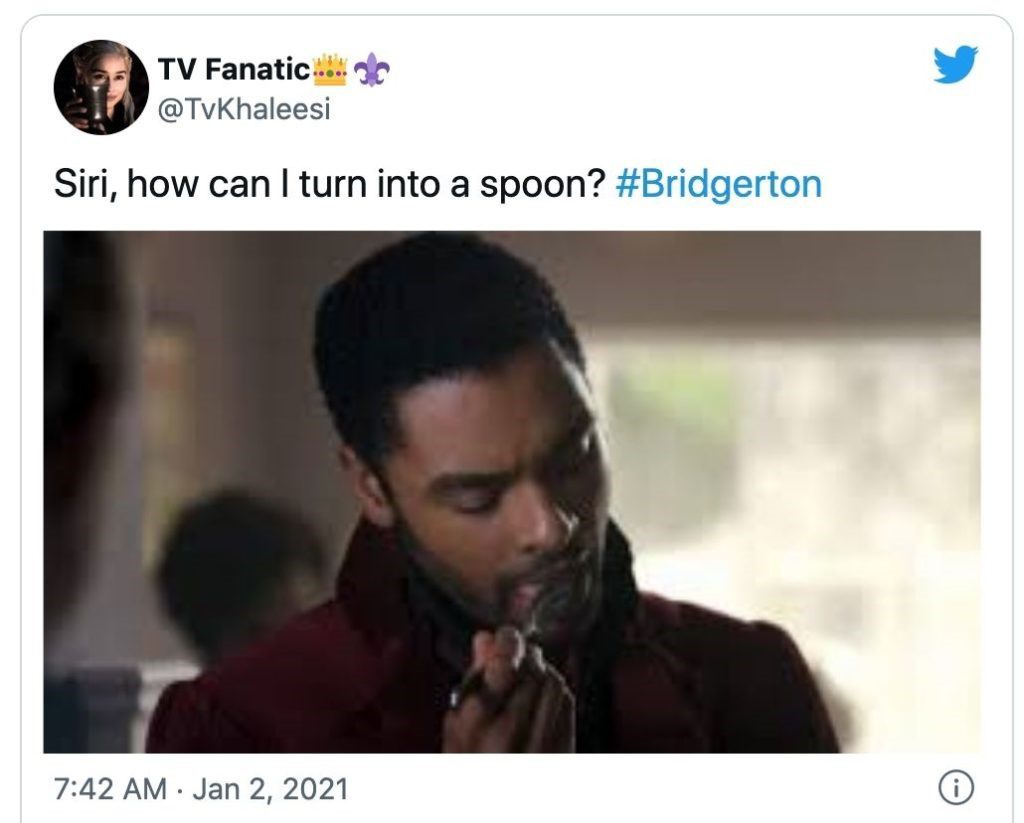 We are just happy to see his grace taking in some much-needed sustenance in between fiery romantic sessions that would make the stuffiest among us blush! "Is your blood sugar low, your grace?" Let's add some honey to boost his energy. He will need it!
Cover Stars
Looking "fresh to death," the Duke and Duchess of Hastings have joined us in this century by gracing the cover of Vogue. What is their secret for staying so gorgeous after 200 years? Whatever it is, we hope they will share.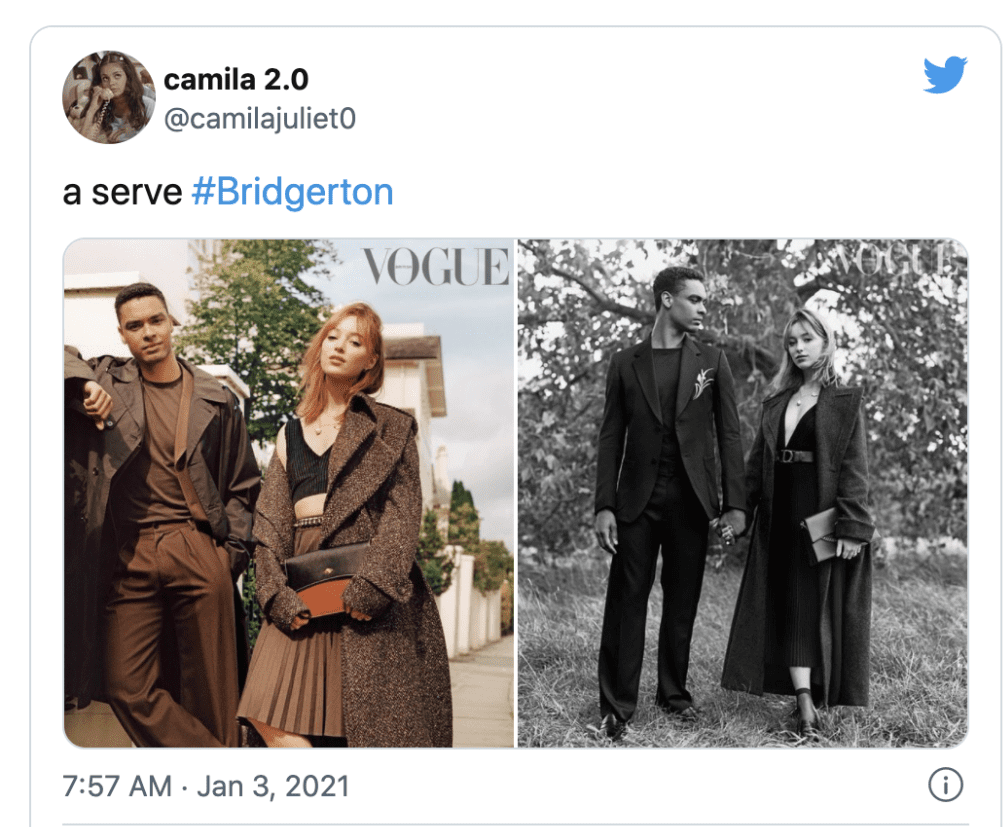 It comes as no surprise that Ms. Rhimes plucked these actors out of the woodwork for our viewing pleasure. Ok, maybe they are good actors too! We have to admit that Shondaland is famous for presenting diverse and good-looking casts.
OG Social Distancing
One would think that the Duke's skills had failed after seeing the shotgun-style wedding they arranged for him. Excuse us, but we are not marrying a duke without a string quartet and the Vienna Boys Choir performing! Is that too much to ask?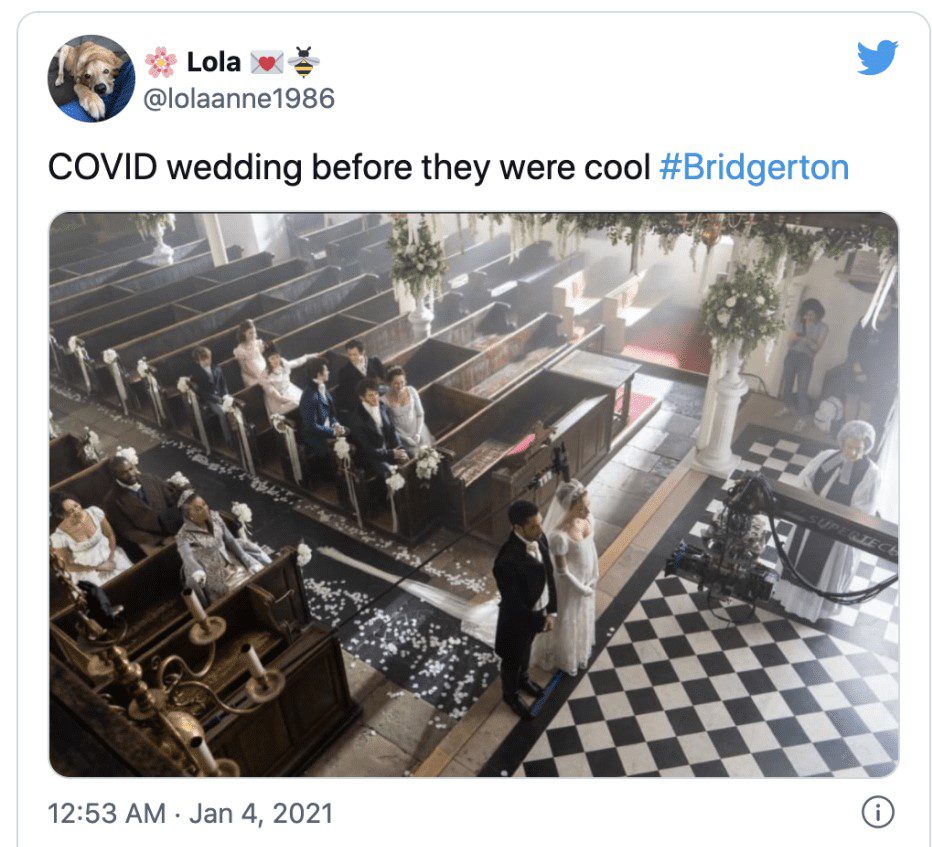 Also, would it have broken the bank to turn on a few more lights? Or maybe pass around a few appetizers? But we suppose for the sake of love, we must sometimes make do without the frills and pomp we want.
High Brow
"Mother, may I sleep with Danger?" Well, call us Tori Spelling because it is too hard to resist. When he puts on that hungry lion look, we are ready to be his easy-to-catch gazelle. Eat or be eaten is the law of the jungle, after all.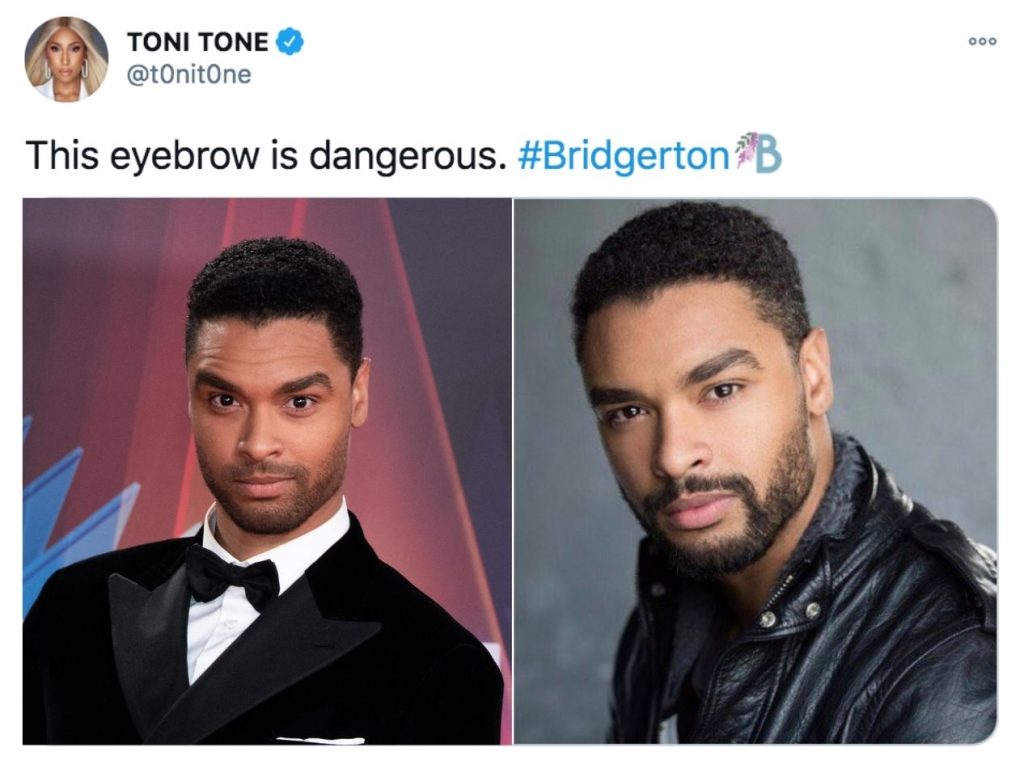 Some would be afraid of that arched eyebrow, but we are ready to be swept up in his brooding gaze. We know his shell can be cracked. Does anybody have a hammer? We are flies caught in his web, and we wouldn't change a thing!
Double Trouble
What is it about two gorgeous men that forces them to be best friends? Perhaps the titles of Viscount and Duke helped? What is clear about these two former classmates is they fell out of the beauty tree and hit every branch on the way down.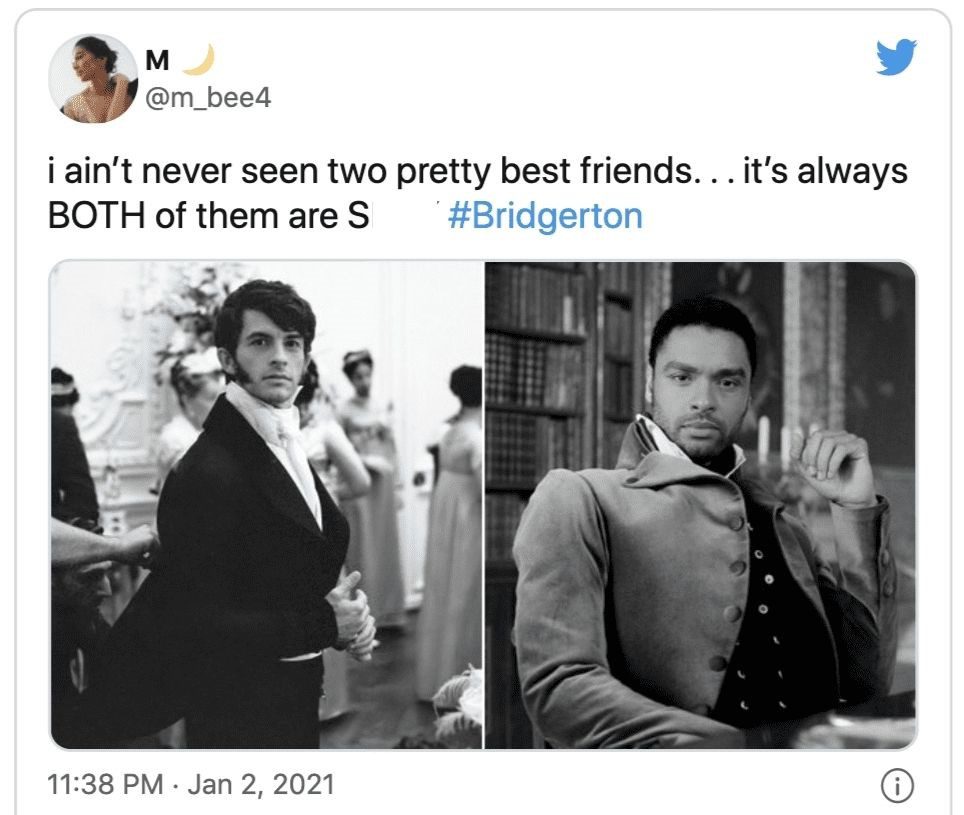 Was anybody else hoping they might even give each other a little smooch? We can dream anyway! We are sure Shonda would have been down for it too! What better way to cement a friendship than marrying the other's sister?
Dream House
We cannot be the only ones who dream of living in a Regency Period land of parties and balls and group dances! Was the macarena invented yet? Luckily we can still dance to Taylor Swift songs, this time performed by an orchestra!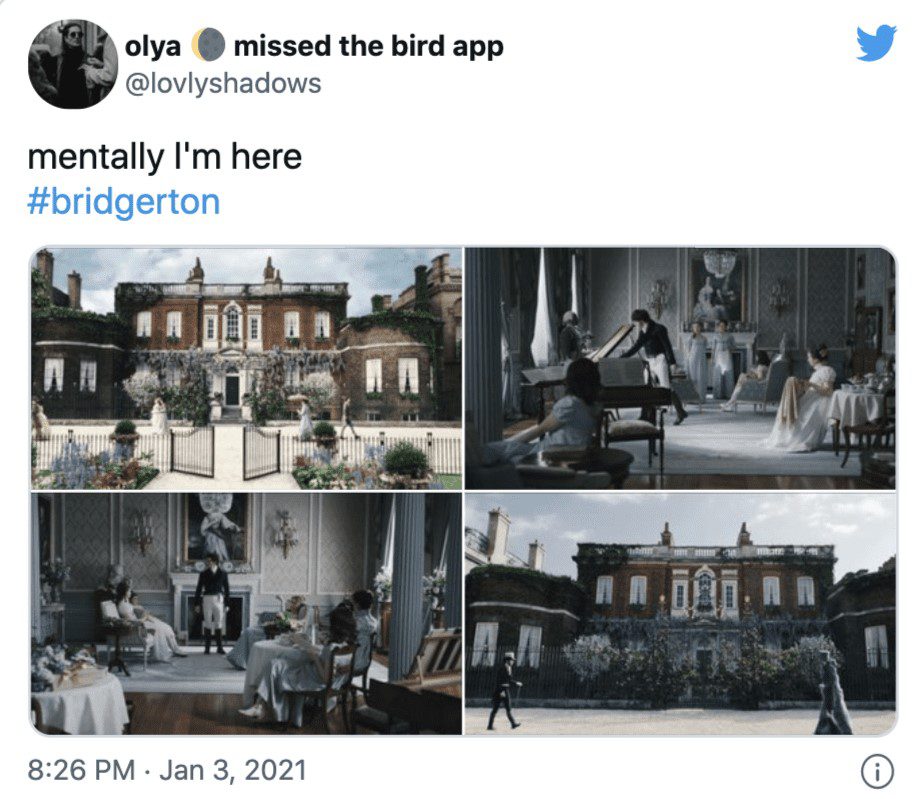 Bridgerton producers dazzled us with beautiful scenes from locations in Bath, Yorkshire, and London. Excuse us while we book our flights to Heathrow, first-class perhaps? For now, we will have to just imagine ourselves there or simply binge season one all over again.
You're Crying!
Now, we were not sure where the Duke was going with this speech in the beginning, but by the end, we were definitely weak in the knees! Just say the magic words, and let's get on with the show, bestie!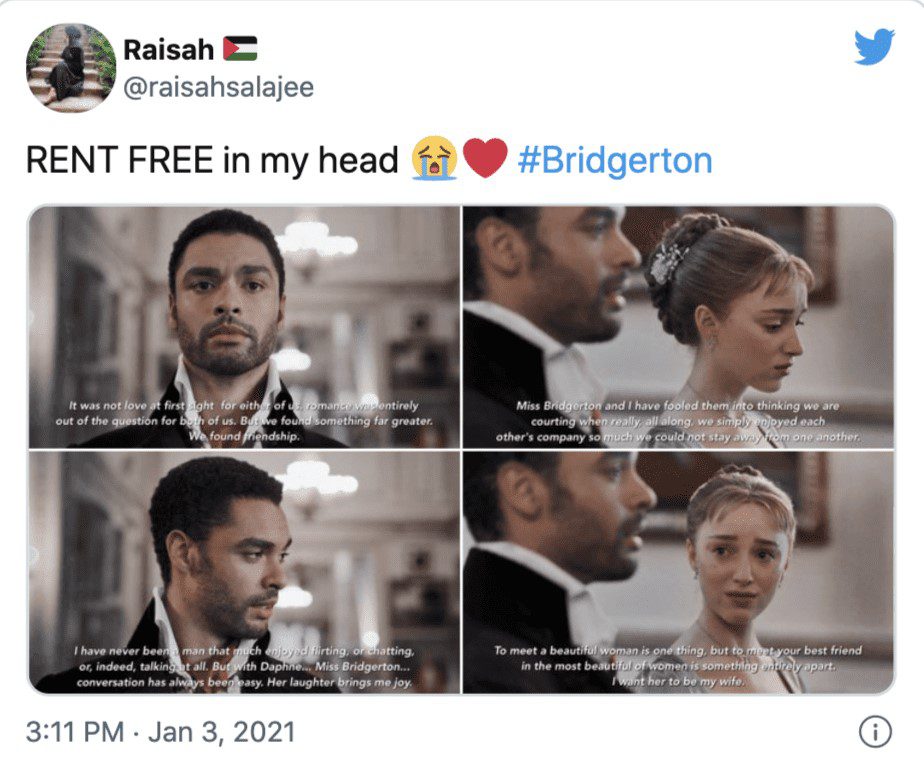 We always suspected there was a secret softy lurking under the Duke's stony exterior, and finally, we had some confirmation. What even is romance without a bit of drama? His Grace certainly has a devilish way of using his tongue.
Long Live the Queen
Queen Charlotte was certainly not afraid to slay a look! As the secret power behind the throne, she ran the affairs of state during the day and the matters of the Georgian social scene at night! Queen of Fashion would have been her most fitting title.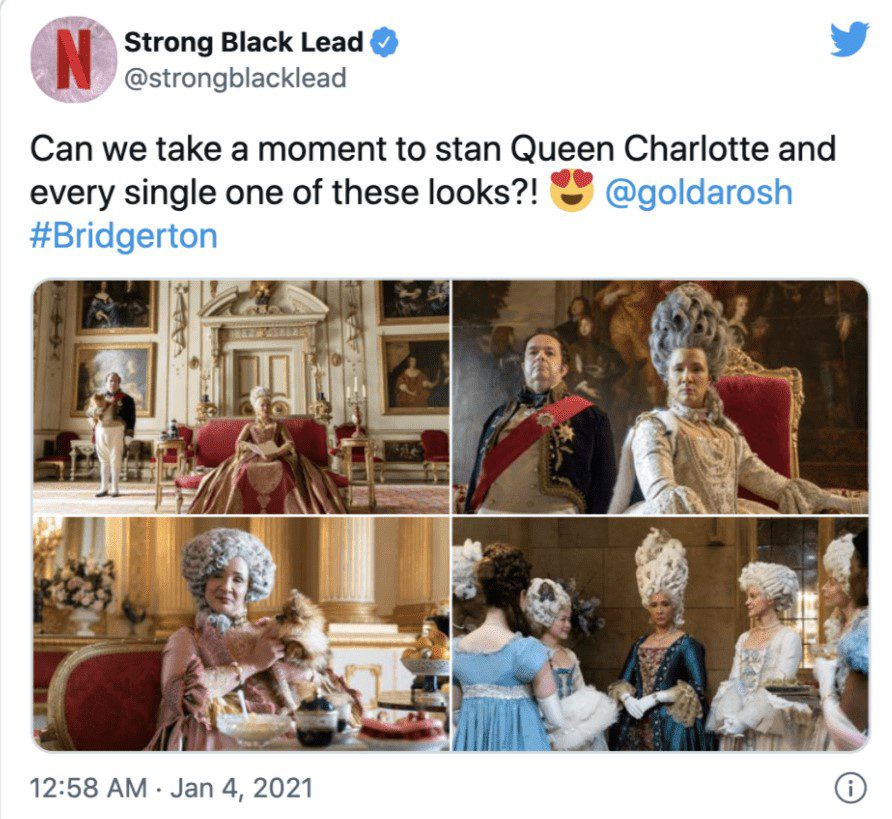 She had an ear for gossip, too, as Lady Whistledown's most avid reader. That's why her hair is so big; it's full of secrets! Let's meet her behind the palace and get the tea on all the intrigues of high society.
The Only Man for Us
Everyone talks about the fabulous ensemble cast of Bridgerton. However, we are quite certain there was only one person in the series. His. Grace. The. Duke. Of. Hastings. His gorgeous face makes us happy in all the right and wrong ways.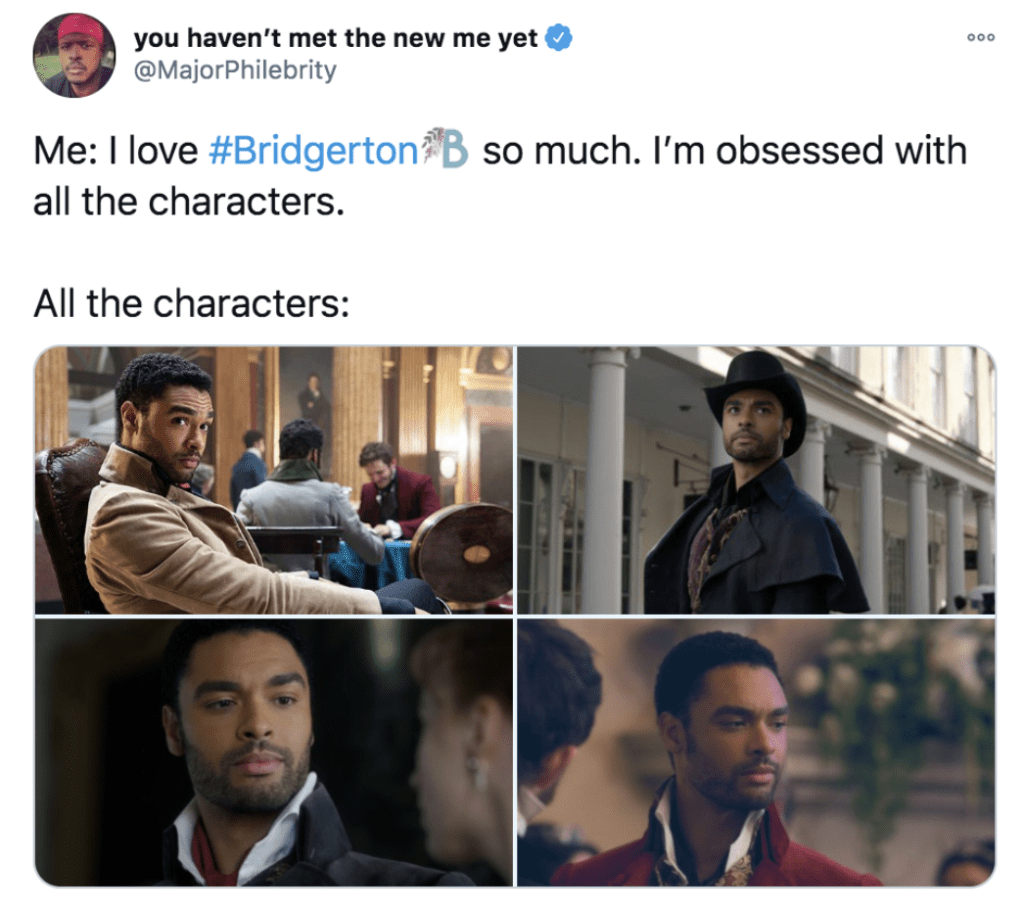 But really, all the other actors were just a means of advancing the Duke's storyline. Any other plotline was lost on us, but luckily Ms. Rhimes was not afraid to feature Hastings in all of his dukely duties, even the ones we weren't expecting.
Highly Underrated
Ms. Eloise was not afraid to share her budding feminist takes on Regency Era interpersonal relations. And we lived for every quip! She was a breath of fresh air, using her razor-sharp wit to put men in their places with style.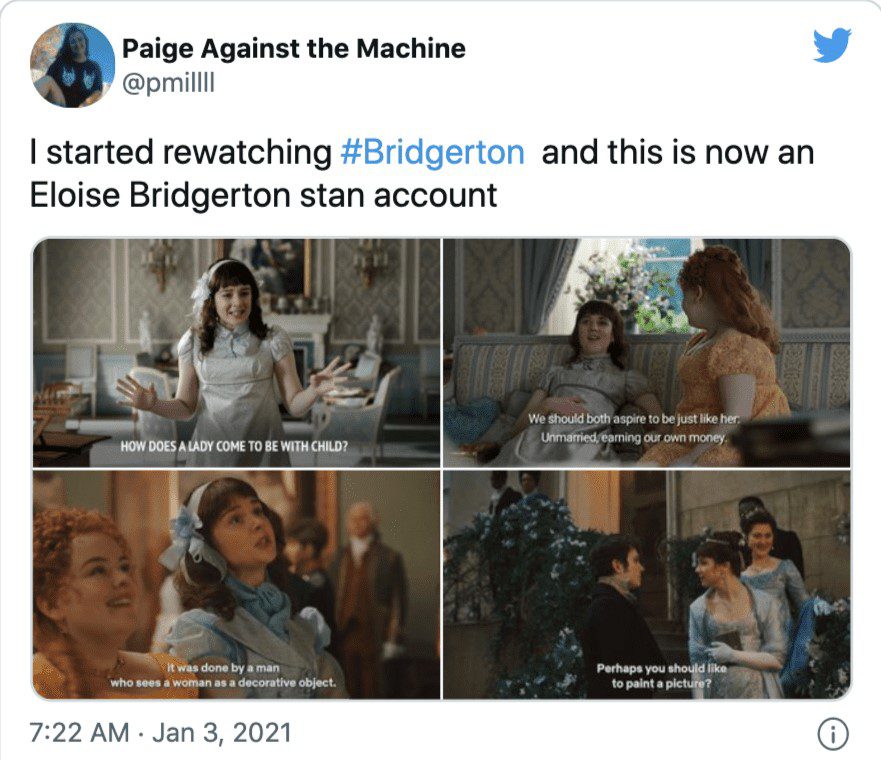 She also showed us the stunning ignorance people had at that time about the taboo subject of "where babies come from." Perhaps she thought the stork would deliver her sister Daphne's child. We hope she found out the truth on her own.
Immaculate Conception
Everyone breathed a sigh of relief when the Duke finally gave Daphne his gift. From the beginning, we knew it! We knew the duke would give in to Daphne's demands and finally bless her and us with a child! Vindication is sweet.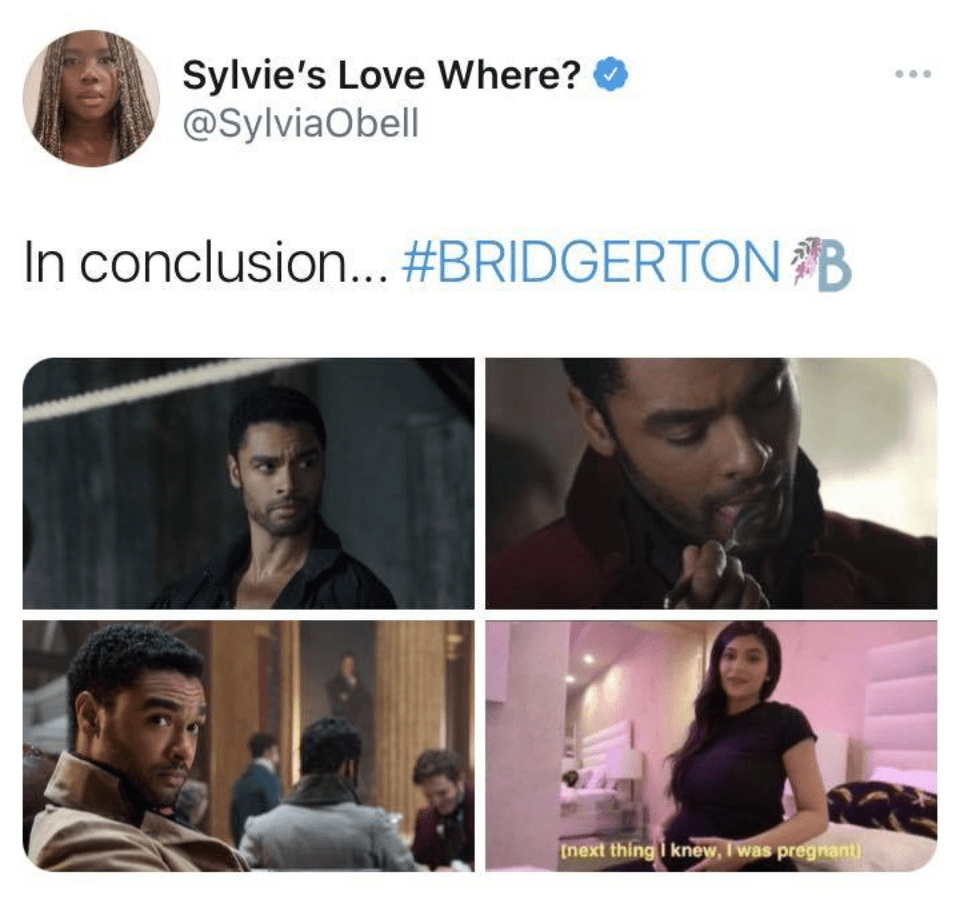 It is our natural urge to reproduce, and while the Duke acted skeptical at first, he certainly enjoyed the process! Were they surprised about the results? We can't help but wonder where things will go from her. Will they have a whole baseball team's worth of kids?
Romance Overload
Bridgerton certainly is not a traditional romance. Daphne and Simon seemed to only consider each other as a potential match of necessity. Especially in a time when women needed to be married to be deemed normal! Men were under no such obligation.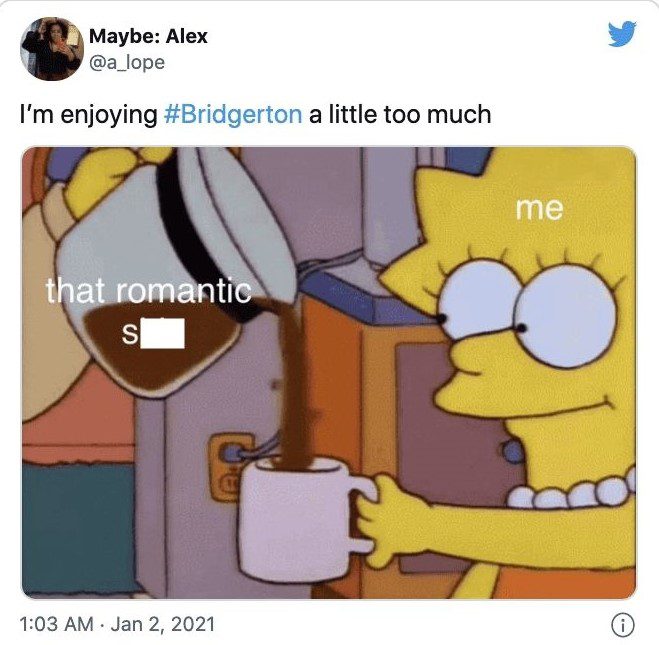 Every time a spark of romance flashed across the screen, we viewers were certain to lap it up! The compelling way they finally revealed the love between the two was so satisfying. Not to mention the stunning visuals they provided us!
Victorian Jonas
You might think you are about to see the formation of a boy band, but no. It's just the dashing Bridgerton boys. Throw in the girls, and maybe we will have a Brady Bunch-style music group in the making. Even the kid brother is there!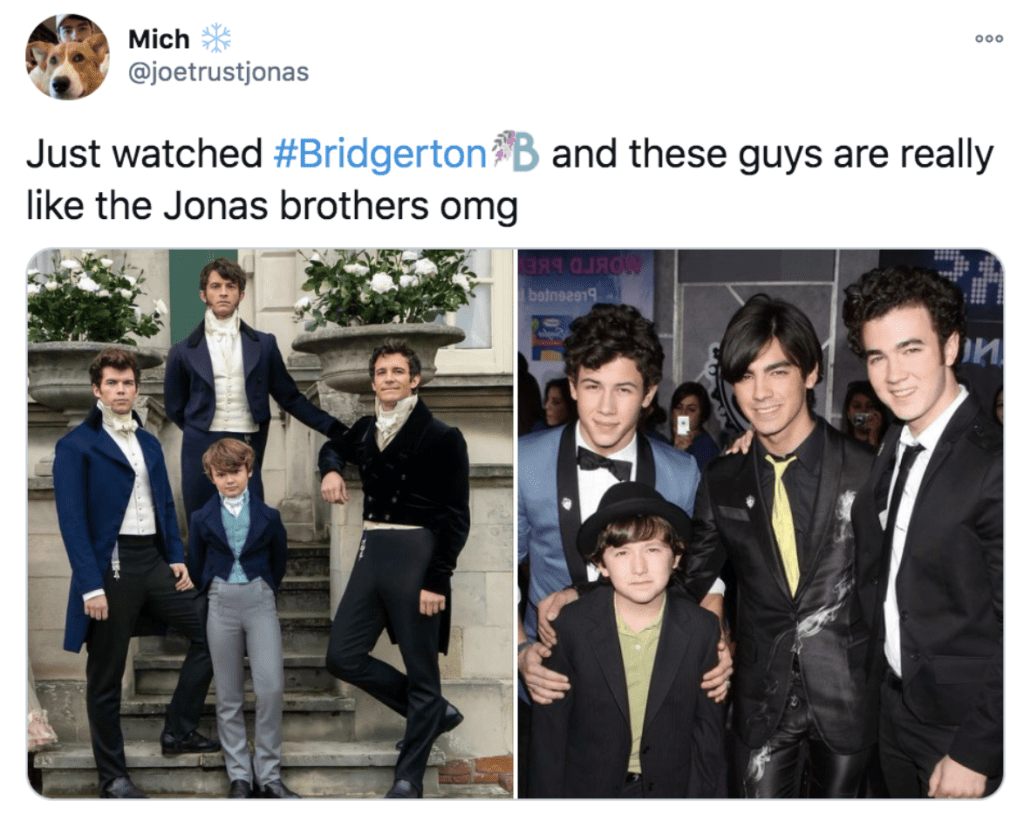 Given the time period, perhaps a string quartet would be more appropriate for them. Sadly, the Bridgerton boys do not seem to have musical ability, but is that even necessary, really? We would be front-row center for that show anyway!
Play the Classics
If you found yourself suddenly wondering why all of the string quartet songs sounded so familiar, we couldn't blame you! To add a touch of modernity to the setting, the producers made the fabulous decision to put our favorite hits from today into the show.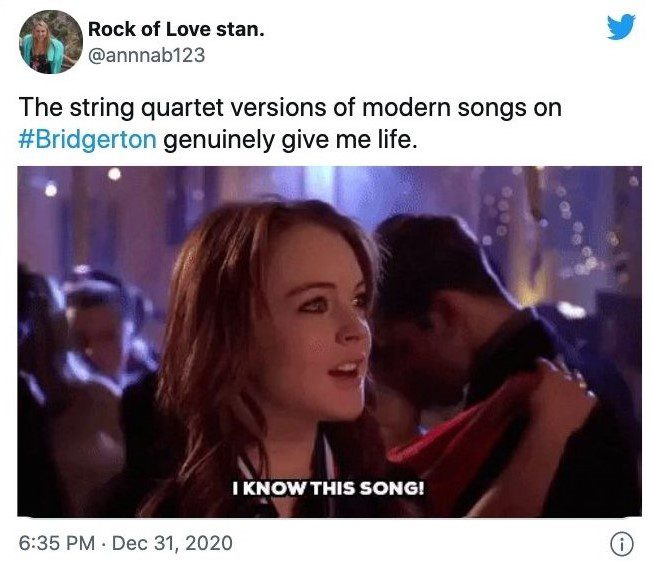 Hits by Taylor Swift, Ariana Grande, and Billie Eilish were transformed into classical music by the series composer Kris Bowers. The effect is marvelous and helps us connect to the period piece in a new way not often seen before.
One Can Dream
For too long, we have been forced to stay at home, playing cards with our teddy bear collection and dancing with our dogs. Ok, some of us like dancing with dogs even under normal circumstances. We know the dog from AirBud could surely bust a move!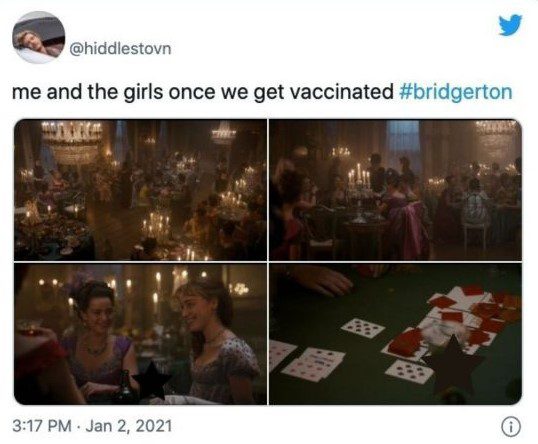 Last year began with so much hope that we would all be able to meet our girlfriends again at billiard halls and odeons. Or whatever people do this century… Maybe we'll just go back to playing strip poker over Zoom while we wait for season two.
Naughty Anthony
Those sideburns and that devilishly sly smile make Viscount Anthony Bridgerton the second most eligible bachelor in the series. His innocent appearance certainly makes up for his rather, uh, unsavory behavior. He definitely should have been more careful, but hey, it's fiction.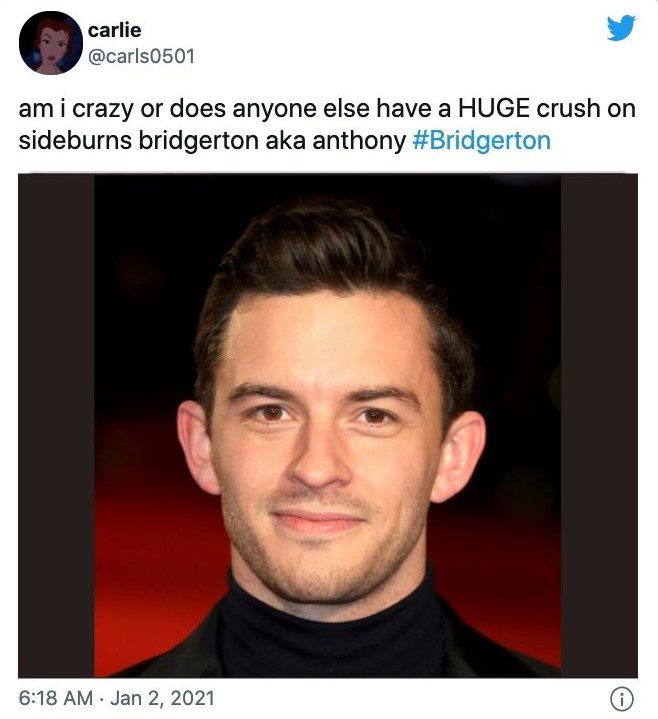 If he can settle down long enough to fall in love truly remains to be seen, but we believe Daphne's elder brother has a heart of gold and will make someone very happy one day. Without the Duke in season two, perhaps Anthony will become our new heartthrob!
XOXO
The number of similarities between Gossip Girl and Bridgerton is truly staggering! From the disembodied mysterious yet all-knowing narrator to the sexy scenes and glamorous parties, they almost have the same spirit! Bridgerton just happens to give off a more refined take on the popular CW show.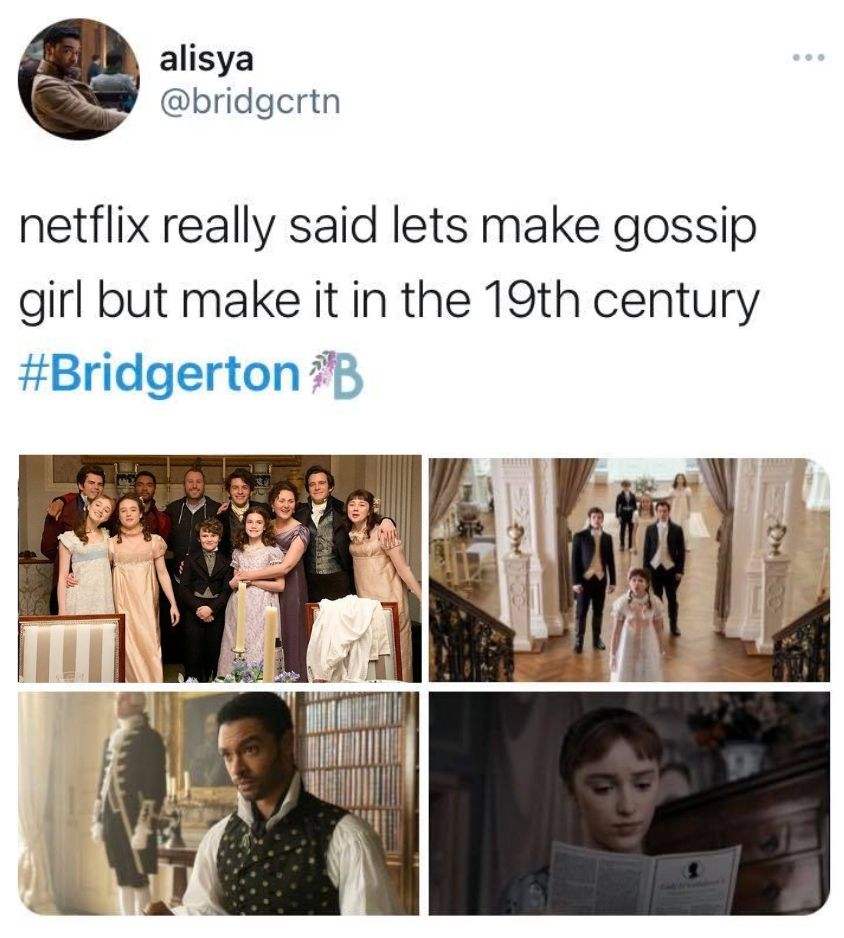 We have to admit, though, Gossip Girl does not seem to have quite the same man candy that Bridgerton offers us. From the Duke of Hastings to Viscount Anthony Bridgerton, that show is rife with gorgeous fellows, and they even get fabulous outfits!
Macho Man
Although he spent the series largely upstaged by his more attractive friend, the Duke of Hastings, Will Mondrich, portrayed by Martins Imhangbe, gave us a lot to dream about. He obviously needs someone to tend his wounds after boxing matches! We volunteer as tribute.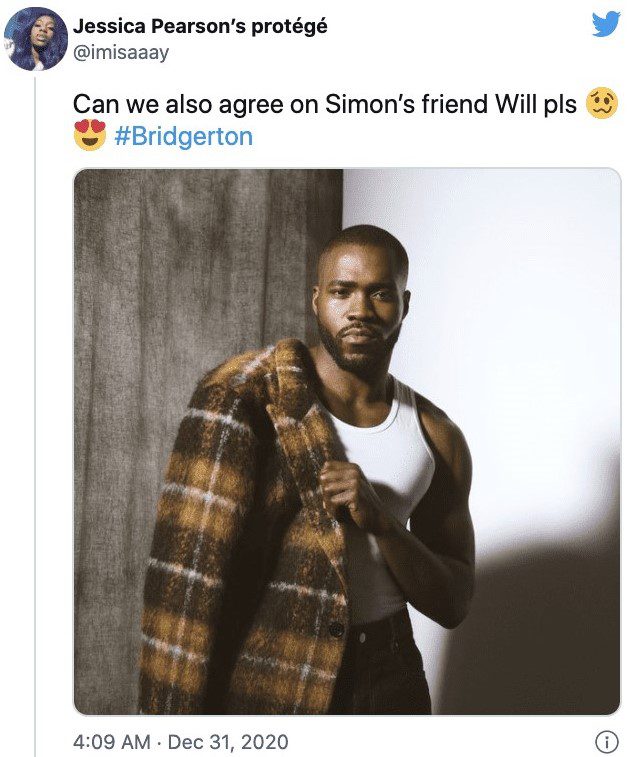 As the true beefcake of the season, Will impressed us with his extreme fighting skills, and he proved to be a skilled warrior in the ring and outside! A man who can fight and come home to a wife and kids is just what the doctor prescribed.
The Perfect Setting
Is this a Thomas Kinkade painting or a Netflix show? The location experts behind Bridgerton found some of the most idyllic places to capture the story. We certainly feel like Georgian aristocrats when imagining ourselves there. Fancy a stroll in the rose garden?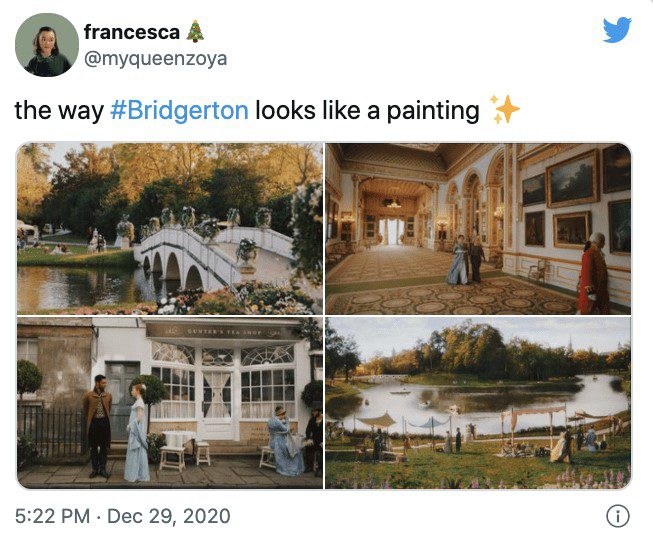 Does anybody else feel inspired to put on long flowing gowns and wander regally through some picturesque scenery? Perhaps a dramatic wander through a drafty castle? We can be sure these outfits were not comfortable in the summer anyway, but the Duke can help us get more comfortable.
If Looks Could Hurt
Not only was she serving looks and bagging the number one hottie of the series, but she also knew how to serve an emotional glance or two. You might think she is constantly getting her feelings hurt, but it may just be a nervous tick.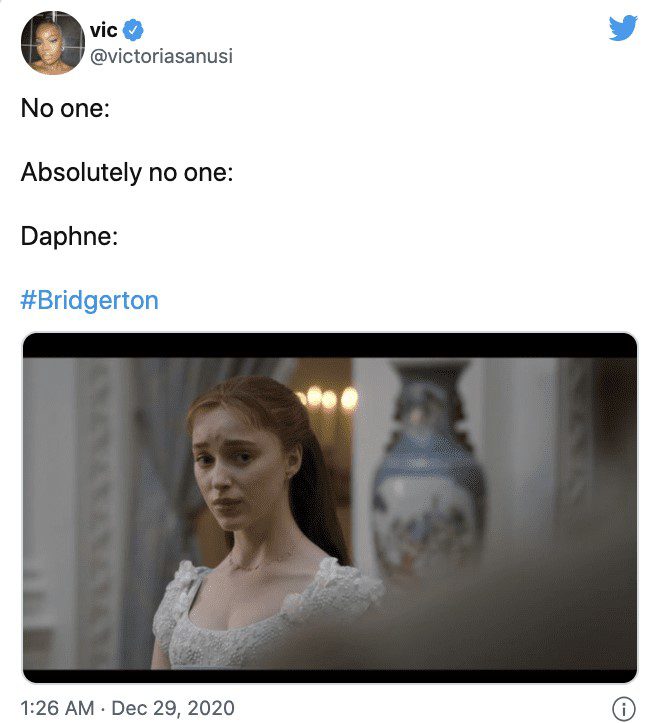 But no, we love Ms. Daphne, or should we call her the Duchess of Hastings? She certainly had an emotional roller coaster ride this season between her liaisons with the Duke and her failed engagement to Prince Friedrich of Prussia.
Tick Tock
How long do we have to wait for the next season of Bridgerton? It feels like years since we last visited Regency London. Can we have more now, please? It has simply been too long since we got to follow the lives of the elites.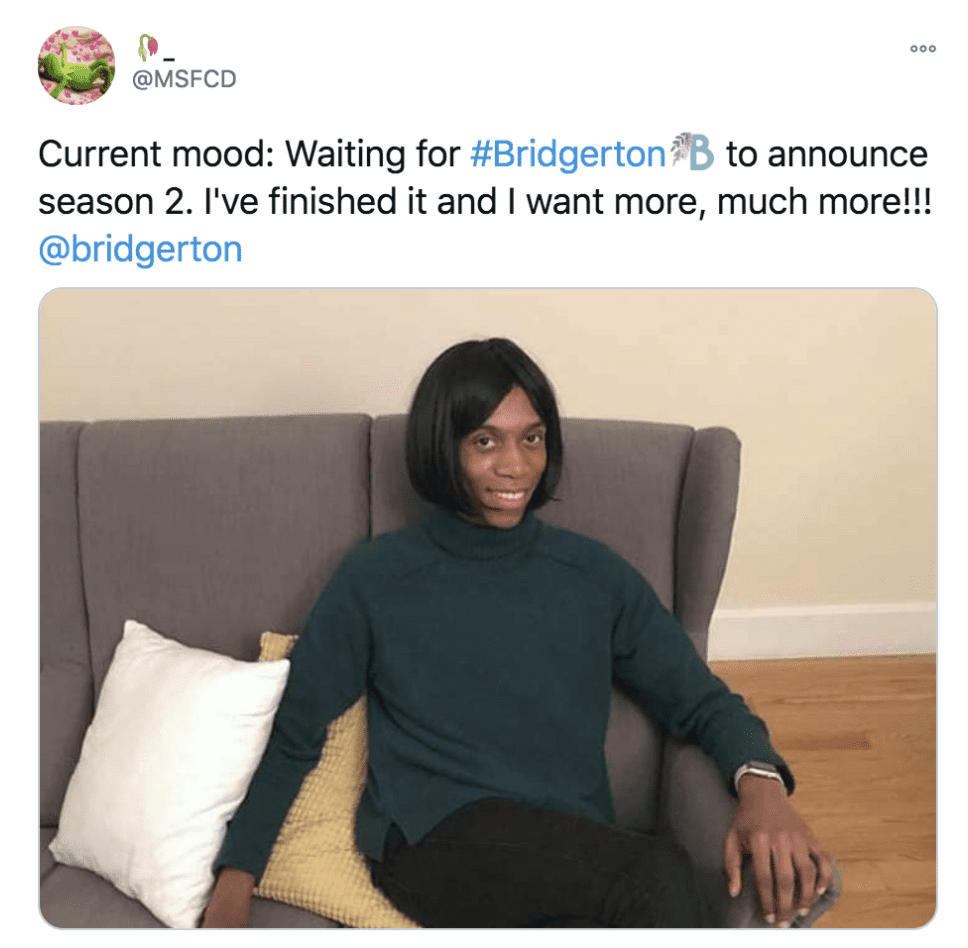 What better way to spend some downtime than by binging another season of our favorite show? We need more intrigue, more lavish balls, more pageantry, and more scenes that make us cringe when our parents are in the room.
Lady of the Hour
What is the old saying? "Behind every strong man is a stronger woman"? Well, Lady Danbury certainly plays this role for our dashing Duke of Hastings. Just when you think he will never find a woman, Lady Danbury pushes our beautiful couple together!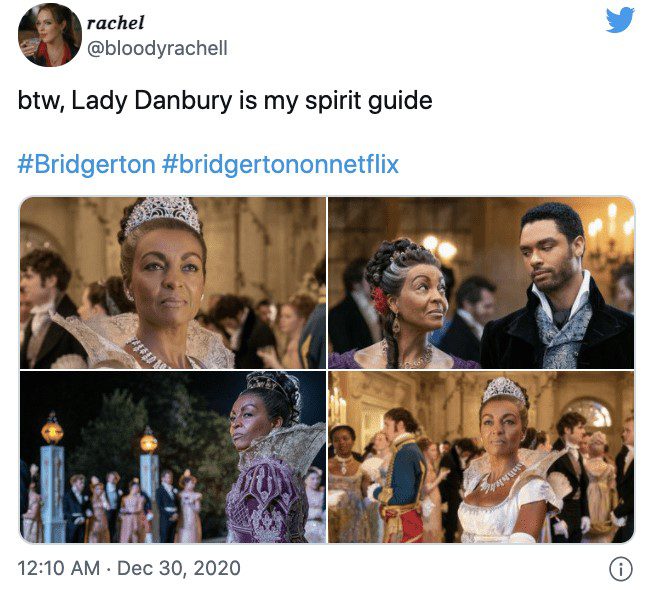 It is easy to forget that Lady Danbury was responsible for pushing Daphne and Simon together in the first place. And how did she go about it, you might ask? With a delicious taste of the Duke's favorite gooseberry pie.
Twinning!
And how exactly did Daphne and Dwight Schrute end up with the same bangs? We have to assume The Office and Bridgerton hired the same hairstylist. We think it also bears a striking resemblance to her lunar majesty Sailor Moon.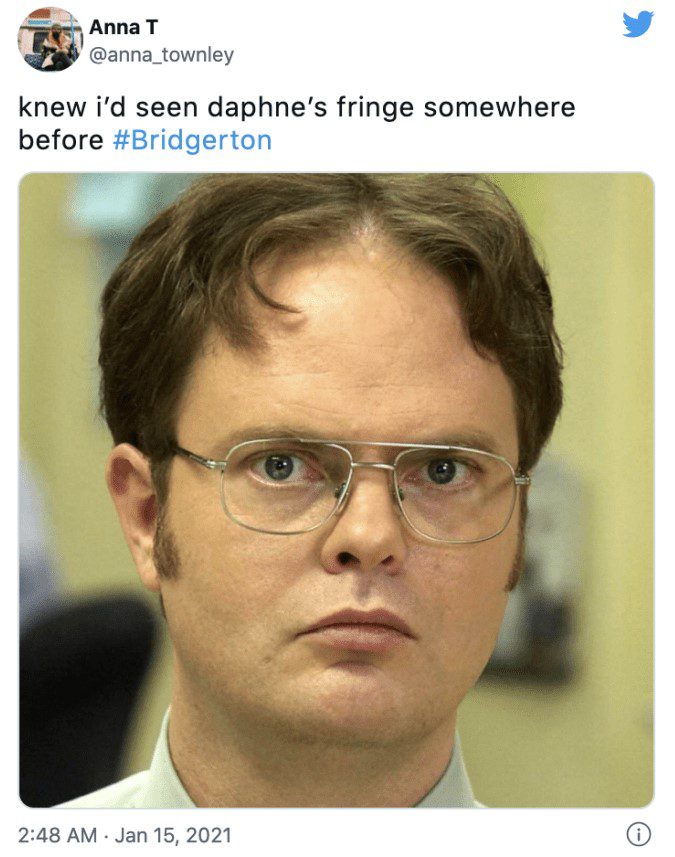 Did you also just imagine Dwight's face looking out from below Daphne's luscious locks? And imagine him in a gorgeous Regency Era gown! Dwight did have a flair for old-timey aesthetics, so it should come as no great surprise. Bears, beets, bangs.
Thank You, Next!
Was Lady Whistledown throwing shade when she suggested the prince? The title of Prince is certainly impressive, but she acts as if she has never even seen the Duke! The fact that we never saw the prince's abs tells us enough; he is not our show's heartthrob.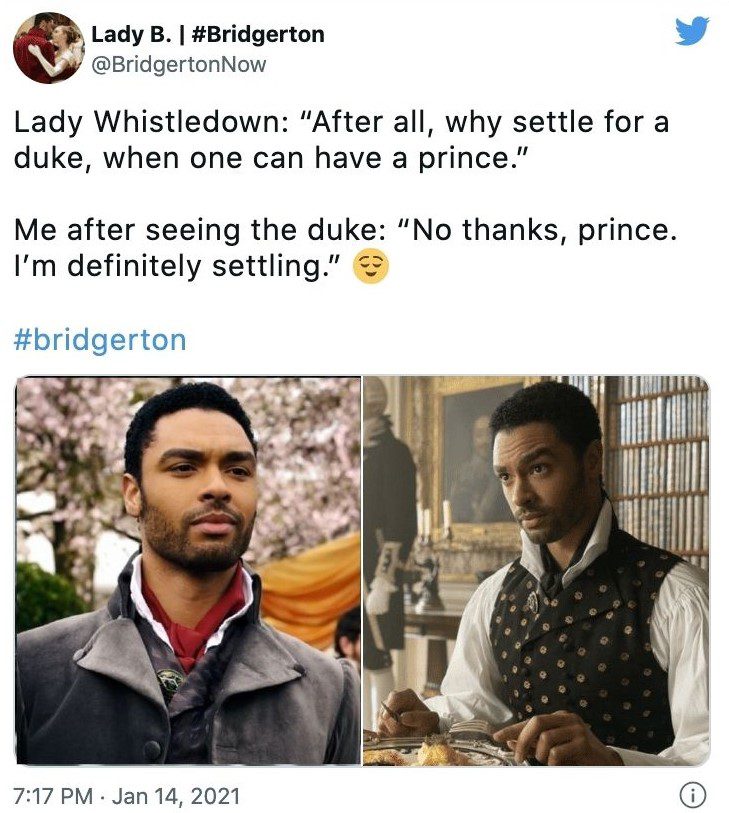 But we have to admit the prince did seem like a nice guy. And we all know what they say about nice guys? They finish last, especially in Georgian love stories. Or maybe he will be back to find a bride in the upcoming season!
All In the Name of Fashion
Could the ladies be any more cinched into these dresses? We are surprised there aren't more instances of ladies suffocating with how they are packed in! "Two peas in a pod" does not even describe how crammed full the ladies' braziers are.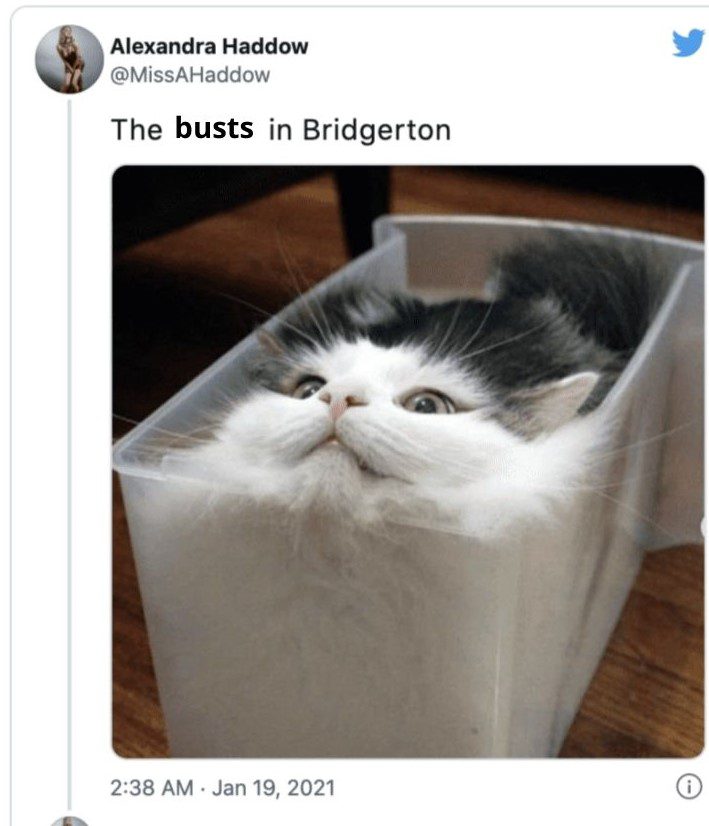 This was definitely the age of the corset and making women's waists as small as possible. At least his grace, the Duke of Hastings, seemed to enjoy this fashion choice. We just have one request: let the girls breathe, please!
Mystery Revealed
We don't have time to list all the similarities between Bridgerton and Gossip Girl. The number one similarity is the story's most controversial character, Lady Whistledown. The narrator of the show, who knows all the sordid details of every character's life.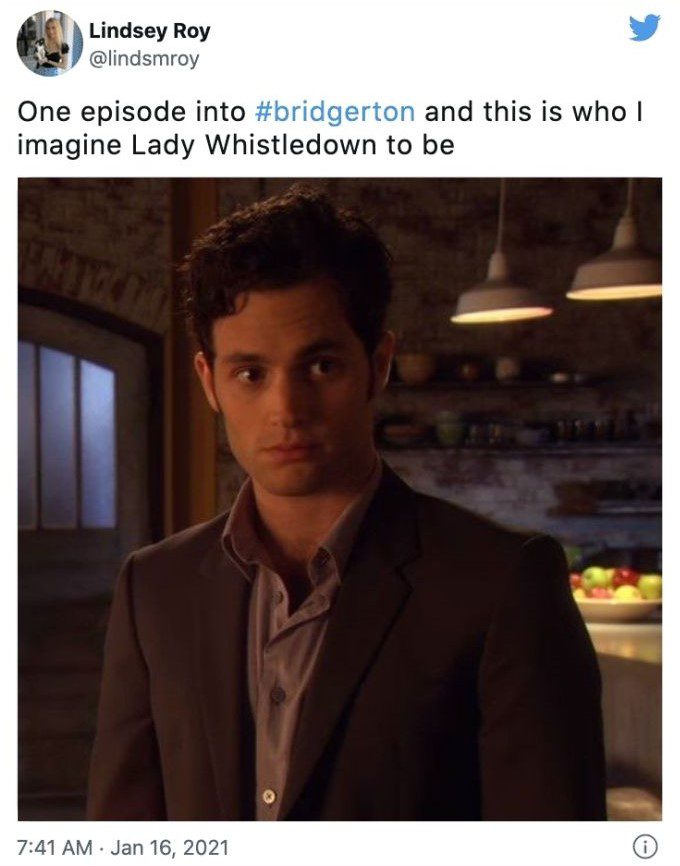 In the Bridgerton series, we learn that Ms. Penelope Featherington is the true identity of our disembodied gossip hound. However, the identity of Gossip Girl, probably even more surprising, turned out to be Dan Humphrey. That was not a man's voice! Sneaky.
Who Cares?
Excuse us, but we are far too busy obsessing over the social maneuvers at Grosvenor Square to pay attention to such trivial matters as what is going on outside of our cozy homes! This is what TV was invented for, people!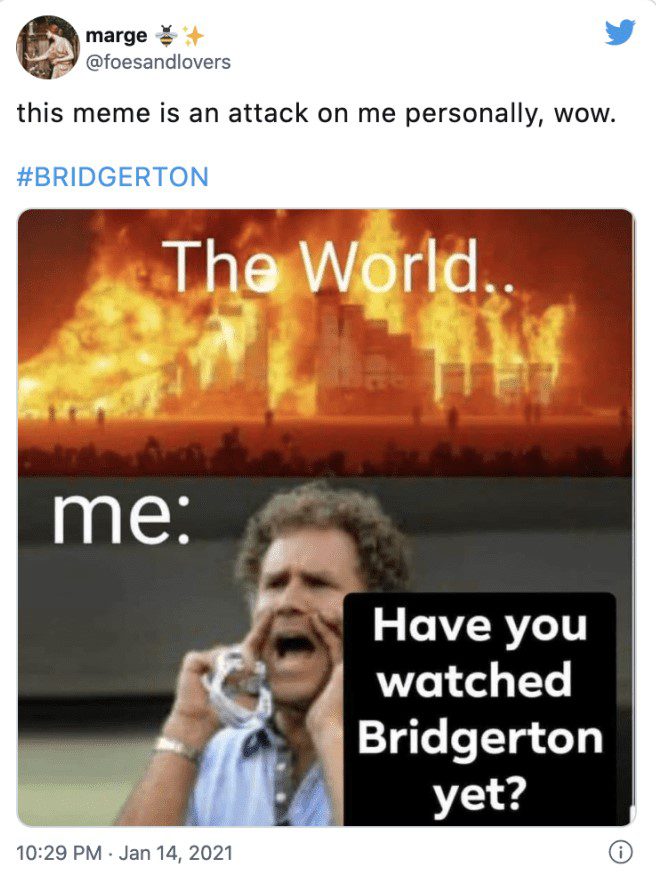 How else should we spend our days with so much time on our hands? If you cannot invite over your own dashing Prince Charming, at least you can while away the hours dreaming of Simon Bassett! What a way to spend an afternoon.
Bombshell
Lady Featherdown? Or is it Lady Whistleington? Nobody was surprised to find out that Lady Whistledown is none other than Penelope Featherington! Who else had access to so much juicy court gossip? Rewatch the series, and you'll see she was one smart cookie from the beginning.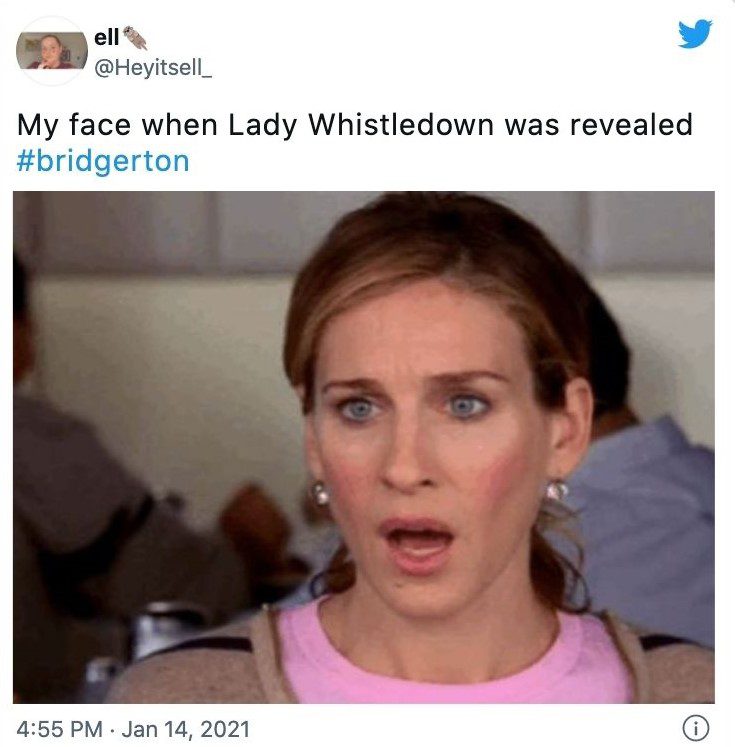 While some of you were sleeping on dear Penelope, others noted that she had a quick wit and was very good at reading a room. At least when she was not engrossed in a book of her own. The pen truly is mightier than the sword!
It's Getting Hot in Here
Well, hello, Viscount Bridgerton! And here we thought we were your only fans. Looks like there is some competition in that department! We're just glad that our dear actors had some relief from the heat generated by these restrictive costumes.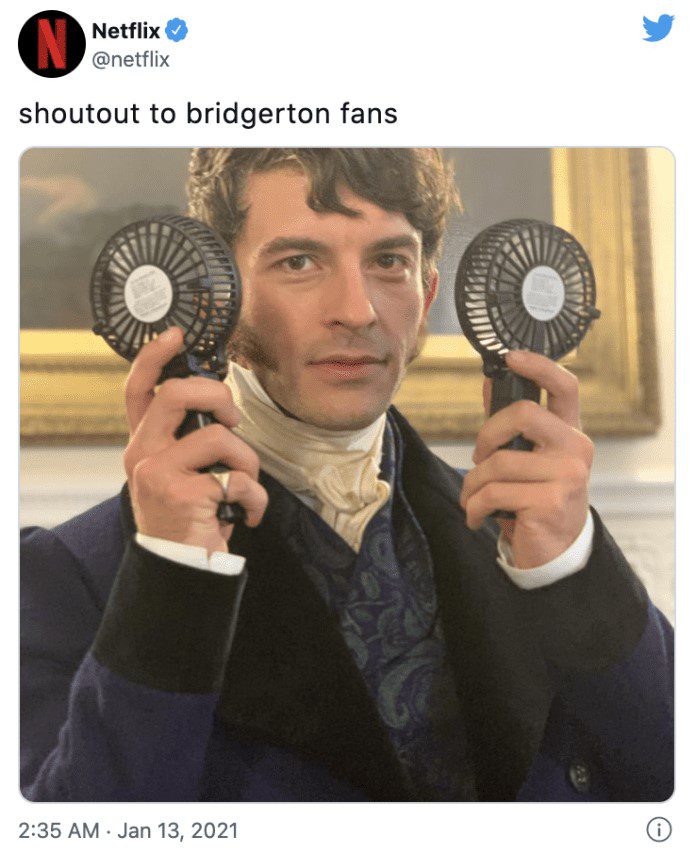 Can you imagine wearing a corset and nine layers while filming in the summer heat? We can't either! Luckily most of the filming wrapped in February of 2020. We bet the actors were still sweating profusely under all those lights, though.
The Audacity!
Imagine the worst person you can remember from Bridgerton. Who did you picture? Simon's father, the original Duke of Hastings? Maybe annoying elder brother Anthony Bridgerton? No, no, no, that honor goes to Nigel Berbrooke, the rudest and most disgraceful man to ask for Daphne's hand.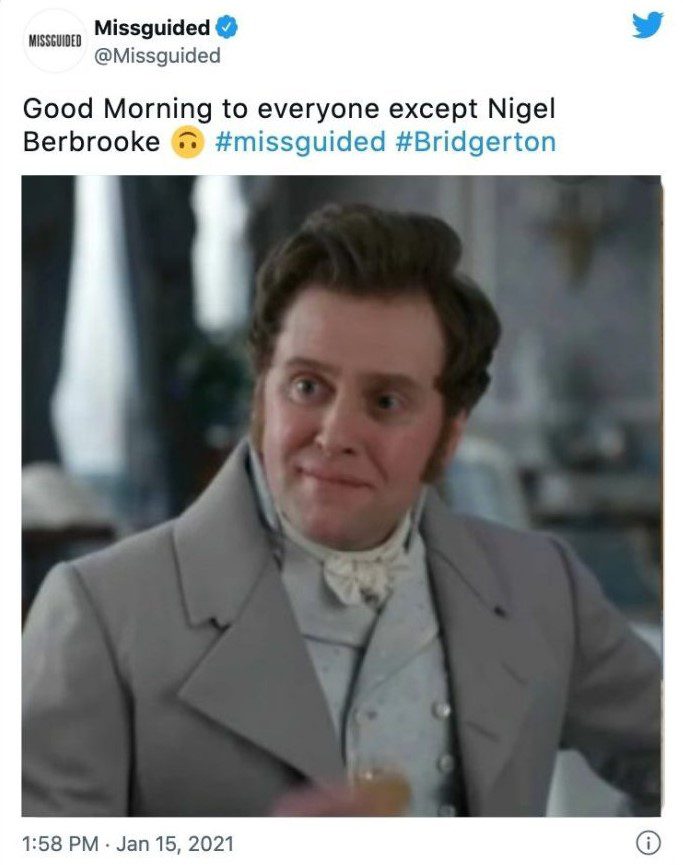 Lucky for Daphne, the Duke of Hastings displayed some uncharacteristic chivalry in prying her from Nigel's clutches. Although he was terrible in the show, the man who played him, Irish actor Jamie Beamish, seems to be a lovely man in real life.
Step Aside Jonas
While we can all take a few minutes to appreciate the Jonas Brothers, are they still even a group? Well, there is a new group of hunky brothers on the scene. And by scene we mean, the Georgian-era London social scene! As if there was any other.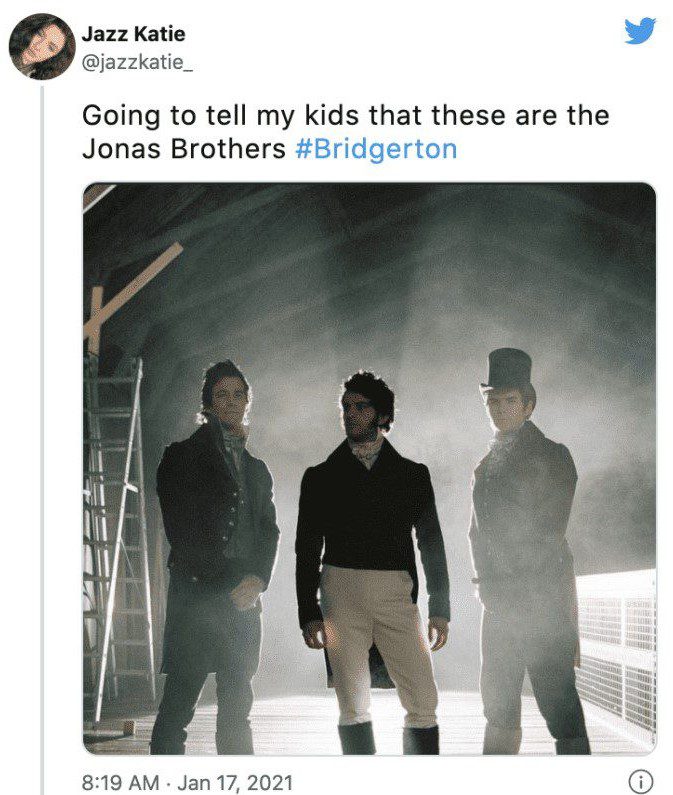 Maybe it's a good thing, maybe it's a bad thing, but the Bridgerton boys don't seem to be sporting any purity rings. If Anthony is anything to judge the others by, they will certainly make for prolific, if somewhat unreliable boyfriends.
No Love Lost
If we knew any better, we might actually pity old Nigel Berbrooke. Certainly, during the long nights alone, many of us felt rather rejected like he was. Luckily he proved himself to be a total jerk very early in the series.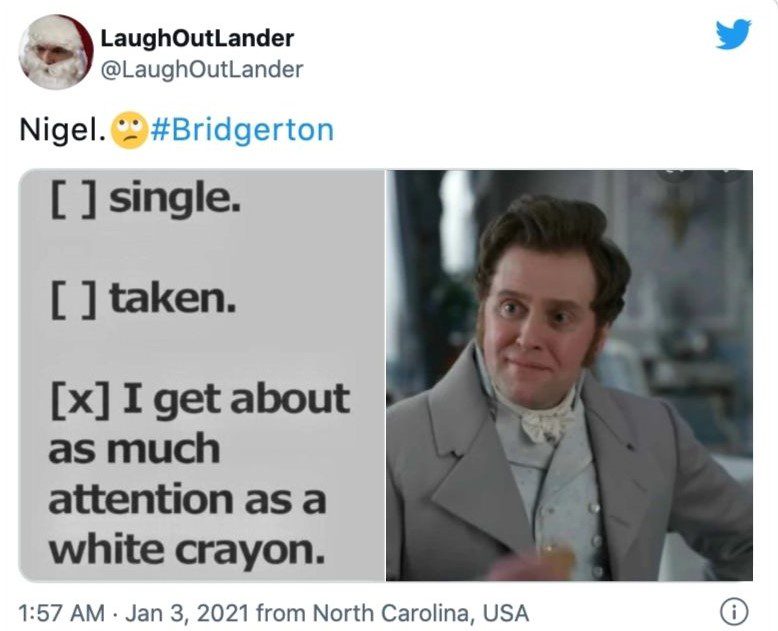 Needless to say, Nigel only had himself to blame for being the laughing stock of the 1814 social season. Let us hope he felt sick every time he imagined Daphne in the arms of the Duke of Hastings. We love imagining it, though!
So Long 2020!
We can all imagine Queen Charlotte scolding our dear Bridgertons for giving the finger! "One mustn't extend one's middle finger in such a vulgar manner!" If any year deserved such a send-off, it would definitely be 2020 – and 2021, for that matter.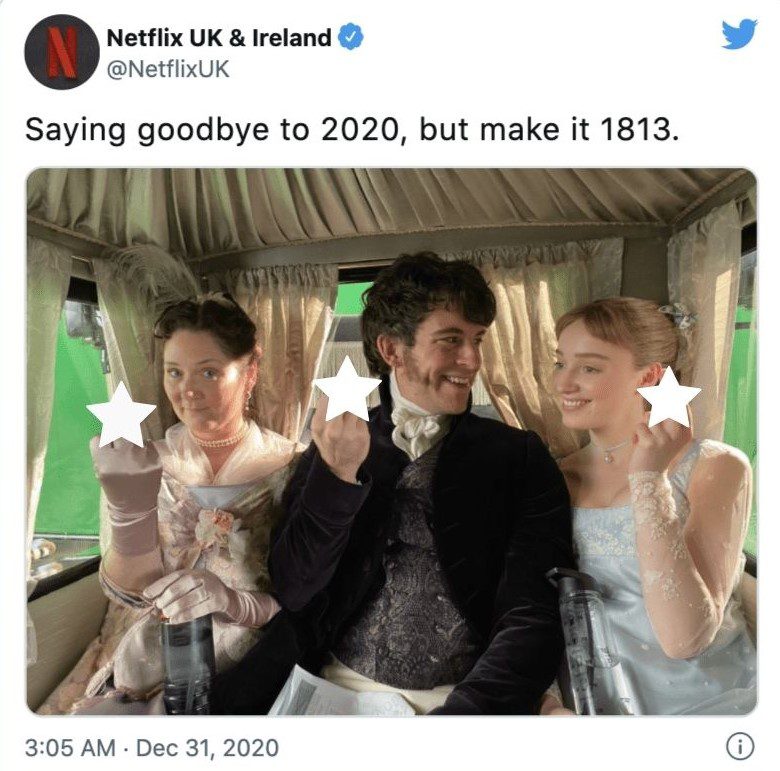 What exactly they are giving the finger to is hard to say just from the picture. They look way too happy to be upset or anything, so we will go with good old-fashioned silly humor as the motivator for this pose.
Sherlock's On Duty
How did we miss that she is Lady Featherington? There must be something we missed. Let's just casually peruse all the scenes with her in them for science purposes. Considering she knew exactly what to say to throw Eloise off from finding her secret identity…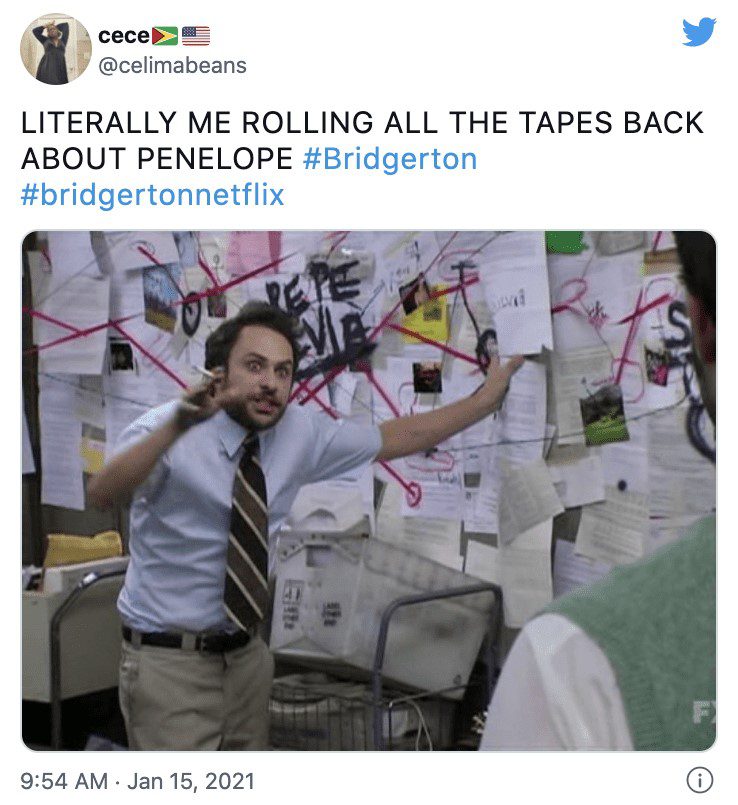 But it actually makes sense! In the first episodes, we can sort of tell that Penelope is not directly participating in the social scene. She wants to stay home and read books and work on her studies. She was truly ahead of her time.
Charlie's New Angels
Ms. Rhimes is truly the only one who could serve up such amazingly strong ladies like these three. The secret powers behind the King, the Duke, and the Viscount. A King, a Duke, and a Viscount walk into a bar… Heard that one before?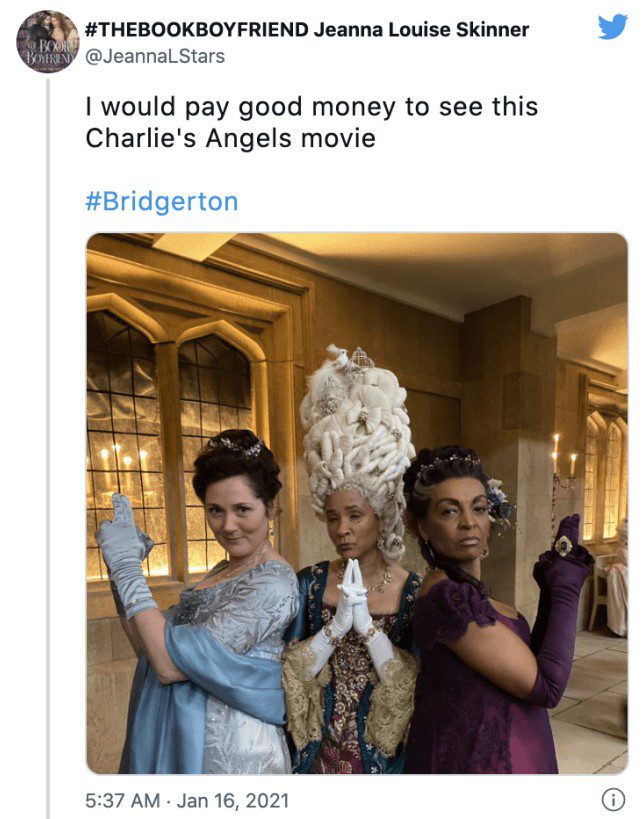 If any three ladies of a certain age could stop crime and foil dastardly plots and catch heinous criminals, it would be these three. Daphne and Simon's children should certainly be thankful these three were around to bring their parents together!
Warning
Come for the drama, stay for the… other stuff. Perhaps an opening disclaimer should be made: "Best not watched with your parents." Netflix really outdid themselves with the romantic developments, we'll call them, between characters. But wow, does this meme nail it.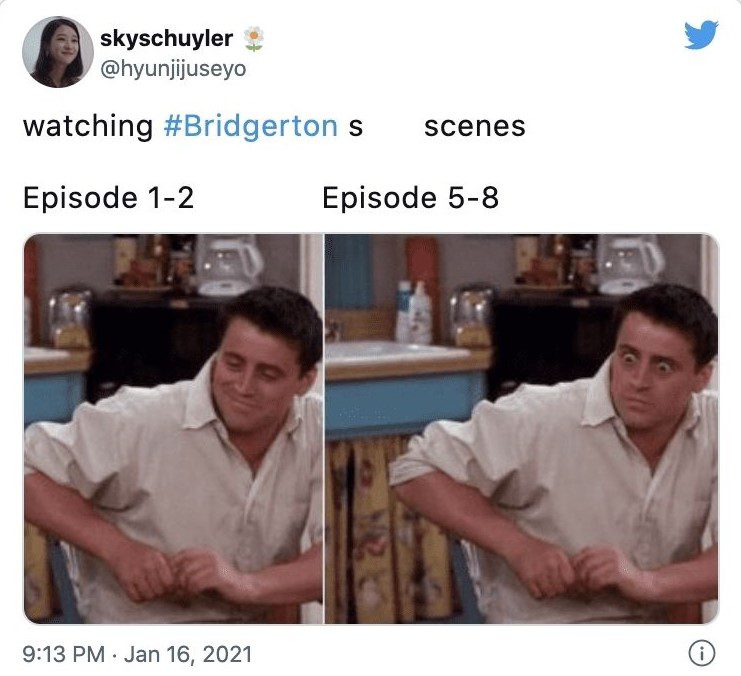 First comes love, then comes marriage, then comes..? We must have missed that while we were wiping the steam from our glasses. Again, they really should have warned us that we should not ever watch this show with our parents.
Bring Back the Romance
The modern dating world is sadly nothing like the pursuit we see on Bridgerton. Is it really too much to ask to find a respectable man, dance the night away, be courted, and find love? Where did the romance go, and can we get it back?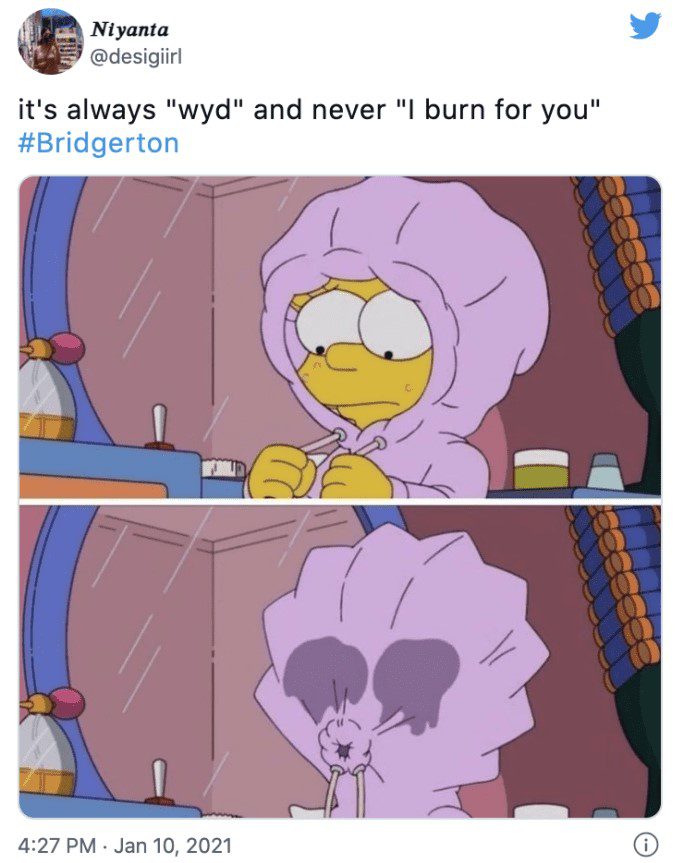 Contemporary gentlemen – keep your one-word, delayed response texts. We're waiting on that passionate profession of love speech as Miss Daphne got from the Duke. We're no longer settling for breadcrumbs. Time to take out your quill and parchment and get to work on your poetic declaration of love.
Our Patience is Running Out
Don't mind us not so patiently waiting for our own dull lives to finally get a glimmer of heat with another season of Bridgerton. In the meantime, shall we all just mope around, waiting for our own Duke to make an appearance in our lives?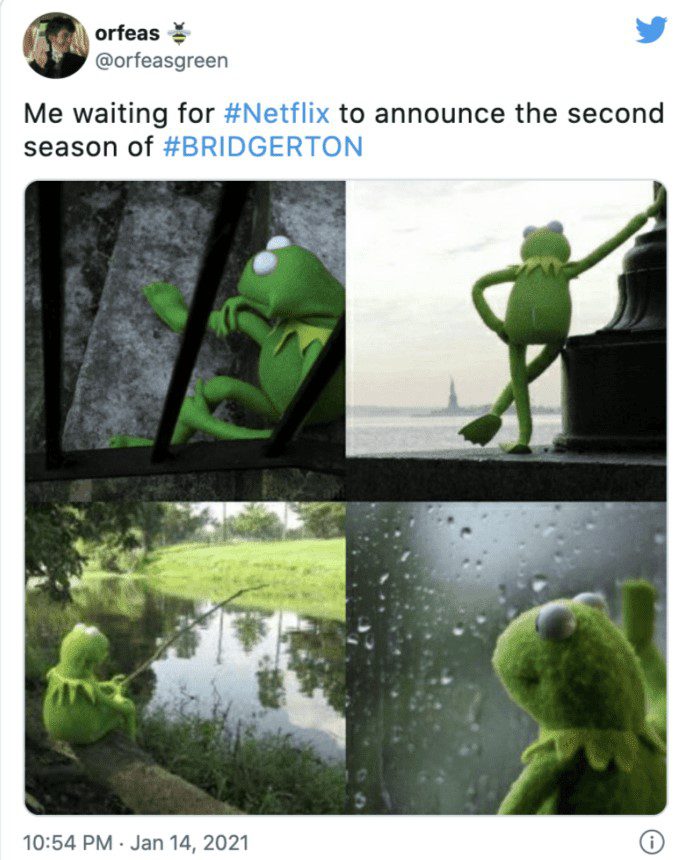 We can't deny we've missed the drama, and we know you have too. Luckily, season 2 will be gracing us with her royal presence soon. So grab a tall glass of wine – it's time to get sucked into the "just one more episode" binging vortex.