Ghoulishly Glam: 30+ Spooktacular Halloween Makeup Ideas
By Aileen D September 3, 2023
---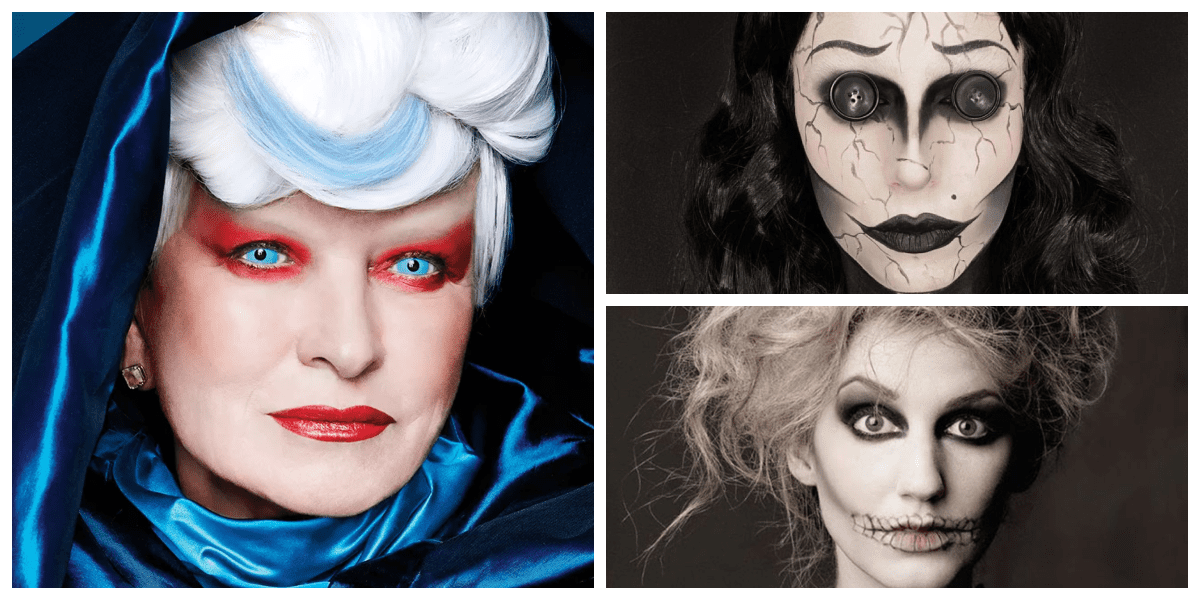 Hey there, Halloween enthusiasts! The spooky season is creeping up on us, and you know what that means – it's time to get your ghoul on with the perfect makeup! We've got you covered with a cauldron full of adorable and extravagant makeup ideas that'll have you looking like the life of the haunted party.
Whether you're aiming for a glamorous cat-eye, a sugar-skull masterpiece, or even transforming into a mythical creature, we've compiled a treasure trove of the cutest and fanciest makeup inspirations just for you. Imagine channeling your inner vampire with those mesmerizing blood-red lips or decking out your face with glitter and glam fit for a wicked fairy.
So, don't let the full moon catch you unprepared. Dive into our curated collection, let your creativity run wild, and conjure up the look that's so "you" it's palpitatingly striking.
Hallo-glam
Hey, makeup mavens! Are you looking to cast a bewitching spell with your eye makeup this Halloween? Get ready to dive into the dark side with the captivating allure of black eyeshadow, giving your peepers an enchanting makeover that screams "Hallo-glam!"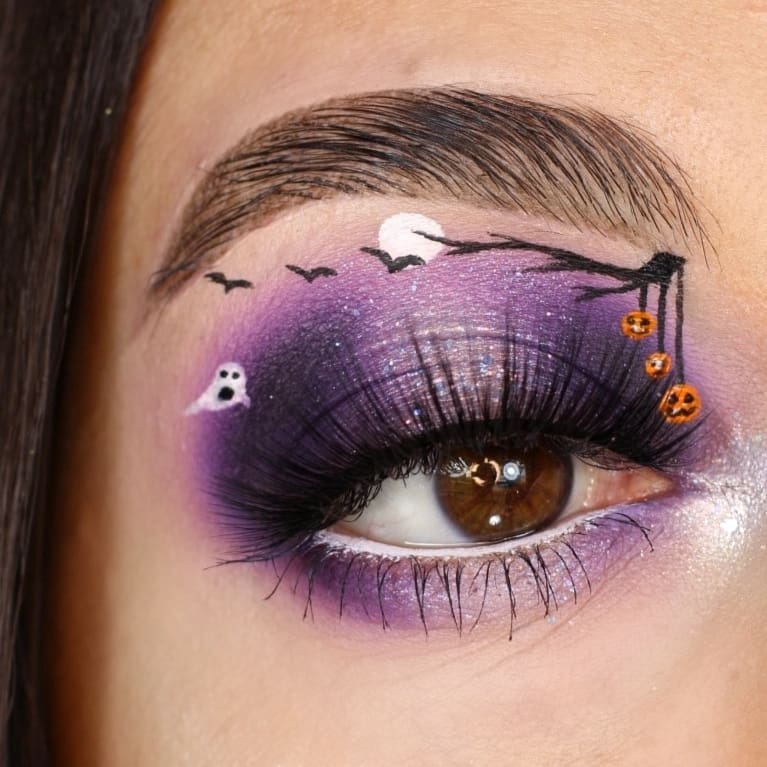 Thanks to this design, you can have your canvas of deep, mysterious black shadow adorned with delicate yet haunting Halloween motifs. You can create a mesmerizing masterpiece on your lids, from eerie bats to intricate cobwebs.
Mesmerizing Purple
Calling all fearless fashion fiends! Want a look that is as mesmerizing as it is mystical? Here, you can have billows of enchanting smoke swirling across your face, with locks of vibrant purple hair cascading like a captivating spell.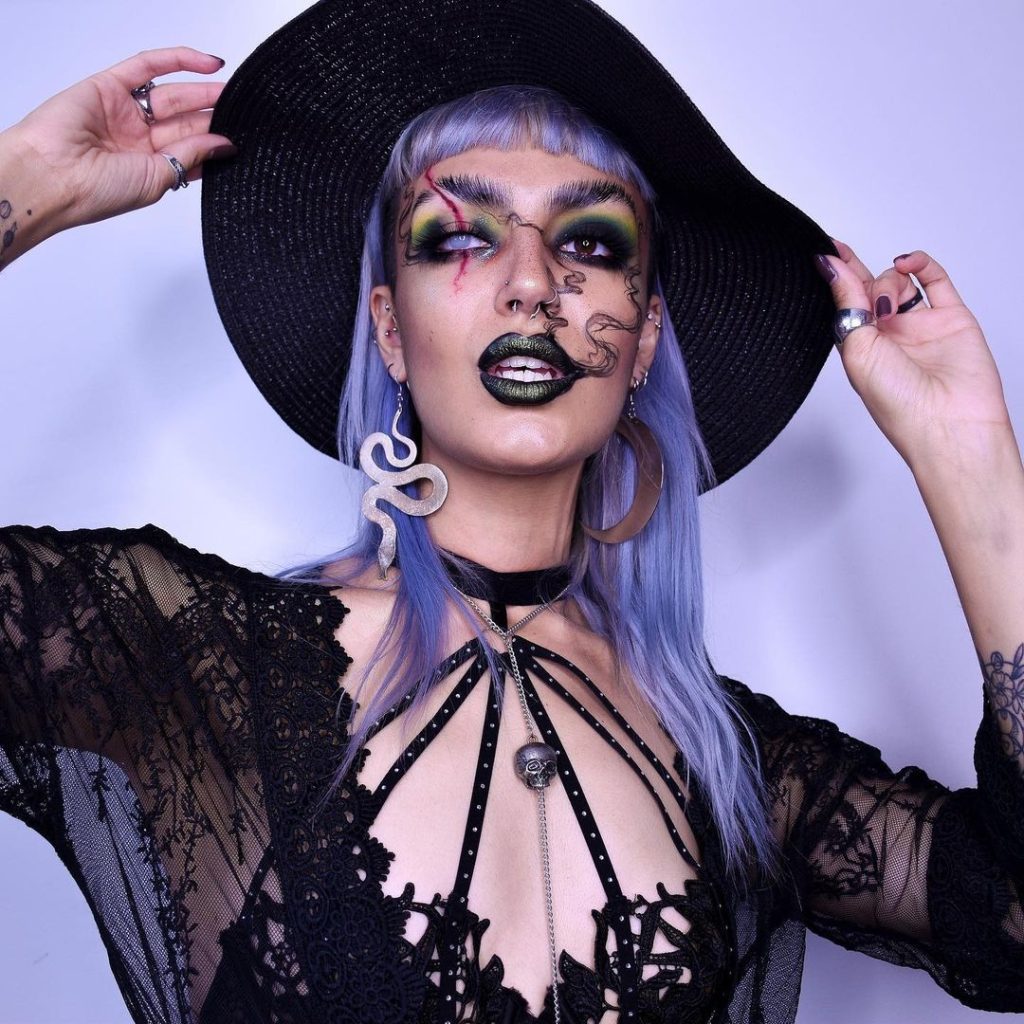 This isn't just makeup; it's artistry that tells a hauntingly beautiful story. Your eyes are adorned with shades that mimic the deep, mysterious haze of swirling mist, creating an aura of intrigue. And oh, that purple hair – a shade that's as regal as it is rebellious.
Half-Skull
Are you searching for a Halloween look that is equal parts spooky and sparkling? Thanks to this makeup design, you can sport a mesmerizing half-skull masterpiece brought to life with enchanting jewels. It's like a stunning collision of dark and dazzling!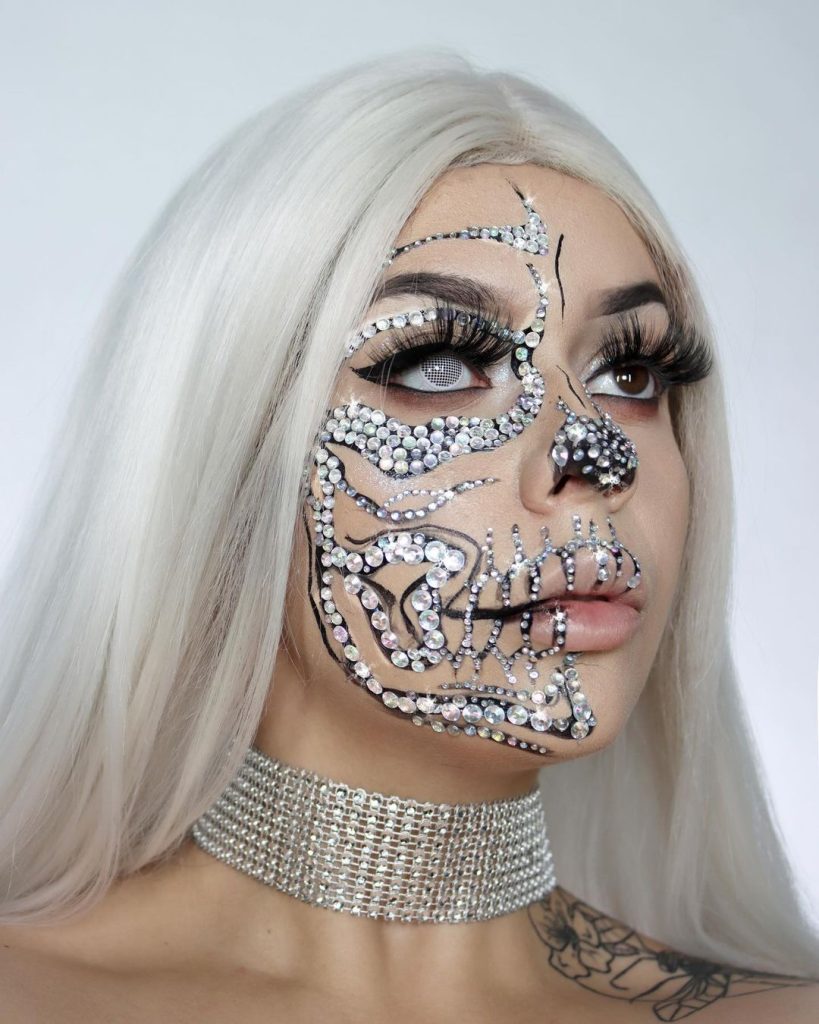 This is not just makeup; it's a work of art that bridges the worlds of the macabre and the magnificent. Channel your inner skeleton queen and strut into Halloween night with a look that's as unique as it is unforgettable.
Thanks to Stewart
Get ready to be inspired by the one and only Martha Stewart with her ingenious makeup design. It's unlike any other and requires attaching half a butterfly's delicate eyelid to your own, creating a surreal, enchanting look that will turn heads.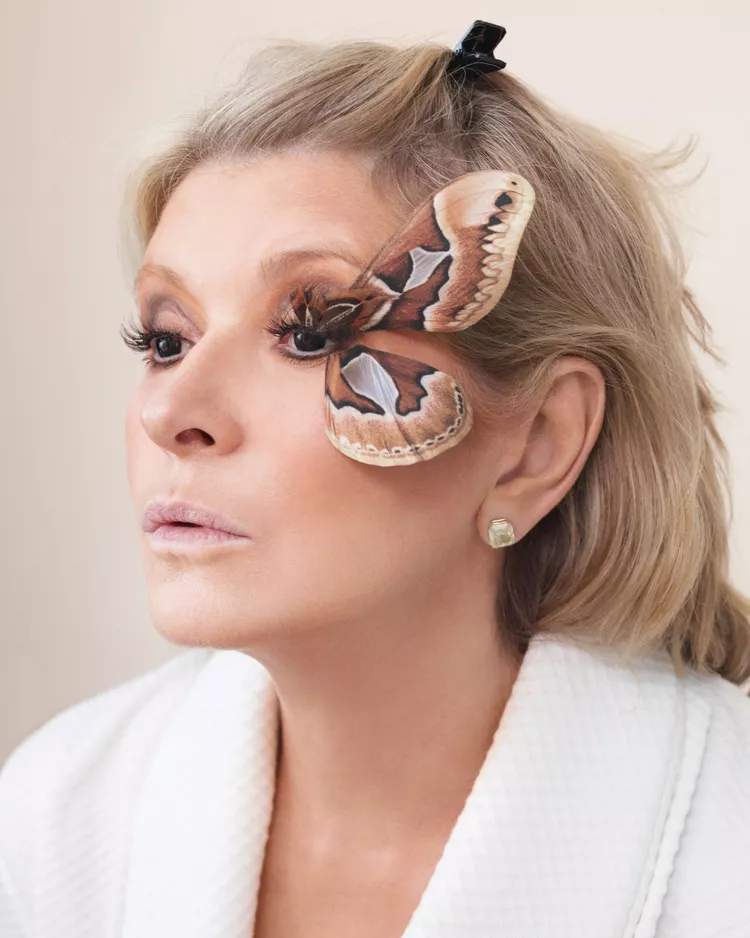 But that's not all – the magic continues with eyeshadow in shades that mimic the breathtaking hues of the butterfly's wings. Imagine eyes adorned with a palette of nature's most vibrant colors, bringing a touch of ethereal beauty to your Halloween ensemble.
Goddess
Channel some old Hollywood allure this Halloween. This makeup look pays homage to the iconic Marilyn Monroe, set against a pure black backdrop that makes her beauty truly pop. Imagine those luscious red lips that could steal the spotlight from the stars.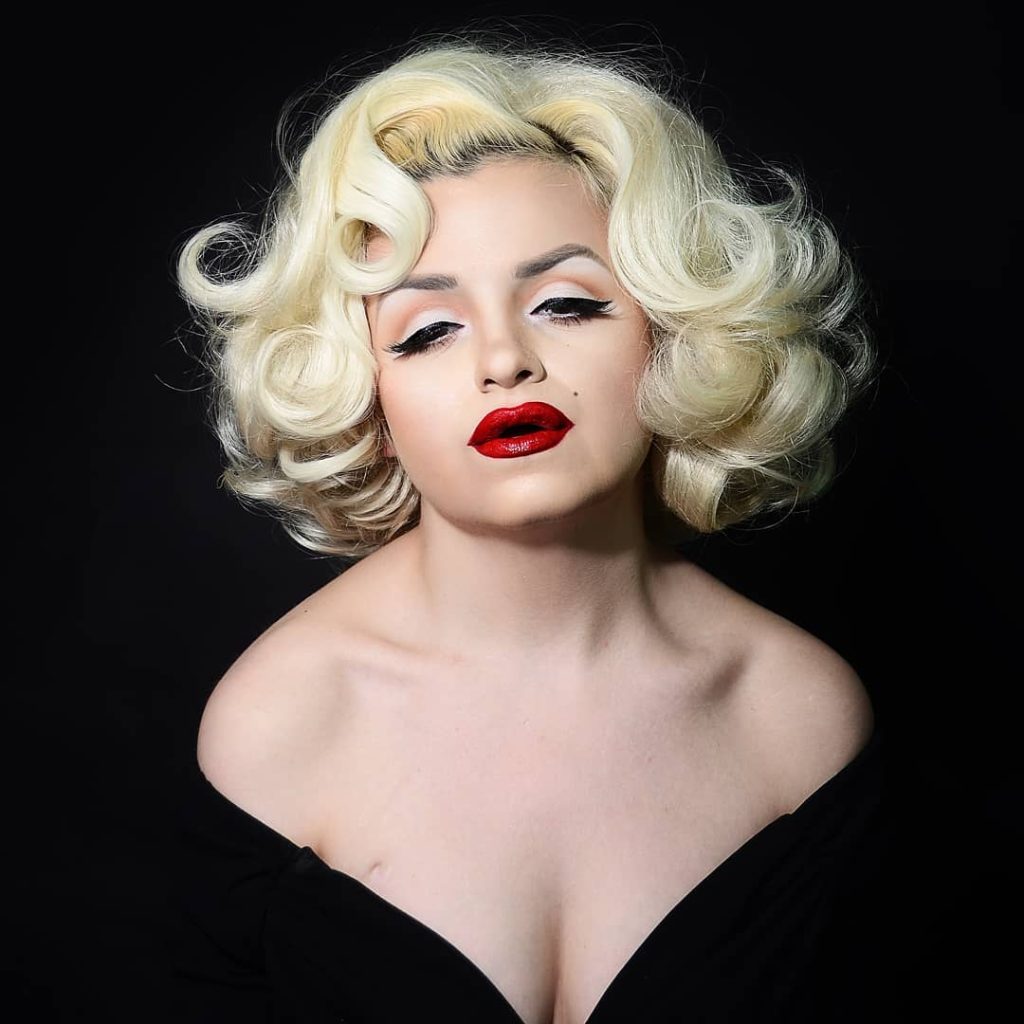 Pair it with sultry, winged eyeliner flicks that exude timeless elegance. But here's the twist – against the velvety black background, every detail of your Marilyn-inspired makeup stands out like a star in the night sky. Capture that classic Monroe essence with a flawless complexion.
Intergalactic
Hey, cosmic creatives! If you're ready to take your Halloween makeup to a whole new intergalactic level, we've got a mind-blowing inspiration for you: an alien look out of this world, complete with exposed muscles and organs instead of skin.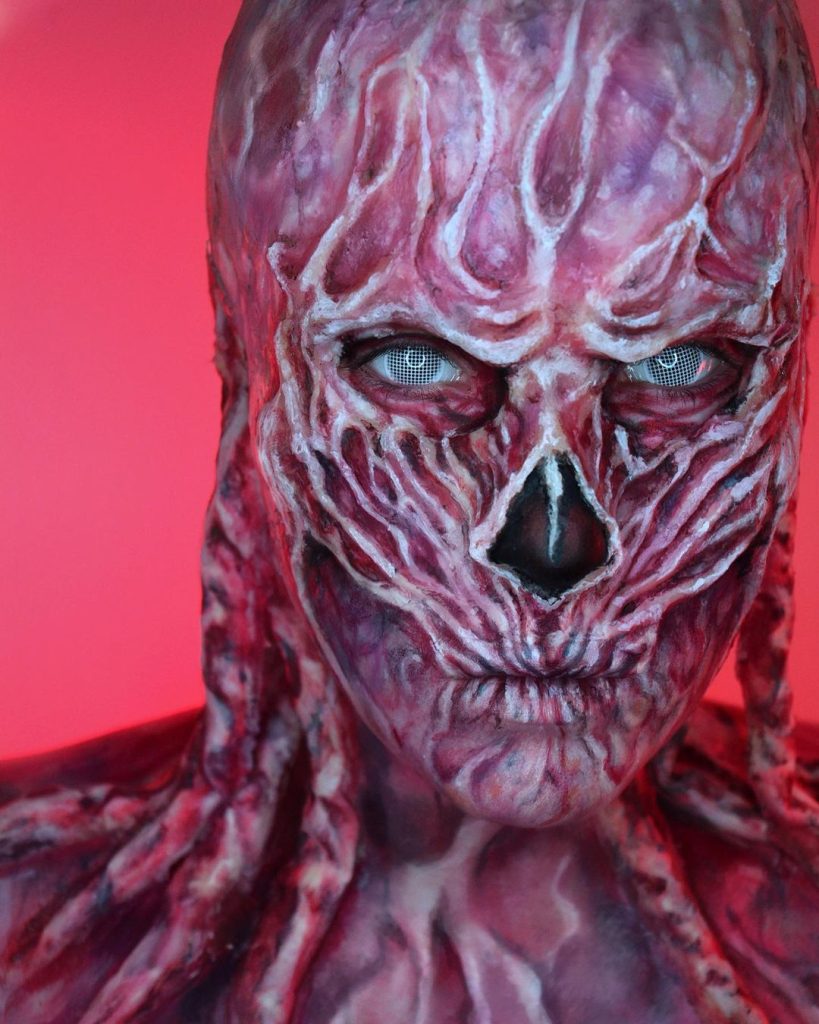 Imagine spending some extra time crafting a jaw-dropping masterpiece that will leave everyone stunned. This is not your average quick makeup routine – it's a transformation that involves intricate details, making it look like you're a creature from a distant galaxy.
Intricate Web
Here's a cobweb delicately spun around your eye, the intricate design weaving its magic. Here's the twist: instead of the usual monochrome black, the web is traced in ethereal pink and velvety violet. It's like a fairytale whispered on your skin.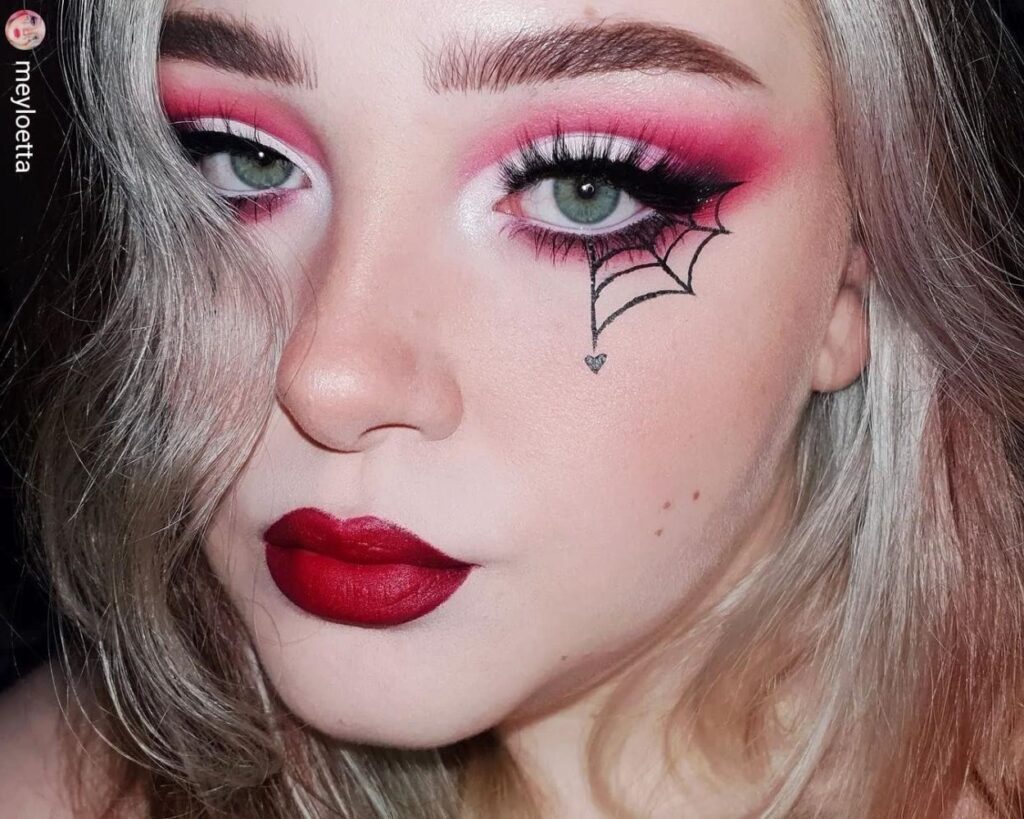 With its gossamer threads, the cobweb adds an unexpected element of mystery to your gaze, as if a whimsical spider whispered secrets into your ear and left a trail of enchantment in its wake. The blend of pink and violet adds depth and dimension.
Glam Princesses
Calling all glam princesses! Now, you won't have to imagine a celestial soirée on your face. Here, we have delicate, illuminating stars drawn gently by the sides of your eyes. It's like the night sky decided to bless your look with its sparkling magic.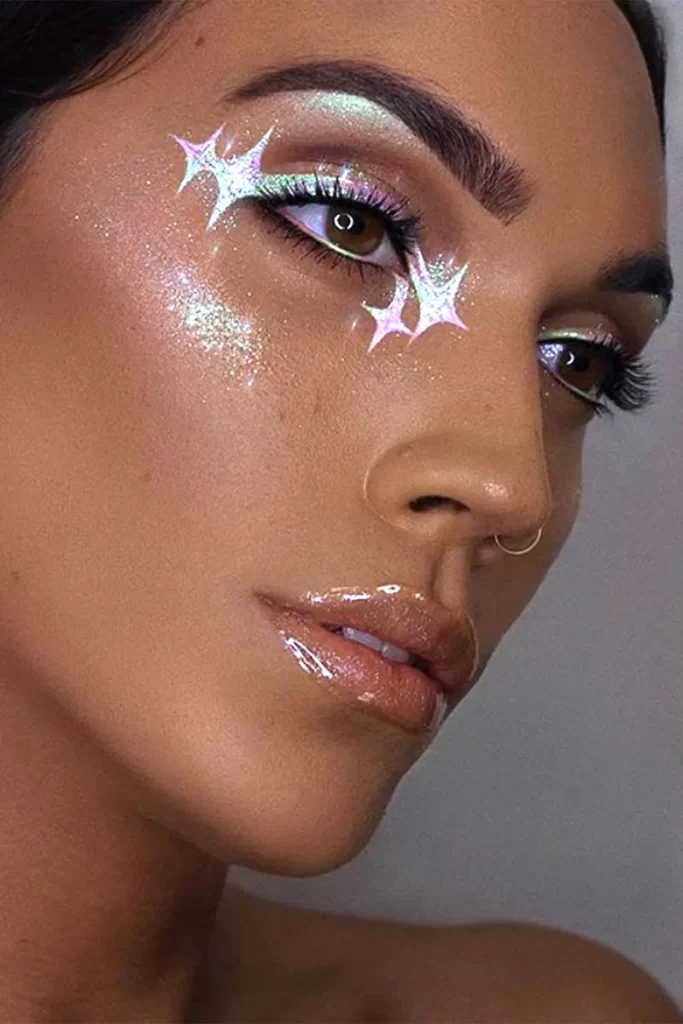 These stars aren't just makeup; they're your personal constellation, telling tales of elegance and enchantment. They twinkle and dance, adding a touch of cosmic charisma to your gaze. Whether it's a night out or just a moment to shine, these stars bring a new meaning to eye-catching.
Playful Pop
Meow and fierce and fabulous folks! Have you ever thought of channeling your inner feline with a twist? Here, we have a makeup look inspired by a sassy pink cat. Look at those striking cat-eye wings but with a playful pop of pink instead of the usual black.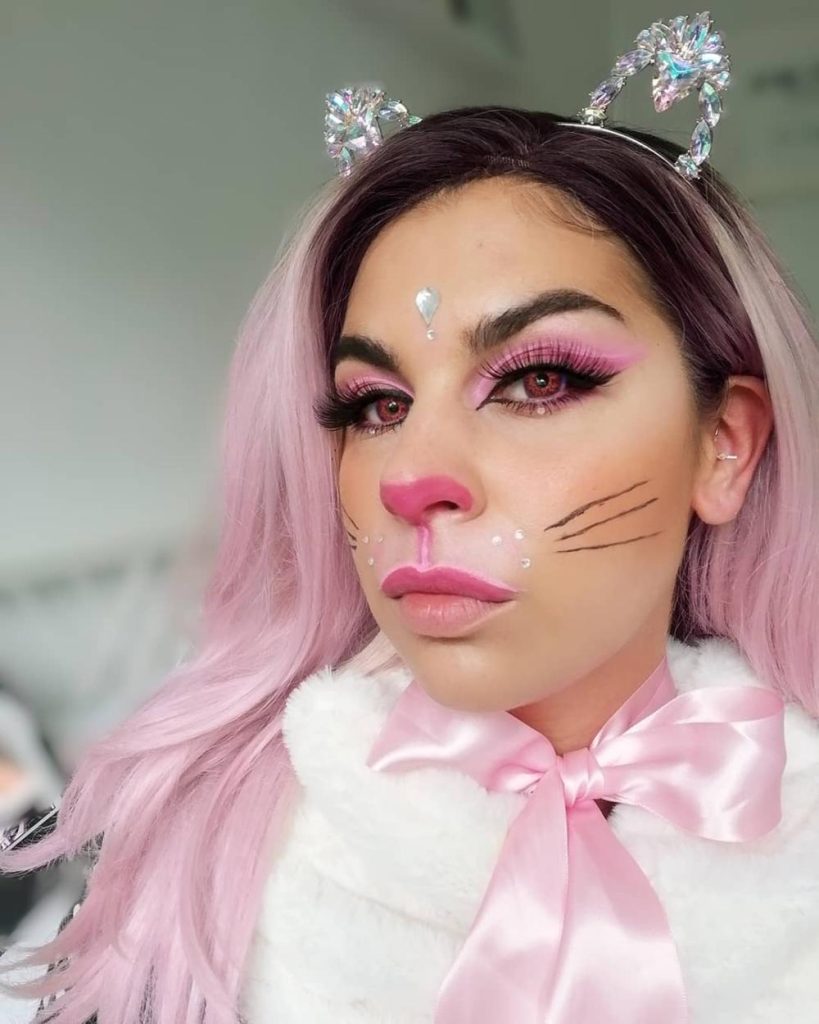 Your eyes become windows to a world of flirtatious fun. The pink cat-eye adds a hint of mystery, a touch of whimsy, and a lot of sass. It's like a wink from a naughty kitty that knows it's got that irresistible charm.
Never Gets Old
Ready to unleash your inner feline femme fatale? Here, we have a makeup look about channeling the iconic character Catwoman. Imagine those sultry, smoky eyes with a twist of edgy elegance. The key and highlight of this look is your peepers.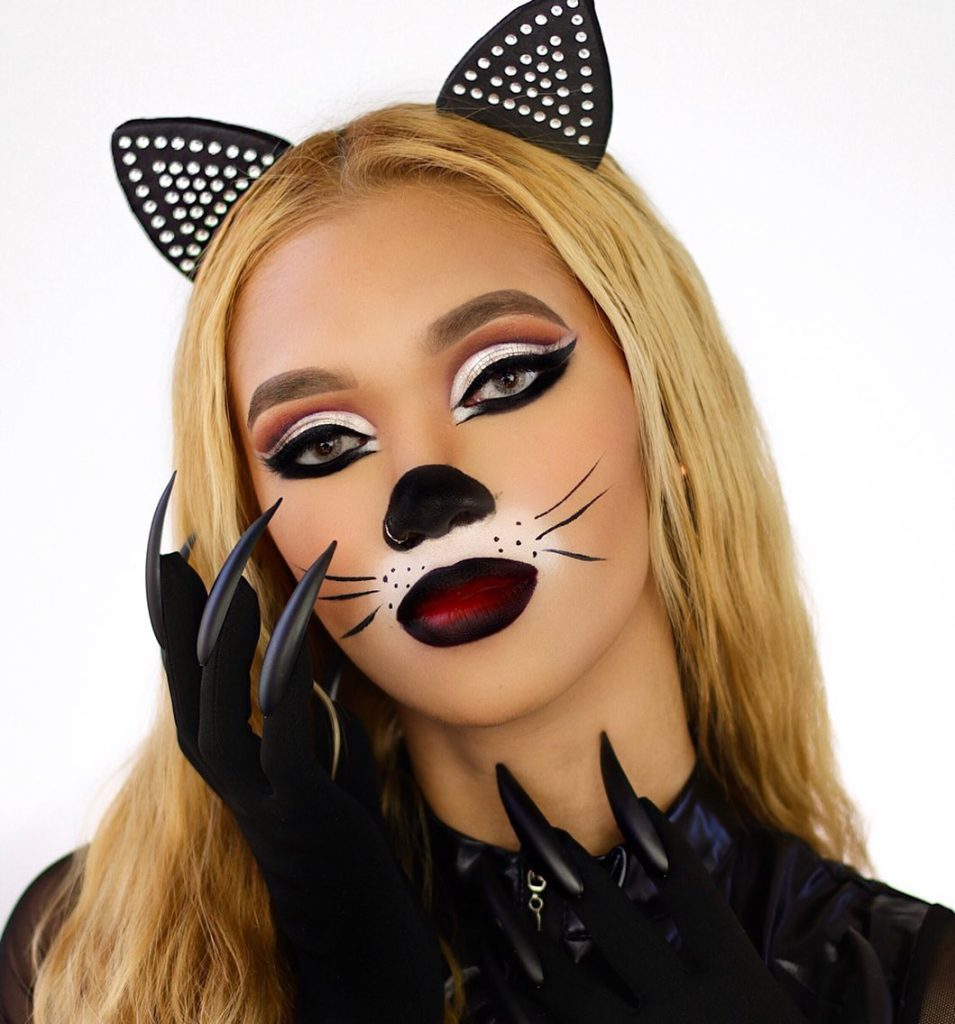 Dark, mysterious, and undeniably alluring. Think deep, velvety shades of charcoal and jet black blended to perfection. Those smoldering eyes tell a story of intrigue and confidence, just like the enigmatic Catwoman herself—a subtle flick at the outer corners, elongating your gaze with a nod to the feline world.
Dear Sally
Have you ever dreamed of capturing the essence of Sally, the stitched-together sweetheart from "The Nightmare Before Christmas," in a makeup look? Well, hold onto your stitches because here is the scoop. Start with a porcelain-pale base, a nod to her distinctive appearance.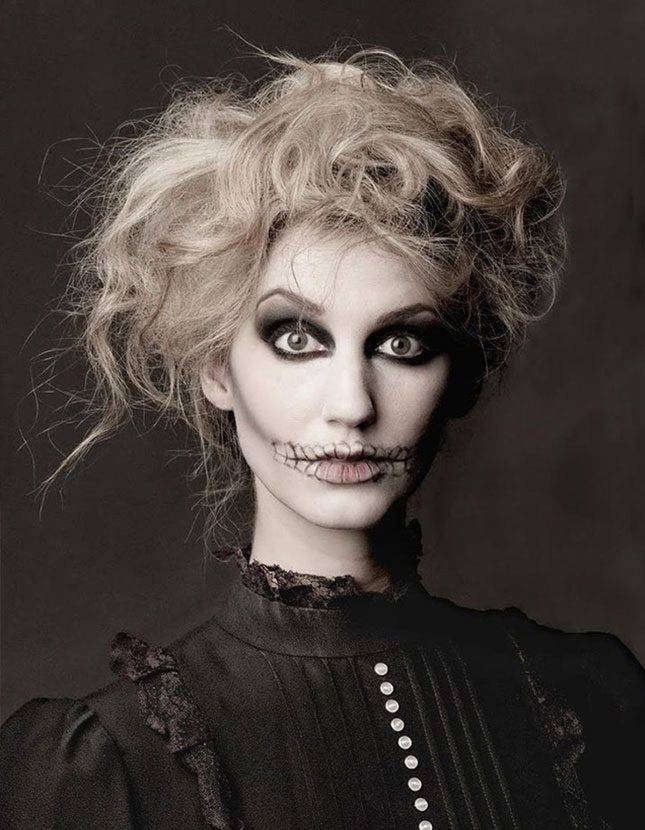 But the pièce de résistance? Those stitches, of course! Tiny, delicate lines drawn artfully across your face, mimicking Sally's stitched seams. It's a playful yet poignant touch that will make heads turn. Finish with a rosy blush and a soft, pinkish lip – a subtle nod to Sally's caring nature.
Grinchess
Ready to put a spin on the classic Grinch? Imagine a makeup look inspired by the infamous green grouch but with a playful twist. Sport this female Grinch look, rocking a mischievously vibrant pink hue instead of the usual green.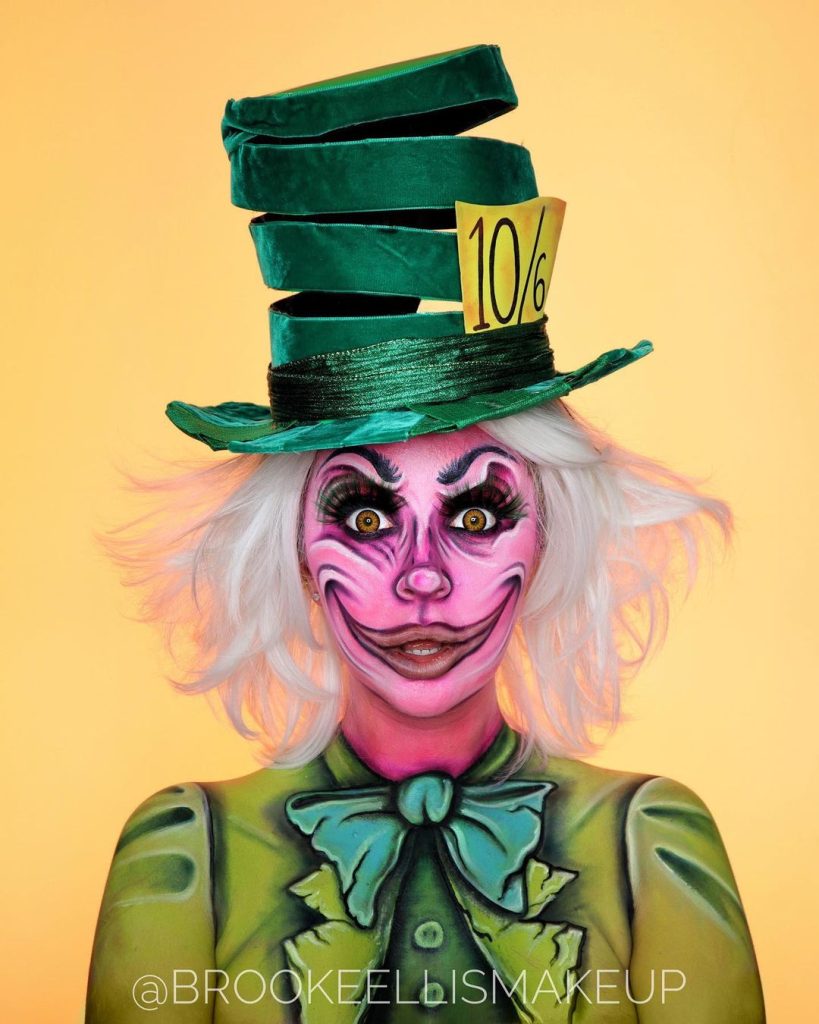 Think about those iconic eyes – the ones that practically sparkle with mischief. Recreate that effect with shades of sparkling pink and rose gold, bringing a touch of girly glam to her trademark glare. And, of course, the brows! Play them up with a feathery, arched look.
Coraline
Hey there, fellow makeup explorers! Ever wondered what it'd be like to step into the enchanting world of Coraline with her iconic button eyes? Let's dive in. For those eyes, go for a daring, inky black liner with a subtle wing that adds a hint of curiosity.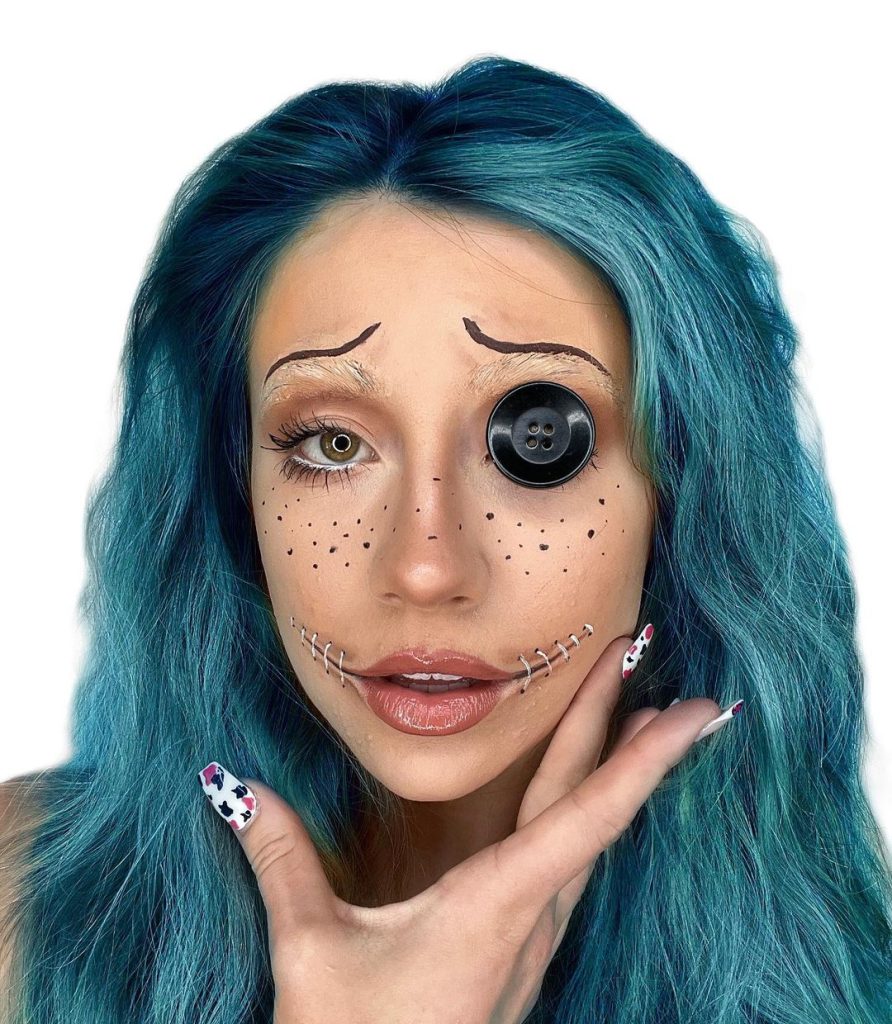 Finish the look with a pop of coral on your lips, a nod to the adventurous spirit that the character embodies. This makeup isn't just about style; it's about embracing the magic of curiosity, courage, and exploration. Let's hope you get back to your real family afterward.
Bloodied and Bejeweled
Here's a look inspired by a bejeweled bloodied face, combining edgy glamour with a punch of resilience. Imagine a canvas adorned with sparkling gems strategically placed like precious drops of blood. You can even draw in your bare teeth by the side.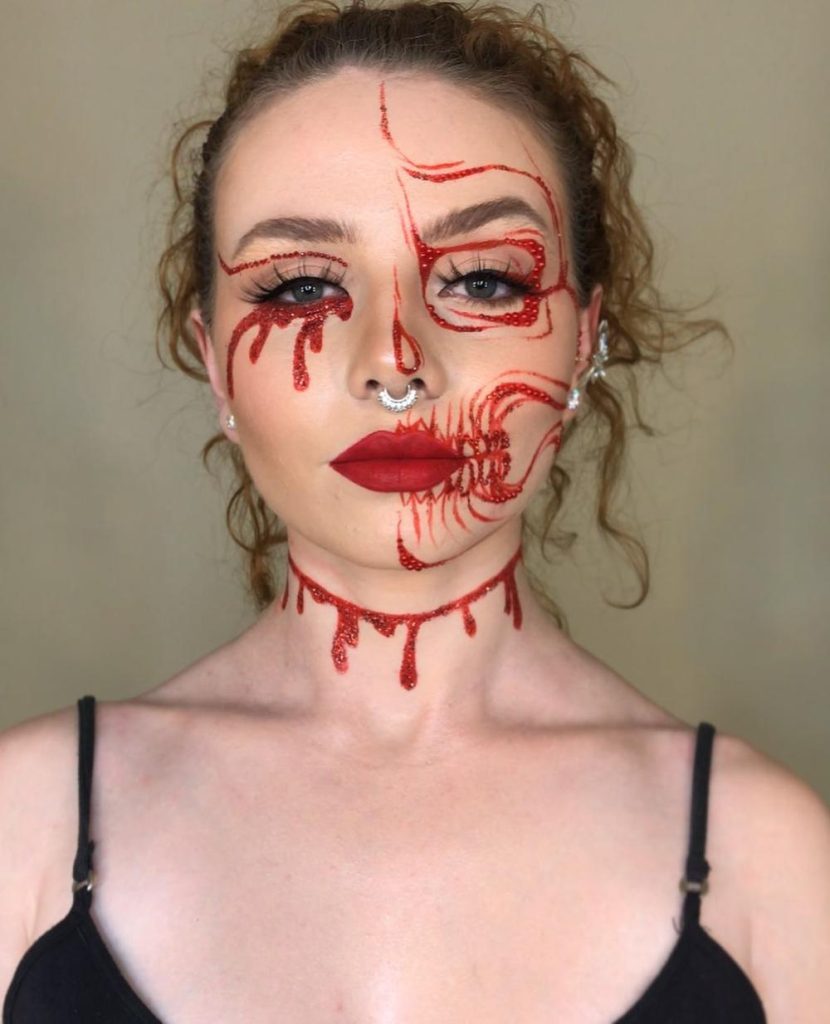 A dash of deep red lipstick completes the look, tying together the boldness of the theme. This makeup is not just about aesthetics; it is a statement. It is about embracing your inner rebel and showcasing your individuality through artistry.
Crawlies
This Halloween, dare to embrace the spine-chilling allure with a daring and sexy makeup look that will leave everyone in awe. Imagine the illusion of tiny spiders gracefully crawling out of your eyes – a mesmerizing blend of fear and fascination.
Using precise artistry, draw delicate spider legs that seem to emerge from your lash line, adding a touch of eerie beauty to your gaze. A glossy lip shade with a hint of darkness complements the look, keeping the focus on your captivating spider-eye creation.
Ice Queen
This Halloween, unleash your inner ice queen with a sexy and enchanting look inspired by Elsa from "Frozen." Glittering shades of silver and icy blue adorn your eyes, creating a mesmerizing, frost-kissed gaze that could freeze hearts. Add shimmer to your cheekbones, like the glistening snow in the morning sun.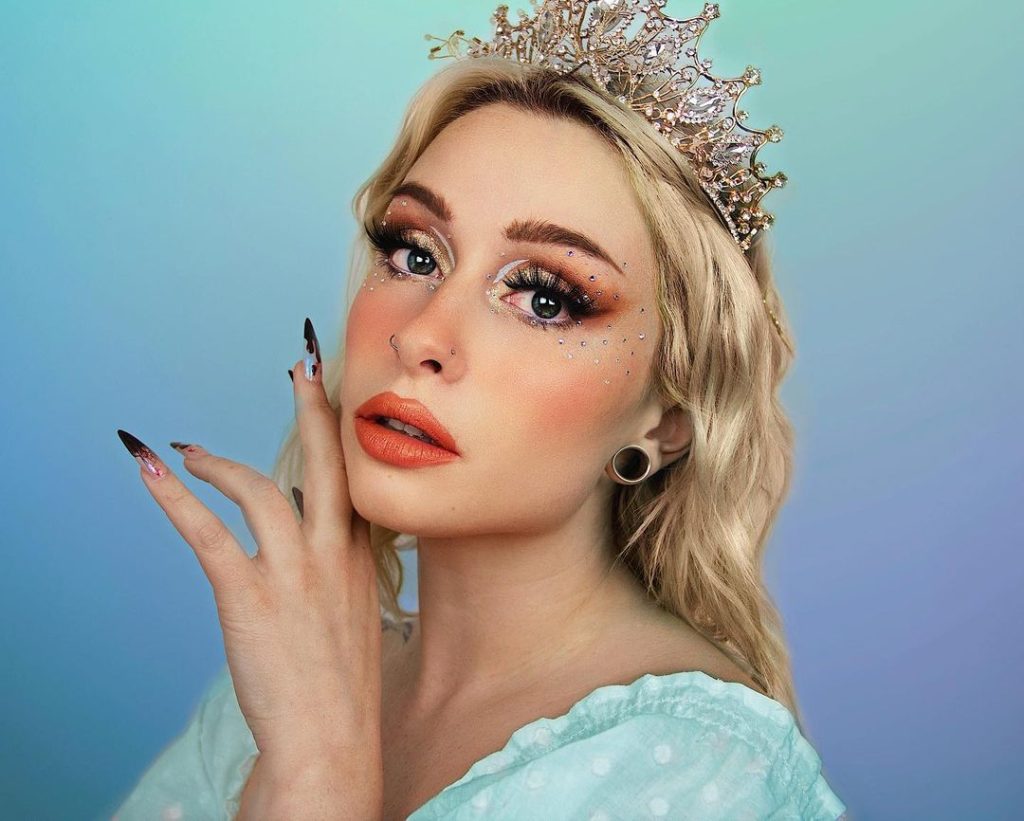 Evoke Elsa's regal charm by adorning your hair with delicate snowflake accessories or a sleek, elegant braid. A frosty, blue-hued gown completes the ensemble, transforming you into a captivating and sensual ice queen. Have a trusted Olaf by your side to thaw icy hearts.
Accentuated
Dressing up for spooky season just got a whole lot more creative and playful! Imagine designing your eyeshadow like an artist's canvas, but instead of a brush, you will use the silhouette of bats or a pumpkin to create a captivating look.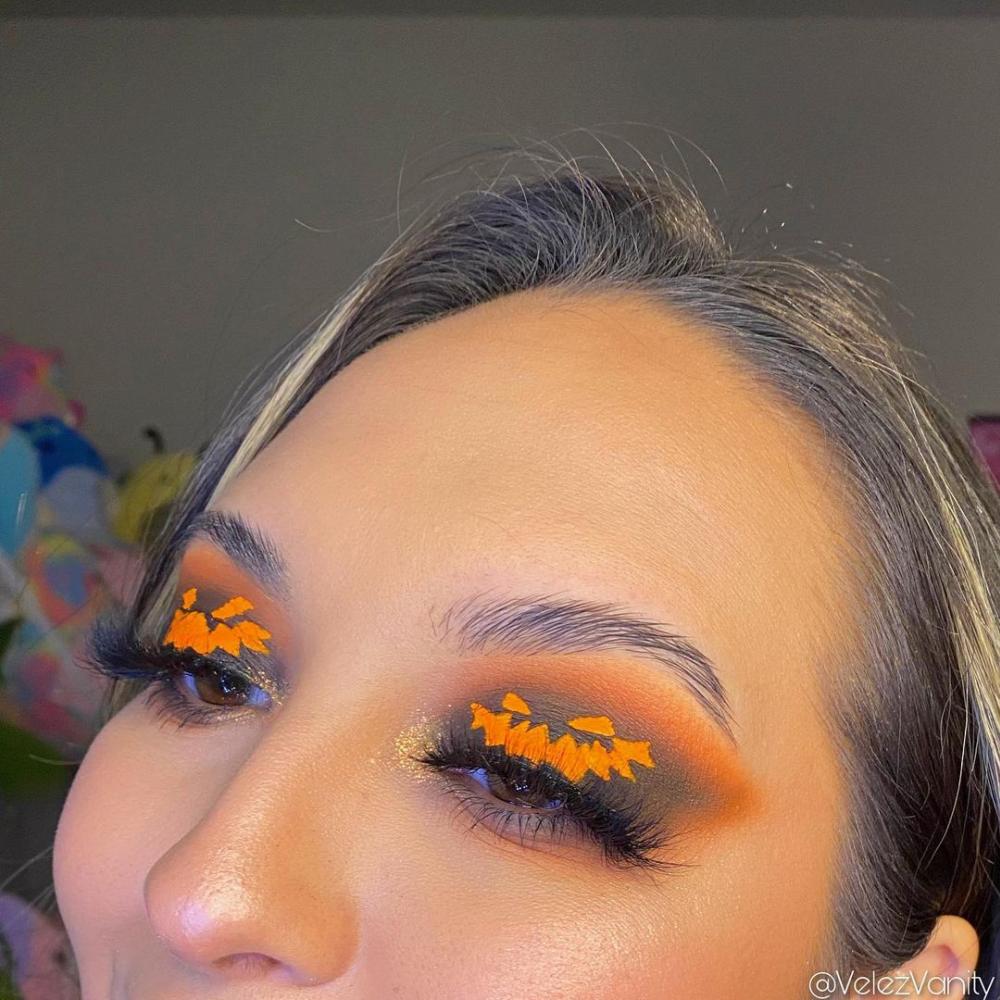 With a steady hand and patience, you can create charming pumpkin shapes that capture the essence of autumn's favorite icon. Of course, if you wing it like an artist can, this is the only Halloween costume you'll need to get some screams …for treats.
Includes Body Paint
Imagine using paint to transform yourself into a yellow zombie, with the spine-chilling illusion of eyeballs hanging by a tissue thread. Within half a day, you can paint realistic "eyeballs" onto the tissue, creating a ghastly effect that'll make heads turn.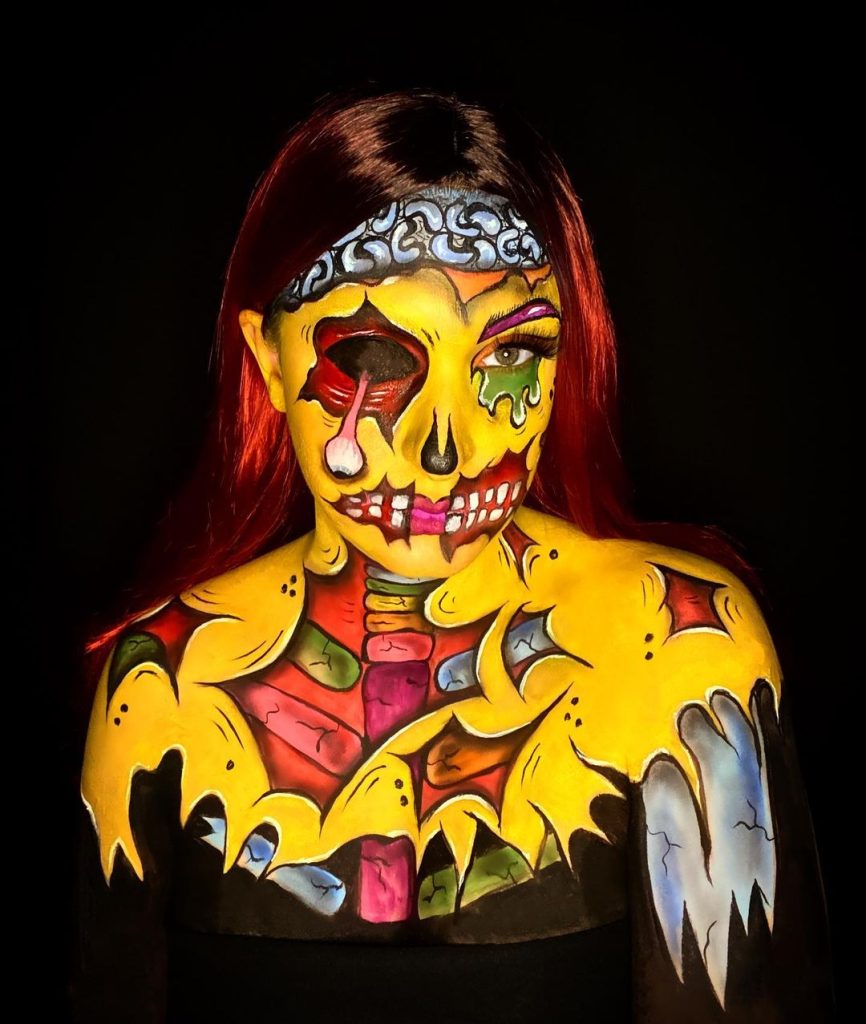 To truly embrace the undead aesthetic, use paint to craft patches on your skin, revealing glimpses of your "insides." This visual trickery, while spooky, also showcases your imaginative skills. Accessorize with tattered clothing, maybe even a "sewn up" wound here and there.
Spun Her Web
If you love spinning a web of tales, this look is perfect for you. Use it for when you have to go to work or lunch with friends, so you can bring a 'classy' touch of Halloween, perfect for the (year-round) occasion.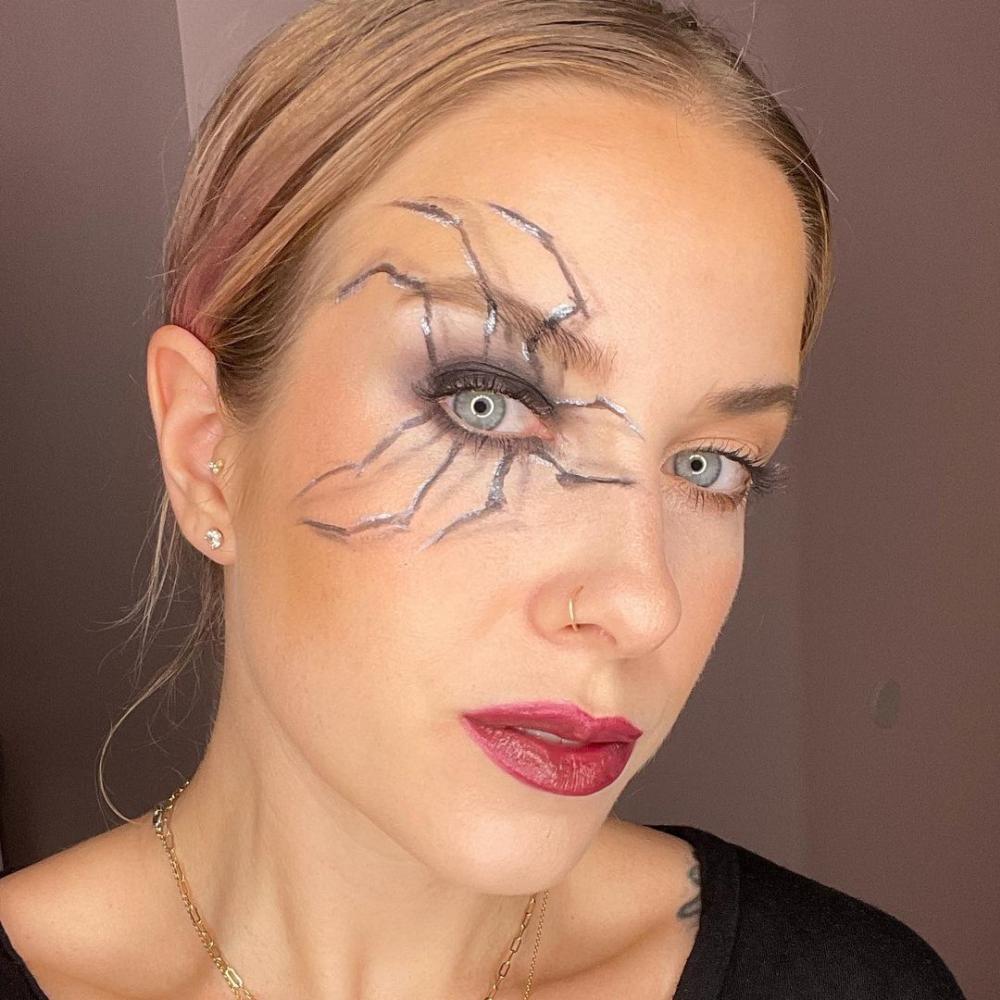 The beauty of this look is that it'll only take you thirty minutes tops to recreate. You need not be precise when drawing those long legs, just so long as you ensure to highlight them for a more realistic vibe.
Virgin Nymph
Is it just us, or is the virgin nymph the ideal for a Halloween costume? Dye your hair metallic white, or buy a wig of the same shade. Then, use gold specks to accentuate your high cheekbones. Beguile and bewitch.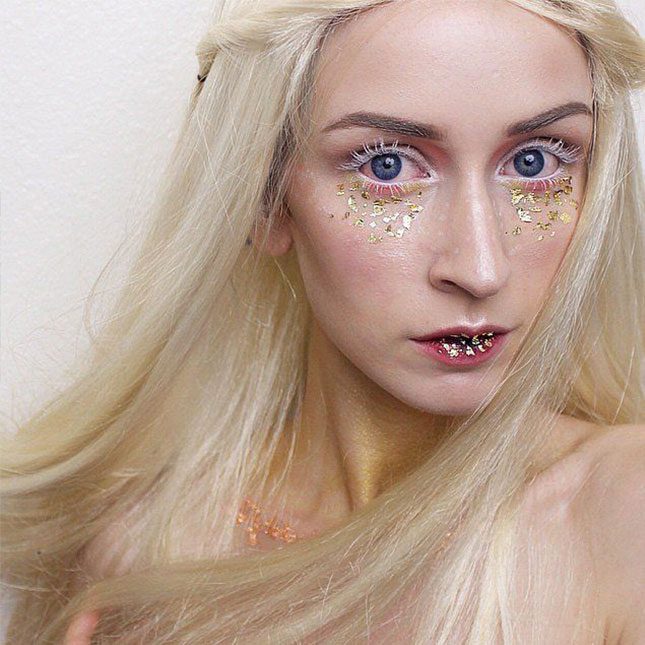 You will likely encounter mortals who will fall prey to your looks. But pay them no need. They only need some guidance to maneuver the forest of life. Then go about your way, illuminating the path for other lost souls.
Only for Halloween
Reader beware. This look is only acceptable this time of the year. And even if you manage to pull off this look for a simple trick-or-treat session, neighbors will likely call the local police to check your welfare and your sanity.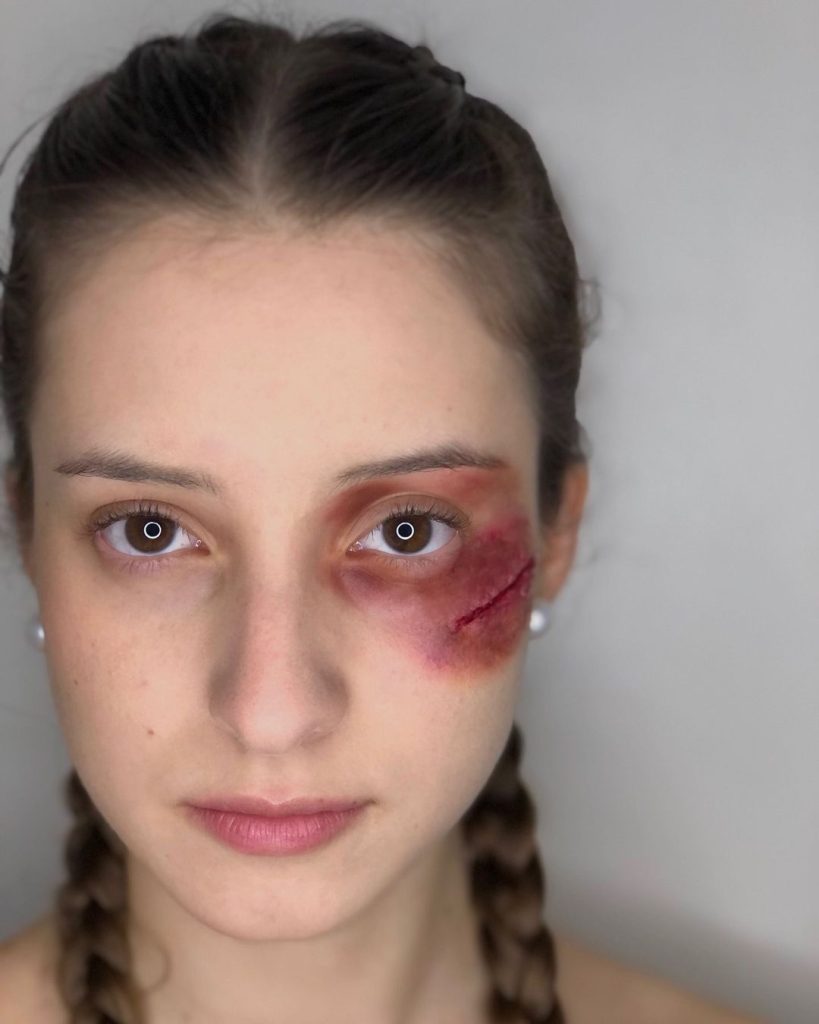 It might be a prank you can pull off on April Fools or a definite scare for your loyal boyfriend. It's the perfect trick to pull off as he heads towards the local police station, wrists in chains and awaiting a conviction the next couple of months.
Vying for Candy Canes
In an alternative world, Halloween is not a night of trick-or-treating and costumes but a night of candy cane hunting and competition. Every year, on October 31st, candy canes abound, and children and adults rush to collect as many as possible. 
But one person wants them more than anyone else: Santa Claus. He also uses his elves and reindeer to sabotage and distract the other hunters and his magic to hide his stash. Oh, and did we mention he gobbles up children?
Got her Legs
Ariel had always dreamed of becoming a human and exploring the world above the sea. So, when she found out that there was a way to make her wish come true, she didn't hesitate. But she didn't know that she had chosen the worst time of the year to be on land: Halloween.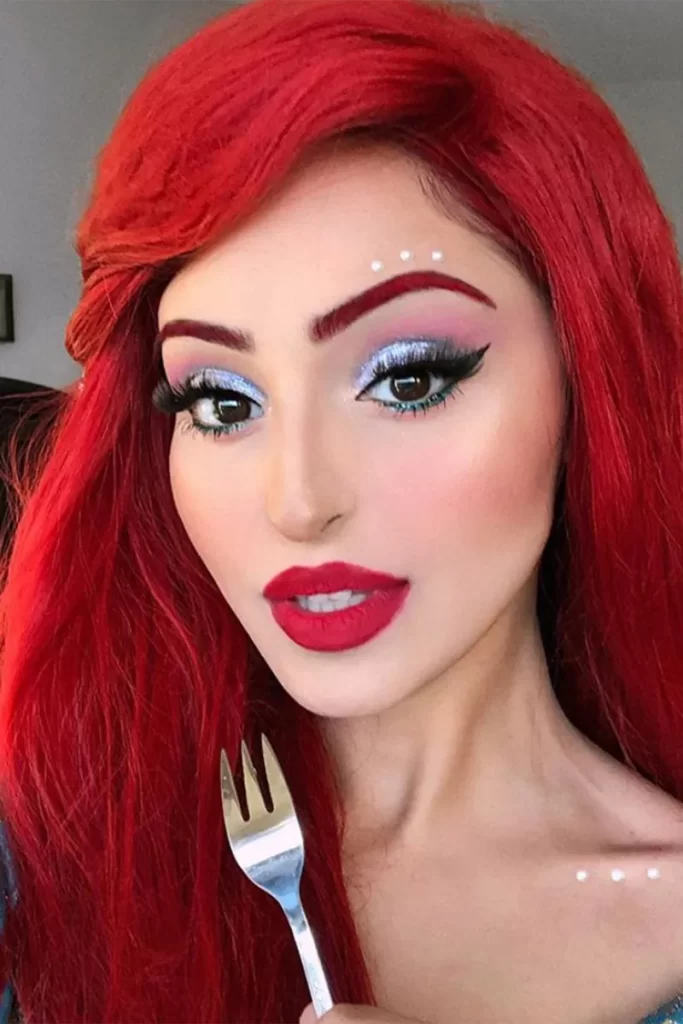 Ariel was terrified and confused by everything she saw and heard. She thought that humans had turned into evil beings and that they were going to hurt her and Eric. Unlucky Ariel couldn't return to the ocean without drowning herself in this macabre story.
Pullin' it Off
She was beautiful, with long blonde hair, blue eyes, and fair skin. She had a charming smile and a sweet voice. But she had a secret. She kept a secret hidden from the world, something that she was willing to kill for.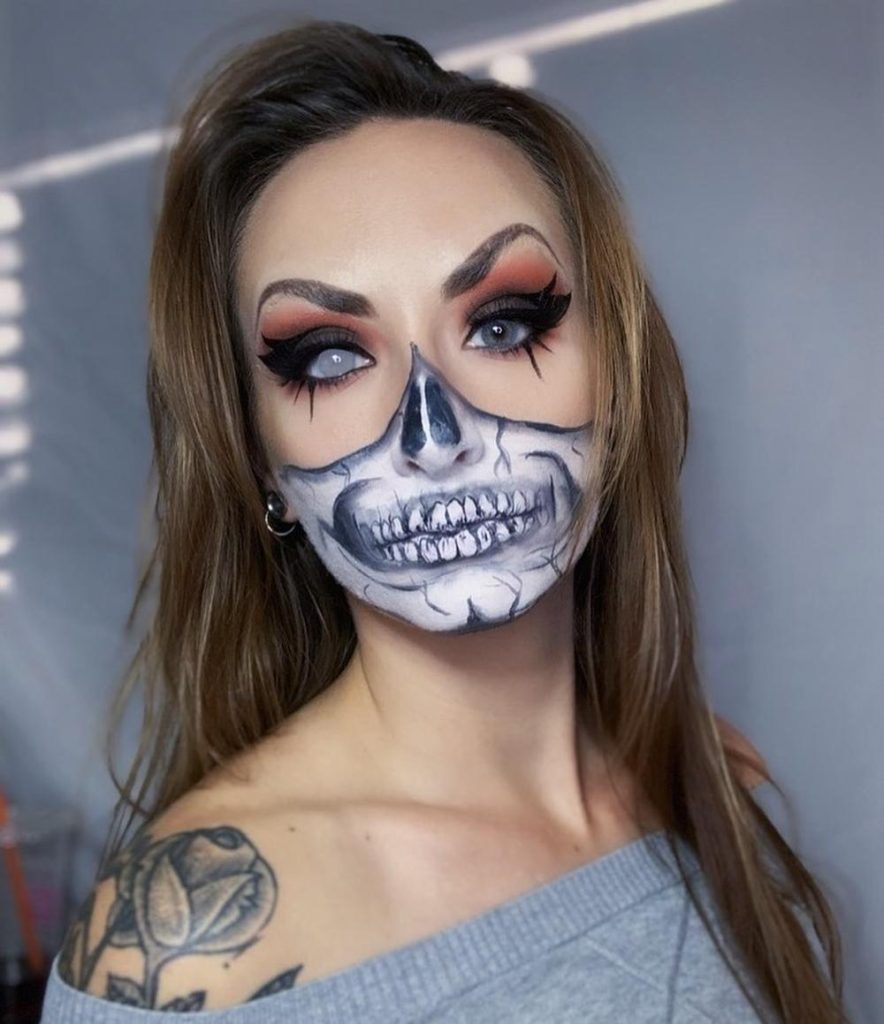 She was not fully human. She was half-dead. She had been in a terrible accident when she was a child, and she had lost half of her face. Her nose, lips, teeth, and jaw had been crushed and torn off, leaving only a bare skull.
Summoning the Dark Forces
If you're bored of the usual Halloween costumes and want to try something different and terrifying, why not be a demon who has ripped her mouth open? You can create this horrifying and gruesome look with makeup and special effects.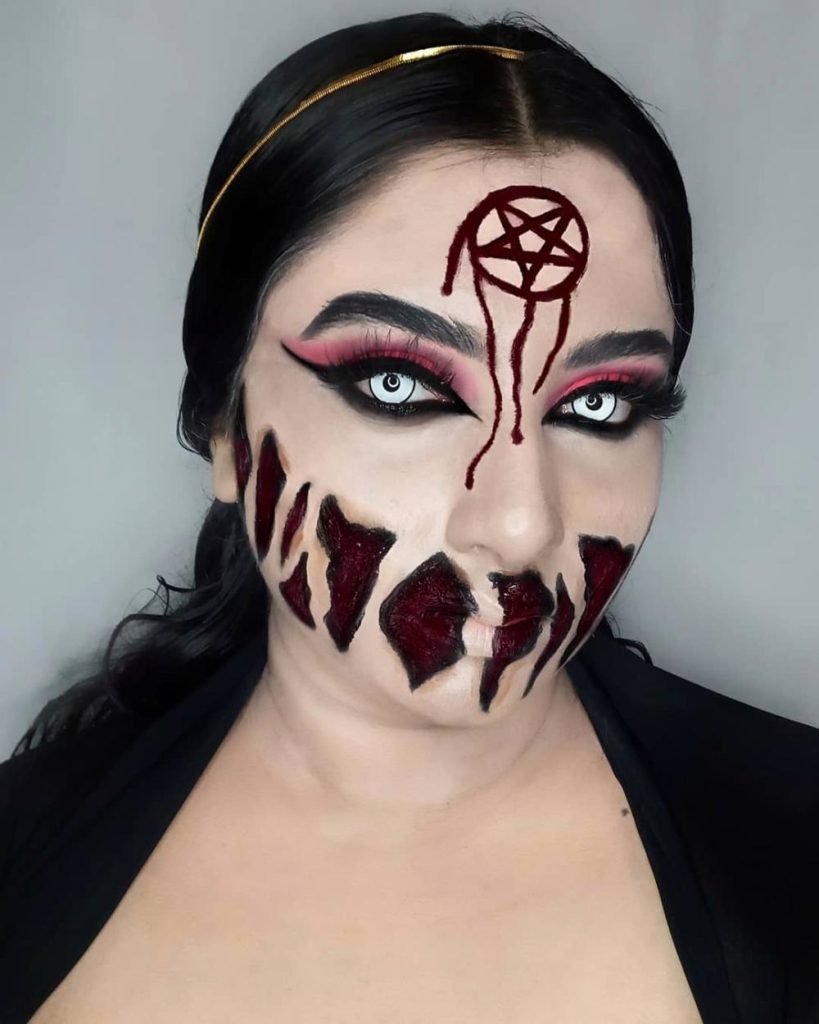 For the mouth, use a liquid latex or a prosthetic to create a ripped effect on your lips and cheeks. You can also use some fake blood or red lipstick. Slather on black or brown eyeshadow to create shadows and dirt on your mouth.
Classic Morticia
When it comes to the scariest time of the year, there is no one more iconic and elegant than Morticia Addams. She's the classic Halloween ideal for women because she embodies the spooky and mysterious vibe of the season and is confident and sophisticated.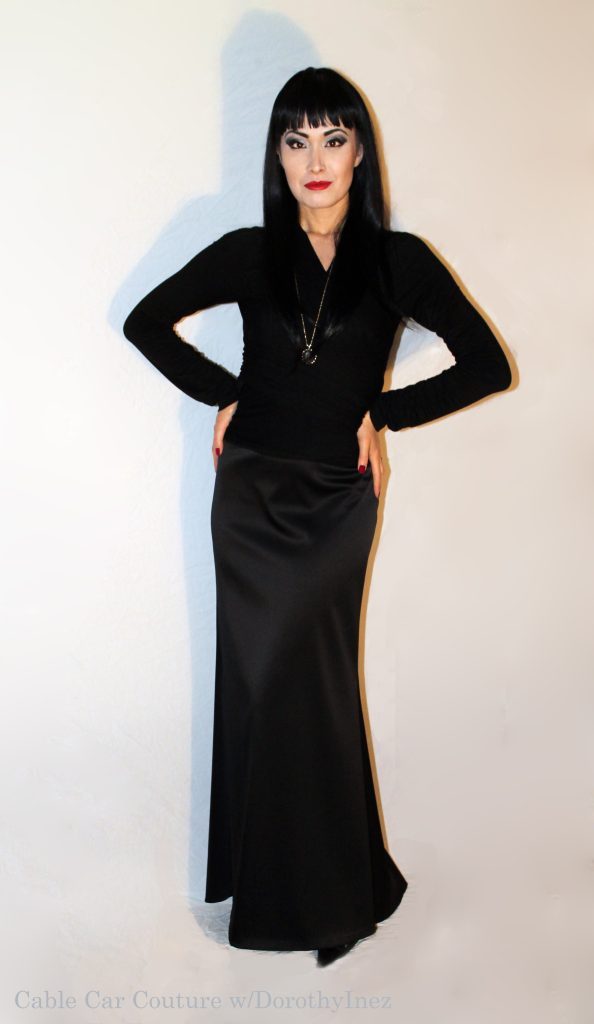 Despite the sarcasm and the somber clothing, she has a solid and loving personality. She has witty humor, loyal devotion, and a passionate romance with her husband, Gomez. She always stands by her family and values, no matter the challenges.
Out of A Cartoon
If you're feeling glamorous and flirty this Halloween, why not try glam makeup that makes your lips look like lips out of a cartoon pin-up? You can achieve this sexy and fun look with simple products and a few steps.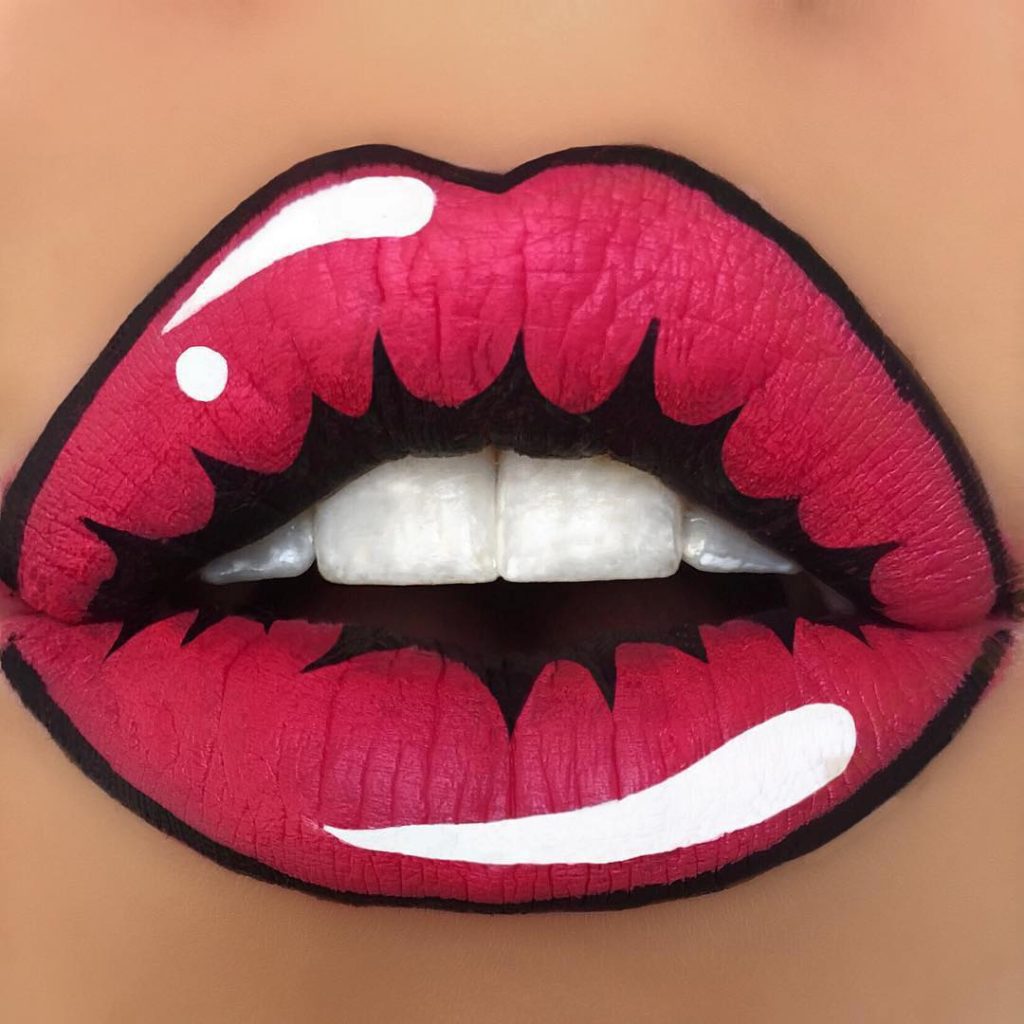 Use a foundation and powder that matches your skin tone for the base. Add some bronzer and highlighter to your cheekbones, nose, and chin for glow and definition. Use a lip liner to outline your lips and make them look fuller and plumper.
Straining to See
If you want to scare your friends and family during your Halloween party, why not try makeup that makes your eyes look like you've been scratching at them all day and how your pupils have turned red out of hate?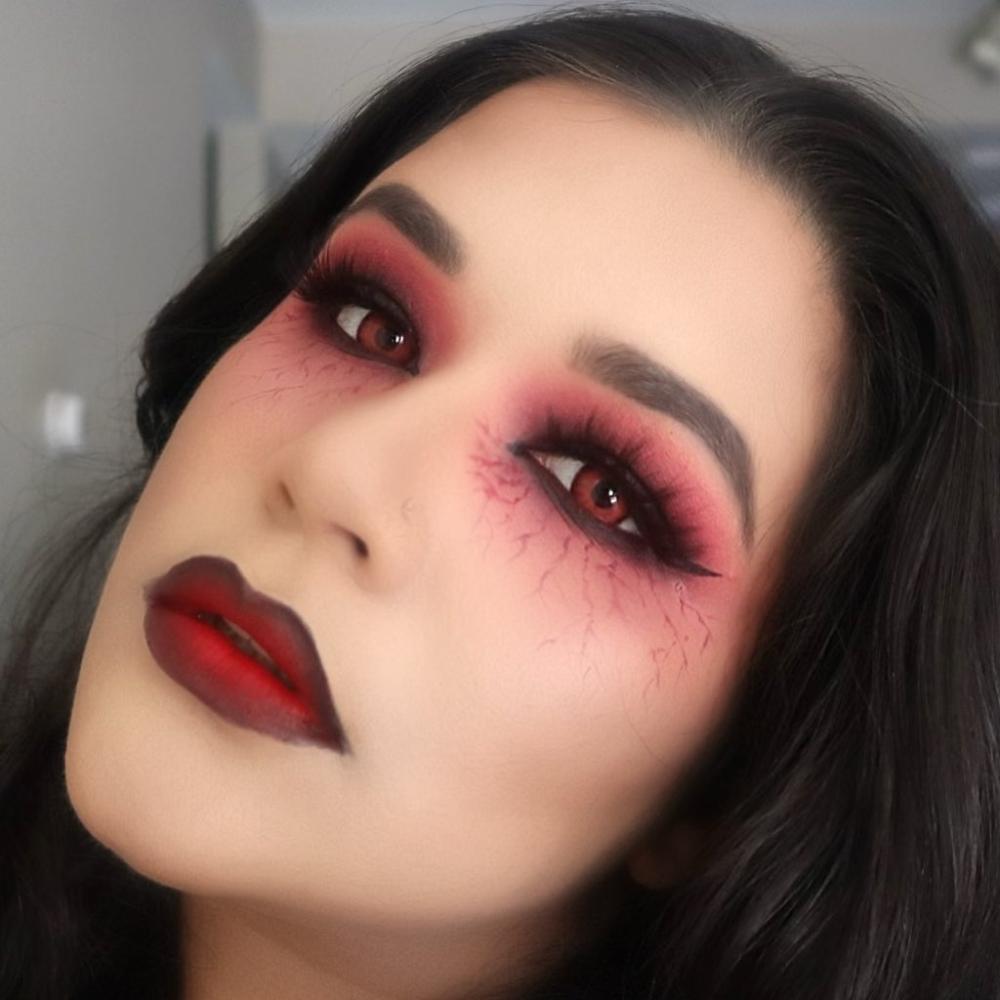 You can use red contact lenses to make your pupils look bloodshot and angry. Alternatively, you can use red eyeliner or liquid lipstick to draw some dots or lines on your iris, mimicking the veins in your eyes. Now, wait for them to admire your makeup.
Paint or Sew
Get inspired by the hauntingly beautiful concept of a doll with buttons for eyes. Imagine your face transformed into a living porcelain with eyes that are made of sewn-on buttons. To achieve this look, start with a flawless porcelain base, then paint or sew on large, round button eyes.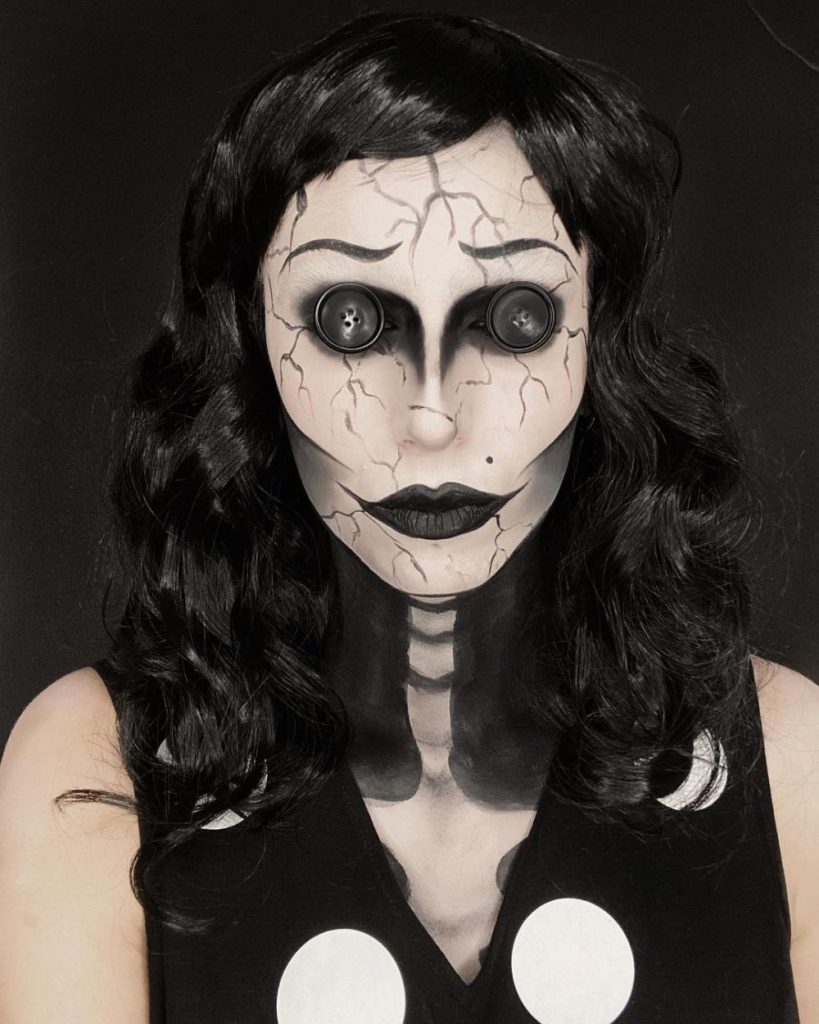 Ensure you choose buttons with intricate stitching details. Add a rosy blush to your cheeks for that doll-like flush, and finish with a perfect black pout. This makeup inspiration offers a unique twist on the classic look, turning you into a living, breathing work of art.
Mad X Alice
If you want a pop cult and creative Halloween makeup idea, why not try a cross between The Mad Hatter and Alice in Wonderland? You can combine elements from both characters to create a unique and fun look that will turn people's heads.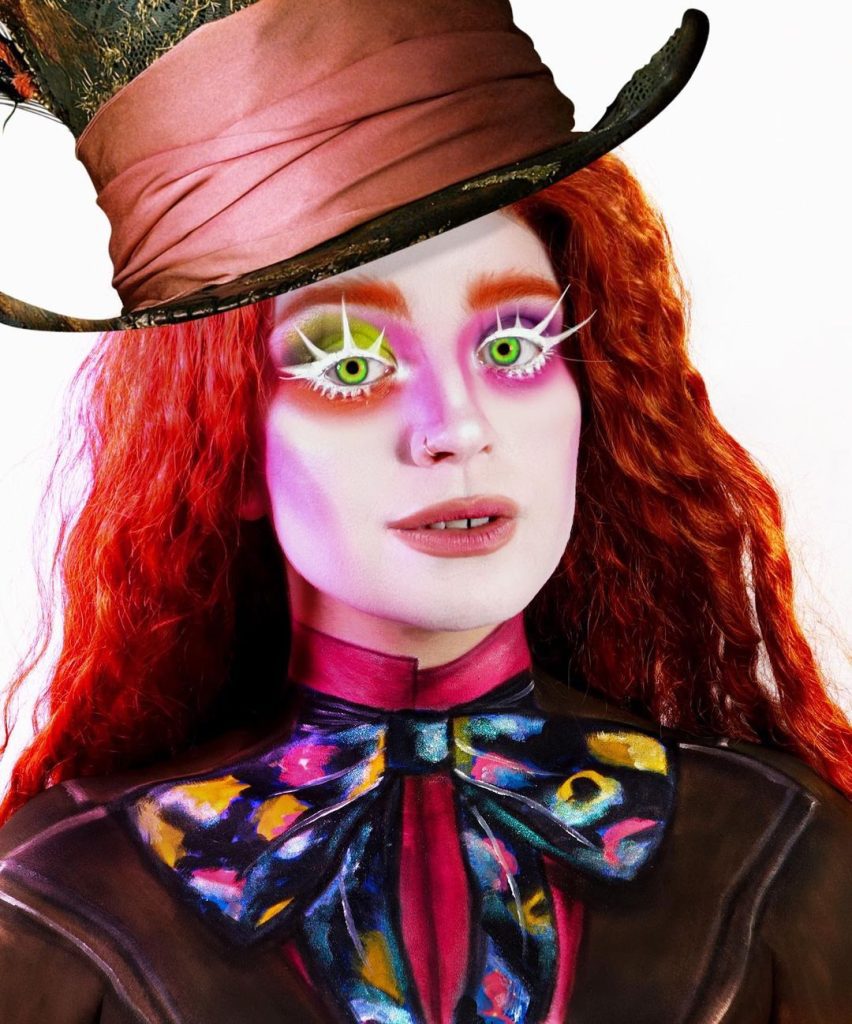 For the lips, use bold red lipstick to contrast with your eyes. You can also add some gloss or shimmer for a glossy finish. For the accessories, you can wear a hat with a card or feather on it or a headband with a bow or rabbit ears.
Ethereal Beauty
Here's a mystical ensemble featuring a regal purple tiara nestled in your hair, which should be daringly dyed a shade that matches the twilight sky. Body glitter, like stardust, should adorn your skin, giving it an ethereal shimmer before you go about casting protective spells.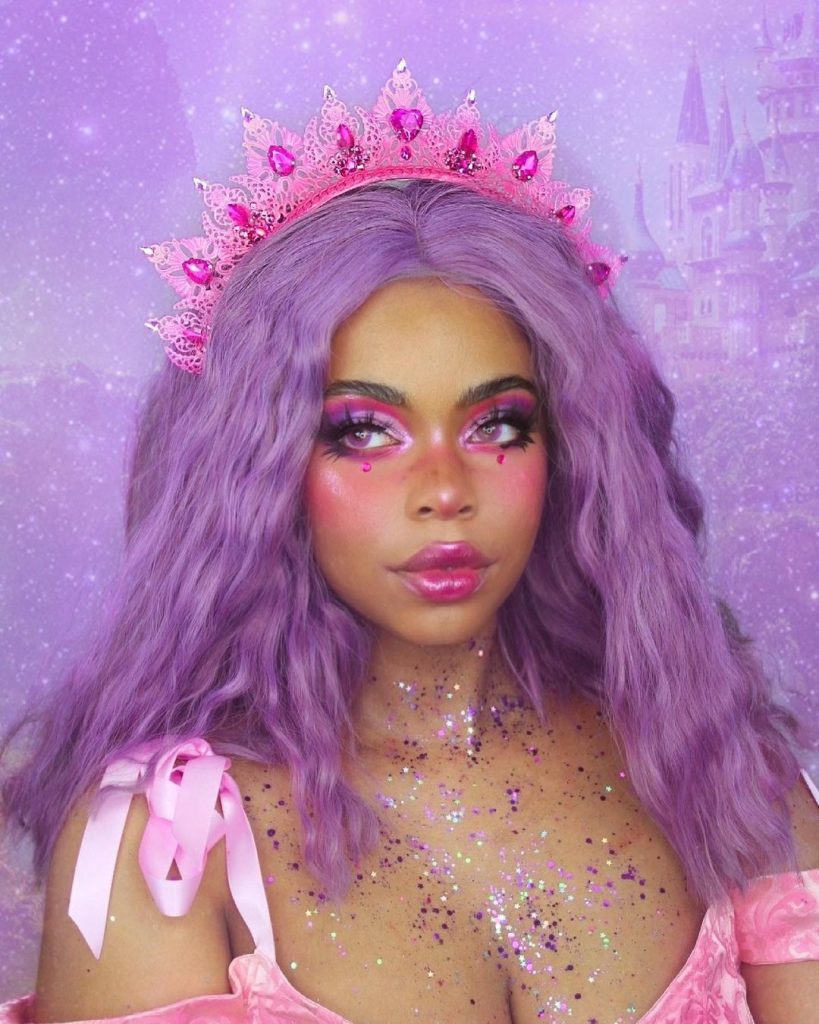 The spirit of the nymph infuses this model with a newfound confidence and a playful spirit. Her steps held an air of fairytale grace, and her hair, a cascade of dreams in its purple-dipped allure. Care to follow in her footsteps?
Channeling Maleficent
Imagine a makeup look that channels the captivating allure of Maleficent—the Mistress of All Evil herself. With a daring twist, the eyes take center stage. Deep, smoky shades of emerald and onyx create an air of mystery as if peering into the depths of a mystical forest.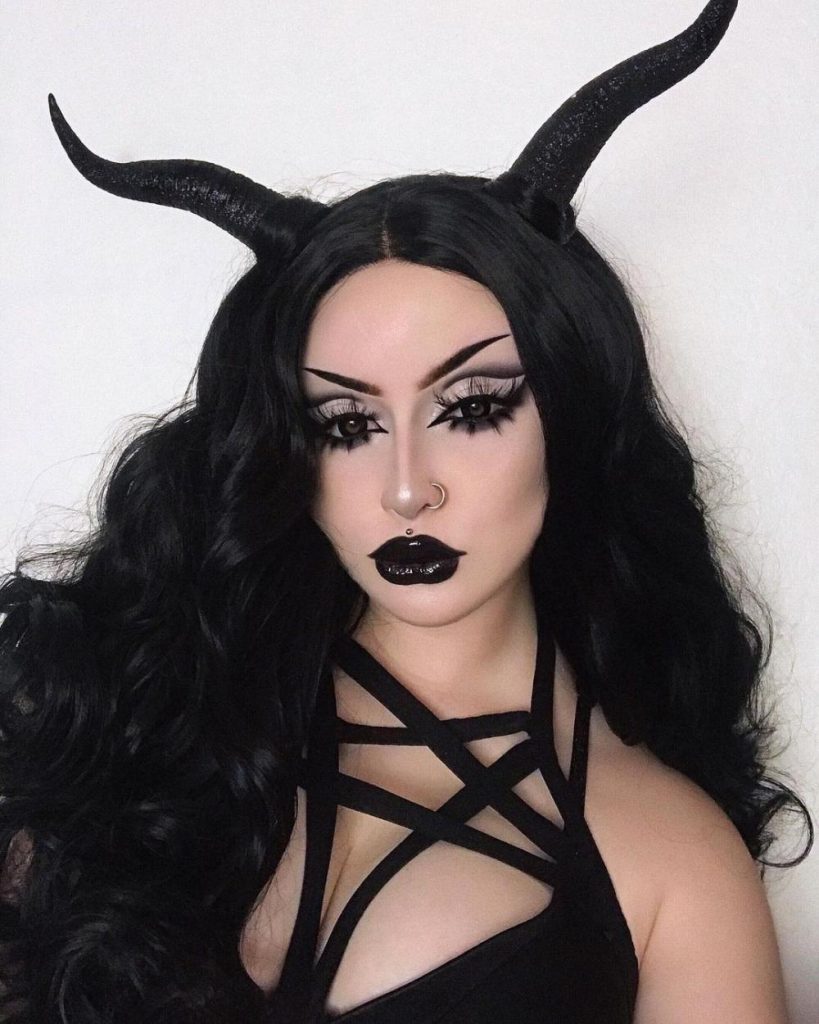 Lips dipped in a rich and velvety shade of plum echo her regal demeanor and the darkness within. Shimmer highlights the high points of the face, reminiscent of moonlight glinting off her horns. And speaking of horns – they can be as tall as you like.
Minimalist Fairy
Imagine a delicate blend of yellow and orange eyeshadows that conjure the warmth of a sunlit meadow at dawn. The eyes become a canvas where the colors dance together in a song, creating a magical gradient as enchanting as a fairy's wings.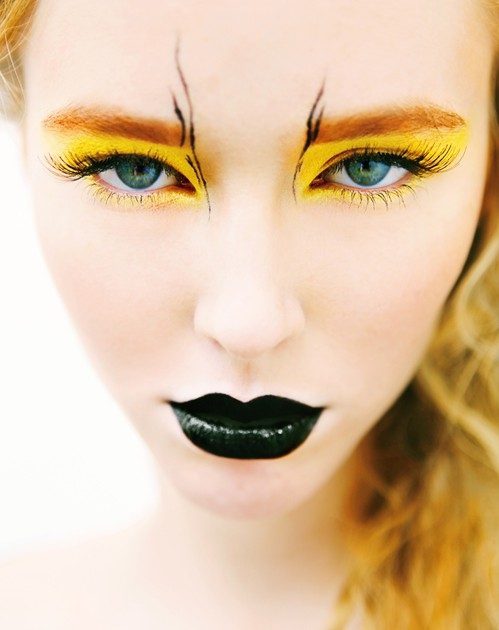 Like a burst of morning light, the yellow spreads across the lid, while the orange, reminiscent of blooming flowers, adds a touch of playful vibrancy at the corners. Glitter, like pixie dust, is delicately applied to the center, catching the light just right.
Earth Fairy
Here's a makeup look that draws inspiration from the enchanting allure of a green fairy. Picture deep, lush emerald and forest green shades adorning the eyes, like verdant leaves in a moonlit glade. The meticulously blended eyeshadow captures the essence of mystery surrounding these ethereal beings.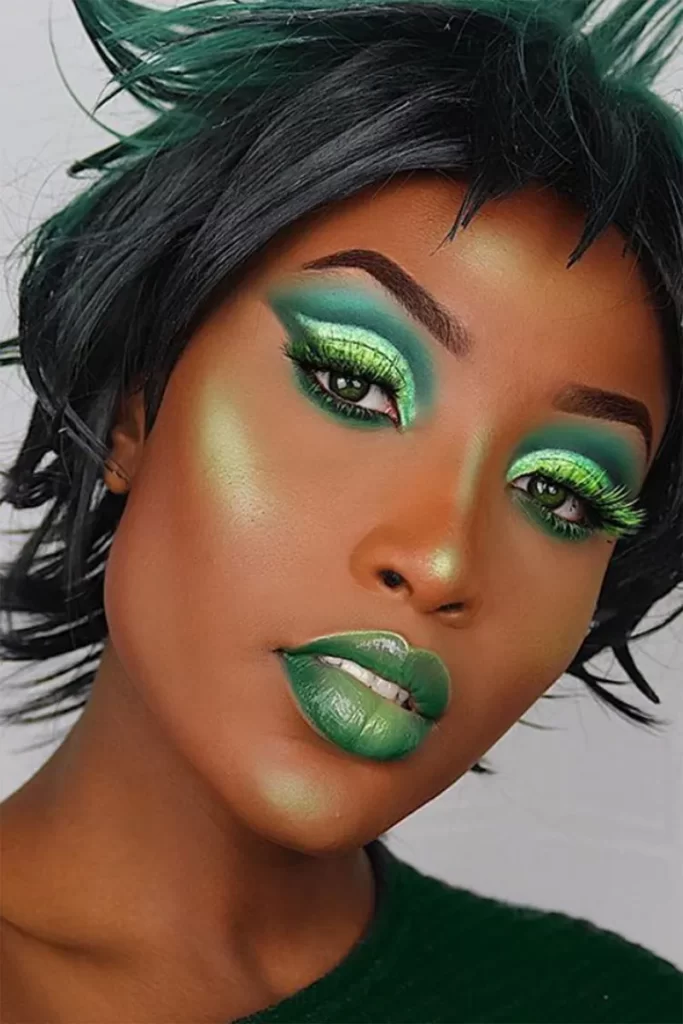 Hints of shimmer, reminiscent of dew-kissed petals, playfully catch the light on the inner corners of the eyes. Eyeliner, as dark as the secrets a fairy might keep, adds a touch of intrigue. Lips, kissed by a subtle green hue, evoke the magic of nature itself.
Purge Night
This look captures the electrifying spirit of Purge Night on Halloween, radiating through vibrant neon lights with a mischievous smile. Even in the dark, you can see eyes adorned with neon green and electric blue eyeshadows, as if they were the very glow of the city on that thrilling night.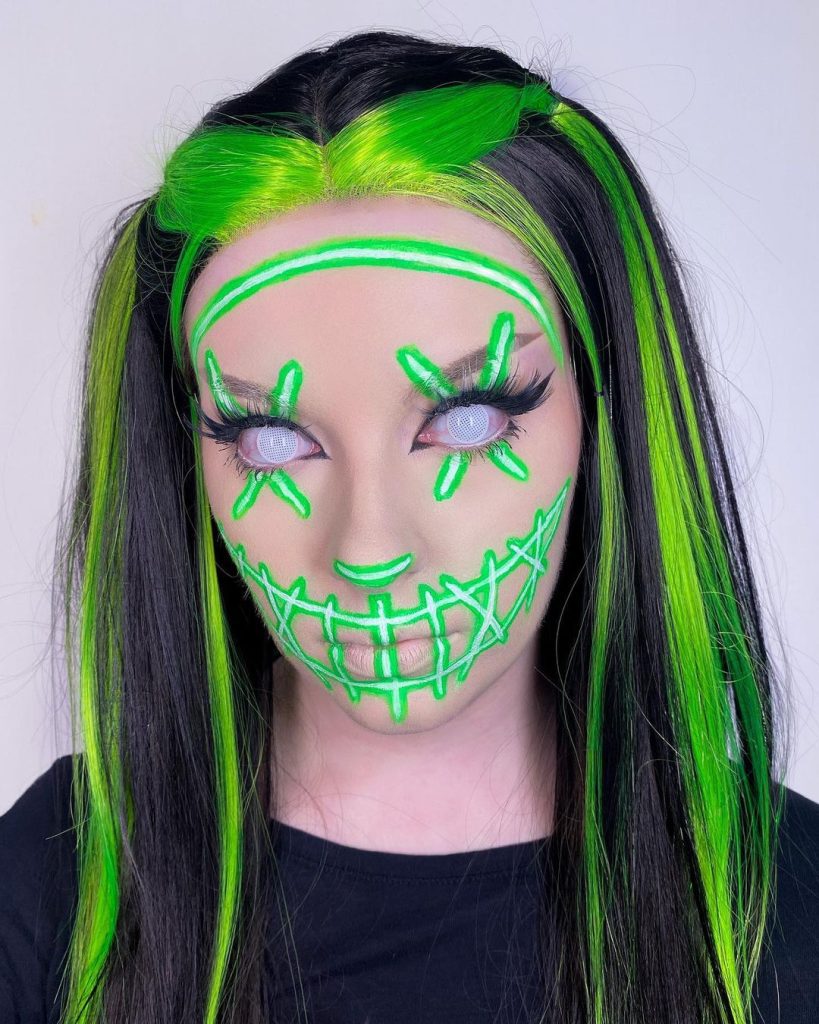 This electrifying makeup look, adorned with neon lights and bold colors, is designed to make hearts race on Purge Night. Its daring intensity matches the night's energy, catching eyes and holding attention. But instead of keeping people ogling at you, they will want to turn around and flee.
Cats
Step into whimsy and theatricality this Halloween with a makeup look inspired by the iconic 'Cats' show. This model's eyes are adorned with feline-like elegance, featuring a mix of smoky grays and deep blacks that mirror the mystique of the characters.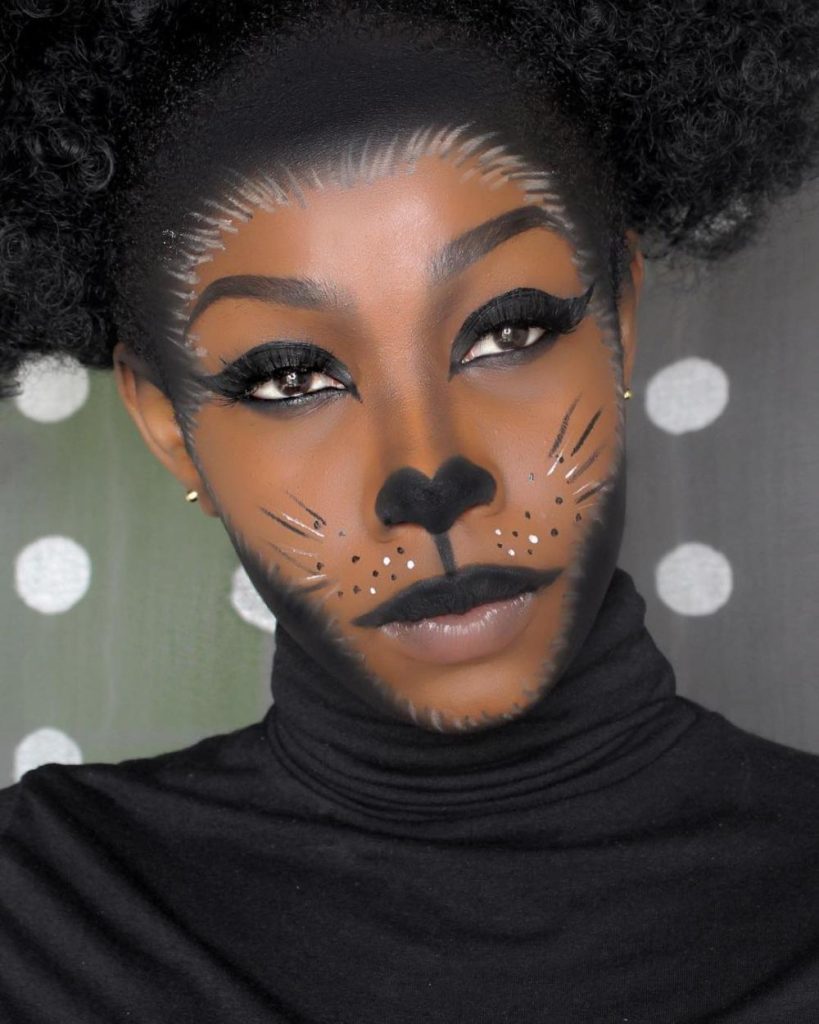 But the transformative touches truly capture the essence of 'Cats.' Whiskers delicately drawn on the cheeks, a nod to the playful feline nature, and a nose adorned with a hint of pink, adding endearing charm. What more could you ask for?
Remember What You Did
This Halloween, take your makeup game to a spine-tingling level with a look sure to make heads turn. Imagine the shock on everyone's faces when they see a seemingly real knife stuck to your cheek. This makeup uses expert shading and clever artistry to create a jaw-dropping illusion.
The blade's edge is painted with meticulous attention to detail, making it appear three-dimensional and convincing. Shadows and highlights play tricks on the eyes, adding to the look's realism. With its metallic glint, the handle adds an unsettling, eerie touch.
Measles or Pin-Up
Get ready to effortlessly rock Halloween with a makeup look that's either a playful nod to the '70s pin-up era or a quirky imitation of the measles. For the pin-up vibe, think soft blush hues, cat-eye liner, and luscious lips.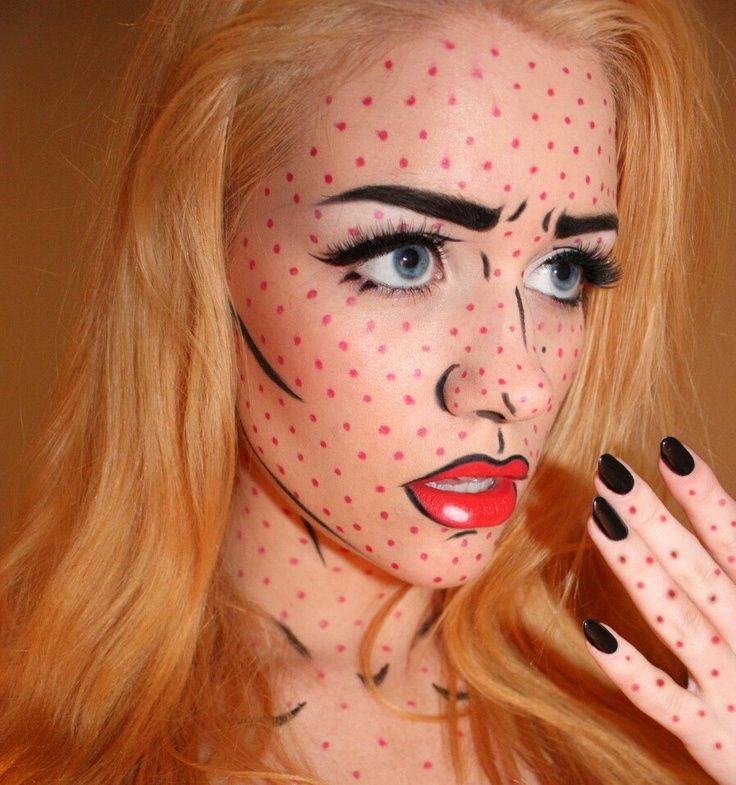 Or, for a whimsical twist, go for the measles-inspired look. Play with polka-dot-like spots across your cheeks and nose using a light hand and a spotty pattern. Subtle pink undertones will make them look cute rather than contagious, but you've got many sexy nurses around to help.
Screaming 'Pop'
Get ready to turn heads this Halloween with a pop culture-inspired makeup look that's as fun as it is effortless. Just look at this model rocking a bold and bright yellow eyeshadow that captures the vibrant energy of your favorite childhood toys.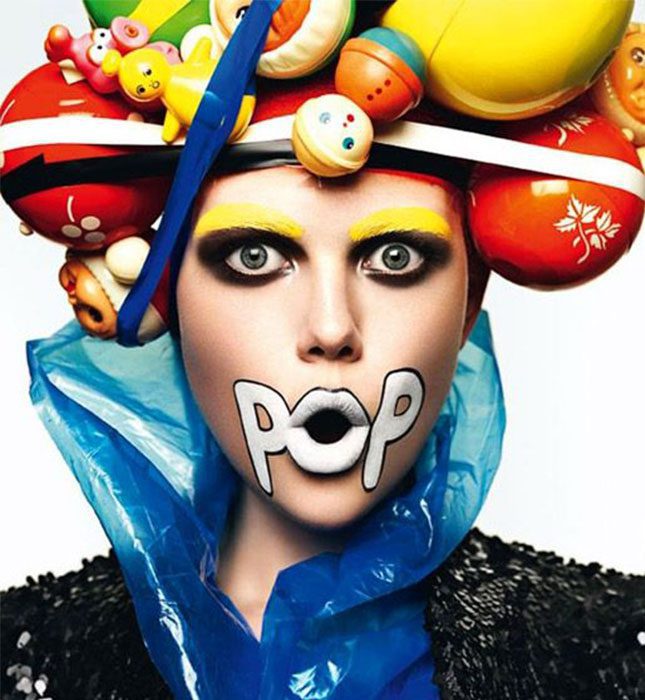 Embrace the nostalgia by wearing children's toys as headpieces. Think oversized LEGO bricks, mini action figures, or cute plush characters. Playful and attention-grabbing, these accessories transform your appearance into a creative celebration of pop culture. Just stay clear of babies who want to touch those items.
Secret Sect
This Halloween, embrace the enigmatic allure of a secret sect with an effortlessly captivating makeup look. Imagine a palette of deep, mysterious shades that evoke a sense of belonging to something mysterious. Go for pink, smoky, almost ethereal eyes that draw others in with intrigue.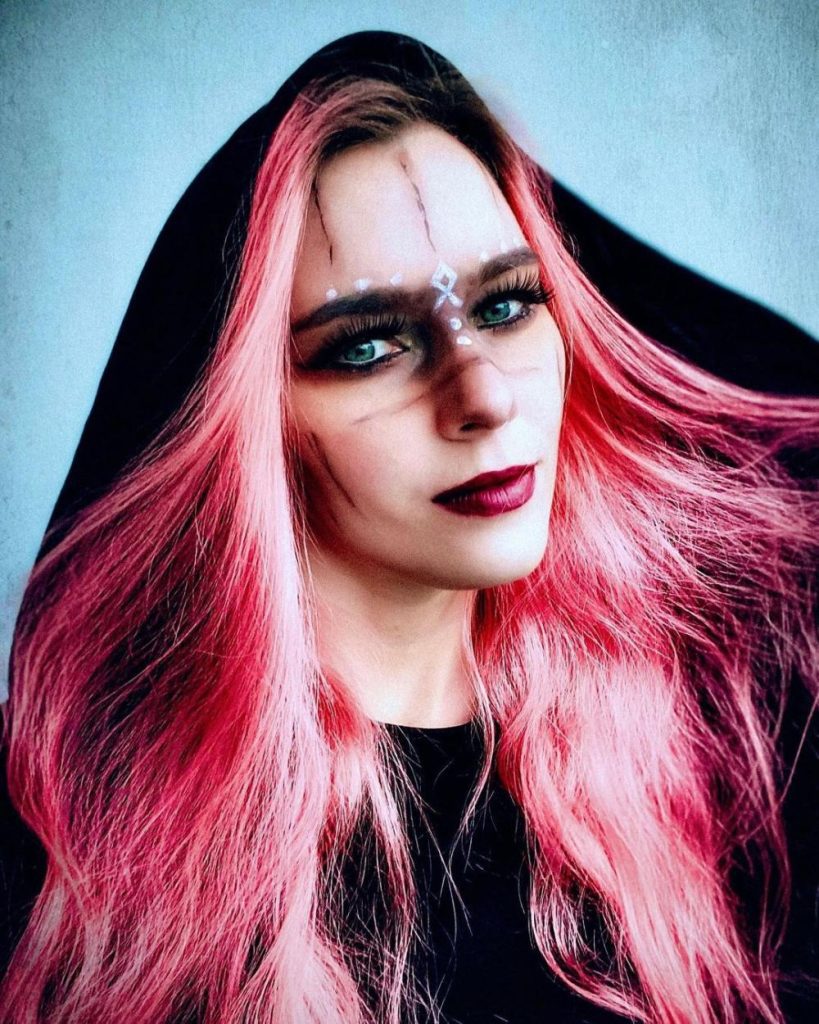 Choose a lip color that's both bold and enigmatic, like a deep plum or a rich burgundy. The key is to create an air of secrecy as if you're part of a world shrouded in mystique. Then, remember to draw your sect's symbol for that air of mystery.
Touched by Rays
Get ready to embody the enchanting spirit of a nymph. Imagine a soft and radiant makeup base that mimics the delicate glow of forest nymphs at dawn. A touch of peachy blush gives your cheeks a natural flush as if touched by the sun's first rays.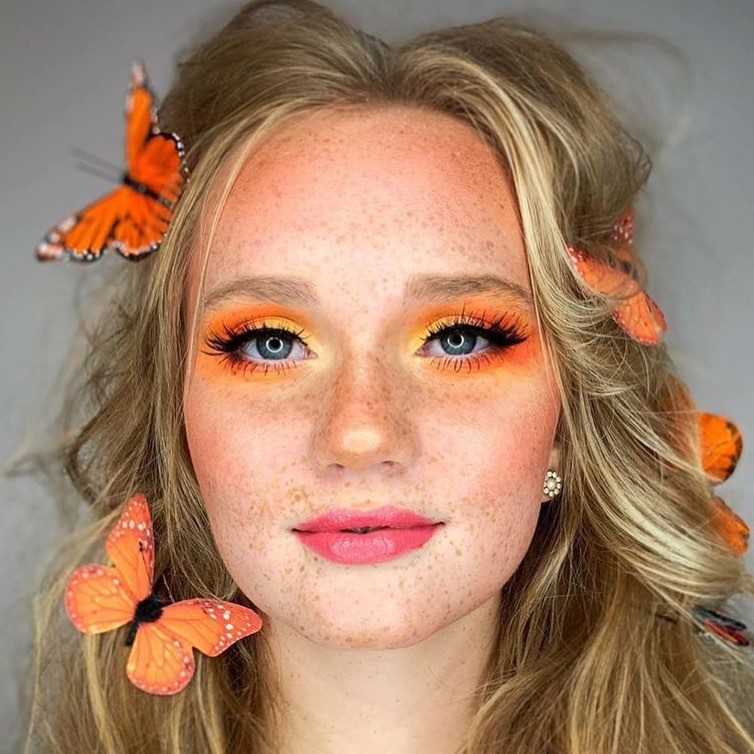 For the eyes, go for shades of warm orange and earthy browns that mirror the hues of autumn foliage. Keep it light and ethereal, like dappled sunlight through leaves. Add a subtle shimmer to your eyelids for a magical glint.
Wonder Woman
This Halloween, unleash your inner Wonder Woman with an effortlessly stylish pin-up makeup look that's as powerful as glamorous. We suggest that you put aside time to recreate the lasso so you can hold criminals down and then have them 'fessing up.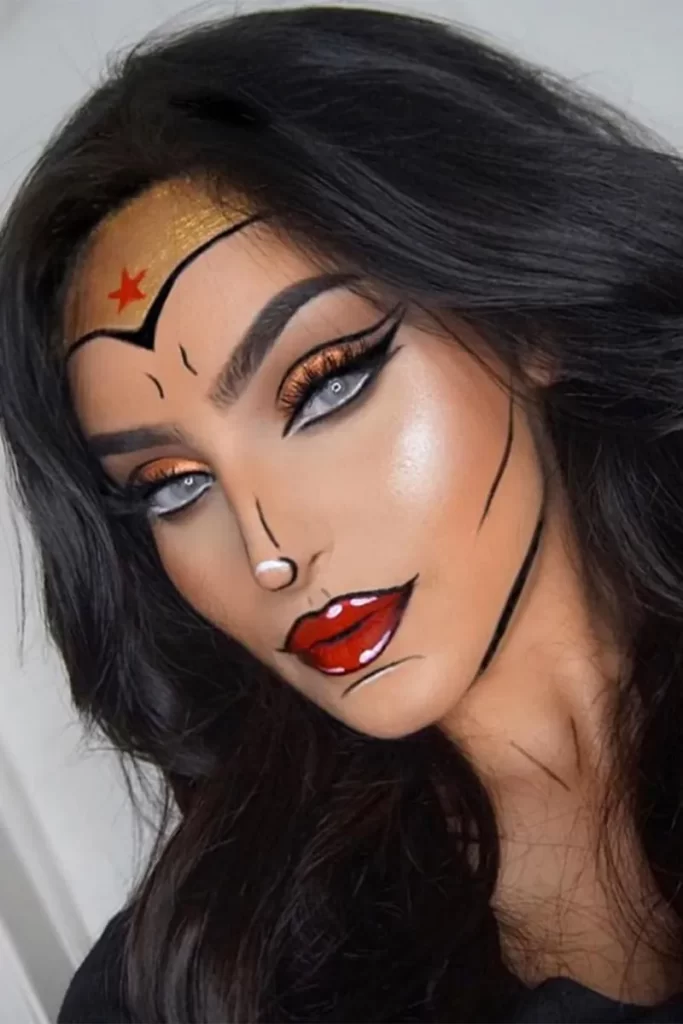 A touch of gold eyeshadow on the lids adds a hint of magic, echoing her Amazonian origins. Don't forget to precisely define your brows using a white liner for that extra touch of pin-up elegance. Place it in the right spots, and it'll look like you've stepped out of a comic book.
Ladies of Age
This Halloween, ladies of age can embrace their inner glamour with a twist of villainous elegance inspired by Cruella. Imagine a chic and sophisticated look that exudes confidence. Start with a dramatic streak of red eyeshadow that captures Cruella's bold attitude, embodying her distaste for people beneath her.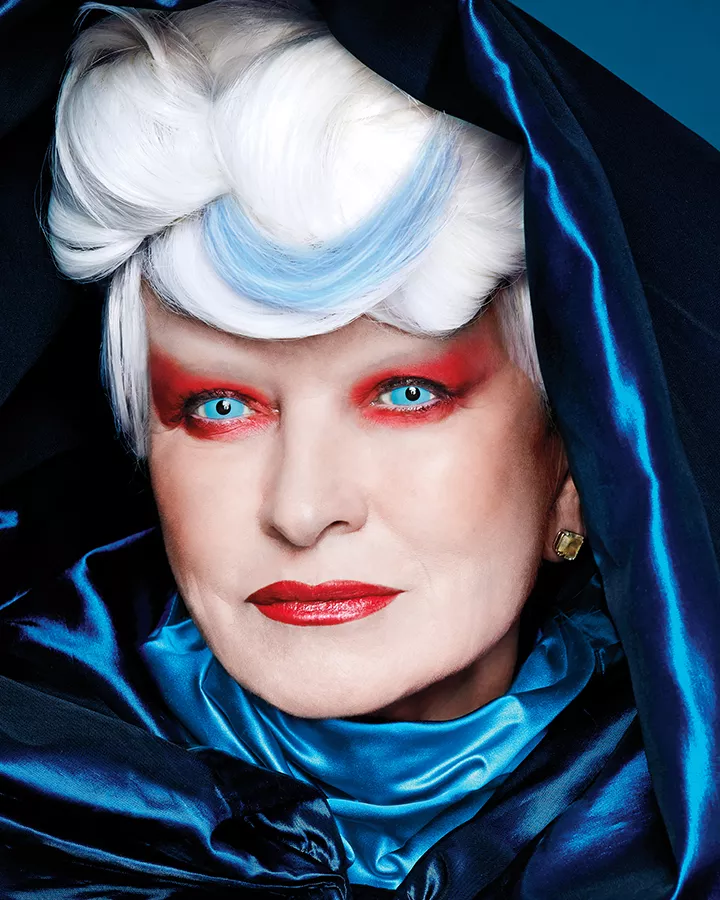 For the hair, a white wig brings out the essence of Cruella's iconic two-toned locks. Let it cascade effortlessly, framing your face with a touch of sophistication. To complete the ensemble, a flowing blue cape (or hood) drapes you in an aura of allure and drama.
Demonic Enchantress
Get ready to flip the script on classic fairy tales this Halloween with a haunting twist on Snow White. Here's a look that merges innocence with darkness, featuring pitch-black eyes that hint at a sinister secret. This is Snow White like you've never seen her – a demonic enchantress.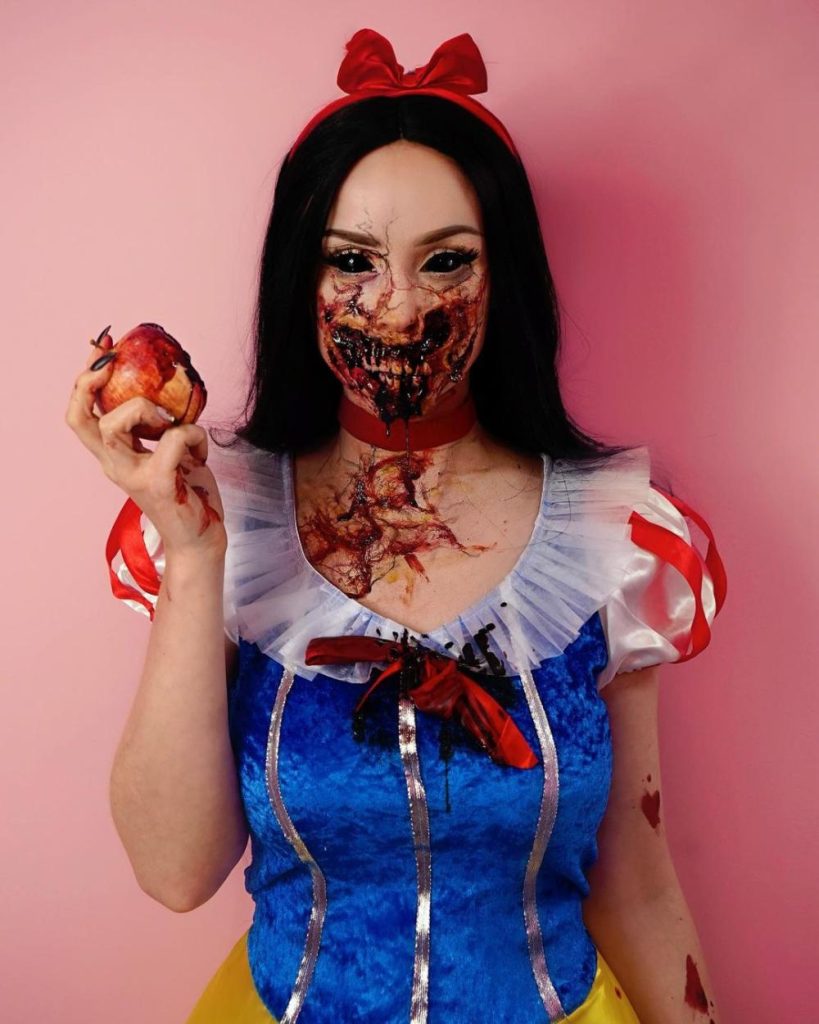 Snow White is a demonic enchantress with an insatiable thirst for the macabre. The only telltale sign is those pitch-black eyes that reflect your very horror. And her lips- her lips are painted a deep crimson hue, a nod to Snow White's forbidden fruit.
IT Factor
Step into the world of pop culture this Halloween with an effortlessly iconic look inspired by Ariana Grande's "Thank U, Next." Sport a high ponytail, a nod to her signature style. Pair it with a fierce cat-eye liner that captures Ariana's confident energy.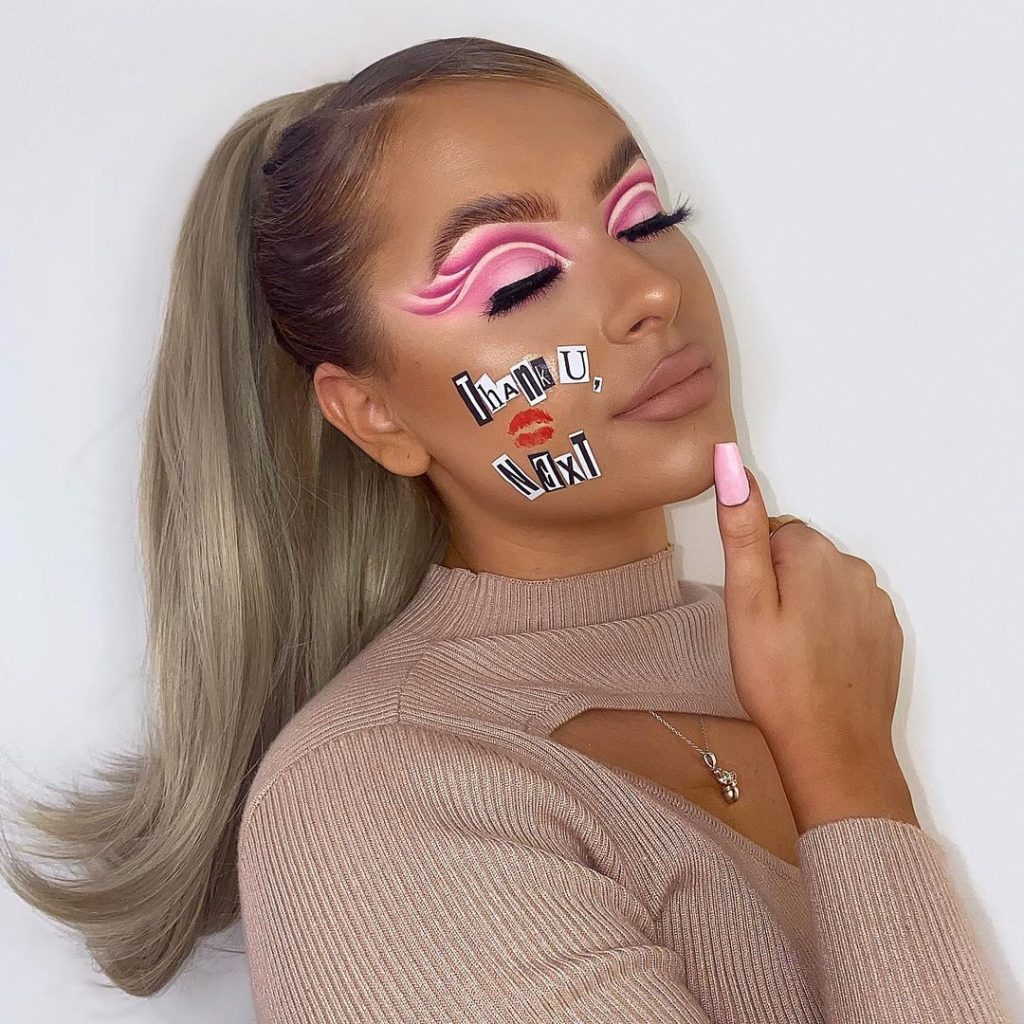 Fortunately, you won't have to have exes like Pete Davidson to write a catchy song. You just need to look the part, and guys will be chasing you left and right. Pay no heed and strut those thigh-high boots and ponytail!