Stealing The Spotlight: 35+ Daughters Rocking Mom's Prom Dresses
By Saniya B May 25, 2023
---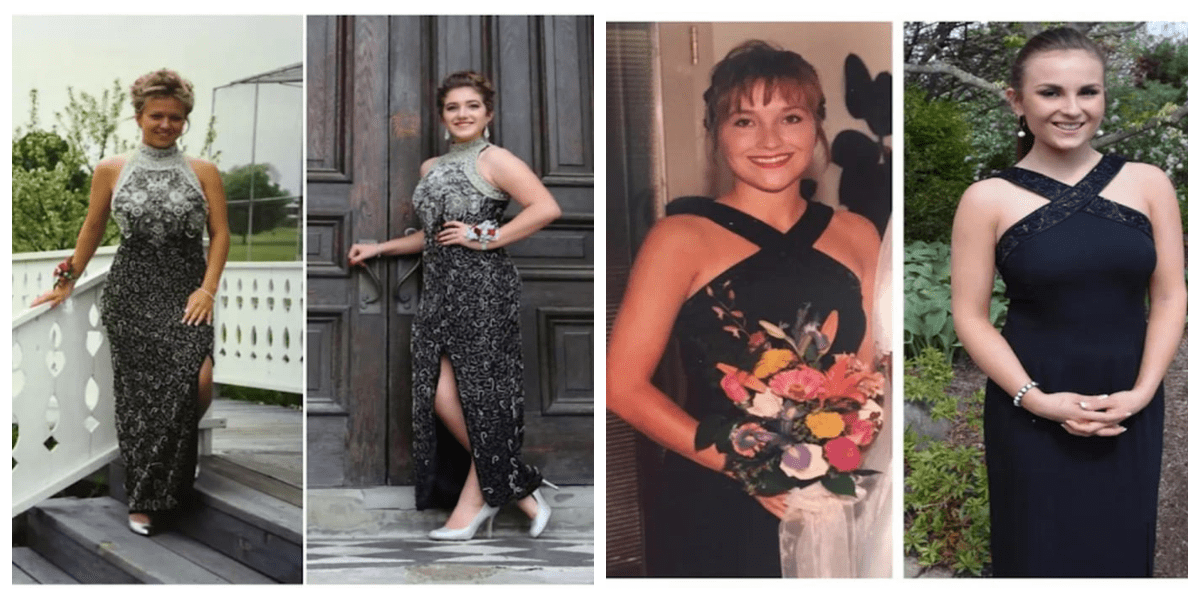 Prom is a grand celebration and a rite of passage for most teens. It is an opportunity to create lasting memories, and a magical night filled with food, friends, fun, and a lot of dancing, often referenced in movies and series. 'What do I wear to prom?' is one of the most common questions before the big event. While others may spend hundreds of dollars on a prom dress, some teens cut back on the expenses and use it as a chance to honor their mothers by wearing their mom's prom dresses. With a few tweaks here and there, you, too, can do the same and look like a million dollars. Here are a few rocking looks to inspire you.
Looking Regal Is In Their Bones
If there's one word to describe this mother-daughter duo, it's regal. Elegant and beautiful, both effortlessly aced the satin dress look! Nowadays, we mostly see long satin dresses, but short ones were the talk of the town a few decades ago.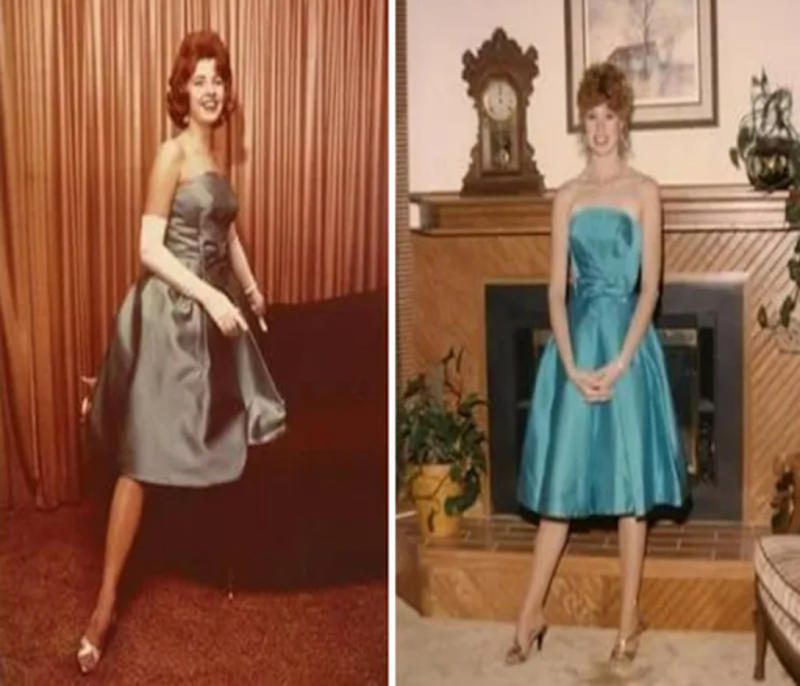 As you can see in the picture, the daughter wore the same dress as her mother, but she made a few changes for a more updated look. She ditched the gloves and opted for a messy but beautiful bun too.
P for Purple, P for Pretty!
The color purple is associated with royalty, power, wisdom, and luxury. No wonder it was so trendy back then that every other gown was pretty much purple. We'll let you in on a secret; the color is making a comeback with its lilac shade!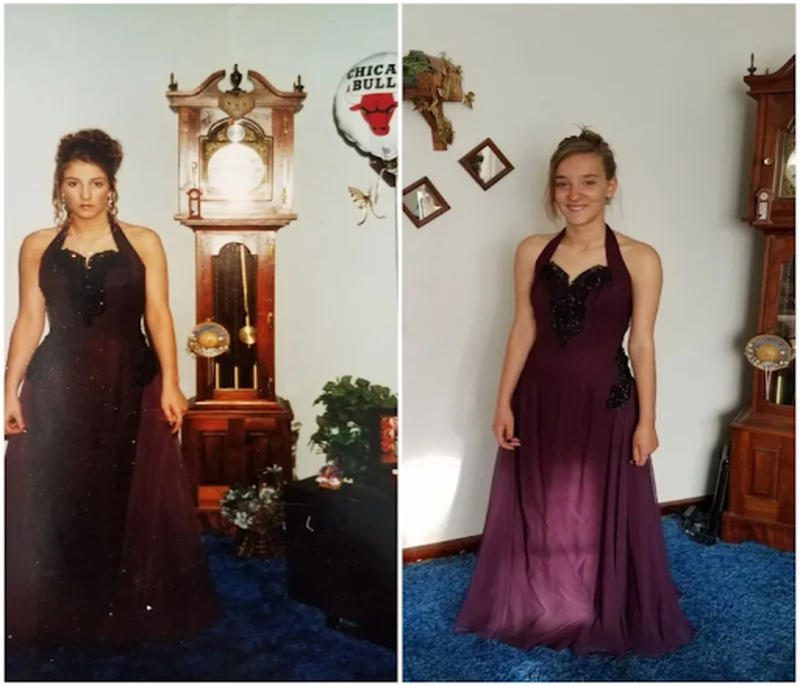 This mother and daughter are fans of this lovely purple gown with a stylish halter neck. While the mother loved the blingy mesh, the daughter removed it to give the dress a more contemporary look, and boy, did it work!
Old or New – Animal Prints Remain a Classic
Do you remember the early 2000s when animal prints ruled the fashion world? From chick flick movies to prominent luxury brands, animal prints were everywhere! Iconic characters like Carrie Bradshaw and Serena van der Woodsen made them more popular too.
We thought that prom and animal prints would be a big NO, but this fashionable duo proved us wrong by wearing this bold animal print dress with midriff straps. In Gen-Z language, they ate it all and left no crumbs!
A Perfect Look of Luxury
This teenager wore her mother's lace and velvet dress; we understand why she wanted it. The wine-colored dress, with its delicate lacework, looked luxurious. Plus, it seemed custom-made the way it fit the mom and the daughter like a glove!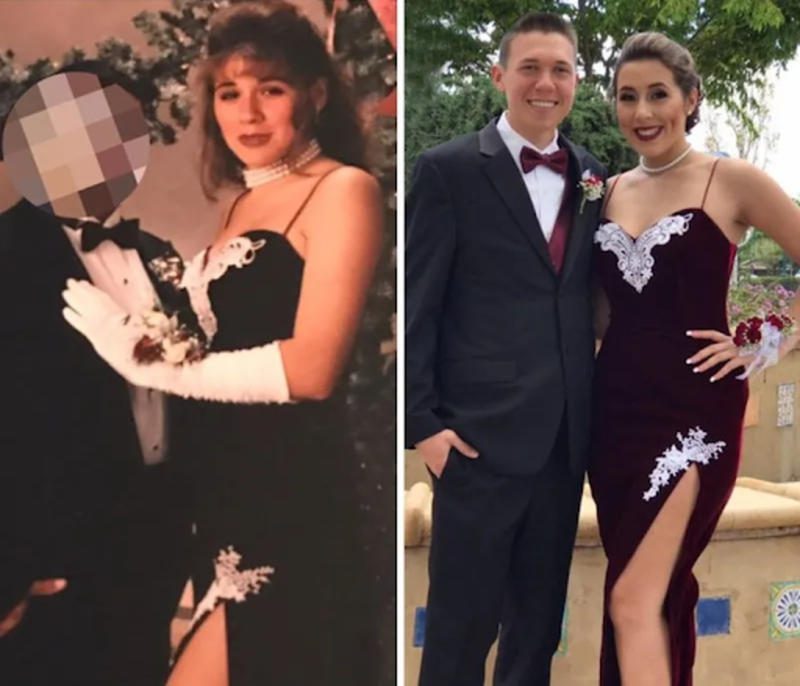 If you look at it closely, the mother also wore gloves fashionable in the '80s and '90s. Her daughter, however, replaced the gloves with a corsage that was just as gorgeous. These two look like winners, and they are enjoying themselves.
Family Blessed With Beautiful Genes!
There's just something about a father-daughter relationship that gets us teary-eyed. This family won our hearts with the mom posing in her military ball dress with her husband. A few years later, the daughter is wearing the same gown for her prom and posing with her dad.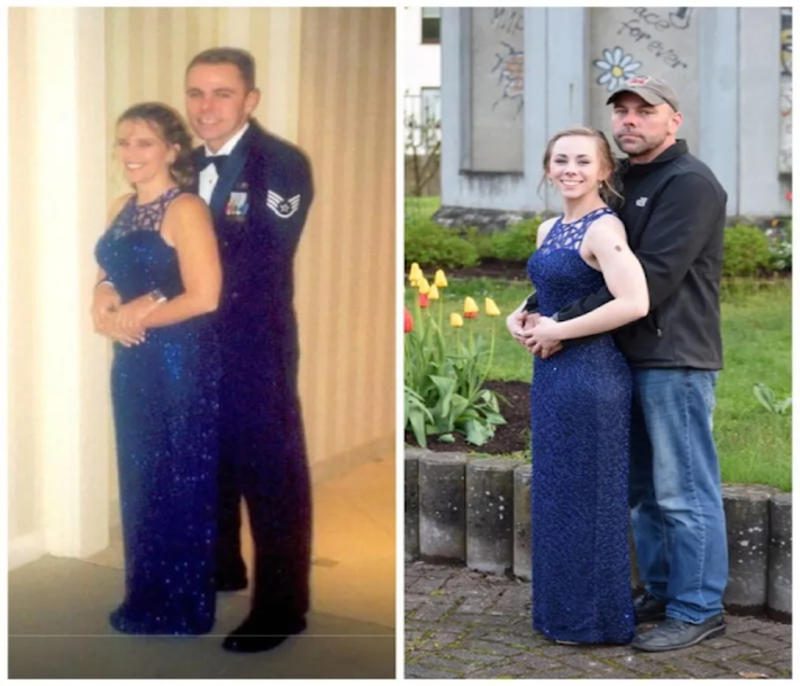 It's worth noting how new and exquisite the sparkling blue dress looks in these two pictures. We can't even tell it's old. You also cannot ignore how the dad seems protective of his daughter in the last picture. Dads never change!
Wedding Look or Prom Look? You Decide!
White is not the most popular color for prom gowns, but these two love it and chose to go to their proms in white. No, this is not a wedding shoot; the mother and daughter are snapping a few photos to remember the special moment.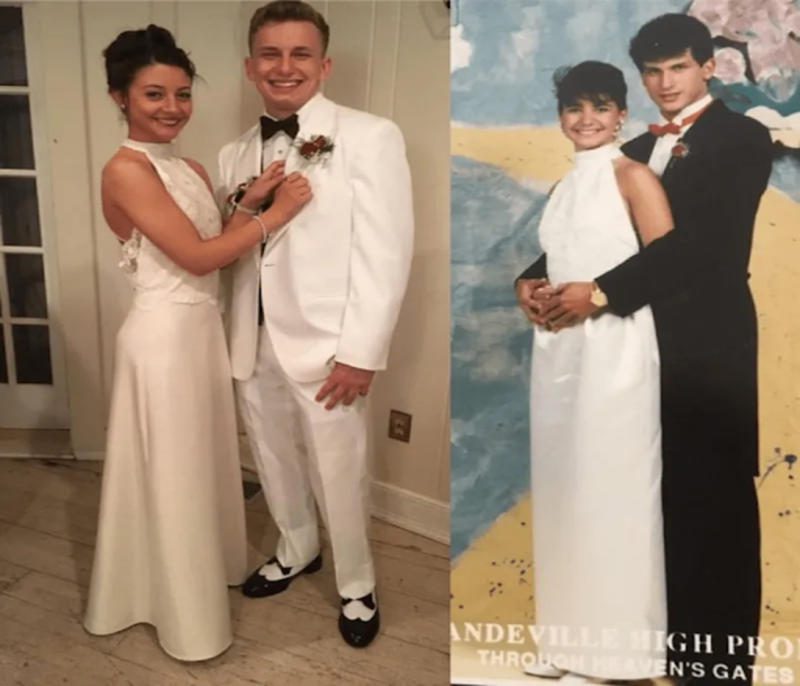 The floor-length hemline and flattering halter neck give us bridal vibes. After looking at this photo, you might see your mom's wedding dress in a new light. A few changes, and you can make it perfect for your prom.
The Ladies in Red
Red can never go out of style. Most commonly associated with passion, heat, energy, love, and joy, a red dress is a huge fashion statement in itself! These two ladies killed it with their drop-dead gorgeous cherry red prom dress.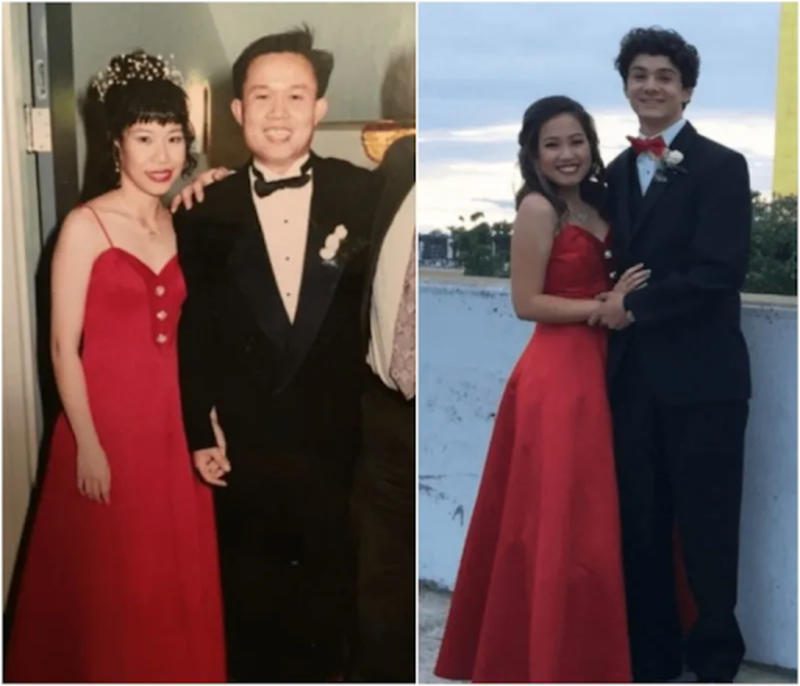 While the mother chose to style the dress with a beaded updo, her daughter kept it simple, wearing her hair down. Others would make a few changes to make the dress more modern, but this lady decided not to and it paid off.
Dazzling the Minds With Sequins
You are either madly in love with sequins; or don't like them at all – there's no in-between. If you fall in the former category, this sparkly and extravagant sequin dress worn decades apart might be right up your alley!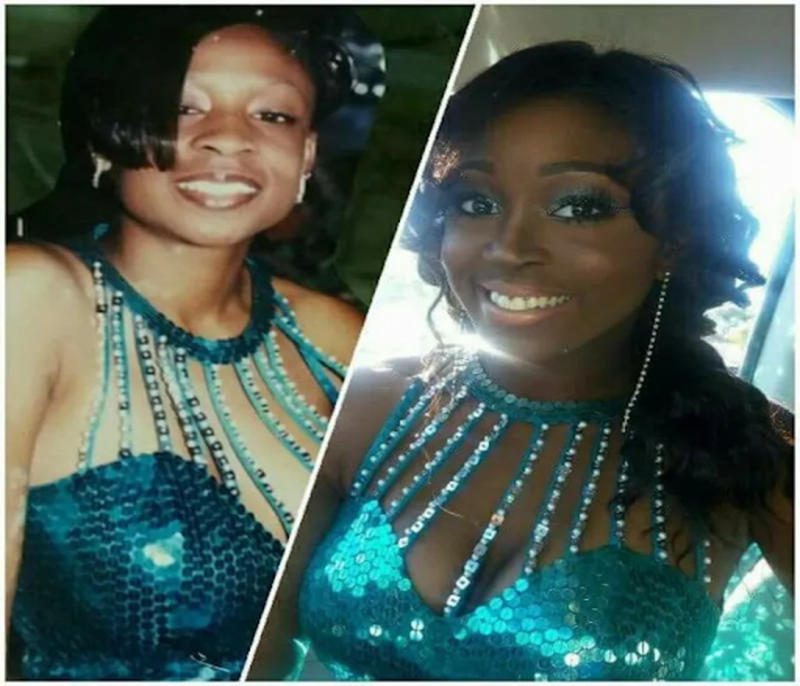 The teen wearing her mom's breathtaking sparkly turquoise dress can put to shame even Ariel from The Little Mermaid! While the mother had a glossy-nude makeup look, the daughter went va-va-voom and matched her makeup with the outfit. We love her earrings too.
A Generational Gift For Sure!
While most people hand down exquisite jewelry, expensive designer bags, or rare books from one generation to another, these young women received a classic pink prom gown from their great-grandmother and made lovely use of it! This is an excellent way to start a family tradition.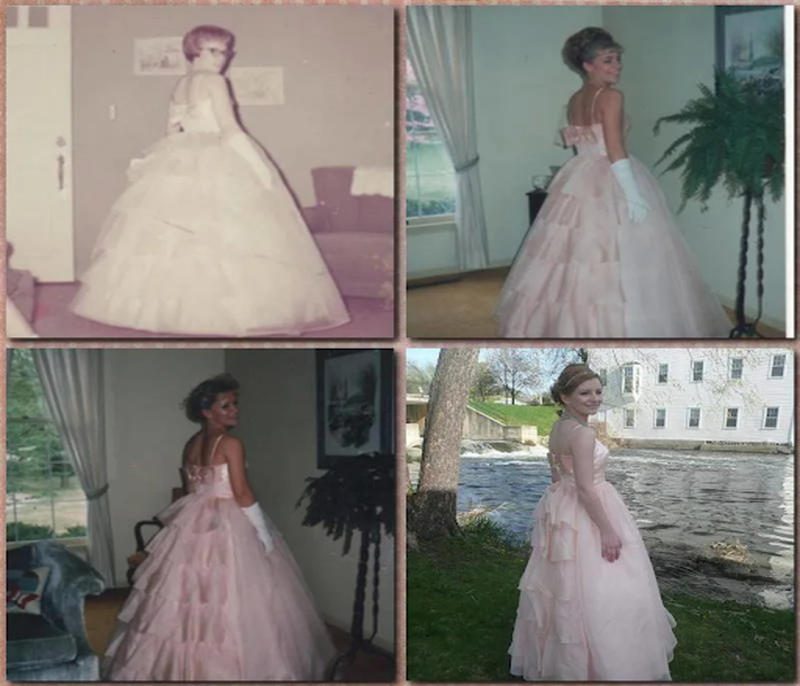 The great-grandmother wore the prom dress first in 1962. The following three generations also wore the same dress and styled it similarly. If you look closely, even their hairstyles are identical! We won't mind wearing a dress like that, even if it's over 50 years old!
Green Is The New Black
Green is not the color that comes to mind when the word prom is mentioned, but when done right, it can result in a look that will get heads turning. This is one of the most unique prom dresses we've seen.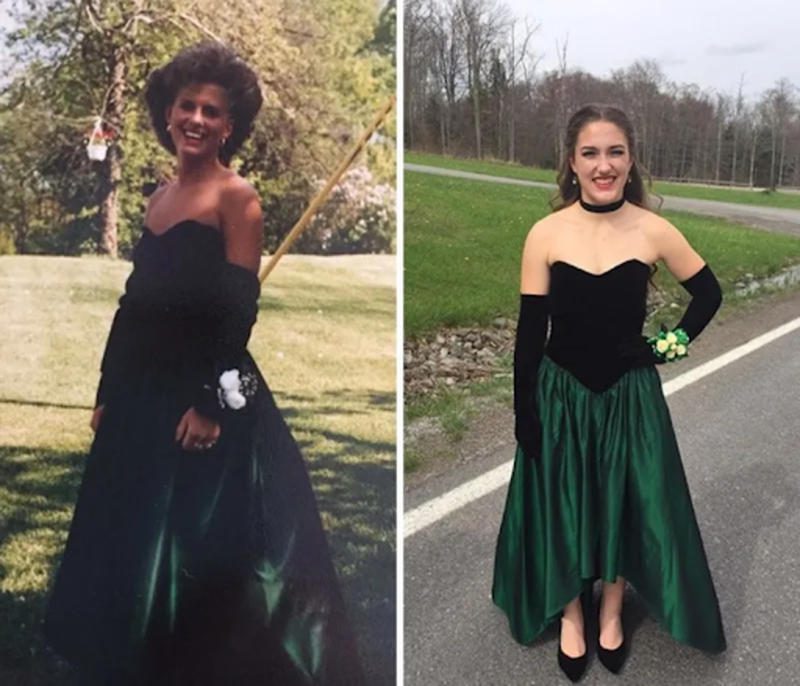 We can't decide if the fashionable cut or the color combination makes it look fantastic on both ladies! The women wore corsages and accessories to complete their prom looks, and we are big fans of the daughter's black choker.
There Are Never Too Many Ruffles
Dresses with ruffles were the one thing that made little girls happy. As a kid, you can never have too many ruffles, and these women channeled the little kid in them when they went to prom in a pink dress embellished with ruffles.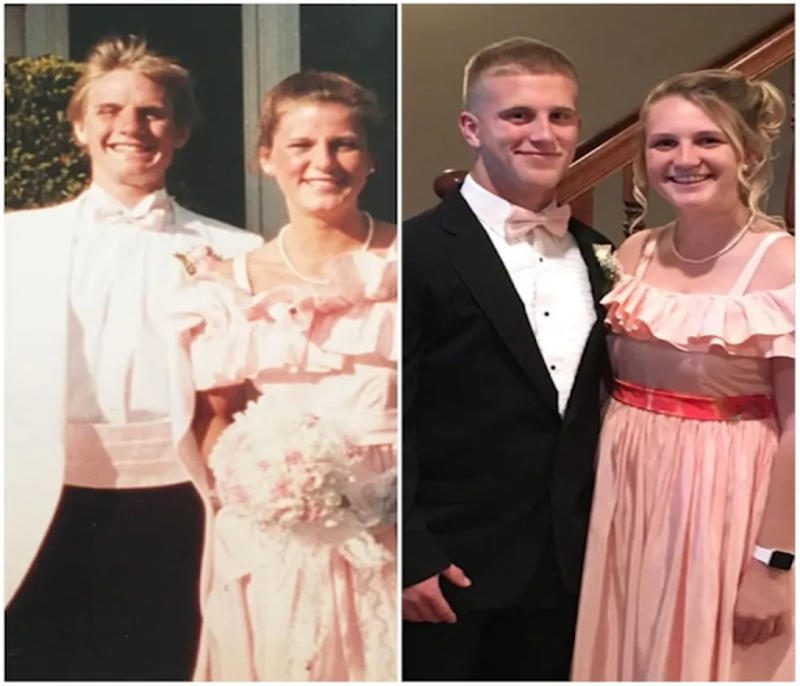 The daughter decided to update the dress and made a few changes. She got rid of a few ruffles in some places but decided to stick to tradition by wearing her mom's pearl necklace! What do you say? Yay, or nay?
Wearing Away Their Blues!
Why worry or chase your blues away when you can wear them, just like this mother-daughter duo? If you thought peplum was a new thing, take a look at this. You can never go wrong with a blue dress in a stylish peplum pattern and shimmery fabric.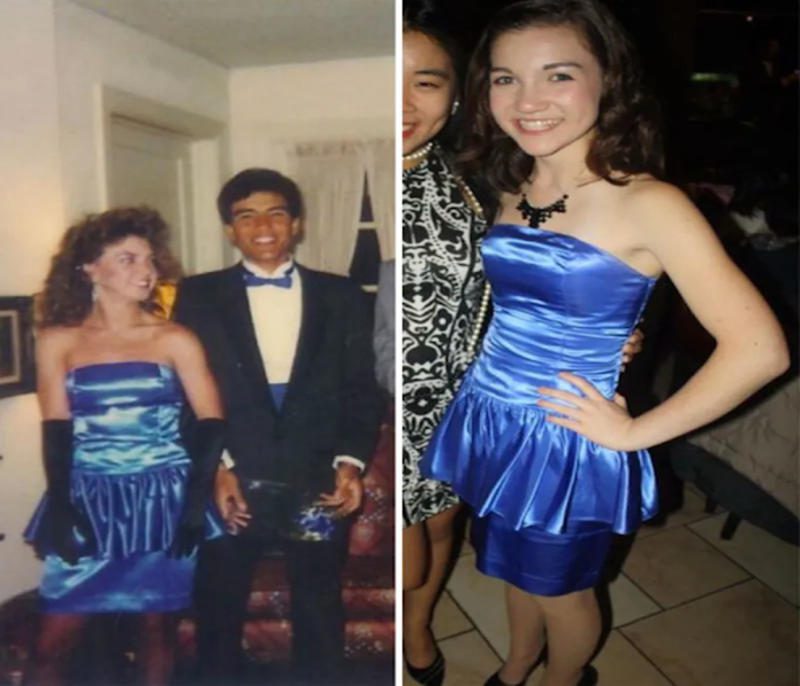 It's admirable how the daughter didn't shy away from something as retro-looking as this and gave it her twist. Unlike her mother, who wore black gloves, she opted for a black necklace. Judging by their smiles, nobody was feeling blue!
The Breakfast at Tiffany's Style
Without a doubt, Audrey Hepburn has given us a plethora of iconic looks which women all over the world still copy now. Her black dress from Breakfast at Tiffany's, paired with dazzling jewels, is one of the most recognizable and replicated looks.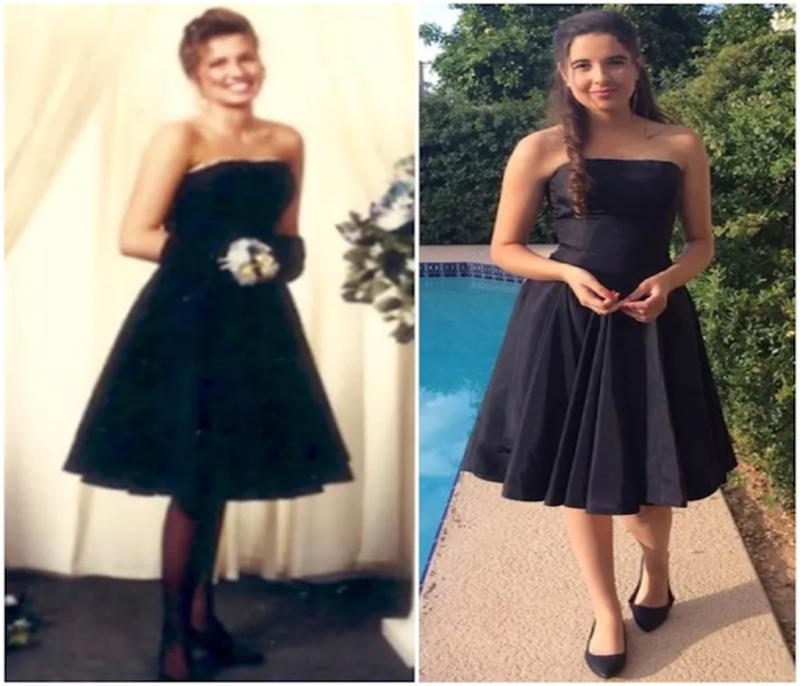 These mother-daughter pair have taken their cue from Audrey and went to prom in a little black dress. The mother decided to copy Audrey's bun, but the daughter kept her look more modern and let her soft curls down.
A Baby Pink Miracle!
Fashionistas love seeing dresses upcycled instead of throwing them away. With creativity, you can turn an old dress into something new. This daughter took her mother's old prom gown and turned it into something she could wear to her prom.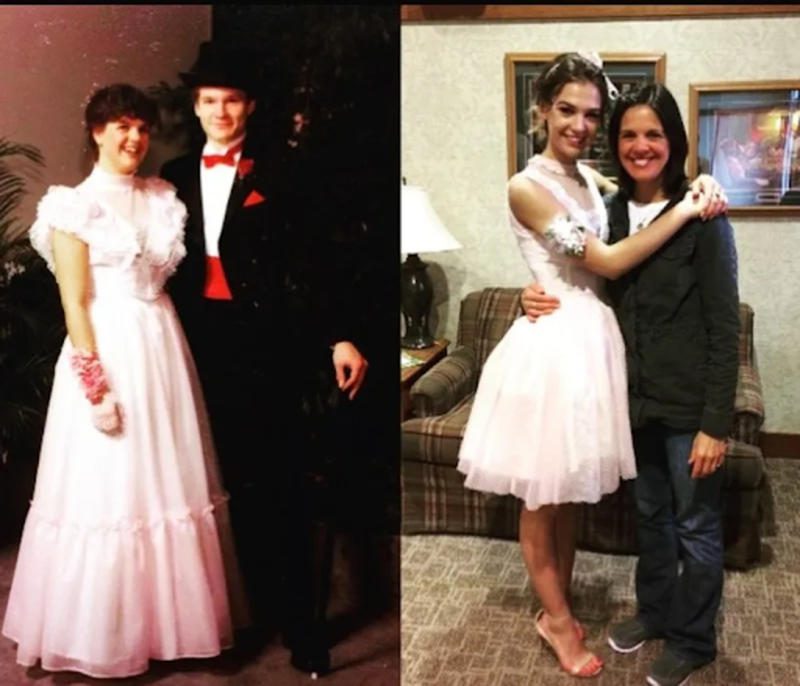 You can't even tell that it's the same dress. The daughter shortened it and removed the sleeves for a more modern look. Yay for people who have talents in sewing. We wish we could do the same to our old dresses.
A Truly Corseted Vintage Look
Most women have a love-and-hate relationship with corsets. They can make your tummy look flat while giving your other body parts the lift they need. However, they can get uncomfortable! Imagine holding your belly in after all the drinks you've consumed at the prom. Ouch.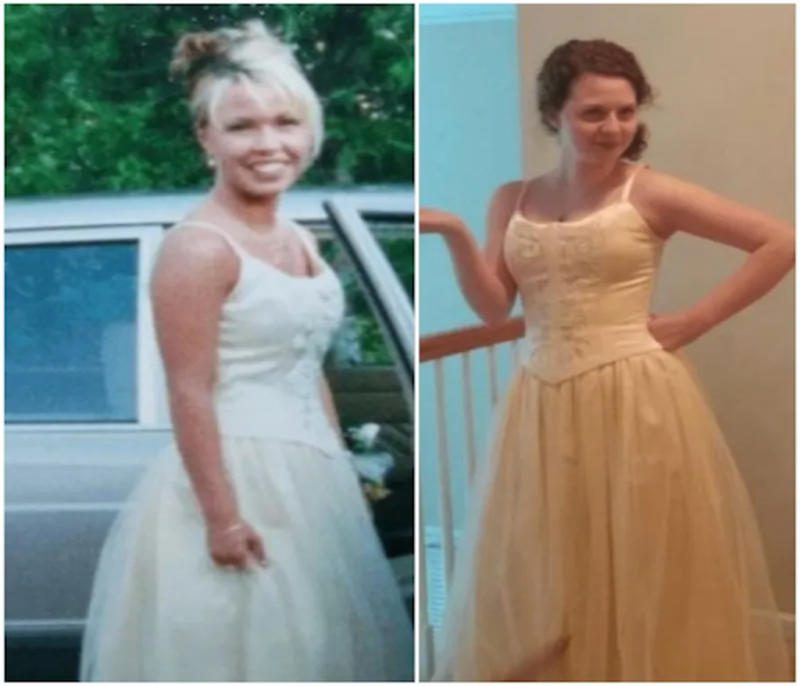 Despite everything, these women took the risk and wore a corseted dress. The mother and the daughter carried off the dress in ways our clumsy selves can't even imagine. Plus, the skirt simply looks divine and worth all the pain!
Another Sequin Masterpiece
Sequins are a big thing in pageants and proms, and to prove that, here's another dress with sequins that made a mother and her daughter true show-stoppers during their special night. You can never go wrong with a dress as fashionable as this.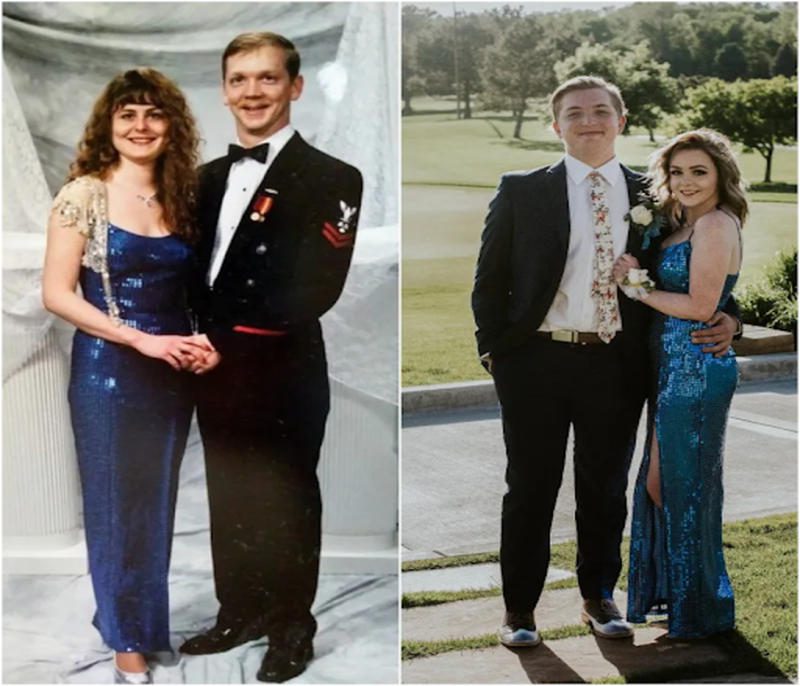 While her mother chose to wear something to cover her shoulders, the daughter decided not to and went with dramatic smokey-eye makeup that made her look stunning. Even the sequins could not outshine the ladies' radiant smiles on their prom.
Slits Can Improve the Look Easily!
It's safe to say that red looks great on every skin tone. Here's another lovely red dress worn by two beautiful ladies to one of the most important events of their lives! With details such as a sweetheart neckline and side slit, this dress will never go out of style.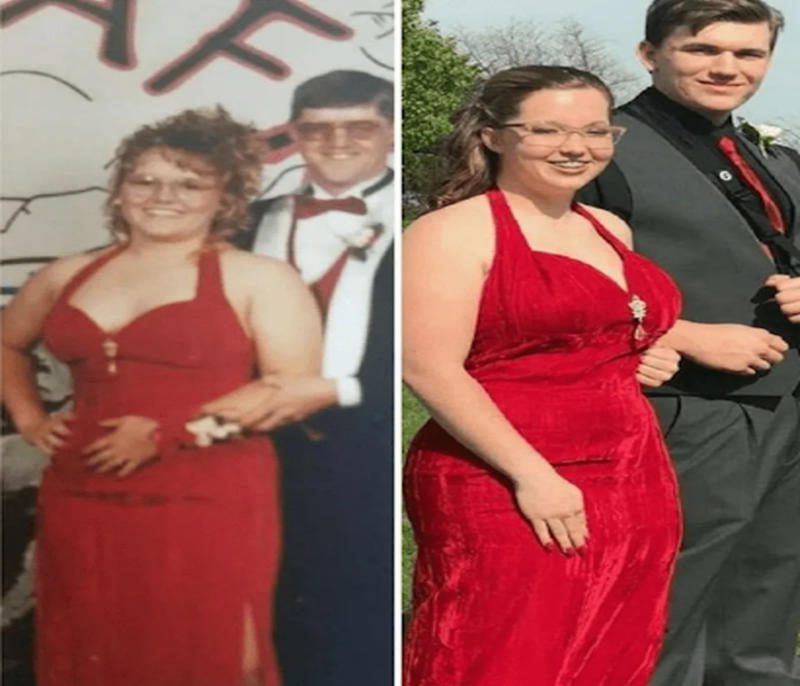 If you look closely, you'll see how the daughter resembles her mother in every possible way. Even their glasses and hair look incredibly similar! If we didn't know better, we'd say it was the same person who traveled back in time to take pictures.
From Puffy Sleeves to Halter Neckline
Some people have an eye for fashion. They know what works for their body type and avoid what doesn't. They also know how to make an outdated dress look modern. This daughter took her mom's prom dress and made a few changes.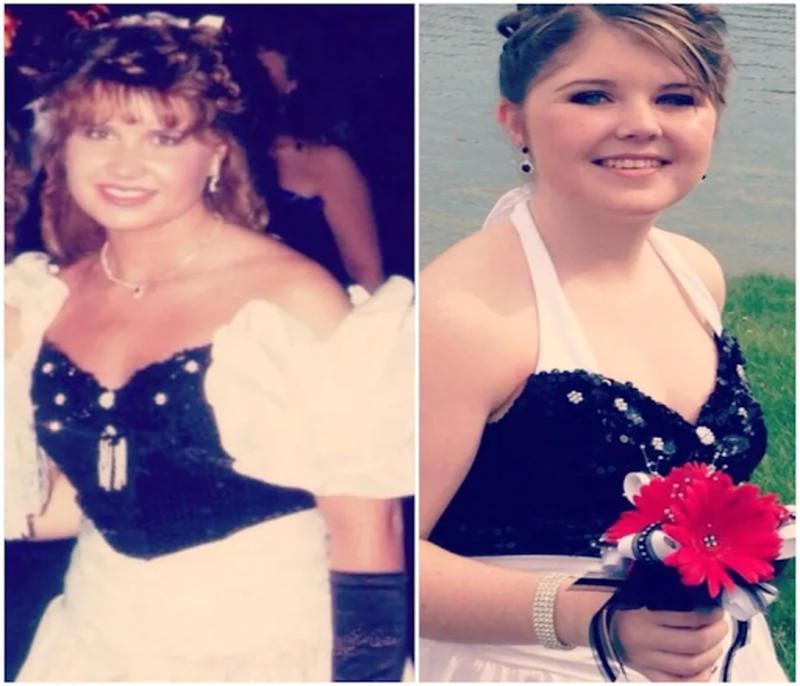 The result? A transformation that made people fall in love with the dress and the daughter who so lovingly spent effort and a lot of time turning it into something she could wear. We're sure her mother is very proud of her.
Literally Twinning!
No, you're not seeing double, and your vision is completely fine. No need to rush to the eye doctor. While most of the mother-daughter duos in this article look similar, this specific duo looks like twins born in different decades.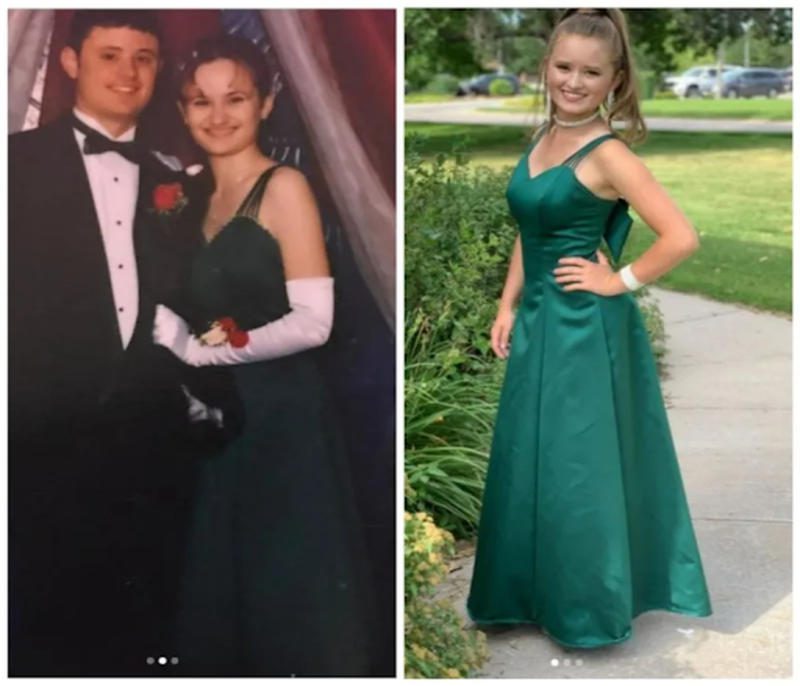 The mother wore this prom dress in 1995, and a few years later, it was her daughter's turn to make it her own. The daughter didn't wear gloves, and accessorized with a choker-style necklace, but she looked as stylish as her mother.
Blooming Like a Flower
You won't see a lot of floral gowns at the prom since most people think of it as a summer pattern. Yet, these two women proved that you can look good while breaking a few fashion rules by wearing a floral dress with a high neckline and ruffles on the bodice.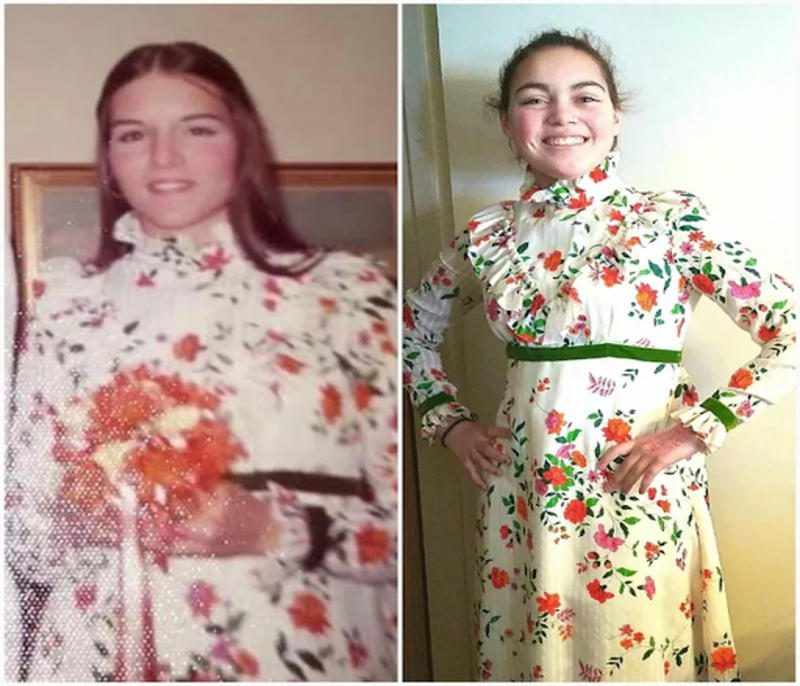 We think the daughter was only trying the dress on for the big event when her photo was taken, not on her way to prom. She hardly has any makeup on and isn't wearing accessories. Either way, she looked lovely.
Mothers Hype Like No One Else!
There's a reason why mothers are their daughters' best friends. Yes, they may argue with one another due to different opinions, but their relationship will always be solid. Mothers are their daughter's ultimate hype queens; most won't shy away from showing off their daughters' beauty.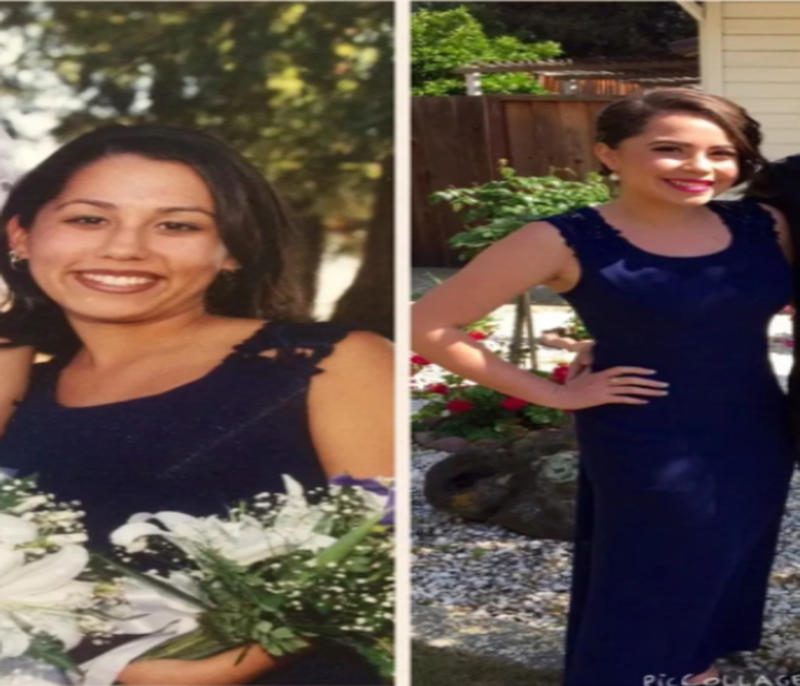 This woman was all praises for her daughter on Twitter for wearing her prom dress and mentioned how her daughter looked better than her! We may disagree here because both of them look remarkable in the royal blue prom dress.
Sequin Black Dress Are the OG Ones
We can all agree that wearing a sequin dress is a sure way to turn heads in your direction. We're confident that these young ladies made everyone notice with this striking black sequin mini-dress, which is one of our favorites.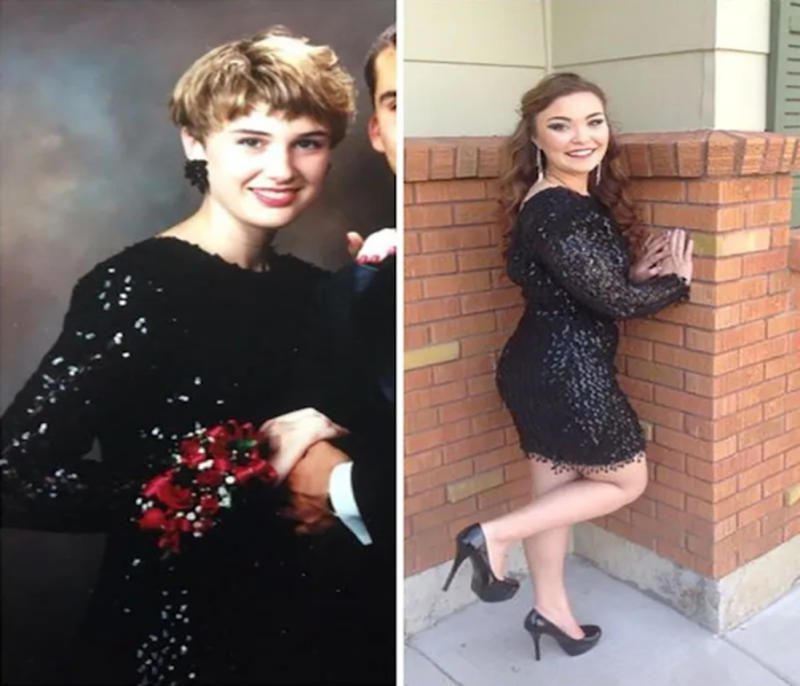 The mom in the picture made a bold statement with her short hair and red lipstick. On the other hand, the daughter let her hair hang loose and wore dangling earrings and black high-heeled pumps. They both looked stunning and happy.
Breaking Some Hearts With Stylish Backs
Dresses with stylish backs are not new. This photo will prove they've been around for a long time, and they were a big hit then, just as they are now! This mom was clearly a fan of the cross-back dress, so she decided to wear one to her prom.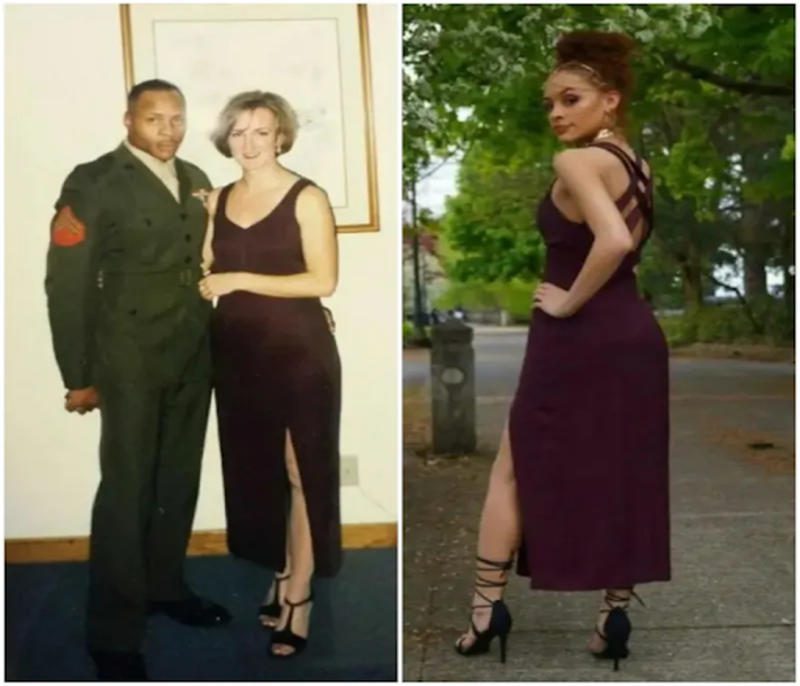 Although her daughter wore the same violet dress to her prom, it's clear they have different styles. The daughter was more of a vixen with her strappy heels, messy updo, and come-hither look. The daughter is flaunting her sexy back too.
Not All Daughters Find Their Mom's Prom Dress Pretty
While most of the stories here are about daughters honoring their mothers by wearing their prom dresses, this one is different. The daughter believes her mom's prom dress looks outdated after she tried it on and posted a picture on Instagram.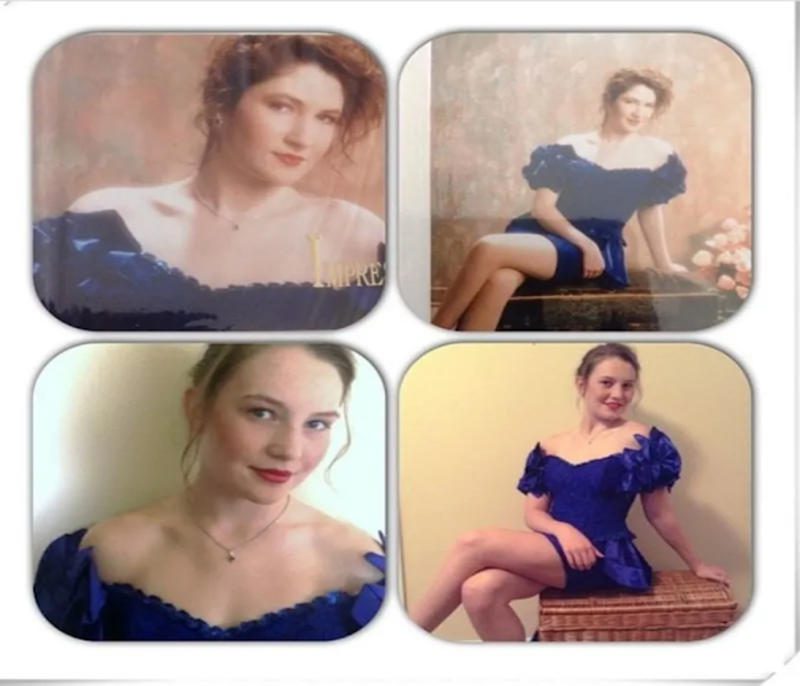 In the caption, the daughter mentions how she found her mom's prom dress from 1994 and wanted to recreate her mom's prom photographs. She believes she looks terrible, but we can agree to disagree on this. The short blue dress looks better than she thinks!
A Ramp-Worthy Look
Some prom dresses make you go 'Wow!', but there are those that leave you speechless. This is that dress for us. Although it is a simple LBD, it can easily give dresses from luxury clothing brands a run for their money.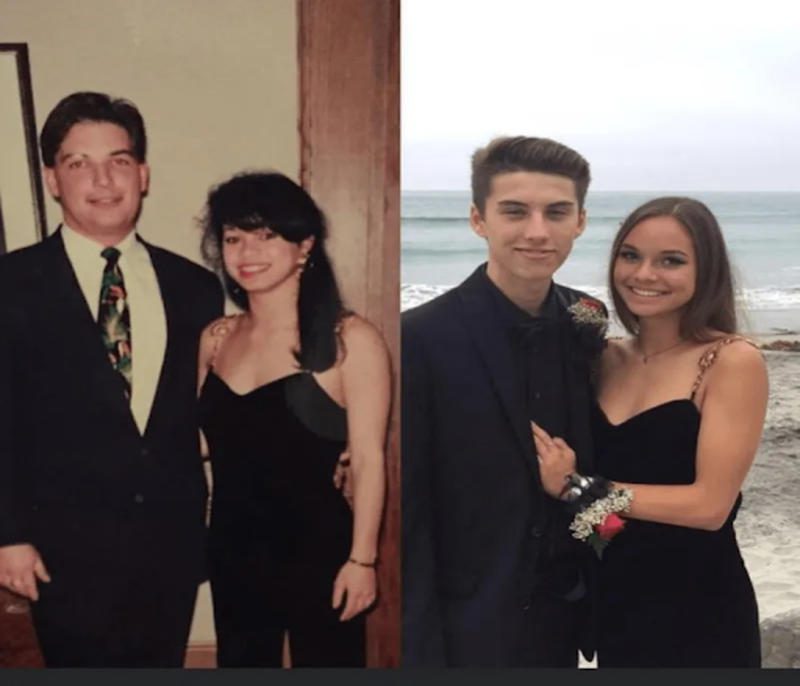 You can see how delicate the neckline is, and the gold straps make the dress look more vogue. Anyone wearing this dress would have a significant confidence boost. It will make you feel like you can do anything and conquer the world.
The Royal Gown
Some dresses make you feel like royalty, and we're sure that this mother-daughter duo felt that way. Who wouldn't feel extra special with that beautifully-tailored dress on? The ladies can star in a Taylor Swift song about a runaway princess!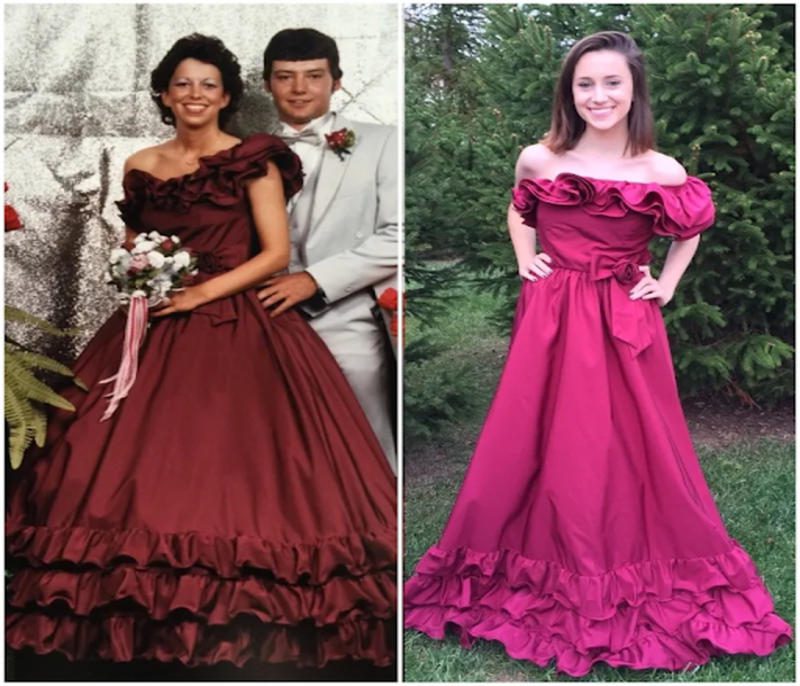 The more we look at the dress, the more details we notice. Everything is glorious; be it the cute ruffles on the off-shoulder neckline, or the cute little bow on the side. A lot of love went into making this dress.
Red With a Little Bit of Twist!
Add this to the list of beautiful red dresses, but this one is slightly different. It isn't plain red; it has a sheer overlay that gives it a little more oomph, and don't we all need that sometimes, especially prom?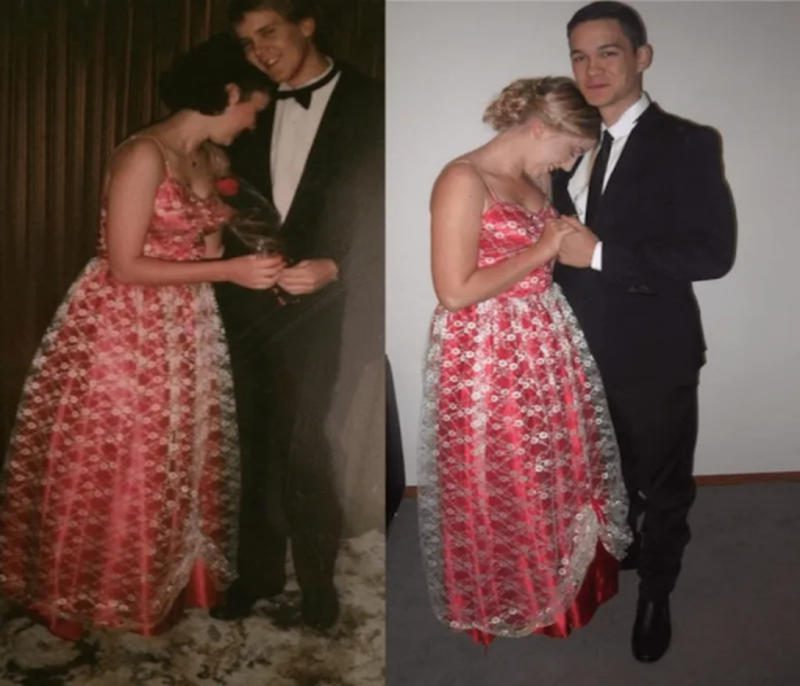 Ok, we're convinced. Wearing red ensures that the man you're with will only have eyes for you. Excuse us while we go shopping, and find us a red dress that's gonna highlight all our best assets and hide our flaws.
Keeping It Sleek and Classy
Many women love black because it is a classy, elegant, and flattering color. It creates a slimming illusion and is forgiving with flaws. We're not saying that these two need any help with their figures; we'd like to point out how they look great in black.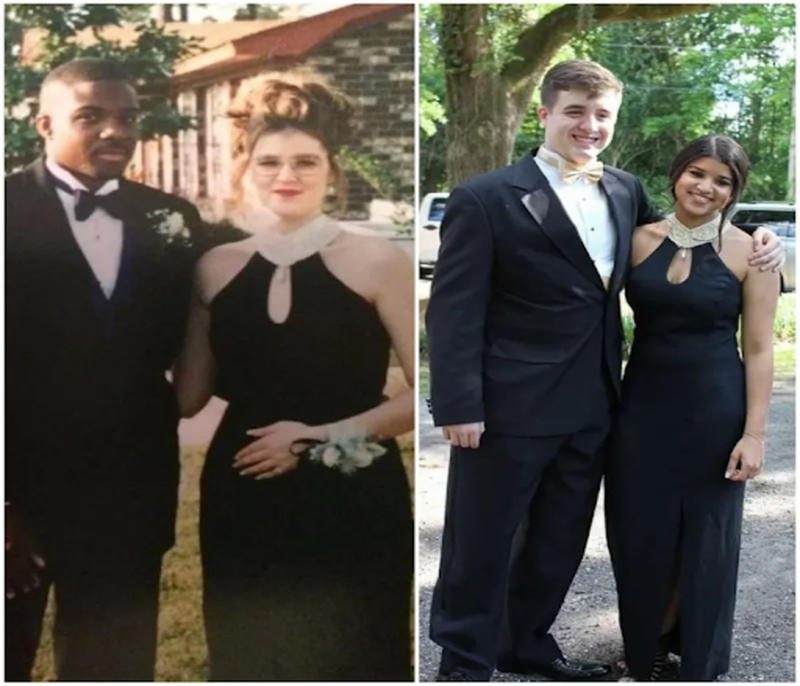 The keyhole neckline is rare, so we get extra excited when we see dresses with one. This will never go out of style because of its color and cut. It can be worn 30 years from now, and it will still be fashionable.
Shining Bright Like a Diamond
This is what Rihanna meant when she sang 'Shine bright like a diamond.' We don't want to play favorites, but their exquisite silver-black prom dress is on our top 5. The intricate details on the bodice, the slit, the silhouette; we could go on and on.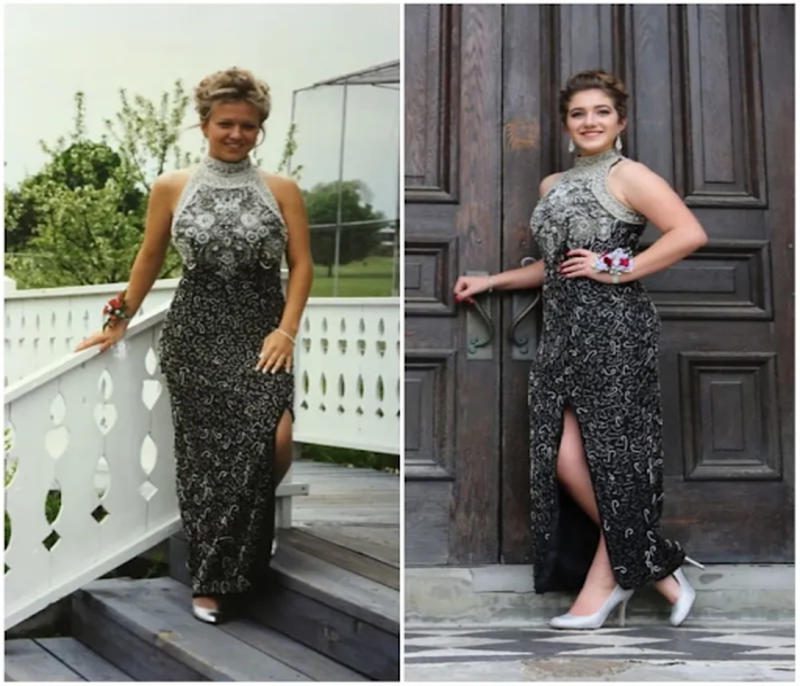 The daughter must be recreating her mother's prom photo. She has a similar hairstyle; she wore identical shoes and even styled her hair like her mother did. If you do a tribute, you might as well commit and give it 100%.
Regal With a Pinch of Wildness
If you consider yourself sexy but playful and happy-go-lucky, this dress will fit your personality to a tee. It gives off chaotic energy, it's flamboyant, and it's classy but not afraid to be in your face. Are we making any sense yet?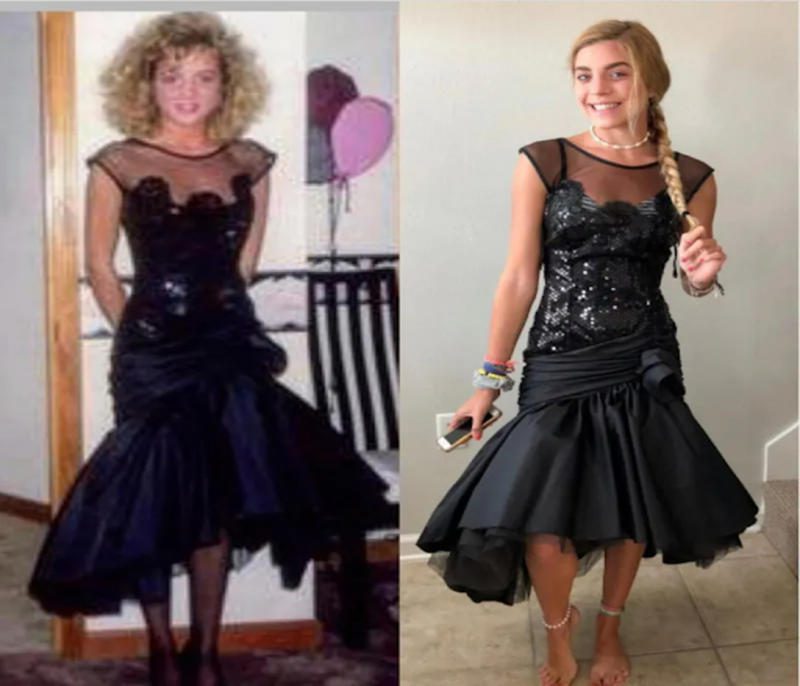 The mom let her voluminous hair run wild, but what hairstyle did the daughter choose? Do you think she put her hair in a bun, or did she let it cascade on her shoulders? We would have wanted to see her final look when she was all made up.
A Classy Black Dress Is IT
We've lost count of the number of black dresses on this list; that's how popular the color is for formal events. The cross-over neckline of this dress makes it sophisticated and modern, something that you wouldn't have second thoughts about wearing even today.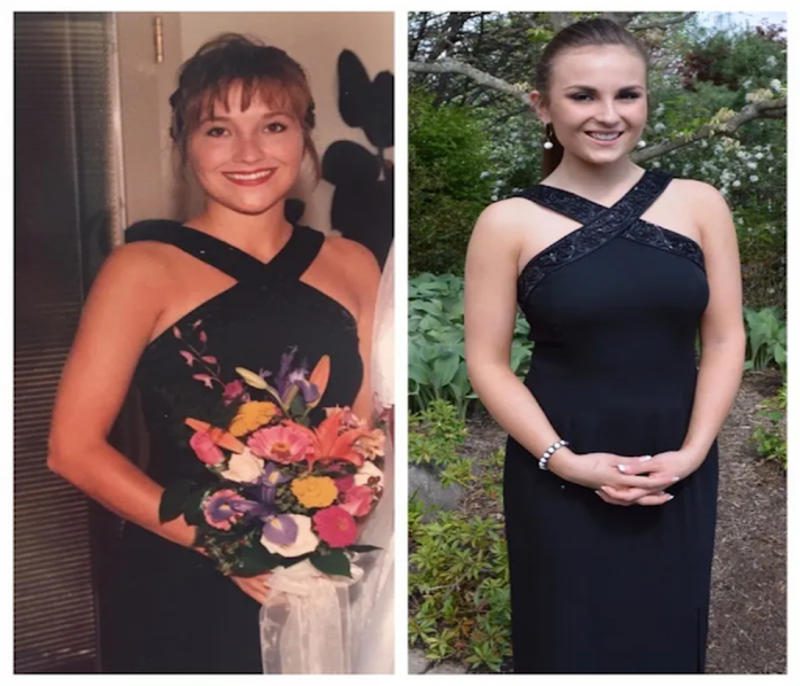 The daughter's matching pearl necklace and earrings are minimalistic and go well with the outfit! On the other hand, her mother chose not to wear any accessories but they both look like a million dollars. Any young man would be lucky to have them as dates.
Slayin' in Red
You'd expect a bright color like red to get faded after 20 years or more. Well, kudos to this mother for preserving the dress that made it look as good as new. It doesn't matter whether it's 1990 or 2015; this red prom dress is still quite trendy!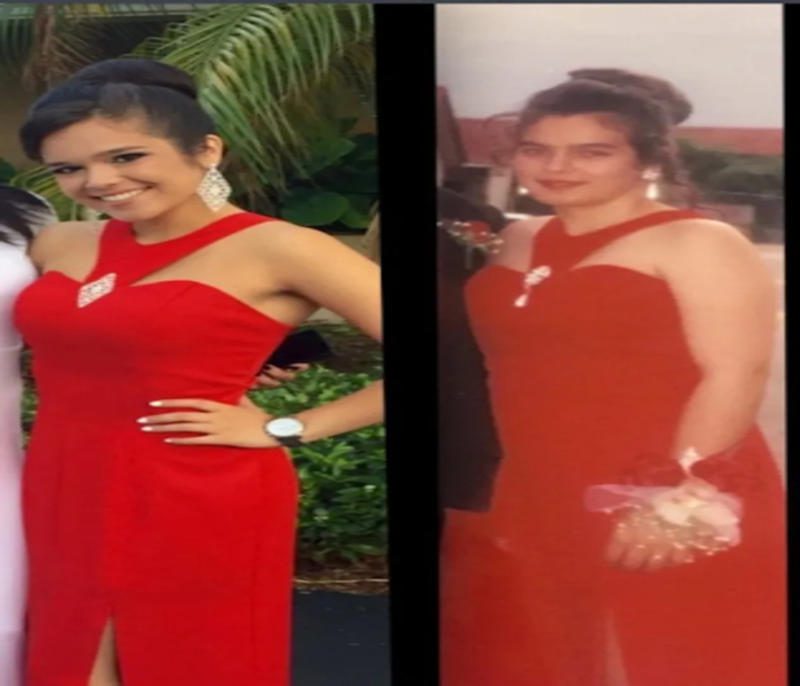 Both women are slaying in red with the same prom dress worn in two different eras. They look alike, even down to the hair; the only difference is that the daughter chose earrings with geometric patterns while her mother opted for pearls.
From 1998 to 2017
There are too many things to love about this black dress, and a few of them are the fit, the sweetheart neckline, and the modest slit. Black dresses are classics that can be worn to formal events even 20 years from now.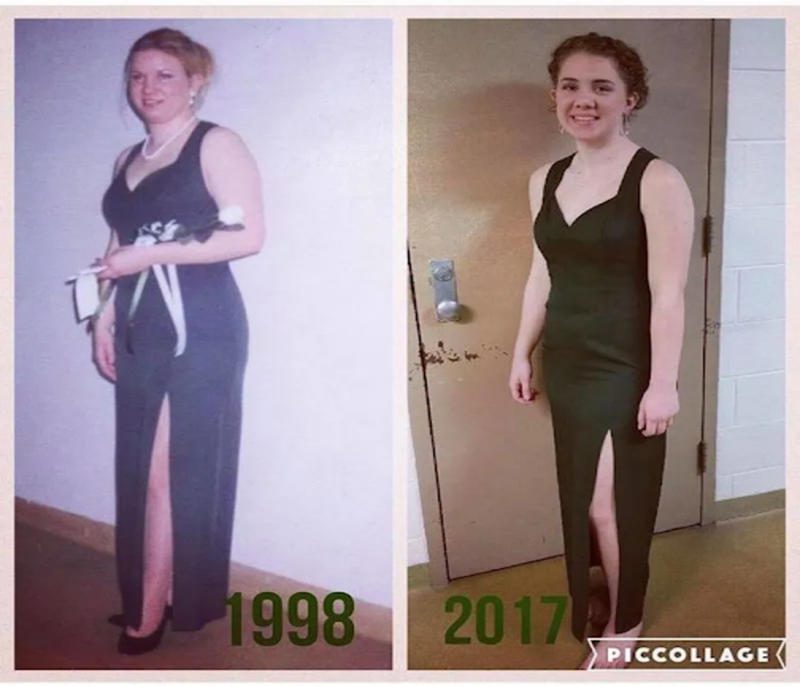 Despite the different jewelry choices, mother and daughter's hairstyles are similar. We adore traditions like this. If they take good care of the gown, the future granddaughter might just be able to wear it to her prom and look equally ravishing.
Glamorous Black Dress to the Rescue!
If you're confused about what to wear to prom, get a glamorous black dress. It works with everything every time, and this picture is proof. The daughter didn't go around running around worrying about what to wear; she took out her mom's elegant black dress.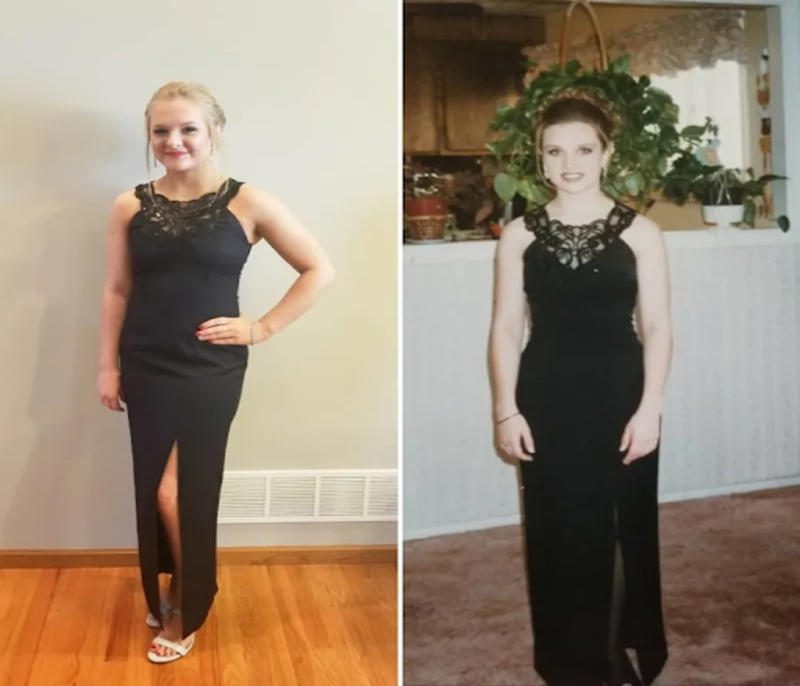 Again, black is a classic color. You can always rely on a black dress to make you feel glamorous, and with a classic and sophisticated updo, you can never go wrong. Now that we looked at the photo closely, we noticed that the daughter and mother do not only have the same hairstyle, but they are also wearing similar accessories.
Satin Skirts With Sequin Tops Are a Match Made in Heaven
Satin has an unmatched shine, elegance, luxury, and texture, so people reach for it for formal events. It's a classic fabric that gives anyone a flattering fit, and these women knew how to make satin work for them. Just look at them!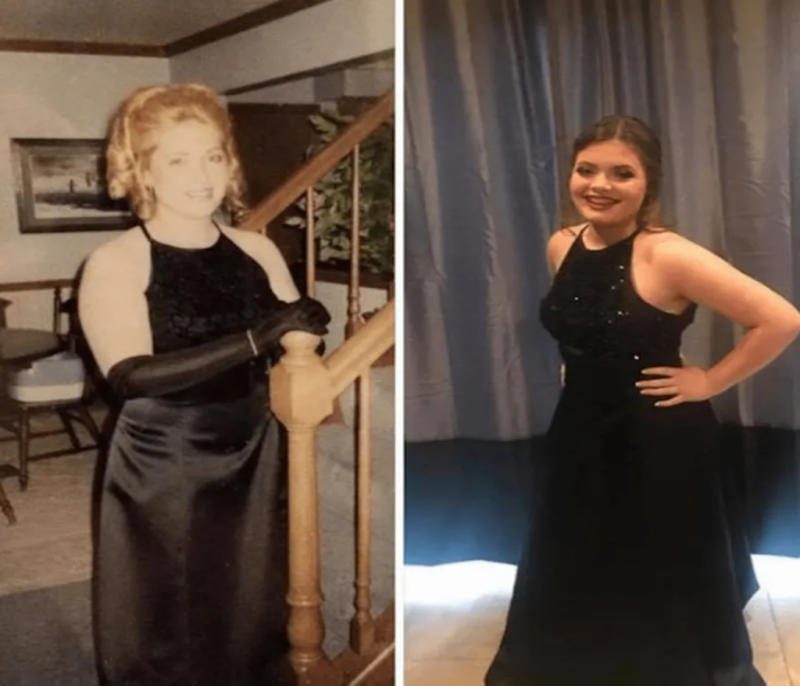 This gorgeous satin black dress has a sequined bodice and a flowing skirt. We love this cut and style, and are sure that both the mom and the daughter did too. We can imagine them spending countless hours dancing in the dress.
Same Dress, Different Hair
These pictures show how much has changed in the last 20 years or so. In the early 80s and 90s, there were barely any people with neon-colored hair, but today they are a common sight in streets, schools, and workplaces.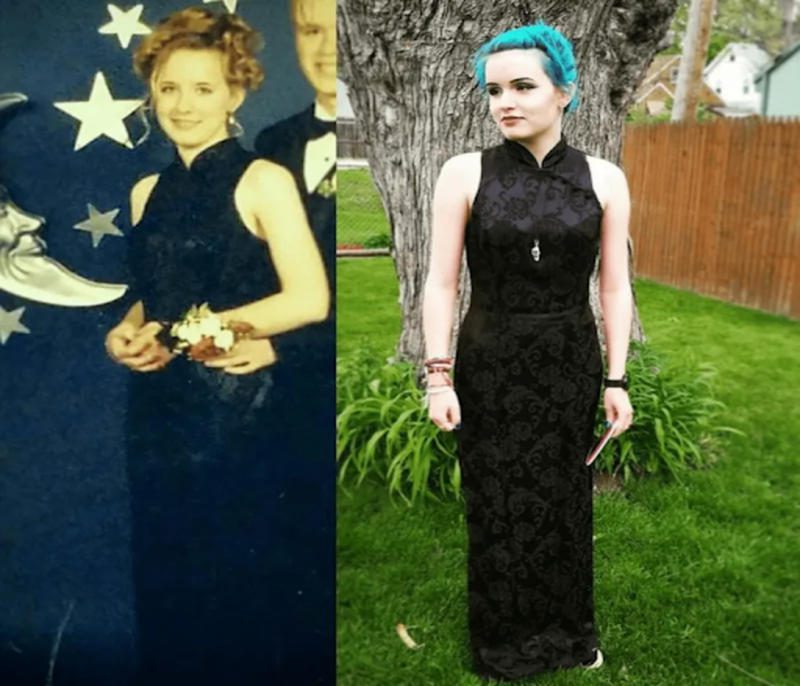 Although there are stark differences between the mother's and the daughter's personalities, the dress looks equally amazing on both. The mother makes the dress look graceful, whereas the daughter gives it a fiery touch with her hair.
Strapless Gowns Are Fun
Just when we thought we'd never see a strapless gown on this list, this beauty decided to pop up. This young girl decided to upcycle her mom's dress to make it more modern. The mother loves her cape-style sleeves, but her teen daughter did away with them.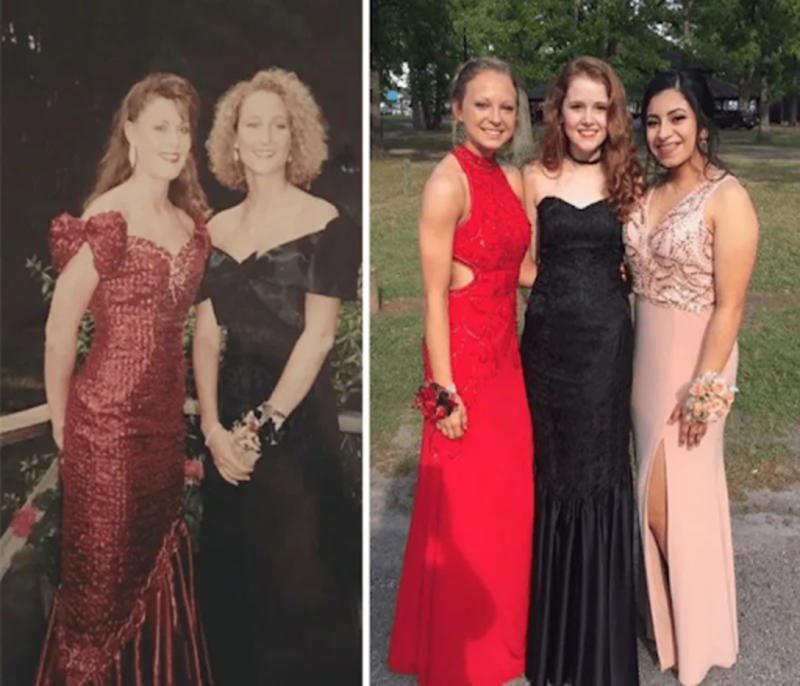 We won't deny it, we love the upcycled strapless dress more than the original, and if we had to choose, we'd wear the upcycled version. This goes to show that prom dresses don't have to be expensive; you can make a few changes to your mom's old dress and rock it!
Vintage Yet Sexy!
Most vintage dresses are more on the modest side, perhaps because times back then didn't really appreciate women showing too much skin, This retro outfit may not be very sexy for our time, but it is a breath of fresh air.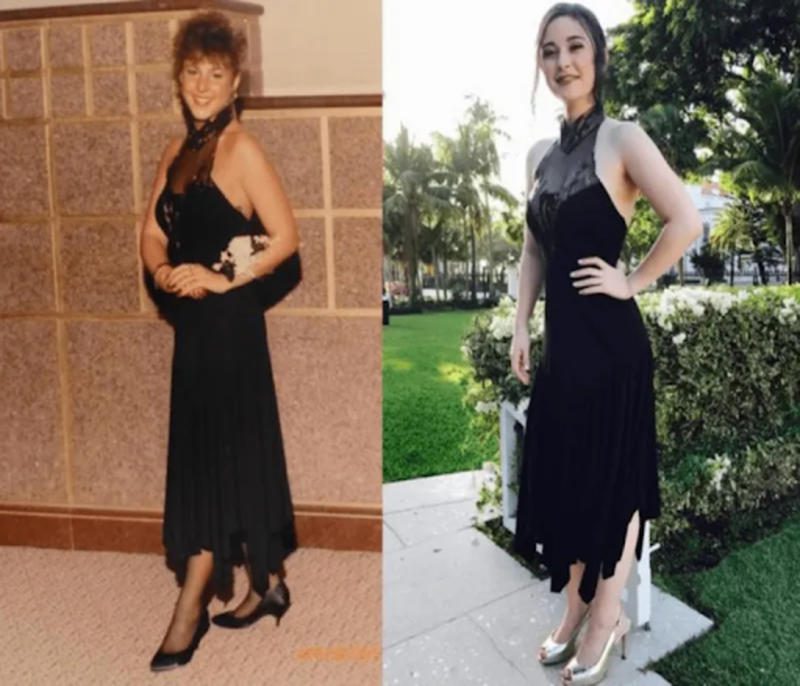 We love the high chocker-style neckline, which is flattering on all body types. The mother and daughter both look radiant, confident, and ready to enjoy one of the most memorable moments of their lives, and we can't help but smile when we look at their pictures.
The Epitome of Personality!
The prom isn't just about your dress' fabric, style, cut, and design. It's also about your personality. A dull personality would make an elegant dress look the least appealing. These two ladies might be wearing a simple dress without embellishments, but they stole the show with their personalities.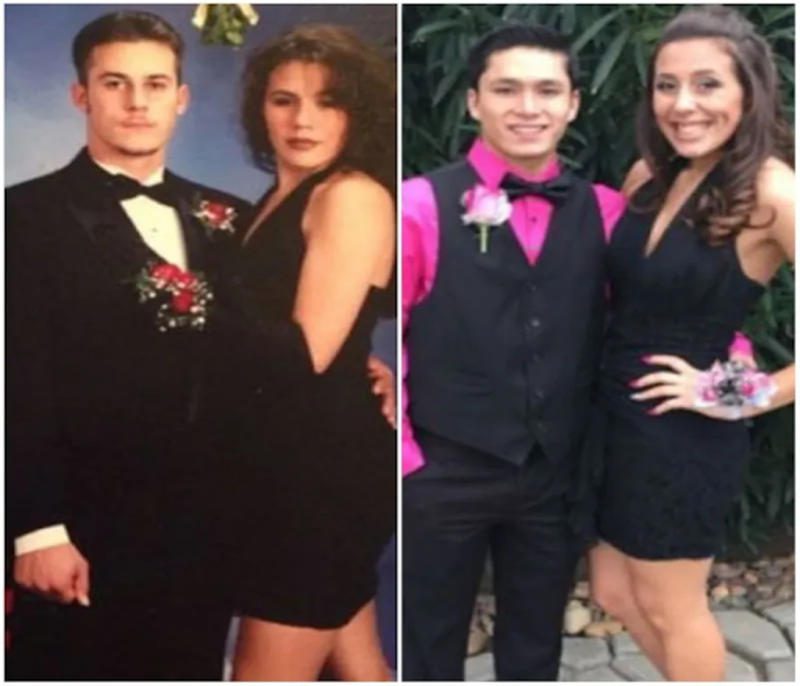 Forget about prom photographs; the mother can certainly pose for Vogue magazine with her fierce expression and supermodel poses. The daughter, on the other hand, makes the dress look cheeky and party-like! See, it's all about personalities sometimes.
A Lavender Princess
Although we don't see a lot of lilac and lavender gowns on this list, these are popular colors that we are fans of. Based on its shine, this lavender gown is probably made of satin or silk. We love the length and the design; clearly, both mother and daughter are fans of it too.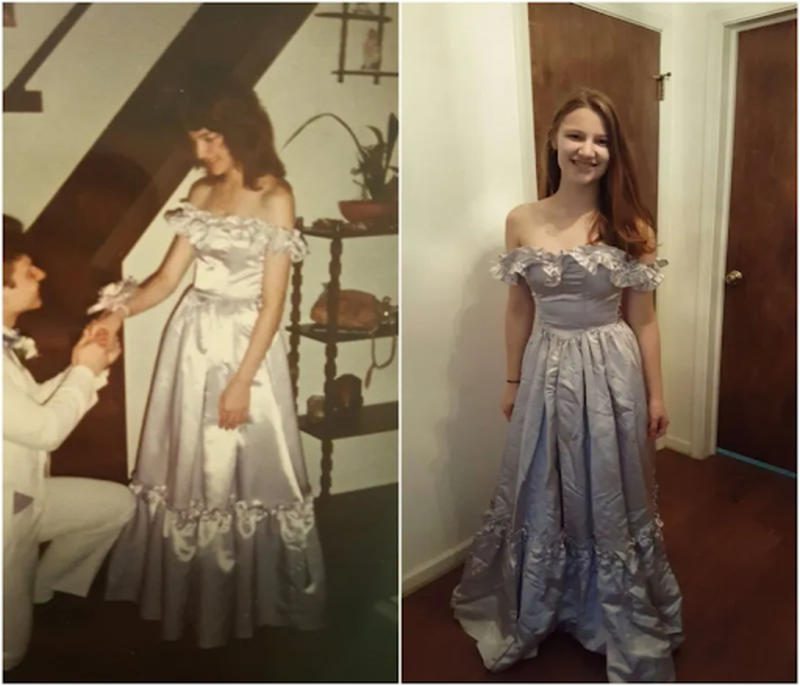 We can't help but say 'Aaw' at how the mother's date dropped to one knee as if asking her to marry him instead of taking her to prom. You can't get any sweeter than that, but we wonder if they took the photo in the same house.
Daring Fashionistas in Town
This can easily be an entry for a photo recreation challenge seeing as how the daughter not only wore the same dress as her mom but also copied her mom's pose. And yes, the dress, let's talk about that because isn't that the point of this article?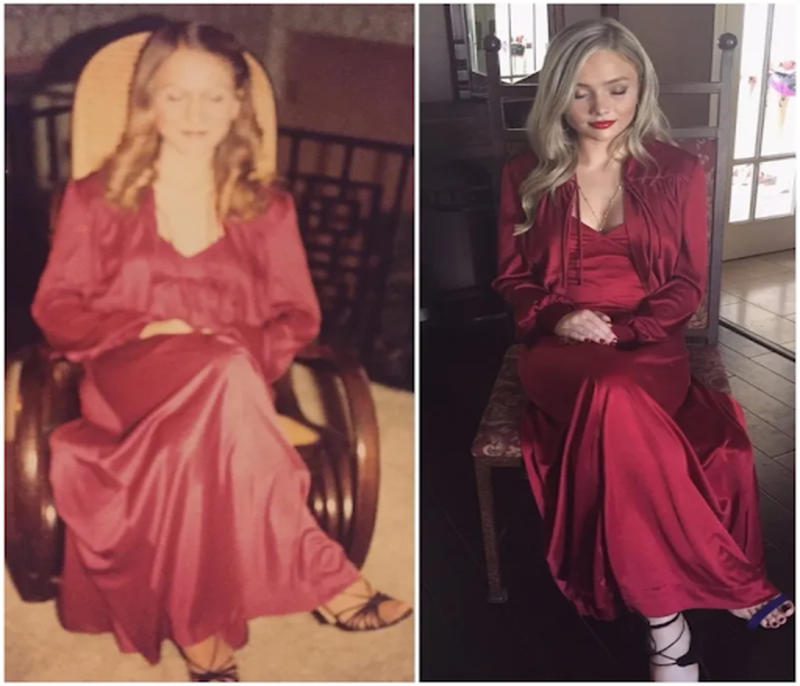 Most teens prefer gowns without sleeves, but this duo isn't afraid to try something new and went for a rather bold choice, a silky red dress with a plunging neck and sleeves. This style might not be popular, but they proved it's not a bad thing to be different from everyone else.