Unconventional Valentine's Day Gifts For When Flowers And Candy Just Won't Do
By Ruby M February 3, 2022
---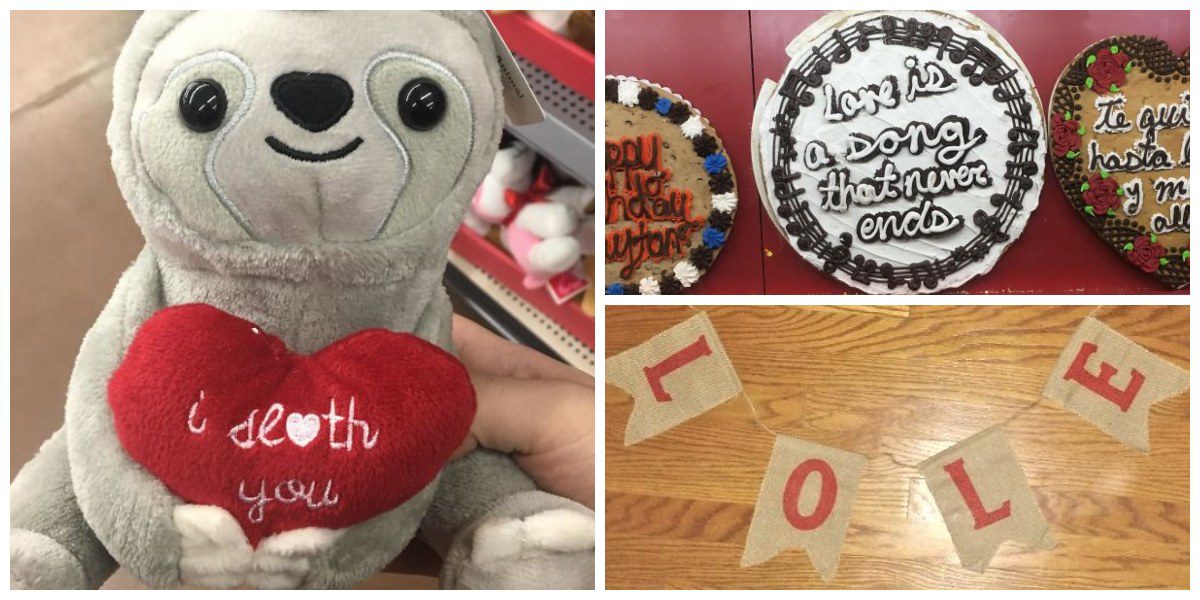 Valentine's Day – the day of love. Every year in the weeks leading up to this romantic day, stores fill their shelves with an array of heart-shaped, love-themed goodies for people to spoil their lovers with. Most people stick to the usual winners – flowers, chocolates, maybe a teddy bear or jewelry. Of course, as with most other holidays, many business owners try to make a few quick bucks by creating all sorts of crazy designs and concepts for people to buy into – and sometimes it works, and the craziest ideas become the best sellers. Other times, they turn into nothing but good jokes for the netizens to enjoy. And here are 35 of the craziest Valentine's Day fails we've found, gathered and wrapped with love just for you. Enjoy a good laugh at these with your date, pillow, or cat!
Hey, Sister
Unless you're into some shady stuff, this card should raise all sorts of red flags. We think that the sentiment here is that your girlfriend will perhaps be your wife someday, and your wife is family – just like a sister.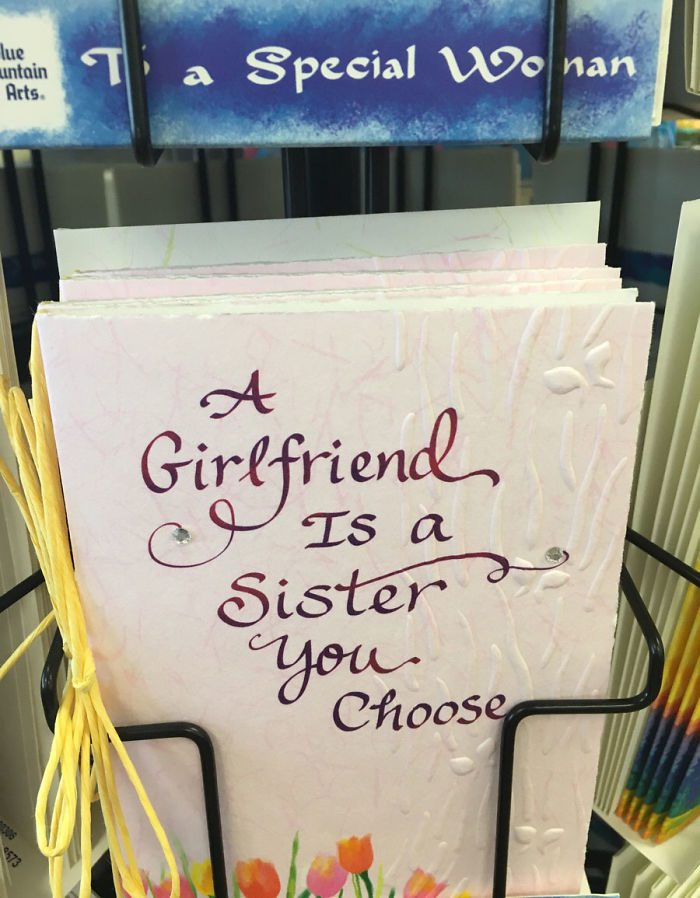 The key difference between your sister and your wife, however – aside from blood relation, of course – is that you should not be at all romantic with your sister. That should remain solely between you and your partner – so no, we don't think this card is a good idea for your valentine.
For the Love of Meat
We're not exactly sure who would want meat as their Valentine's Day present, but we're not against it. We think even the meatiest of meat lovers would have a hard time being happy with it – even if the packaging is heart-shaped.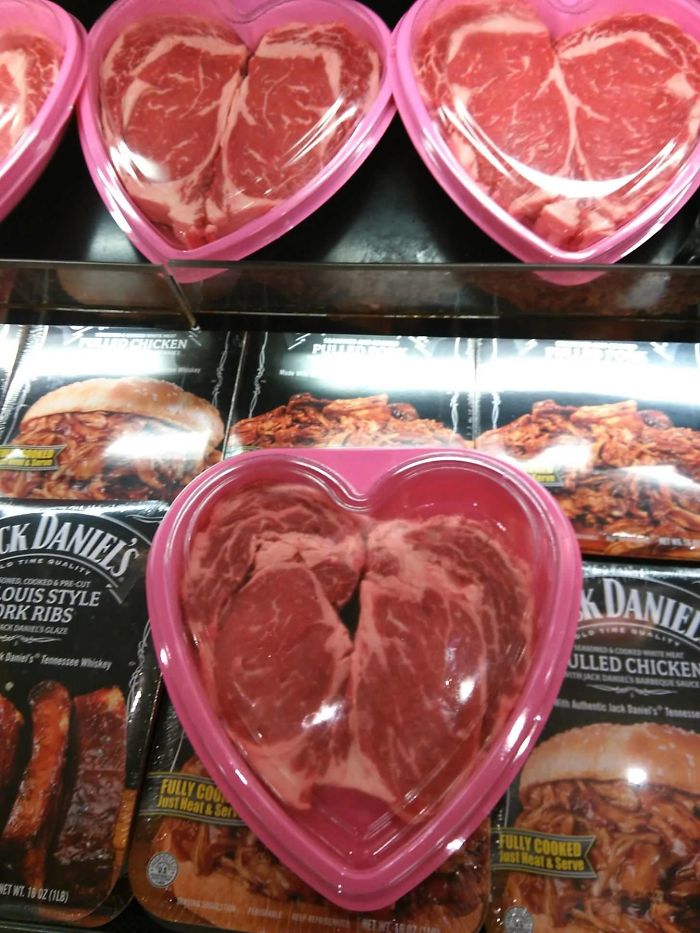 To those who have never done this before – flowers, chocolate, cologne, or perfume are the way to go. Sure, a nice home-cooked meal is always lovely, but we are sure any kind of steak would do just fine.
Crabs, anyone?
This pet shop thought their 25% discount on crabs would surely be a best-seller for Valentine's Day because who wouldn't want some crabs on the most romantic day of the year? We will tell you who – pretty much everyone.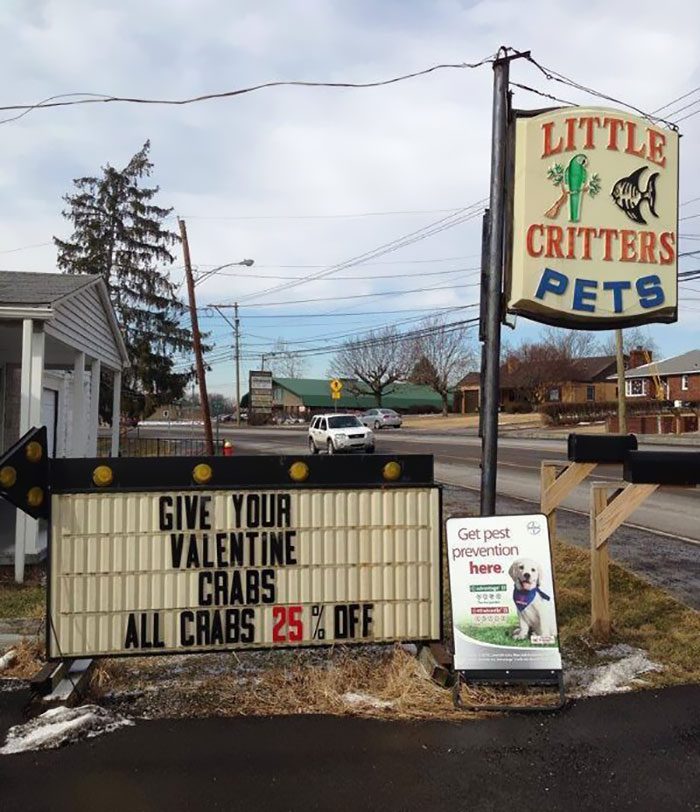 First of all, we understand that crab legs are delicious, and we're not disputing that. But we are saying that this is an odd romantic gift. Second, we all know the other type of crabs – and we're pretty certain giving that to your loved one is a sure-fire way to end the relationship, not help it blossom.
Nothing Says "Happy Valentine's Day" Like Divorce!
This Office Depot seems to have it all – from tape to books, computer mouses, and even divorce manuals! Of course, all stores like to promote Valentine's Day, but we doubt anybody would appreciate this particular gift on this particular occasion.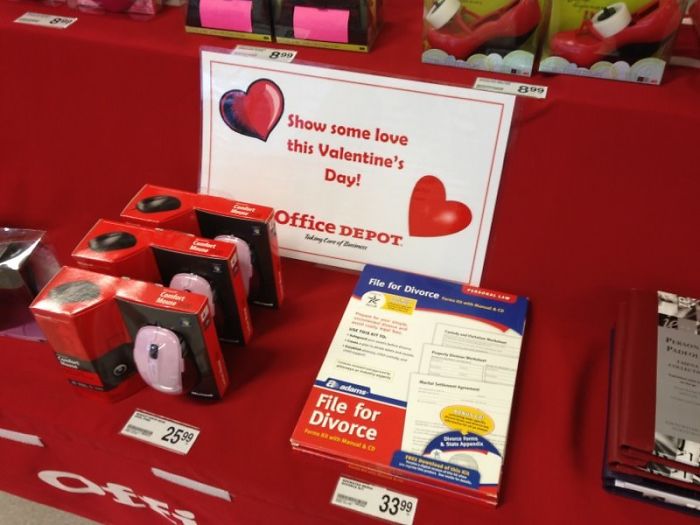 But what else could be as romantic as filing for divorce? We can think of quite a few things. Actually – anything else would be a more romantic gesture. Then again, if it's divorce you're after, we don't think romance is on the table anymore.
Slim Down… On the Romance
Heed this warning, ladies and gentlemen, unless you want to spend a night alone with no valentine – don't gift even the most athletic and health-conscious of people anything to do with weight loss, even if your intentions are pure. They can buy it themselves.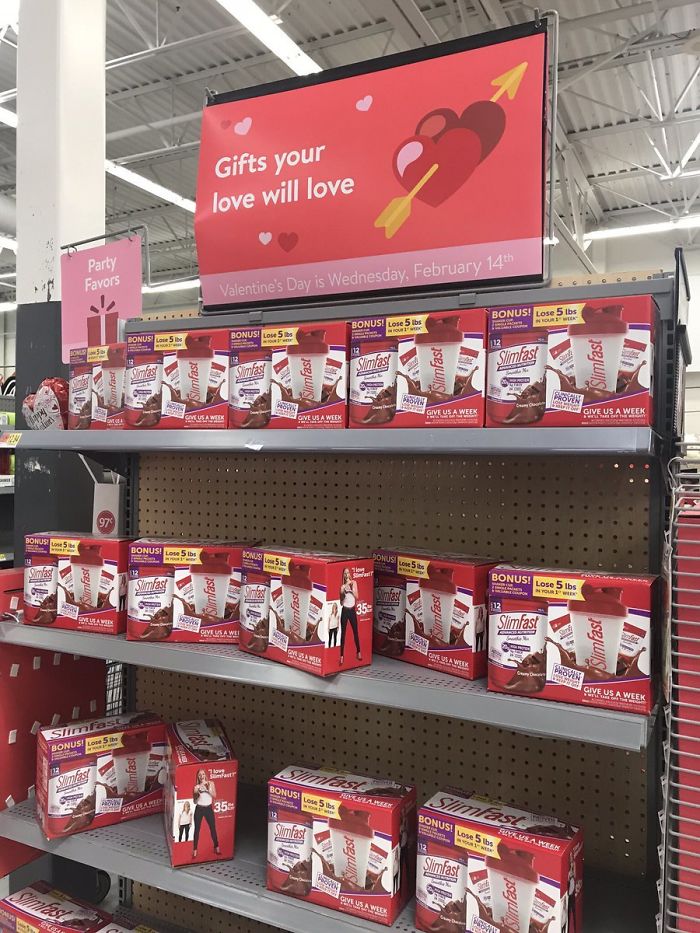 Sure, they could have mentioned once that they'd like to try something like Slimfast, but that doesn't mean you should gift it to them! They won't be thinking that this gift is thoughtful at all. They'll believe that you're calling them fat.
Love Yourfelf Firft
This lingerie company thought that their advertisement for Valentine's Day would be perfect for those who are single or in a relationship. Who doesn't love feeling pretty in brand new underwear? Their concept might even have gone down well if it didn't have a typo.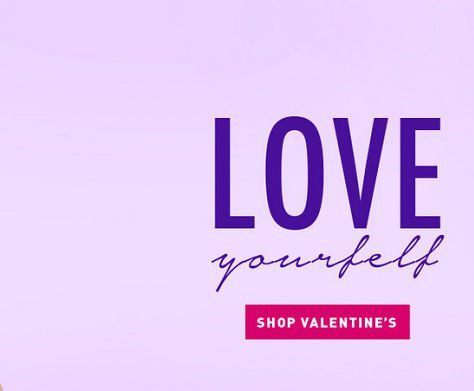 Instead of the words reading, "love yourself" as the advertisers had intended, the accidental typo in Valentine's Day ad says "love yourfelf" instead. The internet found this hilarious. If you can't love yourfelf, you can't love anybody else!
I Love You To the AND Moon Back
"I love you to the moon and back" is a popular phrase that essentially means that a person's love for another person is even greater than any distance. The term originated from the best-selling picture book, Guess How Much I Love You by Sam McBratney.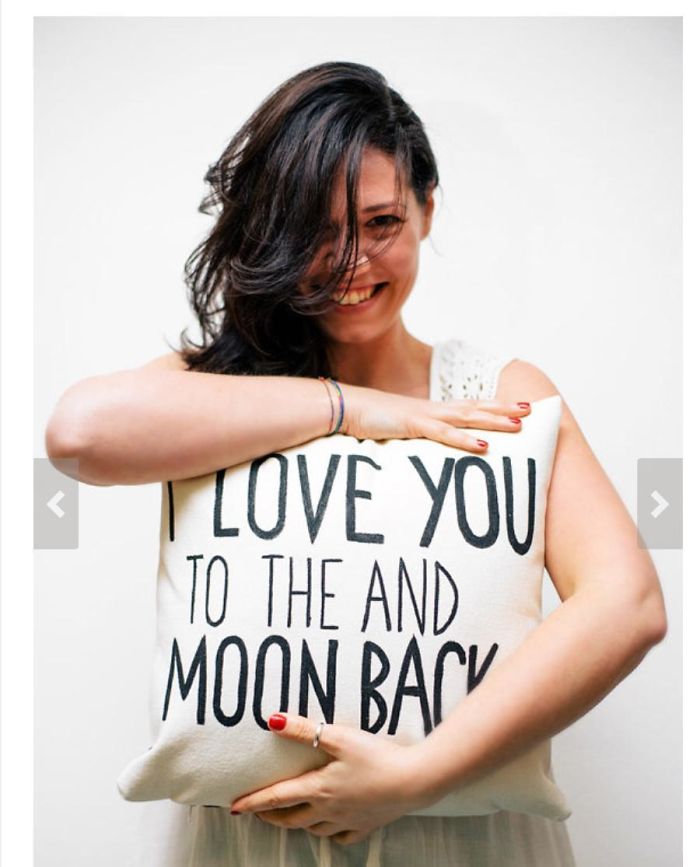 Unfortunately, the people who printed the ever-popular phrase on this pillow experienced a misprint, and the wording reads "I love you to the and moon back," which, of course, makes zero sense. It's a pity – it could have made for a very cute gift.
Deformed Pugs and Messy Kisses
"Pugs and kisses" is an adorable pun for a dog lover. Unfortunately, the pug in this card looks a little bit odd – his mouth is drawn up near his nose in black, and then there's a huge gap before we see a little pink tongue.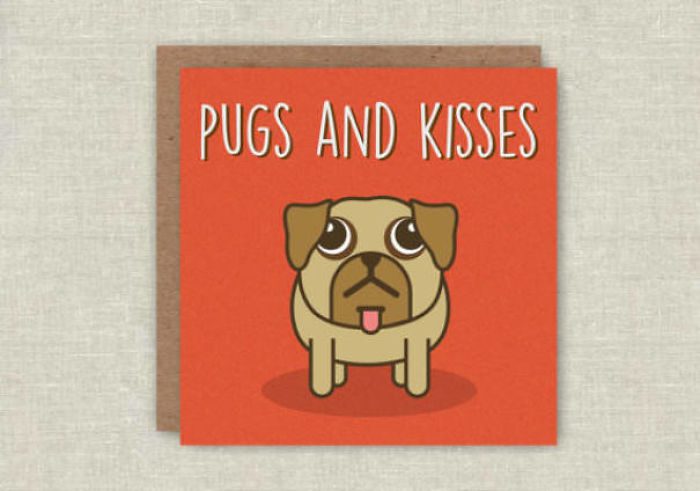 The tongue looks like it's sticking out of nowhere, or perhaps this particular pug has two mouths. The card artist could argue artistic license, but we think that this was more of an error than anything else. This would be a good card for someone with a sense of humor.
A Very Awkward Design
This restaurant wanted to create an ad for their Valentine's Day special, and it would have probably been a hit if they had chosen better – or perhaps older – models for the ad campaign. The man is not an issue; the problem is the child sitting with him.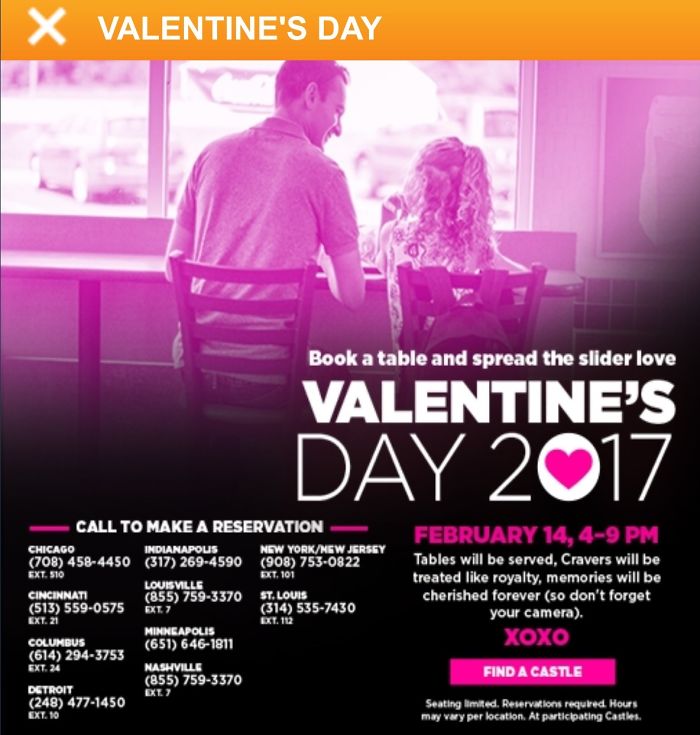 Instead of creating a sense of romance, this advert is pretty odd. We understand that a single dad raising his daughter would probably spoil her for Valentine's Day, but we feel like this ad was geared toward adults, not single-parent households. Maybe we missed something?
That's One Squished Heart!
Popular for their peanut butter cups, Reese's decided to create a range of heart-shaped candies for Valentine's Day. Their chocolate hearts filled with a creamy peanut butter center probably sold out to many people choosing gifts for their valentines. Chocolate and peanut butter is an amazing combination after all.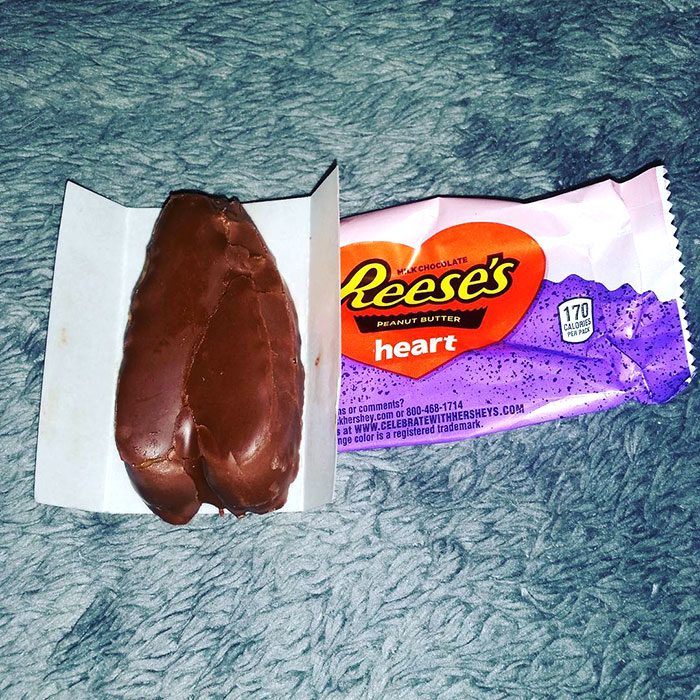 Unfortunately for them, the brand probably received many unhappy complaints in the days following the 14th of February because this does not look like a heart at all. It seems more like somebody tried their best to shape it like a heart but then sat on it.
Probably Not the Best Gift Idea Ever
Unfaithful is a 2002 romance thriller film about a man who discovers that his wife has committed the ultimate betrayal – she had an affair. The film ends not-so-happily when the husband decides to confront his wife's lover once and for all.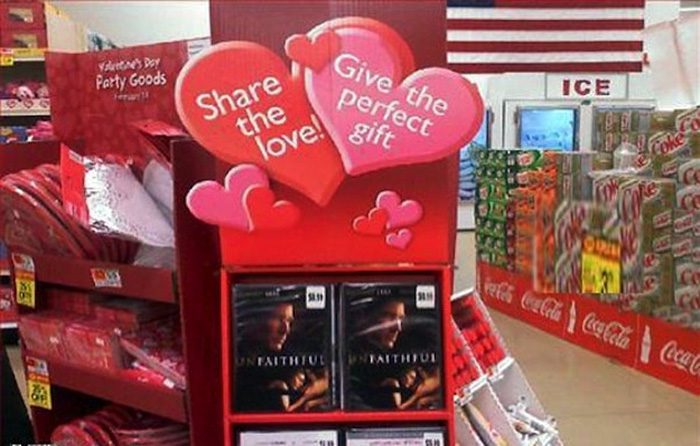 Judging by the above synopsis, would you want to give this to your significant other? Unless this is some twisted way of confessing to your dastardly affair, why on earth would you like to sit through this film when Valentine's Day is supposed to be romantic and full of love? Odd choice.
Lole You Always!
What better way to say "I love you" than with a banner that spells out your "lole." It's unfortunate because a surprise romantic dinner with decorations such as these would be a really sweet gesture if it weren't for the obvious typo.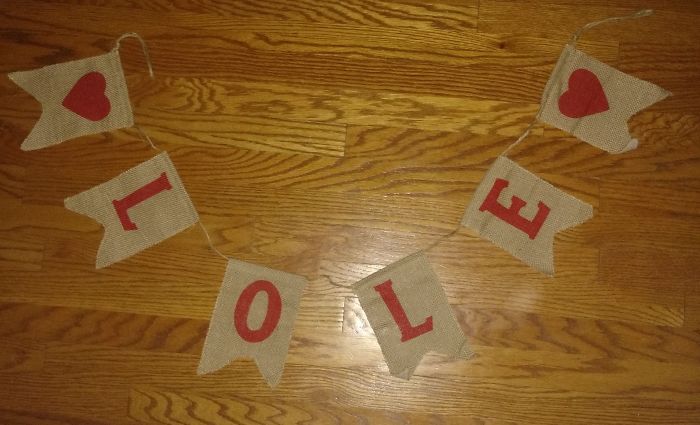 Maybe the person who purchases this has a sense of humor and will tell their date that "lole" stands for "laugh out loud everyone" because they intend to make their valentine laugh a lot during their date. That would be a way to make the best of it!
Till Death Do Us Part?
We're pretty convinced that half of this bamboo heart is dead or dying – and that's certainly not the message anybody would want to give when gifting their valentine with a plant. Especially if their date is a plant lover.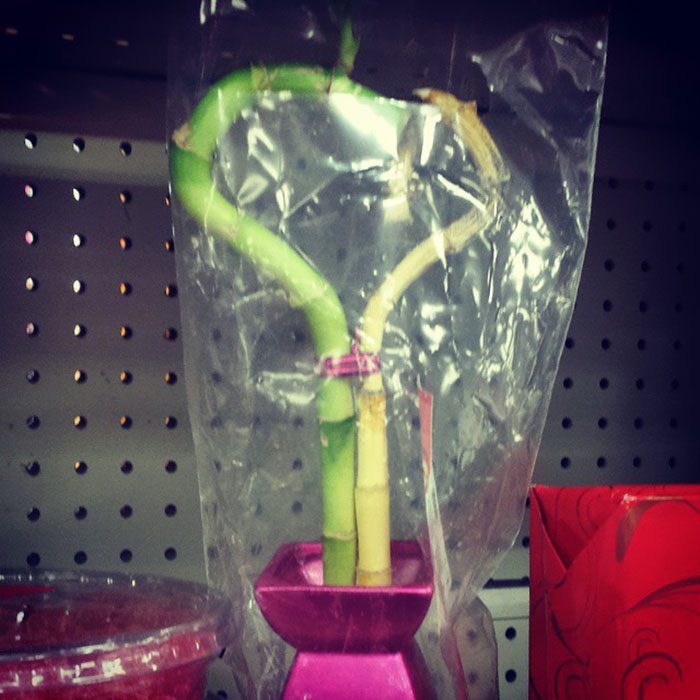 One might joke and say, but this is a symbol for "till death do us part," which would only be mildly appropriate if your valentine is either your spouse or fiance. Still, we think you could do better for a gift – like perhaps something a little more lively?
A Morbid Countdown
Why does this poster for Valentine's Day look more like a countdown to Halloween or the release of a horror movie? Perhaps it is because of the use of red and black, the bold writing, and the creepy feel of the poster overall.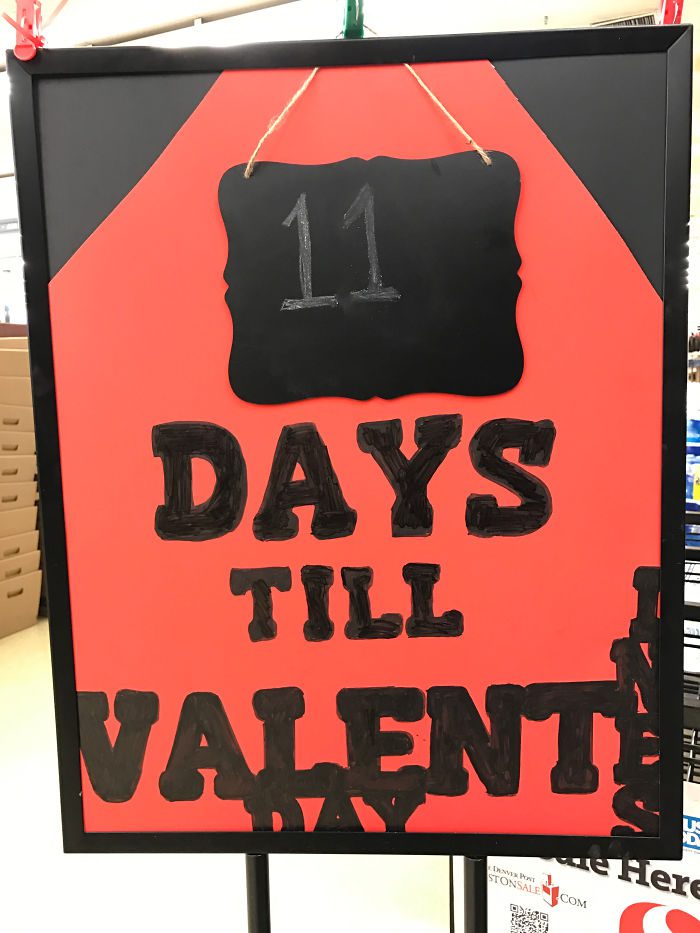 Aside from the colors, surely they should have started again when they realized that the whole world wouldn't fit? Instead, they didn't give up on their sad attempt at creating excitement for Valentine's Day, and their poster ended up being laughed at on the internet.
"I Death You"
This little sloth plushie would be adorable if it didn't look like it came with an ominous note. The font makes it look like the wording on the heart reads "I death you," which is a message that we highly doubt anybody wants to give to their beloved.
It's not something you'd want to say to your partner on any day of the year, but especially not on valentine's day – not unless you want to be spending it alone. It is meant to read "I sloth you" for those of you wondering.
A Broken Heart? On Valentine's Day?
Okay, so we understand the concept here – we do. The chocolate inside is ready to snap and share, but we don't think that the creators of the chocolate or the packaging realized that the final product looks sad.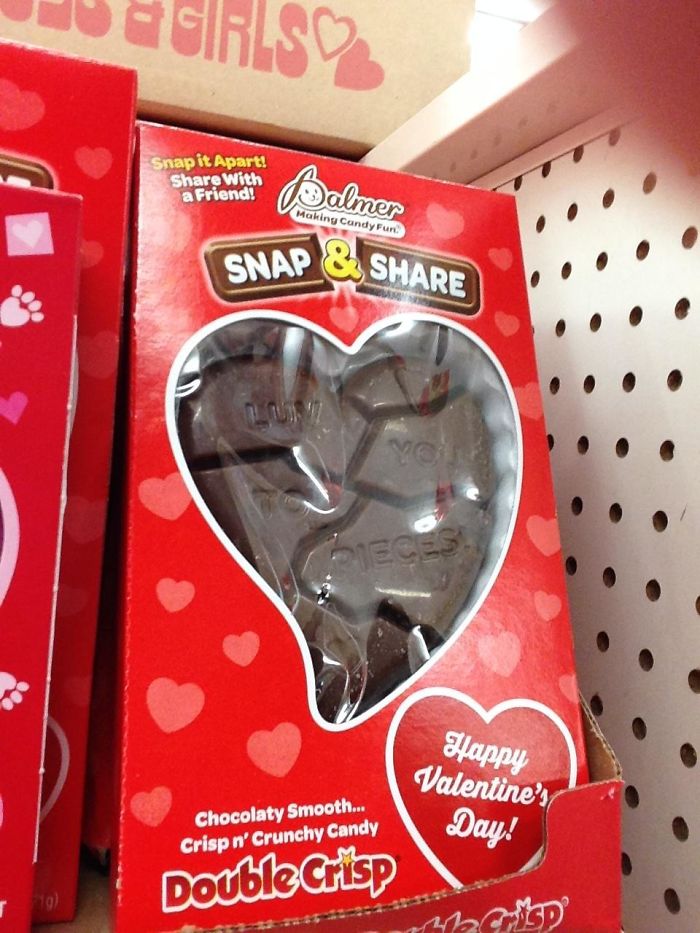 Now, correct us if we're wrong, but isn't Valentine's Day supposed to be about togetherness, not heartbreak? We can see that sentiment is there, but this is just another Valentine's Day fail that we don't think anybody will be buying into. Sorry, Palmer, better luck next time.
Epic Card Fail
It's a shame. This would have made for a really sweet card had it not been for the obvious typo on the word "you," which has been misprinted on the card and now reads "yu." This is just not acceptable when you want to put it together with the perfect gift.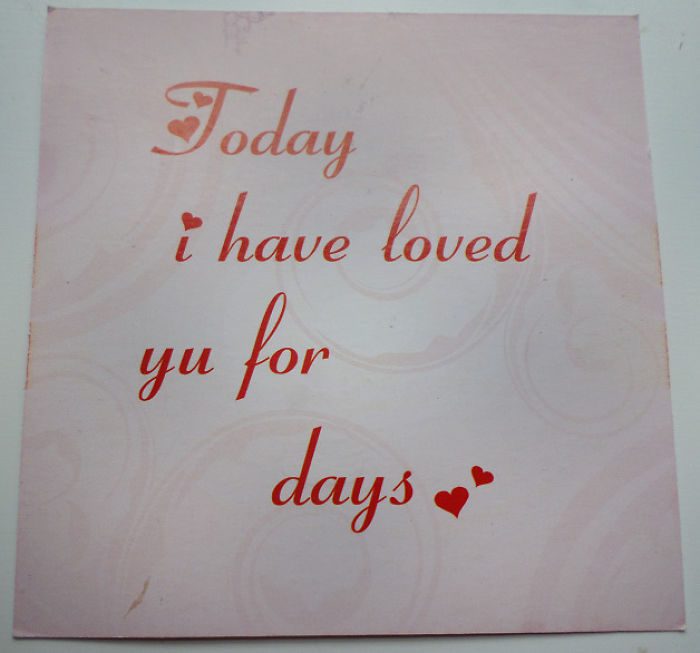 Okay, we also know the message itself makes pretty much no sense. Imagine getting this from your long-term love. "Yeah, it's funny, but I just started loving you, like, a few days ago." This is another gift you should only give to someone who appreciates silly things.
Hell Love
This coffee mug is supposed to read "Hello Love," but instead, it looks more like it reads "Hell Love," which is a pretty ominous gift to give somebody on Valentine's Day. Are they hinting at something not-so-subtly? We would have gone with a regular O.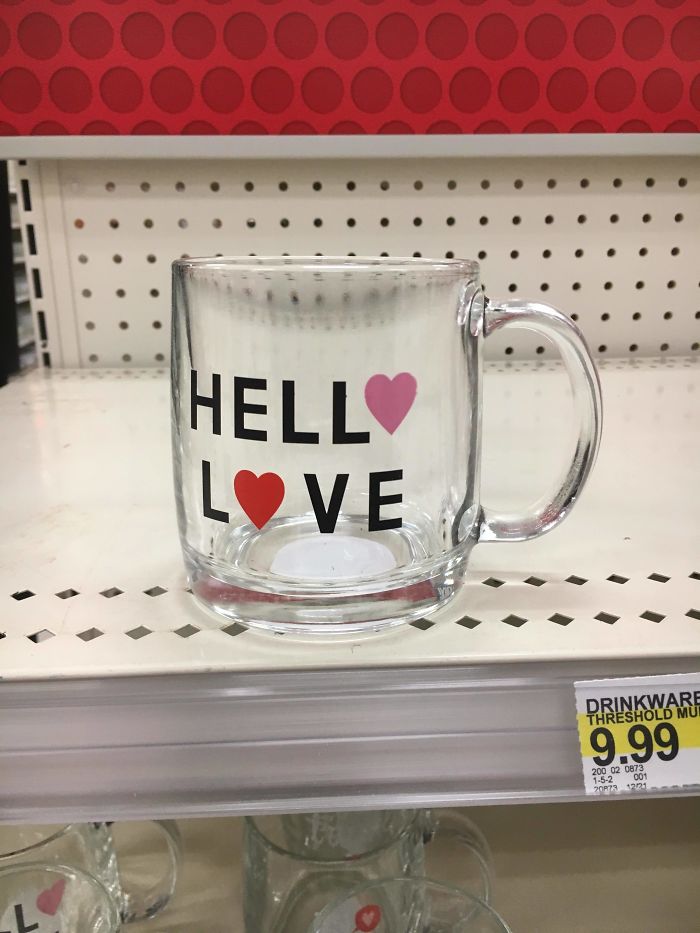 One might say that this is the perfect gift for a satanist or somebody who wants their relationship to end, but we don't think that was Target's intention. We understand that getting the presents out early to up their sales was the plan, but perhaps some more thought should have been put into this one.
What is the word?
The poor word choice on this Valentine's puzzle raises all sorts of questions, namely – what on earth do bugs and beetles have to do with Valentine's Day? There's nothing remotely romantic about this card at all – except maybe to a bug collector. No judgment.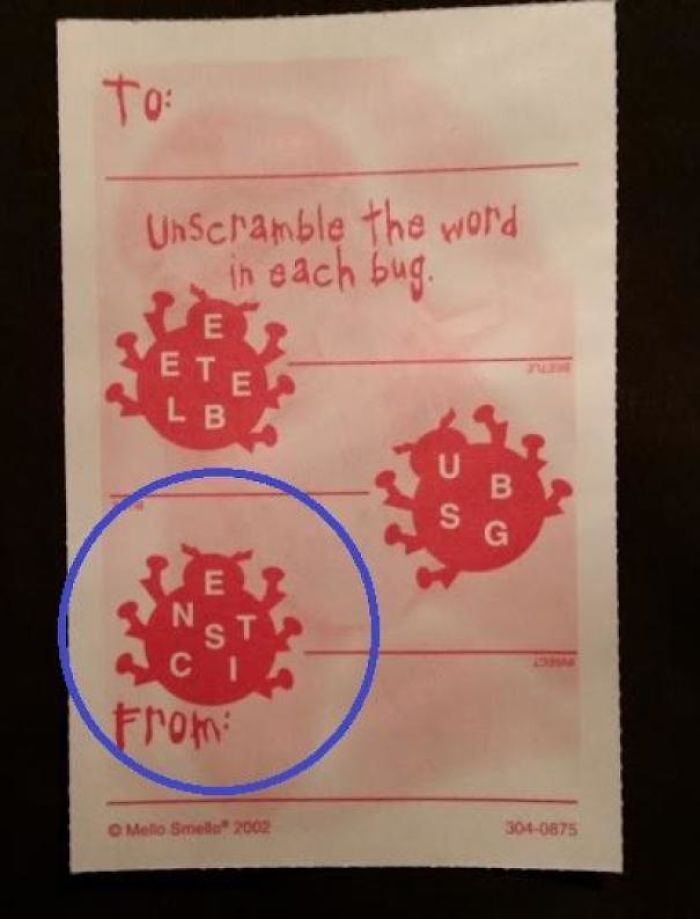 Another key issue with the last bug is that when unscrambled, the word they indented was "insect," fitting in with the whole bug theme. Unfortunately, much like the "sister you choose" card, the letters could also read "incest." Not the biggest fail, but worth a chuckle.
Sample Test Valentine Day
This attempt at cute coasters for bird and owl lovers alike would have probably been a hit if it weren't for the typos. We're actually pretty irritated by this one because of its potential. First of all, the "s" is missing in "Valentine's."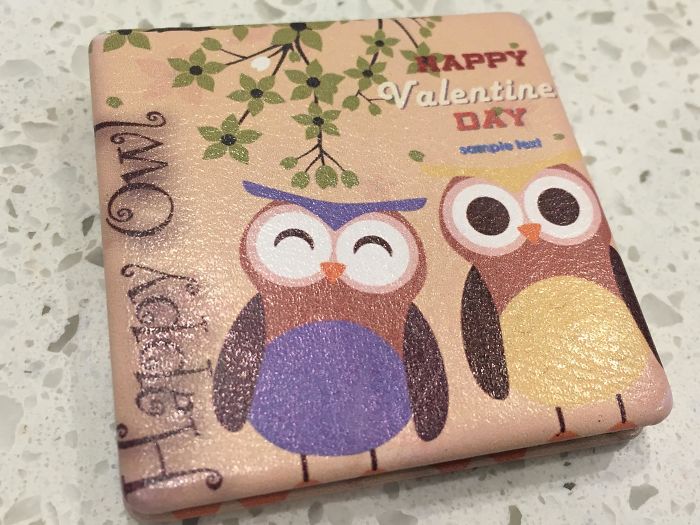 The manufacturers wanted to put in the sample text before launching the real deal, but they missed the point of that. It seems that they accidentally sold the collection without replacing "sample text" with something cute and lovey-dovey. What a pity!
Cupid's Loving Hand
Cupid is the god of affection in Greek mythology. Legend has it that he shoots his magical gold-tipped arrows at both gods and humans alike, causing individuals to fall deeply and irrevocably in love. This particular likeness appears to be holding a heart. Typical, right?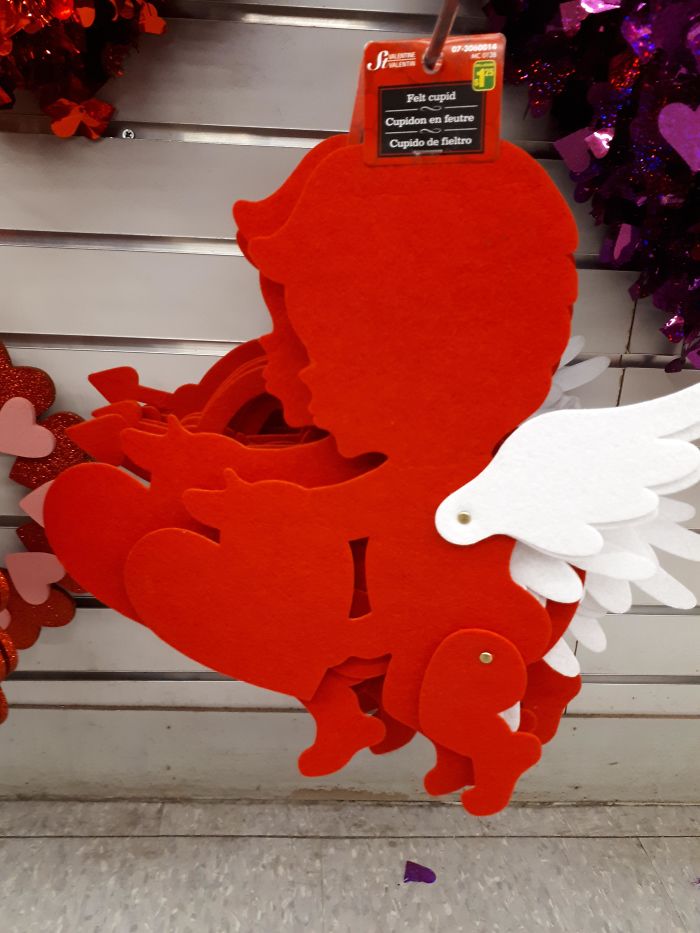 However, upon a closer look, it looks more like he's giving the heart quite the spanking, which isn't necessarily romantic unless you're into that sort of thing. Some people have reported seeing this Cupid doing other stuff to the heart, but we'll leave that to your imagination.
A Puzzling Gift
We aren't sure who this strange Valentine's Day product is intended for. This puzzle is suitable for ages 6+, and usually, kids hand out cards and gifts to their classmates. Many parents give their kids candy and the like as well.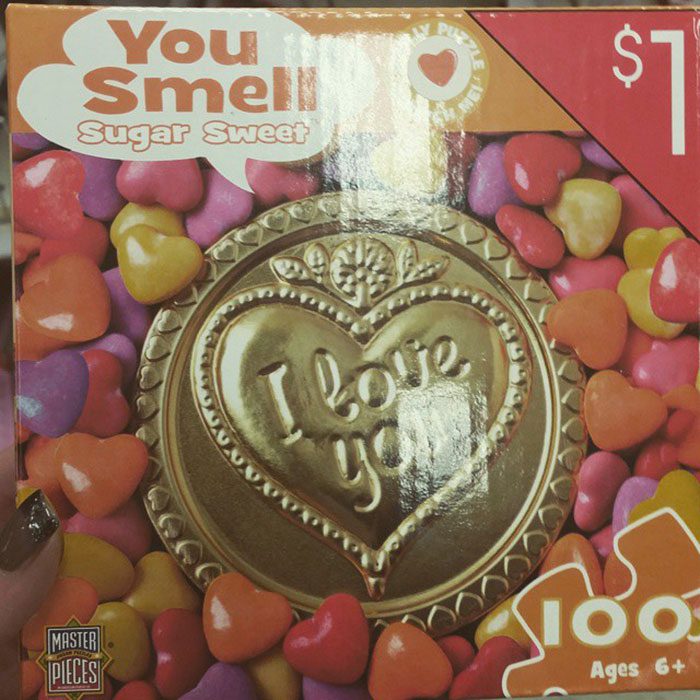 The really weird thing about this puzzle is the words "you smell sugar sweet." The "you smell" part is in far larger letters than the "sugar-sweet," which makes us wonder if the purpose of this item is to tell the recipient that they should shower more frequently.
The Backyard Spa
We're not sure exactly what sort of client this supposed "spa" is advertising to. This sign looks as if it's right outside somebody's backyard, and they probably run their "spa" from a converted garage or cottage. It doesn't give the feel of luxury that a spa is supposed to give at all.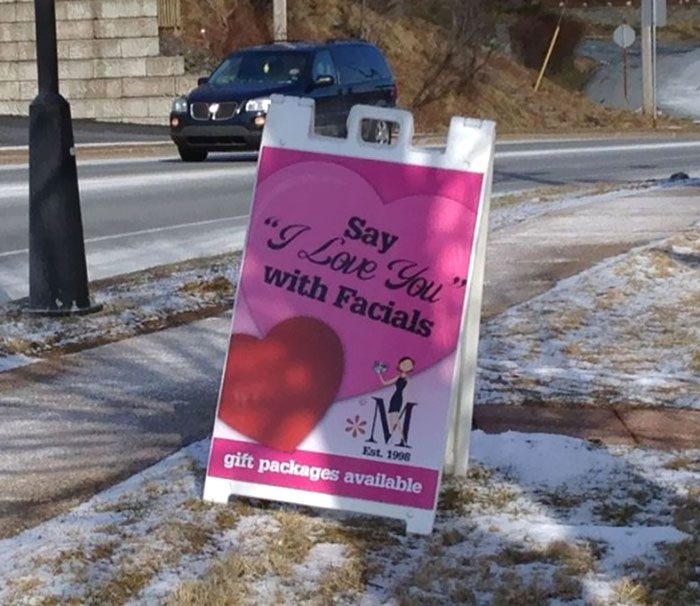 The term "facial" in this context is also a double entendre. Maybe the advertisers were unaware, or maybe they did this intentionally. Now we're wondering what the gift packages include. We can't tell if we want to laugh or raise a skeptical eyebrow.
Double Date, Anyone?
There's so much wrong with this one. Firstly, shouldn't it read "pamper your loved ones"? And not "pamper your love ones"? We would have let that small typo go if it weren't for the rest of the poster. The poster is firstly making a joke of infidelity, which isn't something to be proud of.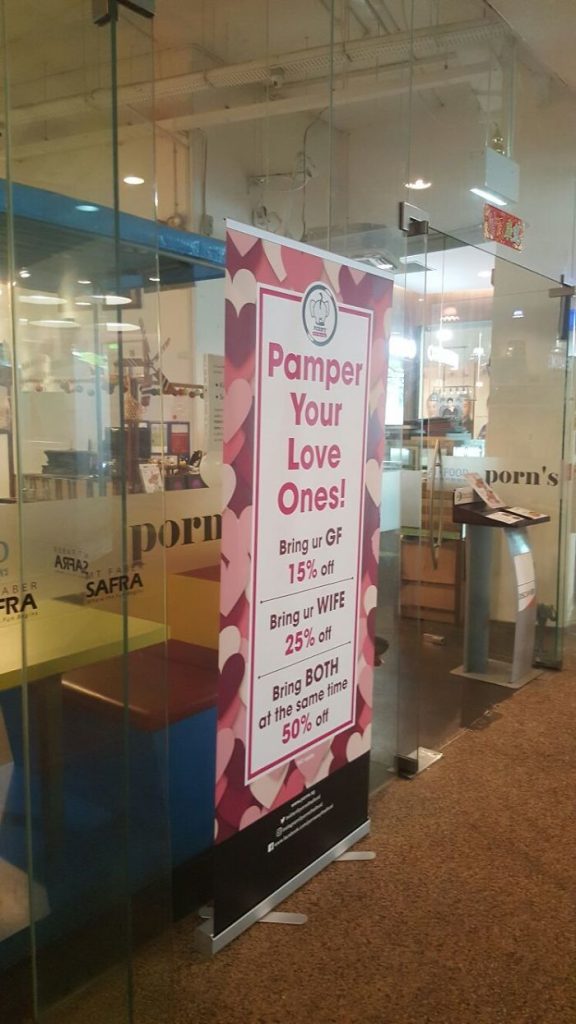 Second, if someone was cheating on their wife and had a girlfriend on the side – or let's give the benefit of the doubt and say they were in some open marriage, why on earth would you want to bring two love interests to the same place at the same time and expect things to end well? Oh, and let's not even get started on the name of the shop…
Is It Worth It?
How much do you want a free meal? Enough to ruin your marriage? Just like the shop above, this restaurant decided to test people's bravery and see if anyone was willing to bring their wife and girlfriend for the chance at a free meal.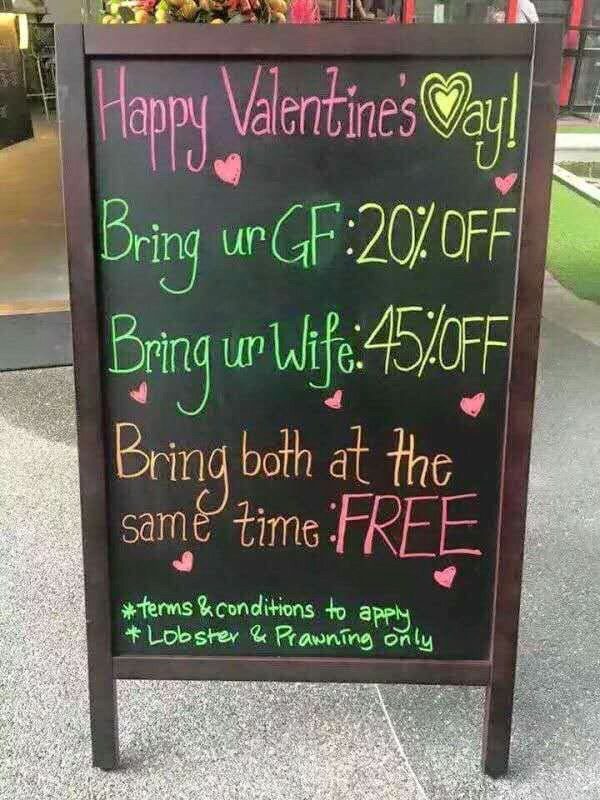 We need details about the terms and conditions of this special. Do the wife and the girlfriend have to know the true identity of the other person? Perhaps the cheating spouse could tell them both that the other woman is a cousin. That would work, right?
The Test of Love
This was an attempt at Valentine's Day advert in an optometrist's office. The concept is cute; it looks like that poster they use for the eye exams. If you wear glasses or ever go to get your eyes tested, you know the ones.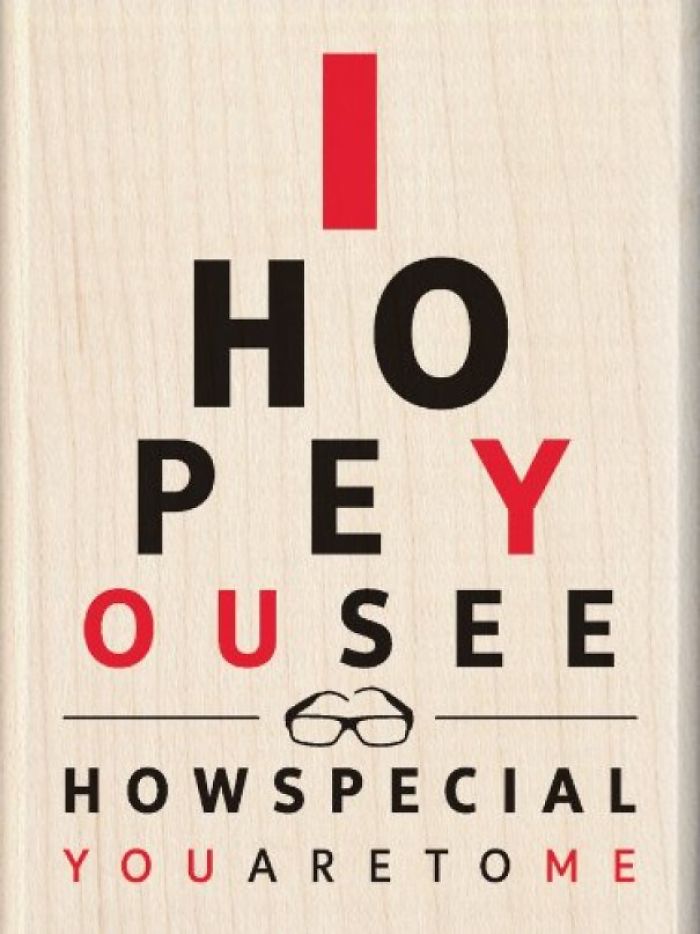 Unfortunately, the ad that's supposed to read "I hope you see how special you are to me" looks more like a jumble of letters that take just a little too long to figure out. We get that it's cute for optometrists, but maybe avoid this if your loved one is in any other profession.
The Little Things We … Love?
We have so many questions. First of all, why would any form of pills be located in the sweets section where any child tall enough can reach them? Secondly, why are sleeping aids being advertised as a Valentine's Day item?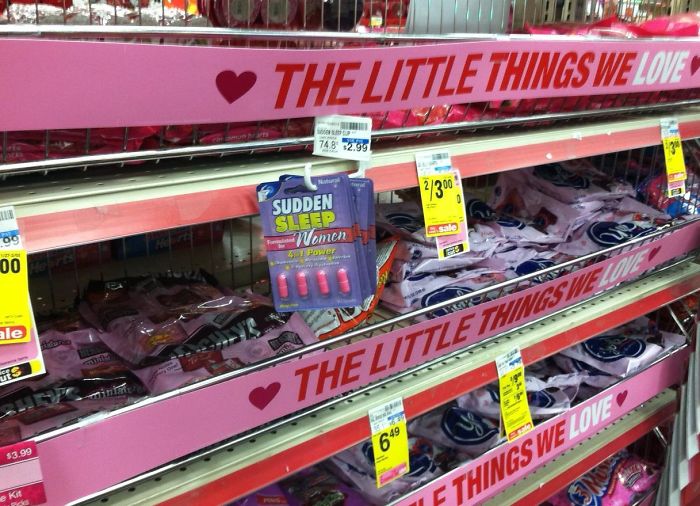 For anybody who thinks this is remotely romantic, it's not. The only reason this would be an appropriate gift is if your wife specifically asked for a babysitter and a night of rest for Valentin's Day and has a hard time falling asleep. And that just sounds too rare and specific for that to be their intention…
Love is a Dong…
This cake is a little bit misleading. It is supposed to say, "love is a song that never ends," but instead, all we see is "dong." Looking at it innocently, a dong is a bell that makes a deep, resonant sound – we suppose that could make sense. But it's a stretch.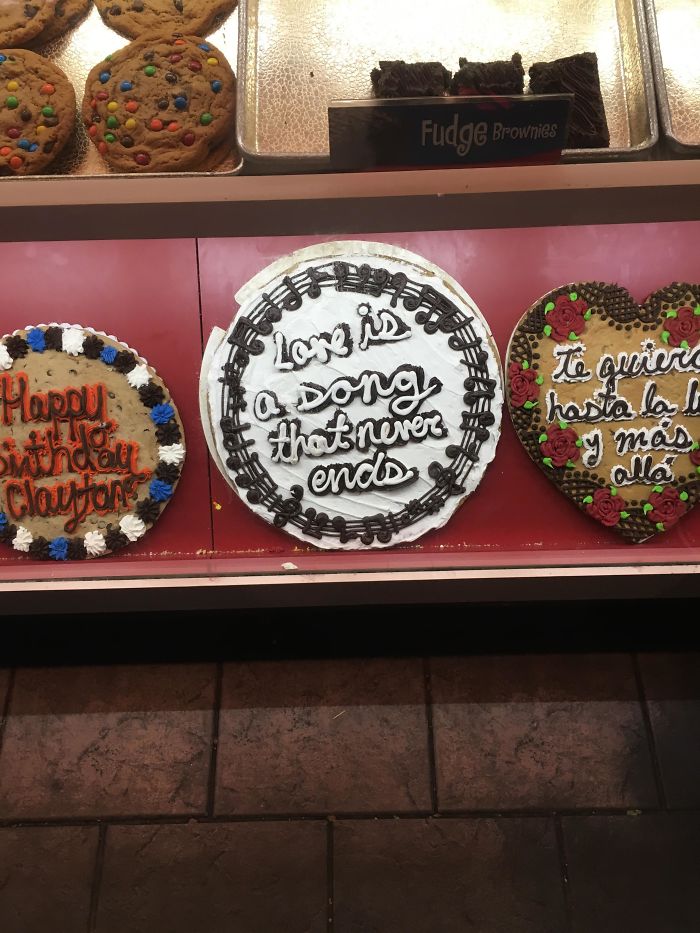 But we're pretty sure most people here aren't thinking of a bell when they read this. Most people know what we were thinking. This is when cursive, as fancy as it looks, should be avoided. Well, another gift for the clown in your life, we guess.
This Creepy Candy Quote
The quote on this paper from a candy box has major creep factor. If the company who manufactured it thought this would be funny – it isn't. Not if you're talking about couples and Valentine's Day. This is uncool on many levels.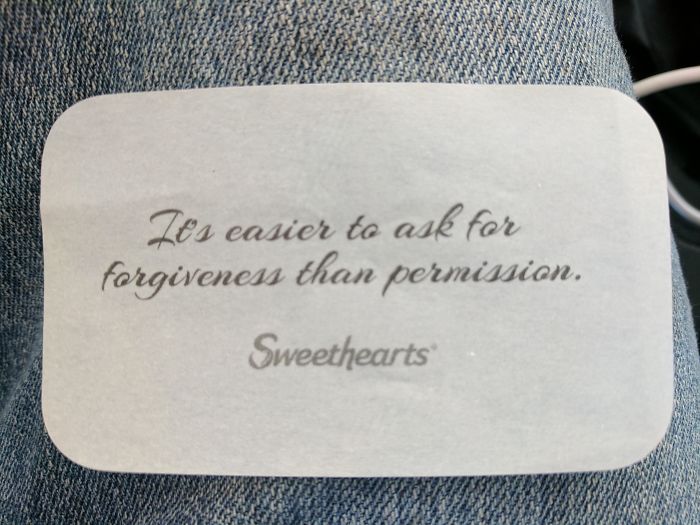 This is the excuse we use to do something shady, like "borrow" our sister's clothes and never return them, or eat our beloved's ice cream when they're not at home. This isn't a phrase you put in a box of Valentine's Day candy.
The Squirrel and the Nut
A squirrel holding a heart full of chocolates, with the words "I'd be nuttin' without you." At first, the pun is pretty cute – because squirrels eat nuts. However, if you're as dirty-minded as most of the internet is nowadays, well, you're already giggling.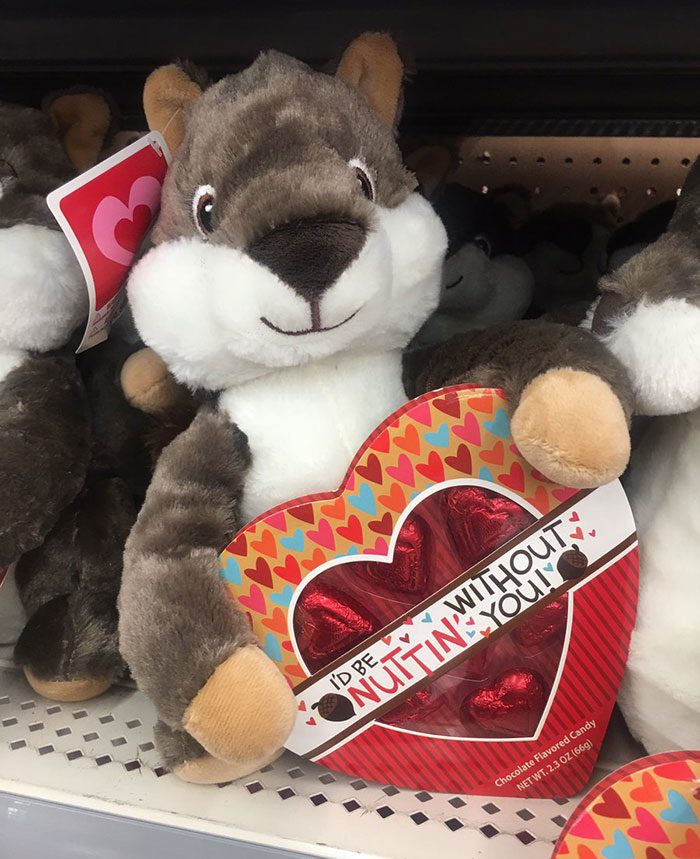 But we give this one a pass because it might have been done on purpose and is pretty hilarious. We wouldn't be angry to get this as a gift. If you or your special someone likes puns, this is the best option.
More Awkward Toys
Well, folks, if the squirrel wasn't your type of thing, and you're more of an "I'm bananas for you" kind of person, here is a monkey plush toy for you. And it has a fan on it. Why? We're not sure either.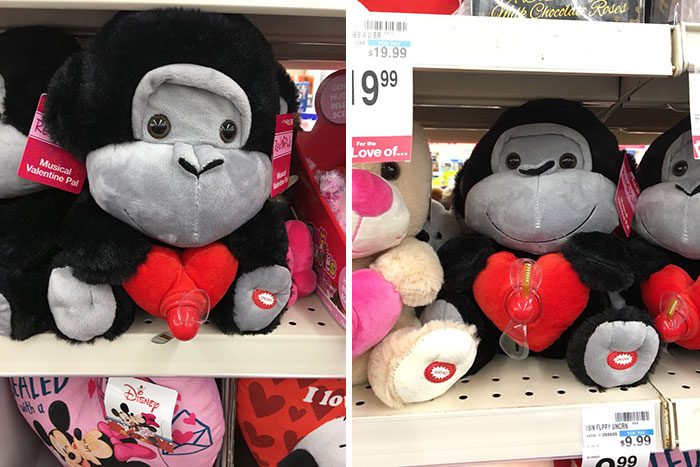 It's also a "Musical Valentine Pal." We can't imagine what song it would sing, and we're pretty happy not knowing. We are really beginning to think the manufacturers are completely aware of how awkward these Valentine's Day products are.
A Sign?
Even the local pharmacy can get in on Valentine's Day sales and fun. But we are a little concerned about their list of essentials for this romantic holiday. They started off strong with the classics: candy and candles. You don't need much more.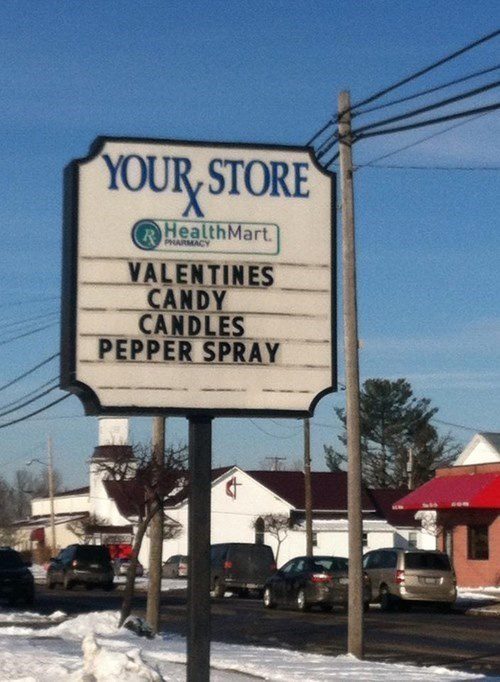 And then they threw in pepper spray. That's a good way to kill the mood, right? Or maybe they're thinking ahead and just want people to stay safe. It's an odd list, but we'll give them the benefit of the doubt here.
McRomance
One of the classic choices for Valentine's Day adventures is going out to a nice candlelit restaurant. Maybe there would be live music, but there would be definitely wine and steak to be had. Usually you go to the type of place where you can dress up.
We're not saying it isn't great that McDonald's is trying to do something cute and fun for their customers. We do know plenty of people who would be fine with this as their date spot. But we have to admit, when we think "romantic dinner," McDonald's doesn't come to mind right away.
Why?
This one makes us think they wanted to do something specifically for guys (because they don't like heart-shaped chocolate?), but they missed the mark. By a long shot. "Cool like a tool" is not even a phrase, first of all.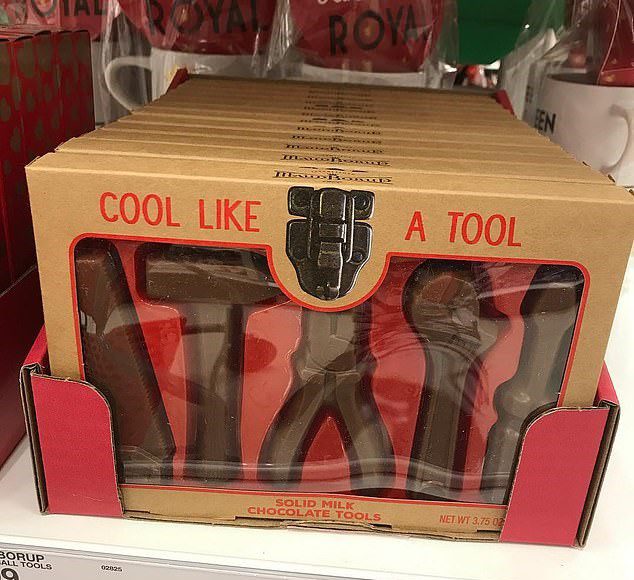 Second of all, that is also another word for "jerk." So We are completely at a loss as to how this is the least bit romantic. Maybe it's a joke – like, you give this to your exes. But why spend money on an ex? Yeah, we're lost.
They're Not Wrong
Okay, now we are sure people are messing with us. Services like this must realize how silly it is for them to advertize for Valentine's Day (like the crabs). But then again, when you get a chance to get some new business you have to shoot your shot.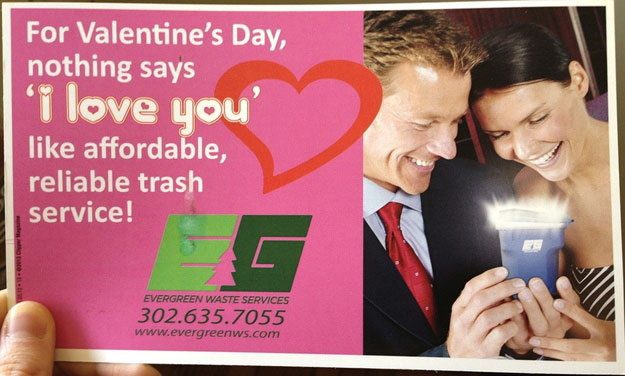 At this point, we're not surprised. We wish we had this! With all the things on this list, we could put together with an amazing basket of gag gifts for our loved ones. This would promptly be hung on the fridge.
A Unfortunate Mug
This is an… interesting design for a mug. We really cannot think of what this is supposed to be except for the obvious. We don't know what sort of person would be interested in buying a mug like this, especially as a present. It would make a good gag gift, though.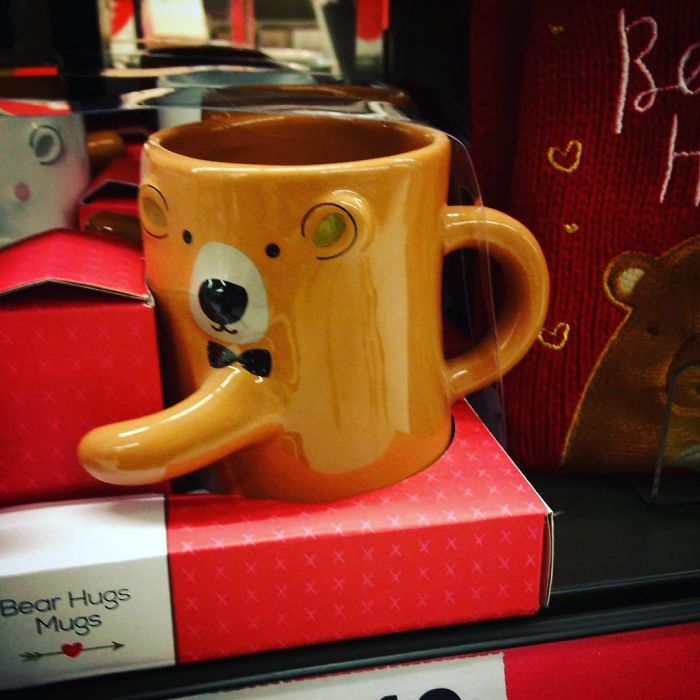 The teddy party is cute, and so is the little bowtie. If it were simply a teddy mug, then we're sure it would make a fine gift for Valentine's Day, especially for a coffee or tea lover. The issue, of course, is the extra-long bit of ceramic sticking out of the center.
Bro Cake
We have already seen one Valentine's cake that fell short of delivering the intended romantic message; here is another one. This person wanted to gift their sweetheart an ice cream cake that said: "I love you." A pretty sweet gift, right?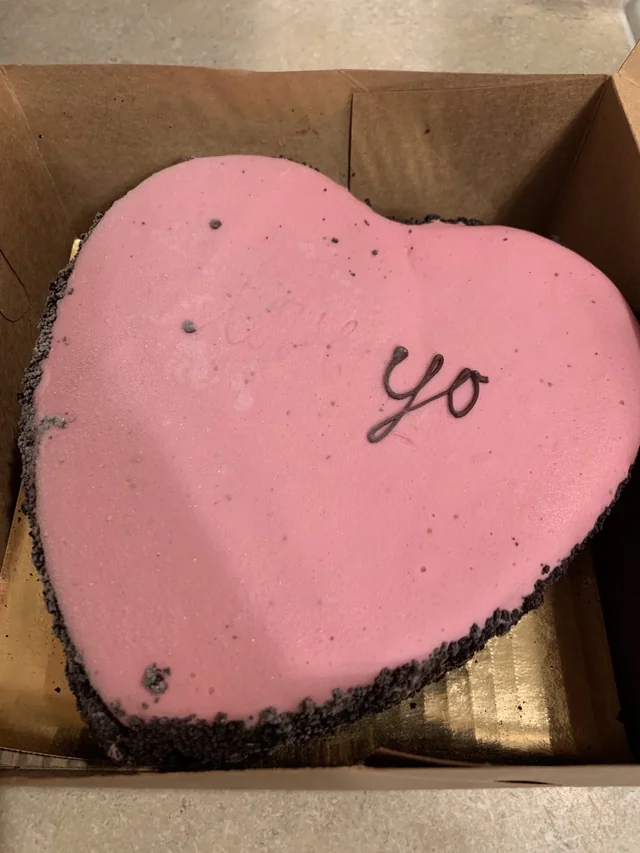 Unfortunately, some of the letters that were supposed to be on the cake fell off during transit. Now it looks more like a cake a frat bro would give to his friend—if frat bros did that sort of thing. Well, it's the thought that counts.
A Pizz-a Your Heart
Look, a pizza might be an unconventional Valentine's Day present but it is also quite genius. Everyone knows that the way to a man's heart is through his stomach. Besides, who doesn't love a good cheesy pepperoni pizza? Yes please!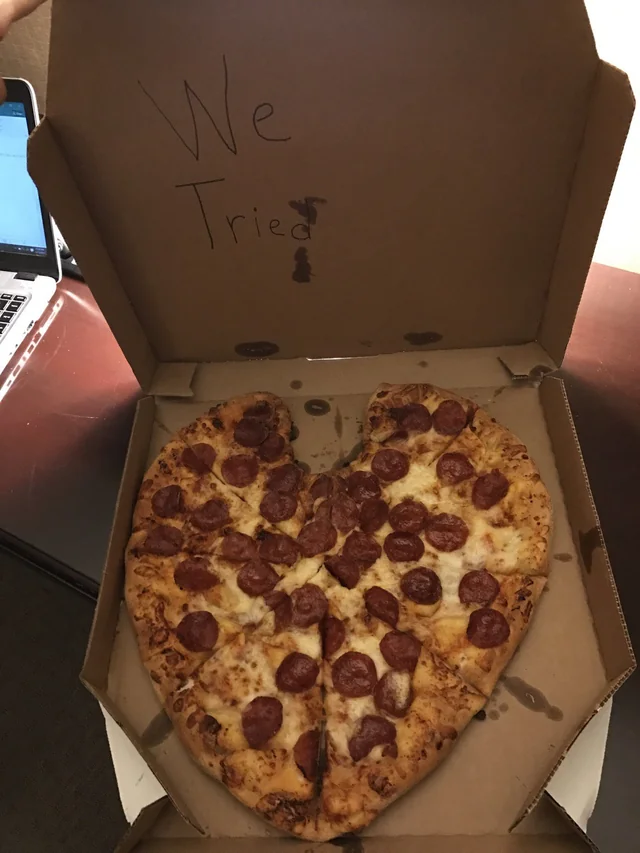 The execution of this gift is where things go arwy. It sort of looks like a heart—if you close one eye and turn your head to the side. We bet it still tasted delicious, and like the restaurant said, they tried.
Roach Romance
Cockroaches are pretty hardy animals. They can go a month without eating, they can't die from bloodless, lack of air or even radioactive material. It has even been suggested that they might survive a nuclear bomb. Perhaps cockroaches are a perfect mascot to represent undying love.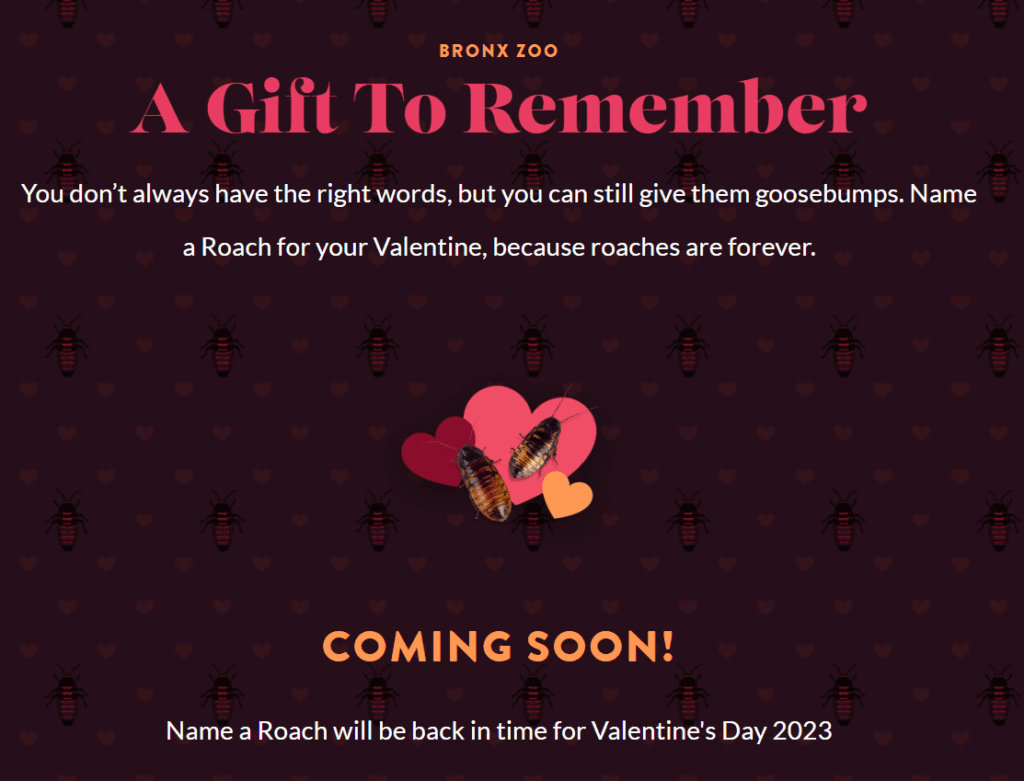 The Bronx Zoo also thought that roaches were a symbol of love because they all customers to name a roach for their Valentines. This is a strange way to show your affection but here, to each his own. We would personally hate to have a roach named in our honor.
Till Death Do Us Part
This final line at the end of wedding vows is always said nonchalantly by the blushing bride and her groom as they rush to exchange rings and be declared man and wife. No one ever gives it a second thought, much less on Valentine's day.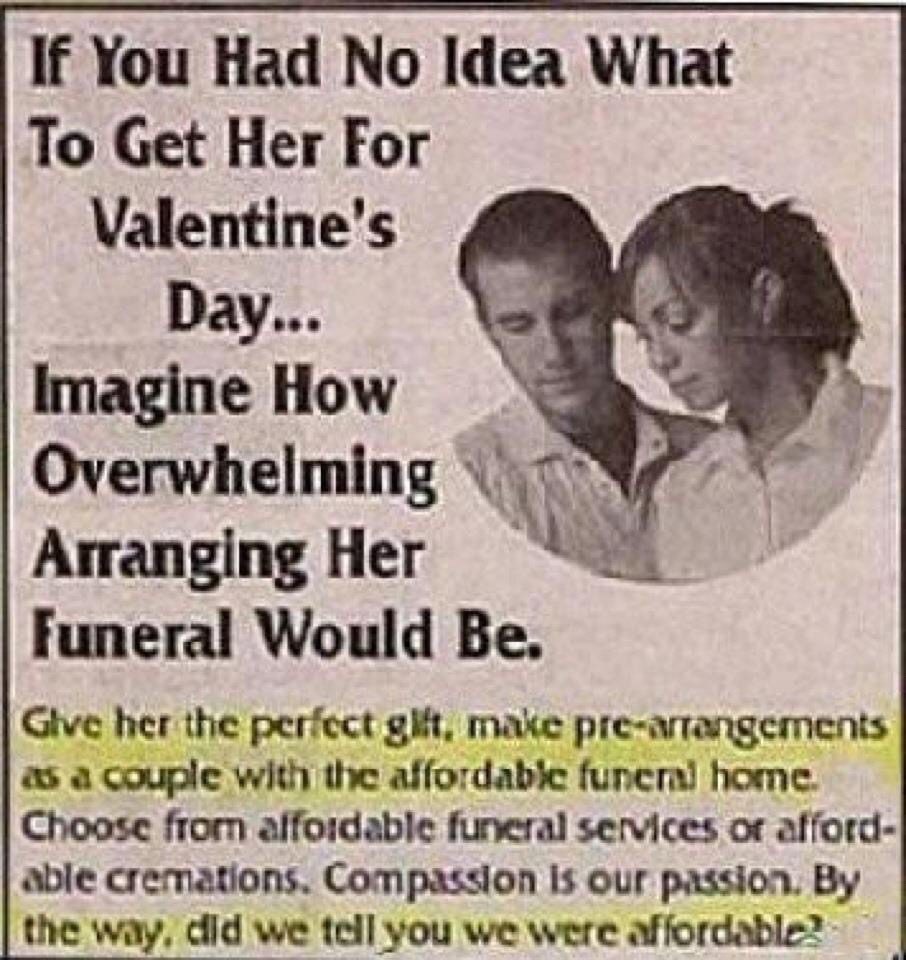 Well, that's until this funeral home decided to capitalize on V-Day fever to market its services. You've got to admire their audacity and 'witty' phrasing to grab the attention of forgetful husbands. However, something tells us that this 'gift' wouldn't be appreciated. You're better off with a single rose than this!
Nothing Like A Card To Show How You Really Feel
In this particular instance, we aren't sure who is more at fault between the card company and the guy who bought this. If you play your cards right (see what we did there?), a Valentine's day card can actually be more special than an expensive gift.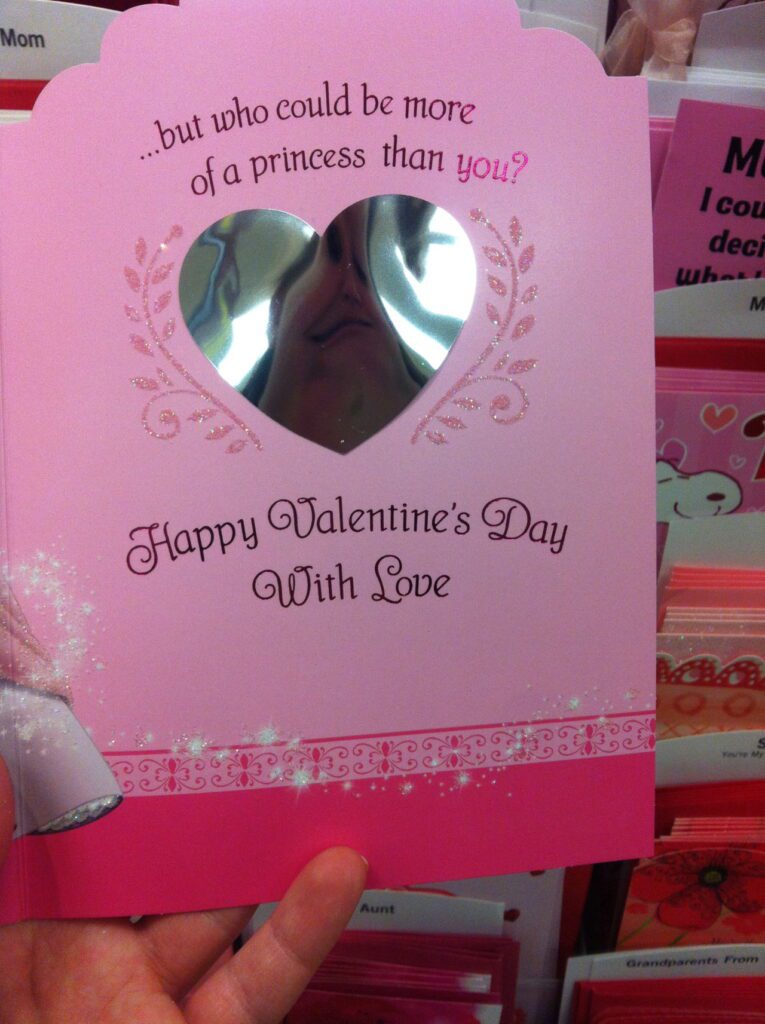 Just think of that sweet text you keep rereading that you got a while back but still makes you feel all warm inside. Now imagine that as a handwritten note on a beautiful card. Unfortunately, whoever receives this will never know that feeling. At least not with this card.
Ignorance Is Bliss
With all the pressure that comes with doing something special for your person on Valentine's, it's not surprising that someone eventually thought of this. A backup plan for the unlucky few with the memory of a goldfish who forgot to get something.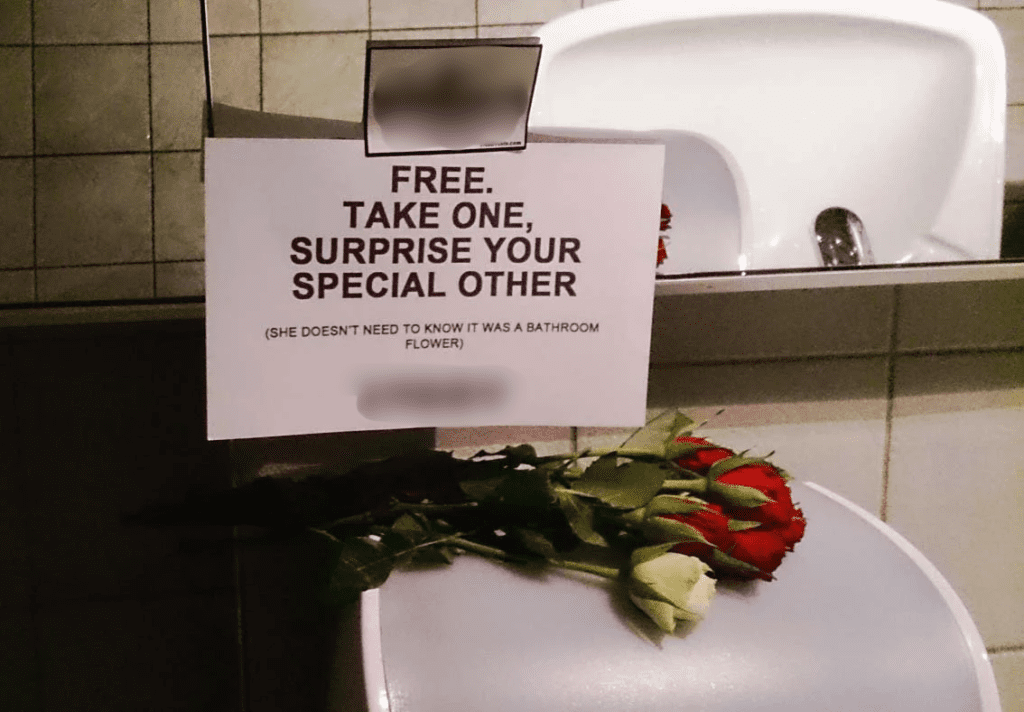 By the looks of it, we'd say that quite a few roses had been taken already before this photo was snapped. Kudos to the owner of this establishment for saving one relationship at a time with nothing but a rose. Something tells us they thought of this after forgetting one too many Valentine's gifts!
Cheesy Treat From A Cheesy Lover
Please don't get us wrong; Cheetos are a great snack. They are tasty and aren't really bad for your teeth like most other snack choices. However, there has to be a line to distinguish what passes for a Valentine's day gift and what doesn't.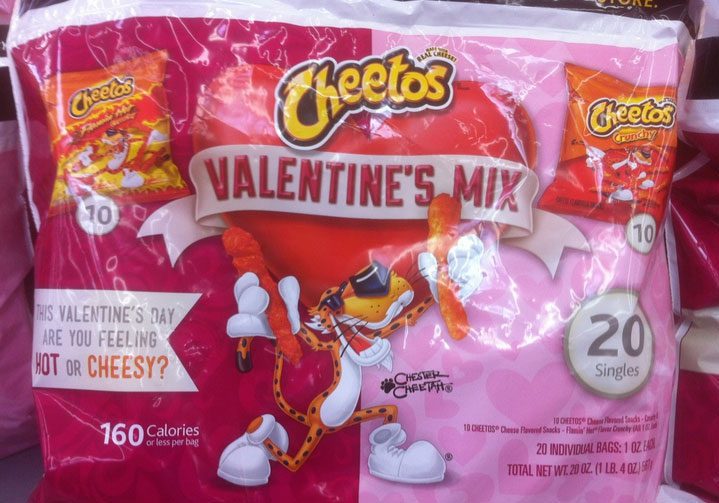 With that said, props to the company for jumping on the chance to bring in more cash by creating this V-Day special. Looks like they have everyone covered depending on whether you're feeling 'hot' or 'cheesy'! What would you do if you got this? Hot under the collar is a feeling that comes to mind.
Social Media vs. Reality
By now, we all know better than to take social media at face value. Technology has advanced so much that people have become quite adept at using filters and photoshop to conceal how they really look. However, who would have thought that florists are playing this game of deception too?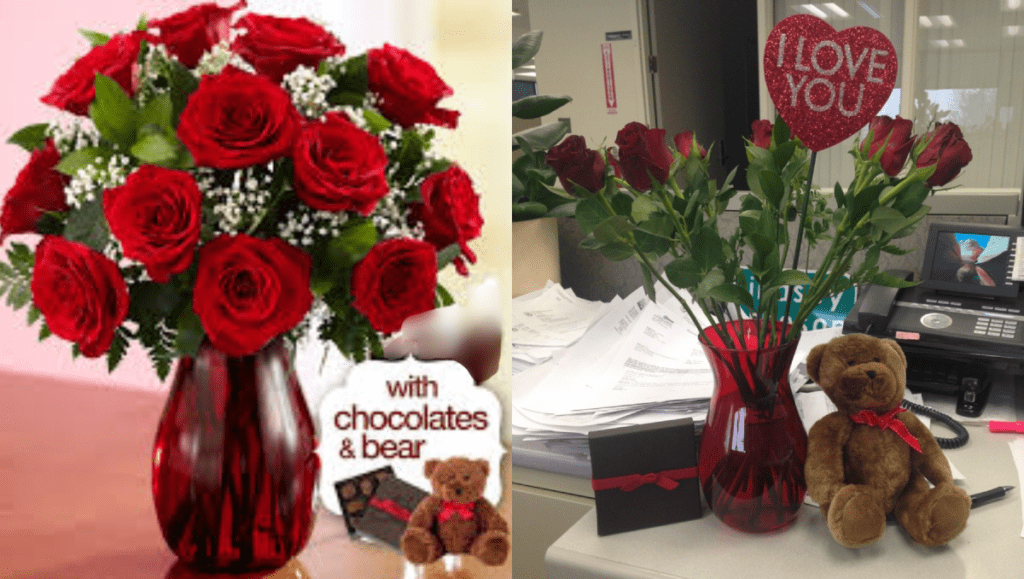 This poor guy decided to splurge on a bouquet of flowers for the lucky lady in his life. Unfortunately, what was delivered was a lot more sparse than what he had ordered. This is a classic case of social media versus reality. The real kicker is that these cost $90!
All-in-One
Planning out the perfect engagement can cause quite a headache. Choosing the ring, hiring a venue, and getting her there all without ruining the surprise, is almost impossible. Well, it seems Pizza Hut thought of a solution to this problem.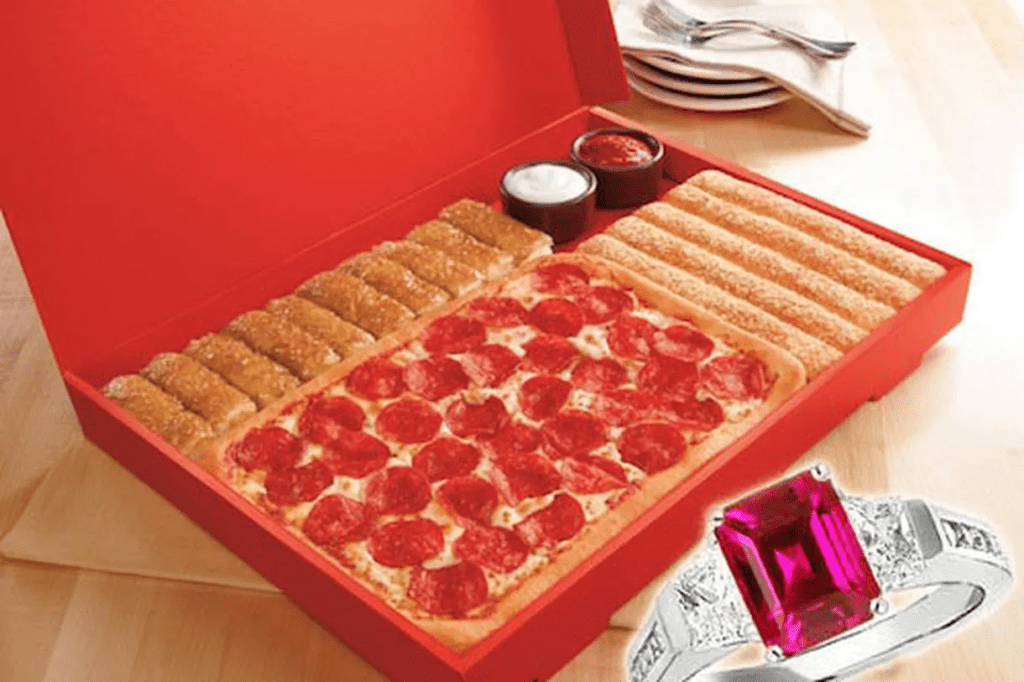 Back in 2012, they ran a promotion that included an engagement ring, a limo, fireworks, and a pizza box. All for the reasonable price of $10 010. You could pop the question and then celebrate over breadsticks and pepperoni pizza. Now, doesn't that just sound so romantic?