Clever Bathroom Storage Hacks To Make The Most Out Of Every Nook And Cranny
By Navkiran K May 14, 2023
---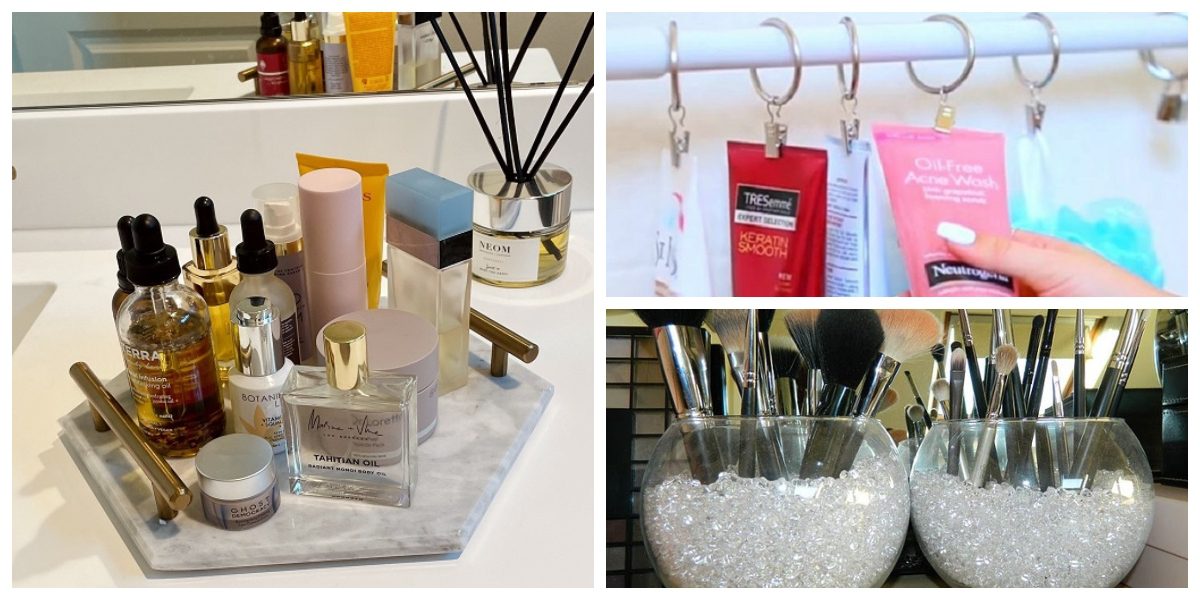 This article was originally published on
morehackz
It's always a challenging task to figure out how to make the most of your bathroom if you have limited space. We all know that bathrooms are a place where things can get cluttered quickly. The first step to bringing order out of chaos to ensure that each item has its own spot. This can get tricky, especially when there's not much space available, affecting everything from where you put your toothbrush and paste to how many towels or toilet paper rolls are needed for an entire week. But, there's no need to live in chaos now. We've compiled 40+ creative hacks for organizing your bathroom from top to bottom that will leave your space looking as good as new. From clever storage solutions to easy organization ideas, we have something for everyone here.
Drawer Organizer To Keep The Countertops Uncluttered
If you have a small bathroom, use dividers to maximize space on shelves and in drawers. This way, you can put everything you need into categories like toothpaste or creams instead of just throwing it all over the place without any order.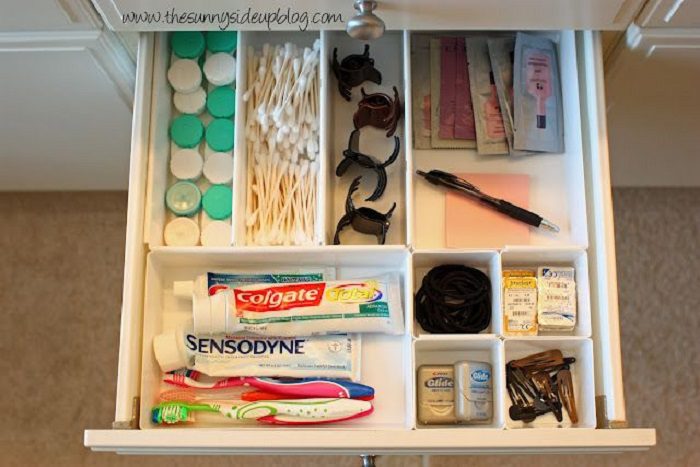 If more than one family member uses this room, use a long organizer drawer with different compartments labeled appropriately. This way, everyone knows where their supplies are located when getting ready every morning or before bedtime. It makes life much easier than you think!
Invest In A Hutch Or Free-Standing Wardrobe
If you're short on storage space, use a free-standing wardrobe or hutch instead. You can keep it in your bathroom or any area nearby for easy access. Make use of its storage potential and turn an unoccupied room into something useful with a bit of creativity.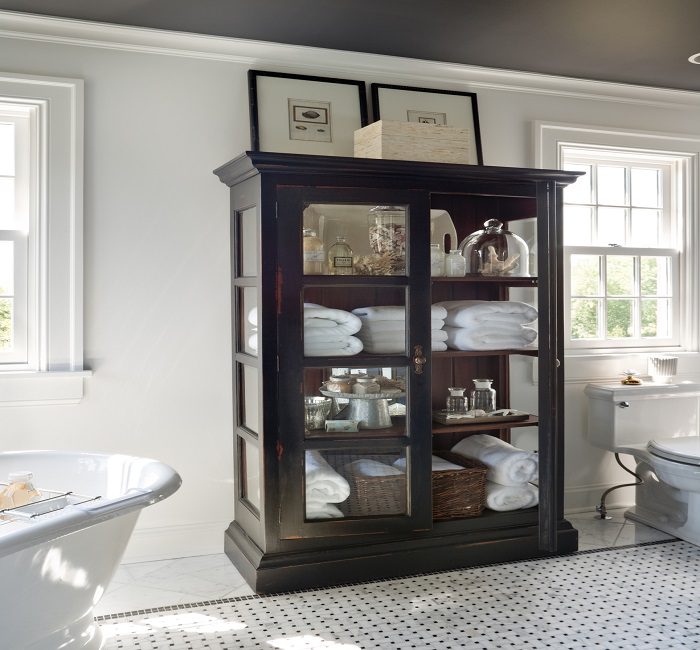 This will infuse personality into that space and give new life to old items and create open shelves out of thin air. You will be able to store paper products, towels, and much more. So, enjoy better organization by installing one yourself today.
Bring In Lazy Susan On Your Bathroom Counter
Organize your bathroom cabinet with a lazy susan to make it easier on you and get what you need in no time. Choose one that has some type of lip on it so small items don't slide off while they're spinning around at your convenience.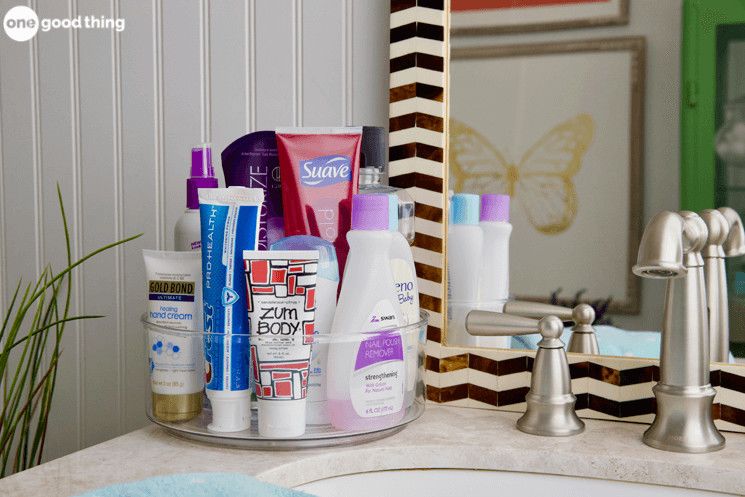 If there's anything too tall for the spinning turntable, try placing taller bottles at either the center or edge. You'll be able to see everything from tall jars right down to small bottles, so there won't be any sliding around or confusion.
Use File Sorter To Keep Washcloths
It's no longer a chore to keep washcloths from getting lost in the mixture of hand and body towels. This is a genius idea for those who are tired of losing washcloths or trying to find the right one when you need it.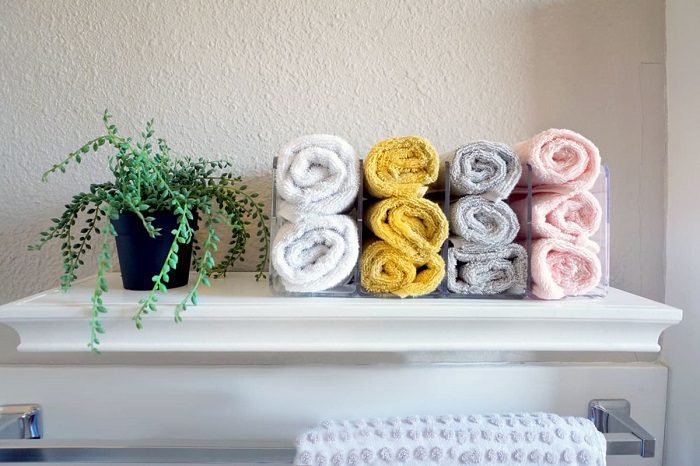 This storage method requires a good magazine and file sorter to help you organize all your linens with style. Also, while being effective at what it does best, it keeps clean surfaces neat, organized, and most importantly, accessible when needed.
Install A Long Tension Rod Across Shower To Hang Shower Caddy
Did you know that a tension rod and S-hooks can give your shower extra storage? Not only will it hold all of the things you need, but it allows air circulation between hangers in an open concept design. Sounds great, right?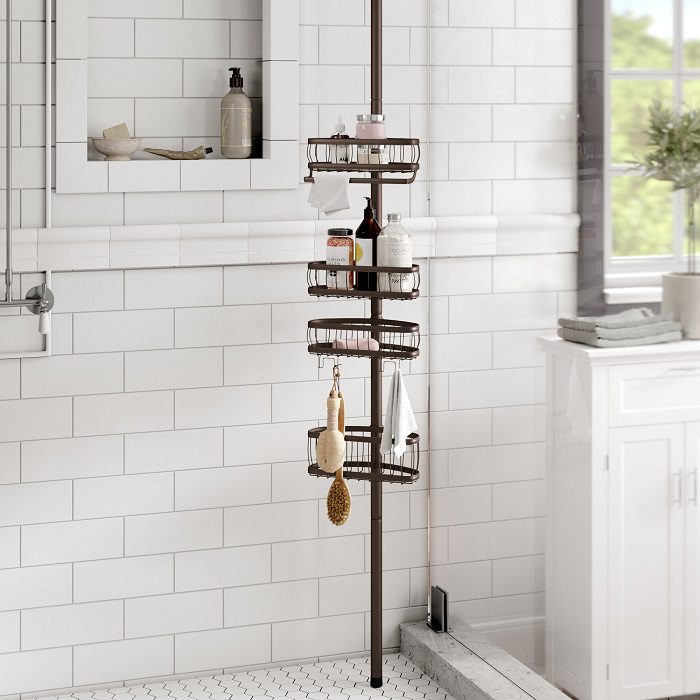 And the best part about these tools? They make cleaning easier by acting as an instant shower rack for delicate items such as washcloths, shampoo bottles, and more. With this helpful tool at hand, it'll be more accessible than ever before to keep everything organized with ease.
Reduce Visual Clutter By Decanting Shower Staples
Why not give your shower a more luxurious feel with these easy-to-reach bottles? Decanting soap and shampoo into uniform containers makes it easier for you to get everything out of the way while also creating less clutter and a more aesthetic space.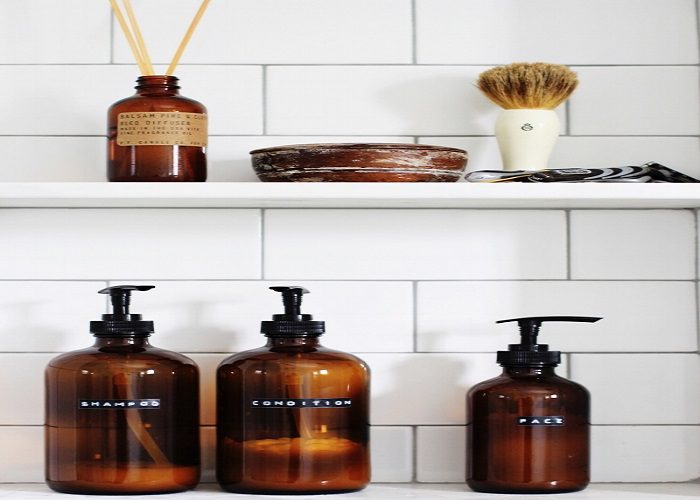 Choosing these kinds of containers for a shower is not only convenient, but they also make it easier on our eyes. It's clutter-free because there are no colorful labels or different-sized containers – just ones that will fit neatly in the drawers without being too jumbled up.
Hang A Shelf Beside Your Vanity
A shelf beside the vanity is perfect for storing anything you need to access daily. It keeps things off of your countertops, giving your bathroom a picked-up but functional look that leaves all items within reach and organized to your liking.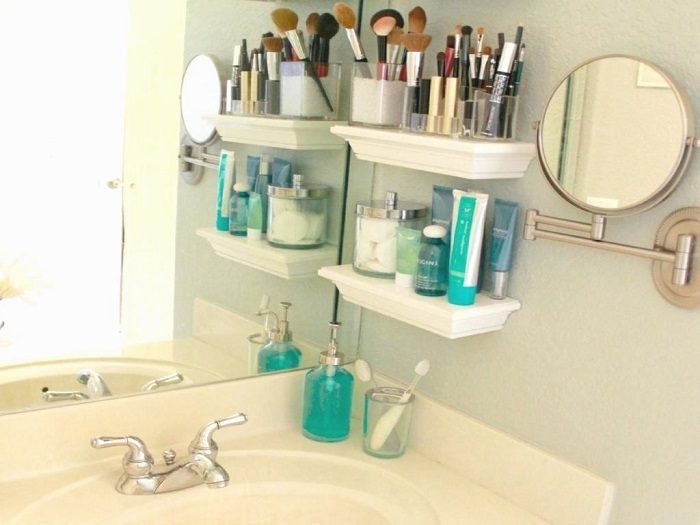 With this ingenious idea, you'll never have to worry about not finding a place for your stuff again. Plus, an ideal place to store your stuff is right at the ready. The deep storage of this cupboard is sure going to make it easy as pie.
Get Cabinet Organizers Onto The Counters
A cabinet organizer is a great way to give your bathroom countertop some much-needed organization. Sometimes, it's necessary to store bulkier items in front of the door so that they are visible but not right out in public for everyone to see.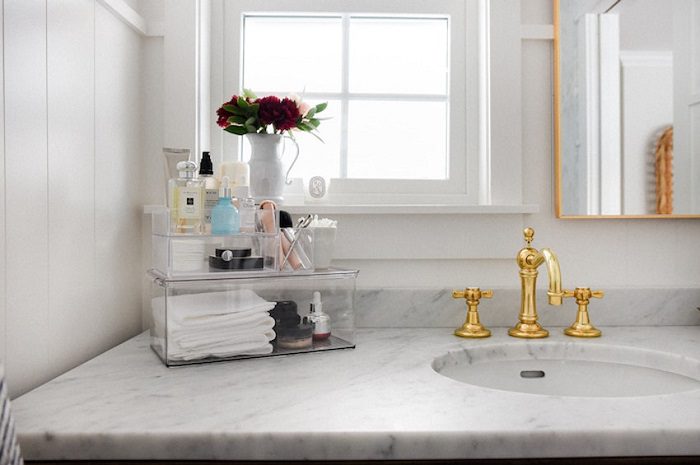 For a chic yet practical solution, use all those hidden compartments with this handy organizational tool instead. Things like toilet paper or cleaning supplies will stay neatly tucked away from prying eyes while hiding at eye level when needed most.
Attach Floating Shelf Without A Drill
This floating shelf is an excellent solution for those who are constantly looking to organize their homes and give them that personal touch. It's easy enough that even renters can install it, as no drill and no holes in the wall are required.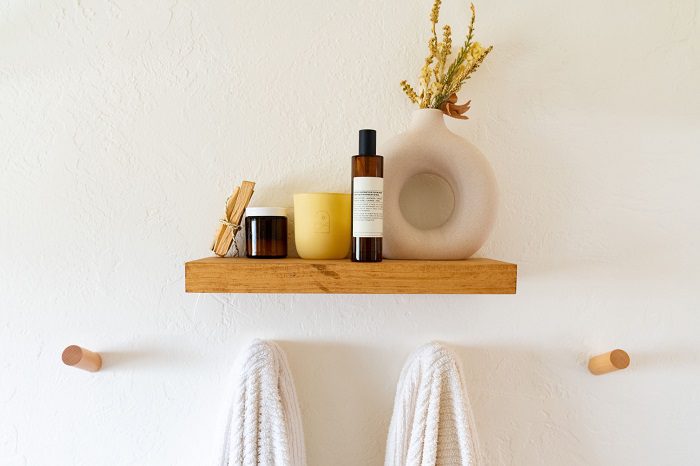 It's affixed with an adhesive strip that supports up to 15 pounds, so you can set cosmetics or personal care products out of reach while still giving yourself easy access. The lightweight design is perfect when space isn't available on the countertop.
Utilize A Suction Cup Holder On Your Mirror Or Backsplash
If you're looking for a means to keep your bathroom organized and dust-free, suction cup holders are the answer. Just stick one on each side of your mirror or backsplash tiles to hold small items like toothpaste, lotions, or other cosmetics for easy reach.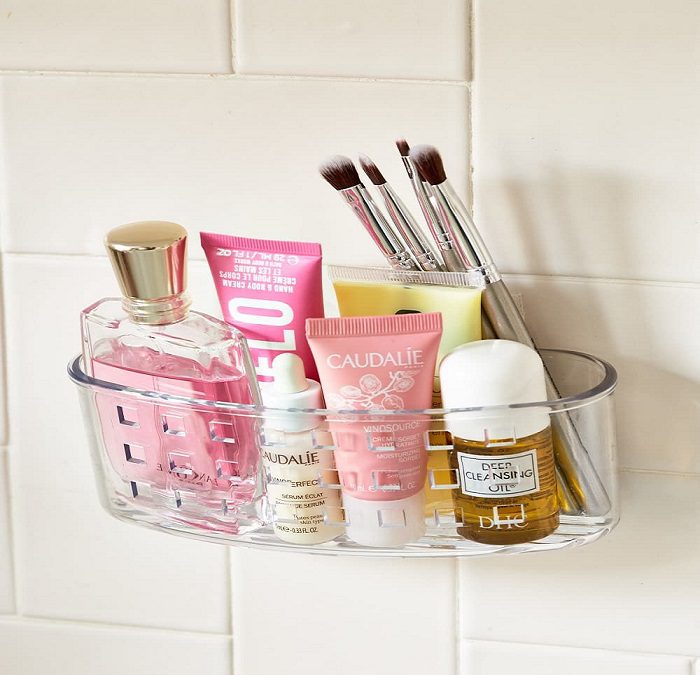 This clever little niche in the design will hold easily lost toiletries so you can use them before they expire. And because it's called dollar store craft for a reason, this idea never goes out of style, and it's an inexpensive way to manage bathroom storage.
Store Your Small Essentials In A Tray
A tray is a great way to keep small essentials handy and organized. It's a fabulous idea because it allows you the luxury of leaving out some items while still keeping your left-out essentials in mindfully placed groups, like perfume or jewelry boxes.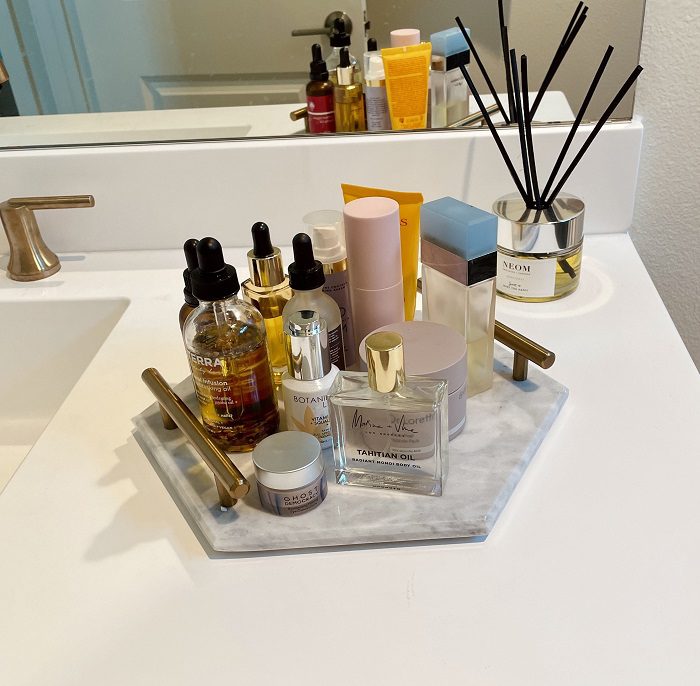 Not only does this clever little design keep things neat on the surface of your shelves, but it also makes sure they're easy enough to reach. Plus, you'll love how impressively curated it looks. After all, who doesn't want their small essentials sitting pretty?
Attach A Shower Organizer On The Hooks Of Shower Curtain
Attach a shower organizer from the same hooks of your shower curtain. You can make two things do one job by adding a small shower pocket organizer or a plastic shoe organizer on the inner part of your shower curtain.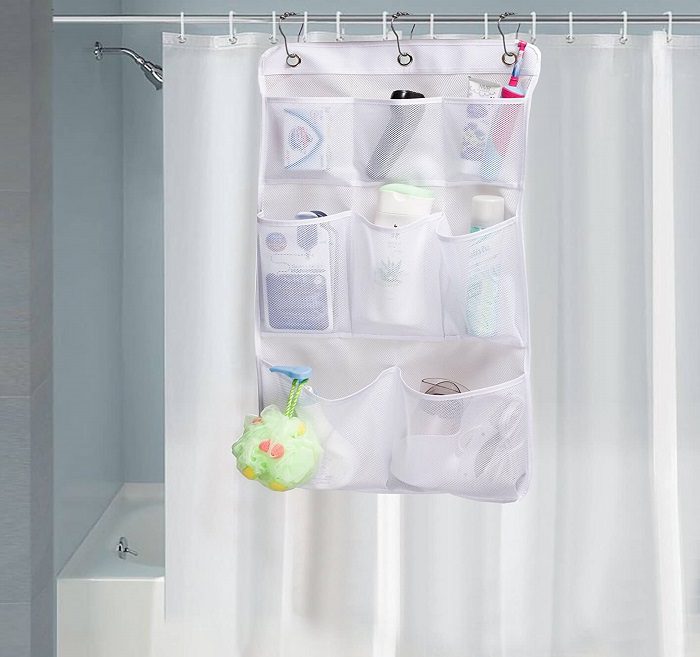 Believe it or not, this clever use of space will make bathing easier for you. This is an easy way to keep those necessary items close, and in one spot so they are within arm's reach when the bathing time rolls around.
Hang Plastic Baskets Inside The Cabinet Doors
Most people will agree that baskets make for excellent storage. They're pretty, come in different sizes and shapes, and most of them are sturdy enough to hold your essentials. Besides, the inside of your cabinet doors is the perfect hiding spot.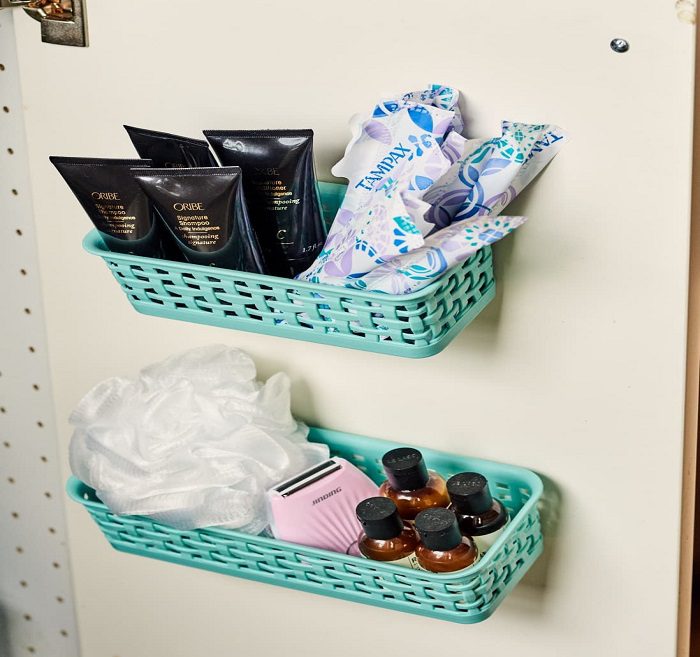 In addition, it is ideal for all those little items that never seem to find their way into drawers or cabinets. Hanging dollar store baskets means you can keep things like essential oil bottles, razors, and feminine products organized, so they don't end up getting lost.
Use Clip-On Shower Curtain Rings To Hang Products
Do you hate having water-logged shelves in your shower? A tension rod or towel bar is the perfect solution. With clips that can be hooked onto both a photo hook and also some curtain rings, it's easy to hang products where we need them.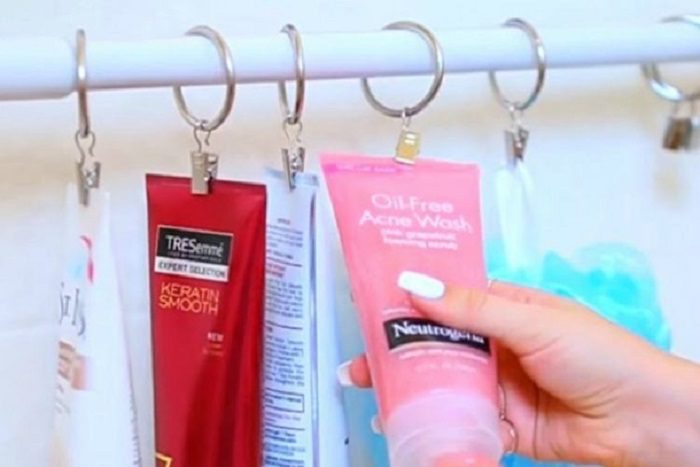 When we hang our personal care items, they stay clean and dry. You can hang things like soap bars and lotion bottles from curtain clips or hooks for a clean design that takes up less space on any bathroom wall.
Attach A Small Plastic Laundry Basket From Waterproof Sticky Hooks
The mess in your bathroom is driving you crazy. Stop the madness by using these clever solutions. Sticky hooks are a great way to hold loose items and give them some airflow. You can even add water-resistant covers for added security.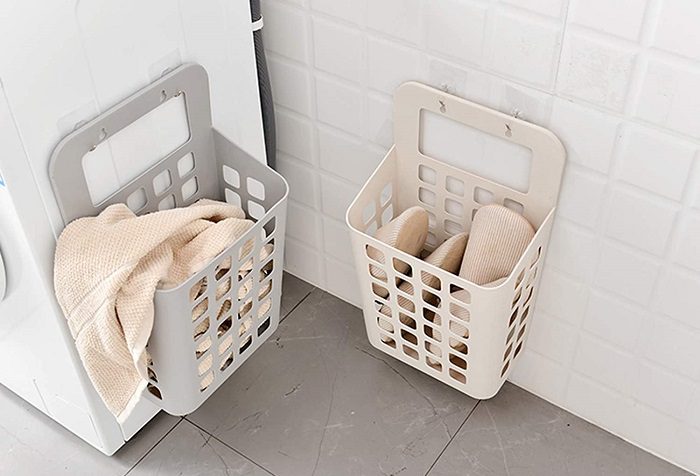 This is a perfect way to organize your bath toys stylishly, without worrying about getting ruined by water. They're also easy to remove when necessary. Also, the waterproof hook keeps everything well-placed without damaging anything in the process.
Add Rounded Shelving Unit To A Pedestal Sink
Do you have a pedestal sink? If so, it's time to get creative. Pedestals are boring and don't provide enough storage potential for all of your household needs. However, you can turn your pedestal sink into a stylish storage area with a curved shelving unit.
Imagine the possibilities of your sink's storage with this sleek, curved shelf. It will fit underneath perfectly and provide much-needed space for all sorts of things like hand towels or sponges. So, what are you waiting for? Get one right away.
Fix A Tension Rod Inside A Cabinet To Hang Spray Bottles With S-Hooks
Don't be limited by constantly opening and closing your cabinet doors—mount an S-hook on the door for easy access. A tension rod spanning across provides ample hanging space to store things like spray bottles or towels in one place without crowding each other out.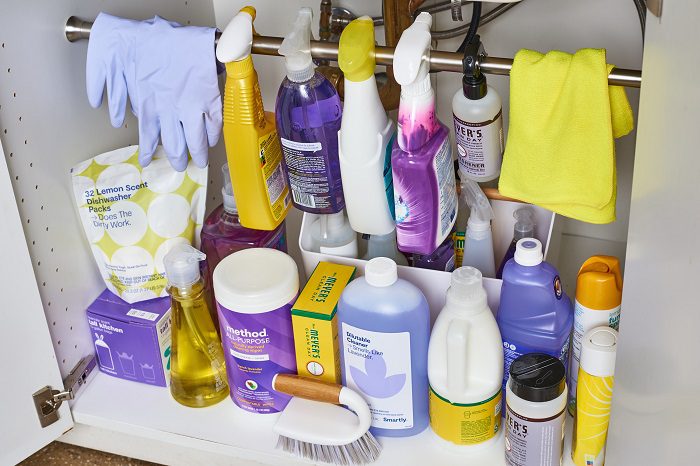 This hack is so helpful because of its versatility and options. You might want this to store makeup, hang bottles or cleaning supplies, or just use up spare room that would otherwise go unused in an ordinary bathroom vanity cabinet.
Keep Your Hair Tools In A Countertop Organizer
Hairstyling tools can be a pain to look for when you need them. If your drawer space is limited or the cabinet doors are close tightly on them, opt for an organizer instead of piling everything on one surface in an unsightly mess.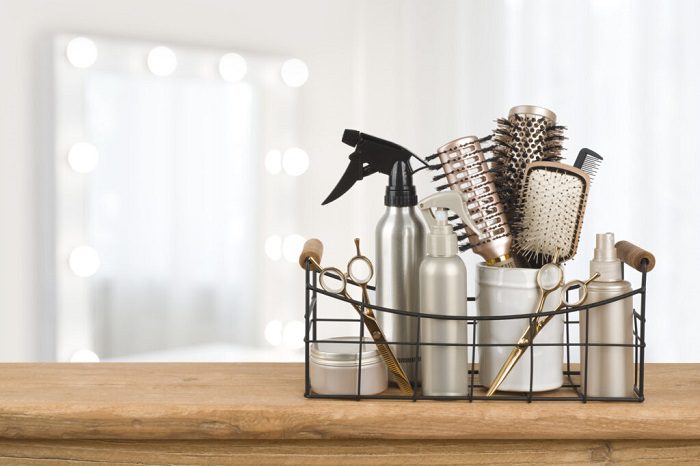 Store all those must-have tools in a countertop organizer. All appliances facing forward make life easier because everything is accessible without having multiple organizers everywhere. This handy organizer will save time while keeping things neat and in one place.
Incorporate Under-Sink Organizer To Maximize Space
Get a sense of order with the right under-sink organizer. With the right system, you can maximize space and find precisely what you need without wasting time or effort digging through cabinets. Also, it adjusts and accommodates to plumbing needs accordingly.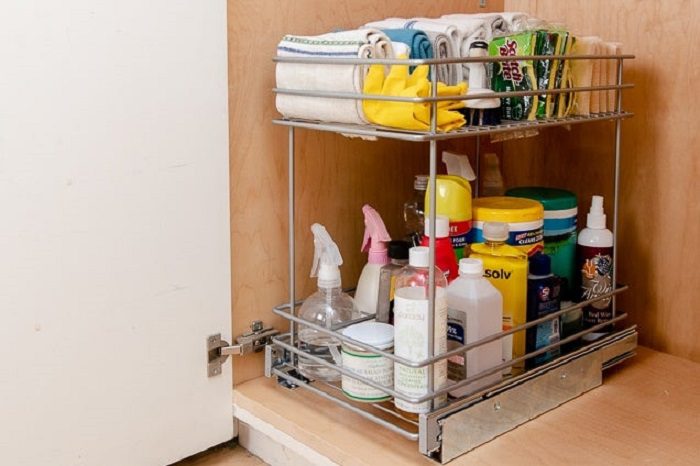 If it's bulkier items like cleaning supplies that take up too much flooring in a bathroom, or you want to guide them away, consider getting this vertical organizer. They're specifically made for those looking to save space by expanding higher instead of broader.
Mount Your Toiletries Right On The Mirror
Do you ever find yourself in a set-up where there's not enough room on your counter for all of those necessary things? Here is how to solve that problem. Mount organizers directly onto the mirror if no wall space is available.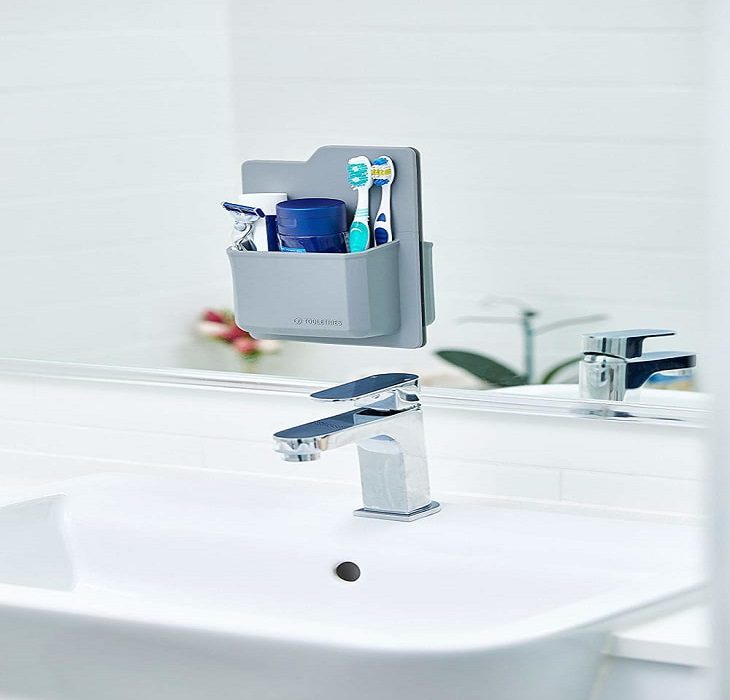 This toiletry organizer grips onto the glass without adhesive and gives that clean look of having nothing on the counter. The suction cup attachment offers easy installation, so you can put away those items once they're done being used.
Chic Ladder-Style Shelving For Bathroom Organization
Ladder shelves are great for storing towels and linens, not to mention they look decorative. The ladder design allows you to use less space, but they still offer substantial storage opportunities in a small room that needs some serious organization skills.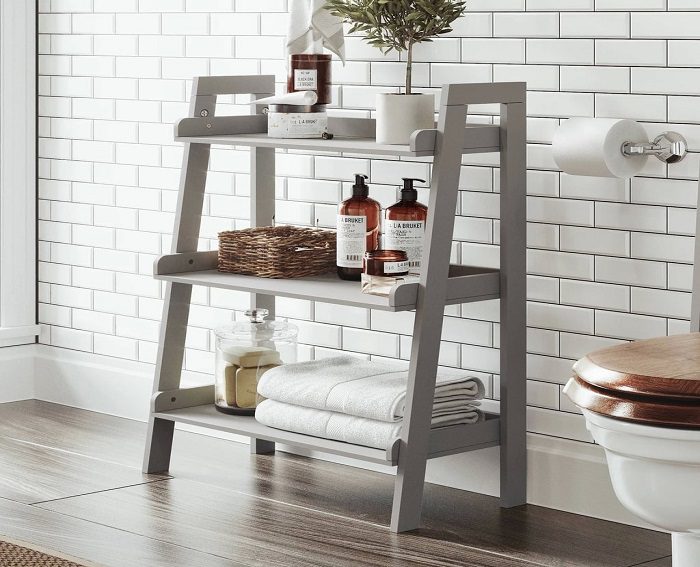 For those looking for more storage space without feeling like they're in an overcrowded mess of furniture, ladder-style shelving is the perfect solution. It's not as bulky and offers much greater opportunities with little clutter. They will fit in any bathroom aesthetic
Over The Shower Space Saving Hack
A bathroom is not complete without a caddy for your showerhead, and this one's more interesting than the ones you're used to. The hanging unit has shelves that can hold shampoo bottles or bars of soap, and it also looks super chic.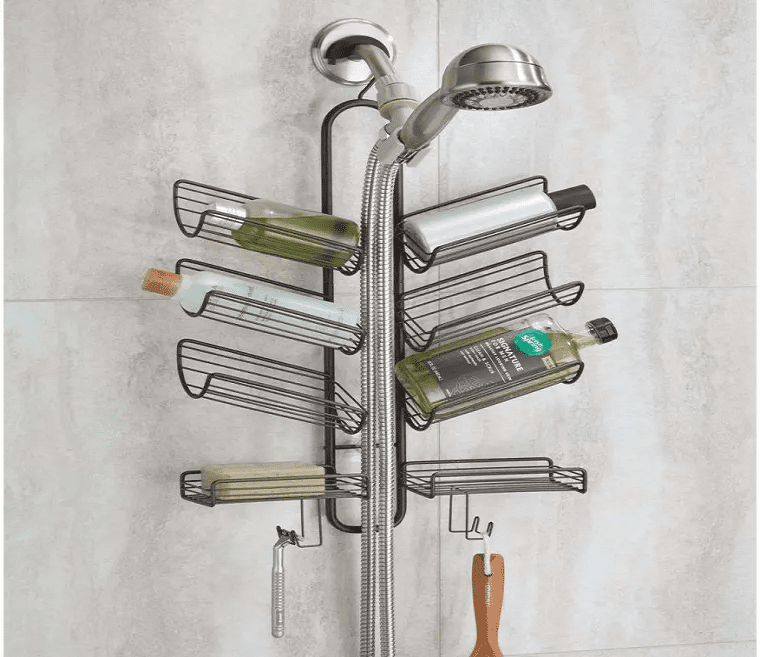 It also comes with hooks where loofahs are placed, so they don't get wet before being taken off their hanger before use. With its long top that can hold tall items, this will be a valuable addition no matter how many storage options are available in your home.
Try A Suction-Cup Organizer On Tiles
Get organized in the shower with this bathroom organization hack. These easy-to-install organizers will leave you saying goodbye to rusty bobby pins and soggy hair ties in no time at all. The best part? No drilling is required; pop them on wherever there are empty tiles.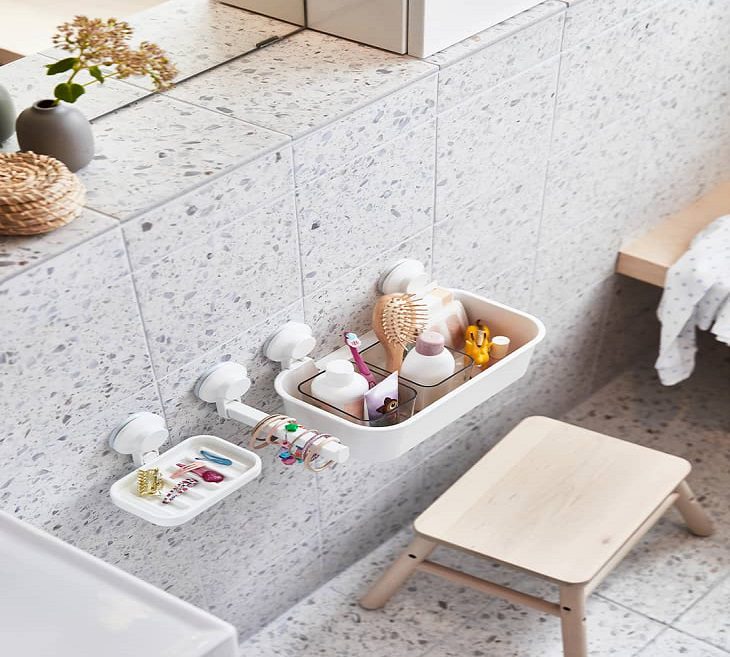 They're made out of durable plastic with mounting holes so they can be attached easily, which will make it simpler than ever before when you need something quick. With these organizers, you can get everything in order and keep it that way.
Mount Shower Caddy On Glass Shower Walls
If you have a glass shower door, get a caddy that can mount on it. If your preferred method is to leave the area around your faucet free and have a sleek-looking door without any hardware for mounting purposes, then this product will do just great.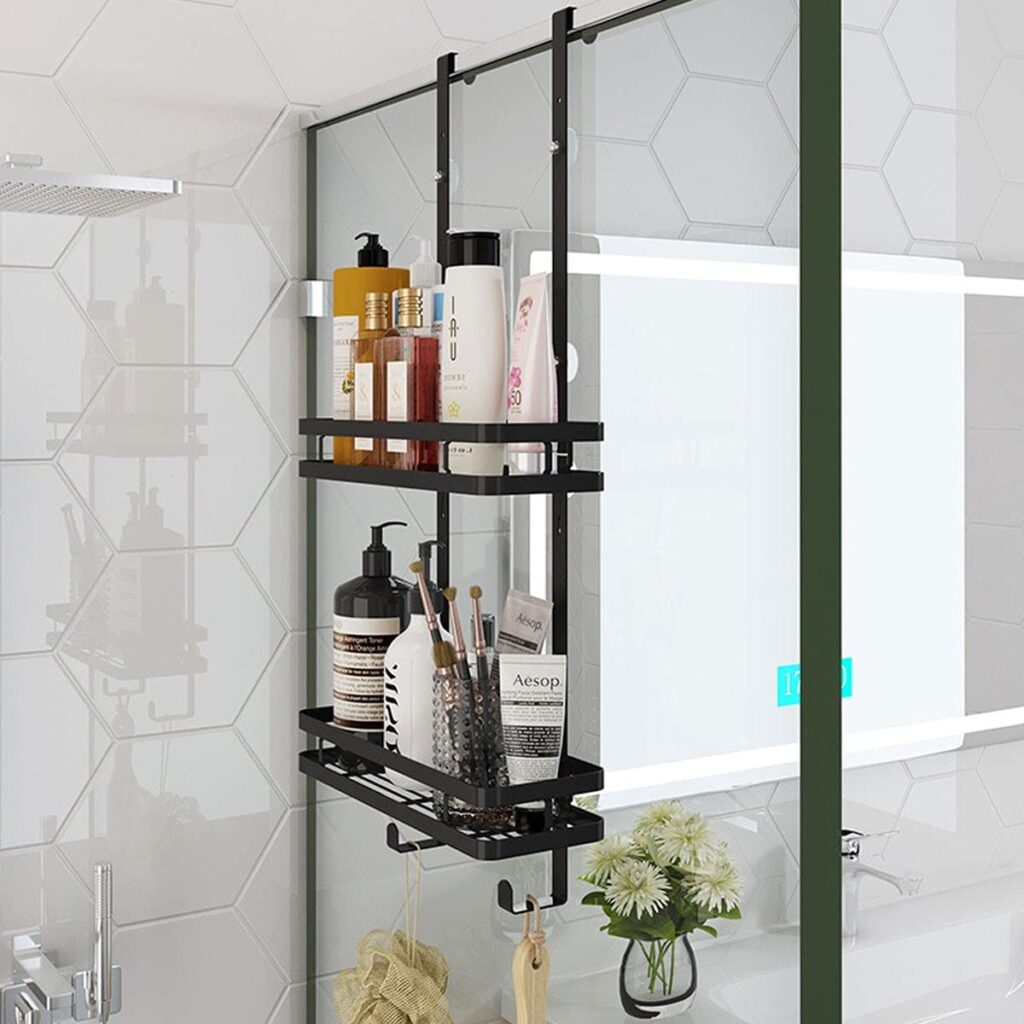 This will look not only better but also provide ample storage space in one unit. In addition, it comes with shelves and hooks, so there are many options when deciding what items go where. Just try not to overdo it, or else things will get messy fast.
Hanging Closet Organizer For Bathroom Staples
If you're looking for an easy practice to store your linens, towels, and other bathroom essentials, then look no further than a hanging closet organizer. Besides, they can be easily hung up in no time with zero tools or effort needed.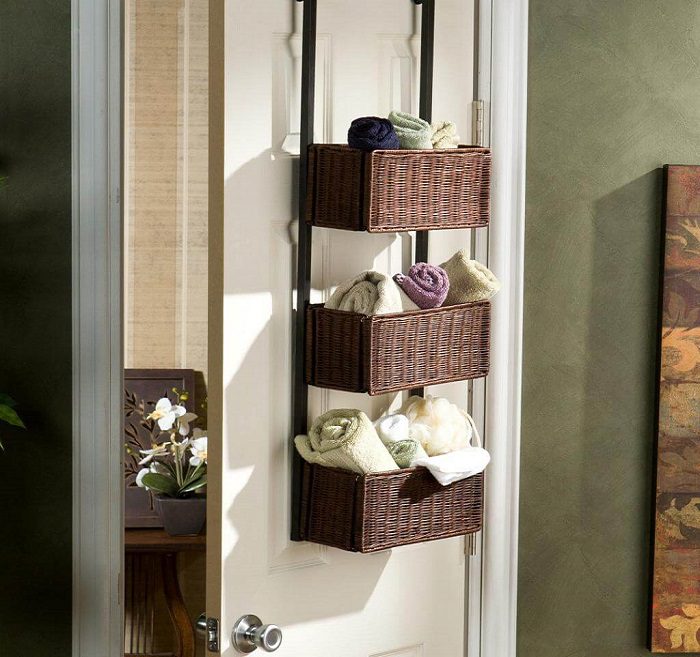 Just set it up in an empty spot for storing personal items without taking up too much space. It's also ideal if your cabinets are already full. So, access your bathroom staples easily with this idea without cluttering up space or taking over valuable countertops.
Get A Bathtub Caddy For An Additional Counter Space
If you're a bath person, this bathtub caddy is the ideal place to drop your book and bath oils. But even if you aren't really into baths or just don't have enough counter space, there are plenty of ways these caddies could be handy.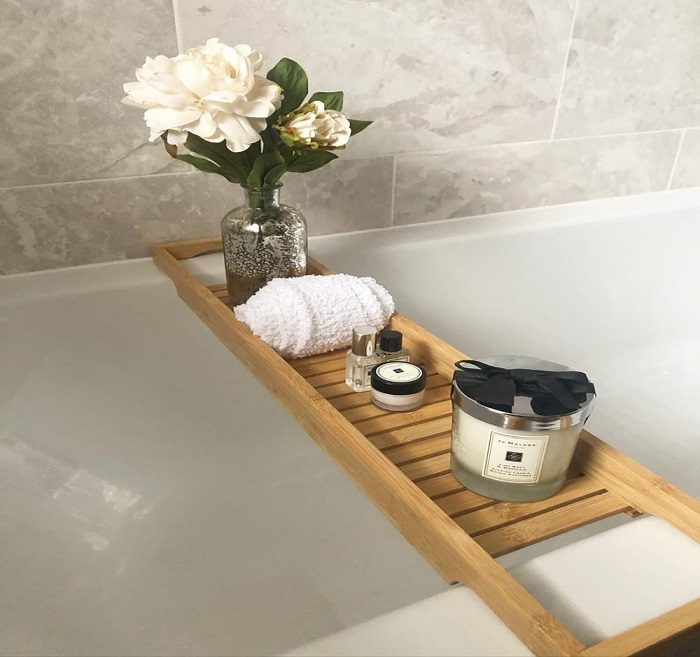 This sleek bathroom storage solution is the perfect way to make use of your small space. The bathtub caddy can be used not only for storing skincare products and toothbrushes but also for anything else you need access to.
Place A Magnetic Knife Strip Inside Your Cabinets Or Drawers
Keep your small, metal items organized by placing a magnetic knife strip in the drawers of your bathroom. The unexpected plane surface will be fantastic. Also, you'll be patting yourself on the back each time you use this brilliant idea.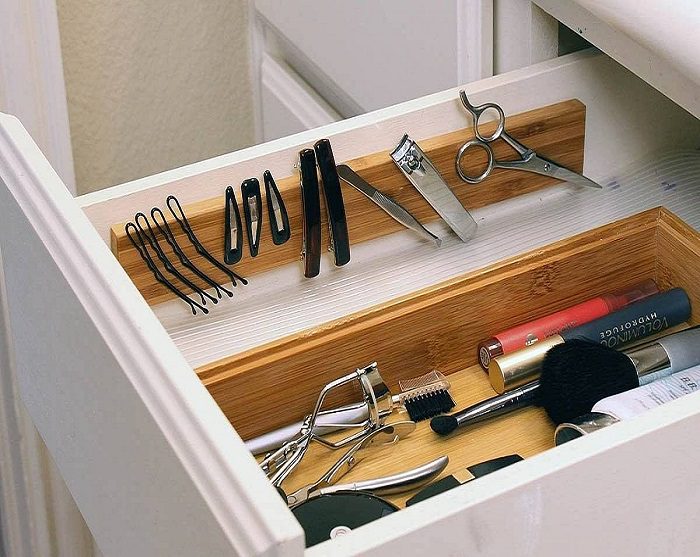 This is also an easy and inexpensive solution that will keep tiny bathroom essentials within arm's reach and make them easier and more fun to find when needed in no time at all. So, it's a win-win situation here.
Hang Shelves Super High Above Your Toilet
If it feels like the selves are too low over your heads and will be restricting or possibly hitting one's head when sitting down, go with something higher up. Also, with a high shelf, you can put more items on the wall above your toilet.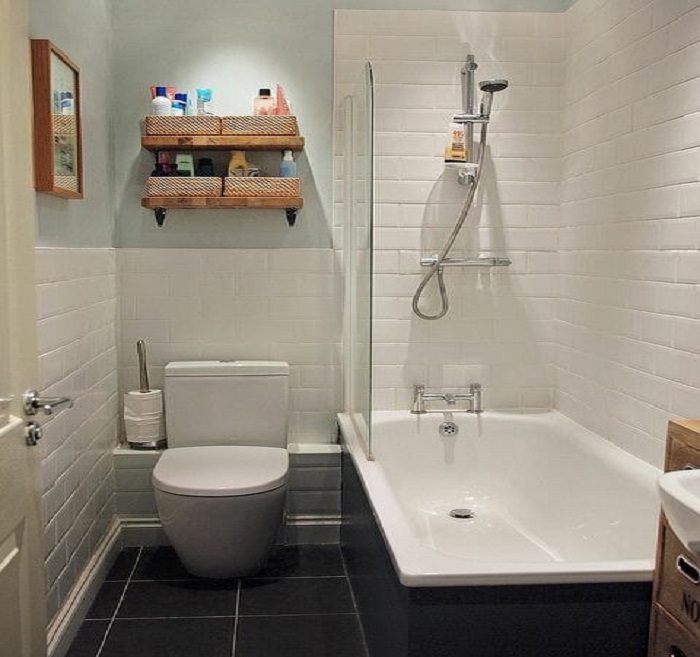 In addition, hanging shelves high above the toilet is a great way to keep things tidy and out of your view. But these must be sturdy enough not to fall when pulled by accident due to their weight and durability.
Attach An Organizer On The Back Of The Door
The back of your bathroom door can be a place for so much more than just towel hooks. Over-the-door organizers are a great way to maximize your bathroom storage. This one is incredibly fashionable because it has hooks and shelves.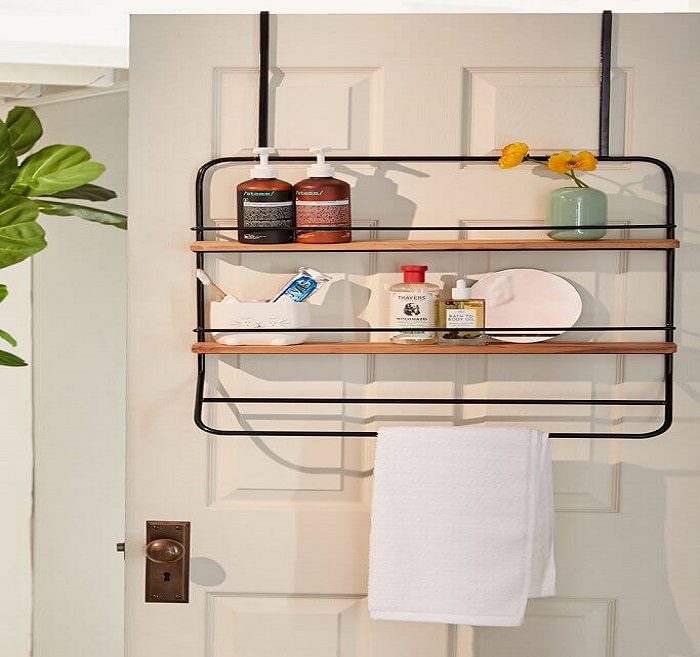 They're especially useful for towels and other items that tend to get wet from contact with moisture, such as shampoo bottles. These organizers will drastically increase space in your home and make it feel more organized a put together.
Use Every Inch And Nook Of Your Walls To Hang Shelves
Hanging shelves are a great way to add storage space and provide an unexpected splash of color on the wall. Consider every inch, nook, corner, or side-aisle in your bathroom as potential spots for hanging up these little guys.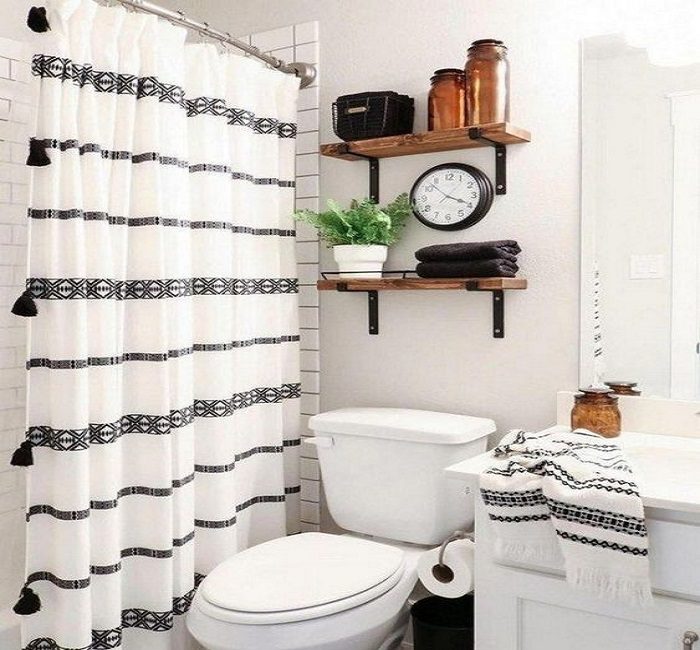 Once they're installed, you'll be able to find all sorts of things quickly without having them piled on top of each other. Thanks to their clever design that brings order out of chaos, it's just what we need sometimes to feel like we have it all together.
Make Use Of Space Over Your Toilet
Don't let the space over your toilet go to waste. There are so many ways you can use it. You could set baskets on the tank, turn shelves into perches for perfume or hairspray bottles and even create one big hanging basket out of them all.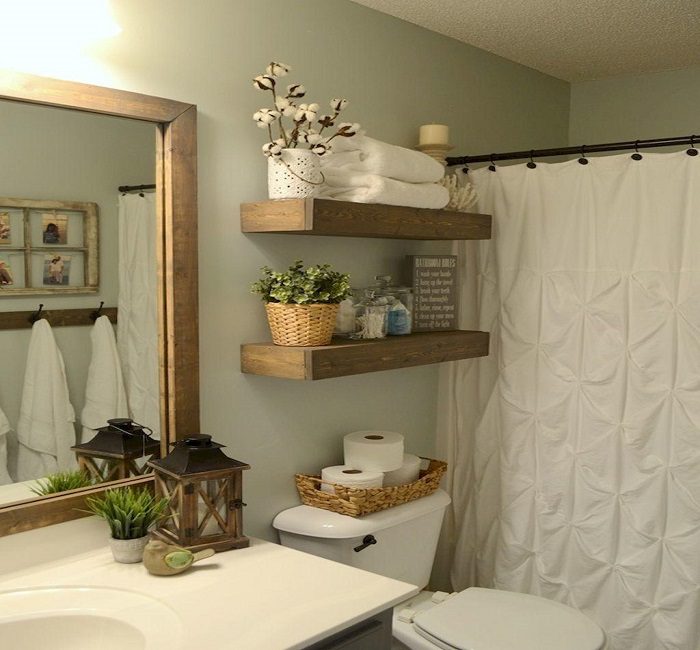 In addition, if there is an empty space in one corner, then place something delicate like a humidity-loving plant on it. They will cover up any unused shelf space beautifully while also adding a touch of beauty and freshness to the room.
Put A Basket With A Lid If You Don't Like Shelves On The Toilet
Don't like shelves crowding the toilet? Consider a basket with a lid. Open shelves near it might not be for everyone, and that's where this handy little invention comes into play. This will also leave more space for everything else in the bathroom.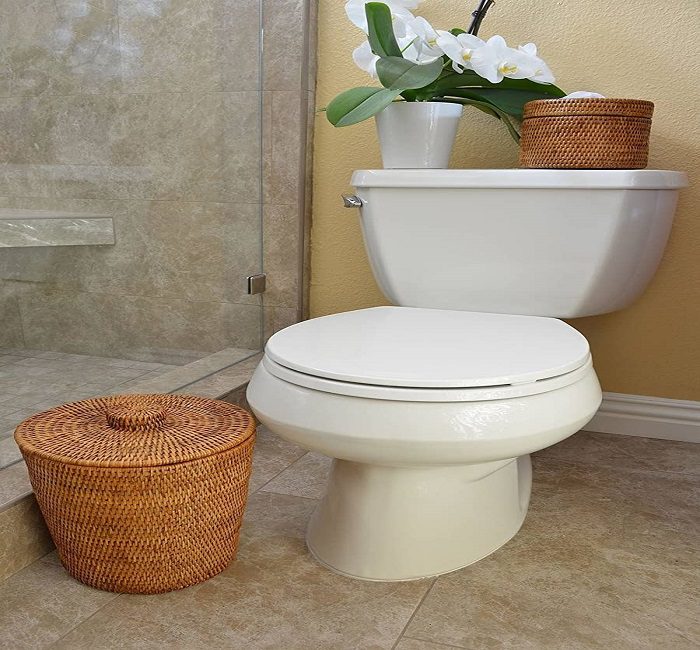 Not only can you put all of those towels and toilet paper refills in here, but it also makes for an excellent holder if you have kids or pets at the house. This hack is the best way to keep your bathroom organized for a clutter-free look.
Don't Overlook Any Space In Your Bathroom
Don't overlook any area when you're looking for a room to store your shelving units because they can be used anywhere. In the bathroom, use them between a sink and tub; in this instance, it might not seem like there would be enough floor space.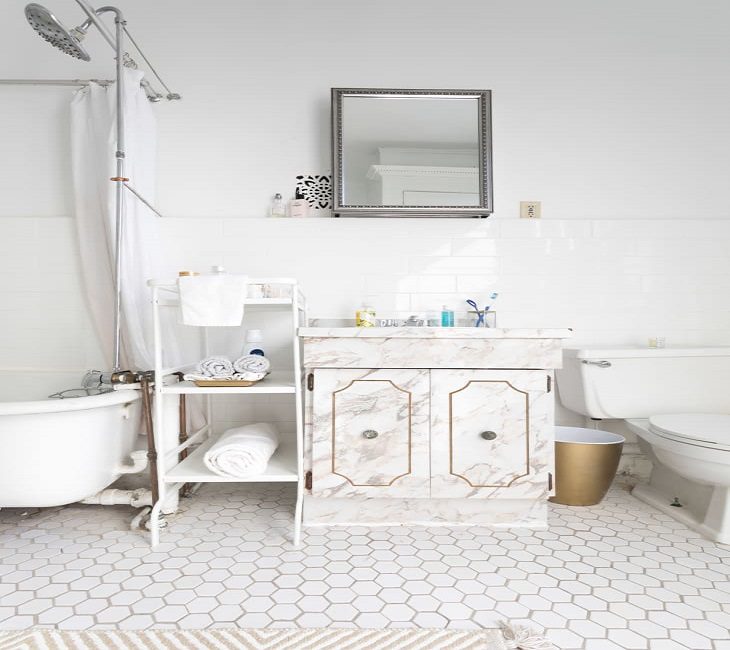 The unexpected arrangement not only saves space but also creates visually exciting spaces. Open shelves feel less weighty than closed ones, so if you're looking for something lightweight, open shelves are a perfect choice. It also makes the bathroom feel more eclectic.
Fix Shelves Above The Door
When it comes to the limited bathroom storage, you'll want to use every inch of space efficiently. One great way is by hanging shelves above your door and storing items that you don't use on a daily basis there instead.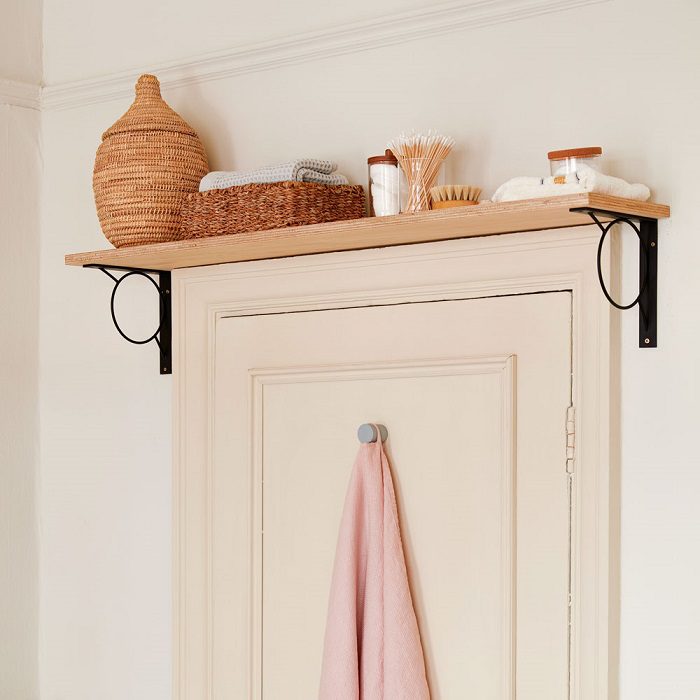 Mounting these in open but still functional positions will create an airy feeling even if there's not much room for plumbing fixtures or counters. So, no need to worry about taking up too much real estate when all those essentials have found their home high above ground level.
Adjust A Thin Rolling Shelf Next To The Toilet
A narrow rolling shelf is a perfect solution to storing items in tight spaces. You can store books, magazines, and other bathroom necessary materials right next to your toilet without having any trouble reaching for items if you are doing your business.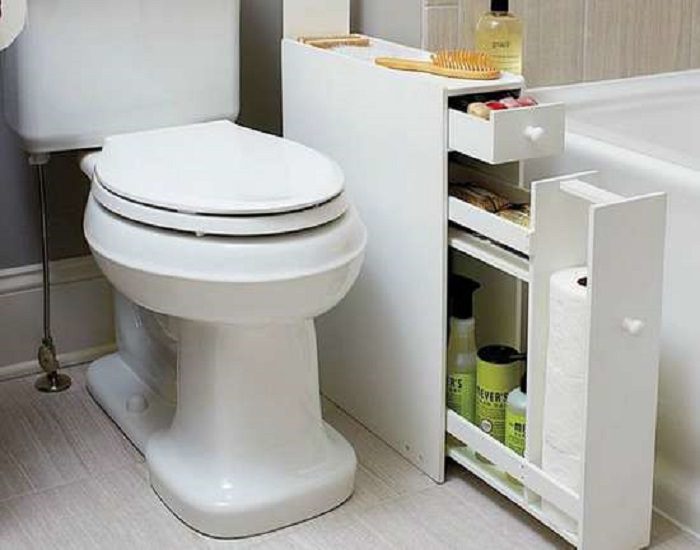 There's also no need for awkward arm-length shelves when you can use this neat little device. The addition of wheels makes it's easy and convenient. Just pull out what's stored, grab what you require, then slide everything back into place.
Corral Items On A Tray Or Basket On Top Of Toilet
For a modern, clean design aesthetic that will look great in your home, we recommend using baskets or trays to corral small items. The space on the back of most toilets makes the perfect spot when it comes down to deciding where you want these things stored.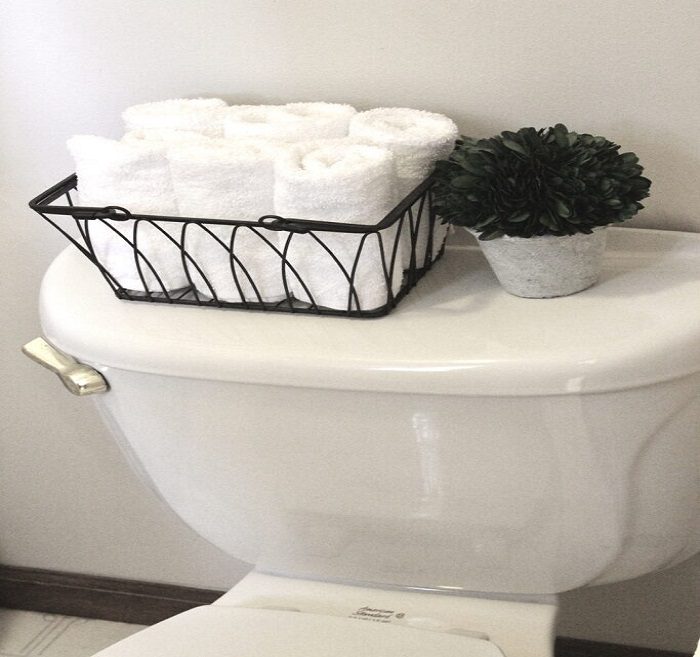 You can display anything from towels, clothes, or even plants. With all these possibilities at hand, it only makes sense that we would find ways of utilizing this extra real estate, so our bathroom looks more put together than ever before.
Use A Tiered Tray On The Floor Or On Your Counter
If you're looking for a strategy to bring a little life to the essence of your bathroom while also adding more storage space, then consider buying a tiered tray. A tiered tray is an ideal match for a small shelving unit and a clever design to maximize space.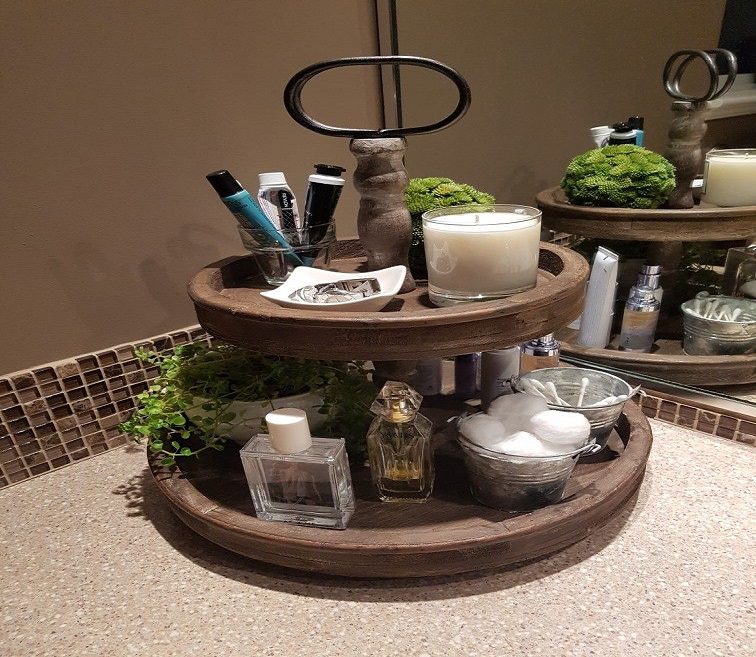 By using vertical space efficiently in your bathroom or dressing area, it will help keep all those little things close at hand while giving off an elegant appearance that's both stylish as well as functional. Plus, there's even an easy-to-use handle on top.
Hang Baskets On Towel Bars
The towel bars in your bathroom are an unused design element that you can turn into a storage caddy for all necessities. You might be surprised to learn there is plenty of space on those hardware hooks and different ways to utilize storage with them.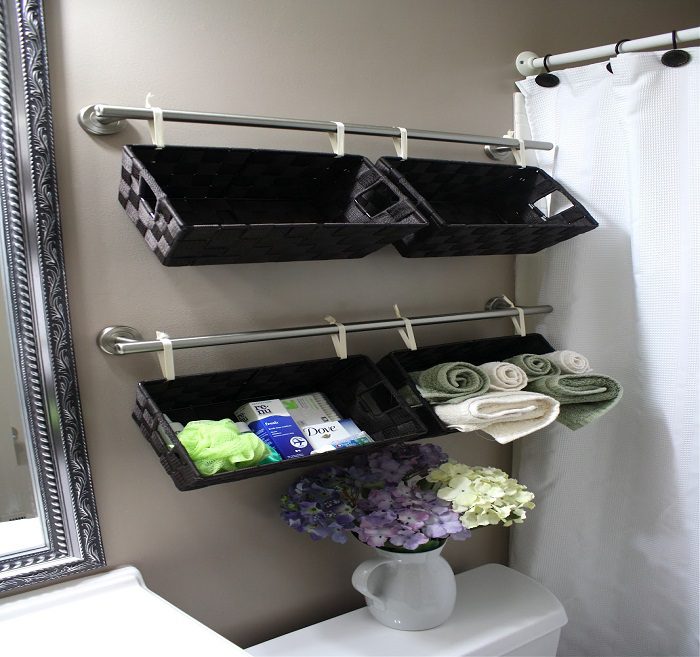 A great idea would be to hang caddy-style baskets to hold shampoo bottles or lotion tubes inside. And since they provide stability and security, these baskets also make perfect holders; who doesn't love saving some money by using what we already have around the house?
Install A Tension Rod Into Shower Curtains To Double Up The Space
Don't have any room in your tiny bathroom to store all those bottles of shampoo? Add an extra tension rod and hooks for loofahs, caddies, or even shower caps. A tension rod hanging from below the main one opens up new possibilities.
You can now hang wet towels or bathing suits from this new access point or use it as a place to keep all those bathroom staples. There are a lot more ways this clever storage idea could expand your space with minimal effort.
Get A Vase With Marbles Or Vase Filler For Your Makeup Brushes
To organize your makeup brushes perfectly, use a vase with marbles or glass beads as an insert. The thing about this is that these additions turn vases into more than just storing flowers; they also make satisfying sounds when you poke them back in.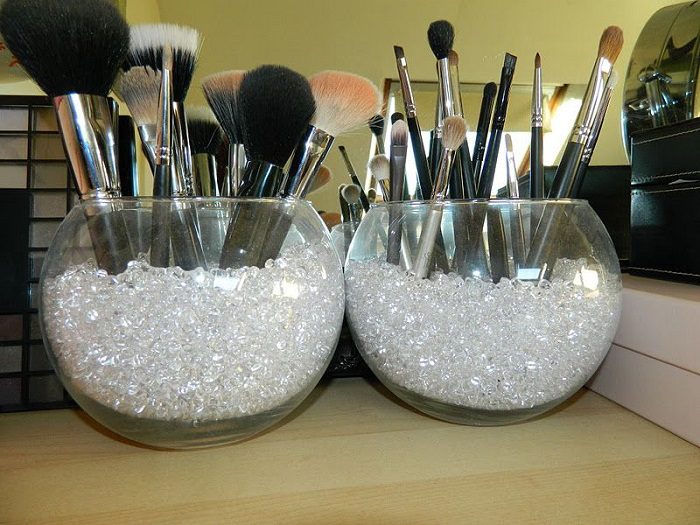 Besides, the stones keep your makeup brushes from slipping out and make grabbing them easy with one hand. You can also make your makeup brushes sing by filling each vase with a different type of filler of your choice.
Place A Rolling Cart Near The Bathroom
A rolling cart is a key to a clutter-free life. Keep one near the bathroom, which you can wheel in and out to wherever you need it. This easy-to-move cart will always be at arm's reach without taking up your precious room space.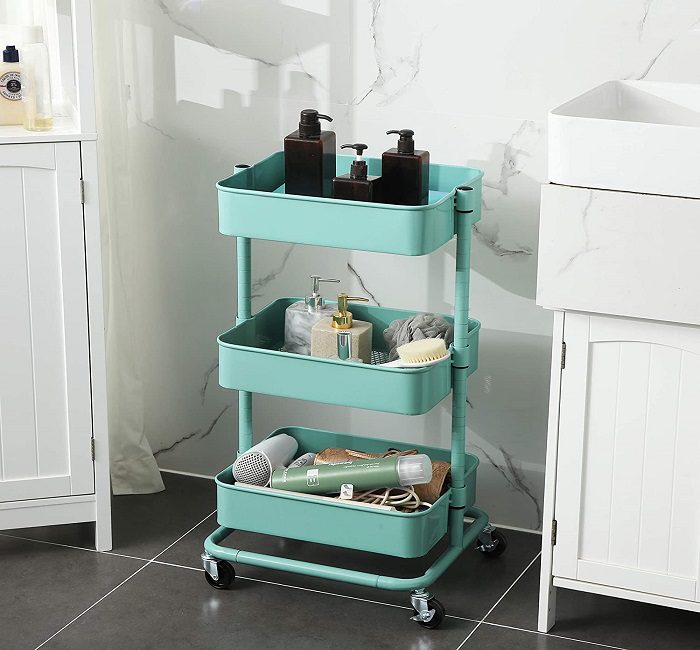 Rolling utility carts are great for moving around and assure you have enough room in all the right spots. Whether it's to do your makeup, get dressed, or just take an evening bath, these rolling beauties can come with you wherever you need.
Use A Towel Ring
Usually, most people have towel bars in their bathrooms so they can hang their towels after a bath. However, not everyone has the space to accommodate one in their bathrooms, so some people get hooks instead. But we have another suggestion.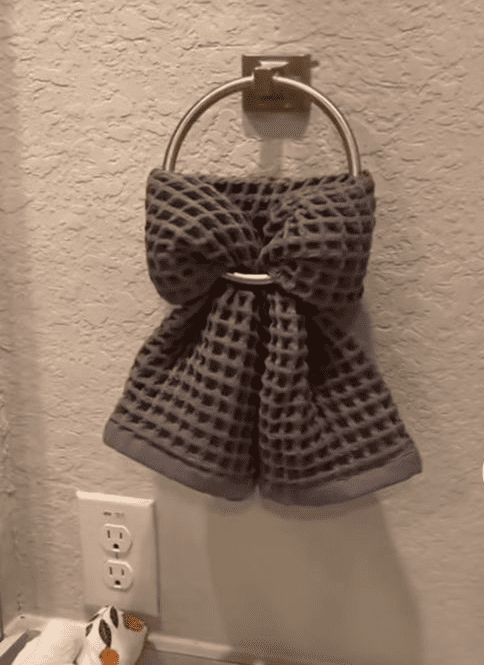 Instead of hooks, you can get yourself this simple towel ring that can be installed without taking up much space. As you can see, it is smaller than a bar, and additionally, it allows you to tie smaller towels around it, which we think improves the room's aesthetic. Wouldn't you agree?