Beyond The Headlines: Inside Ellen And Portia's Love Story
By Isabel K March 27, 2023
---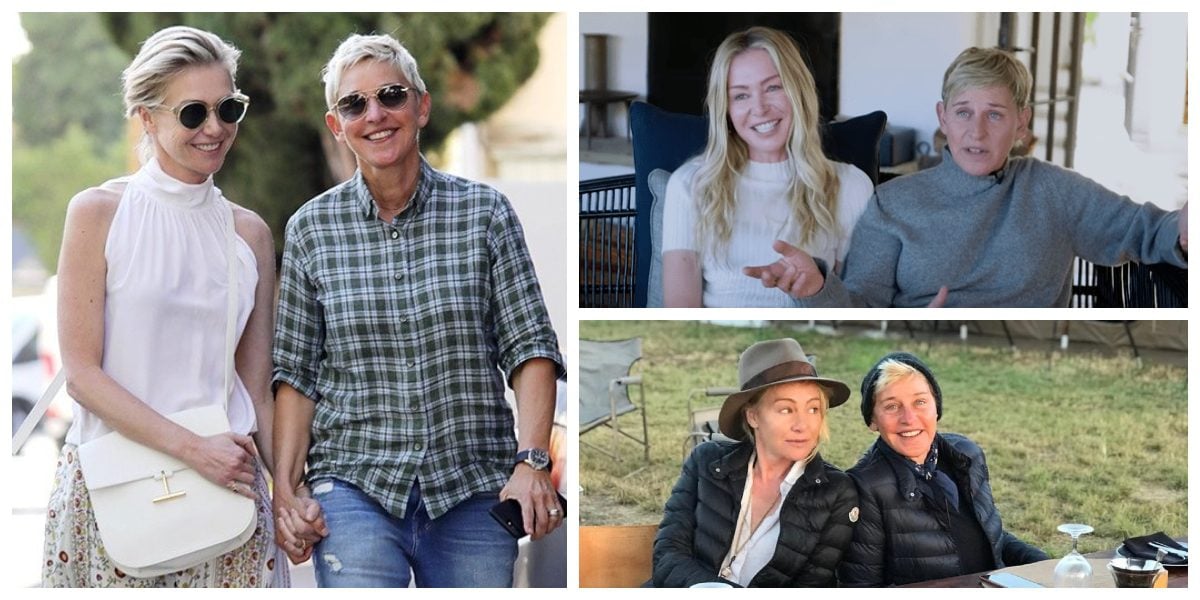 This article was originally published on
whythese
Ellen was on our screens for years. As the award-winning host of the former The Ellen DeGeneres Show, she made a name for herself as the queen of daytime TV. Since her show's last episode aired on May 22, 2022, many people are focusing their attention on the comedian once again.
This woman has accomplished a lot in her career, but also in her personal life. However, one of her most outstanding achievements is marrying her best friend, Portia De Rossi. The couple first met each other at a party in 2000 but only officially began dating years later.
Throughout their thirteen years of marriage, the iconic couple has been through a lot. While their union, which has lasted longer than a decade, seems perfect, it hasn't always been without drama. They're only human, after all.
In this article, we're going to give you a complete timeline of Ellen and Portia's relationship.
1. Portia and Ellen met at a party in 2000.
While Hollywood is full of cute couples, Ellen and Portia might be the most adorable. The relationship between the two started when they met at a party in 2000. At the time, Portia was in a relationship and had not come out as gay.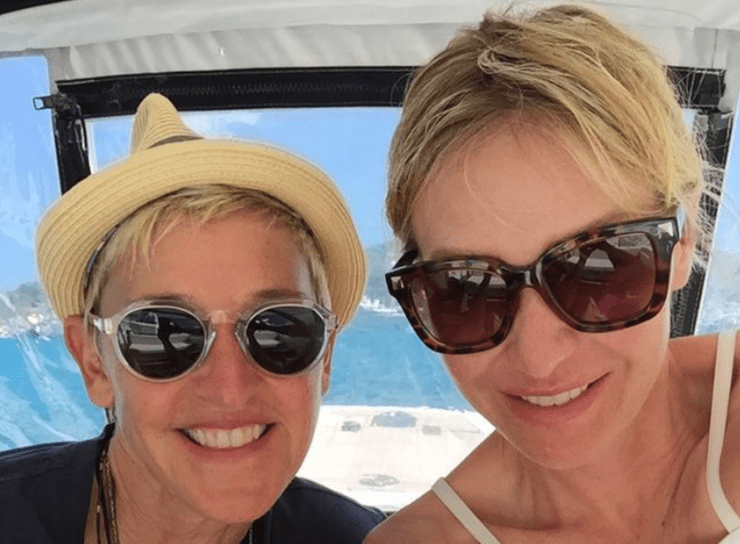 Portia said that it she was immediately in love with Ellen. She, however, didn't reveal her feelings because she was still coming to terms with her sexuality. De Rossi explained during an interview that she was still in the closet when she started having feelings for Ellen.
2. The two reconnected four years later.
After that first meeting in 2000, De Rossi says that she never stopped thinking about Ellen. Thanks to fate or good luck, she ran into the comedian in 2004 during a photoshoot. All the feelings came flooding back, and Ellen took her breath away.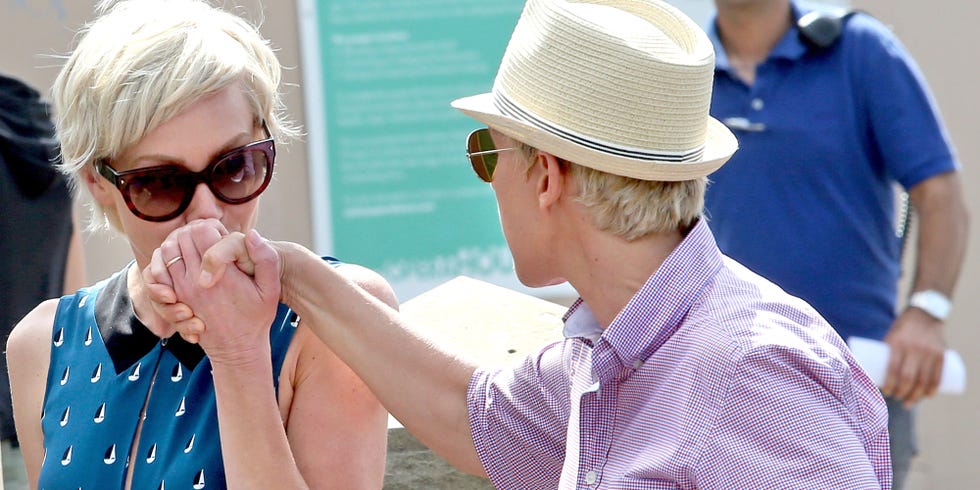 After the photoshoot, the two met up later that evening at VH1's Big in '04 Award Show. They started chatting, and as they say, the remainder was history. Portia says that she finally felt those feelings she would read about in books on that day with Ellen.
3. Ellen and Portia started officially dating in 2004.
As soon as the pair realized how they felt about each other, they needed to put their personal lives in order. At the photoshoot, they were both in relationships with other people. Ellen had been in a four-year relationship with photographer Alexandra Hedison.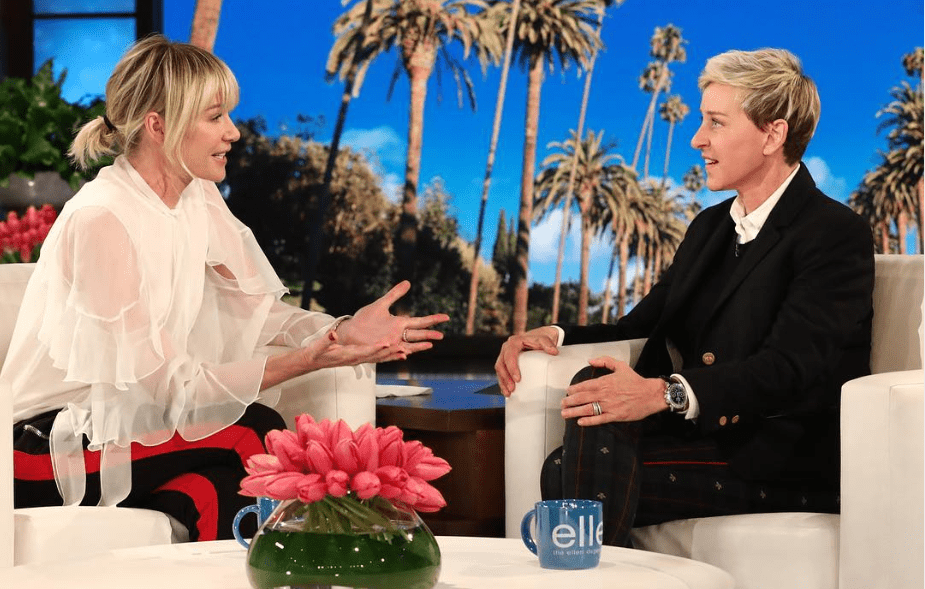 Portia was also dating. She was dating director Francesca Gregorini for close to two years. Both of them had a difficult time concluding their respective connections. But it needed to be done so Ellen and Portia could start their journey.
4. Portia and Ellen make their relationship public.
After dealing with the previous relationships, the couple was ready to tell the world that they were dating. In 2005, the couple made their first appearance at the Golden Globes Awards party. Walking the red carpet was already a big deal but for them to do it together only sent the tabloids into a frenzy.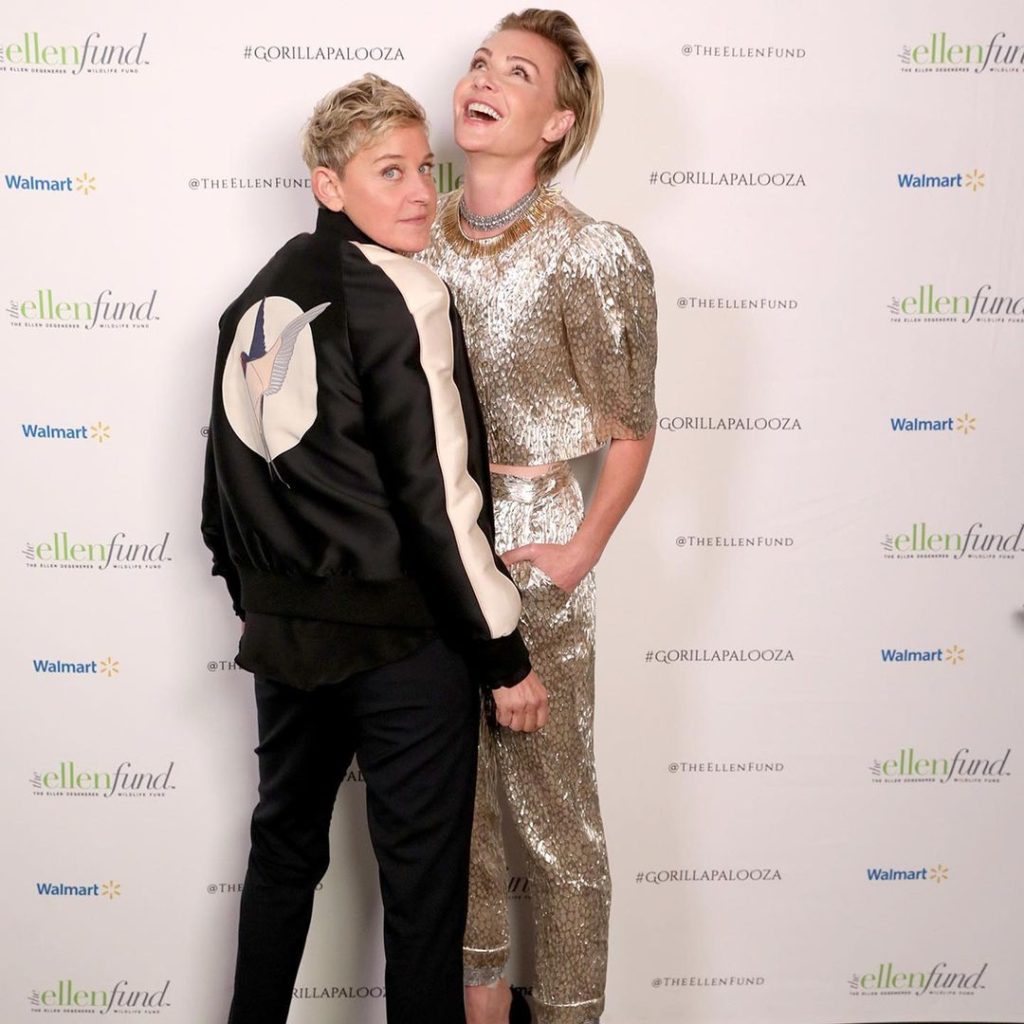 The couple was all smiles and loving during the event. It was one of De Rossi's first public appearances with a star like Ellen. Although Portia was scared for a while, she says that her feelings for Ellen overrode the fear of coming out as gay.
5. Ellen's effect on Portia coming out as gay.
While Ellen came out as gay in 1997, it was more difficult for Portia. De Rossi opened up about her time as an actress on Ally McBeal, saying she once talked to Greg Germann about it one night at a bar.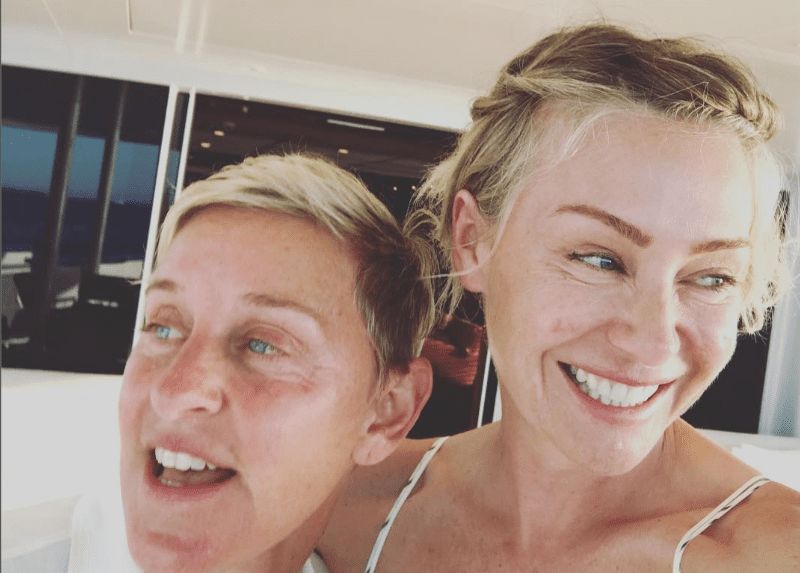 Greg asked her, "There's something about you I can't put my finger on…Are you gay?" The question caught Portia by surprise, and she said she wasn't sure. Greg prompted her and asked whether she struggled with it, and at that time, Portia realized that she was having a hard time with it.
6. The couple moved in together soon after.
The next step in this couple's relationship seemed to be to move in together. The two wanted to tie the knot, but sadly, gay weddings were not yet legal in the USA. After the public appearance at the 2005 Golden Globe awards, de Rossi moved in with Ellen towards the end of the same year.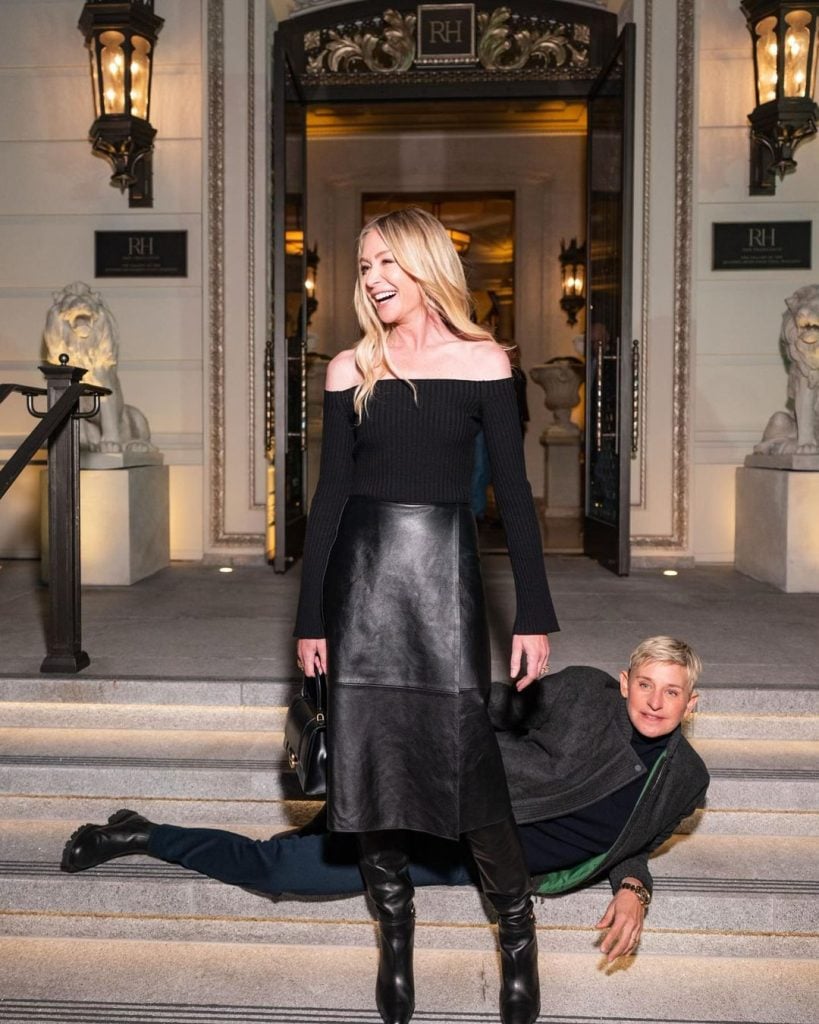 In 2005, Ellen told People magazine that they enjoyed spending time watching TV when they weren't taking walks. The power couple wore platinum bands on their left ring fingers to signify their relationship. They also shared with the magazine their discussions about marriage and having kids.
7. What it meant to be gay in Hollywood for the couple.
In the early 2000s, things were very different for the LGBTQIA+ community. While Ellen came out on the Oprah Winfrey Show in 1997, De Rossi came out much later in her professional career when she was ready. Things weren't rosy when Ellen came out as gay.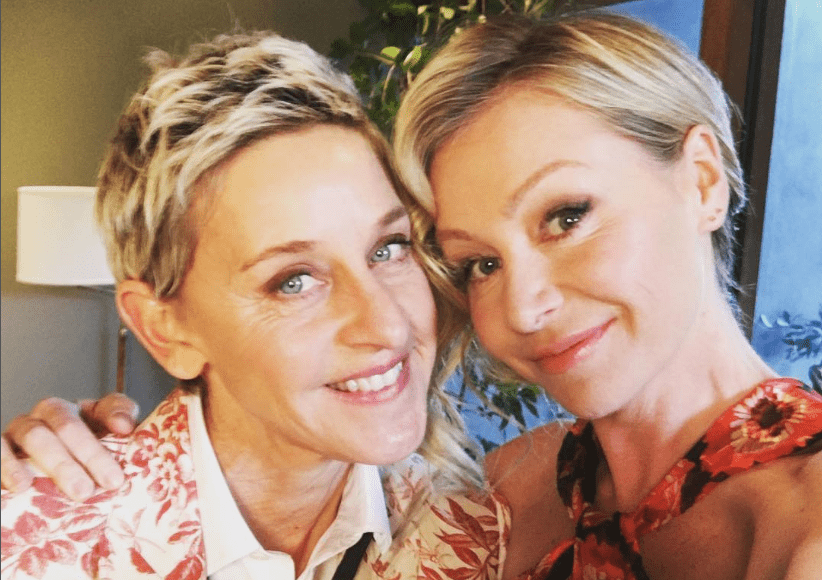 People wrote negative think pieces about her and her sitcom Ellen. Although her character coming out as gay on the show helped with ratings for a while, ABC eventually had to cancel the sitcom. Ellen recalled that she hit rock bottom and wasn't sure if she would work again.
8. Both Portia and Ellen love animals.
It's no secret that Portia and Ellen adore animals and pets. Since they moved in together, they've been able to rescue three cats and four dogs. Their love of animals doesn't stop with pets. They are also fierce animal rights activists.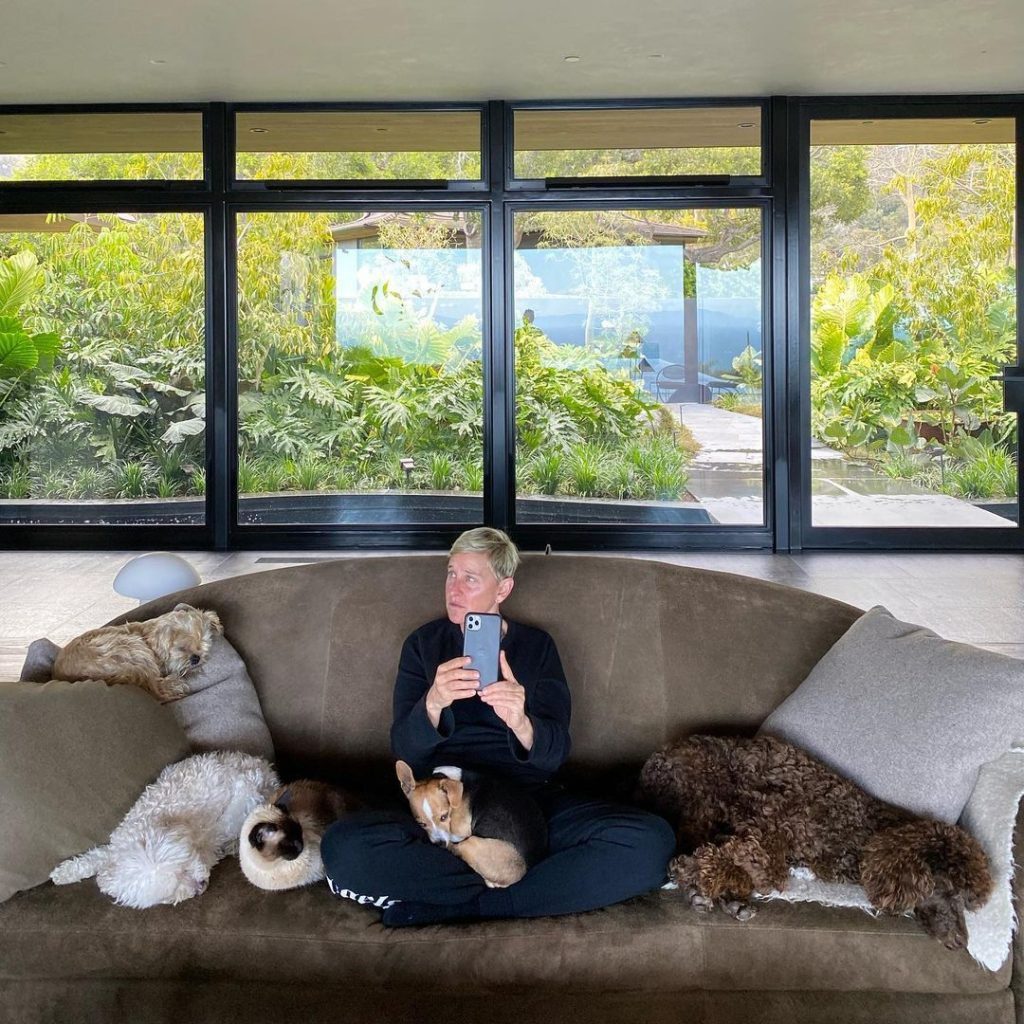 The couple moved homes and settled on a farm in California during their relationship. While on their farm, De Rossi witnessed their new mare interact with her cows, and it forever changed her perspective on veganism and eating meat. After that incident, Portia says she never ate meat again. The couple adopted a vegan lifestyle soon after.
9. Portia and Ellen wed in 2008.
In May 2008, the California Supreme Court ruled that the prohibition on gay marriage was unlawful. This meant that Ellen and Portia could legally marry. Ellen planned to surprise Portia with a commitment ceremony during their joint birthday party in 2008. She changed her mind after the historic ruling.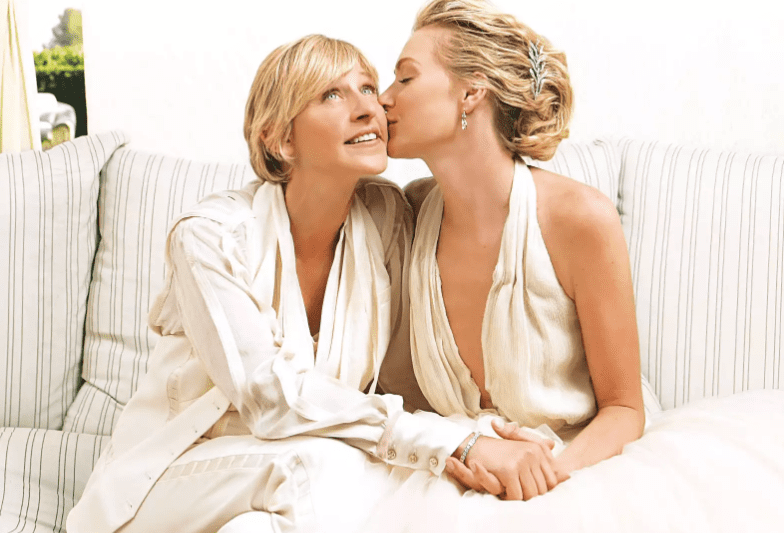 Ellen took the opportunity to propose to Portia. Portia said yes, and the two were married later that same year. The ceremony was intimate, with close friends and family in attendance. It took place at their LA home, where they exchanged vows while seated on floor pillows in their living room.
10. The couple loves buying homes together.
In 2007 the couple bought a mansion in Montecito, California, for $15 million. They later sold it to the late Heath Ledger after one year. In 2008, Ellen and Portia purchased a 9200 square-foot property for $29 million. This property would be the home they would get married in later that year.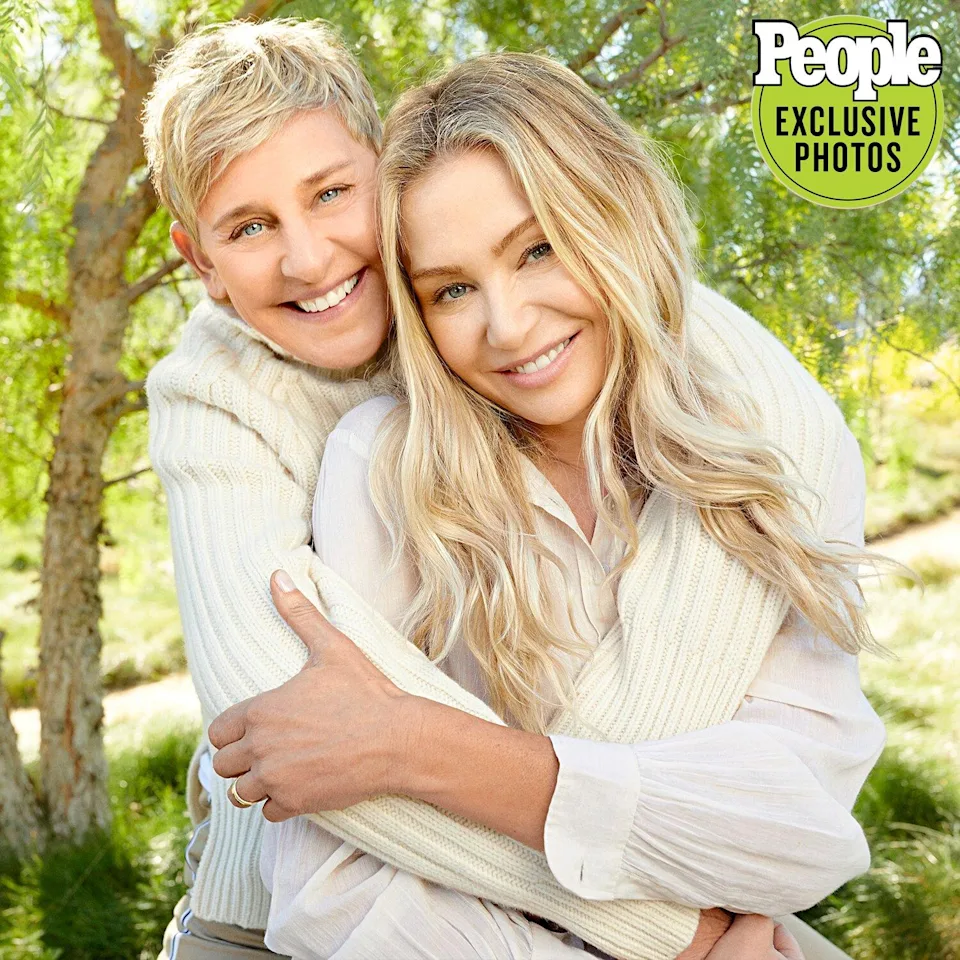 They also sold that home in 2012 to celebrity host and producer Ryan Seacrest for $37 million. Ellen says they had plenty of fun memories in it. She said the property was gorgeous, and they both loved it there. They later bought a horse ranch in Thousand Oaks, California, for $8.5 million.
11. The age gap between Ellen and Portia.
While it may not show through her fun personality or looks, Ellen was born in 1958 and, as of 2022, is 64 years old. With Portia being 49 years old, there's almost a 15-year age difference. According to the talk show host, the age gap was never a concern.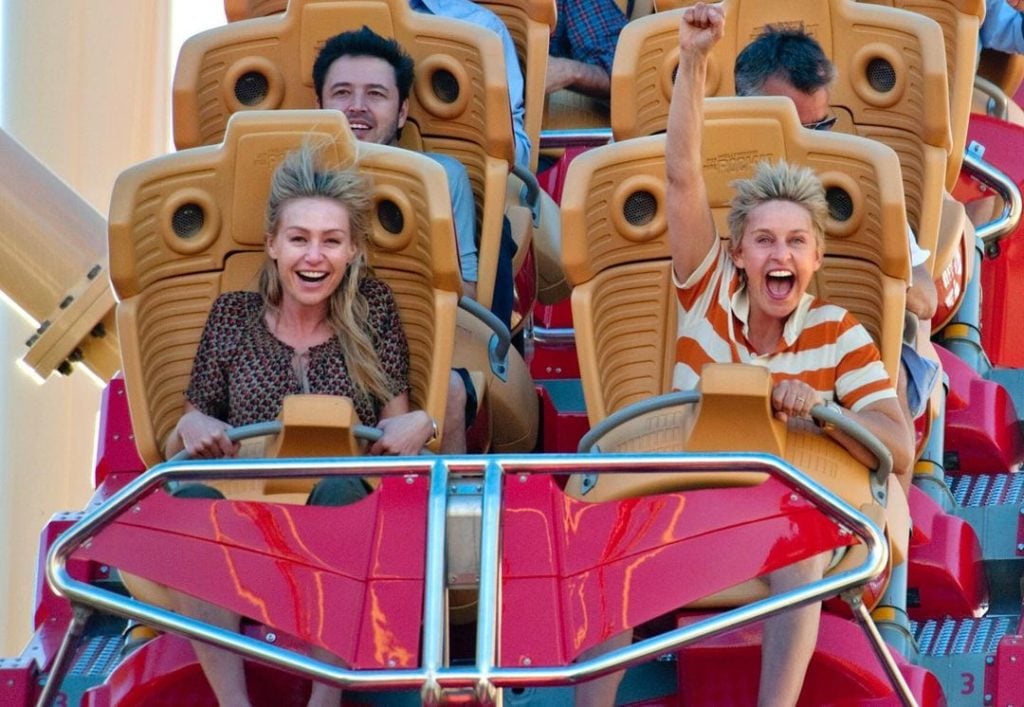 In 2005 Ellen told People magazine that she sometimes forgets how old she is. She said that the only time age was an issue was when starting a family. Many Hollywood couples have similar age gaps. It seems to be the norm.
12. The couple has dealt with nasty divorce rumors.
No Hollywood couple is immune from the rumors, more so if you're a famous TV host and one of the most famous same-sex couples in the world. Although the stories got pretty serious in 2014, they started soon after their marriage in 2008.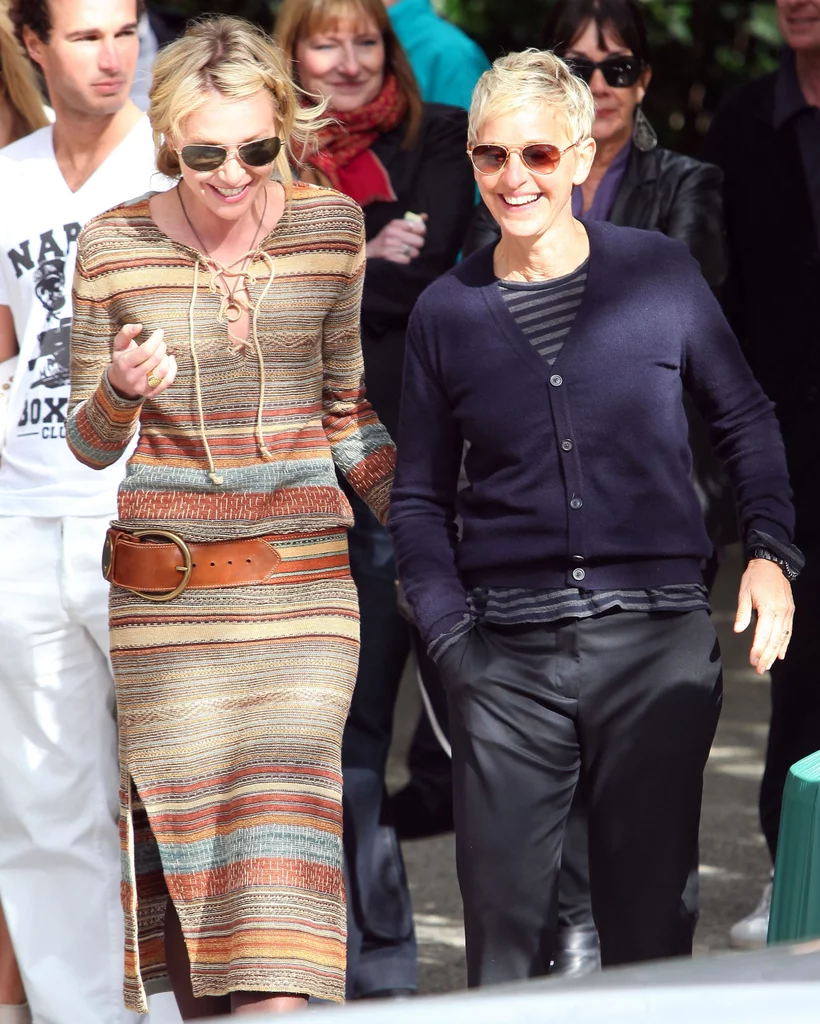 Although both have denied the rumors, it has done little to stop it. Most of the gossip is based on the fact that there's a considerable age gap and other marital troubles. Portia even joked and said that at least the tabloids were treating them like any other Hollywood couple.
13. Portia changed her name in 2010.
Despite Portia and Ellen getting married in 2008, Portia didn't change her name until 2010. In 2010, she submitted her paperwork, and a month later, her name change request was granted. Portia de Rossi was now Portia Lee James DeGeneres.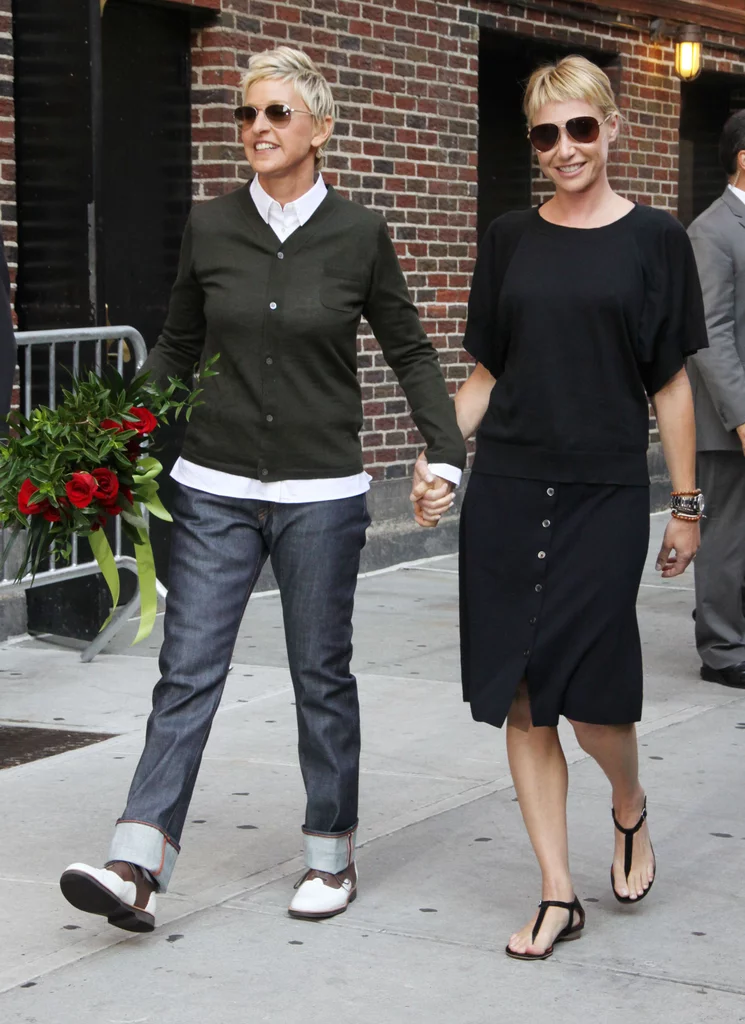 However, this name change wasn't the first time Portia changed her name. When she was only 15, the actress changed her name from Amanda Rogers to Portia De Rossi. She explained she struggled with her identity, and one of the ways she dealt with that was by changing her name.
14. The DeGeneres' tenth anniversary.
Celebrating ten years is a milestone for any couple. Ten years was worth the celebration with all the rumors and tabloid drama Ellen and Portia had to go through. In 2018, they took to social media to post throwback pictures to celebrate their wedding day.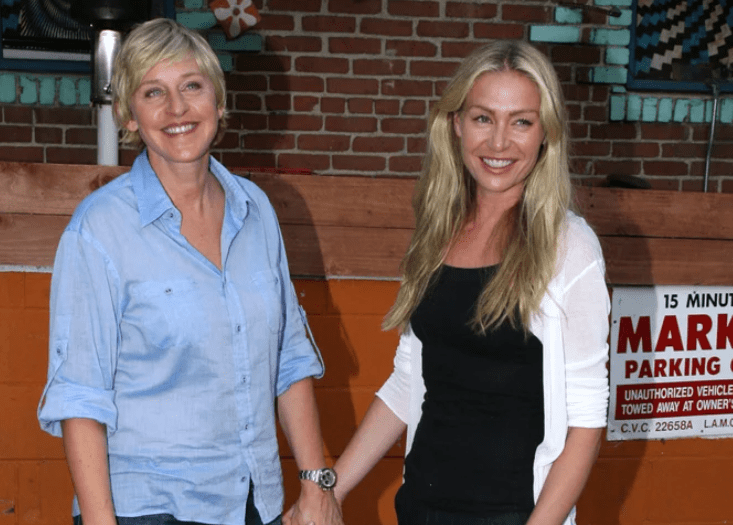 Ellen wrote on Instagram, "Ten years ago today; this was such a special day for us." De Rossi would later join her wife on The Ellen DeGeneres Show that same week. Ellen tweeted, "It makes me so happy when my wife is here."
15. Ellen's 60th birthday gift.
Despite the multiple rumors, this couple keeps on proving how strong their bond has grown over the years. For Ellen's 60th birthday, De Rossi went on the Ellen DeGeneres show to surprise her with a unique and meaningful birthday gift. Portia gifted Ellen a Gorilla Sanctuary.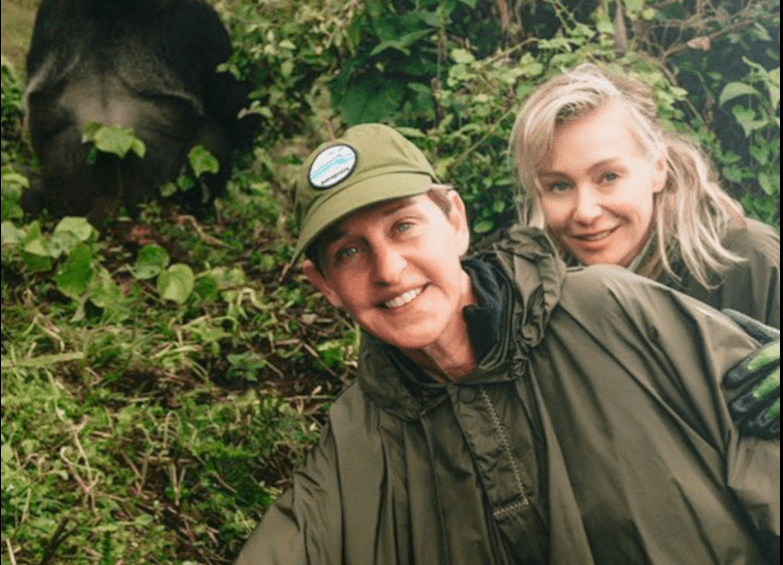 Ellen never hid the fact that she loved animals. One of her heroes is conservationist Dian Fossey. Portia knew it had to be unique for a memorable birthday gift. She says that it had to be a gift that Ellen cares about and represents who she is as a person.
16. The couple doesn't fib.
Although most couples have their fair share of secrets, the DeGeneres' are different. According to them, openness is best. While talking to Entertainment Tonight about her relationship with Ellen, Porsche DeRossi revealed some details about how they made their marriage last so long.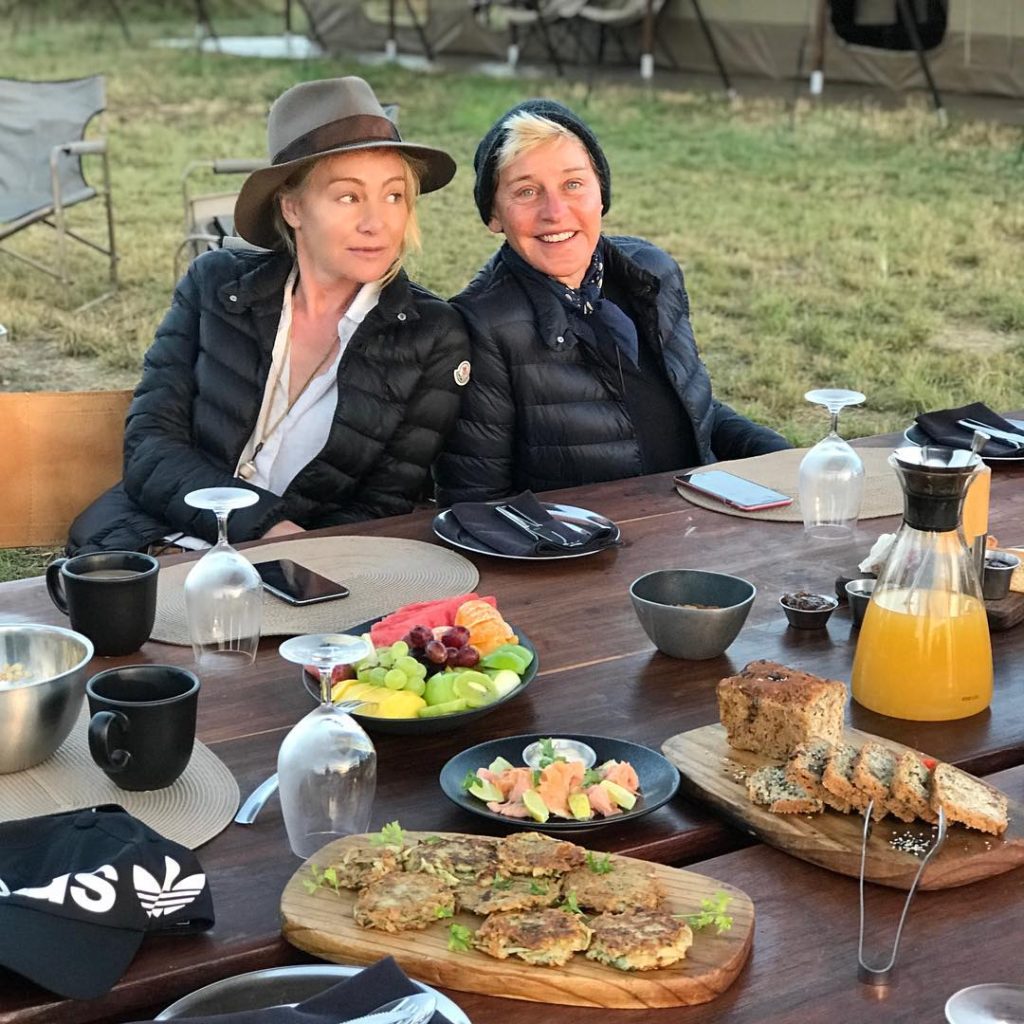 During the interview, she said, "we're just really good friends, and we talk about everything, and we never ever ever lie to each other, like, not even the tiniest lies." The two seem to be open about every aspect of their lives which has helped them navigate their relationship over the years.
17. They love showing affection to each other.
One thing about this couple is they don't hife public displays of affection. Be it at home, on the show, or on the red carpet. The couple's first appearance as an item was at the 2005 Golden Globe awards. They returned to the red carpet as a married couple 15 years later.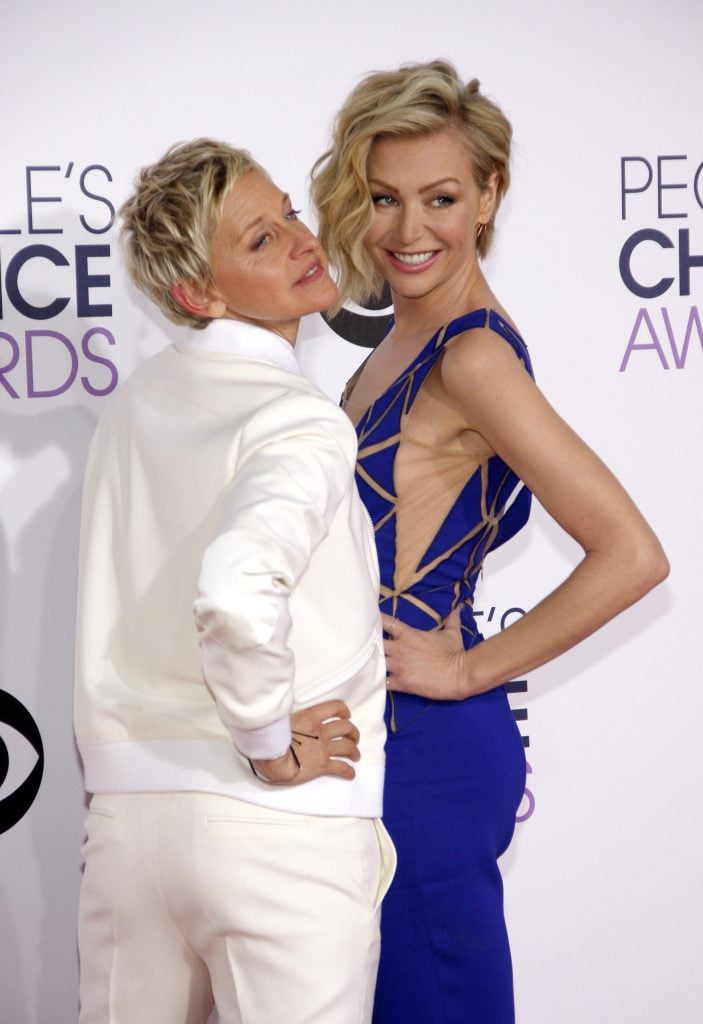 During the 2020 Golden Globe Awards, the couple walked the carpet hand in hand, dressed in matching black suits. Their dazzling outfits were stunning as they posed for photographs on the red carpet. Ellen was honored with the Carol Burnett Award during the award show.
18. The couple likes pranking each other.
Some couples do crazy things to ensure that their union is solid. The DeGeneres' have different ways to keep things interesting in their marriage. Pranks. Ellen is the queen of tricks if you've watched any episodes from her daytime show. You'll be shocked to know that she pranks at home too!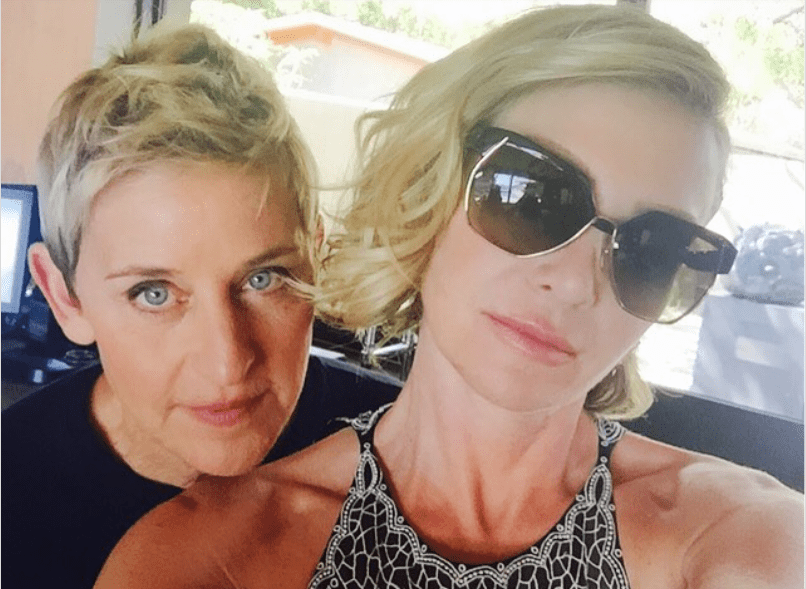 While Ellen's guests are always caught off guard with her sometimes hilarious pranks, Ellen and Portia seem to be doing it all the time. This couple knows how to keep things fun at home, like workout pranks and hiding to scare each other from the closet.
19. They had to deal with rumors of an open marriage.
Unfortunately, this couple has had to deal with rumors about pregnancies, fights, and divorces. But one nasty story the couple had to deal with was that Portia and Ellen argued over having an open marriage. An anonymous source claimed that the couple was no longer on the same page regarding their relationship status.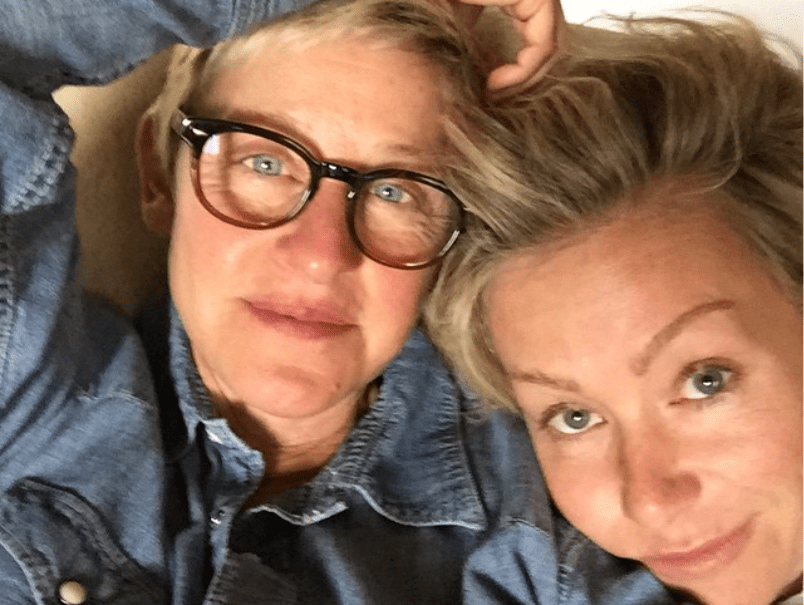 The anonymous source close to the couple claimed they were at a new crossroads. The source claims that Portia suggested trying an open marriage, and Ellen was not having any of it. Rumors have it that Ellen was furious that Portia even recommended it.
20. Ellen and Portia adopted a vegan lifestyle.
Most people don't know that being vegan and adopting a vegan lifestyle are somewhat different. In 2008 the couple decided to adopt a vegan lifestyle together. Ellen said she decided after educating herself on factory farming and the animal cruelty at those farms.
In 2012, the couple appeared on the Rachael Ray Show to discuss the vegan lifestyle. Ellen says that apart from weight loss, there are plenty of benefits of going vegan that most people don't know about. She says at least you never have to count calories and worry about what you eat.
21. The tabloids love to pick on their marriage.
Being a celebrity isn't easy when paparazzi are following you everywhere. It's even more challenging when dealing with rumors and false tabloid stories every other day. In 2015, Ellen appeared on Howard Stern's Sirius Radio show and quashed most nasty rumors about her marriage.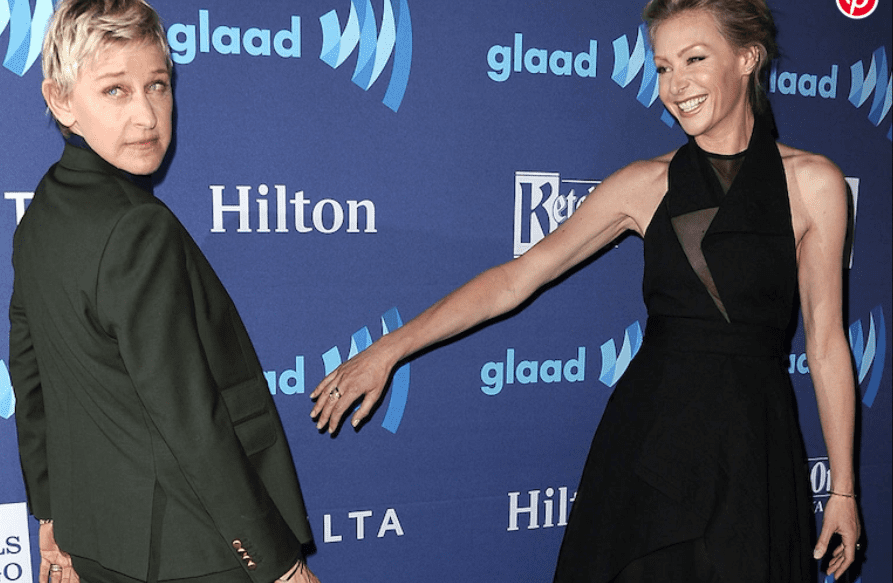 She said, "We don't know anything about it until somebody tells us. I don't read the tabloids, and I don't have a publicist. We're kind of flattered, but we really don't almost break up, we don't fight, we're madly in love, and I guess it's boring". Ellen doesn't seem to like being the topic of tabloid fonder.
22. The couple has always supported each other.
In 2020, Ellen and Portia went through a tough time after losing their dog Wolf. Ellen revealed on Instagram that their poodle-Maltese dog died and has crossed the rainbow bridge. The dog was a massive part of their life and was present for their 2008 wedding.
Ellen shared on Instagram that Wolf had brought so much joy to their lives. Wolf also made numerous appearances on social media and on The Ellen DeGeneres show. Although they have other rescue pets, it's evident that the couple will never replace Wolf in their hearts.
23. Ellen and Portia shared their first kiss in a limo.
First kisses are always memorable. It was the same for Ellen and Portia. Do you remember your first kiss? Well, for this couple, their first kiss happened in the back of a limo. Romantic right? The couple disclosed the facts of their first kiss during an episode of The Ellen Degeneres show.
Portia is a frequent guest of the show that the audience loves. During a segment of 'The Not So Newlywed Game', one of the questions was where they had their first kiss. The couple revealed that they shared their first kiss in a limo.
24. The downfall of Ellen DeGeneres' public image.
Being a celebrity comes with an unfit share of challenges. Ellen DeGeneres maintained a clean and lovable image for most of her professional career. Some say this was mainly due to her daytime talk show, pranking celebrities, and voicing Dory in Finding Nemo.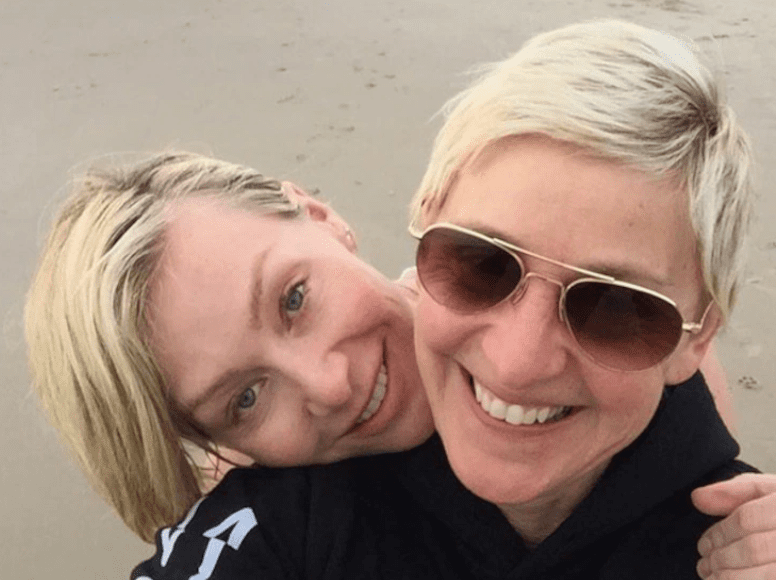 Unfortunately, the image she had worked so hard to build came tumbling down. It all began when comedian Kevin T Porter wrote a tweet asking people to share their stories and experiences with the talk show host. Things were never the same after that tweet went viral.
25. The Twitter thread that started everything.
Ellen mostly ends her talk show with the phrase 'be kind to one another,' but it seems like she wasn't practicing this herself. In March 2020, Porter wanted to raise funds for LAFoodBank to help those affected by the pandemic.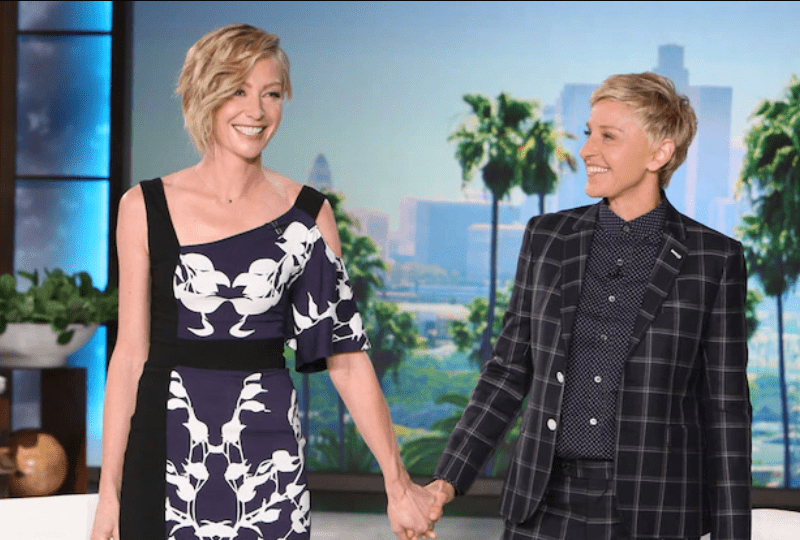 He wrote, "[Ellen] is also notoriously one of the meanest people alive. Respond to this with the most insane stories you've heard about Ellen being mean…". In summary, people shared their horrific encounters with Ellen over the years. Most stories alleged that Ellen wasn't the nice person she portrayed on screen.
26. Ellen's controversial video during the pandemic.
The world was a different place during the 2020 pandemic. With lockdowns and mask mandates worldwide, many people thought things would never be the same again. To keep airing Ellen's show, the comedian decided to move the taping of her show to YouTube.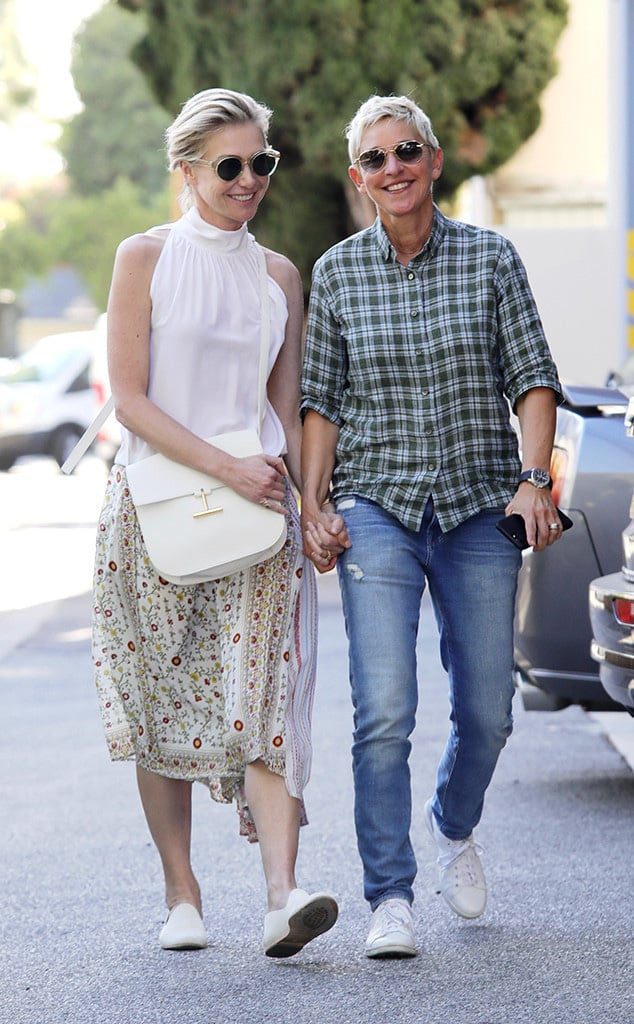 It meant she was filming the 'at home edition' of her show from the luxurious home she shares with Portia. What angered people and her fans was when she compared being at her house to being in prison. It rubbed people the wrong way because many of them couldn't work for months, including her staff.
27. Ellen and Portia's first date.
First dates set the tone for most relationships. Not only because of first impressions but also to gauge whether there will be a second date. For Ellen and Portia, their first date wasn't the regular restaurant date you would expect of celebrities.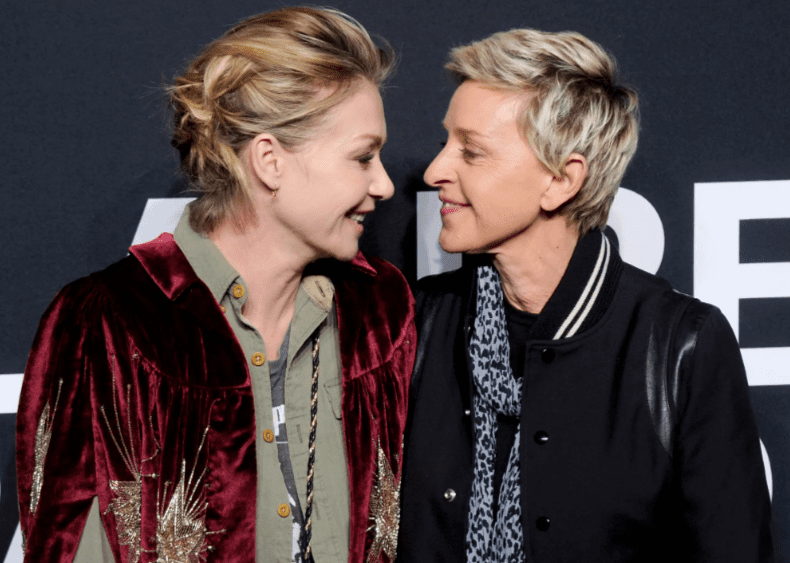 Probably because of their celebrity status at the time, they couldn't have a typical first date. They ended up driving around in the car for the entire date. While this may not seem romantic, it was enough for the couple to know they belonged together.
28. The couple's wedding was a small affair.
Everything about Ellen and Portia's wedding was magical and beautiful. They had an close-knit marriage at their Los Angeles home on August 16, 2008. Ellen didn't want a big and stressful ceremony, so they had a smaller event with their nearest friends and family.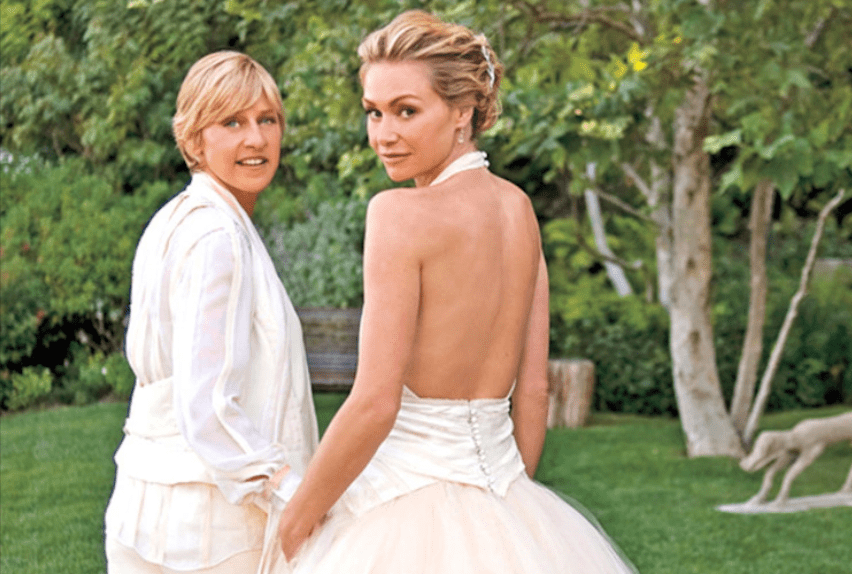 De Rossi said that it was the best venue because it's where their hearts were. The couple wore custom Zac Posen for the big day and complemented each other beautifully. Their guest list came to 21 people, including their moms, friends, and relatives.
29. Dakota Johnson calls out Ellen on her show.
While this incident took place in 2019, it got a lot more buzz after the infamous Twitter thread by Kevin Porter. Ellen has had a reputation for being pushy to her guests, but one person who wouldn't take it lightly was Fifty Shades of Grey actress Dakota Johnson.
During the episode, Ellen had an awkward interview with the star. She playfully joked that Dakota hadn't invited the comedian to her birthday. Dakota called out Ellen for lying about not being invited to her 30th birthday. She clarified that she asked Ellen, who just didn't show up.
30. Accusations of a toxic workplace at The Ellen Degeneres Show.
The Ellen Show has been a considerable part of this couple's marriage and relationship. After the viral tweet, investigations into the conduct of the employees on the show began. A Buzzfeed report revealed scathing details of the poor work culture from former show employees.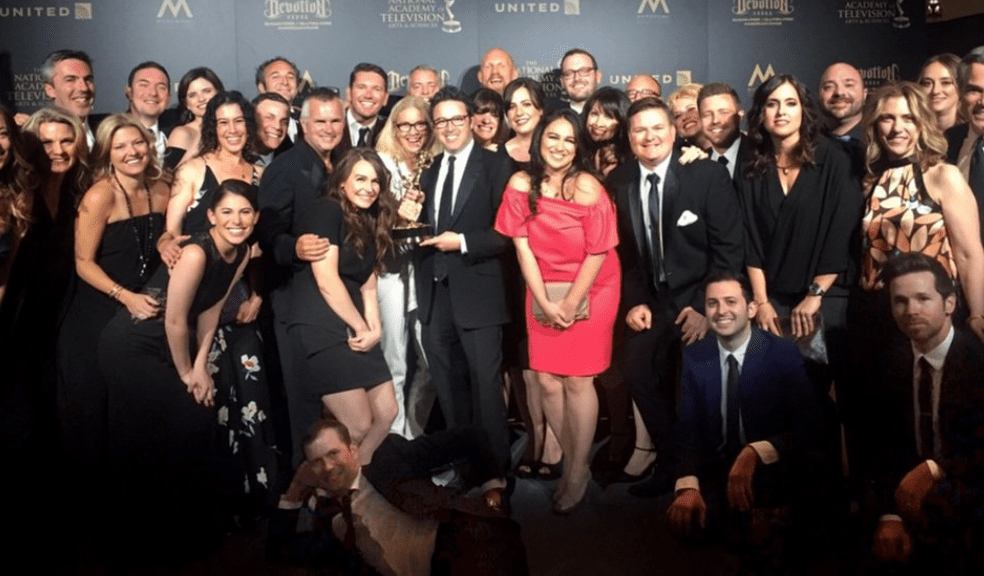 One former employee said that the be kind slogan was all for the cameras. Most employees blamed top executives and managers for the daily toxic work environment. A former black employee even claimed she faced microaggressions while working on the Ellen DeGeneres show.
31. Ellen Responds to the Backlash/Apology
In September 2020, the Ellen DeGeneres show returned to tv for the first time since the allegations. She opened the show with an apology and admission. Ellen said that she takes the allegations seriously, and investigations have led to the necessary changes on the show.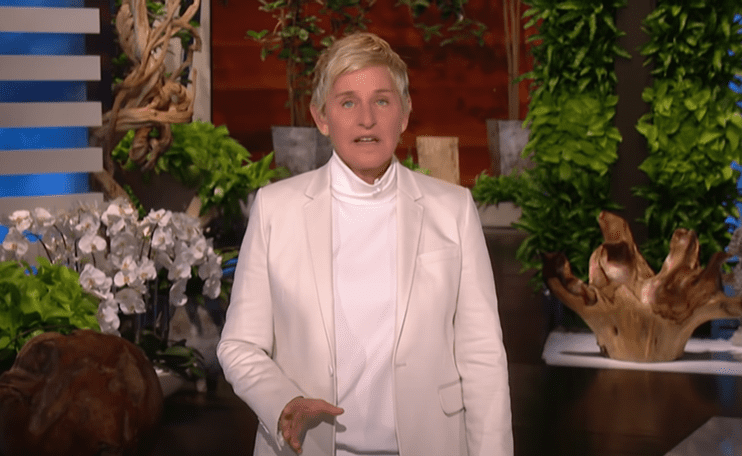 She joked that branding herself as 'the kind lady' was a tough spot to be in. Ellen said she wanted all her employees to be happy and proud to work on her show. Despite her apology, some of her employees and fans still found her words insincere.
32. Ellen surprises Portia every time she is out of town.
Even though the couple doesn't spend a lot of money buying gifts, they never miss a chance to show they love each other. During a game of Burning Questions on the Ellen DeGeneres show, the audience finally got some juicy details about their marriage.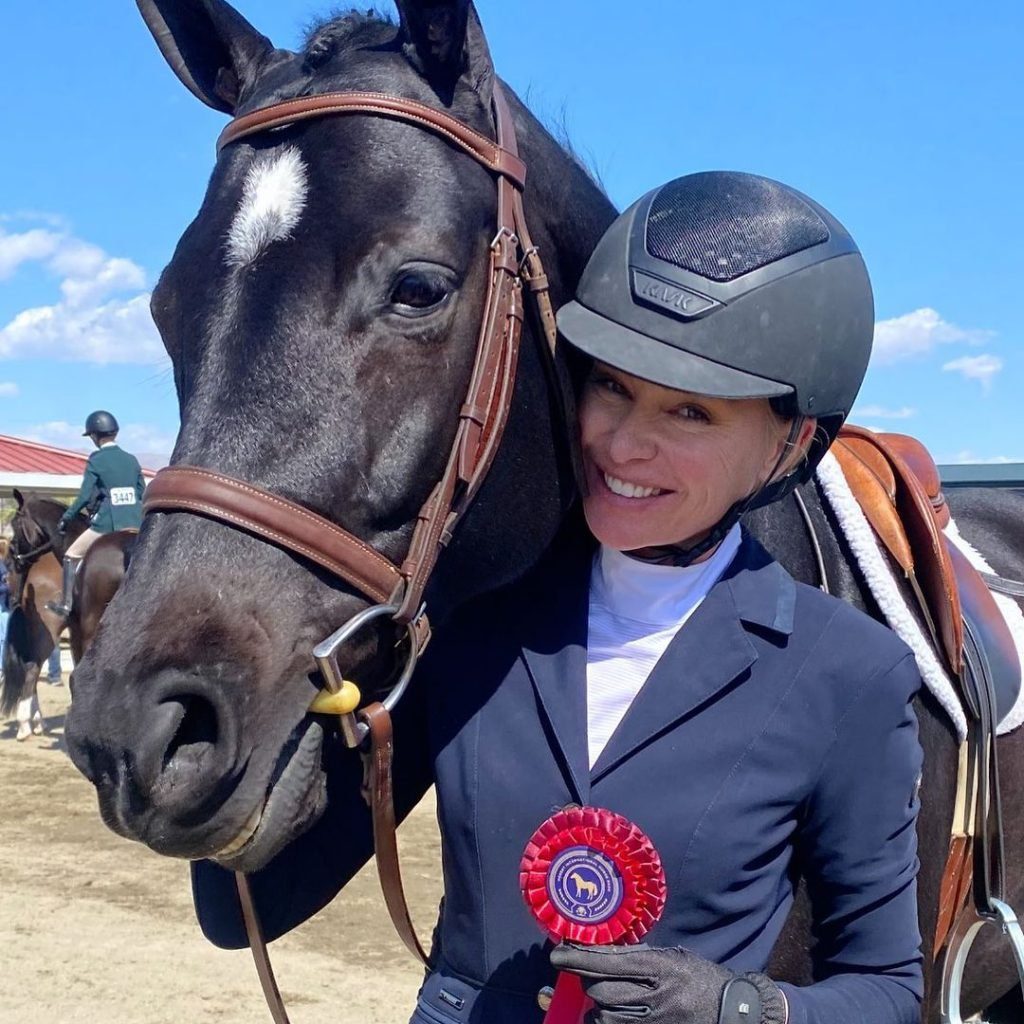 In the episode, Lauren Graham asked Ellen about her most romantic gesture. Ellen answered that she calls the hotel ahead of time when Portia travels and ensures that Portia is met with heart-shaped rose petals in her room. Lauren laughed that this was easy because Ellen is rich.
33. Portia's unwavering support for Ellen.
Throughout the scandal in 2020, one of the people who stood by Ellen was Portia. During the season 18 premiere, when Ellen addressed the controversy surrounding her show, Portia was there for her. She didn't want Ellen to go through it alone.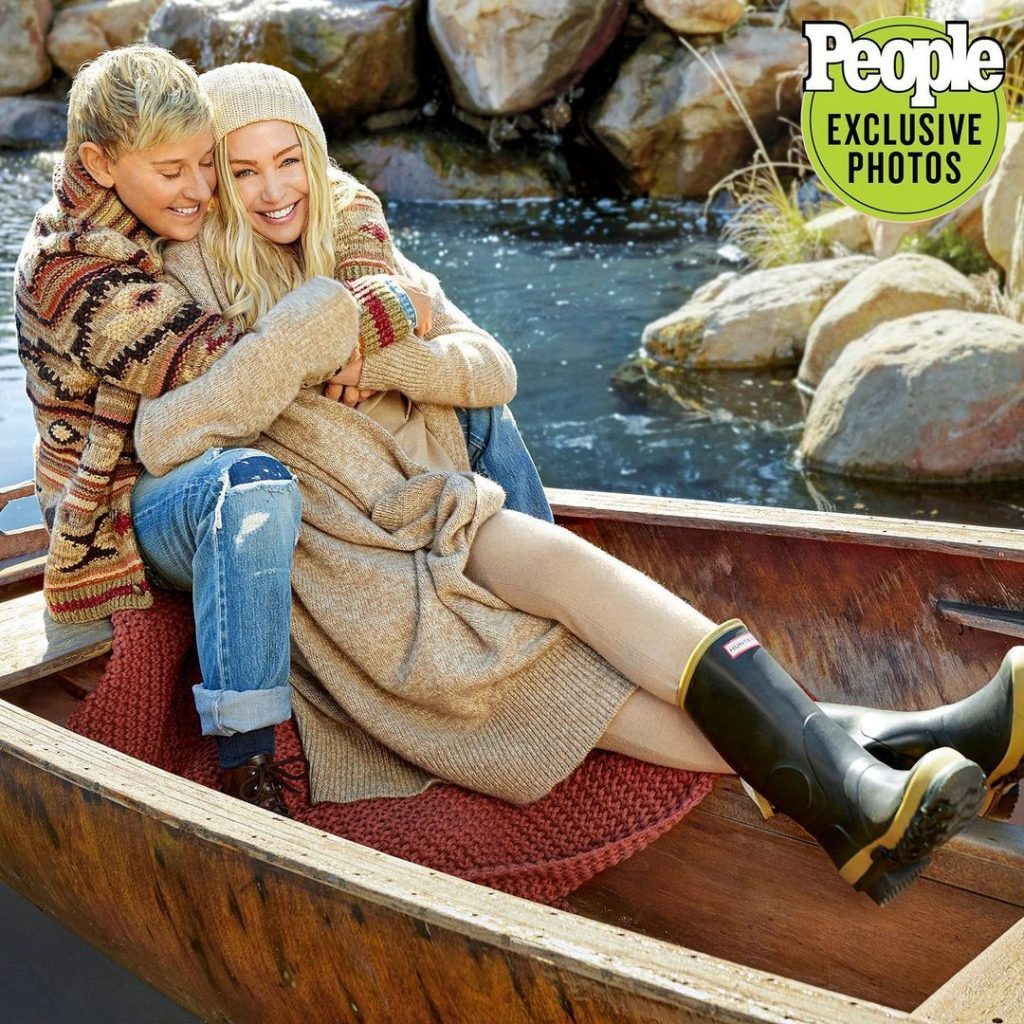 According to People Magazine, Portia and the rest of the crew waited for Ellen when she walked off the set. Before the apology monologue, Portia took to Twitter to thank their fans for their support throughout the allegations against Ellen. Other celebs like Kevin Hart also showed support for the comedian.
34. Portia decided to take a break from acting.
Portia is a famous actress who has been acting since the 90s. Some of her most famous roles were in the Arrested Development and Scandal series. Over the years, Portia slowed down when it came to acting, and she explained why on an episode of Ellen's show.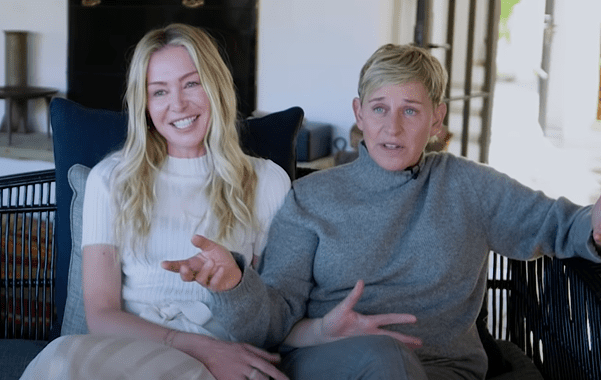 In 2018 Portia told their audience that she wondered if there was anything more challenging and different she could tackle as she approached 45. She decided to take a break and start a business. In 2019 she was still working on Arrested Development, so she might still act in the future.
35. The end of The Ellen DeGeneres Show.
After numerous allegations of sexual misconduct, racism, and intimidation on The Ellen DeGeneres Show, Ellen decided to end the show after close to two decades. Ellen said that the 19th season would be the last one in a statement to the Hollywood Reporter.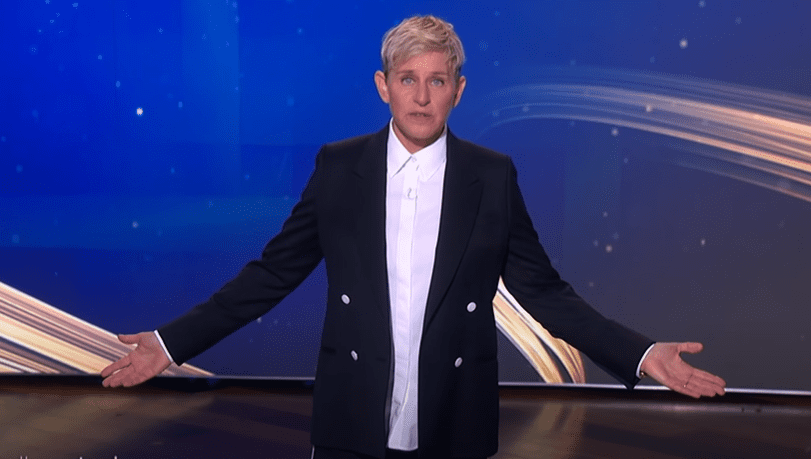 After more than 3000 episodes, the last episode of the show aired on May 26, 2022. Oprah offered Ellen some advice to take time off now that the show was ending. Portia was seated in the front row showing her love and support for Ellen.
36. Material items aren't necessary to this couple.
Ellen DeGeneres is one of the highest-paid celebrities in the world. In 2020 she made roughly $84 million, and her wife has a fortune of close to $50 million. Even though the money affords them luxury items and experiences, the couple says that material things don't matter much.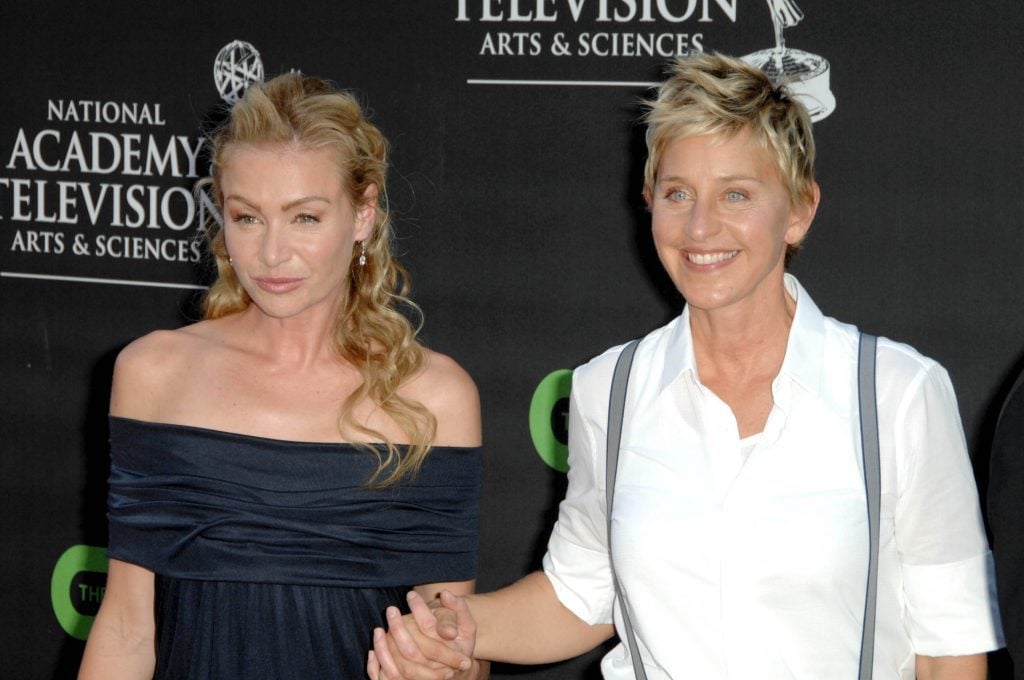 To Ellen and Portia, it's not all about the presents. During an interview with E! News on Valentine's Day, Ellen said that they don't exchange any gifts on this romantic day. She said they also don't give each other presents for holidays like Christmas and birthdays. Ellen added that all they need is love and respect.
37. The couple shares a love for interior design.
With the number of homes that the couple has bought and renovated together, it's clear that they have a shared passion for real estate and interior design. Ellen revealed they never owned a home while growing up. So when she got money, one of the first things she did was buy a house.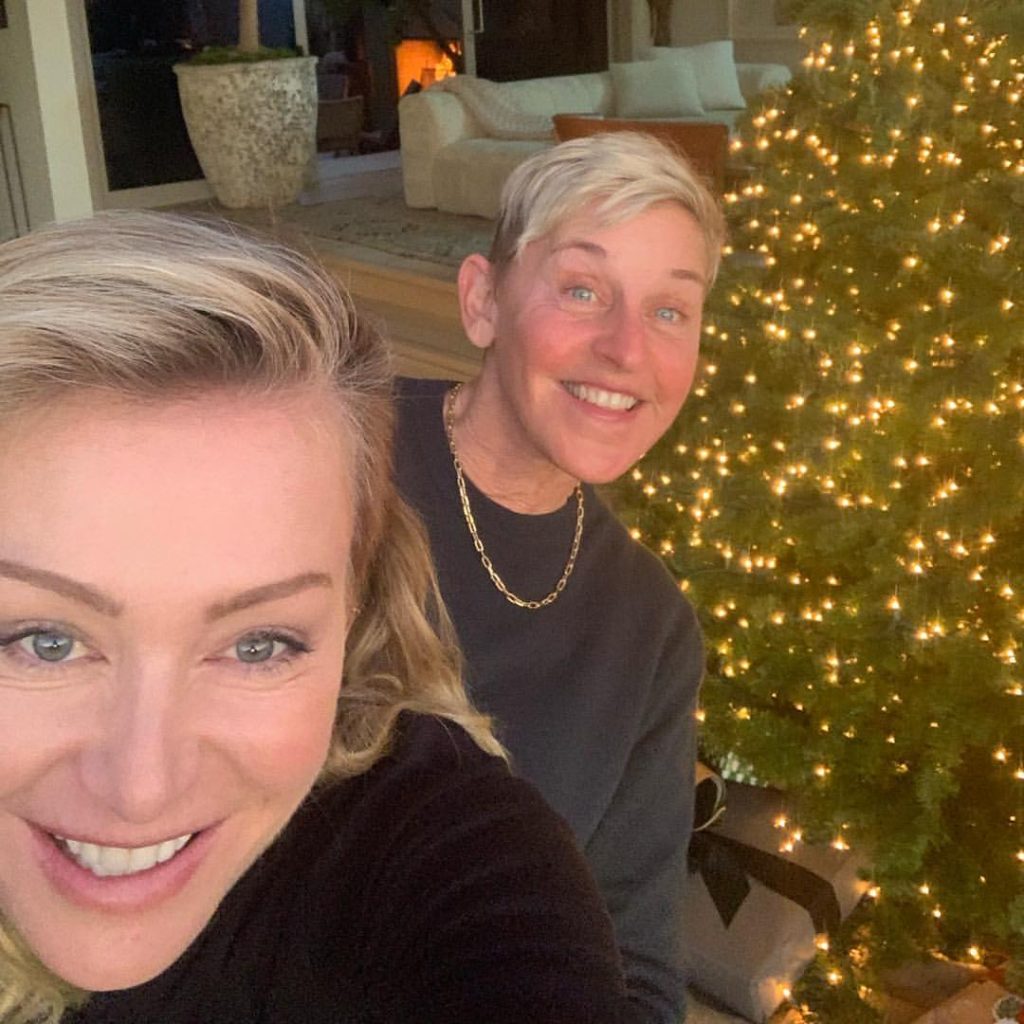 One of their favorite activities is flipping houses. Ellen says that Portia loves working on new house projects too. After buying their $8.5 million Thousand Oaks ranch, they renovated it and sold it for $10.85 million in 2013. There must be something they are doing right when flipping houses.
38. Ellen and Portia are best friends.
Being an A-list celebrity means that you also have A-list friends. Ellen has tons of friends, from Jennifer Aniston to Katy Perry and Kevin Hart. But to Ellen, she only has one best friend- her wife, Portia. The couple tied the knot in 2008 but said they had been best friends for much longer.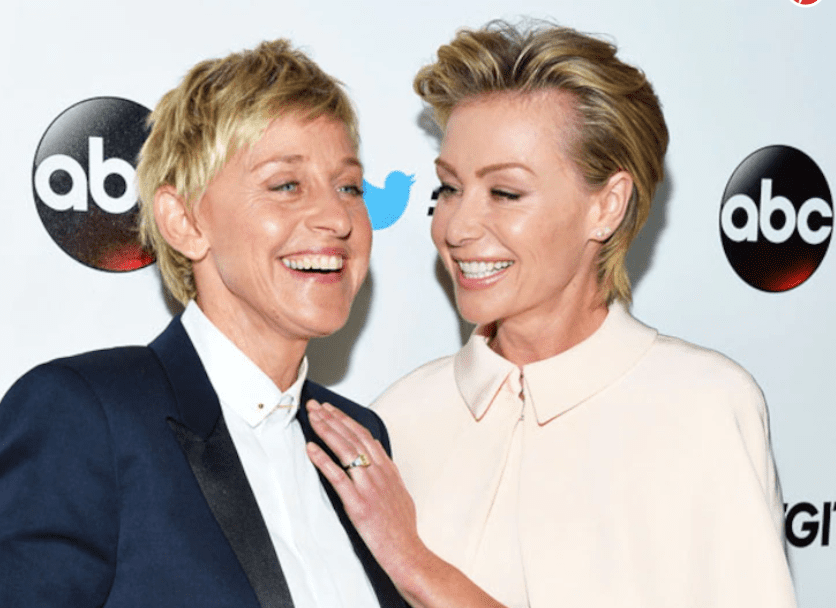 Ellen opened up about her loving relationship with Portia and how their friendship works. She told People Magazine, "I'm grateful for everything. I'm grateful for my health, and I'm grateful for the love of my life. Because not everybody finds that. Not everybody finds that best friend."
39. Portia is the chef in the DeGeneres home.
This celebrity couple is known for their love of vegan food, and it's no surprise that Portia loves to cook. Portia loves experimenting with recipes and trying new foods. During the pandemic, she got a chance to improve her skill and even dreamed of having her cooking show.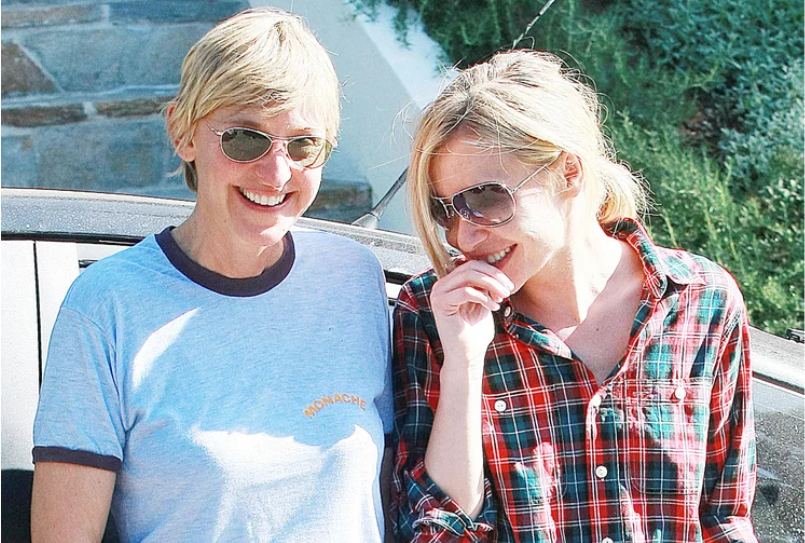 However, rumors have it that Ellen wasn't too proud of her partner. A source close to the couple said that Portia realized she might have a talent for Middle Eastern dishes. But we know that Ellen has always supported Portia, so the rumors might have no basis.
40. The couple doesn't want to have kids.
Over the years, many people wondered whether Ellen and Portia would have kids. Pregnancy was a common question during their interviews. The couple clarified that kids aren't in their future. In 2009, Portia even had to address some rumors about her undergoing In vitro fertilization.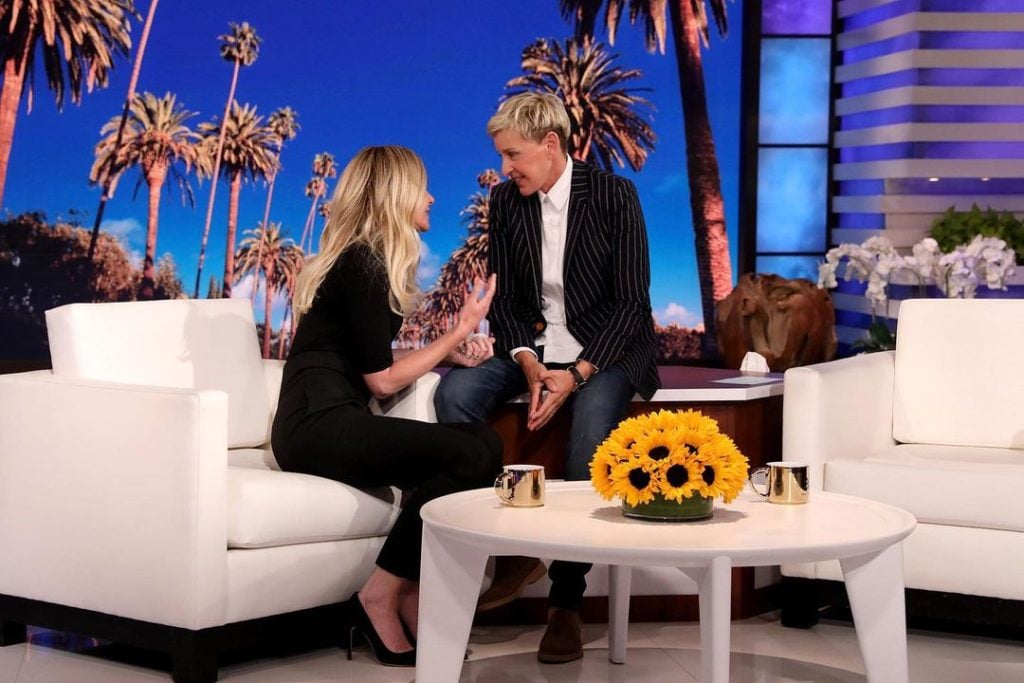 While the couple usually laughs off the baby rumors, they couldn't ignore the questions forever. In her 2011 book titled Seriously… I'm kidding, Ellen said that although they love having children around, they decided not to have any children of their own.