40 Times The Kardashian-Jenner Babies Showed The World What 'Kuteness' Really Is
By Jhoana C March 1, 2023
---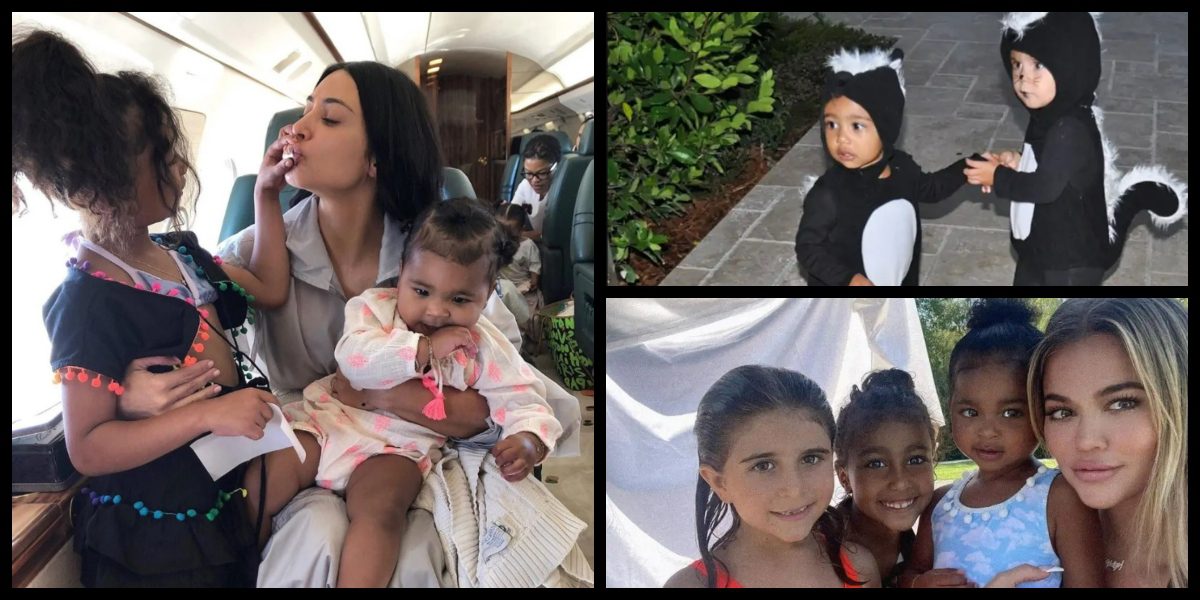 The Kardashian-Jenner babies have got to be some of the most popular and followed children in the world. People are obsessed with their every move. They want to know what they are wearing, what they are doing, what they are eating for breakfast, and how they travel. This is a mega fam consisting of six children and 11 grandchildren. You can just imagine the family affairs and get-togethers they throw.
Kris Jenner, grandma herself, must be mighty proud of the family she created. People have contradicting views on their lifestyle, however. Some love them while others absolutely despise them. However, no one can deny the fact that they have made their mark in history. Everyone has heard of their name, and many people worldwide can recognize their faces right off the bat! But in this article, we're focusing on the adorable Kardashian-Jenner grandchildren and just how much they cherish one another.
They could pass for twins
The Kardashian kids look alike, and sometimes, it can be difficult to tell them apart. A great example is this photo of Dream and Chicago hugging each other during the former's birthday party in November 2020. Can the two get any cuter?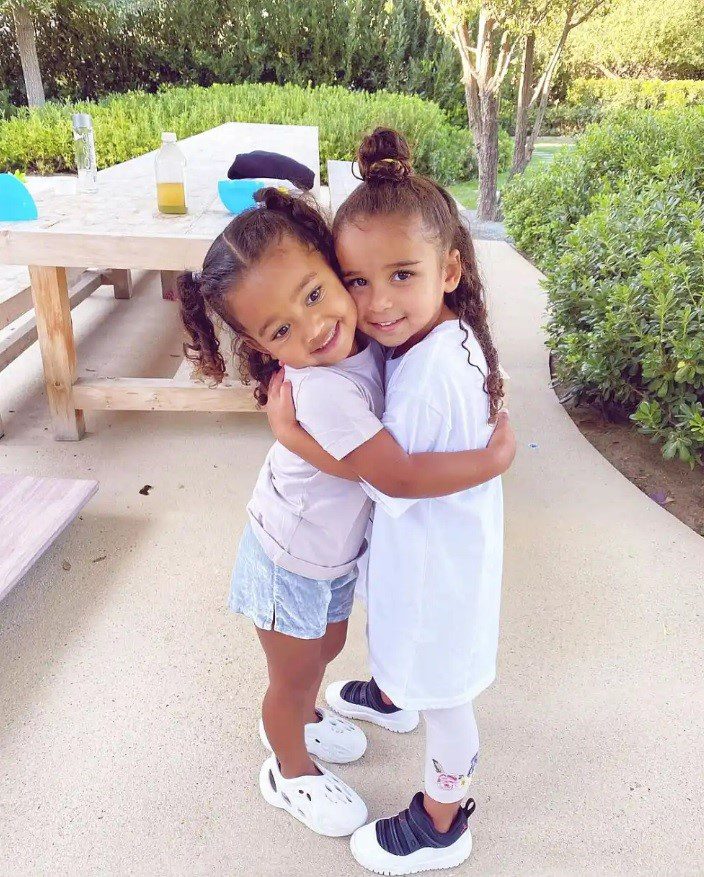 If we didn't know better, we'd think they were twins. Dream is Rob Kardashian's and Black Chyna's daughter. On the other hand, Chicago is the daughter of Kim Kardashian and her estranged husband, Kanye West. Chicago was born in 2018, and Dream was born in 2016.
These two love twinning
Aww, look at these two! Their mother, Kim Kardashian, captioned this photo of Psalm and Chicago as, "Best friends for life." The cute toddlers are even wearing matching shoes and white outfits, and they look like they are totally fine with each other's company.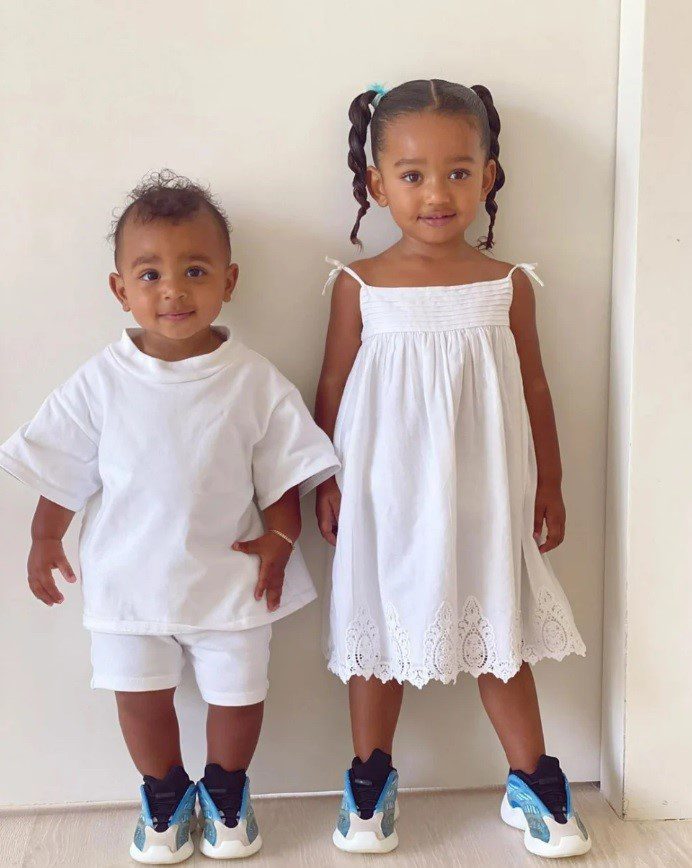 These two were born a year apart, Chicago being the older of the two. Don't you think they are absolutely adorable? We love their outfits so much, and sometimes, we can't help but want to dress our children like them after seeing this.
'Kuteness' overload
Say what you will about their mothers, but the Kardashian kids seem to be very close to one another, and we always see them together frequently. Perhaps because they are very close when it comes to age and their mothers live close together?
We're sure how close they live to one another, but if you have everything at your disposal, it won't be challenging to make time for playdates with all the nieces and nephews. These cousins look like they are siblings because they look alike.
Give me some of your donuts
If you've been living under a rock and are not familiar with all the Kardashian kids, we'll give you a little crash course. The one eating a donut in the photo is Stormi, Kylie's eldest child, and the one sitting beside her is True.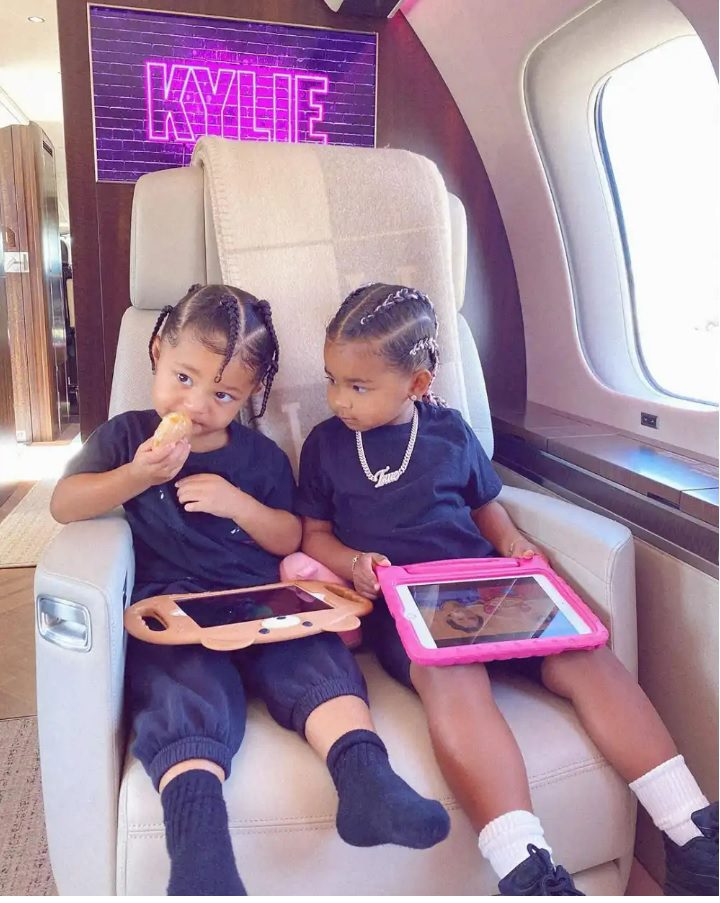 True is the eldest child of Khloe Kardashian and Tristan Thompson. Born just a few months apart, the two are both four years old. Perhaps that explains why the two get on with each other really well. They seem to enjoy the same activities.
Driving with siblings
It's normal for siblings not to get along with one another from time to time. Even siblings who are close in age may still clash with one another, and that seems to be the case with North and Saint, judging from the caption of Kim Kardashian's photo.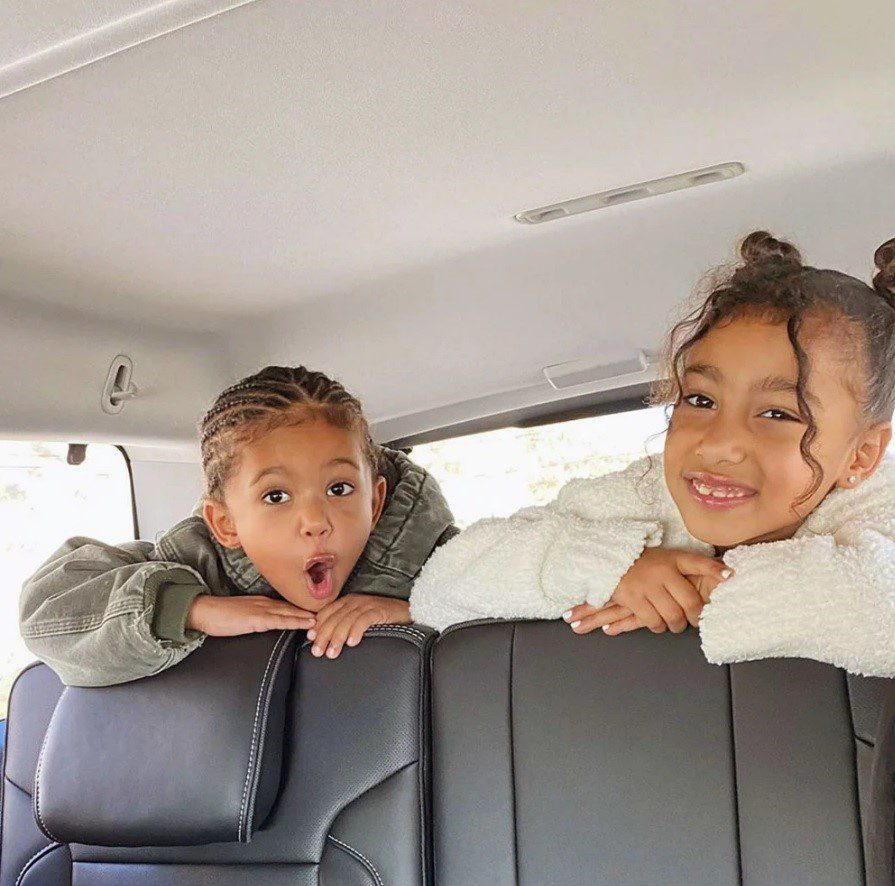 She captioned the picture that the two finally get along. Perhaps they were constantly arguing with each other before, as little children do, but you can't tell by looking at this gorgeous photo. They seem to enjoy each other's company all the way at the back of the car.
Sisters with bunny ears
For mere mortals like us, the lives of our favorite entertainers, influencers, and actors are so much more thrilling. Sometimes, we can't help but become voyeurs, wanting to know what they are up to and how their family is doing.
Luckily for Kardashian fans, they don't have to ponder because their whole lives are pretty much broadcasted for the world to see. They post photos on social media regularly, and this happens to be one of our favorites, sisters North and Chicago twinning, complete with bunny ears.
She loves her little cousin
The Kardashian kids love each other, and this is evident in the many photos and videos shared by their mothers on their individual social media accounts. Although many things are fake on social media, we don't think children know how to fake love.
You often see the little ones playing with each other, running around, wearing matching outfits, and having a good time. Here you see Kourtney's daughter Penelope giving her little cousin Chicago a lift. Penelope likes to dote on her little cousins.
Chicago enjoys piggyback rides
Here's more proof of just how much Penelope enjoys frolicking with her younger cousins. Here she is giving Chicago a piggyback ride, and the little one seems to love it. This was an Instagram story uploaded by Kim in October 2019.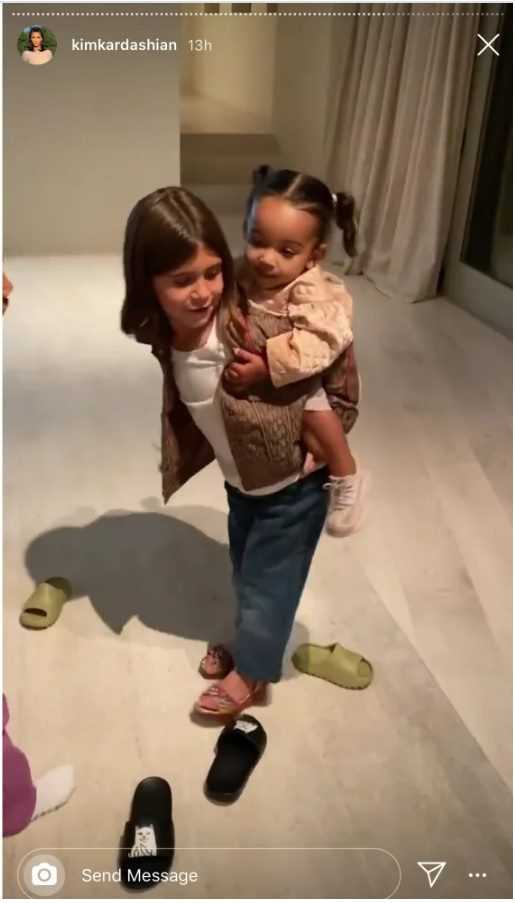 You can hear Kim in the background telling her niece and daughter to be careful. It's good to know that although she's behind the camera, she's reminding them to always be careful. Lord knows what might happen if they accidentally fall over.
Dancers to be
Look at these two in their ballerina outfits! They're still young and have the time to learn how to dance, whereas we Millenials have to pick our battles and how we spend our free time wisely. Perhaps, we'll just enjoy dancing vicariously through them.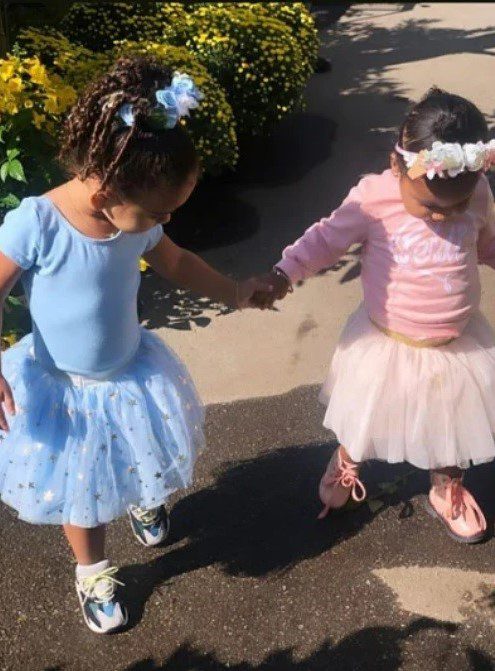 Ah, to be young and carefree, just dancing, playing, and not having to worry about due dates and bills. It's not like these little children will ever have to worry about that when they grow up, though. After all, their parents are millionaires.
Saint meeting his little brother
Bringing a new baby home can be stressful because the other babies at home need time to adjust, and it may cause a bit of resentment from all the attention showered on the newest addition. Even dogs have a difficult time adjusting to babies.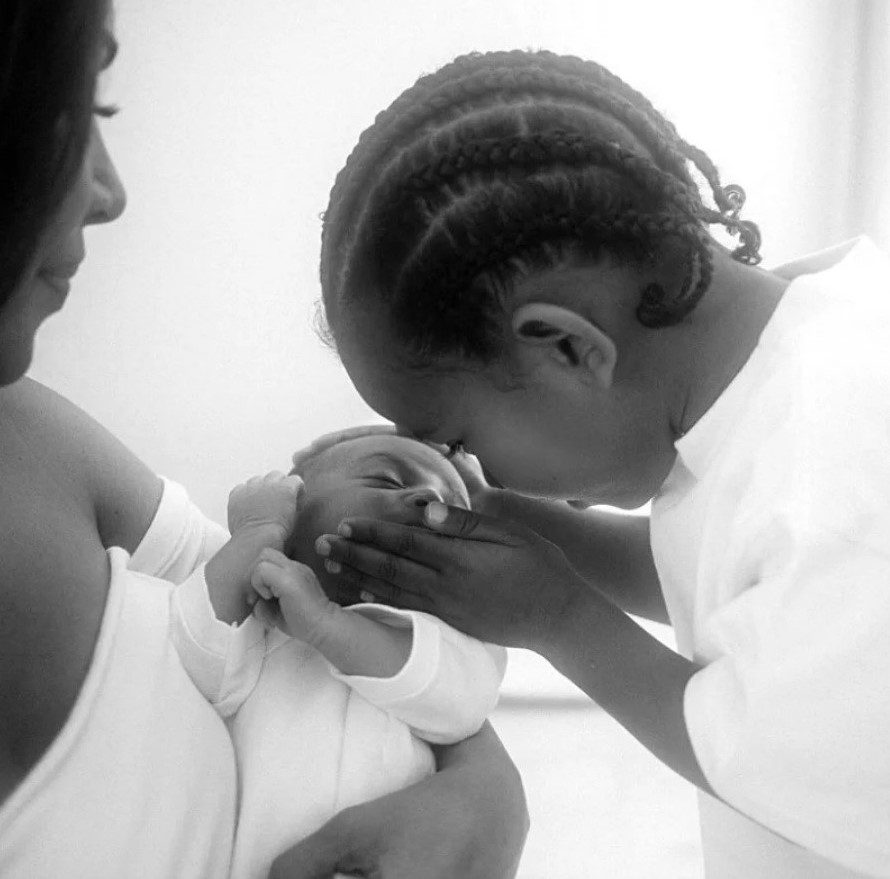 Thankfully, Saint doesn't seem to have any trouble adjusting to his new brother Psalm, as we can see in this photo. He seems to have nothing but pure love for the little one. Look at him cradling his brother's face in his arms.
They love junk food
If you thought that celebrities don't let their babies eat junk food, then you're mistaken because this photo proves otherwise. Here you see True and Chicago thoroughly enjoying nibbling on their Veggie Straws and Cheetos Puffs. We can't blame them because we love Cheetos Puffs, too.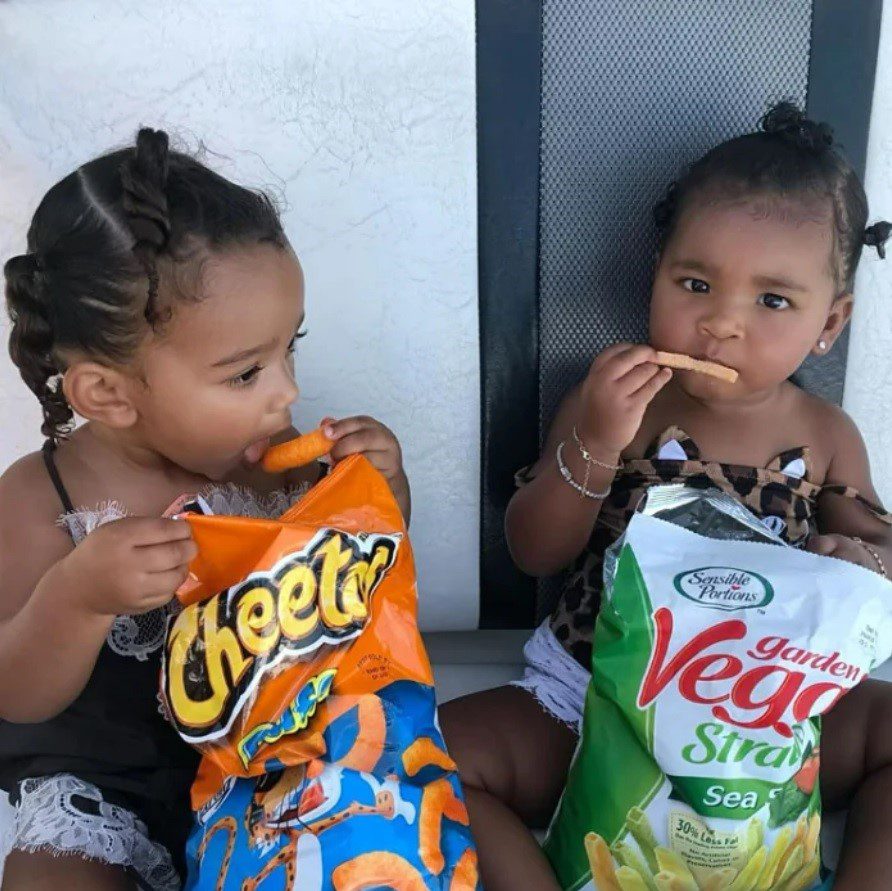 This was taken on a beach trip in 2019. We agree with the funny caption on this one, and we love Chicago for saying that vacation calories don't count. Yes, Chi, that's the way it should be. How else are you going to enjoy your vacation if you keep counting calories?
Kim seems to be the favorite aunt
Of all the Kardashian sisters, Kim seems to be everyone's favorite aunt, and she relishes giving all her nephews and nieces attention. All the kids gravitate towards her, too but do you ever think about if the other Kardashian sisters are jealous?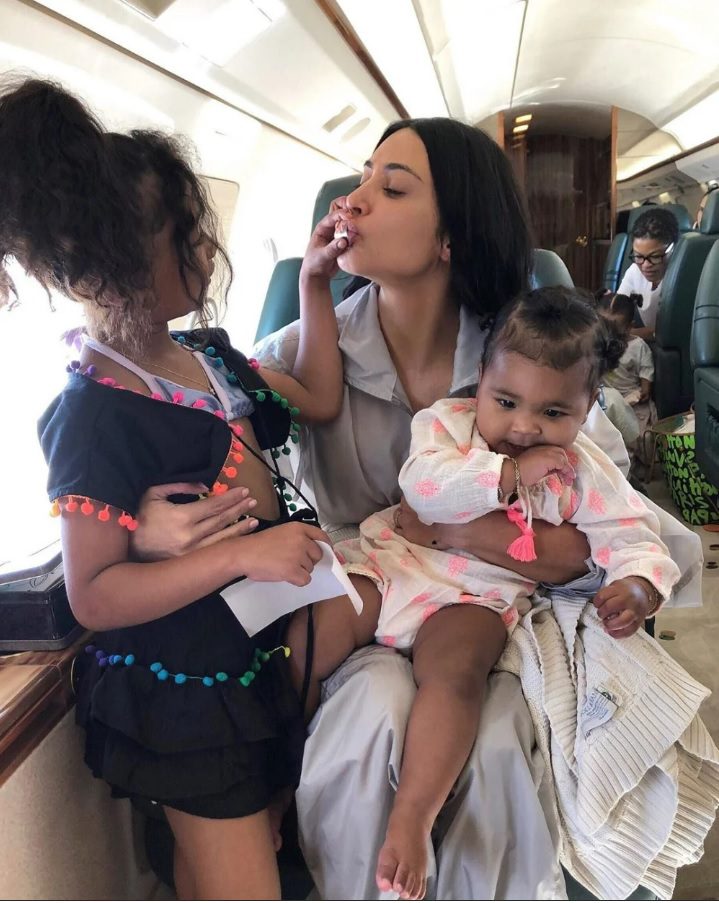 We don't think Khloe is jealous. She took this photo of Kim with her daughter North and niece True in July 2019 on a private jet. The entire clan has taken off somewhere for vacation, perhaps to get away from the paparazzi.
Here, let me fix your hair
One of the joys of having children is seeing them take care of one another, having each other's backs, and being ready to help out when needed. This is exactly what's happening in this photo where you see Chicago helping out her big sister.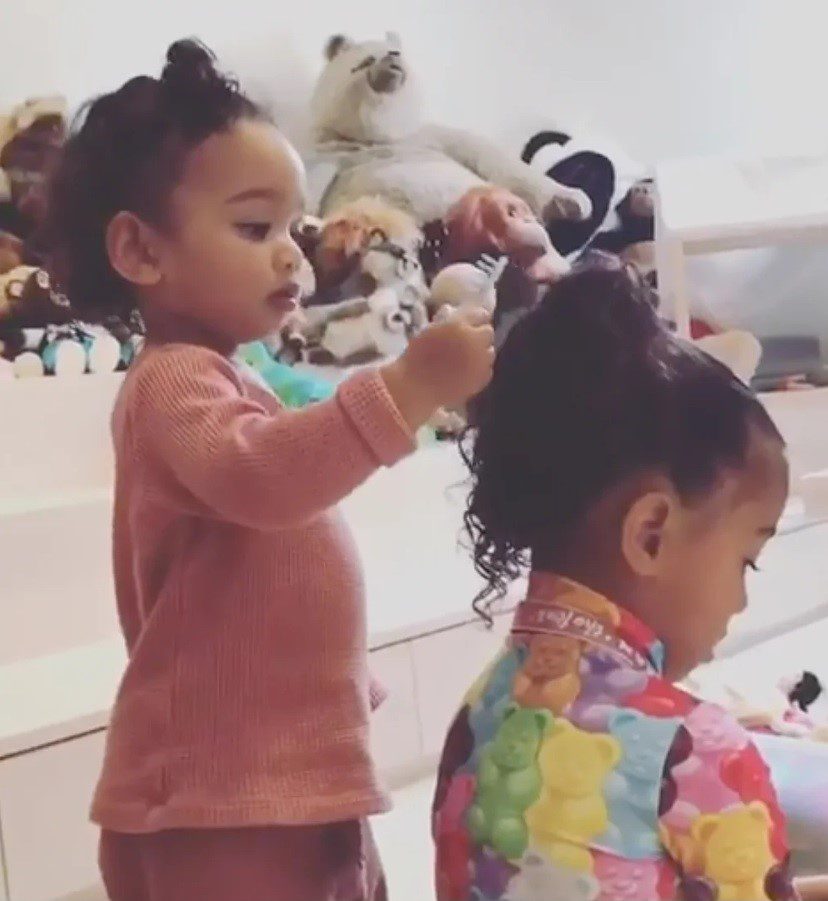 North is sitting on a chair while Chicago is helping her fix her ponytail. Kim must be so proud of her little girls, and it's good to see the big sister letting go of the reigns and allowing her younger sister to take over. It means she trusts Chicago.
More smooches to come
What do we usually do when we see a cute baby? We want to shower that baby with kisses and squeeze them! Evidently, Dream finds her younger cousin True so adorable that she can't take her hands off her.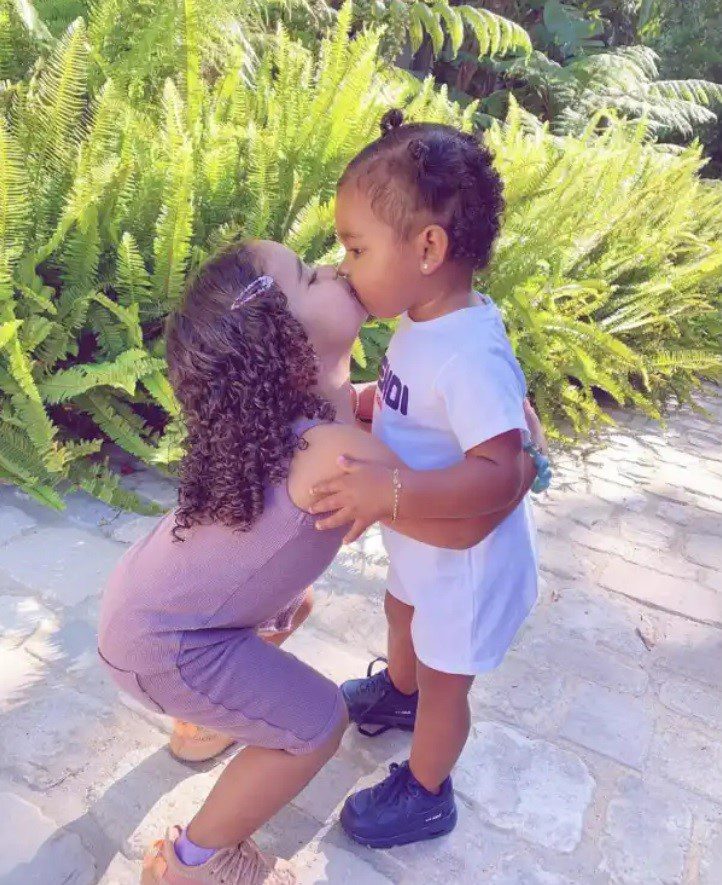 True seems to be enjoying all the attention, too, and is more than happy to let her bigger cousins shower her with affection and attention. Perhaps she likes being the star of the show and likes to be in the limelight!
Traveling with cousins
The number of Kardashian children and their ages can easily leave people confused, not to mention they also look similar to one another. We're going to admit that we mix up the kids at times. We're only human, after all.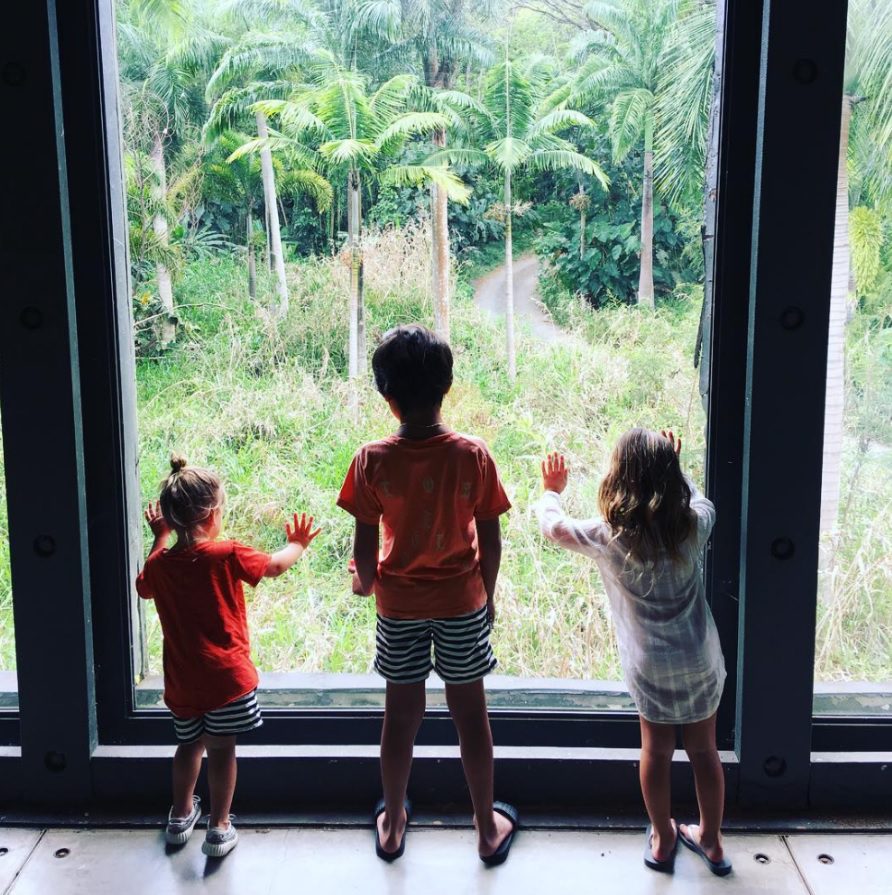 Here are Kourtney Kardashian's and Scott Disick's children. They were on vacation in Hawaii, hence the lovely tropical views. This photo of Mason, Penelope, and Reign was uploaded on Scott's social media profile. Although he and Kourtney are divorced, he has a good relationship with his children.
Kourtney's babies
Kourtney Kardashian has three children with Scott Disick, namely Mason, Penelope, and Reign. Although the two were never married, they were together from 2006 to 2018, so they were significant in each other's lives. The two have since moved on with other people.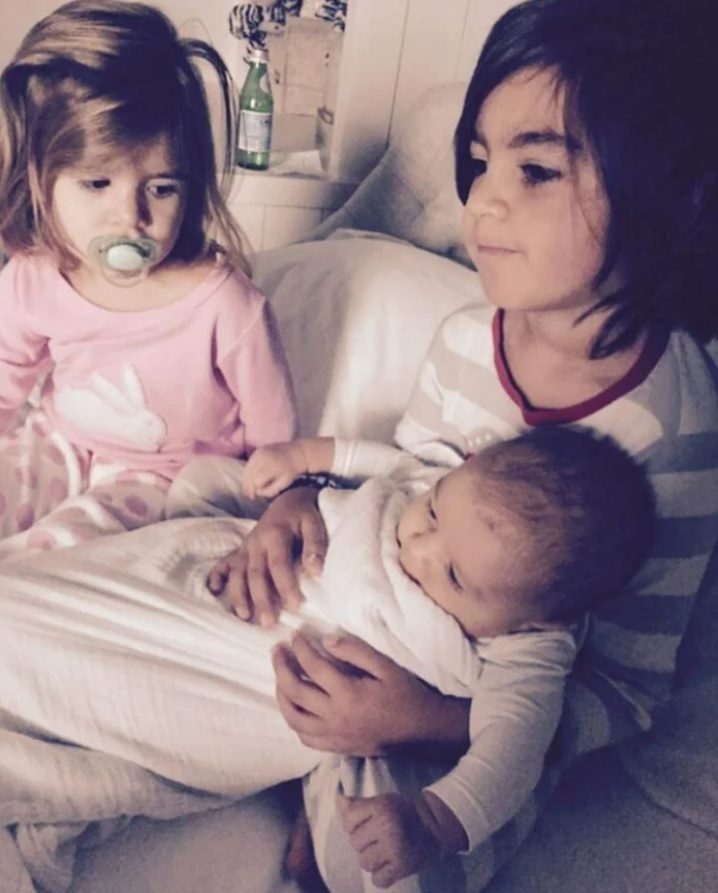 Scott has had his share of girlfriends, while Kourtney has moved on and married former Blink 182 band member Travis Barker. It's clear, though, that they want nothing but the best for their kids. Who would do anything less for these three angels?
Pool time
Celebrity kids are just like regular kids. True, they may have a designer wardrobe, ride in limos, and travel in private jets, but they also like playing at the beach, running around and chasing one another, and having a pool day.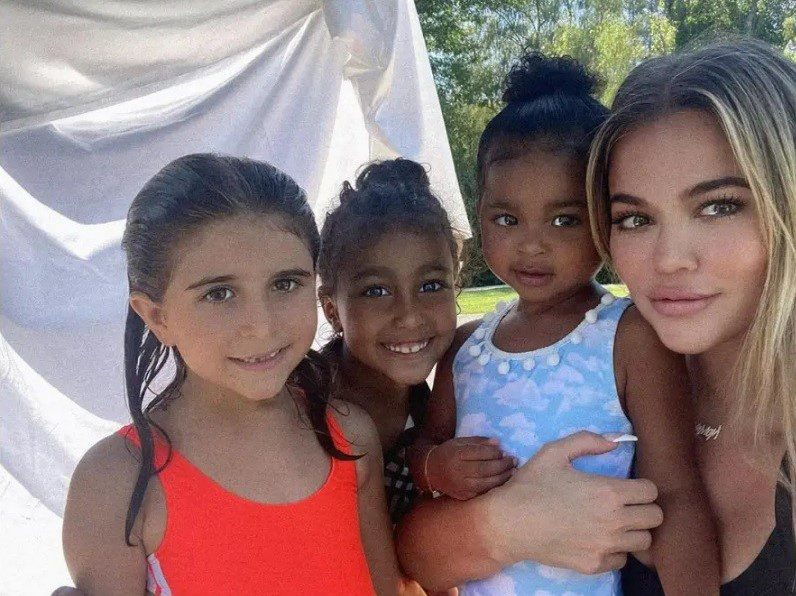 Who can resist taking a dip in the pool with cousins? The Kardashian kids can't, and they are happy to spend a day at the pool with one another, as demonstrated by this photo of Khloe, North, Penelope, and True.
Proud of their auntie
Khloe Kardashian has admitted before that she has issues with her body and appearance, hence the excessive use of filters and photo editing, but that is an entirely different topic that warrants its own article due to the complexity of the topic.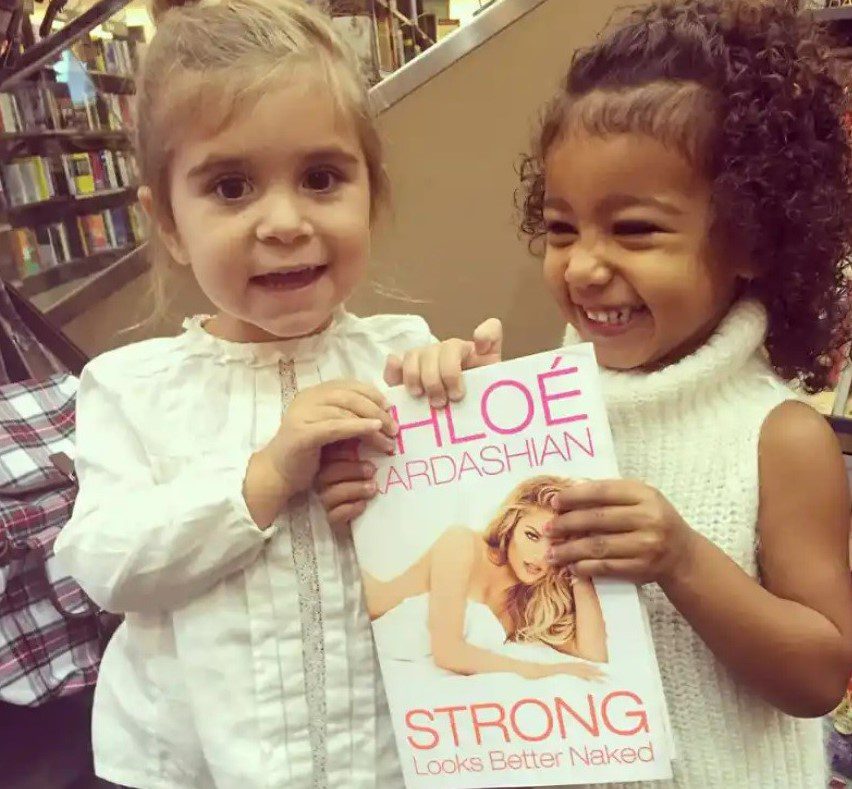 We'd rather focus on how the little Kardashians decided to show their support for their Aunt Khloe when she came out with a book. Here you can see cousins North and Penelope posing with their Aunt Khloe's book. They were even shouting her name.
Captivating Christmas photo
Ah, Christmas. Everyone's favorite time of the year. Who can resist wrapping and giving gifts, as well as unwrapping them and receiving them, especially the little children? But with gift-giving comes other customs, such as the annual family Christmas card.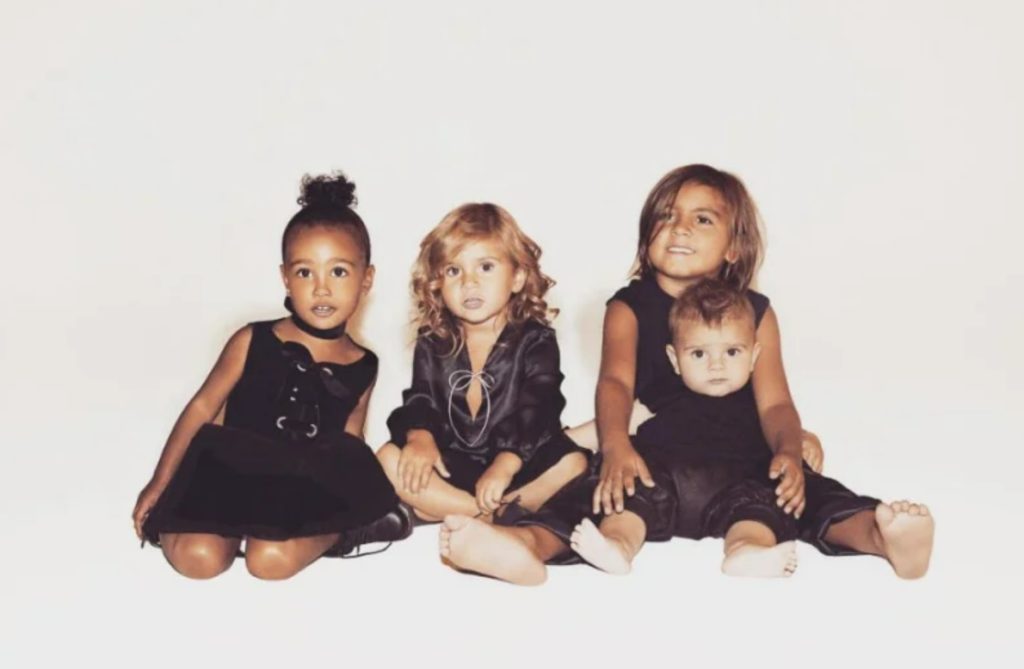 North, Penelope, Mason, and Reign are sitting cute here. The rest of the gang wasn't born yet! They were all wearing black, dressed to the nines. As the years went by, the number of Kardashian kids on Christmas cards tripled in size.
Welcome to the wild west
There's no doubt these babies love Halloween because they get to pretend to be someone else, although we're sure they can dress up anytime they want. However, we were surprised with their choice of costume, especially little Chicago. We don't know many girls who'd want rodeo costumes.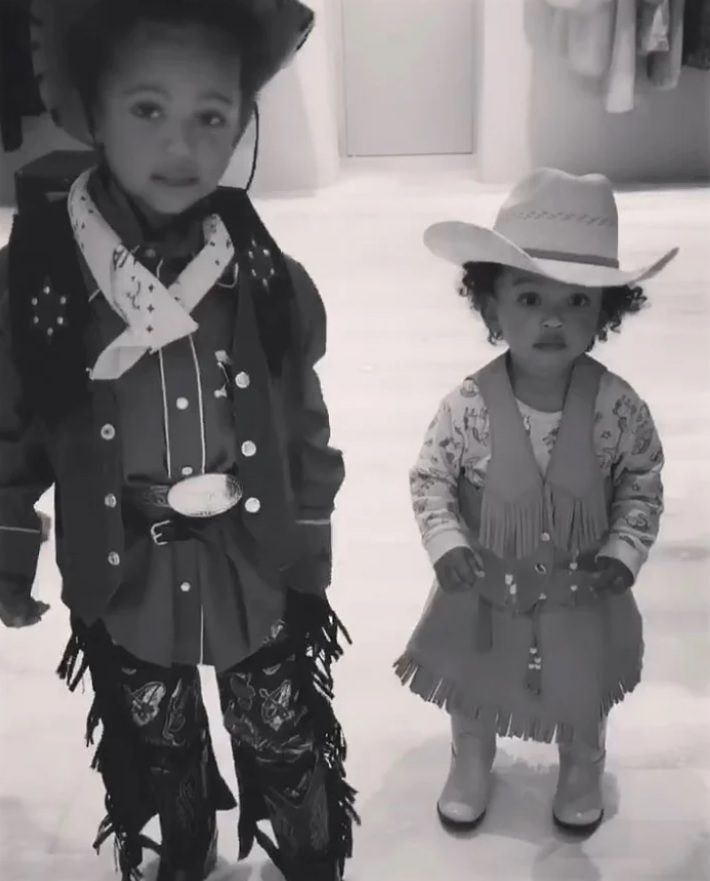 Probably because it's their mom Kim who chose the costume. She got the cowboy outfits when she traveled to Wyoming in 2019, but we have to admit it looks great on the little ones. Now all they need is a miniature horse.
They woke up on the wrong side of the bed
From the looks on Saint's and North's faces, you can tell they didn't wake up on the right side of the bed. It's apparent that they are in a bad mood or are arguing over something. Their baby brother, Psalm, is oblivious to what's happening.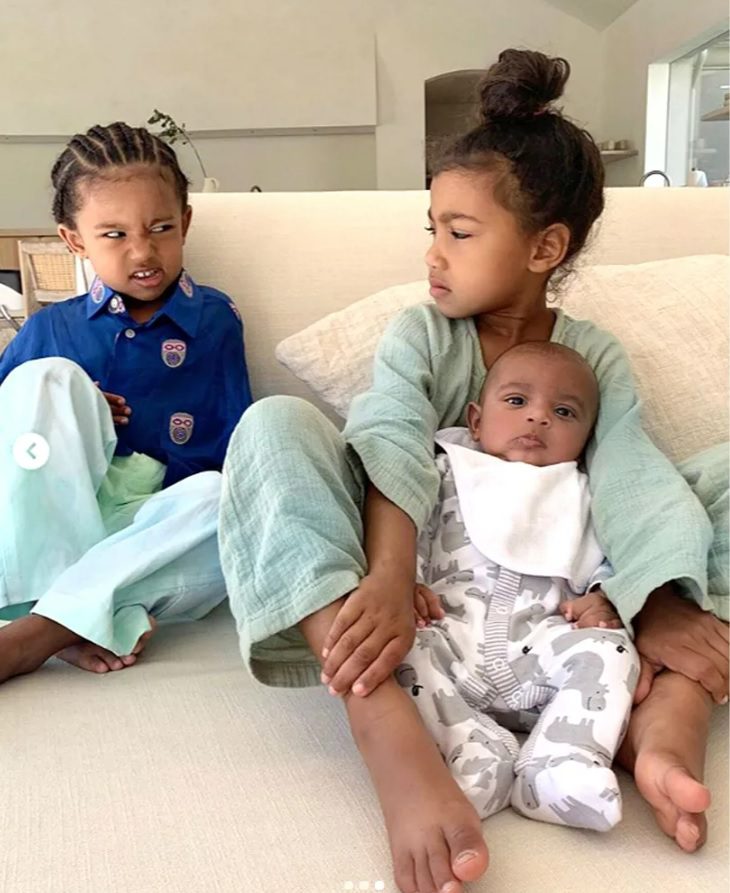 He couldn't care less if they started fighting. He's just staring straight into the camera. Is he asking his mother to give him milk? Could be. Or perhaps, he's asking Kim to get him out of there before things start heading south.
Sleep tight
How can you not sleep tight when your big brother is tucking you in bed, extra sweet and cuddly, too? We'd surely have a good night's sleep if somebody did that to us, and there'd be no need to count sheep.
As parents ourselves, we'd know that looking at such a sight would make your hearts melt. It's the best feeling in the world to see that your children get along with each other very well and want to sleep next to each other all the time.
Are the chickens scaring you?
We know of people who are scared of spiders, snakes, and cockroaches, but did you know that there are people who are also afraid of chickens and birds? Funny as it may sound to others, but it's a very real and scary thing for some.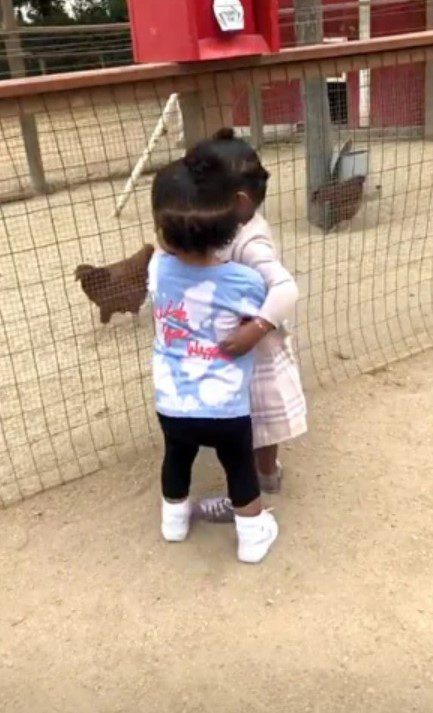 However, from this picture, it looks as if both Stormi and True are at ease when surrounded by chickens. They are having a good time at the zoo with each other. This IG story was uploaded by Stormi's mother, Kylie Jenner.
Taking a dip
What do you think the perfect morning is made of? Maybe it's waking up refreshed after at least eight hours of sleep, drinking a cup of hot chocolate, eating pancakes and bacon for breakfast, and of course, a dip in the pool.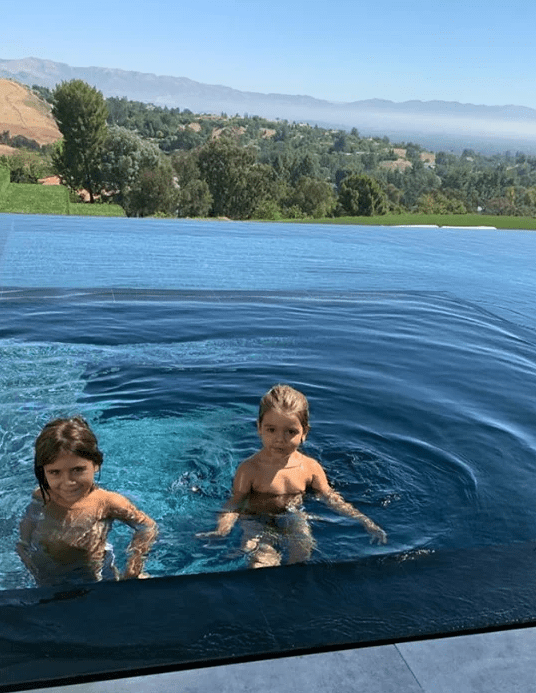 That's what's happening in the photo above. Scott's and Kourtney's children, Penelope and Reign are taking a dip in the family pool, and they are all smiles. Anyone who can do the same thing in the morning would also say that it's the best morning.
Baby shark doo-doo-doo-doo
The song Baby Shark wormed its way into our consciousness a few years ago, and it has remained there for some time. It's not the best song ever released, but some households have it playing on a loop for more than five hours a day, thanks to the little ones.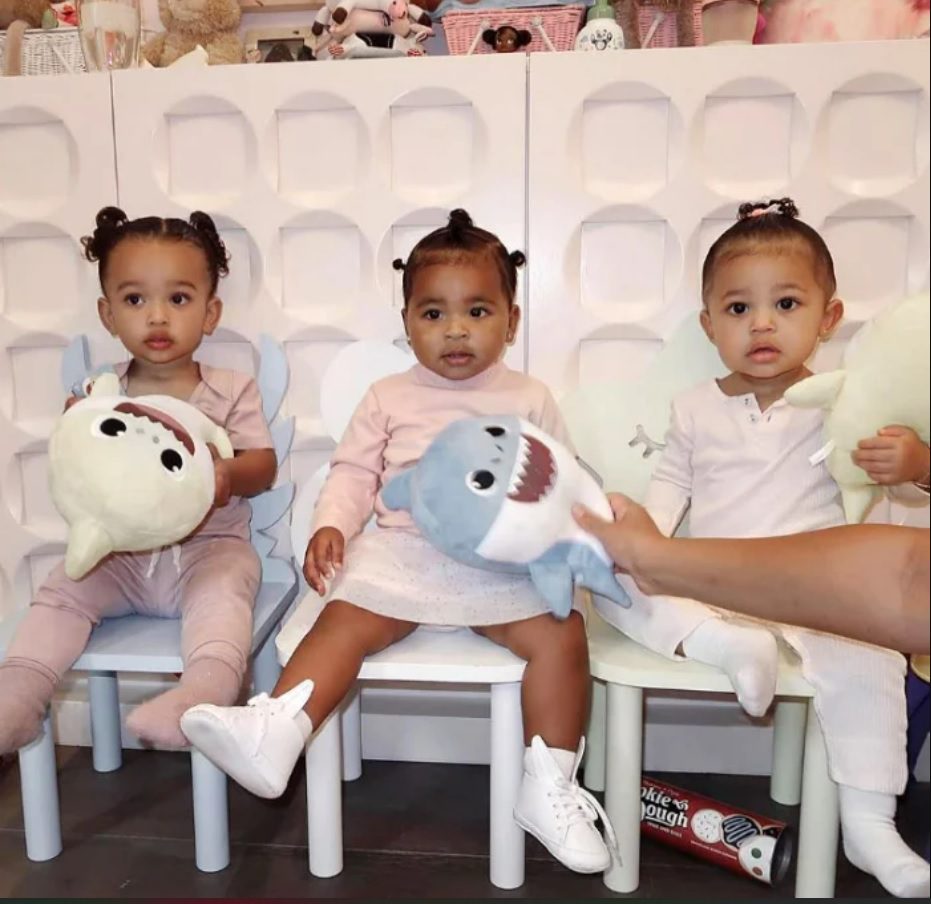 The Kardashian-Jenner clan was no exception, as we can clearly see from this photo. Here is Chicago, True, and Stormi with their favorite baby shark stuffed toy. Yes, we agree with what Kylie said. These three can pass us triplets.
Art sensory class
Look at the Kardashian kiddos enjoying their art sensory class, but why put them in such classes? Art sensory classes are important because they help develop hand-eye coordination and encourage little ones to pay attention to the space surrounding them.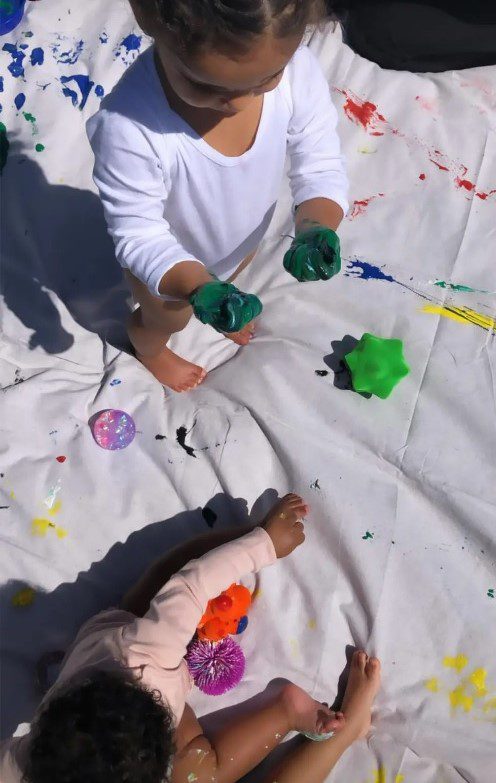 True and Dream are fans of art sensory classes, and they are having a grand time making a mess and throwing colorful paint wherever they desire. Who wouldn't be? This photo was taken back in April 2019, but the girls still love being creative.
Let us out
When we first took a look at this photo, we were convinced that the kiddos were asking their parents to let them out because they were scrambling for the door knob. The door wasn't locked after all, and North was helping her little brother open it.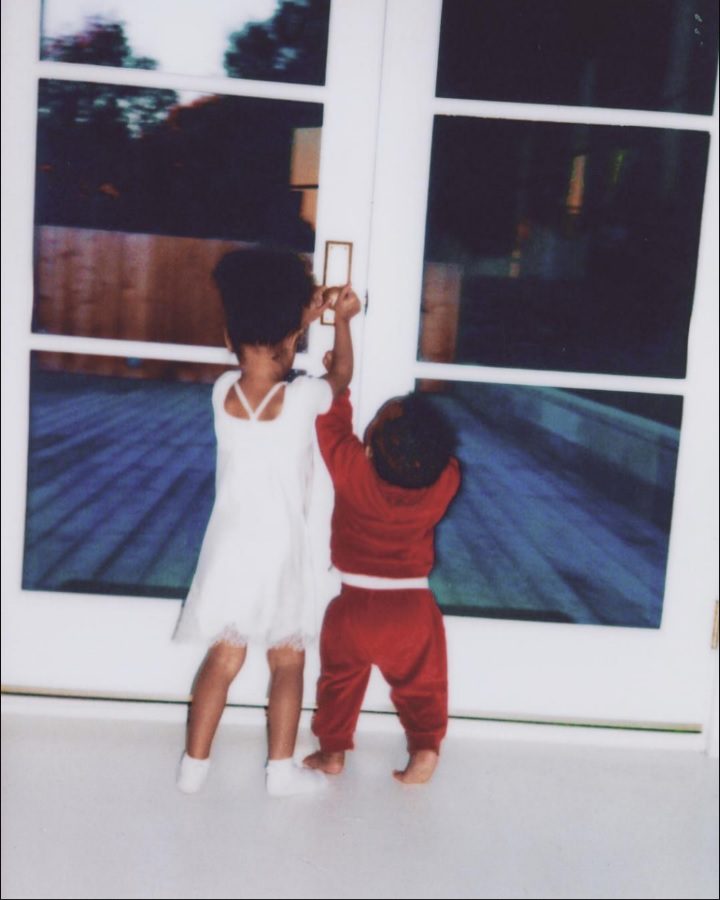 This was taken on National Siblings Day, and yes, the siblings enjoy each other's company, but there are times when they'd rather be out than in the house. It's a great big world out there, and they want to explore it too.
Surrounded by angels
What can be better than spending your birthday in the presence of little angels? That's exactly what Khloe did on her 35th birthday. She spent it with her daughter, nieces, and the rest of the family, and naturally, she had a big smile on her face.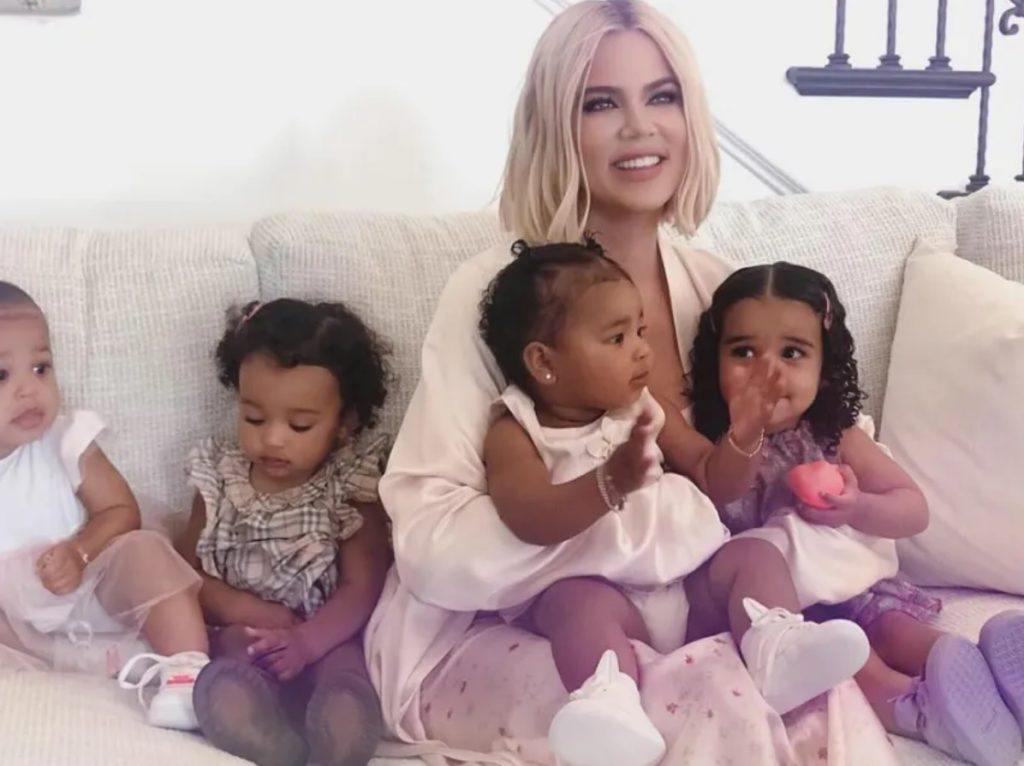 We're sure it was a big celebration with a lot of food. After all, the Kardashian-Jenner family is a big one, and a joyous occasion would be incomplete if someone is not invited. We'd love to be a fly on the wall during these family-only events.
Here, try some raspberry
One of the best things about being an older sibling or cousin is that you get to act protective of the young ones, and you get to be the leader at the same time, too. That must have been what was going on in Penelope's mind in this photo.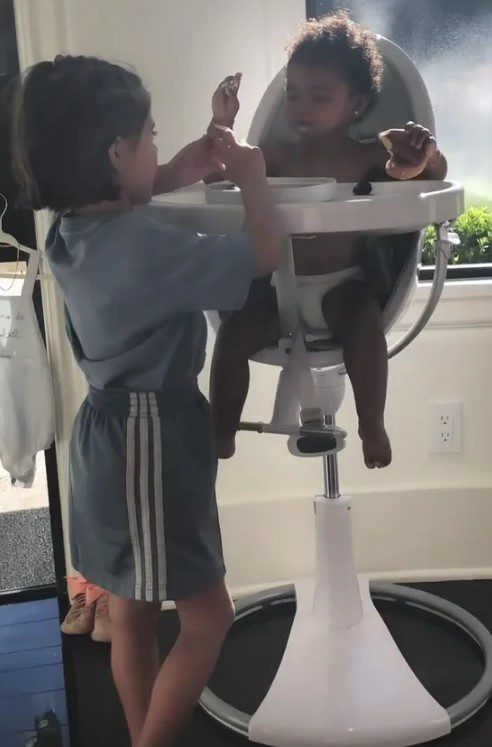 Here she is feeding her cousin True some raspberry in 2019. We think this must have been her first taste of the delicious fruit. She's enjoying it, and we're sure she'll want more of it after this instance. We don't blame her.
Beach day
Who doesn't want to go to the beach during summer? Not even the Kardashians can resist the sun, sand, and waves. Here is Kim enjoying the summer breeze and the cool waters with her kids. Gosh, how much they have grown.
We closed our eyes, and the kids became teenagers. What we're trying to say is it's important to spend as much time as you can with them. They won't be young for so long, and there will come a time when you miss them tugging at your clothes and asking for your attention.
Mornings like this
We're willing to bet money your mornings would be that much better if you woke up and found your kids sleeping next to each other like this. It's such a sweet gesture from older sister North to still be guarding her little sister Chicago even while sleeping.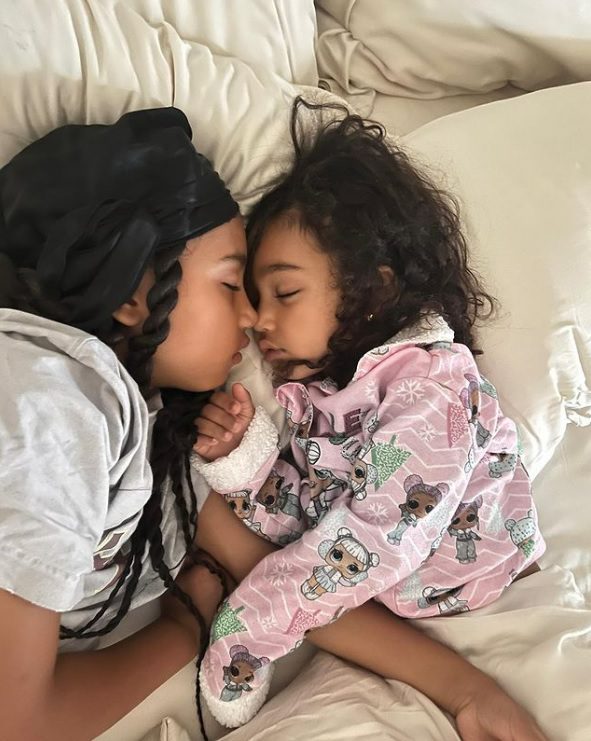 We wish all sibling relationships were as close as this, even during adolescence and adulthood. However, it is inevitable for change to occur when growing up. We wish there were no sibling rivalries or feelings of jealousy towards one another.
We wonder if she's heavy
From the pictures we have seen of the Kardashian-Jenner kids so far, it appears that Penelope relishes the opportunity of playing big sis to all her younger cousins. Although she's not the eldest grandchild, that title belongs to Mason. She is often seen giving her little cousins a lift.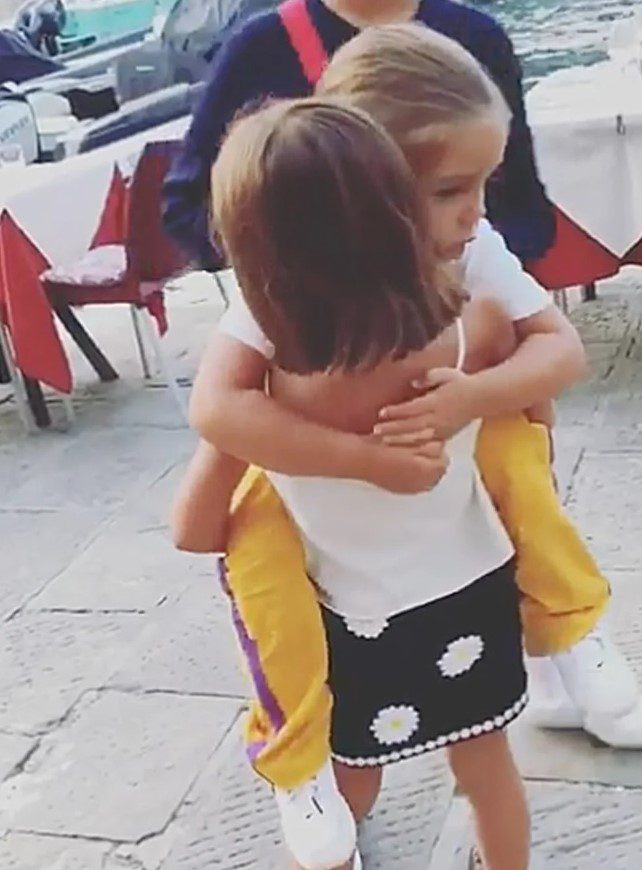 Here you can see her with little brother Mason in her arms. This photo was taken in 2019 during a trip to Italy when they were much smaller. She might have difficulties carrying Mason around now that he's bigger, but she's still his big sis.
Start 'em young
Being the head of her very own cosmetic empire, it wouldn't be unusual for Kylie to start her daughter young on skincare and cosmetics, too. Here you can see her with her little daughter Stormi posing for a campaign for her new line of skincare.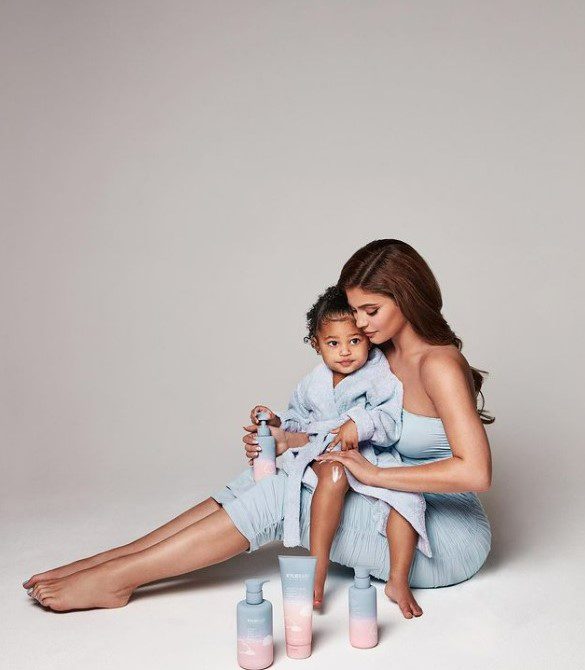 Stormi looks right at home wrapped up in her adorable bathrobe. A day at the spa would be the perfect ending to this photo shoot, and although chances are nil that Kylie would say yes, we'd like to ask if we can tag along.
Trick or treat
If it was Halloween with all the kids trick or treating, and we opened our door to see these two, we'd gladly give all our candy to them, no questions asked. Sorry to all the children who would go after them because we'd be all out.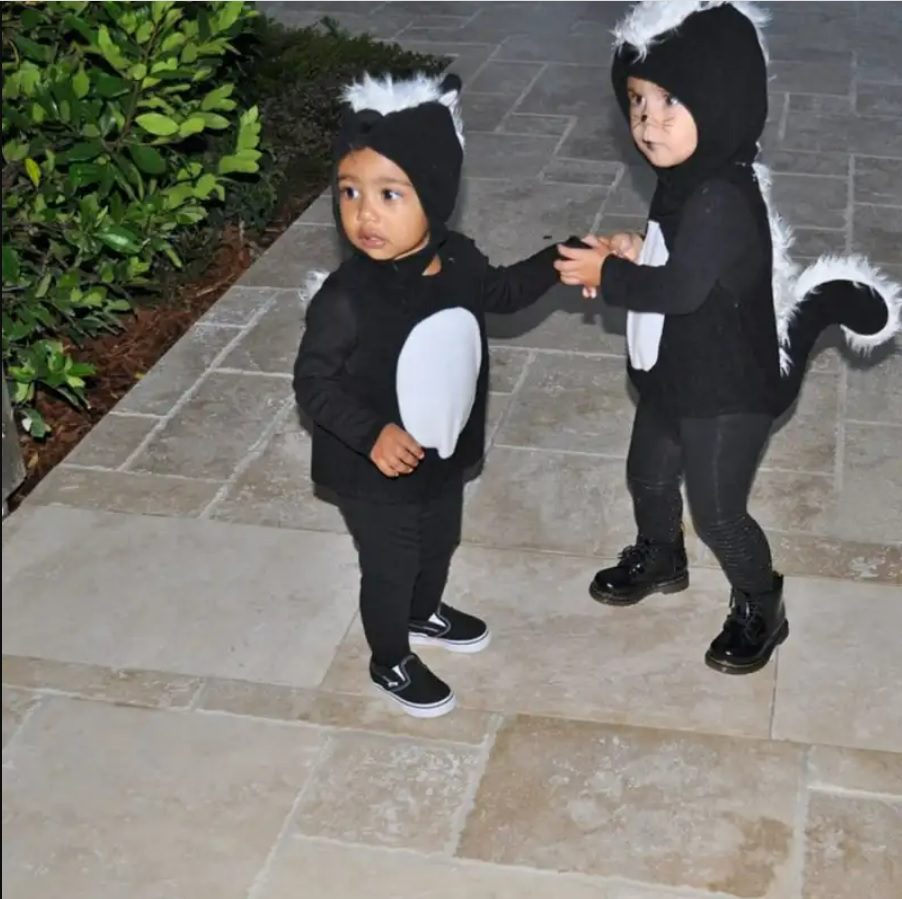 How can you refuse these two sweet little angles? This was taken on Halloween 2014, when North and Penelope were still tiny toddlers. There is no doubt they've gotten a lot bigger now, but this is one of our favorite photos of them.
We wonder what the meeting is all about
What could they have been talking about during this family meeting? Are they planning to cut candy portions? Did they just declare that there would be no more corn flakes for breakfast? Or did they announce cutting back on vacation days?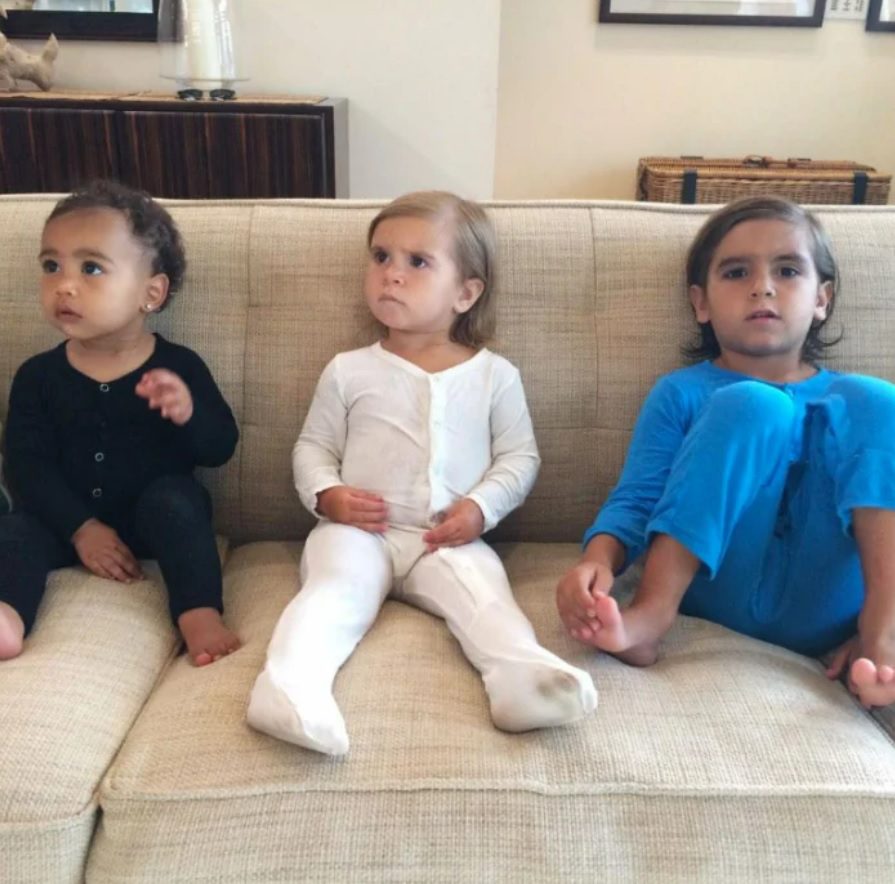 Penelope looks as if she is going to stage a protest right then and there. From the looks on their faces, the kids weren't pleased with how management handled things. We wish we had more family meetings like this when we were little.
All play, no work
Ah, being a kid, carefree, and no worry in the world. Eat, sleep, play, repeat. Isn't it the best thing in the world? Look at BFFs Penelope and North enjoying their day out with the family. This photo was taken in May 2015.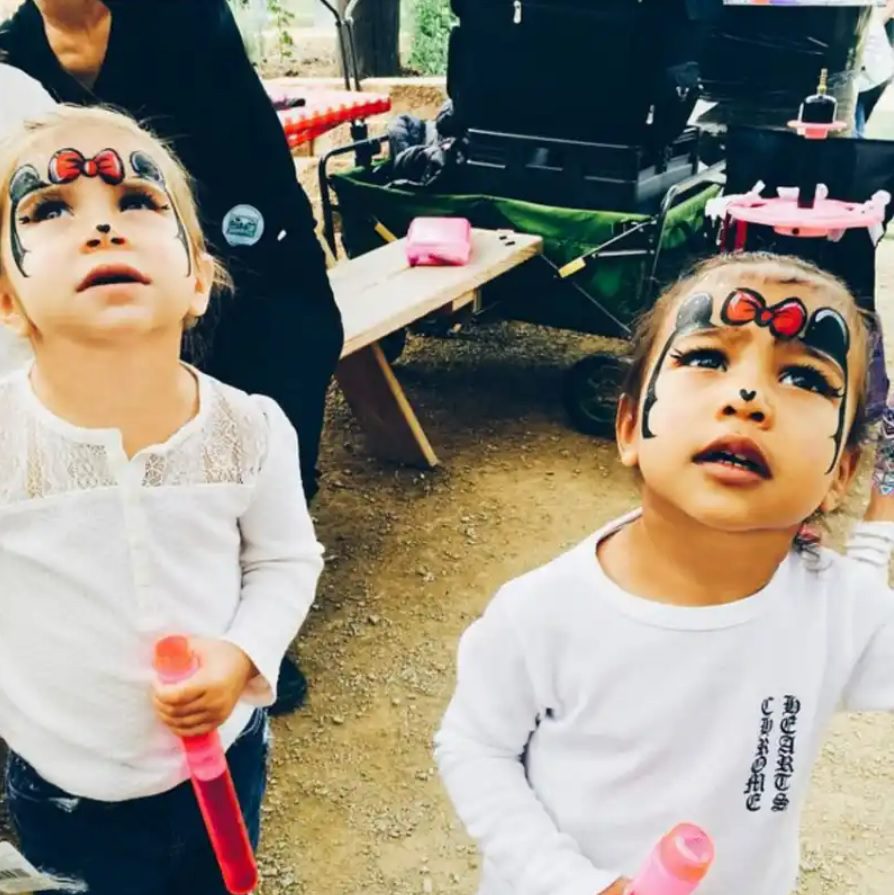 Can you tell that they wanted to look like Minnie Mouse? It's a little hard to see it, but we're sure that the girls didn't care. They were just happy to have their faces painted and their pictures taken. Either way, they look great!
As if!
Now, this is a costume we'd like to wear ourselves on Halloween. We can already envision the iconic Cher walking through the door wearing this yellow checkered school uniform and quoting her famous line. Penelope nailed her Cher impression perfectly.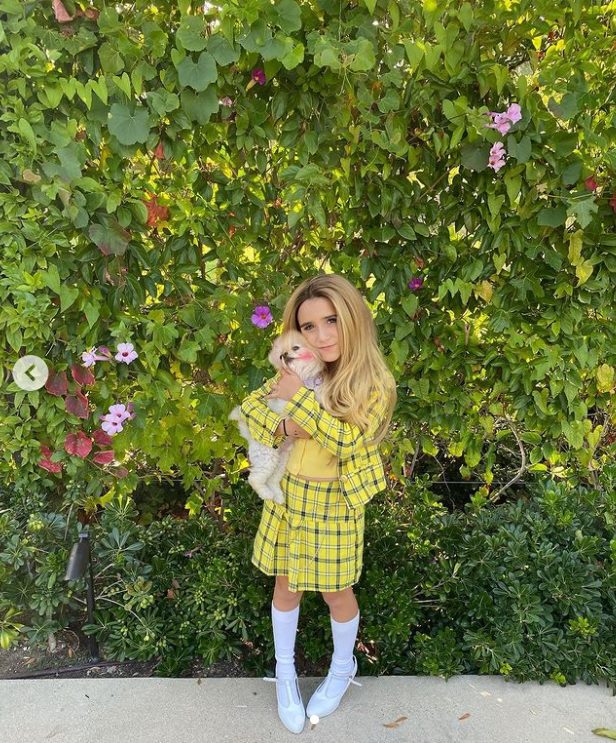 She got the costume right down to the long white socks and the shoes. This is another kid to whom we'd like to give all our Halloween candies to. She and her other cousins should go knock on doors together. They'd bring home a lot of sweets.
Flying fashionable
Look at little Stormi Webster feeling right at home traveling with her mother in a private jet. We love her clothes and her shoes. It looks like her mother's fashionable genes have rubbed off on her. If only we were this stylish when were younger.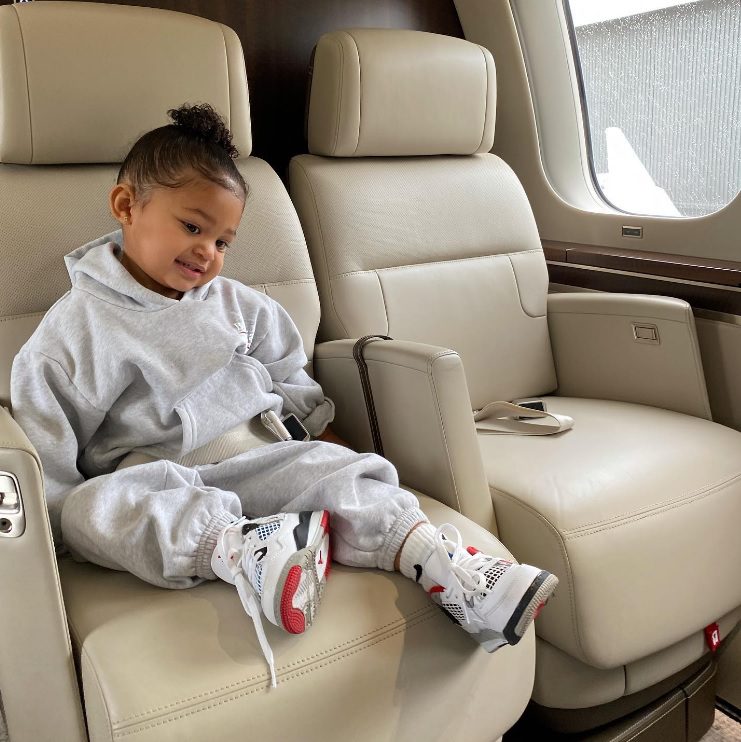 We're sure that her outfit costs thousands of dollars, money which we don't have to dish out on a sweat suit. It's indeed a good thing to be the daughter of a millionaire because you can have all the things you could ever ask for.
Matchy-matchy
Kylie Jenner uploaded this photo of her and her daughter, Stormi, on Instagram in December 2020. Stormi has recently grown up so much, and she's now an active toddler who loves running around and playing with her cousins any chance she gets.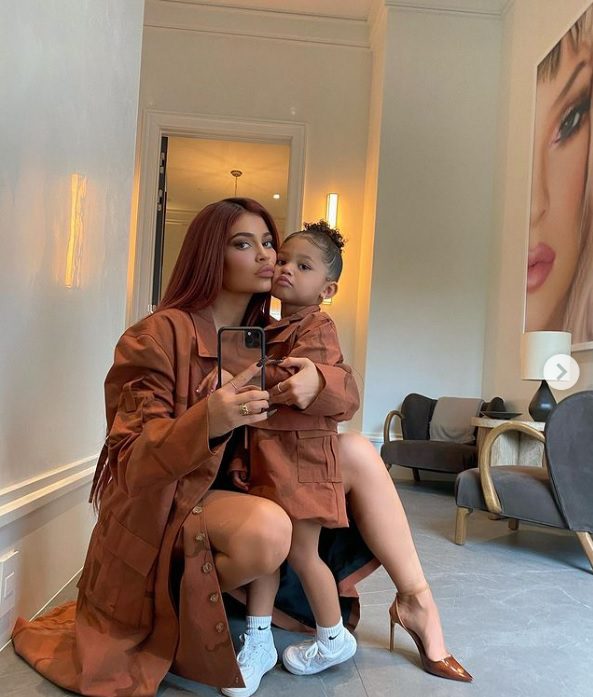 Here she is dressed to impress, and she loves the attention. From this picture, we can tell that she's going to grow up loving fashion, accessories, and makeup, just like her mother. She might just inherit her mother's makeup empire, too.
Showering Grandma with love
Although we are against creating social media accounts for children because who knows what type of people might try to get in contact with them. But we're sure that as a parent, Kylie has thought about this and has plenty of lawyers watching over these accounts.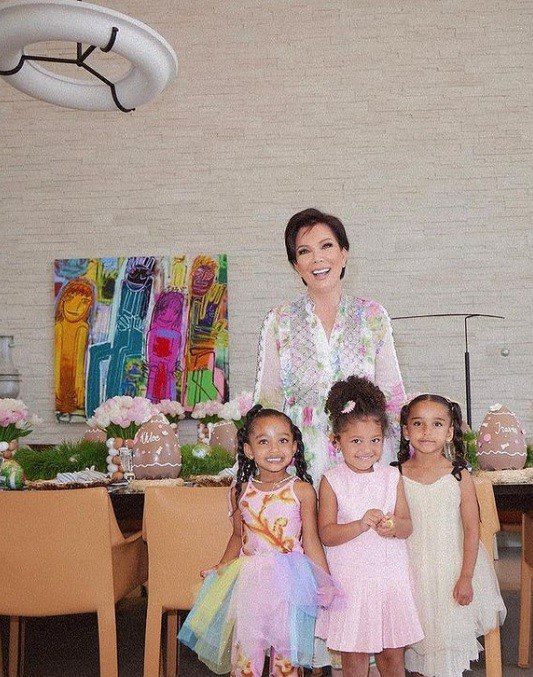 Here you can see Stormi and her other cousins showering their grandma with love and attention, and we can tell their Grandma is loving being surrounded by their boundless energy and curiosity. It's always good to see grandchildren spending time with their grandparents.