Wholesome Pictures Of Famous Apples And The Trees They Fell From
By Ekhama O March 13, 2023
---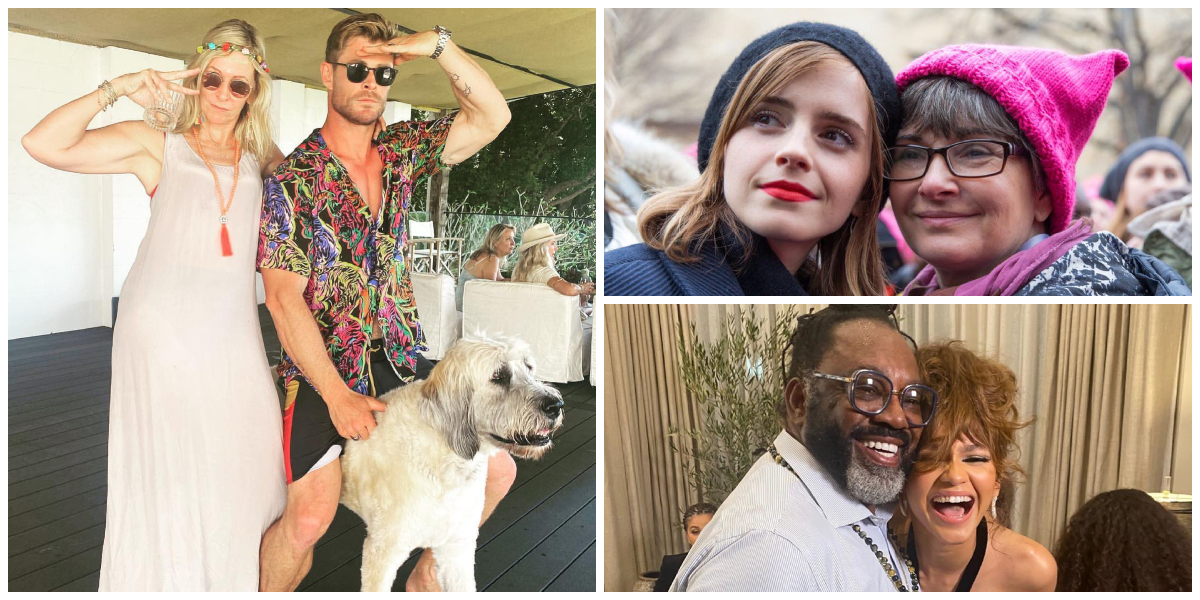 This article was originally published on

whythese

We're used to seeing celebrities with all kinds of people in all kinds of moods. Fans, friends, co-stars, and siblings are usually in their social media posts, but it's surprisingly rare to see them with their parents. Even celebrities that are open about their personal life rarely bring their parents into the mix, and it's even rarer for those who prefer to stay out of the limelight.But we're glad that the occasional parent-child photo makes its way online. Seeing our fav celebs with the people who brought them into this world brings us such joy.A cute picture of someone with their parent doesn't seem like a big deal at the time, but we tend to treasure the smaller things in life. And that's why we compiled this list. Have a look at 45 of the most wholesome photos of celebs with their parents shared online.
Patricia Ann and Jennifer Garner
Knowing a celebrity is close to their parent is nice enough, but knowing they've got a good relationship is absolutely amazing. That's the exact case with the popular actress, Jennifer Garner, who's incredibly close to both her mother and father.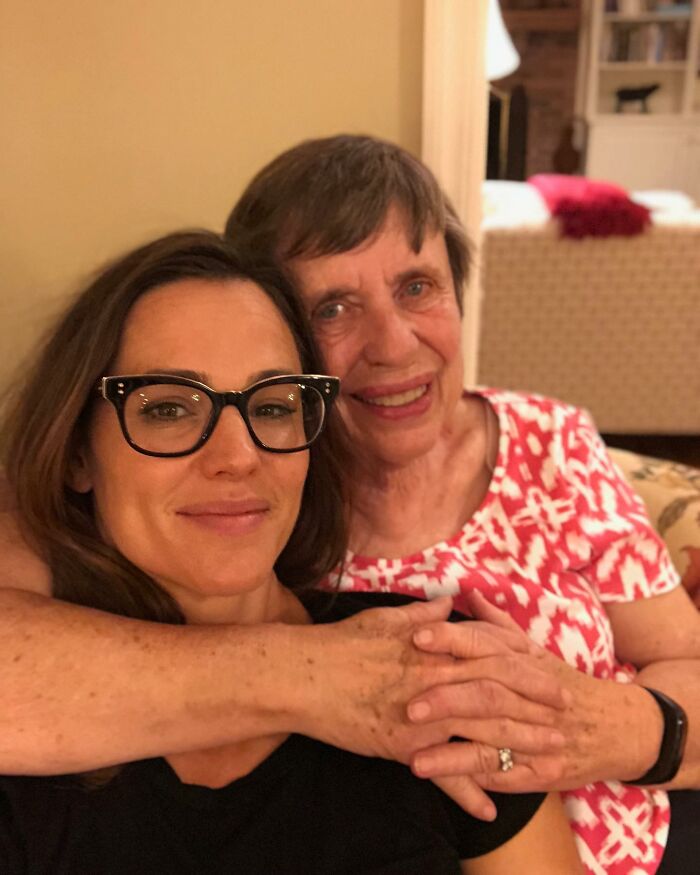 Time and time again, we see Jennifer gush about her parents on her social media. The picture above was posted to social media on her mother's birthday, along with a long and heartwarming caption wherein she praised her mother's hard work, determination, and bravery.
Tina Ann Drew and Jessica Simpson
Texas-born movie star, actress, and philanthropist Jessica Simpson is the loving mother of three kids. We don't know all about her family and friends, but what we do know is that she's got a pretty great relationship with her kids, sister, and mother.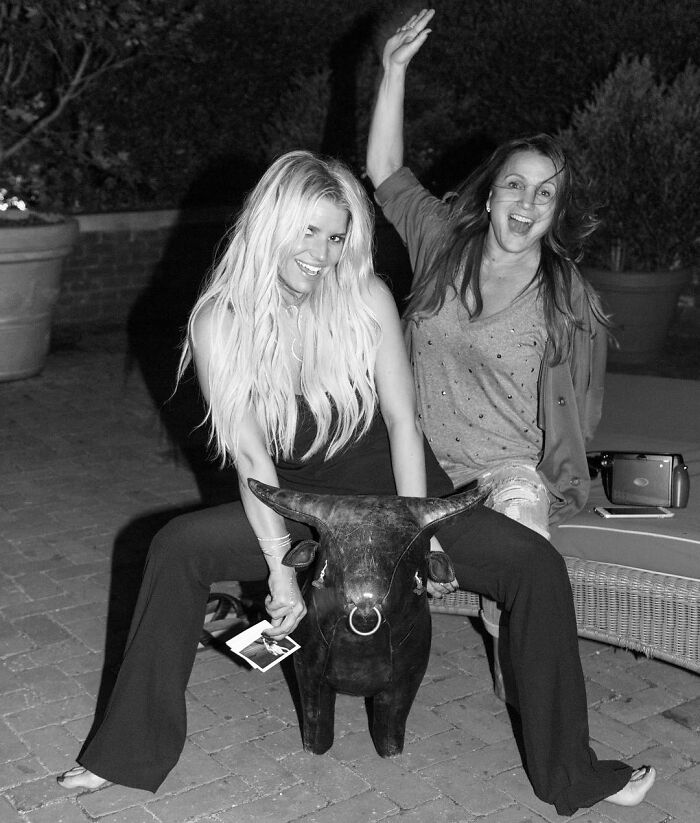 Jesica has shared countless photos of her sister, her mother, Tina Ann Drew, and herself on her social media pages, all having some fun and quality family time. The picture above was posted by Jessica on Mother's Day back in 2017.
Maria Dolores and Cristiano Ronaldo dos Santos Aveiro
You don't get to reach the pinnacle of the world of football and sports as a whole without having a few people that had your back, pushing you, and propelling you to be the person you became. And that's what we think is the case with Cristiano Ronaldo.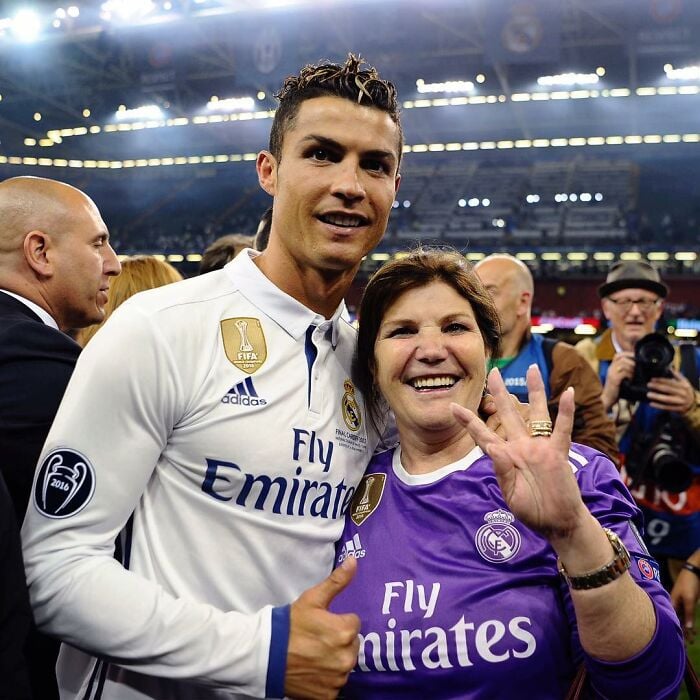 Today, he's regarded as one of the biggest stars in football, and we're sure his loving and caring mother, Maria, played a big part in that. We love how proud she seems, and happy they both look in this picture.
Sandra Georgina West and David Beckham
If we were to make a comprehensive list of some of our favorite football players of all time, David Beckham would be in one of our top spots. The former midfielder is known for his on-field prowess and for being a caring and loving dad to his four kids.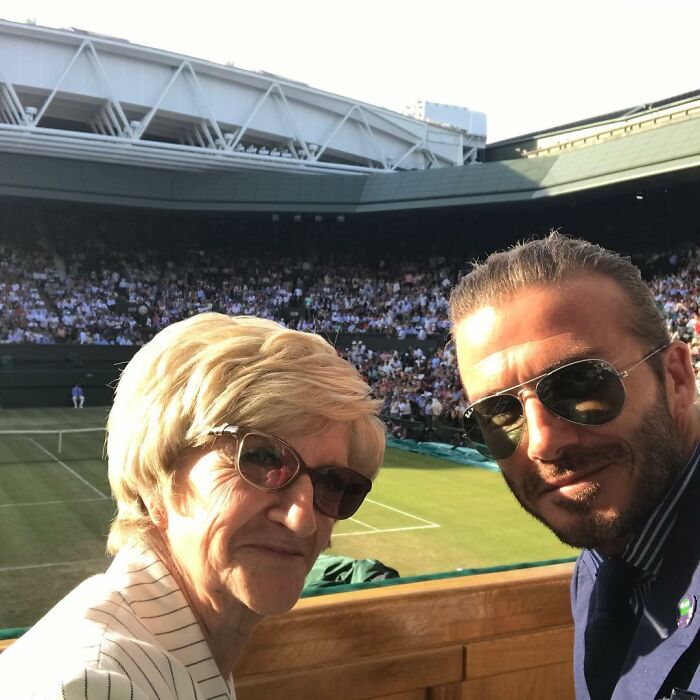 He must have learned that love and care from his mother, Sandra Georgina West, who he's reportedly really close to. The lovely picture above was a selfie of the two enjoying their time at Wimbledon and getting some nice sun.
Beyoncé and Matthew Knowles
When it comes to secrecy, Beyoncé takes it up to a hundred. The 28-time Grammy award winner likes to keep details about her family and personal life on the low; that's why we were super stunned when she posted this picture of herself and her dad back in 2016.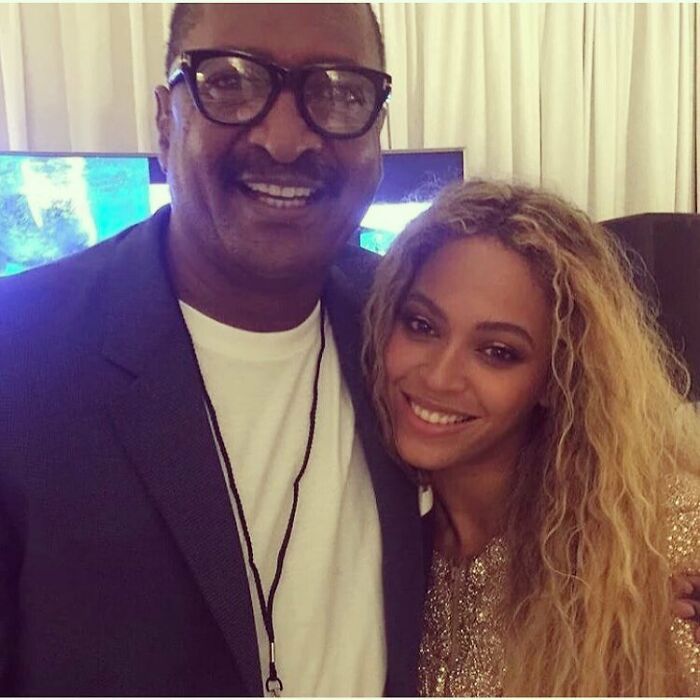 Beyoncé seems more open about being close to her mother, but we hardly get shots like this. Considering the reports that the two have had a rocky relationship, we aren't all that surprised. Nonetheless, we think the two of them genuinely look happy in this picture, and that's really wholesome.
David Lopez and Jennifer Lynn Affleck
Jennifer Lopez is widely considered one of the most influential Hispanic performers in the industry today, seeing as she's ventured into many fields in the entertainment industry and found success in all aspects. We're sure her loving parents are very proud.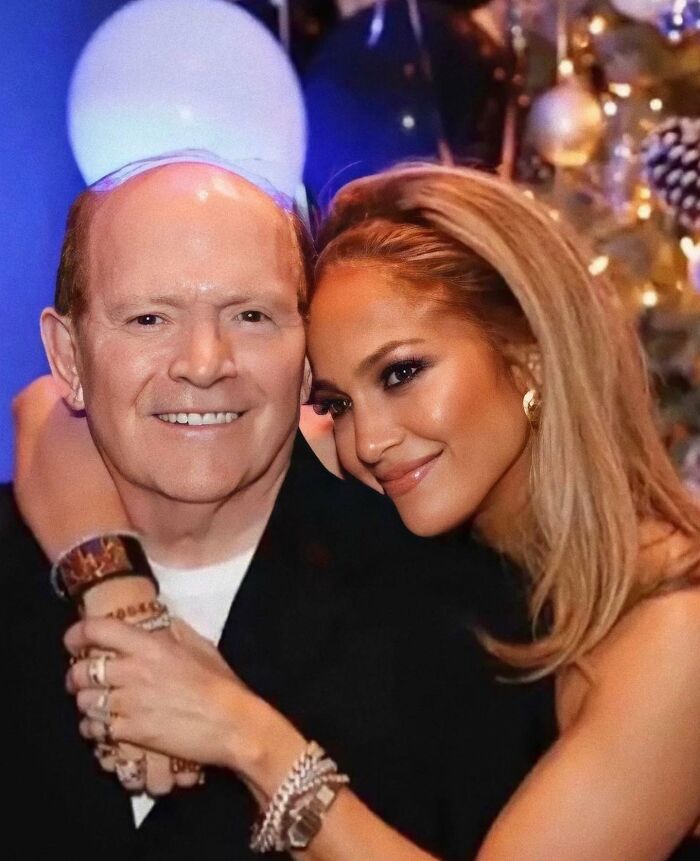 Jennifer has been really open about her relationship with her parents and how close she is to both of them. And although her father is much more hidden from the public eye than her mother is, we still get amazing pictures like this on his birthday and Father's Days.
Blythe Danner and Gwyneth Paltrow
Many people don't have the greatest relationships with their parents. Things can get a bit rocky at times, but that doesn't mean it can't work out in the end. That was somewhat the case with Blythe and Gwyneth; the actress opened up about her mother being hard on her when they worked together.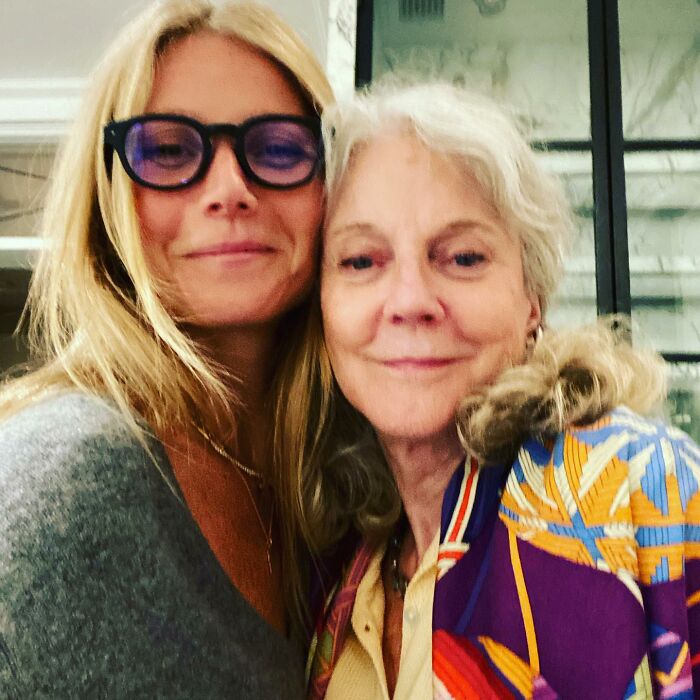 Nonetheless, the two have always shared a close bond, with Gwyneth making countless appearances with her mother and the elder even going on vacations with Gwyneth and her grandkids. She also never fails to pay tribute to her on her birthdays as well as Mother's Day.
Joseph and Kelly Ripa
It's always nice to see political figures out of the office, chilling and having a nice time just like the rest of us, and that's why we think this photo of the talk show host, Kelly Ripa, and her father, Joseph Ripa, is just the sweetest.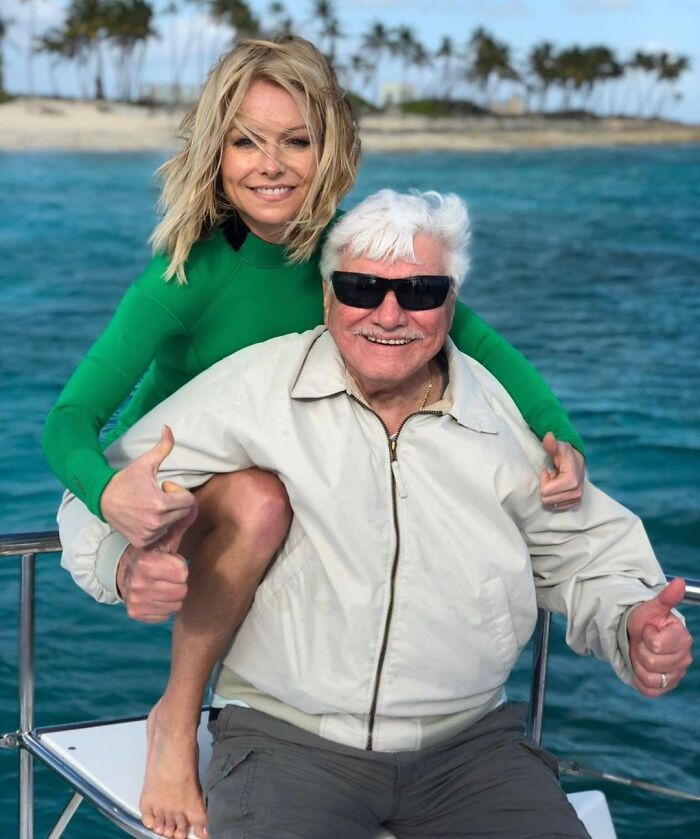 Joseph was the county clerk of Camden County in the state of New Jersey. He's also a war veteran and a loving father to Kelly, and she always takes every opportunity she gets to gush about him as well as her mother.
Janelle Ann and Nicole Kidman
Nicole Kidman is most recognized for being the Oscar winner who's starred in many critically acclaimed films and TV series. Not to mention being the ex-wife of one of Hollywood's giants, Tom Cruise, with whom she shares two adopted children.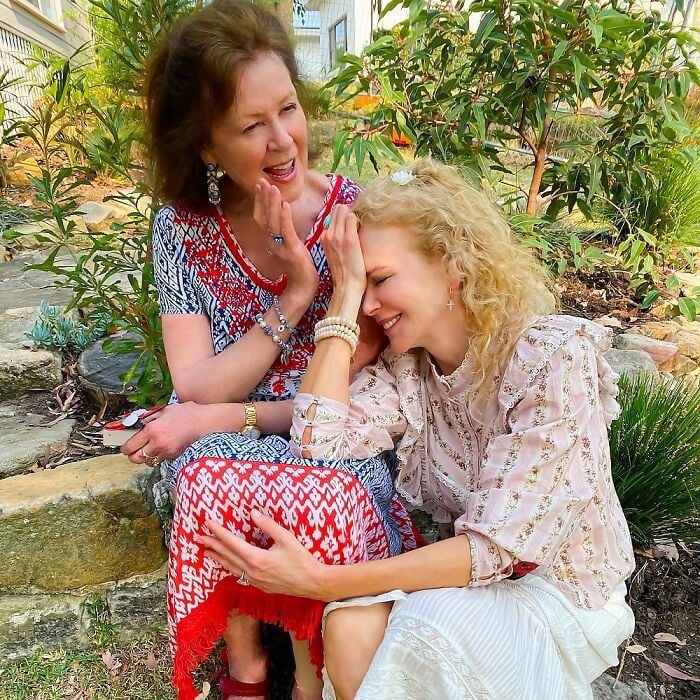 Although there was an alleged rift between Nicole and her kids, there's nothing like that when it comes to Nicole and her mother. The mother-daughter pair seem incredibly close; Nicole even traveled all the way to Australia to be with her mother when she was in poor health recently.
Lynn Bomar Harless and Justin Timberlake
American singer and songwriter Justin Timberlake isn't just an actor and one of the best-selling musicians in the world today, but he's also the holder of a doctorate degree and a husband with two children. Justin is a family man and not just a carer to his wife and kids, but his mother, too.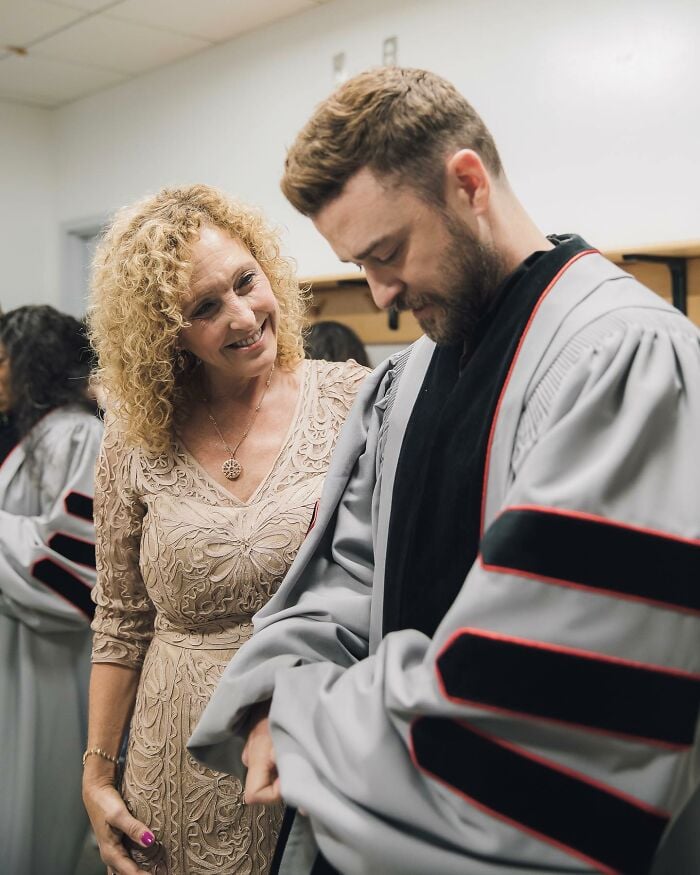 Reports have it the musician and his mother, Lynn Bomar Harless, had a pretty tight relationship when he was much younger, and that hasn't seemed to change. She's even cameoed in one of his music videos and been his plus one. This heartwarming photo was snapped when he was awarded his doctorate degree.
Kathy and Chris Pratt
If you have even the slightest knowledge of the Guardians of the Galaxy star and how he is as a person, you'd know he's a "family guy" type of person. He's very open about his love for his close ones like his wife, kids, and parents.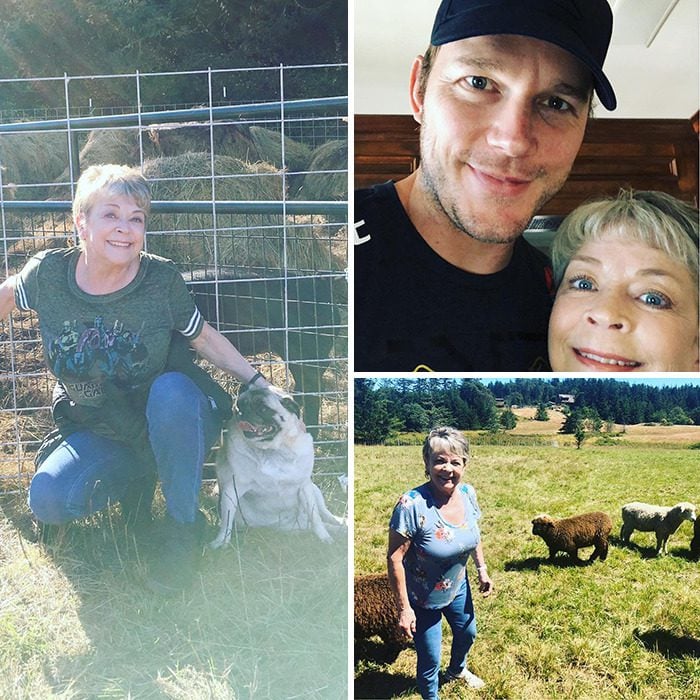 On Mother's Day back in 2020, Chris posted this cute collage that featured photos of his mother on her farm—and some selfies, of course. We've seen dozens of adorable photos of Chris with his kids, but we have to say, these ones are amongst our best picks.
Leonie and Chris Hemsworth
We think, for actors and actresses, it can be interesting to compare the kind of roles they take, and how close they are to their actual personalities. When it comes to Chris Hemsworth, it seems he's just as goofy on screen as he is off it.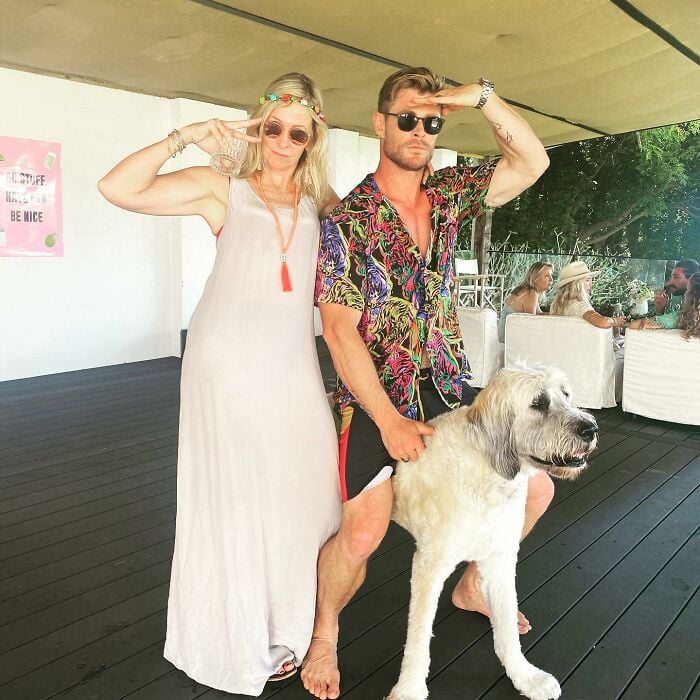 Chris made a photo dump on his Instagram page that was filled with images of himself alongside his mother, Leonie Hemsworth, as well as family and friends all gathered to celebrate her 60th birthday. We love how much fun they seem to be having and how cute the pictures were.
Coni and Jason Momoa
Jason Momoa's film and TV appearances often cast him as the tough guy. From Khal Drogo in the popular TV series Game of Thrones to the DC superhero Aquaman, the burly, stoic fighter is usually typecasted as. With his buff build, we can't blame the casting agency.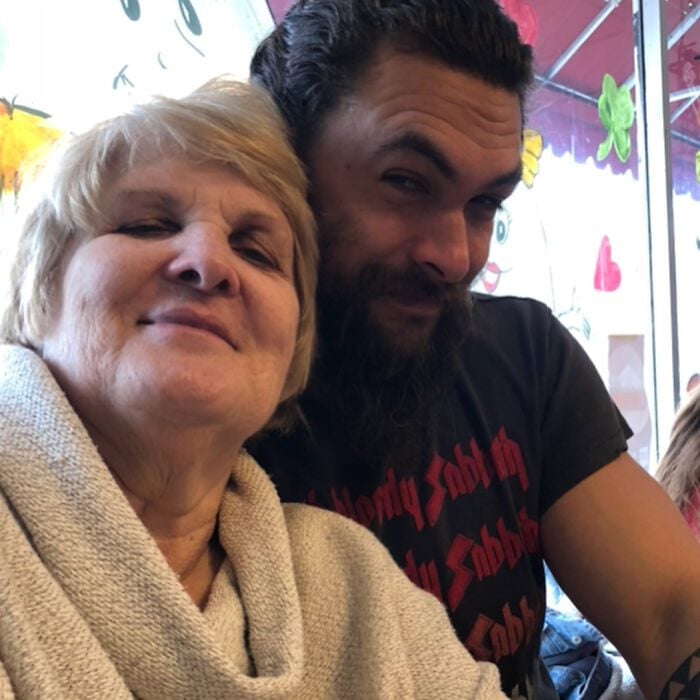 That's why we always find it sweet that he looks so soft and kind whenever he's around his ma, Coni Momoa—who, by the way, gives off the warmest grandma vibes. He's made a couple of appearances with her at events alongside his children and ex, Lisa Bonet.
Marlene and Bruce Willis
Another person who is infamous in Hollywood for always playing the "tough guy" role is Bruce Willis. Since the release of the first Die Hard movie, fans have found it difficult to see him as anything but a hardcore hero.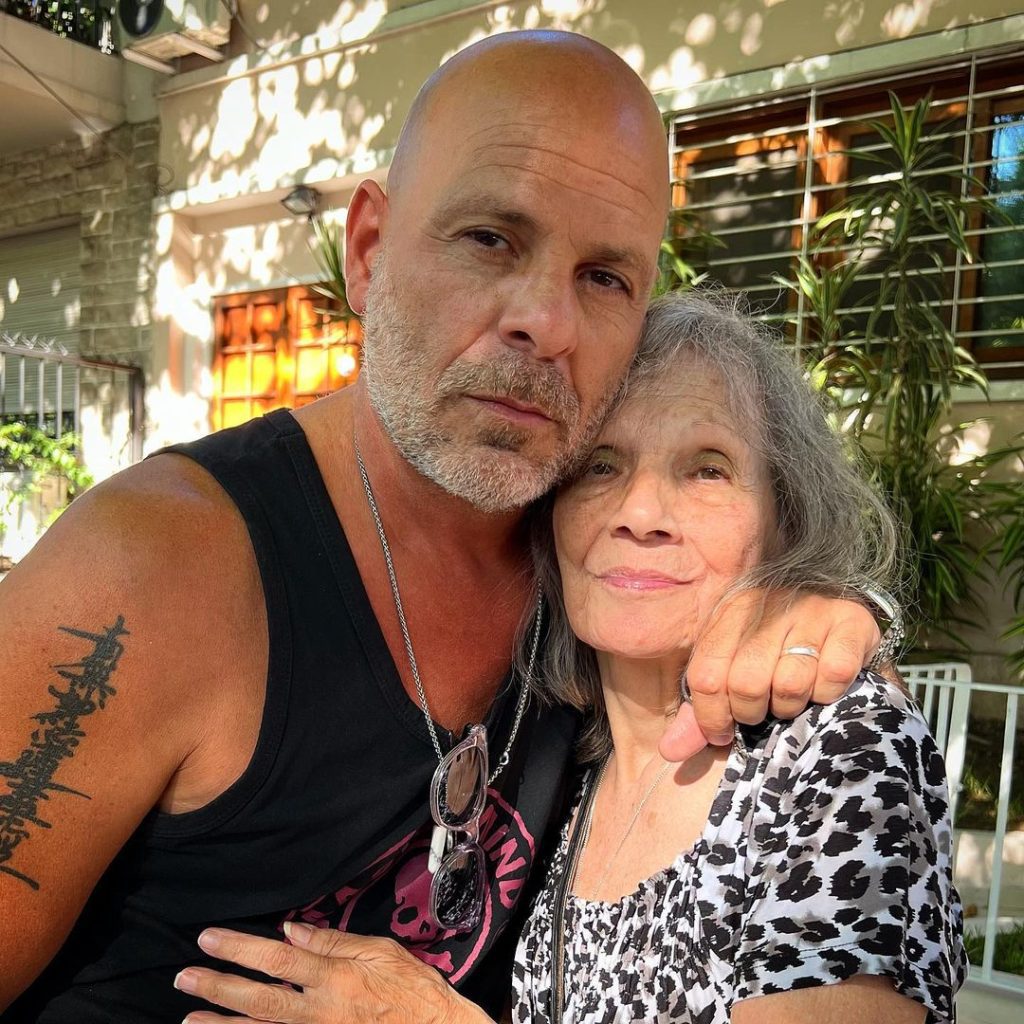 In real life, though, he is a softie that adores his German-born mother. In fact, Willis is known to love his whole family. Sadly, he was diagnosed with frontotemporal dementia in early 2023, but it is said that he is receiving all the love and support from the ones he holds dear.
Kurt Russell and Kate Hudson
While all celebrity parents are incredibly special and all worthy of some form of recognition in our book, we do already tend to acknowledge those who are well-known and celebrities themselves rather than being just the parent to a celebrity.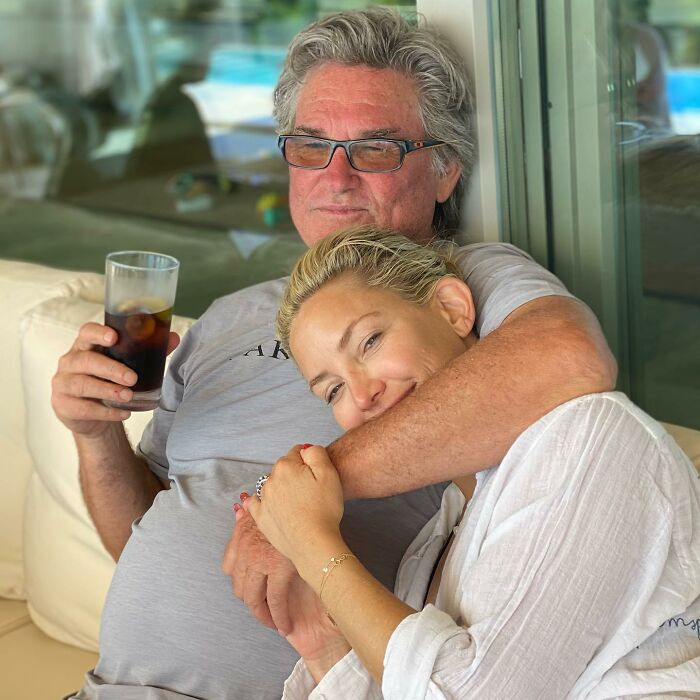 Action drama actor Kurt Russel and actress Goldie Hawn tied the knot in 1983 and have been together ever since. Kurt then became Kate Hudson's stepfather, and the two seem to share a really close bond which we find absolutely heartwarming.
Jennifer Sue and Cindy Crawford
The fashion industry and the world of modeling have undergone tremendous change over the past few decades, so it can be easy to get caught up in the times of the day and forget some of the faces that were trendy in the past. Cynthia Ann Crawford is one of those faces.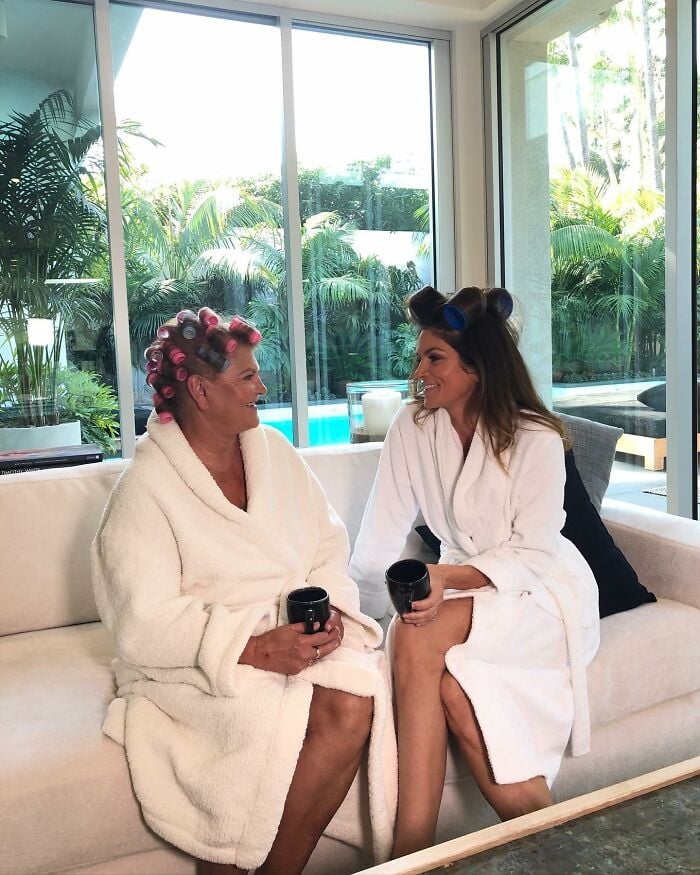 The model and actress was a presence to be reckoned with in the industry during the '80s and '90s. The lovely woman in hair rollers on the left to her is her mother, Jennifer Sue, with whom she's really close.
Robert Downey Sr. and Jr.
Making it big in Hollywood is no easy feat, but there does seem to be a trend of celebs with famous parents who sought out similar life paths in the industry. That's the exact same situation with Robert Downey Jr. and his father, Robert Downey, who was a filmmaker.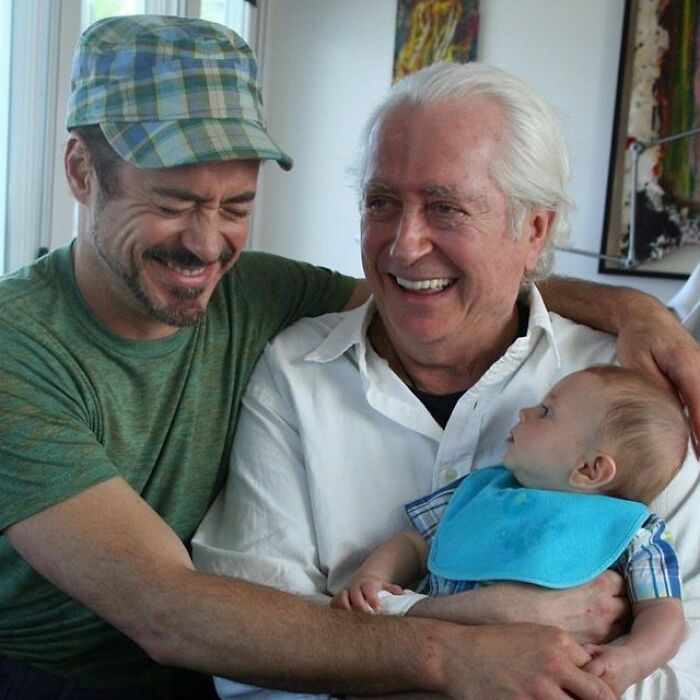 Other than both the father and son claiming fame in their respective professions, they also share very similar features, as can be seen from just this one heartwarming picture. It's pretty clear Robert will look very similar to that when he's much older.
Vania Nonnenmacher, Valdir and Gisele Bundchen
Brazilian fashion model Gisele Bundchen is one of the world's highest-paid models… and has been since 2001. She is also the ex-wife of the popular American Quarterback, Tom Brady, and a mother of two, whom she shares with the star.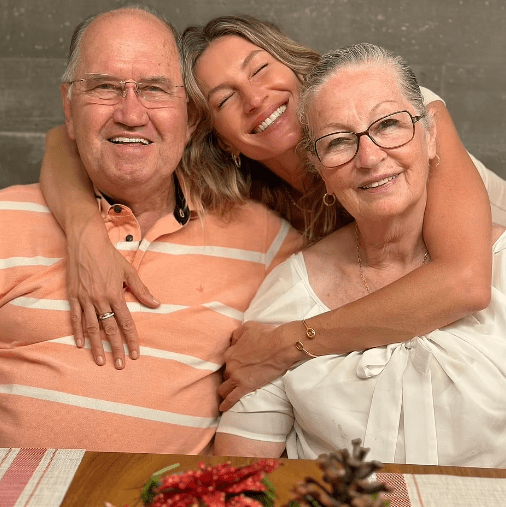 Following her divorce from the football player, she took a trip to Brazil where she spent time with her parents. The lovely picture of the three of them was posted alongside several others of her and her loved ones enjoying themselves and having some quality family time.
Julie and Lucy Hale
Multiple-time Teen Choice Award winner and Pretty Little Liars actress Lucy Hale is the loving daughter of her mother, Julie Hale. She often credits the wonderful woman for her success, stating the countless sacrifices Julie made to get her daughter where she is today.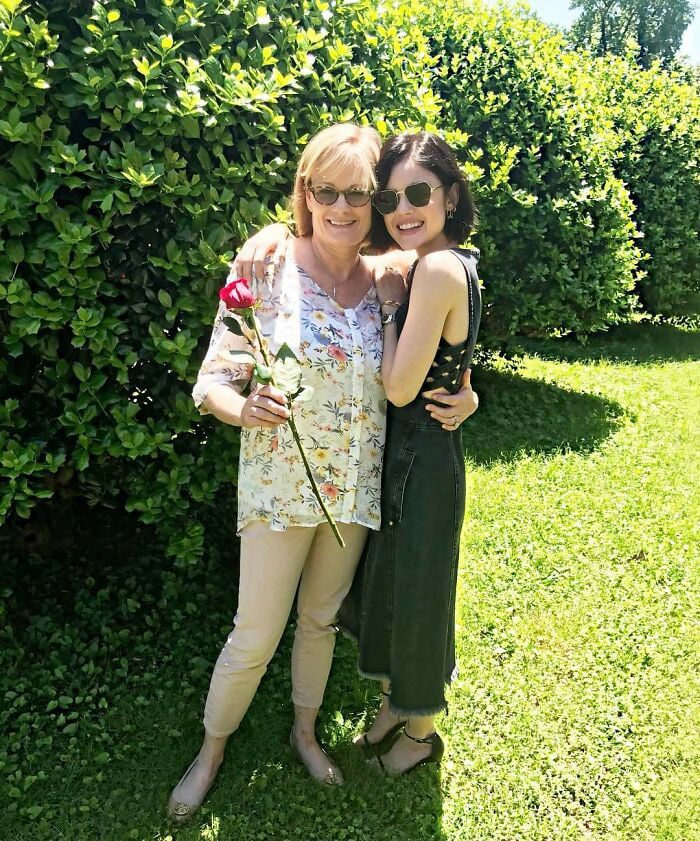 Lucy has made multiple posts about Julie on her social media pages, celebrating her on Mother's Day as well as her birthday. We find every single one of those pictures adorable, but we think this one with big smiles on both their faces is worth recognition.
Betty Reese and Reese Whitherspoon
We've come across a long line of lovely-looking celeb parents in this post so far. While all of them have their unique features, and their celebrity children bear some form of resemblance to them, we can't help but say Betty Reese has got one of the most striking smiles we've ever seen.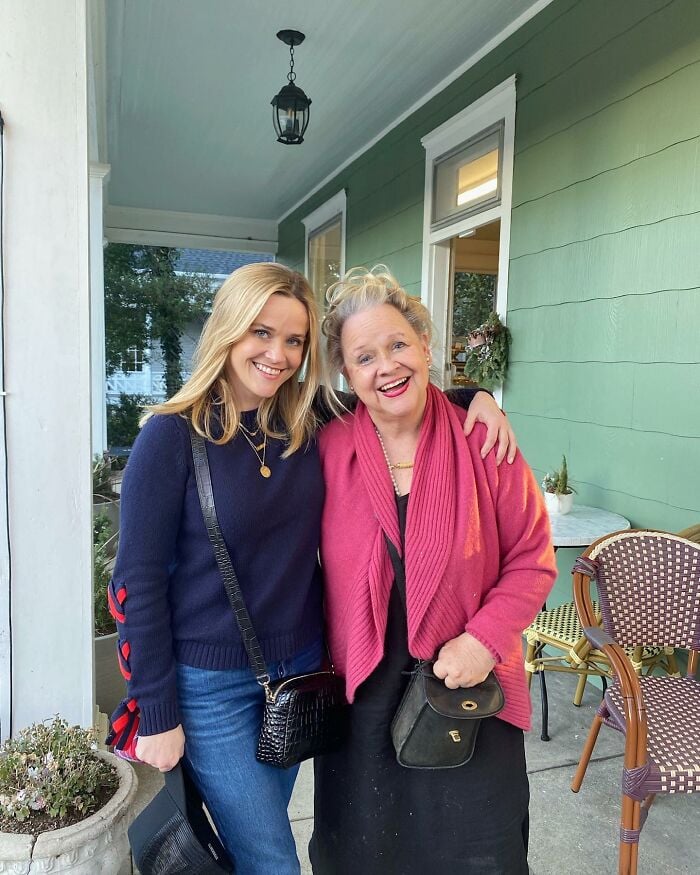 Not just that, but Reese is a near carbon copy of her mother, which isn't so outrageous (since she's her daughter), but it's so striking, we can't help but remark. Reese seems close to her mother, as she always speaks well of her and sends tributes to her.
Terria Joseph and Alicia Augello
Sometimes, it can be pretty hard to tell exactly how a celebrity feels about their parent and what their relationship is like. But other times, it's crystal clear. When it comes to the popular artist, Alicia Keys, and her mother, Teresa Augello, it's very much the latter.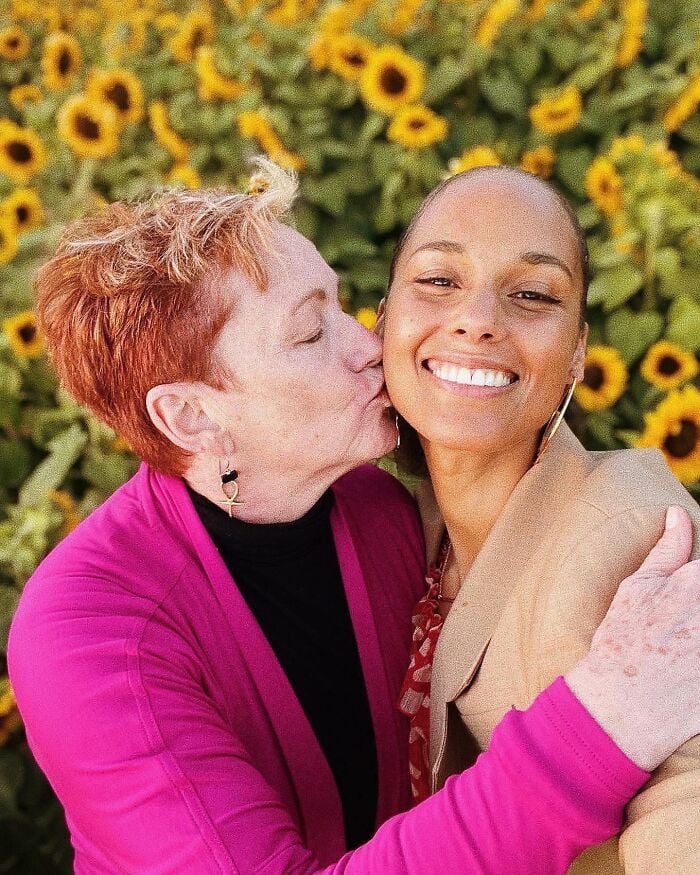 Alicia has made numerous appearances with her mother, whom she has nothing but love and respect for. There are dozens of wholesome posts on Alicia's social media pages of the star wishing Terria a happy birthday and Mother's Day on numerous occasions.
James and Paul McCartney
Former Beatles member and English singer-songwriter Paul McCartney is—alongside his Beatle brothers—a legend in the psychedelic rock and blues sphere. His career has spanned decades and he remains an inspiration for upcoming artists in the genre today, and will likely do so for generations to come.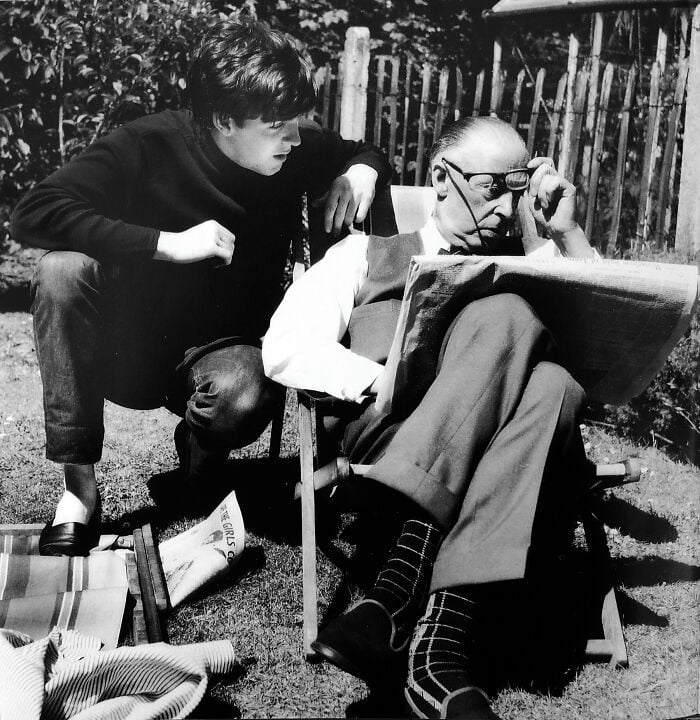 The picture above was taken by Mike, Paul's younger brother, Mike McCartney. Paul seems to be bothering James while he's enjoying his newspaper and we think it's absolutely adorable. No matter how much times change, kids bothering their parents will always be a constant.
Tony Curtis and Jamie Lee Curtis
When celebrities have famous parents and are in the same sphere as them, it can be interesting to compare and contrast the two. While Tony Curtis' six-decade long acting career saw him perform in a wide range and variety of roles, Jamie is renowned in the horror and slasher genre.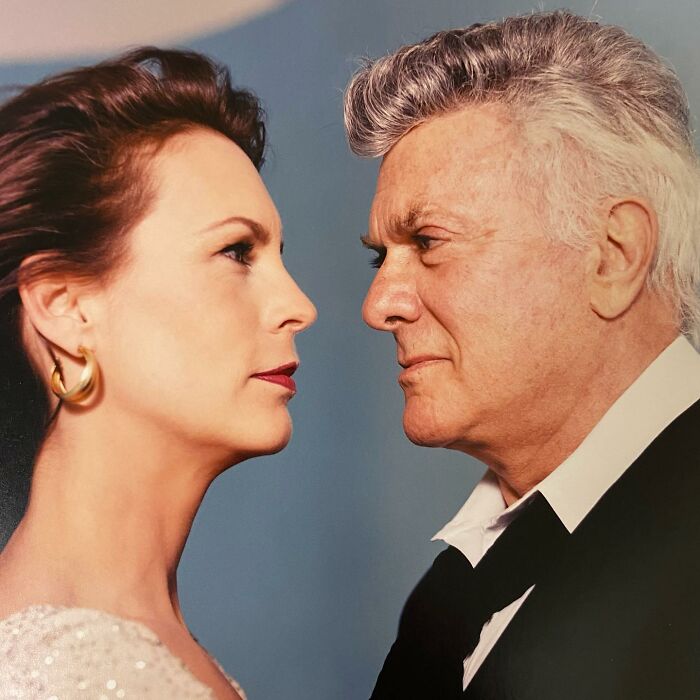 Regardless, the two are certified legends in Hollywood and although we think Jamie took more from her mother, Janet Leigh, in the looks department, we still think this image shows just how much the two reflect each other in careers and features.
Goldie Hawn and Kate Hudson
If you've ever heard Kate Hudson and Goldie Hawn and heard of the phrase "like mother, like daughter," then you'd understand why we say the pair are the quintessence of that. The two are identical in not just careers but looks, too.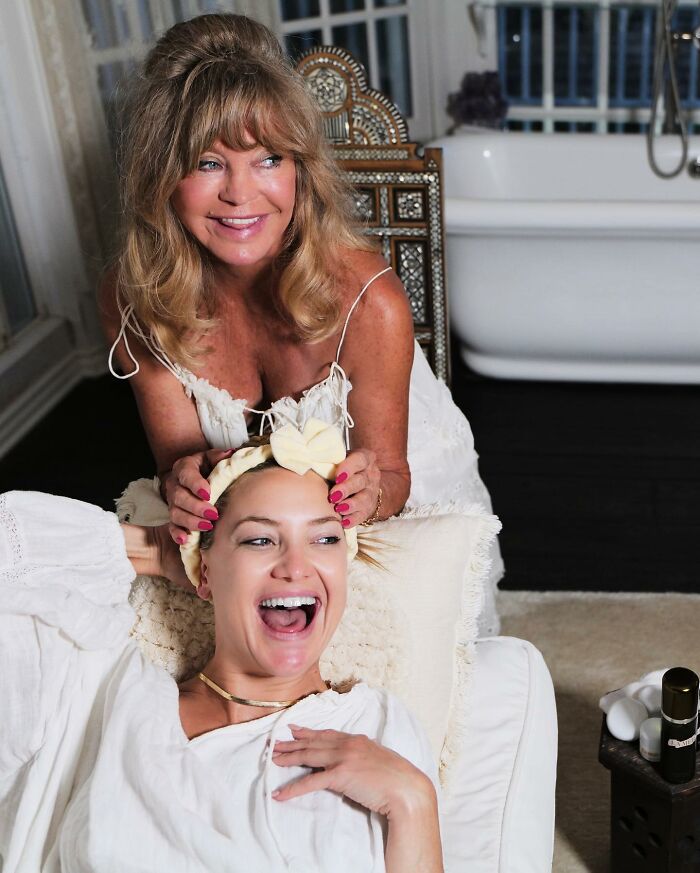 Kate has been pretty open about having a close relationship with her stepfather, Kurt Russel, and her mother, Goldie Hawn, who both raised her. The cute photo above might have been for an ad, but they still look lovely in it together.
Nicole Flender and Timothee Chalamet
2017 saw the breakout of many stars in Hollywood, some of which are still riding on that wave of success today. One of such actors just happens to be the charming Timothee Chalamet for his role in the critically acclaimed movie Call Me by Your Name.
Now, Timothee Chalamet is one of the youngest and most recognizable names in the industry, making his mother really proud. The picture above was taken right before the pair attended the 2019 Golden Globes together and shows just how alike the two are in looks.
Edward Butera and Ariana Grande-Butera
For most of the celebrities we've mentioned in this post so far, they've had pretty decent relationships with their parent— from what we can tell. When it comes to Ariana Grande and her father, Edward Butera, that isn't exactly the case.
Reports have it the "7 Rings" singer was estranged from Edward for a while and that they've had a rocky relationship in the past. Nonetheless, we still think this picture of the two sharing a hug is cute and worthy of a mention.
Jacqueline Luesby and Emma Watson
If there's anything that makes a celebrity charming, it's not just their attitude but what they stand for as well. Emma Watson is one of such celebrities, being an absolute delight and incredibly kind individual as well as an activist.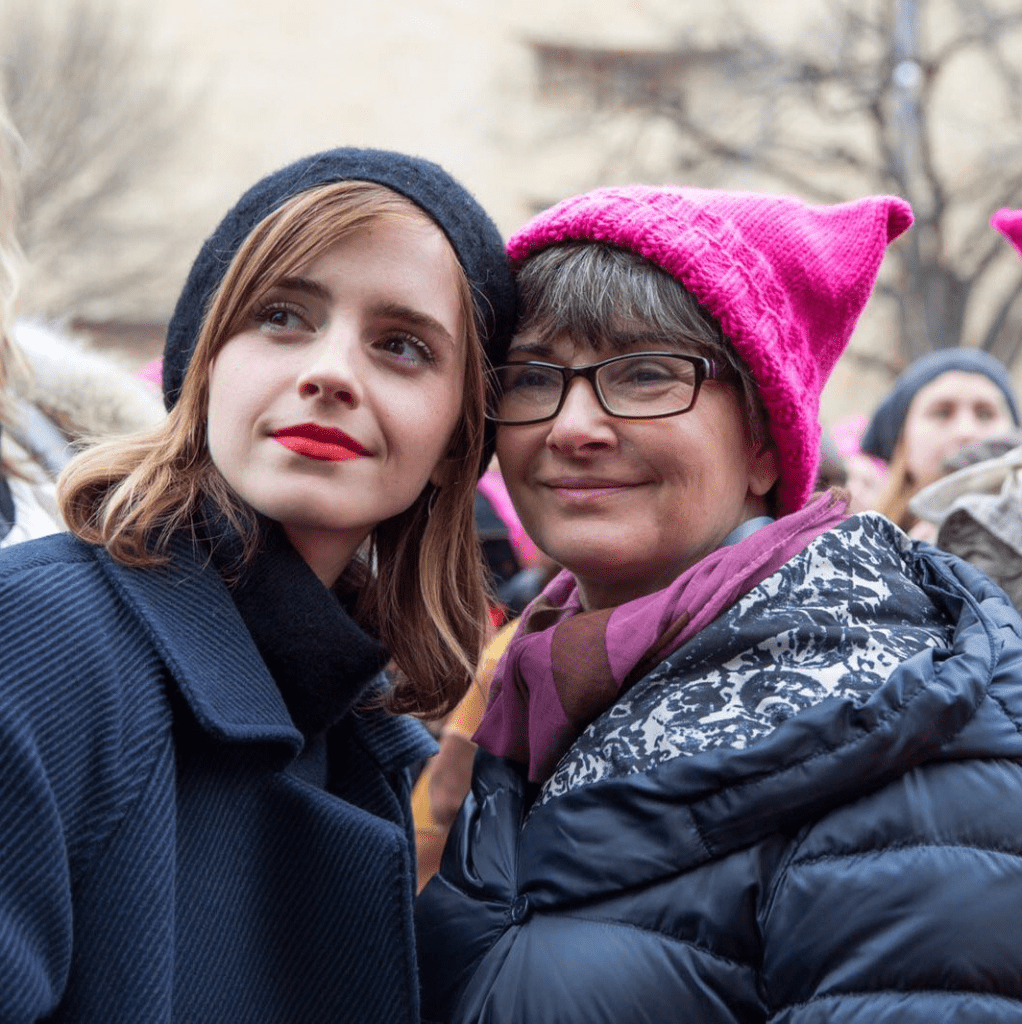 That's why we thought it was very interesting to see how the woman that brought her into the world would look like and we have to say, we feel the exact same delightful and kind vibes we sense in Emma when we see her. Seems we found where she got it from!
Gerda Jacoba Aletta Maritz and Charlize Theron
South African actress and Atomic Blonde star Charlize Theron might be known for being a downright bada** in most of her roles in action movies, but what many people may not realize is that she's also a caring mother of two and loving daughter.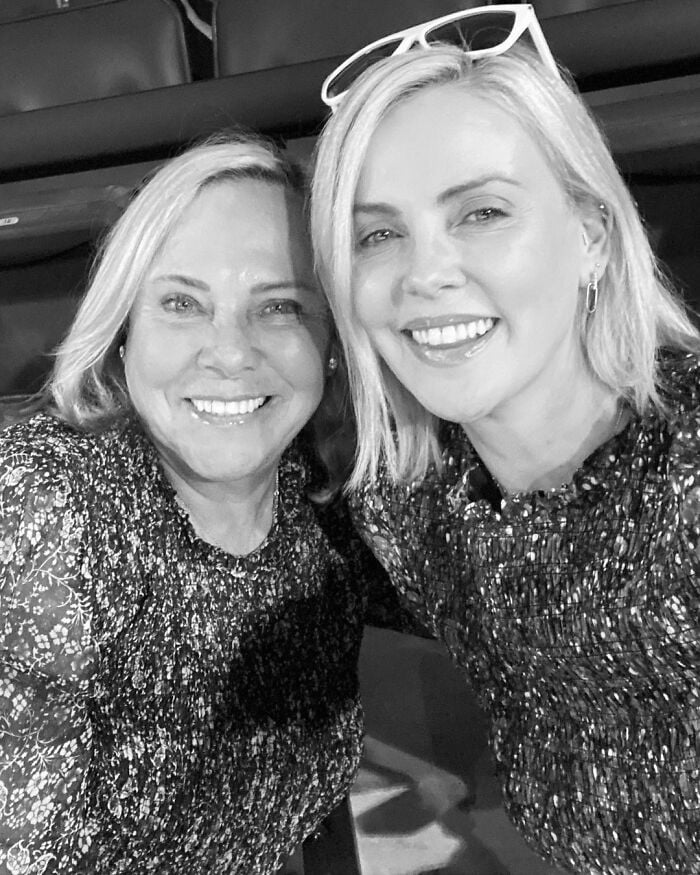 Charlize posted a photo dump on her Instagram page on her mother's birthday in 2022, filled with wholesome photos of the two chilling and having a downright good time. And, of course, there were pictures of Gerda and her grandkids in the photo mix.
Kimberly Biel and Jessica Timberlake
Many partners share similar qualities with their spouse, especially when it comes to their opinions and behavior. That's why it came as no surprise to us when we learned that just like Justin Timberlake, his wife Jessica Timberlake has also got a pretty got relationship with her mother.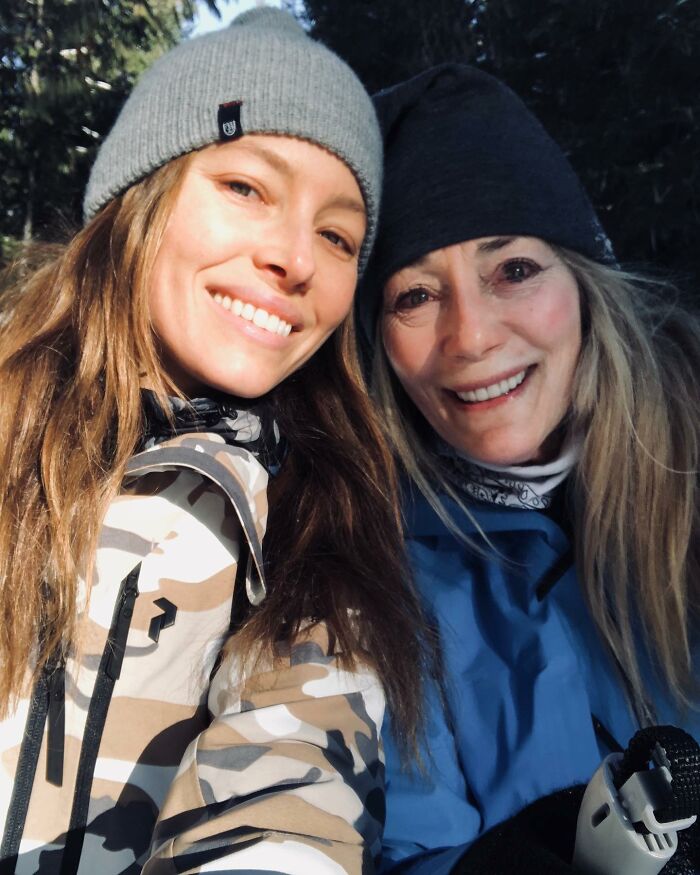 Former spiritual healer and full-time homemaker Kimberly Biel is the loving mother of Jessica—the kind-looking woman to the right in this lovely picture above. There are dozens more like this on Jessica's social media, and we love each and every one of them.
Tammy and Ryan Reynolds
If there's anything Ryan Reynolds is known for besides starring in numerous successful action comedies, it's his playful banter with his loved ones on the internet. We have seen it with his wife, Blake Lively, and even with his parents.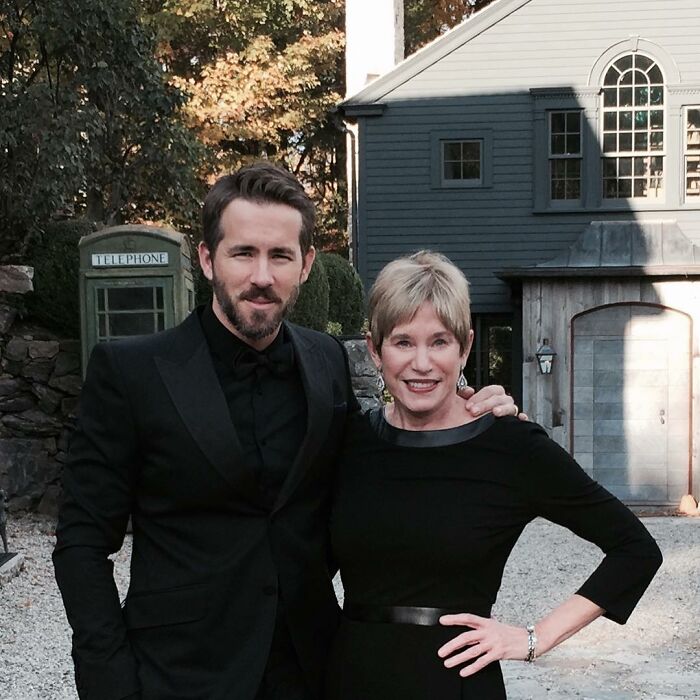 Ryan posted this photo of him and his lovely mother, Tammy Reynolds, quite a while ago on Mother's Day with a funny caption to follow. Tammy and her husband, James Chester Reynolds, have also accompanied the actor to numerous events, giving us hints he's got a pretty good relationship with them both.
Colin Stone and Orlando Bloom
Orlando Bloom was raised by his mother with the help of a family friend. The man he knew as his father passed away when he was four, but as it turned out, that family friend, a man named Colin Stone, was actually his biological father.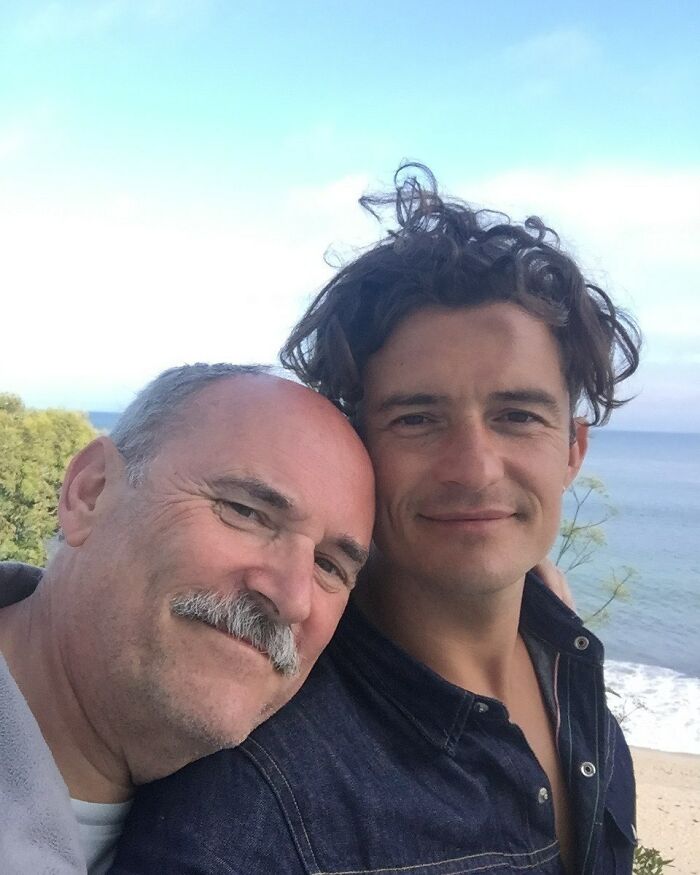 Despite the rocky start, the Lord of the Rings star seems to share a pretty good bond with his father. The lovely photo above was posted by the actor on Father's Day in 2020. We think it really shows off how closely they resemble each other; just look at those eyes!
Christopher and Hugh Jackman
Seeing a celebrity pictured with their parent is wholesome enough, but if the pair are close or have a really strong bond, it makes the photo all the more amazing to behold, just like all the ones of Hugh Jackman with his father, Christopher John Jackman.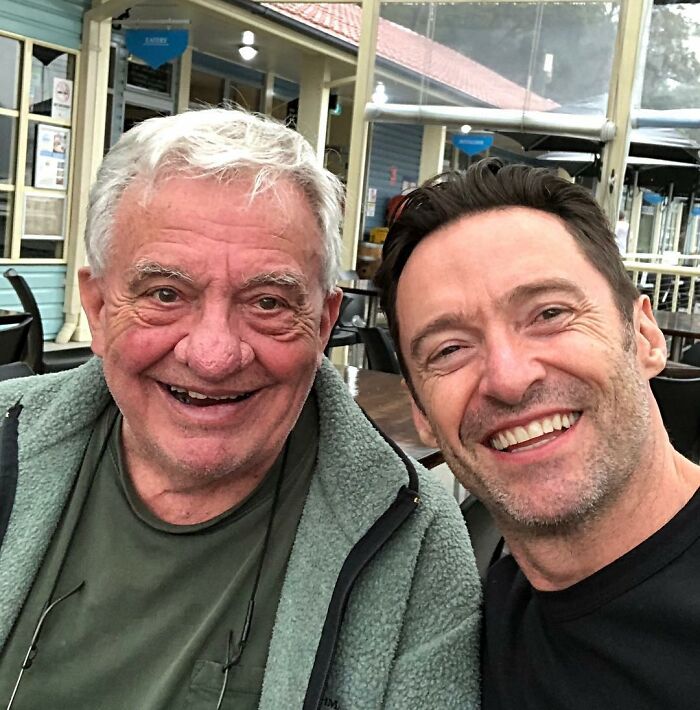 Hugh has described his father as his rock and still pays homage to his father on his birthdays and Father's Days despite Christopher's passing in 2021. Seeing as he was a single parent, raising Hugh and all four of his siblings since the former was eight, we see why.
Cynthia and Stefani Joanne Angelina Germanotta
Stefani Germanotta, more famously known by her stage name "Lady Gaga," has established herself as one of the best pop stars of the current era and an icon in the industry. Although she's become mellow in more recent years, many people still recognize her for her over-the-top wardrobe and persona.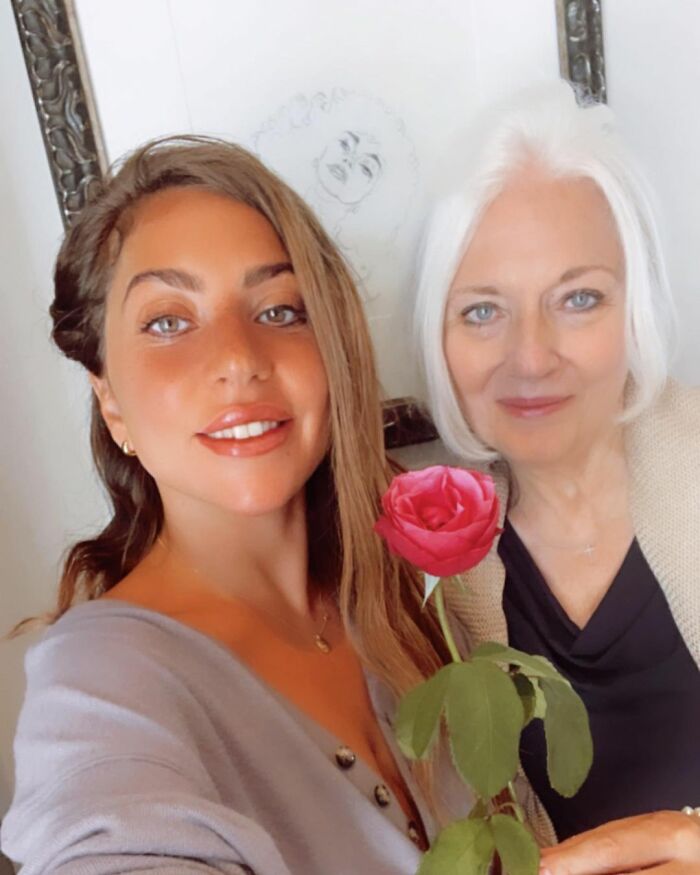 That means they often forget it's just all a front and she's really like any normal person. She loves her dogs and her wonderful ma. Together, they founded a charity foundation, which Cynthia heads, that focuses on youth mental health.
Constance and Jared Leto
Out of all our favorite Hollywood stars, the actor, Academy Award winner, and Thirty Seconds to Mars member Jared Leto is one of the few we can comfortably say ages backward. After seeing his mother, Constance Leto, we understand where he gets it from.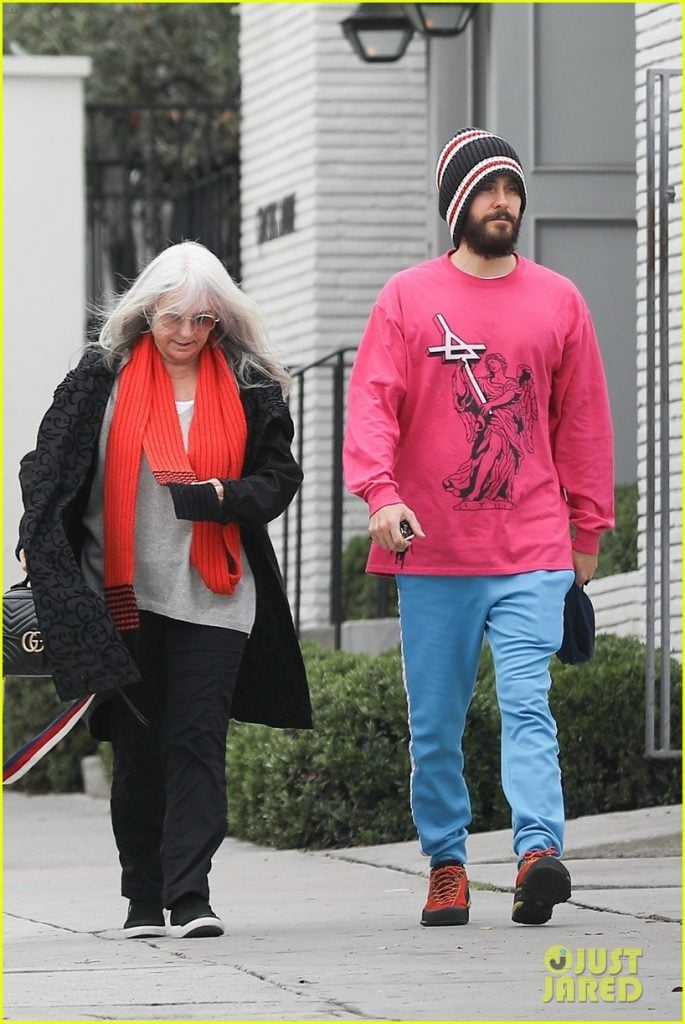 Jared has paid countless tributes to Constance, most remarkably the one on his 50th birthday and during his speech when he won the Oscar for best-supporting actor back in 2014. We love seeing a good mother-son bond, and this is everything.
Donald and Mandy Moore
Mandy Moore is a mother of two and a Hollywood star; being recognized in the industry as a musician and actress. Her father, Donald Moore, was a pilot and raised Mandy alongside his ex-wife and her mother, Stacy, before they got a divorce.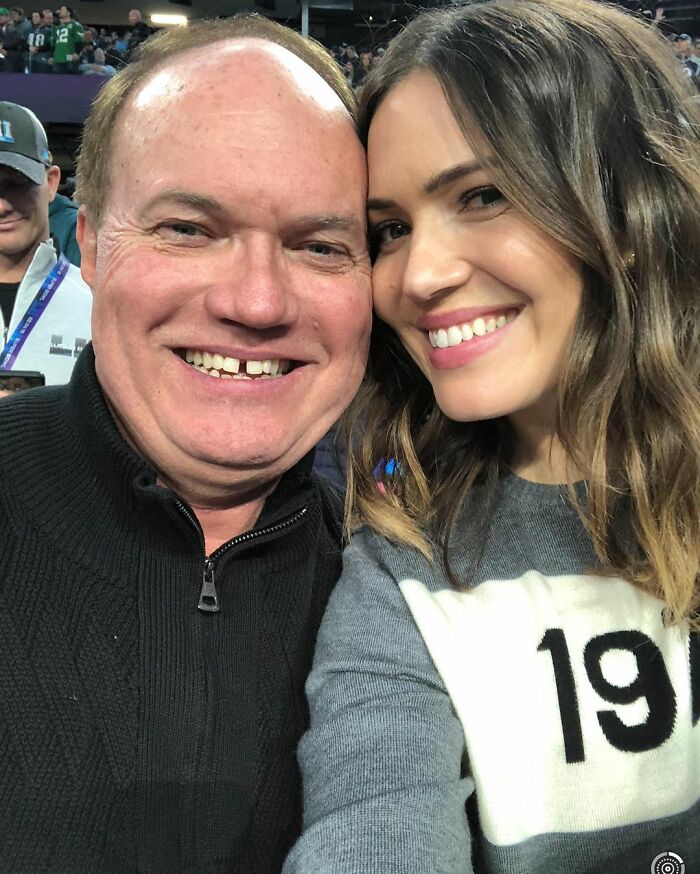 The picture above was shared by Mandy on her Instagram page on Father's Day in 2020 with the sweetest little caption in a toast to her father and what she means to him. He seems like such a kind man, and we now see where she gets it from.
Therese and Miranda Kerr
Victoria's Secret is by far one of the world's biggest lingerie and clothing retailers out there, so any model associated with it can say they made it big. Miranda Kerr, one of the first from Australia as well as Victoria's Secret angel, is one such model.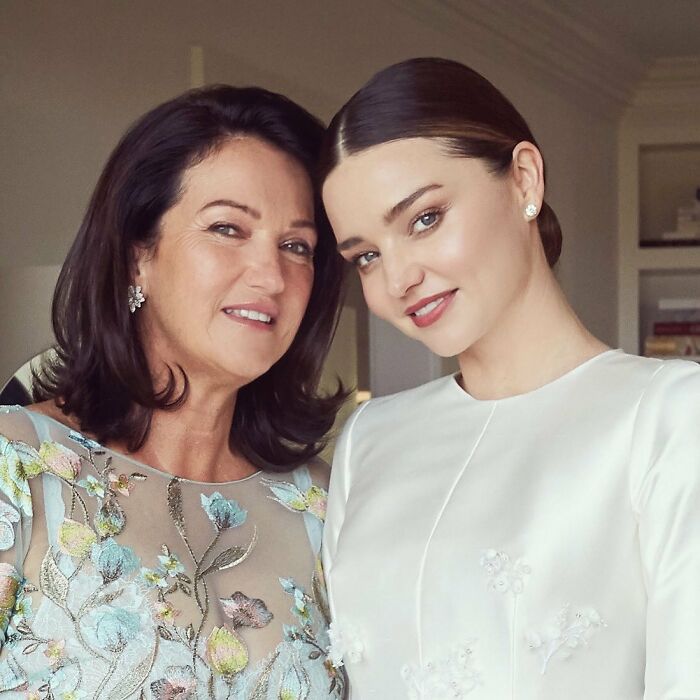 The beautiful woman standing right beside Miranda in the picture above is Therese Kerr, her loving and caring mother. This image was posted on Miranda's social media on Therese's birthday in 2021, of course, accompanied by a sweet and heartwarming caption.
Dianna De La Garza and Demi Lovato
Actress and singer-songwriter Demi Lovato has got quite the number of accolades under her belt, including an impressive and wide array of awards and nominations. She is also an activist and the daughter of a certain Dianna De La Garza.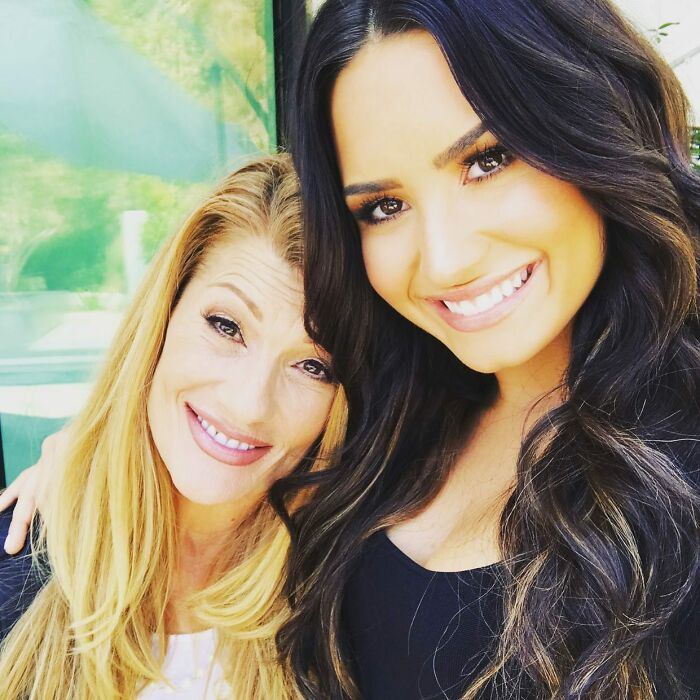 Dianna made this post of Demi and herself on the singer and actress' birthday back in 2019. Demi is reportedly very close to her mother and stepfather, who have also been very supportive of their daughter throughout her endeavors as an artist and performer.
David James and Catherine Zeta-Jones
Academy Award winner and British Academy film award recipient Catherine Zeta-Jones is known for being an incredibly versatile film and TV performer. The successful actress can thank part of her fame to her parents, who she describes as very supportive.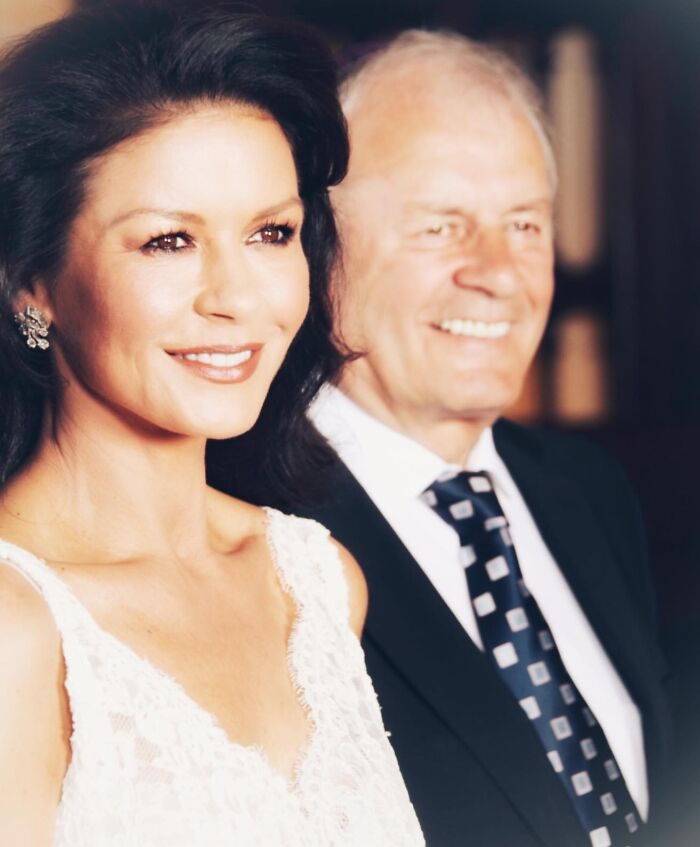 Although they came from modest backgrounds, parents David James and Patricia Fair, supported the actress, sending her to dance classes and even enrolling her in a private school. That big smile as she walked down the aisle is one of the best pictures of a celebrity and their parent we've ever seen.
Edward James and Sarah Hyland
Modern Family has got to be not just one of the most successful but also one of the most entertaining comedy series out there. Sarah Hyland was cast as Haley Dunphy in the series, a role for which she received lots of awards and nominations.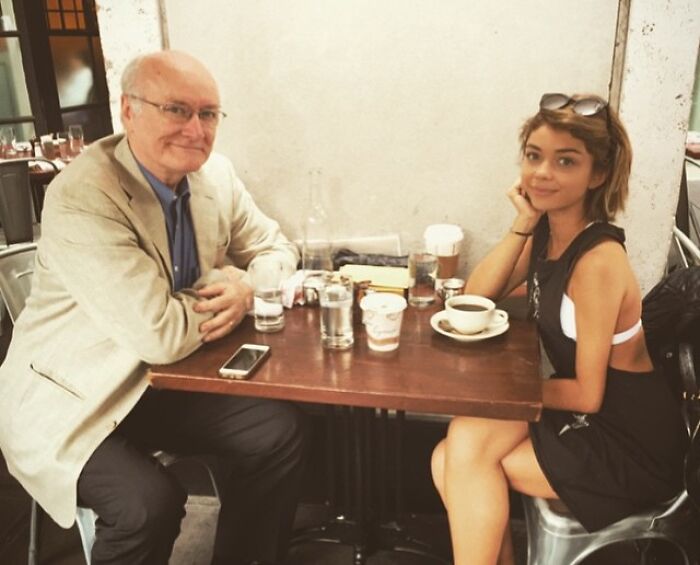 The man pictured above beside her is her father and a fellow actor, Edward James Hyland. It was taken when the two were out for breakfast and was posted a week later on Sarah's Instagram page to commemorate him on Father's Day.
Kazembe Ajamu Coleman and Zendaya
Sometimes, seeing a celebrity with their parent can be an interesting experience, just to compare and contrast and see just how much resemblance they bear with them—if any. When it comes to Zendaya, she seems like the best mix of both her parents.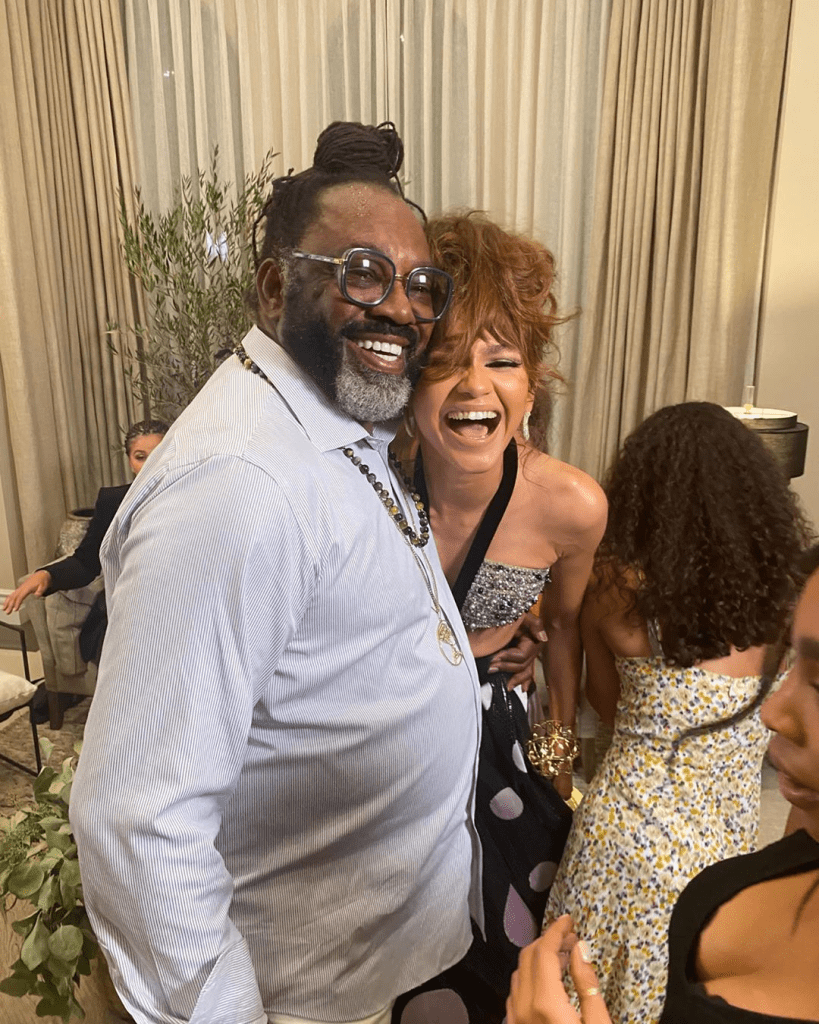 From the little glimpses of both her mother and father we catch every now and then, it's clear to us that Zendaya shares a very close bond with both her parents, who continue to be some of her biggest supporters.
Marc Sarfati and Lea Michele
While many stars like to keep details of their family, friends, and personal life private, some others are more than willing to share. The Glee and Scream Queens star Lea Michele has made it clear on multiple occasions that she's got a decent relationship with both her parents.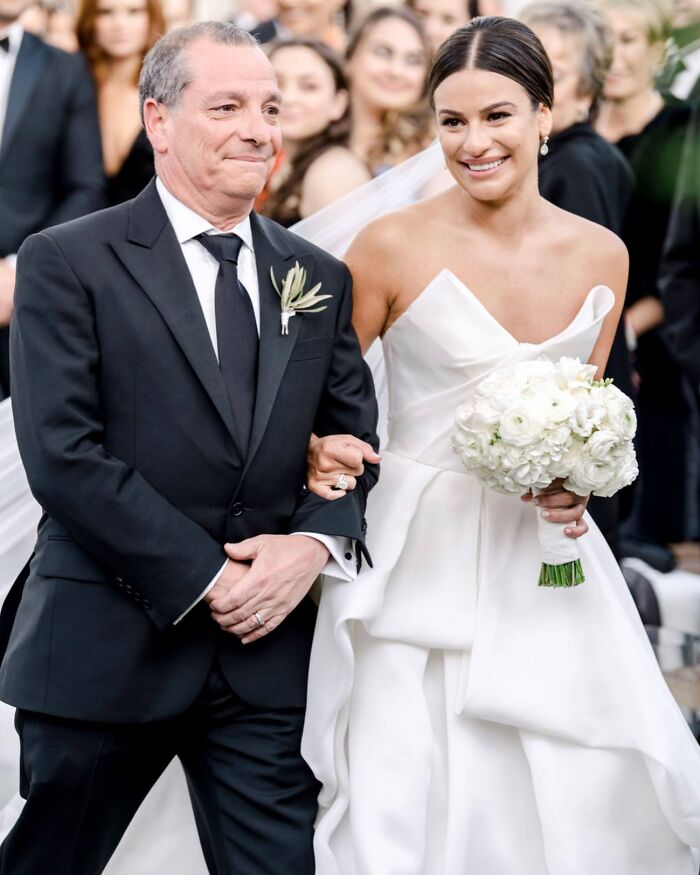 Back in 2019, she posted this picture of Marc walking her down the aisle on her Instagram page to celebrate Father's Day. Many moments shared with your loved ones are worth cherishing, but having them with you on a meaningful occasion like this is on another level.
Michael and Gal Gadot
Israeli actress and model Gal Gadot shot into international fame back in 2009 when she was cast as Gisele Yashar in Fast and Furious. She is now more widely recognized as the Themysciran princess Diana, aka Wonder Woman, in the DC Extended Universe.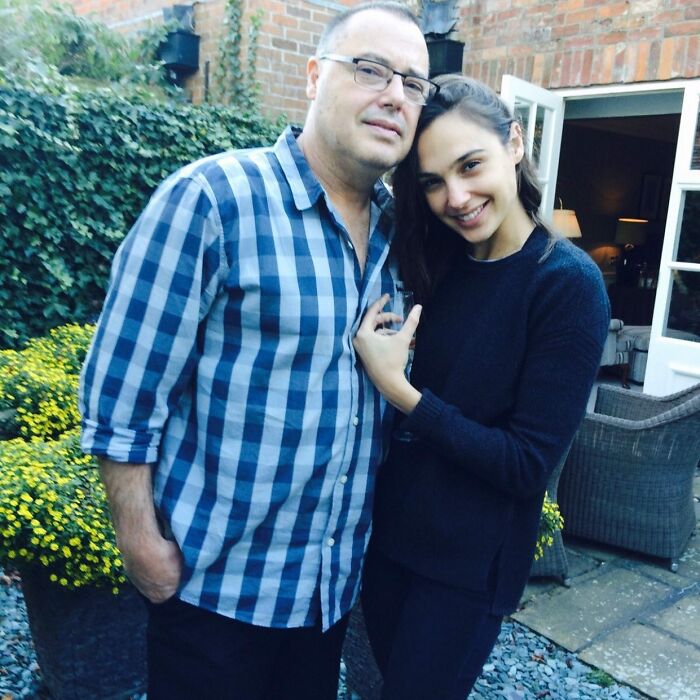 Gal Gadot's father is a superhero in his own right, as he is an engineer. The image above was posted on his 60th birthday back in 2020 alongside a loving caption. With a 10-hour time difference between Hollywood and Israel, we're sure they miss each other a lot.
Lisa Vodianova and Natalia Vodianova
The stunning Natalia Vodianova, who often goes by the nickname "Supernova," is one of the most renowned names in Russian modeling history and the world of super modeling as a whole. After all, she was one of the highest-earning models in 2012.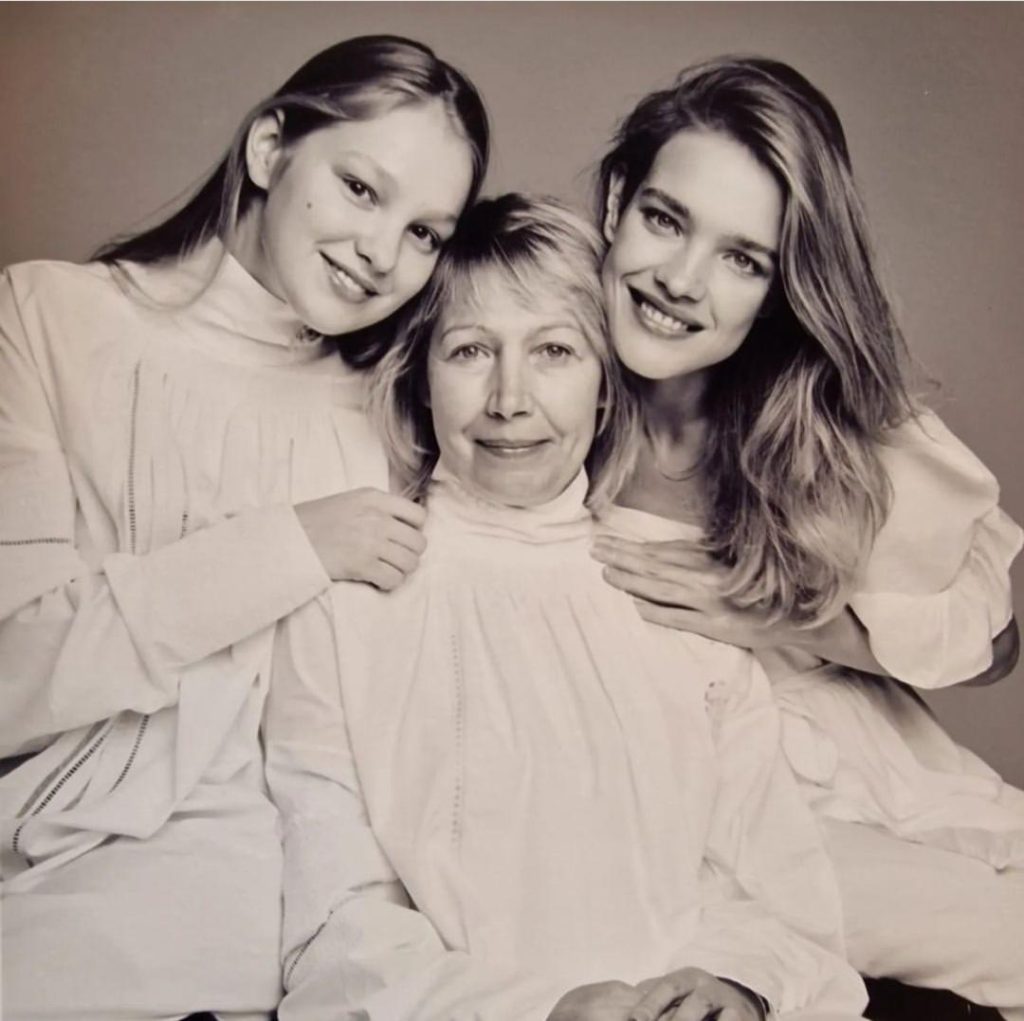 This loving picture of the model, Natalia Supernova (far right) with her daughter and one of her five children (far left) with her mother in the middle is by far one of our favorite posts of hers on her Instagram page.
Rosellen and Sarah Michelle Geller
Buffy The Vampire Slayer star and mother of two, Sarah Michelle Geller, started her career at the super early age of four. Among her great acting skills, she had her parent's support to propel her to the star she is today.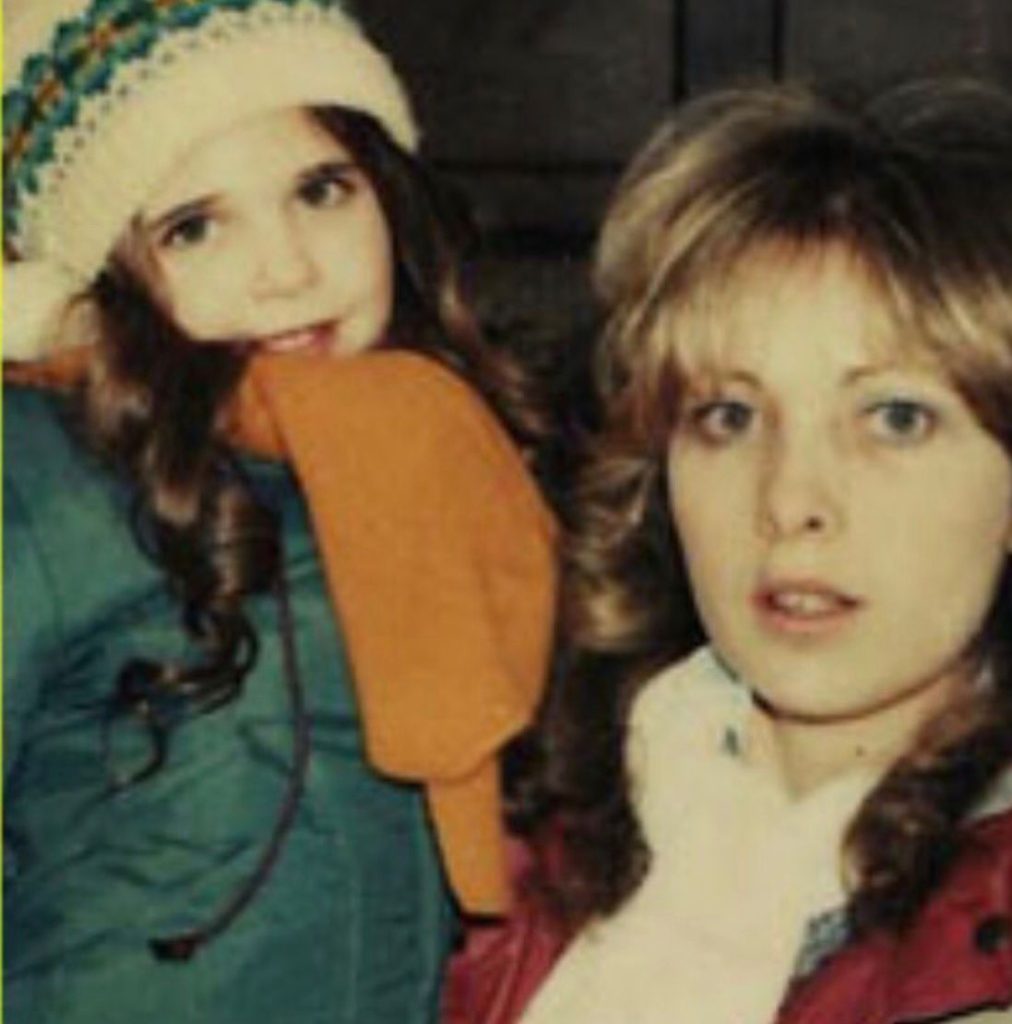 Like many other celebrities, on Mother's Day, Sarah took to Instagram to celebrate it by sharing a really old photo of her and her mother. While we love all kinds of photos with celebs and their parents, throwbacks have a special place in our hearts.
Linda and Ashley Graham
We're all for breaking boundaries and questioning the status quo, and if we were asked to list people in the fashion industry who've done just that, Ashley Graham would be one of the names at the top of our list.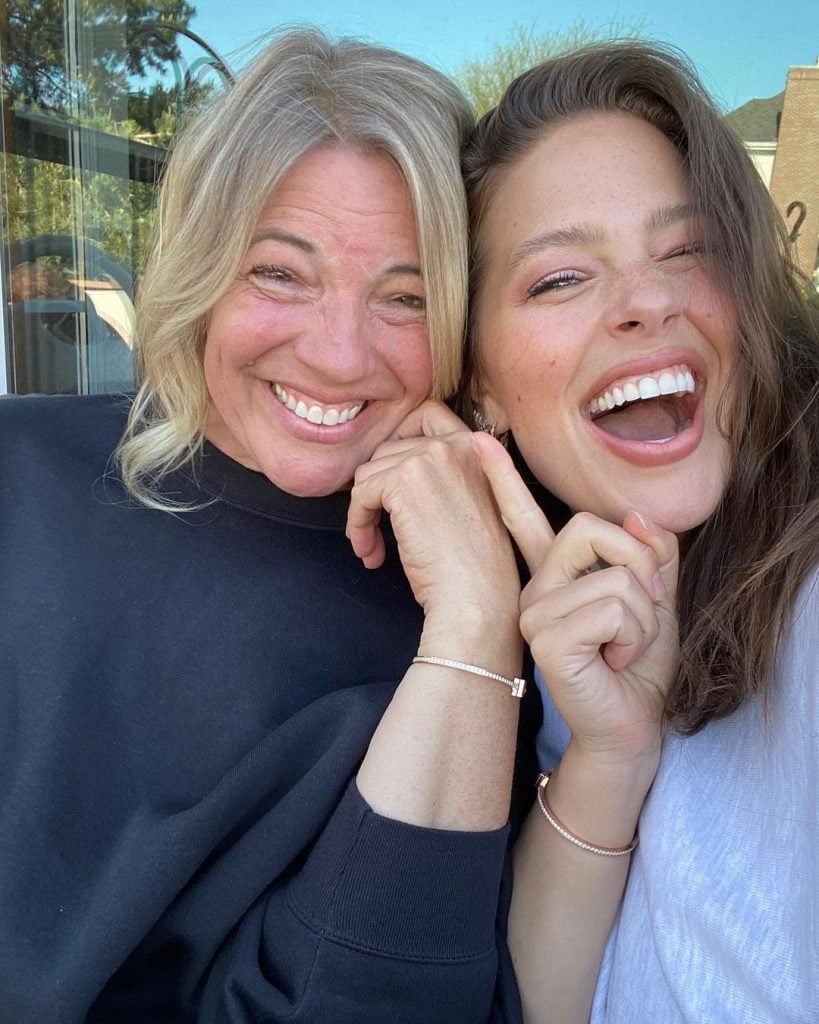 She's one of the world's most famous plus-sized models, and she credits her mother, Linda, for encouraging her to pursue modeling at a time it wasn't commonplace to see women with her size on catalogs. This lovely photo of the two was taken for an ad campaign, but we think it's still pretty cool.
Anesa and Dua Lipa
It is not uncommon to find celebrity parents who are open and really out there about their support for their kids and their careers. Anesa Lipa, the popular musician and model, Dua Lipa's mother, is one of such amazing parents.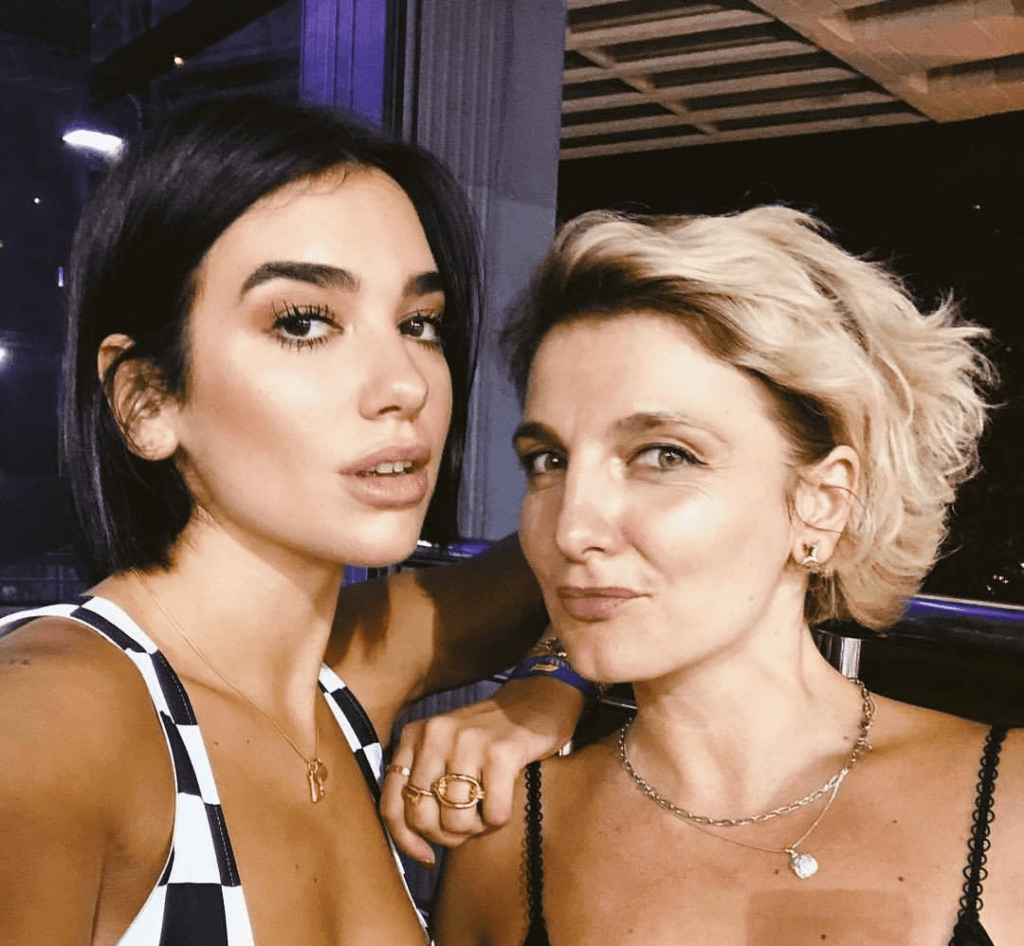 Just going through her Instagram page, you'd find tons of photos of the British Albanian pop star alongside her siblings and father. This photo of the mother-daughter pair enjoying some sun was posted on Dua's birthday, alongside two others from an impromptu photo session.
Patricia and Mariah Carey
Mariah Carey is a name we are all familiar with. Even Gen Z-ers know this star. She's the Songbird Supreme, after all. Mariah has been entertaining us with her catchy songs and enviable whistle register for decades, and it all started with the woman on the right.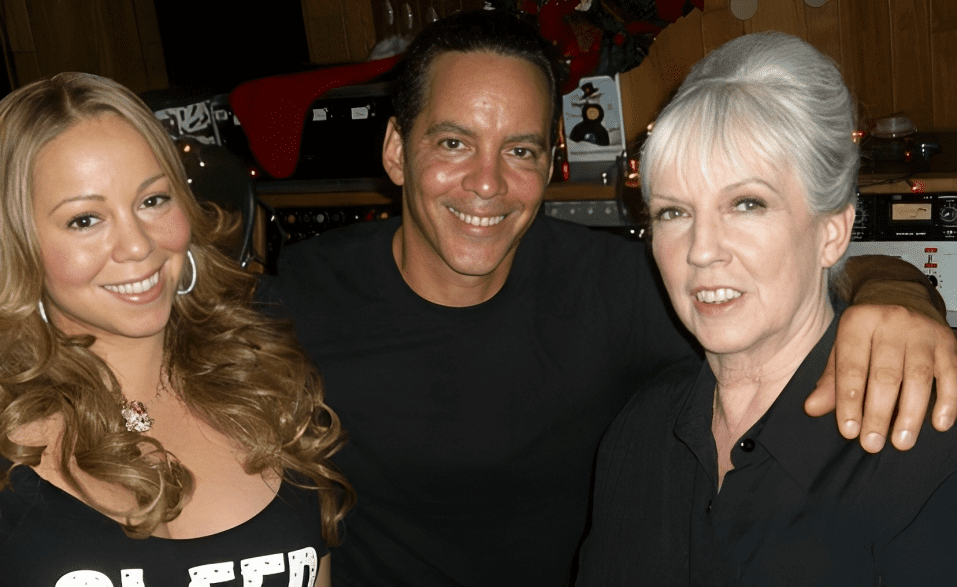 Patria Carey, her mom, was a prolific singer. One day, while she was rehearsing, she heard her daughter imitate her perfectly, and that's how Mariah's journey began. She later coached her, and after a while, Mariah started writing songs. The rest, as they say, is history.